A chilly morning in February 2011 saw HMS York slip away from Portsmouth dockyard on her way to the South Atlantic. As we departed home shores I started my quest for the trip: to see 100 species of seabird before the ship returned to Hampshire in July. The Solent and the English Channel allowed me to pick up some easy ticks in the form of Black-headed, Common and Herring Gulls as well as Gannet, Fulmar and Kittiwake, not forgetting Razorbill and Guillemot. The passage south took the ship close by to the Mediterranean and, no sooner had we passed the Straits of Gibraltar, we were ordered to turn back and head for Libya. I believe the whole ship was glad to help out in the evacuation of foreign nationals from Benghazi on 2nd March but I was particularly happy as I encountered a good passage of skuas a couple of miles offshore. Great, Arctic and Pomarine were seen all heading west, interacting aggressively with overwintering Lesser Black-backed Gulls and the local Yellow-legged Gulls. The breakwater in Benghazi also produced several Audouin's Gulls, which was a life bird for me. My tally was ticking along nicely. With the evacuees dropped off in Malta, we headed out of the Med and continued on our way, picking up a single Yelkouan Shearwater north of Gozo as we passed by.
A refuelling stop in the Cape Verde Islands produced Fea's Petrel, Red-billed Tropicbird and several Cape Verde Shearwaters. As we continued south through the tropics we sailed headlong into a northbound passage of seabirds with dozens of Cory's Shearwaters and Leach's Storm-petrels passing by the ship each hour. The warmer seas also produced three booby species: Brown, Masked and Red-footed. It was interesting to compare the different feeding strategies of Masked and Red-footed Boobies as they both attempted to harvest the numerous supplies of Flying Fish in the tropics. The Masked would hover briefly then plunge-dive much like our own Gannet, whereas the Red-footed would spot the fish underwater then, as the fish started to fly, they would swoop down and pick them off in mid-air. Without doubt both species were using the ship as an aid to feeding, for as we sailed through the sea we were causing the fish to 'fly' out of our way. The birds recognised this behaviour and the ship attracted boobies like a magnet for the next week or so. A single Brown Noddy resting on the roof of the helicopter hangar was brought to my attention by a colleague asking me if I had seen the 'fat Starling up top'. With a few thousand miles to run to our destination, the air and water temperatures started to drop; it was in this cooler region were we started to connect with our first South Atlantic specialities. Species such as Atlantic and Spectacled Petrel were soon joining the list, as were Atlantic Yellow-nosed Albatross, Great Shearwater and Wilson's Storm-petrel.

Masked Booby, Brazil (Photo: Steve Copsey)
A day or two away from Port Stanley Black-browed Albatrosses became common. This is the one seabird I always associate with the Falklands and true to form they were seen every day for the next three months. White-chinned and Soft-plumaged Petrels soon followed and, as East Falkland became visible, both Southern and Northern Giant Petrels were accompanying the ship, the former always the commoner. We sailed close by to Port Stanley to announce our arrival and as we passed Cape Pembroke Imperial and Rock Shag gave great views. Streams of Sooty Shearwaters flew by, as did South American Terns. Two species of penguin were also easy to locate on the surface: Gentoo and Magellanic were busy fishing while being pestered by the ever-present Kelp Gulls trying to steal an easy meal.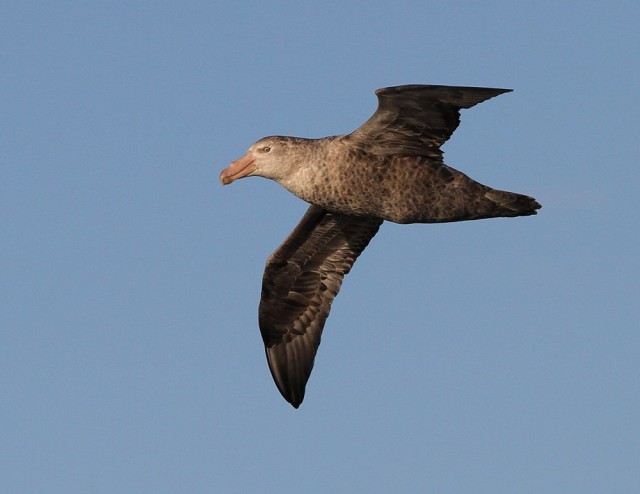 Northern Giant Petrel, Falkland Islands (Photo: Steve Copsey)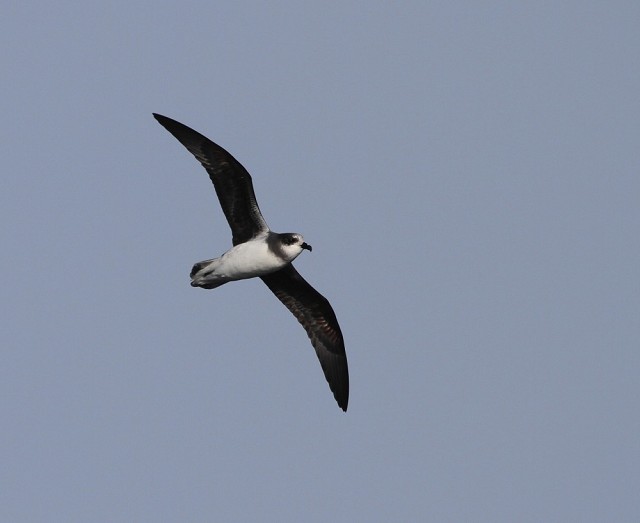 Soft-plumaged Petrel, Falkland Islands (Photo: Steve Copsey)
We patrolled the islands for the next month or so in increasingly rough seas, calling in at various ports and inlets when the weather dictated. During this period two of the great albatrosses made it onto the trip list. Wandering Albatross, the bird that for many epitomises the South Atlantic, were seen most days south and east of the islands; when we patrolled to the north and west we tended to run into more Southern Royals. Initially I was a little concerned telling the two apart, especially at distance over rough seas, but as time progressed the task became easier and the jizz of each bird became more recognisable. Birds that breed further south and winter in the 'milder' waters of the Falklands started to appear as March gave way to April. Cape Petrels, Southern Fulmars and Pale-faced Sheathbills began to be seen on most days. Slender-billed Prion was probably the commonest seabird seen during these island patrols; sometimes flocks of hundreds would pass the ship within a few minutes of each other.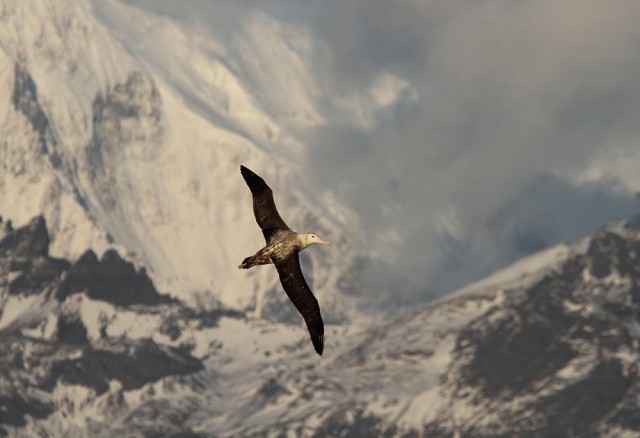 Wandering Albatross, South Georgia (Photo: Steve Copsey)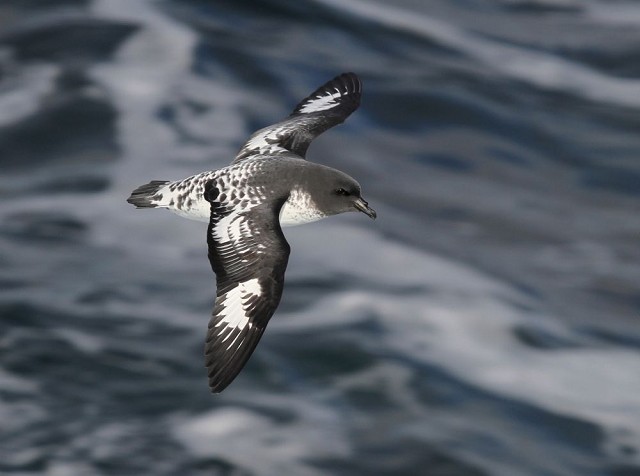 Cape Petrel, Falkland Islands (Photo: Steve Copsey)
Content continues after advertisements
The highlight of the trip for me was the patrol to South Georgia. A four-day passage southeast was followed by two days in Grytviken and another two days around the east of the island. This was my chance to catch up with some of the more difficult seabirds that did not commonly appear in Falkland waters. Within a day I was seeing new birds: Grey-headed Albatross numbers started to increase the nearer we got to South Georgia and I had some crackers in the form of Grey Petrel, Antarctic Prion and Light-mantled Albatross; but the one bird I was after more than any other appeared on the 18th: a single Sooty Albatross making a couple of passes of the ship before drifting away over lunchtime. It was an albatross that I had missed on two previous visits down south but was certainly worth the wait. As we neared Grytviken, Macaroni Penguins, South Georgia Shags and Antarctic Terns found themselves listed and, towards the southeast of the island, both Chinstrap and King Penguins became more obvious, particularly the latter that breeds on the island in vast numbers. Blue Petrels are another South Georgia regular and sure enough we saw numerous birds over the period we spent around the island. Diving-petrels were seen in moderate numbers; these were mainly Common Diving Petrels. I was reasonably confident that I also had Georgian Diving Petrel but the two are very difficult to differentiate at sea so I was never 100% sure. We departed from Grytviken harbour through a myriad of small icebergs on 23rd April, the temperatures having plummeted the previous evening. Easter Sunday fell on the 24th and, with virtually the whole day off, I enjoyed nearly nine hours looking out over a relatively calm sea with the sun shining bright. Three Wandering Albatrosses spent most of the day drifting in and out of the ship's wake, accompanied by Black-browed and Grey-headed Albatrosses. Often the Wanderers were so close to the stern that I could have reached out and touched them. As the ship cut through the water our propellers often churned up a tasty morsel and all three Wanderers would drop to the surface to feed on what was on offer. Cape Petrels, which were also ever-present in the wake, would be quick to join them, looking tiny in comparison.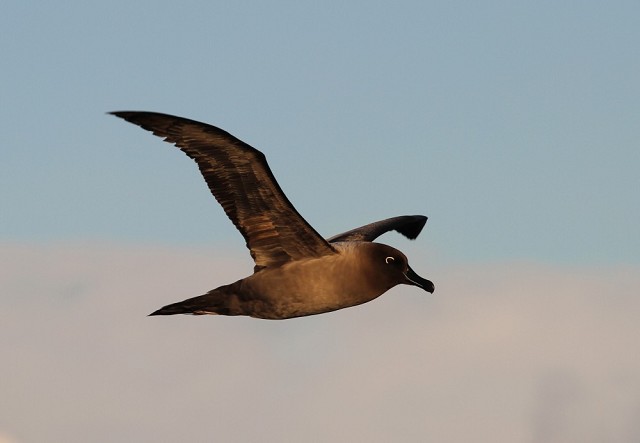 Light-mantled Albatross, South Georgia (Photo: Steve Copsey)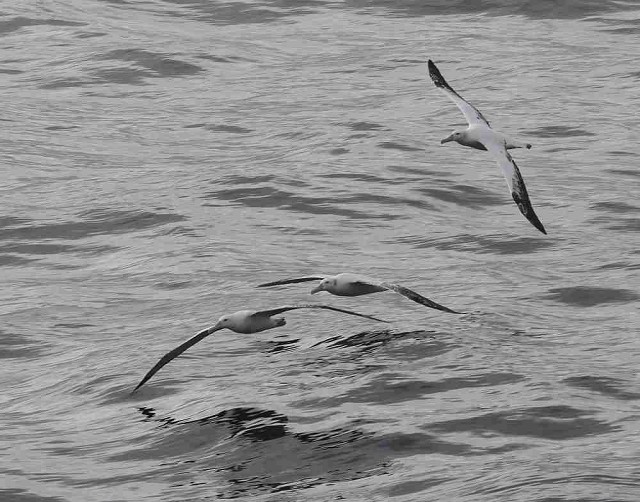 Wandering Albatross, South Georgia (Photo: Steve Copsey)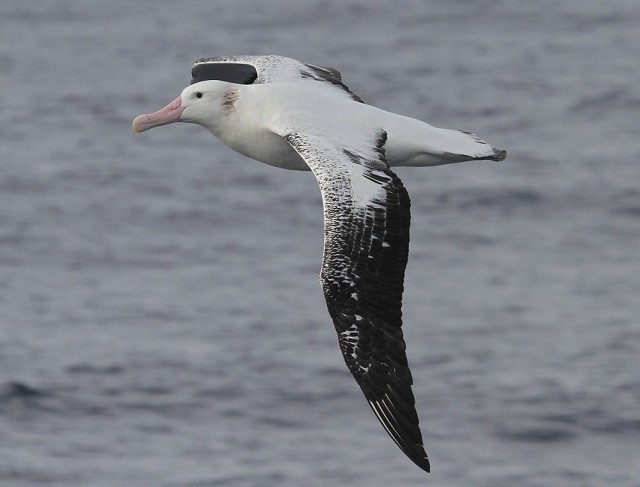 Wandering Albatross, South Georgia (Photo: Steve Copsey)
The remainder of the patrol passed by all too quickly and, while no more new birds were seen around the Falkland Islands, I had ample opportunity to get to grips with the two giant-petrel species and the Falkland subspecies of Antarctic Skua. As the winter weather closed in, so I started seeing more Grey-headed Albatrosses around the islands but never in the numbers of the Black-broweds, which every day passed the 100 mark wherever we seemed to be. Numbers of Cape Petrels and Southern Fulmars built up whereas numbers of Great and Sooty Shearwaters dwindled to zero as they headed north in search of warmer climes.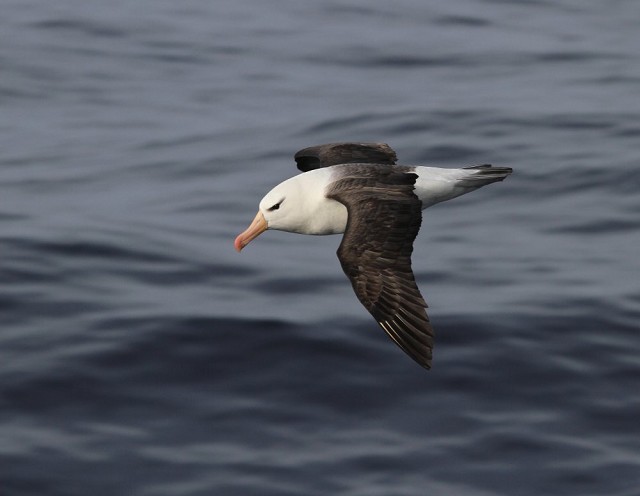 Black-browed Albatross, South Georgia (Photo: Steve Copsey)
All too soon it was time to head home; my seabird tally for the trip stood at a very pleasing 75 species but I was still 25 short of my target. Fortunately, though, my luck was in: the ship was heading back to the northern hemisphere via the Pacific Ocean and the Panama Canal. But that, as they say, is another story.