During June 1994 David Hosking and I spent several memorable days at Soldotna on the Kenai Peninsula in Alaska.
Our hosts Ken and Judy Marlowe were keen birders and had a plethora of feeders set up on their balcony. As photographers David and I spent our first day or so watching and photographing those species coming regularly. These included Grey Jays, Downy Woodpeckers, Common Redpolls, White–crowned Sparrows, Fox Sparrows and several Pine Grosbeaks.
All the birds were extremely approachable but the Grosbeaks behaved like pets. If you place a little food on the floor they would fly through the French doors into the lounge. After taking a number of photographs of the birds feeding I picked up several of the birds to examine their plumage differences in the hand. They accepted this without any panic and when I placed each bird back on the ground they just carried on feeding. David took a picture of me holding a juvenile.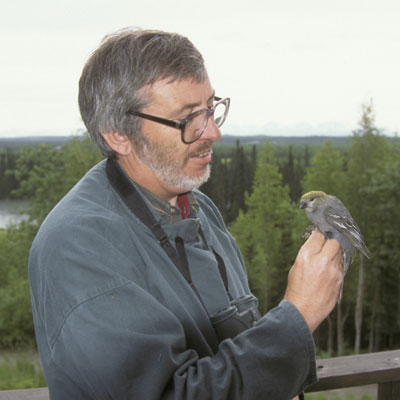 The author with a juvenile Pine Grosbeak (photo: David Hosking).
Even when we encountered this species in the forest they were very approachable, binoculars often unnecessary.
I have written this article to point out that tameness alone does not preclude a Pine Grosbeak being of wild origins. So good luck to the Essex/Herts bird and all who have seen him.
NB – The Marlowes will be at the BirdFair at Rutland Water this August with their own stand. You can ask them more about Pine Grosbeaks or even book to go and see them.