Graham Catley, William Bowell and I were originally planning a photographic trip to north Norway when news began to filter through of an unprecedented influx of Snowy Owls into Canada. Following a few days research on the internet, our destination switched from Arctic Europe to Arctic North America. We flew into Toronto in late January 2014 and were based at Kingston, approximately 150 miles east of Toronto on the northern shore of Lake Ontario.
The influx has brought hundreds — if not thousands — of Snowy Owls further south than their usual wintering latitudes, making them much more easily accessible. Importantly, there were also plenty of eye-watering shots appearing daily across the internet. News of the influx made national headlines across the pond, with articles even appearing in the New York Times.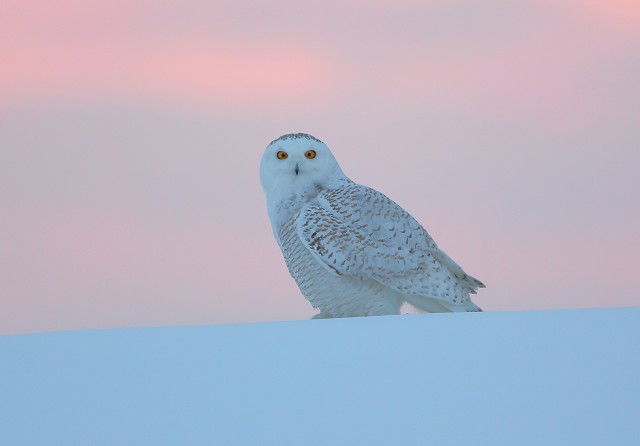 Snowy Owl, Canada (Photo: Kevin Du Rose).
In addition to the main target species, there were additional attractions such as North American owls, wintering ducks, gulls and the possibility of heading north to Algonquin National Park where birds such as Evening Grosbeak, Spruce Grouse, Grey Jay and other boreal species are present.
Our schedule began with a trip onto the Lesley Street Spit (Tommy Thompson Park). We were confronted by heavy snowfall on our first morning in Canada as we walked down the spit, but soon connected with our first Snowy Owl of our trip. This was quickly followed by another quite close to the first. We then successfully visited a stake-out for a Northern Saw-whet Owl before moving on to another where three Long-eared Owls were located sitting together in a willow tree. By this time, the snow had become heavier and foiled our attempts to find one of the park's resident Great Horned Owls in their favoured wood lot, and we headed off the spit itself. Other birds noted including Long-tailed Ducks, American White-winged Scoter, Greater Scaup, Bufflehead, Goldeneye, Redhead, Hooded Merganser, Black Duck, American Tree Sparrow, Goshawk and Red-tailed Hawk.
Although the trip had started with an excellent day's birding we had not yet begun to focus on our objective: to obtain similar Snowy Owl photographs to those we had seen on the internet. Our first site that we had earmarked was the infamous Amherst Island and its renowned owl woods, where there had been reports of double-figure counts of Snowies. Our visit to Amherst proved productive for birds with a couple of Rough-legged Hawks, Bald Eagle, Short-eared Owl, Northern Shrike, numerous Red-tailed Hawks and, of course, Snowy Owls. In total we saw seven on the island, but unfortunately the majority were quite distant. Though one Snowy had taken to sitting directly above one of the island's roads, its favourite perch was unfortunately a frustratingly tall radio mast. Eventually we managed to get some reasonable pictures of this individual when it began hunting and perched on top of a stag-horn oak close to the road.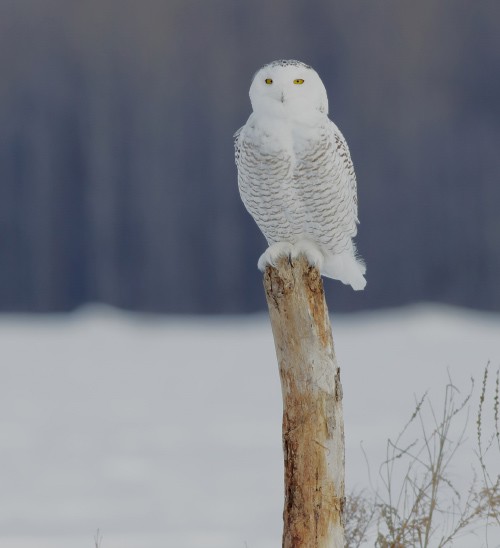 Snowy Owl, Canada (Photo: Kevin Du Rose).
Although we had obtained some reasonable perched shots on Amherst Island, we decided that the way forward was to travel further north to an area south of Ottawa where we had heard of large numbers of owls — people had been seeing up to 35 per day in the flat agricultural landscapes. We spent three whole days in this area photographing the owls; during this time we saw almost 20 birds in two quite small areas where we were concentrating our photographic efforts. One particular area held seven owls along a stretch of road approximately 5km in length, and in this area we found one rather tame owl which hunted oblivious to our clicking cameras. This owl favoured hunting around a barn which was evidently infested with mice. The owl seemed to catch mice with ease, mostly by walking about on the snow and plucking them from below the surface! The eyesight of these birds is almost unbelievable, and we saw Snowies flying almost a kilometre to take prey, which was only just visible as a dark shape on the snow through 10x binoculars when the owl gave the rodent's position away as it dived on its meal! Perhaps they can spot their prey at even greater distances, but just don't want to waste energy flying any further.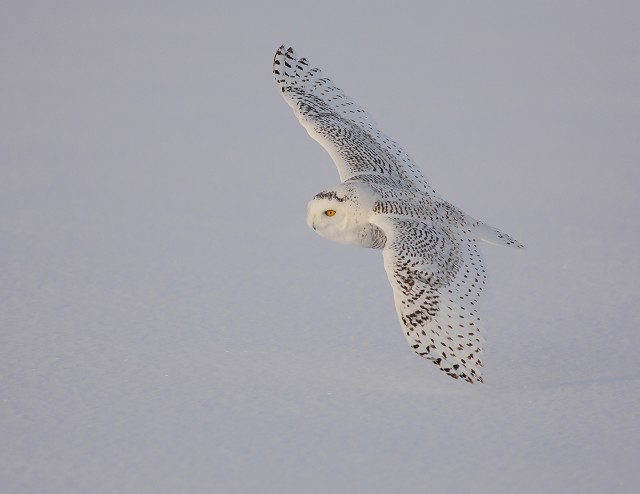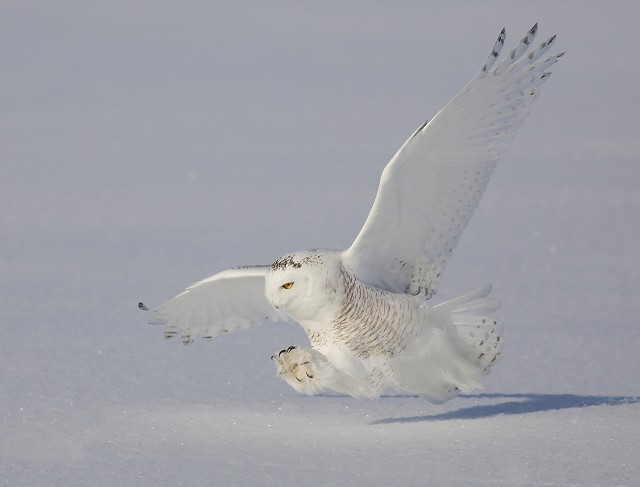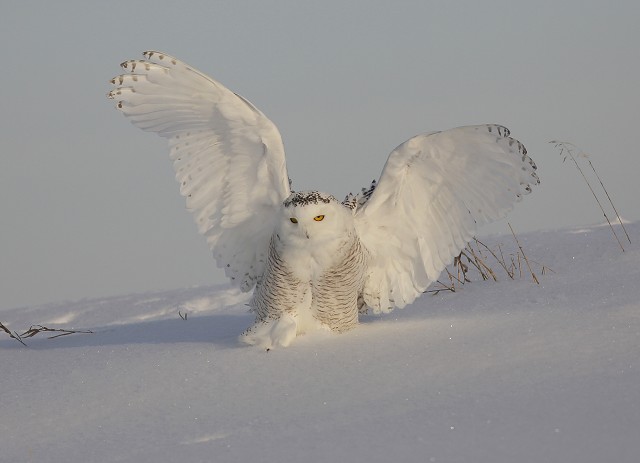 Studies of hunting Snowy Owls, Canada (Photos: Kevin Du Rose).
In addition to our favoured owl which we photographed hunting rodents only metres from our vehicle, we were tipped off by a Canadian bird photographer of another bird about 45 minutes' drive away. This bird was equally as tame as our original individual and again we achieved good perched and flight shots of this bird as well.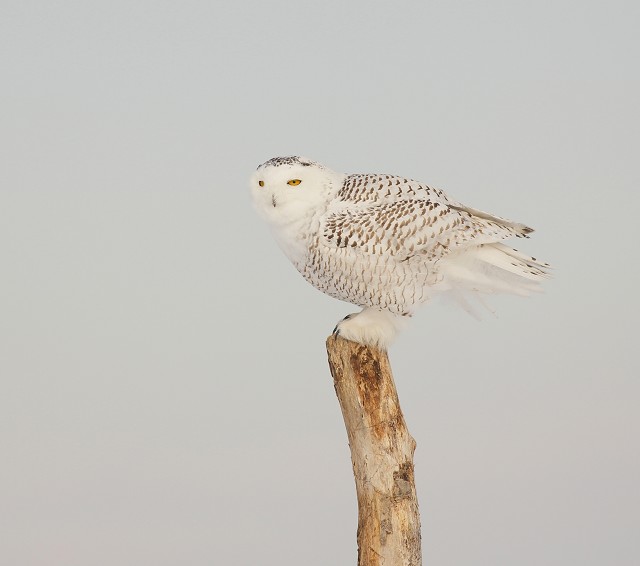 Snowy Owl (Photo: Kevin Du Rose).
As we were in Canada for ten days we decided to make a change from the owl photography and head up to Algonquin National Park for a day's birding and photography of other species. Our main objective was to photograph Evening Grosbeak at the visitor centre feeders; additional subjects were Grey Jay and other boreal species, although birding was hard in very low temperatures (which were around -18°C — a touch lower than they had been further south).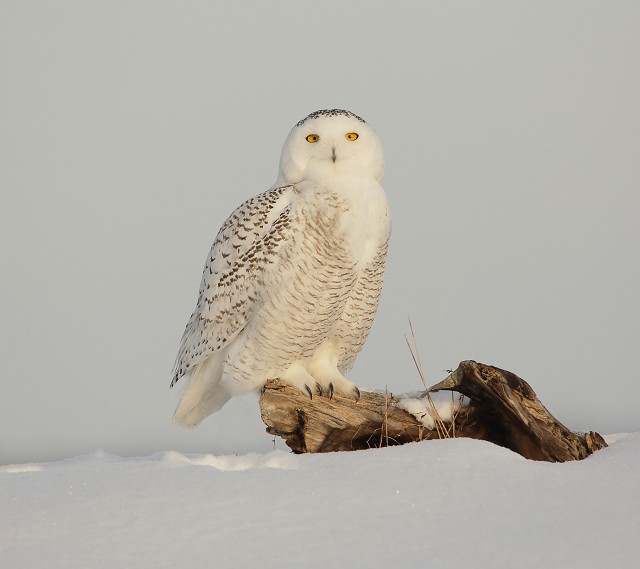 Snowy Owl, Canada (Photo: Kevin Du Rose).
On our last day we visited the Snowies for a few more shots, and concluded this was really a once-in-a-lifetime experience and something that we would probably never do again (well, probably — see below)! I would urge anyone that wants to witness this awesome owl spectacle — that may not occur again for many years — to consider a visit before it is over.
I hope you enjoy the accompanying photographs to this article. Processing is still at an early stage as I still have almost 100 gigabytes of RAW images left to process, and am still hopeful of further good images to come. Although this is quite possibly a unique event, we were so fortunate to take advantage of the influx and achieve our own personal photographic objectives, that I am planning to revisit in a few weeks' time. And, armed with all the knowledge I gained during my recent trip, I plan to conduct a 'Snowy Owl workshop' so others can also experience this for themselves. Please see kevindurose1234.blogspot.co.uk for details of the planned trip.