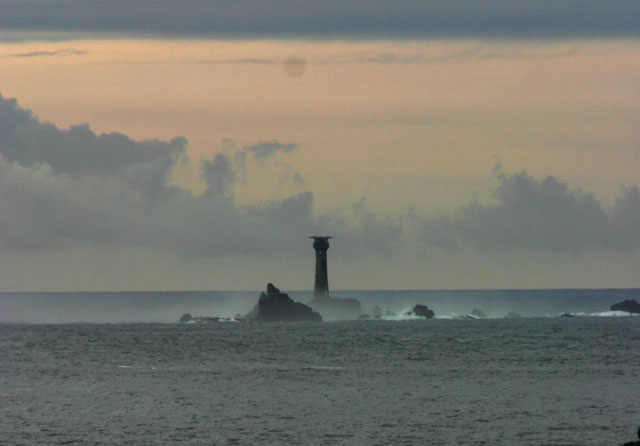 View west from the SeaWatch SW watchpoint at Gwennap Head, showing the Longships lighthouse. (photo: R. Wynn).
The SeaWatch SW Annual Report 2007 (full and summary versions) is now available online at: www.seawatch-sw.org. The full 112-page report, illustrated with colour photos throughout, contains the results of monitoring of the critically-endangered Balearic Shearwater in UK and Irish waters during 2007, together with results of effort-based surveys off southwest England covering all migratory seabirds as well as cetaceans, Basking Sharks and Ocean Sunfish. These include data from the epic 93-day continuous survey off Gwennap Head near Land's End from mid-July to mid-September, together with the findings of intensive land-based surveys at Strumble Head in Pembrokeshire and Berry Head in Devon, and boat-based surveys in the western English Channel.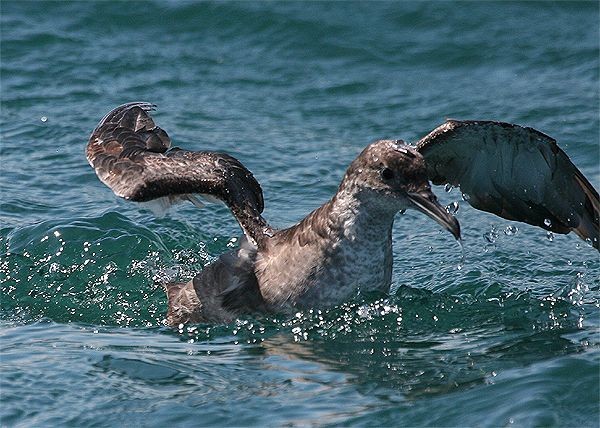 Balearic Shearwater, Portland, Dorset (Photo: Tom Brereton)
The project is starting to generate some genuinely important results for both scientific and conservation purposes. However, we are totally reliant on volunteer observers, and particularly need experienced seabird observers (familiar with Balearic Shearwaters and other migratory seabirds) to help out at the Gwennap Head watchpoint in Cornwall for a few days. Of the 93 survey days between 15 July and 15 October, about 25 are currently unfilled, with a week in early August, a couple of weeks in late August and early September, and a couple of days in early October. Free B&B at Porthgwarra is provided to the core seabird observer, in return for a day of sea-watching and recording. There are also opportunities for volunteer observers of any experience level to get involved in marine wildlife monitoring at Gwennap Head and elsewhere in southwest UK during the survey period. We'd love to hear from you!
We would like to take this opportunity to thank everyone who contributed to SeaWatch SW during 2007, and those who are continuing to support the project in 2008. We received an impressive 834 Balearic Shearwater records in 2008, most of which were supplied to Birdguides or the SeaWatch SW website.
We hope you enjoy the report, and let's hope we make some more exciting discoveries this year!
You can download the summary version of the report here.