Thanks to a relatively mild start to the year, a bumper breeding season, and plenty of food available in the wider countryside this autumn, it's been a good year for Robins — including the extraordinary 'Santa Robin'!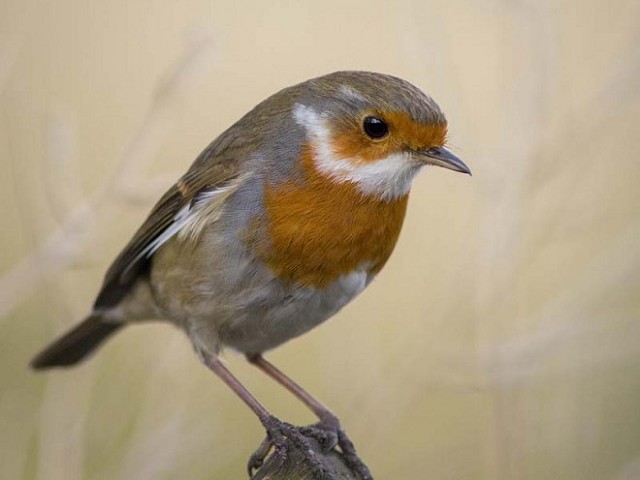 Santa Robin in 2014 (Photo: Ian Wilson/BTO).
It's probably thanks to favourable weather that Santa Robin has made it to another Christmas. First brought to our attention in 2012 (see here), this remarkable leucistic bird with a Santa beard had already defied the odds by being among the 40% of Robins that survive their first year. It has now survived at least three winters in Derbyshire, making it older than the average Robin.
In general Robins have had a successful year, according to the latest British Trust for Ornithology (BTO) Garden BirdWatch results. Relatively mild weather meant that they started off in low numbers in gardens at the beginning of the year because they were able to survive in the wider countryside without our help. With a healthier population and a productive breeding season, Robin numbers soon rose in gardens, reaching an all-time high for BTO Garden BirdWatch at the end of August. This, combined with another warm autumn and plenty of natural foods available, gave them a boost for the coming winter.
Clare Simm, from the BTO Garden BirdWatch team, commented: "It is fantastic to hear that Santa Robin is still out there. Winter is a challenging time for Robins as they struggle to find enough food to survive the cold nights. Gardens are important havens for them, but without help from our volunteers we won't know how Robins get on this winter. If you spend a few minutes each week watching what the birds get up to in your garden, then you are already doing enough to take part in the BTO Garden BirdWatch. Get in touch with us for a free magazine and information pack on how to take part."
Will this winter be another mild one for Santa Robin and the rest of his species, or will they need our help to survive? Help us find out!
To get your free magazine and information pack, or to find out more about the BTO Garden BirdWatch please get in touch by emailing gbw@bto.org, telephoning 01842 750050, or write to GBW, BTO, The Nunnery, Thetford, Norfolk, IP24 2PU.