Putting the many other highlights aside for a moment, if anything signalled the commencement of peak autumn then it was the female American Redstart on Barra, the first gettable of its kind in Britain since 1985.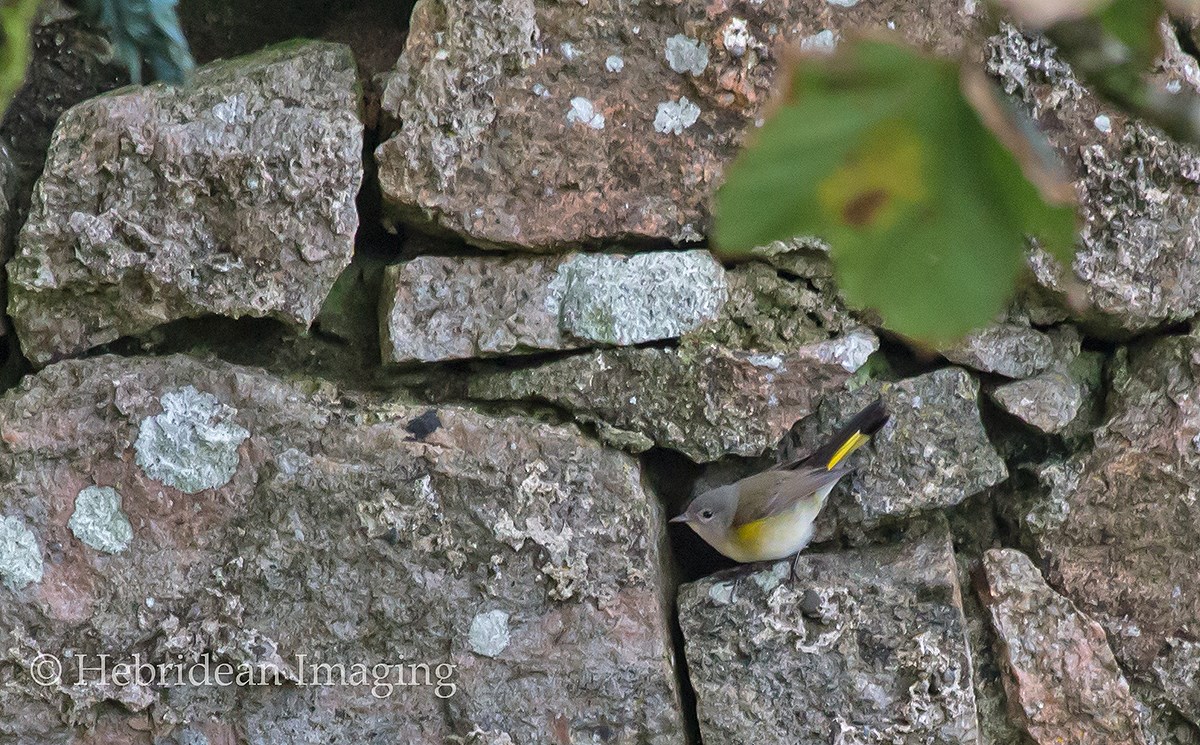 American Redstart, Eoligarry, Barra, Outer Hebrides (Yvonne Benting).
Found in a stunted collection of sycamores by the church at Eoligarry on 8th, the bird kindly lingered for the rest of the review period, delighting the steady stream of keen listers visiting the island. Only two birds have lingered longer than this individual: the famous Lincolnshire individual of 1982 and Cornish bird of October 1983. It represents just the sixth for Britain; there have been a further three occurrences in Ireland, the most recent of which being a one-evening wonder on Mizen Head in September 2008. The paucity of American Redstart records of late is probably down simply to the inexplicable unpredictability that surrounds the phenomenon of vagrancy. After a glut in the Eighties, a twitchable bird has been a long time coming – this despite the species being one of the more regular Nearctic warblers to grace the Azores over the past decade.
The week's other big discoveries were very much Nearctic in flavour. The autumn's first American Buff-bellied Pipit arrived at Tawin, Co Galway, on 12th – this is the earliest-ever autumn record for Britain and Ireland as a whole, birds having never previously arrived before 17th. Also causing excitement was a Greater Yellowlegs seen on the incoming tide at Hilbre Island, Cheshire, on 10th. If accepted this will represent the second county record following a one-day bird in July 1961. No doubt many locals will be hoping it finds a rather more accessible site in the coming days – the scrape at Burton Mere Wetlands, perhaps.
Stilt Sandpiper has been a regular enough vagrant to Britain over the past 15 years, but many of these records likely relate to the same couple of adults toing and froing every spring and autumn. Juveniles, on the other hand, are an extreme rarity in Britain and thus the arrival of a pristine youngster at Lodmoor, Dorset, on 11th was very significant. A second site record (following an adult there in summer 2011) and the third for Dorset, it's also the first youngster seen anywhere in Britain and Ireland since one pitched up in the Outer Hebrides, Cumbria and then the Isle of Man in September 2008. What made the record all the most impressive was when observers noticed that the tiny peep scurrying around beside it had yellowish-green legs and was in fact the county's first Least Sandpiper!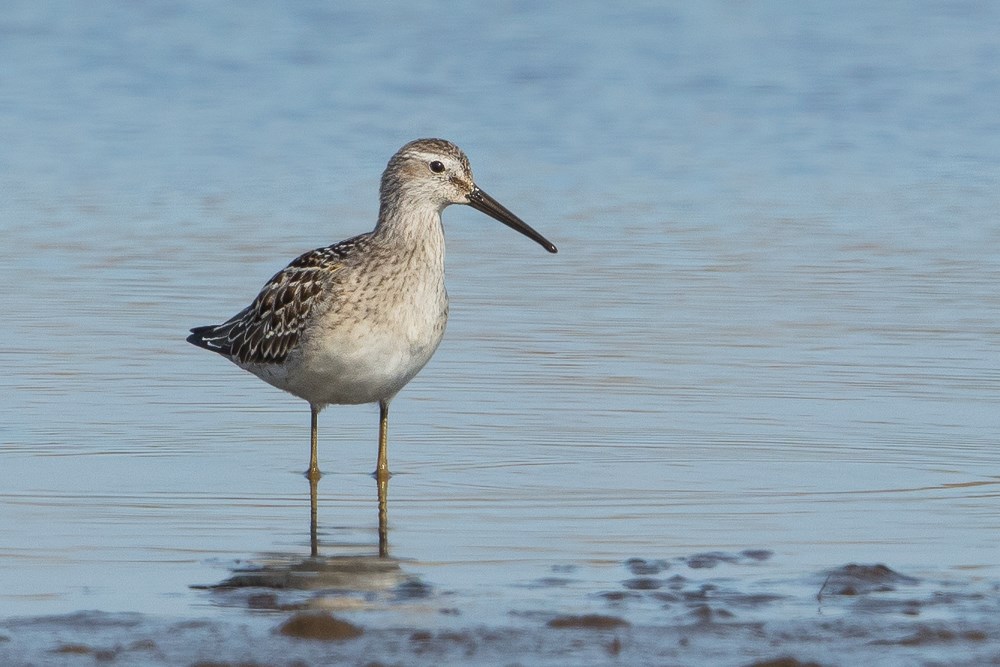 Stilt Sandpiper, Lodmoor RSPB, Dorset (Tim White).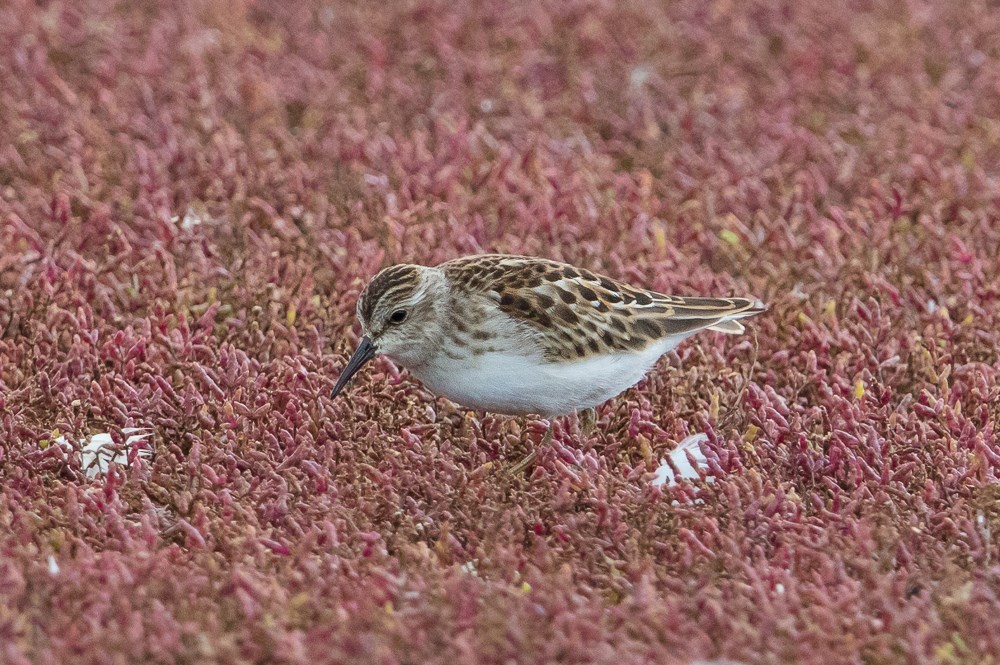 Least Sandpiper, Lodmoor RSPB, Dorset (Tim White).
Two of the rarer 'regular' Nearctic waders on this side of the Atlantic, side by side on the outskirts of Weymouth … Dorset birders could be forgiven for thinking they were dreaming. As it transpired, the Least had been present since 9th but passed off as a Little Stint. In another fascinating twist, a similar fate had befallen it (or another Least Sand) at Seaton, Devon, on 7th – again, photos showed the pale leg colour and rich, gingery tones of a fresh juvenile Least. At least the Seaton patchers can console themselves knowing they had two well-documented Leasts last year … both the Least and the Stilt were still at Lodmoor on 12th.

Stilt and Least Sandpipers, Lodmoor RSPB, Dorset (Martin Cade).
Another quality Nearctic wader was the juvenile Wilson's Phalarope at Alston Wetland, Lancs, for a day on 9th – the first seen in Britain this year. The young Hudsonian Whimbrel remained on offer along the shore west of Easkey, Co Sligo, to at least 8th. In addition to this there were three Lesser Yellowlegs (in Co Kerry, Cornwall and Angus) and two new Long-billed Dowitchers, including a juvenile in what can only be described as pristine condition at Kilnsea Wetlands, East Yorks, from 9th. Two Semipalmated Sandpipers were at Tacumshin, Co Wexford, during the week, with juveniles at two sites in Co Kerry and further youngsters on St Mary's, Scilly, and at Balgarva, South Uist. Last week's Baird's Sandpiper continued at Cuckmere Haven, East Sussex, to 6th only but other long stayers remained in Dorset, Co Wexford (2) and Co Sligo; a new bird was on Co Cork's Muckross Estuary on 10th, along with a White-rumped Sandpiper. The only other White-rumped was the lingering bird at Tetney Marshes, which was last seen on 11th. Pectoral Sandpipers were once again reported from around 30 sites, while Buff-breasted Sandpipers were on North Uist, South Uist (2), Mainland Orkney, Fair Isle, Scilly, Guernsey, Lundy and in Co Kerry. American Golden Plovers remain scarce, with two on 12th the only birds seen this week – at Skaw, Unst, and Carrahane Strand, Co Kerry. Bucking the Nearctic trend was a Kentish Plover at Cliffe Pools, Kent, on 12th.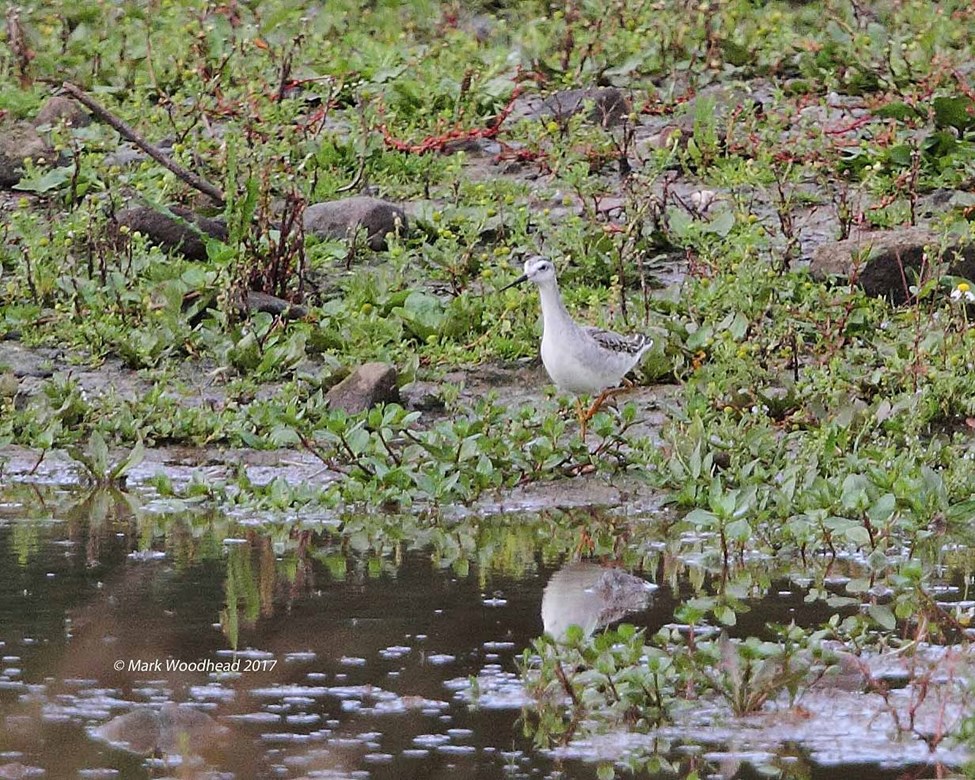 Wilson's Phalarope, Alston Reservoirs, Lancashire (Mark Woodhead).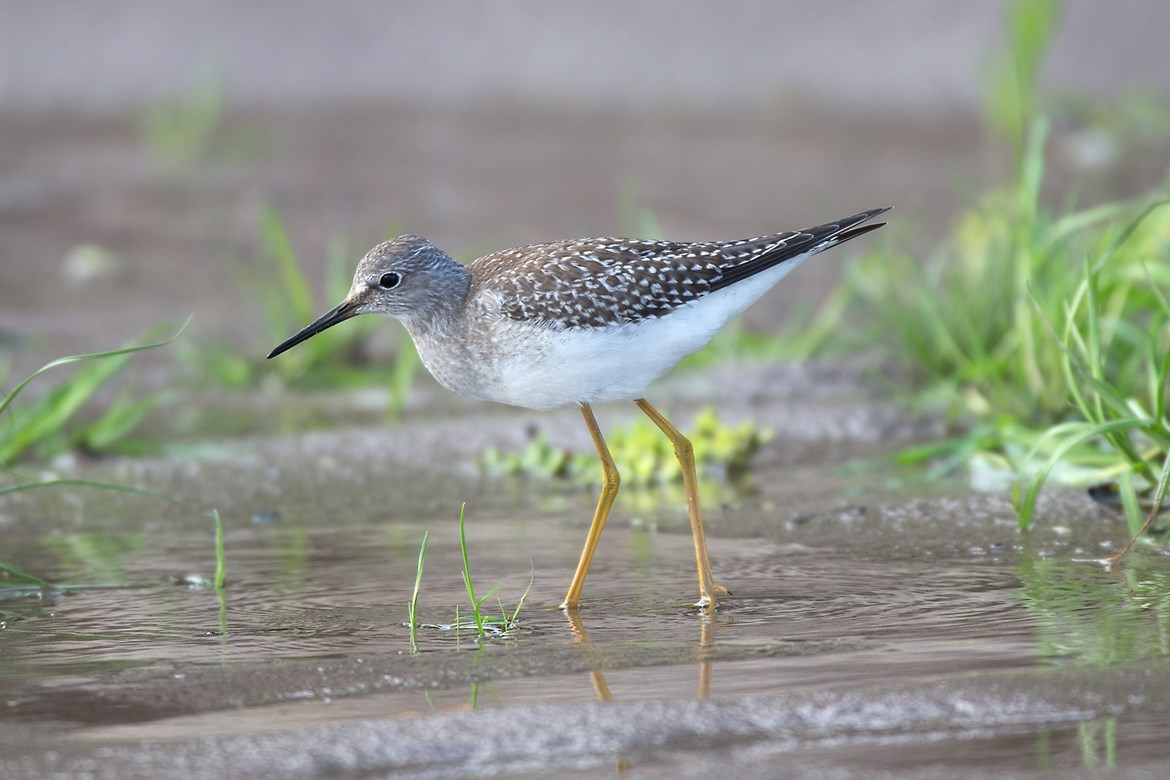 Lesser Yellowlegs, Cloghane, Kerry (Ian Jones).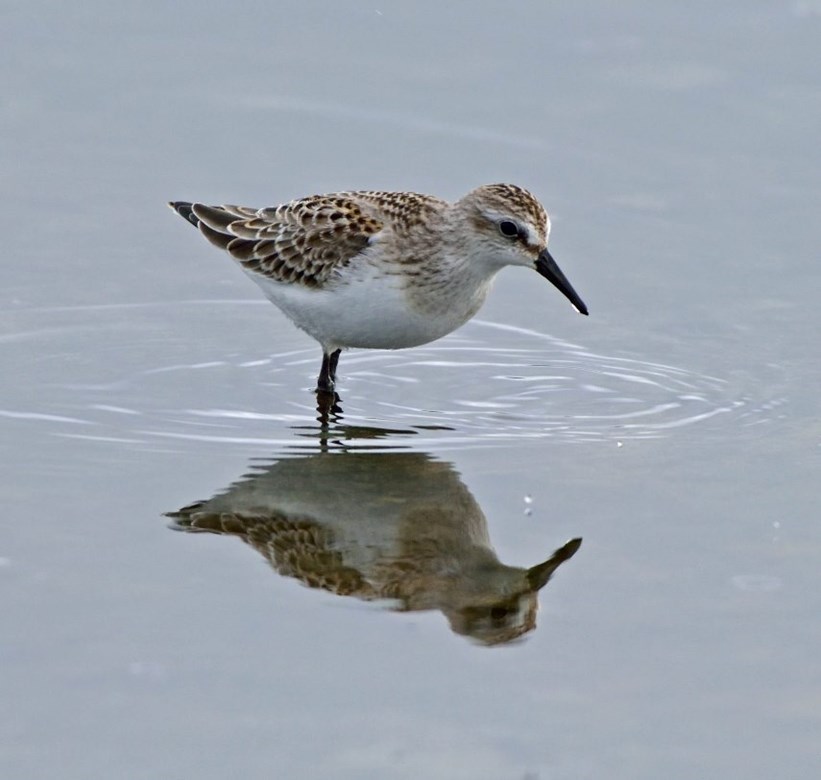 Semipalmated Sandpiper, Baile Gharbhaidh, S.Uist, Outer Hebrides (Steve Duffield).
With strong westerlies taking hold overnight on Sunday, Monday proved a red-letter day for seawatching along western coasts. It's been a few years now since the last observed big push of Leach's Storm Petrels past western coasts of England and Wales, yet Monday certainly delivered. As is often the case, the biggest counts came from south Lancashire and the Wirral – for example 60 were logged past Hoylake, Cheshire. As winds abated on Tuesday morning, big numbers of reorienting birds were exemplified by 31 in the first couple of hours of daylight past Hilbre Island. Smaller numbers were also blown right up the Bristol Channel, with one recorded as far up the Severn Estuary as Fretherne, Glos, on Monday afternoon. A few days before this, 200+ had been logged past Kilcummin Head, Co Mayo, as they reoriented out of Killala Bay following strong winds on 9th.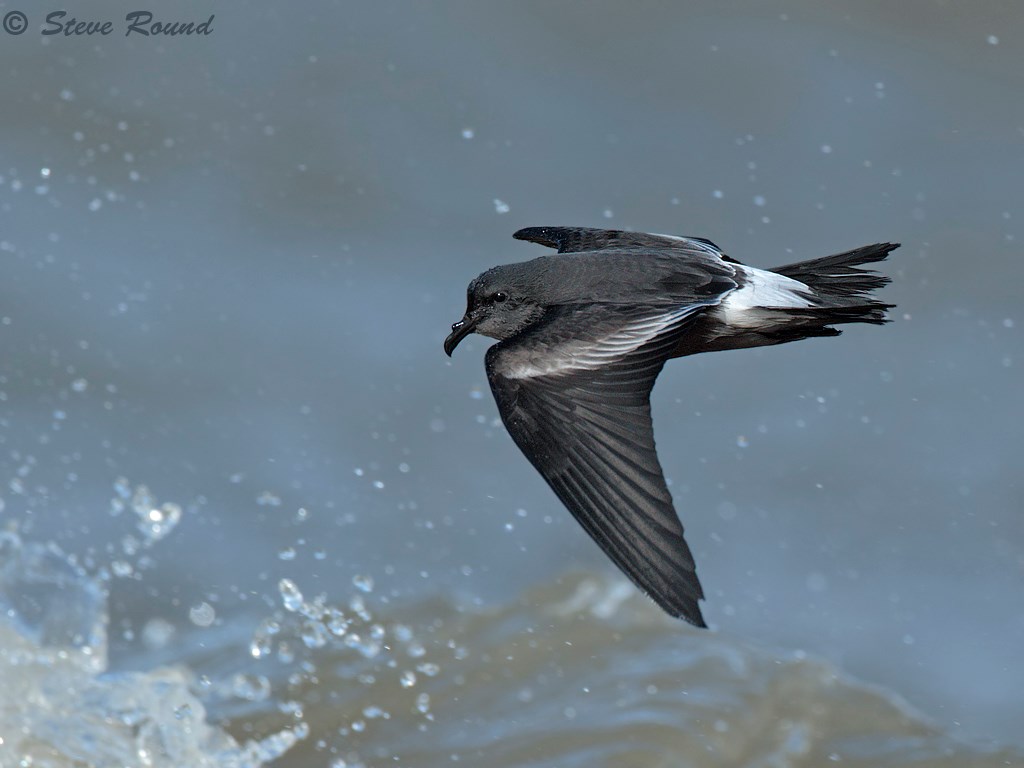 Leach's Storm Petrel, Leasowe, Cheshire (Steve Round).
Associated with this movement were smaller numbers of Sabine's Gulls. Ones and twos were logged at many coastal sites in north-west and south-west England and also Wales. As always, numbers were much bulkier from Irish sites with counts into the twenties from sites such as Bridges of Ross, Co Clare, and Brandon Point, Co Kerry, with Pendeen, Cornwall, scoring 14 on 11th. Similar numbers of Long-tailed Skuas were also noted in Ireland, while the stormy conditions on 11th produced a small wreck of Grey Phalaropes. Numerous individuals were found inland, while the south and south-west coasts produced plenty of these charmingly busy waders – for example five were at Abbotsbury, Dorset, and four graced Steart WWT, Somerset. Among these were a couple of Red-necked Phalaropes: one off Whitburn, Durham, for a time on 9th and another at Frodsham Marsh, Cheshire, on 12th.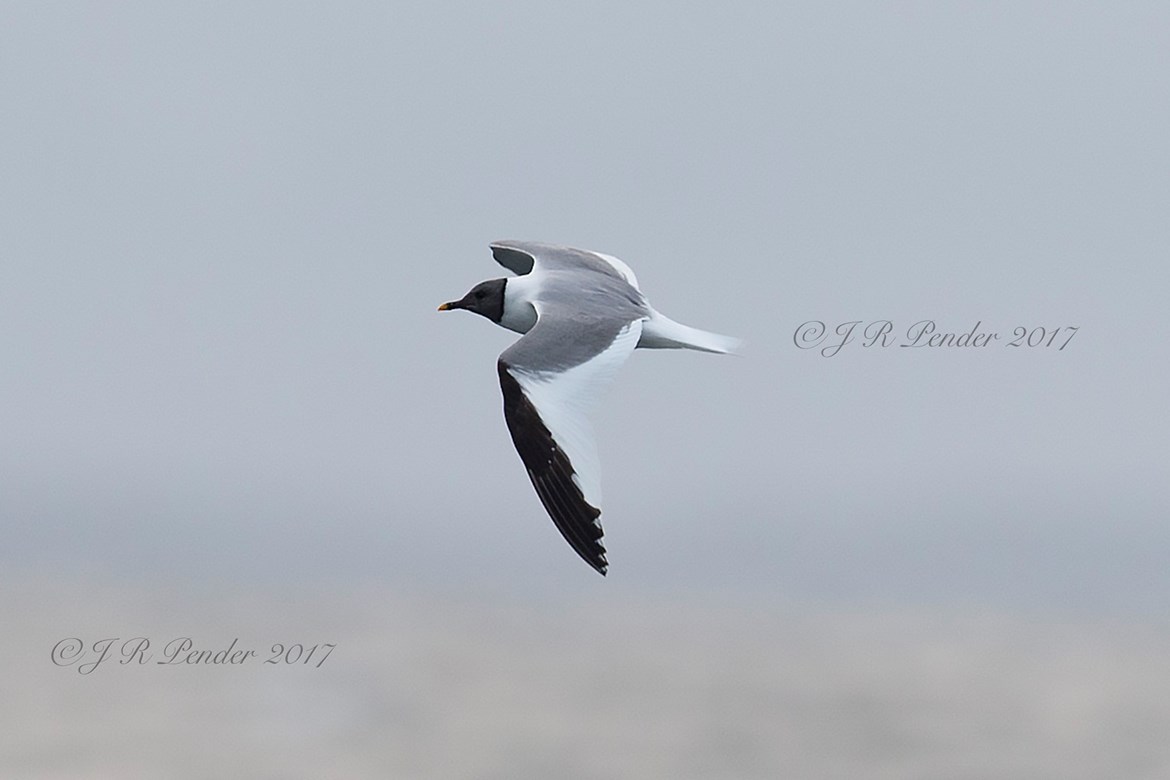 Sabine's Gull, Scilly pelagic (Joe Pender).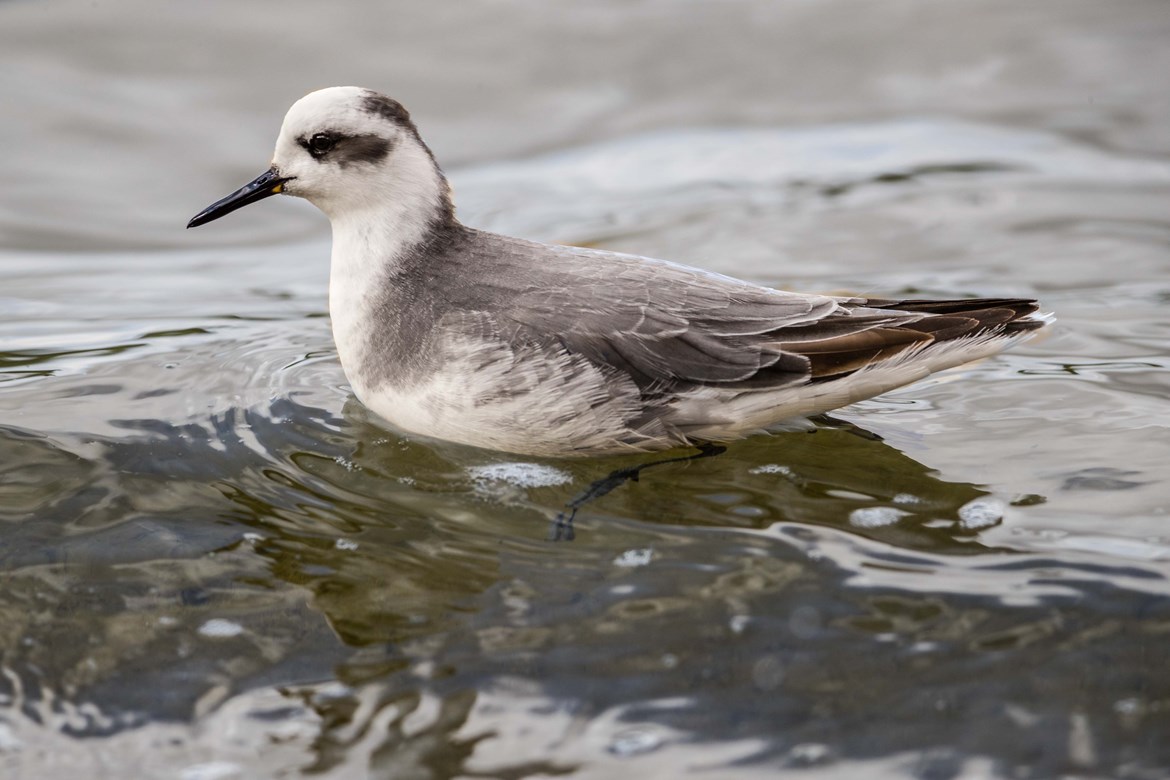 Grey Phalarope, Grimsbury Reservoir, Oxfordshire (Ian Bollen).
A Fea's-type Petrel flew past Carnsore Point, Co Wexford, on 10th but arguably more significant (at least in a local context) were several unusual records of Wilson's Storm Petrel. Two flew past Bloody Foreland, Co Donegal, on 8th, with one past Arranmore Island that day and a further individual past Kilcummin Head on 9th. On 10th singles flew past Walney Island, Cumbria, and Saltcoats, Ayrshire, while more typical records also came from Bridges of Ross, Co Clare, and Newquay, Cornwall.
There's been little chance for eastern vagrants to make it across the North Sea yet the briefest window of north-easterlies out of Norway produced the autumn's first Lanceolated Warbler at Quendale, Shetland, on 11th. The Lancy was a great find, but arguably a more celebrated moment in the British autumn is the arrival of the first Yellow-browed Warbler. Despite the often-atrocious conditions, four managed to bludgeon their way westwards to Shetland on 9th and several more came in the following days, one managing to make it as far west as Barra by 12th. It seems the incessant westward onslaught of this species is now a feature of every September, rather than an isolated event, and no doubt many hundreds (thousands) will follow in the coming few weeks.
Arctic Warbler must be well on its way to being demoted from the list of rarities considered by the BBRC – and this week's five no doubt helped the cause. One was trapped and ringed on North Ronaldsay, Orkney, on 7th and was followed by one on Unst and two on Mainland Shetland. Away from the Northern Isles, one was trapped at Sandwich Bay, Kent, on 10th but didn't linger long after being released. A Greenish Warbler was heard at Flamborough Head, East Yorks, on 9th with another on Papa Westray, Orkney, on 12th.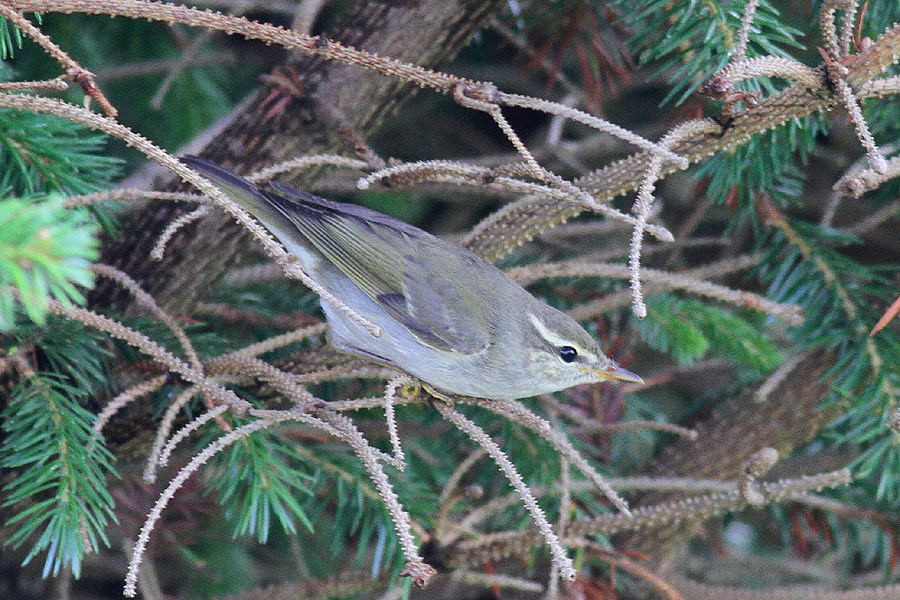 Arctic Warbler, Exnaboe, Mainland, Shetland (Rob Fray).
Shetland scored a light scattering of Barred Warblers, with others at Flamborough Head, Spurn and Winterton Dunes. An Icterine Warbler was on St Mary's, Scilly, on 6th, with Shetland records from Whalsay on 9th and Sumburgh Head on 11th. About 35 Wrynecks included a delightfully confiding bird which showed to hundreds of people attending the Spurn MigFest over the weekend.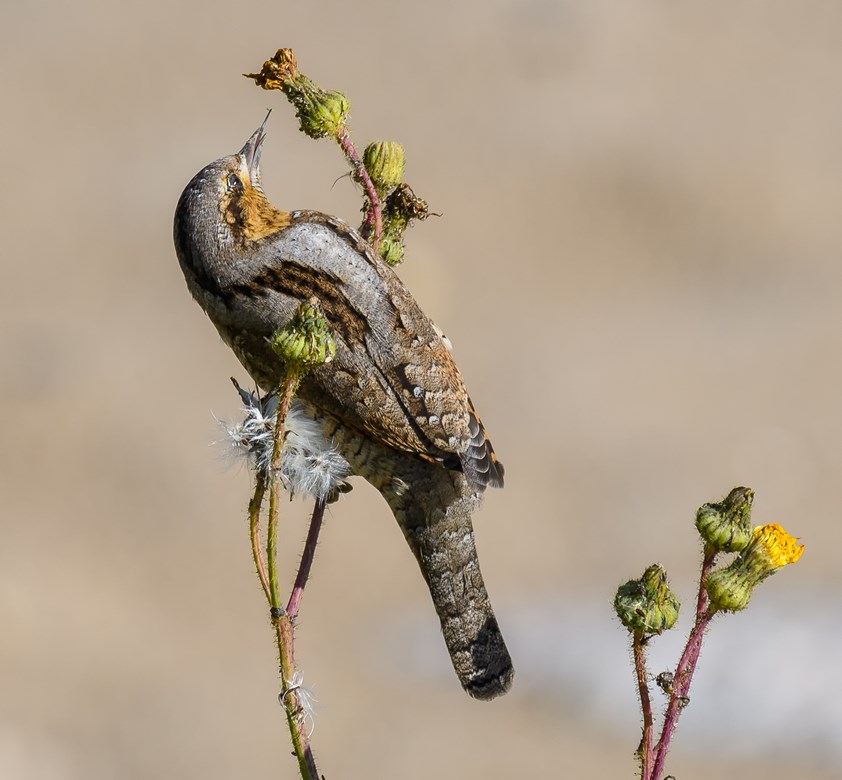 Wryneck, Spurn YWT, East Yorkshire (Keith Allen).
A first-winter Citrine Wagtail lingered at Minsmere, Suffolk, from 9th onwards, though could be elusive. A young Red-backed Shrike visited Dungeness, Kent, on 6th and two were reported in the county at Reculver on 7th. A first-winter showed well at Snettisham, Norfolk, from 8–10th and Girdle Ness, Aberdeenshire, scored on 10th. Just a single Common Rosefinch was seen away from the hot-spot of the Northern Isles – a bird at Tarmon, Co Mayo, on 12th – and a single Red-breasted Flycatcher reached Tiree, Argyll, on 10–11th.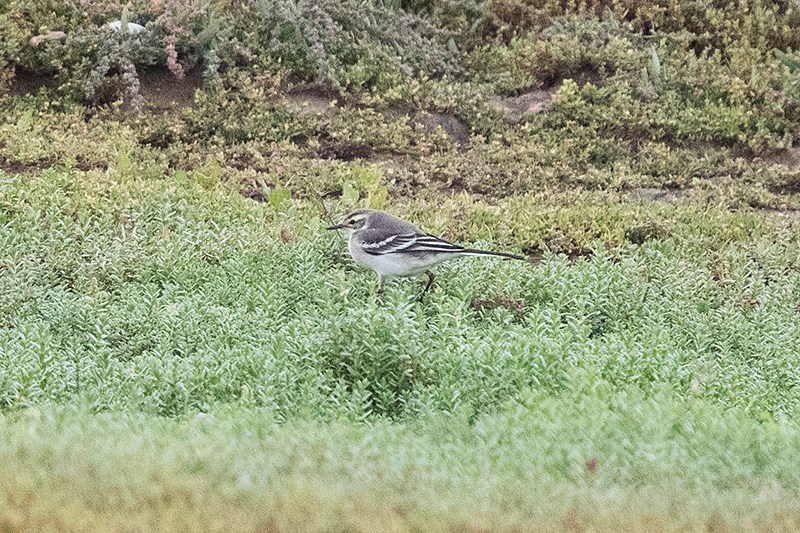 Citrine Wagtail, Minsmere RSPB, Suffolk (Andrew Moon).
Last week's showy Hoopoe remained at Pencaitland, Lothian, to 8th while another stayed on Portland, Dorset, to 9th. The Woodchat Shrike also performed well at Chipping Sodbury, Glos, throughout the week.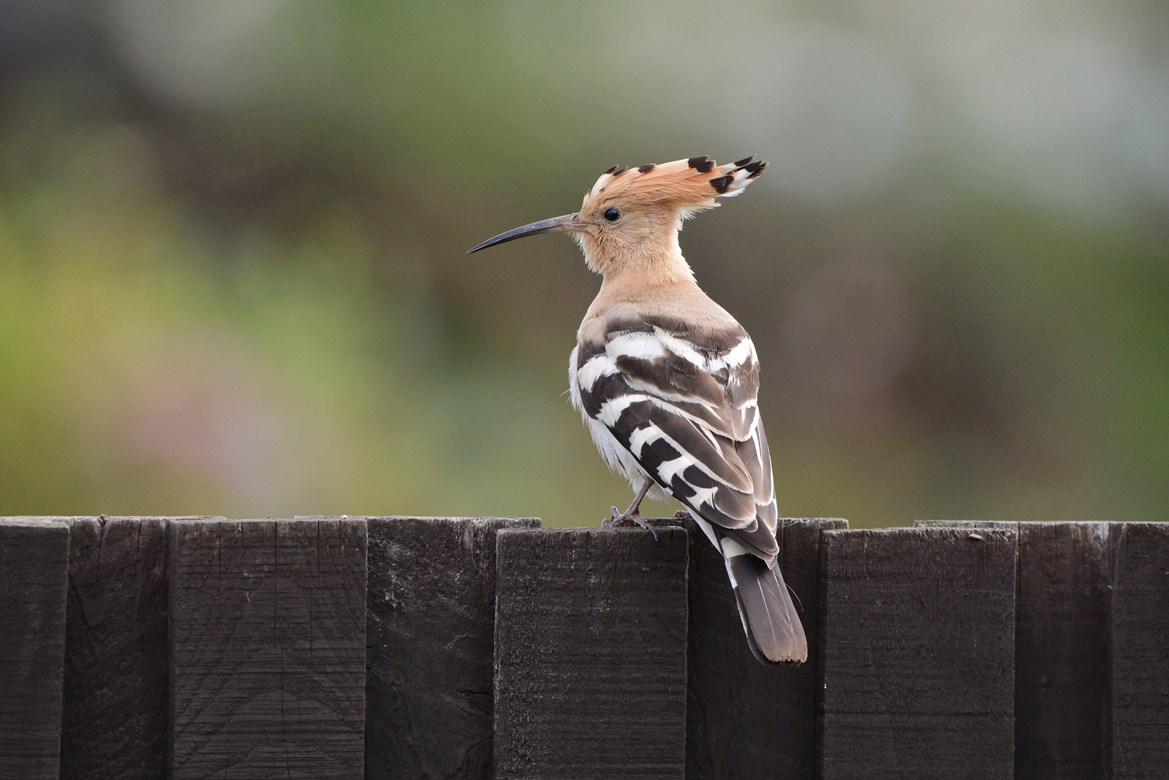 Hoopoe, Pencaitland, Lothian (Carol Bone).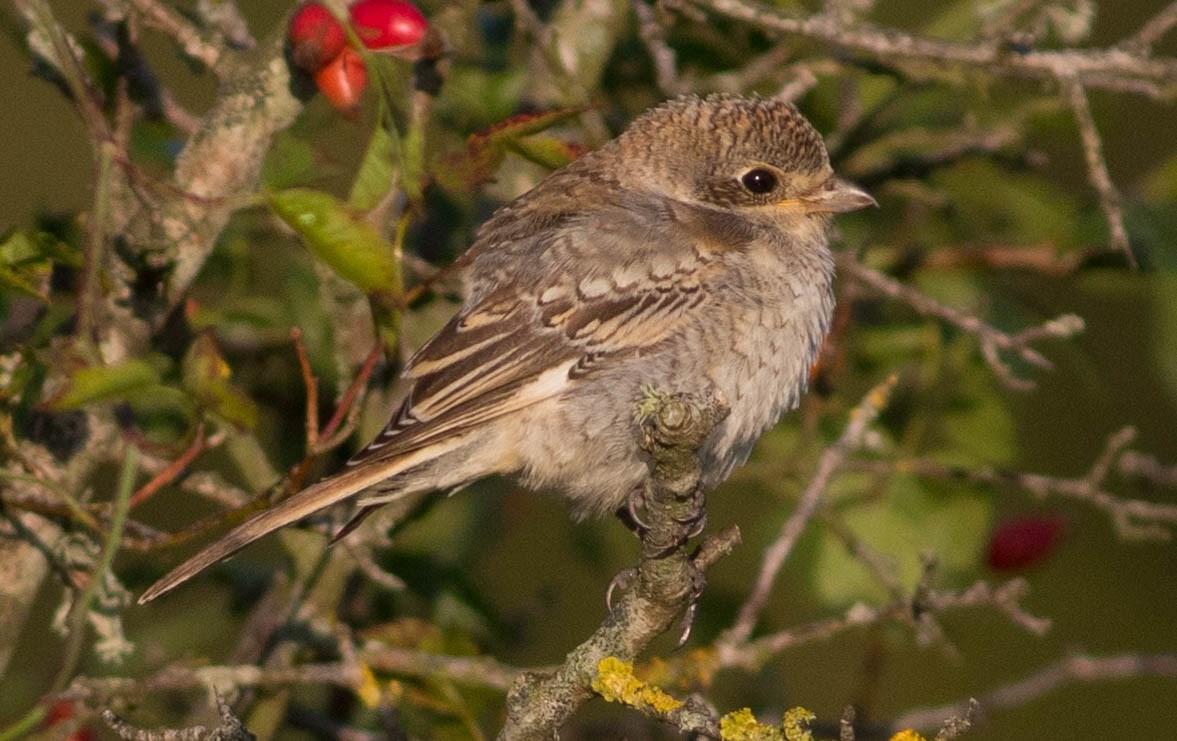 Woodchat Shrike, Chipping Sodbury, Gloucestershire (Paul Woolams).
The adult Bonaparte's Gull was still at Oare Marshes, Kent, on 6th and the regularly returning Devon bird was back at Dawlish Warren for its sixth winter from 8th. The only White-winged Tern this week was a moulting adult at Tyttenhanger, Herts, on 12th.
Western Palearctic news
Israel's fourth Yellow-throated Petronia was extracted from a mistnet at Eilat's International Birding and Research Centre on 11th. Meanwhile a pelagic offshore on 12th produced two Wilson's and two Swinhoe's Storm Petrels.
Stand-out record of the week, though, was the Western Palearctic's fifth Black-bellied Storm Petrel from a pelagic at sea off Lanzarote on 9th; these trips have produced three of the previous four regional records.

Black-bellied Storm Petrel off Lanzarote (Bob Flood).
Just the second American Golden Plover for Belgium was at Zeebrugge on 6th – it's hard to fathom just why the species is so rare in the country given its regularity in Britain (and indeed relative regularity in the neighbouring Netherlands). In the Azores, a Northern Waterthrush in interior Flores on 11th signalled the start of what will hopefully be another fruitful autumn of passerine records for the archipelago, and the Grey-tailed Tattler and Redhead remained on Terceira.