The week at a glance
With arrivals at a mid-summer low, it was a week of white throats and wings, with plenty of wildfowl interest from the west to whet the appetite. To the pleasant surprise of many, the first-summer female White-throated Robin stayed put at Hartlepool Headland (Cleveland) to 10th, showing on and off at the Bowling Green and in the walled Doctor's Garden, allowing a couple of thousand people to catch up with this cripplingly rare bird. Media coverage continued unabated and the bird turned into a local mega-star, although the media jibes over birders up ladders covered in anti-climb paint were perhaps understandable.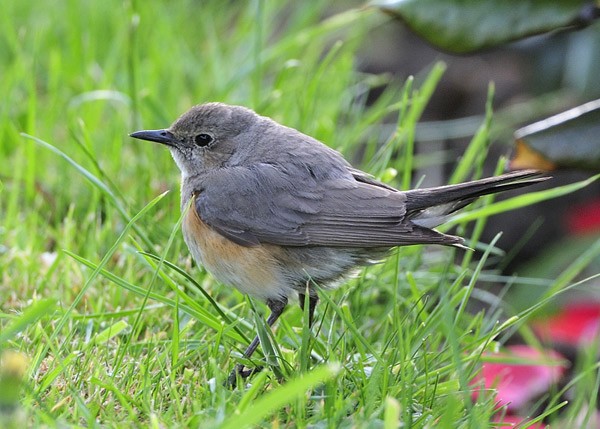 White-throated Robin, Hartlepool, Cleveland (Photo: Mike Lawrence)

Video: BoyWonderBirding
The aforementioned white wings came in the form of Britain's first White-winged Scoter, a moulting first-summer drake found off Murcar Golf Course (Aberdeenshire) on the evening of 11th. Its identity was confirmed over the next couple of days as being of the American deglandi race and it continued to show, although often distantly, to 15th. Viewing was never easy, and picking the bird out among more than 1,000 Common Scoters and 90 Velvet Scoters was challenging to say the least. Perhaps due to increased understanding of field characters, this record comes hot on the heels of the stejnegeri bird in Co Kerry in the spring, although the differing racial origins make for an interesting comparison. The area also held up to three drake Surf Scoters over the week with a claim of a Black Scoter on 13th adding some interest. The last of the megas, the almost-resident House Crow, remained at Cobh (Cork), reported on 10th and 13th.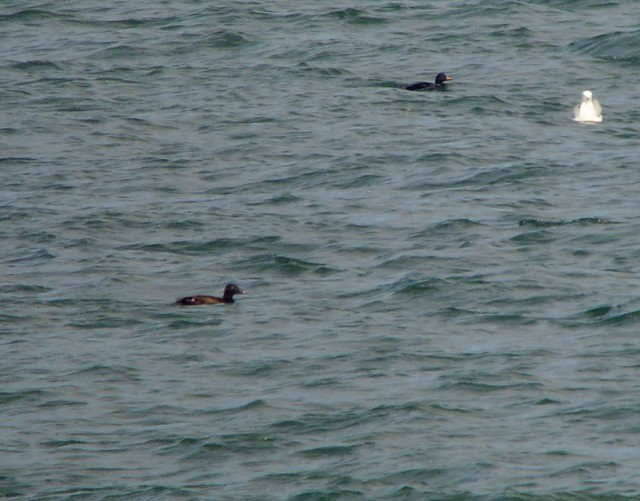 White-winged Scoter, Murcar GC, Aberdeenshire (Photo: John Nadin)
One notable 'almost-ran' was an immature Brown Booby claimed off the Isles of Scilly on 12th. Admittedly the bird seen on the sea for 20 minutes and then in flight did show many characteristics of this extreme rarity, but a closer look at photographs taken at the time showed that this was in fact an immature Gannet.
Considering the arrival of the White-winged Scoter and the continued presence of the American Eider, off Carrickabraghy (Donegal) to 14th, perhaps the sight of no fewer than eight Snow Geese at Slimbridge (Glos) on 12th–13th may relate to a genuine arrival of vagrants. The flock consisted of two adults and six first-summers, which spent their time warily feeding out on the saltmarsh. It will always be difficult to confirm the origins of such likely escapes/ferals, but isotope analysis of feathers collected from these birds may just prove their good credentials. Of slightly more dubious origin were various Ruddy Shelducks, including singletons at Clennon Valley Lakes (Devon) on 9th and Gibraltar Point (Lincs) on 14th and two at Belvide Reservoir (Staffs) on 14th.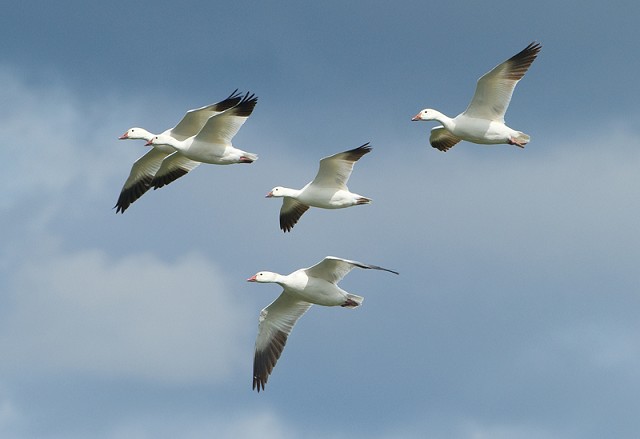 Snow Goose, Slimbridge WWT, Gloucestershire (Photo: Adrian Watts)
On top of the Nearctic arrivals noted above were a few more expected arrivals. Two drake Ring-necked Ducks were at Loch of Bosquoy (Orkney) on 14th, a female Blue-winged Teal was at Chew Valley Lake (Somerset) on 13th–15th and the drake American Wigeon remained at Loch of Strathbeg (Aberdeenshire) all week. Also of note were late reports of a drake Ferruginous Duck at Strumpshaw Fen (Norfolk) on 7th–11th and a drake Black Duck with Mallards at Camschoirk (Highland) on 6th. The long-staying drake King Eider also remained on the Ythan estuary (Aberdeenshire) all week.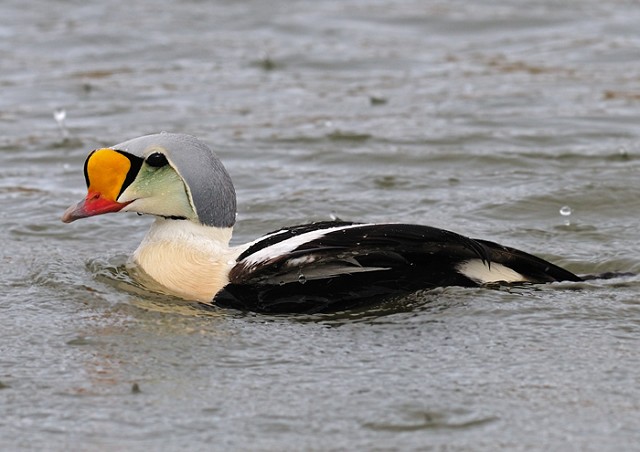 King Eider, Ythan Estuary, Aberdeenshire (Photo: Alan Sinclair)
The Scilly pelagic was productive yet again, with another Wilson's Storm-petrel on 13th. Other seabirds of note included good numbers of Balearic Shearwaters in the south, including 24 past Portland Bill (Dorset) on 13th. Out-of-place seabirds included a Gannet at Pine Lake (Lancs) on 9th and a Sooty Shearwater picked up and taken into care at Meon (Hants) on 13th.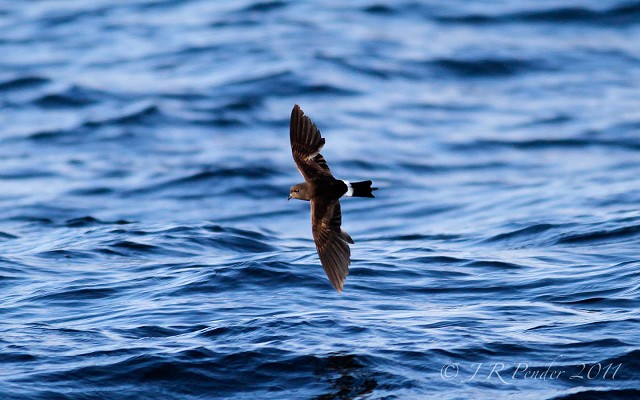 Wilson's Storm-petrel, Scilly pelagic, Isles of Scilly (Photo: Joe Pender)
A Purple Heron at Langford Lowfields (Notts) had been present for 11 days before becoming public knowledge on 10th, being just the sixth record for the county and the first since 2003. The only other (or the same?) was over Stamford (Lincs) on 12th. There was yet another Night Heron, though this too was on a private site, at Bainton Gravel Pits (Cambs) on 12th. Following Shetland's first, another Squacco Heron turned up this week, at Dungeness (Kent) briefly, and elusively, on 15th. Great White Egrets were more widespread, with birds reported from six sites, including the regular bird at Dungeness (Kent). Others showed at Carr Vale (Derbys) on 12th–14th and Lough Beg (Londonderry) on 12th–13th, and briefer birds were reported from Southwold (Suffolk), Blagdon Lake (Somerset) and Fairburn Ings (West Yorks). The only Cattle Egret was a singleton at Fen Drayton Lakes (Cambs) on 15th.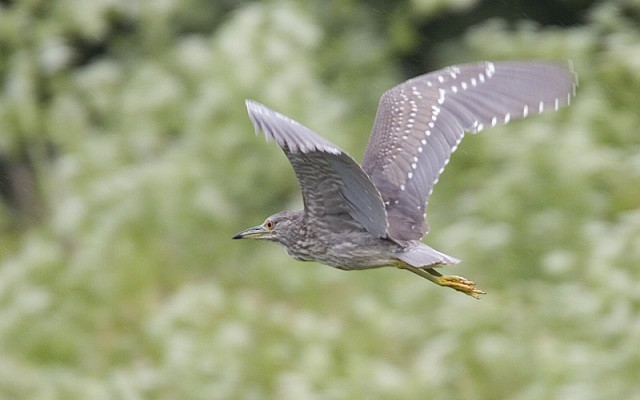 Night Heron, Bainton GPs, Cambridgeshire (Photo: Will Bowell)

Squacco Heron, Dungeness RSPB, Kent (Photo: Martin Casemore)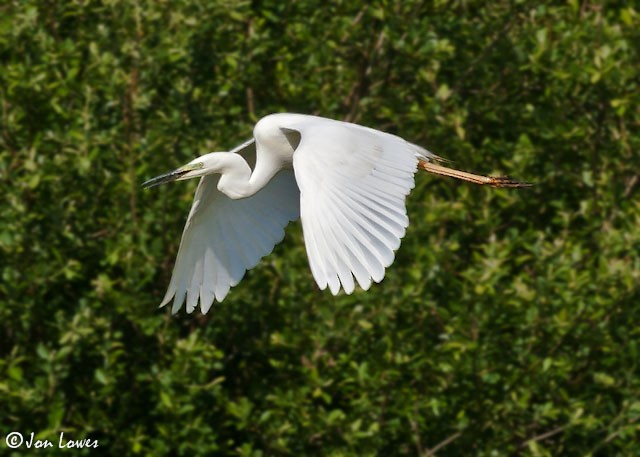 Great White Egret, Carr Vale NR, Derbyshire (Photo: Jon Lowes)
Numbers of Spoonbills continued to increase; records came from many sites along the east coast from Northumberland to Kent, with peak counts of six at Gibraltar Point (Lincs), five at Hickling Broad and Cley Marshes (Norfolk) and up to four at Saltholme (Cleveland). In the west, there were three in Wales, at Llyn Coed-y-Dinas (Powys), Newport Wetlands (Gwent) and the National Wetlands Centre (Carmarthenshire), and one remained at Killongford (Waterford).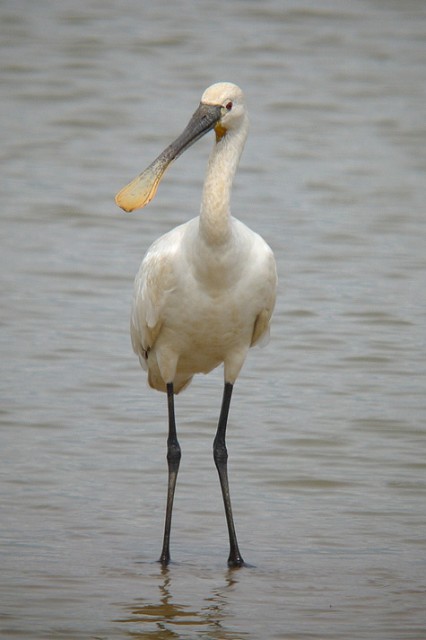 Spoonbill, Gibraltar Point NNR, Lincolnshire (Photo: Russell Hayes)
In the raptor world, the juvenile White-tailed Eagle remained around Ruckland (Lincs) all week and there were three reports of Black Kites, birds over Johnshaven (Aberdeenshire) and Manningtree (Essex) on 10th and Lady's Island Lake (Wexford) on 14th. Notwithstanding local cricket matches, the immature female Red-footed Falcon remained at Ledbury (Herefordshire) to 11th, and several others graced the country. An adult male was over Ranmore Common (Surrey) briefly on 9th, a female flew in off the sea at Corton (Suffolk) on 13th and an adult female and first-summer male were at Hickling Broad (Norfolk) to 13th, the male relocating to nearby Horsey on 14th–15th.
Content continues after advertisements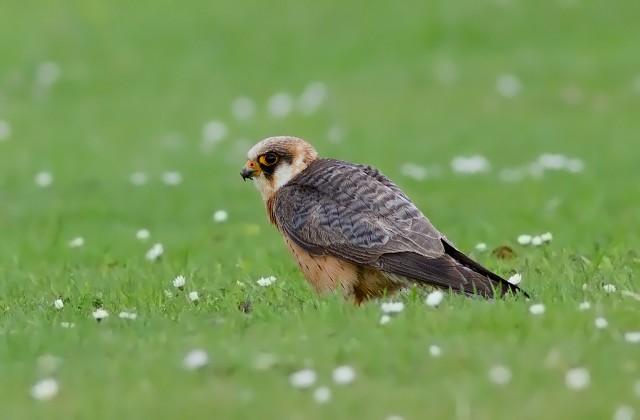 Red-footed Falcon, Ledbury, Herefordshire (Photo: Carl Day)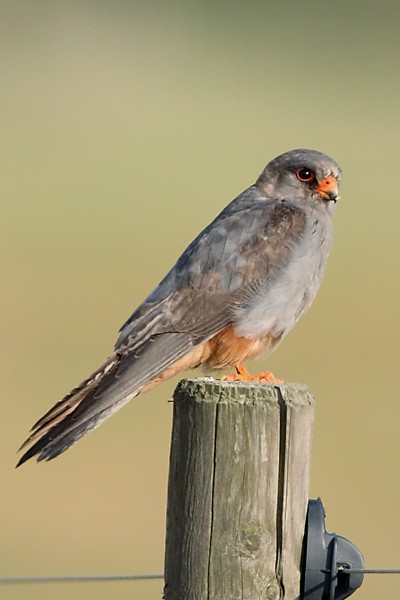 Red-footed Falcon, Horsey, Norfolk (Photo: Rob Wilson)
The only new wader arrival of note was the first Semipalmated Sandpiper of the year, at Black Rock Strand (Kerry) on 9th–14th. There was just one Buff-breasted Sandpiper, at Butt of Lewis (Outer Hebrides) briefly on 14th, and the Pectoral Sandpiper remained at Inner Marsh Farm (Cheshire) to 9th. The only new Pec was at Saltholme (Cleveland) on 11th, relocating to Greatham Creek on 12th. The long-staying female Red-necked Phalarope was at Upton Warren (Worcs) to 14th, and there were new singletons at Tophill Low (East Yorks) and Frodsham Marsh (Cheshire), two at Tacumshin (Wexford) on 9th and two males at Eyebrook Reservoir (Leics) on 10th.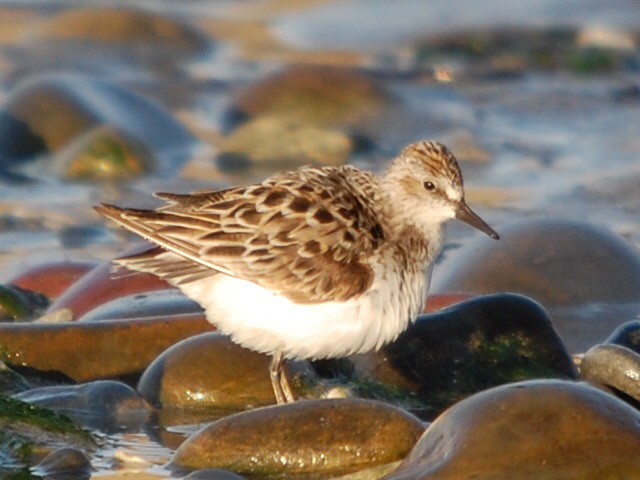 Semipalmated Sandpiper, Black Rock Strand, Kerry (Photo: Ed Carty)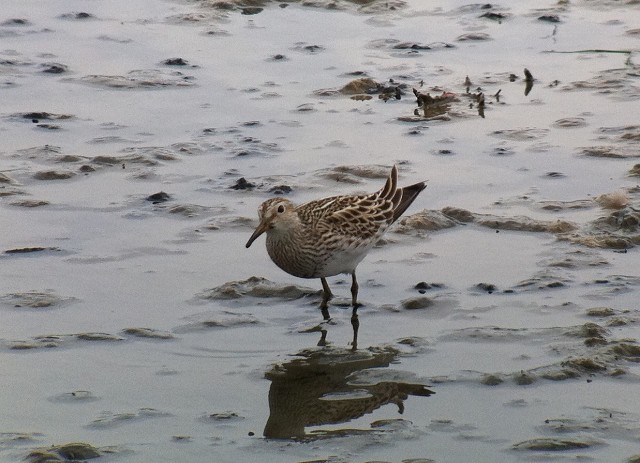 Pectoral Sandpiper, Greatham Creek, Cleveland (Photo: Andrew Kinghorn)
Apart from the resident first-summer bird at Dungeness (Kent), the only Glaucous Gull was a second-summer at Budleigh Salterton (Devon) on 12th, and there were no reports of any Iceland Gulls. The long-staying first-summer Bonaparte's Gull remained in and around the Exe estuary (Devon) all week, and there was just one other bird, at Berneray (Outer Hebrides) on 9th. There were a few more Sabine's Gulls reported along the south coast: one was reported past Portland (Dorset) on 11th and first-summers were seen past Dawlish Warren (Devon) on 12th and at sea 30 miles off Start Point (Devon) on 10th, along with 50 Storm Petrels. The Forster's Tern was at Tacumshin (Wexford) to 11th. In Norfolk, a Common Tern showing some characteristics of the eastern longipennis race was at Breydon Water on 15th, possibly the same as photographed earlier in the year at Minsmere (Suffolk).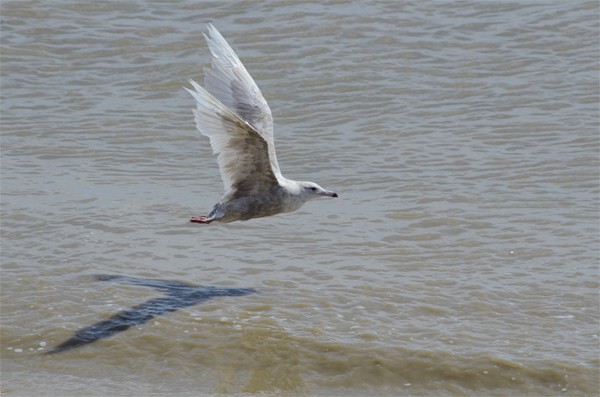 Glaucous Gull, Dungeness, Kent (Photo: Gavin Coultrip)
A single Bee-eater at Woodnesborough (Kent) on 9th was followed by several reports of typically brief birds later in the week. Singletons were at Ram Head (Waterford) and St James South Elmham (Suffolk) on 11th and over Dingle Marshes (Suffolk), Wernffrwd (Glamorgan) and Skomer (Pembrokeshire) on 14th. There was then a report of at least three over Constantine (Cornwall) on 13th and three remained on St Mary's (Scilly) to 13th.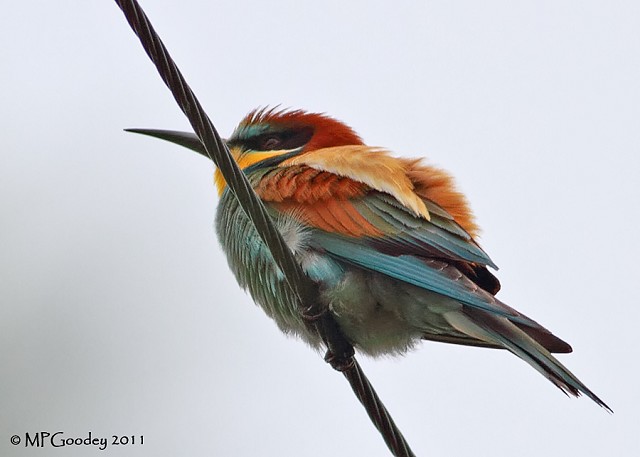 European Bee-eater, St. Mary's, Isles of Scilly (Photo: Martin Goodey)
Continuing the colourful theme was an obliging European Roller at Upper Hollesley (Suffolk) on 13th, originally reported to staff at the Minsmere reserve centre. Although it only remained for the day, the long evening ensured many managed to connect with this bird, the first in the county for 20 years.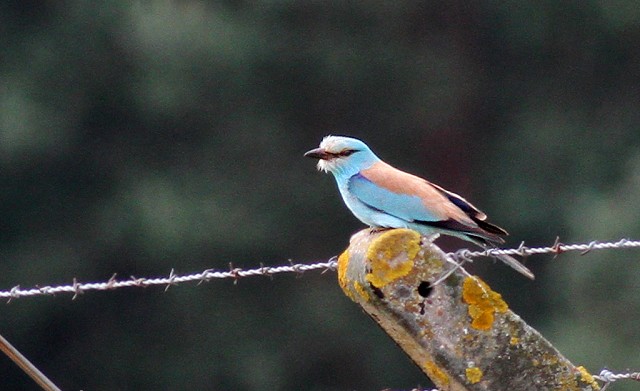 European Roller, Upper Hollesley Common, Suffolk (Photo: Tony Belsham)

Video: garybirder
There were no reports from Welney, but Norfolk did still manage a Bluethroat, this time a red-spotted male at West Runton on 15th, the only one of the week in fact. There were just two reports of Red-backed Shrikes this week, a female at Vange Marshes (Essex) on 11th and a male on North Ronaldsay (Orkney) on 12th–13th. There were an equal number of Woodchat Shrikes: one was at Claddach Vallay, North Uist (Outer Hebrides) on 10th–11th and a female was on Fair Isle (Shetland) on 14th–15th.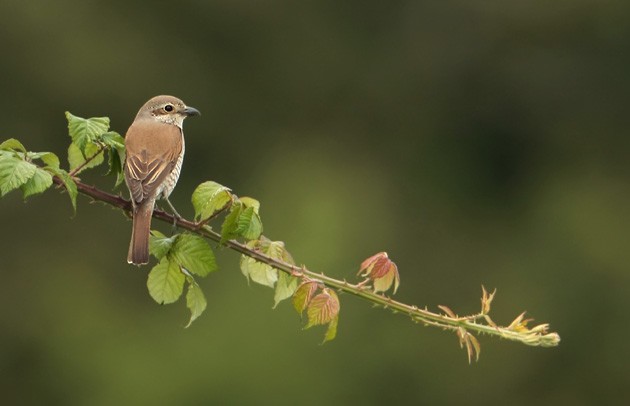 Red-backed Shrike, Vange Marshes, Essex (Photo: Steve Arlow)
With the wind remaining east for a short while, warbler interest continued in the Northern Isles. Fair Isle saw a Greenish Warbler and two Icterine Warblers on 9th, followed by a Blyth's Reed Warbler on 10th. Late news of another Blyth's Reed came from Calf of Man (Isle of Man), where one was ringed on 8th. Other Marsh Warblers were also reported from Norwick, Unst (Shetland) on 11th and, further south, Norfolk saw birds at Great Yarmouth on 10th, Winterton Dunes on 12th and Horsey on 14th. Back in the Northern Isles, there was a Great Reed Warbler at Maywick (Shetland) on 12th and an Icterine Warbler on North Ronaldsay (Orkney) on 10th–11th. Elsewhere, the Iberian Chiffchaff remained at Townley Hall Woods (Louth), reported on 11th, and there was a Western Subalpine Warbler at Pleinmont (Guernsey) on 10th–11th.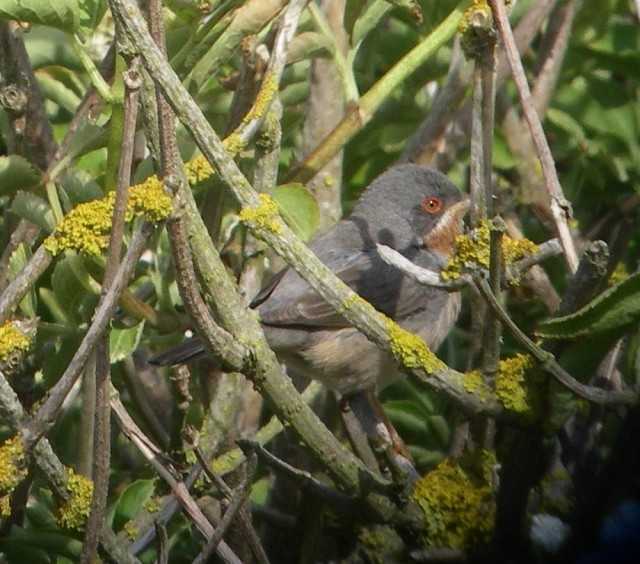 Western Subalpine Warbler, Pleinmont, Guernsey (Photo: Mark Guppy)
An early Red-breasted Flycatcher was at Marrister (Shetland) on 13th and the only Serin was a singing male at Landguard (Suffolk) on the morning of 12th. There were three reports of Rose-coloured Starlings in the northwest, birds at Lochearnhead (Forth) and Langness (Isle of Man) on 9th and another on Jura (Argyll) on 10th. In the south, one reported on feeders at Colyford (Devon) on 8th remained to 9th. There were still only small numbers of reports of Common Rosefinches, many relating to singing males: on Tiree (Argyll) to 9th, at Gibraltar Point (Lincs) on 10th (and possibly on 13th), on Tresco (Scilly) on 11th, at Ledcharrie (Forth) on 11th and Sumburgh (Shetland) on 14th. The only bunting of note was an Ortolan at Spurn (East Yorks) on 9th.
Photo of the Week: 9th–15th June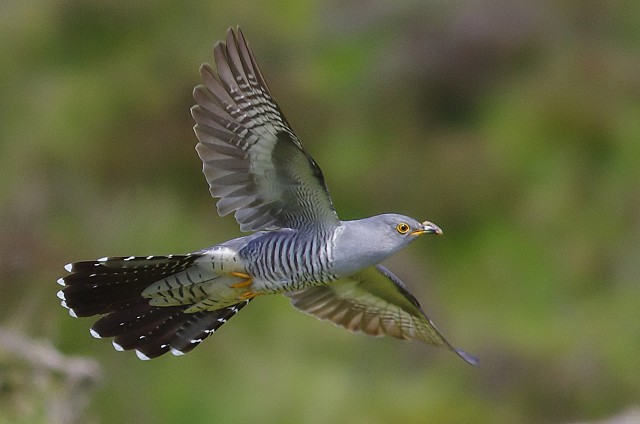 Cuckoo, Dartmoor, Devon (Photo: Charlie Fleming)
Last summer, Devon-based bird photographer Charlie Fleming won his first Photo of the Week with an action shot of two Kingfishers fighting. That image resulted from Charlie spending an extended period photographing the species locally, so that he was present when the unusual event occurred. This week, Charlie has once again proved the benefits of putting in the time as his three-year study of Dartmoor Cuckoos finally gave him a three-hour session with a feeding bird. The best image from this session is a flight shot of the sunlit bird against a background of defocused vegetation. The bird is well posed to show off both the characteristic shape and the underside plumage of this species. This photo, though, also illustrates two features that work particularly well for flight shots. The first is that the bird is photographed side-on: almost all bird photography is best done from the bird's eye level, rather than from above or below. With flight shots, this can be more difficult to achieve, but it's always worth striving for. The second feature is the use of an 'environmental background', rather than just plain sky. This gives a sense of place and can provide a better balance of tones compared with the typical high-contrast bird-in-sky shot. Just rewards for Charlie's perseverence getting to know these birds and their behaviour, as well as practising his technique to make the most of the opportunity.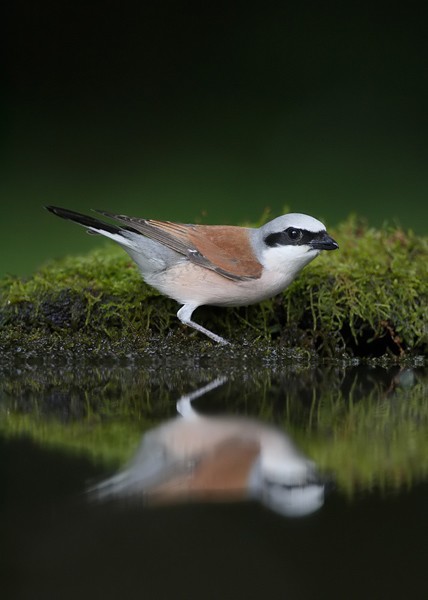 Red-backed Shrike, Hungary (Photo: Mick Southcott)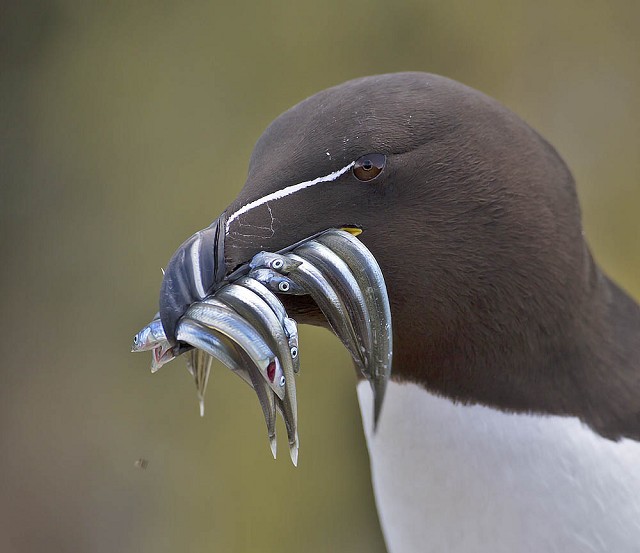 Razorbill, Fowlsheugh RSPB, Aberdeenshire (Photo: John Anderson)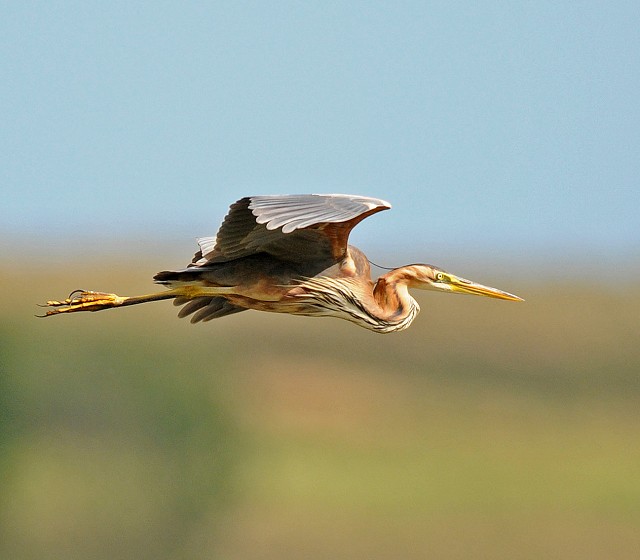 Purple Heron, Minsmere RSPB, Suffolk (Photo: Jon Evans)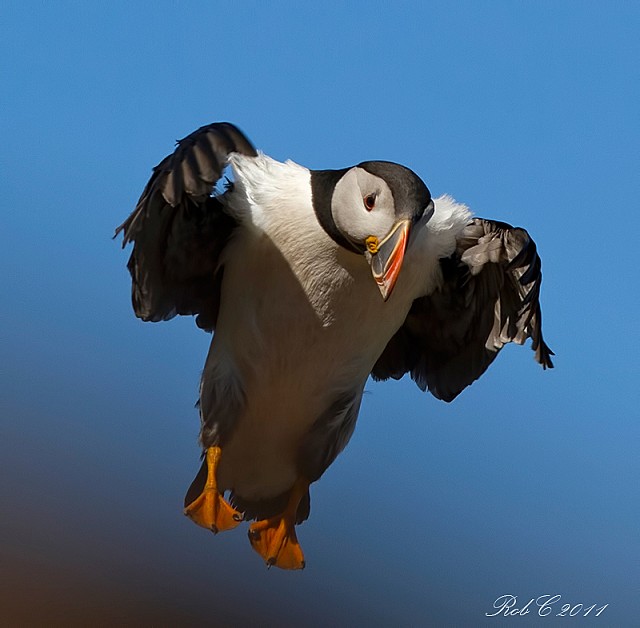 Puffin, Skomer, Pembrokeshire (Photo: Rob Cross)

House Martin, Fleetwood, Lancashire (Photo: Jackie Moreton)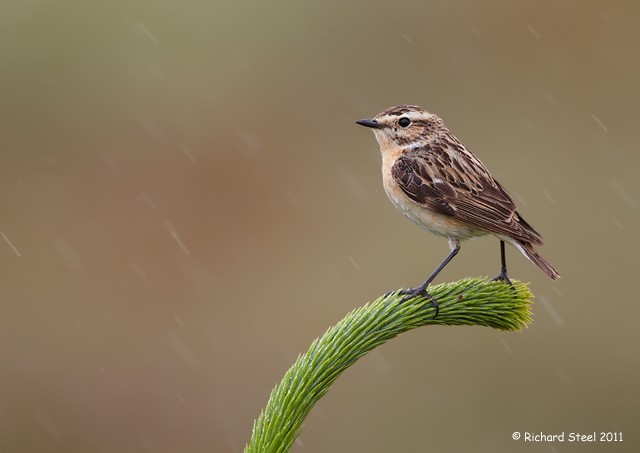 Whinchat, undisclosed site, Clwyd (Photo: Richard Steel)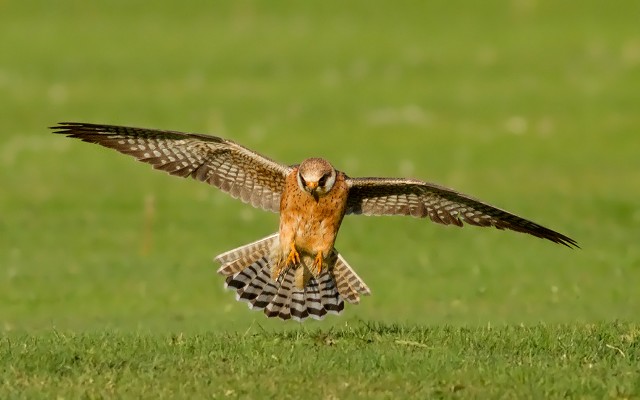 Red-footed Falcon, Ledbury, Herefordshire (Photo: Carl Day)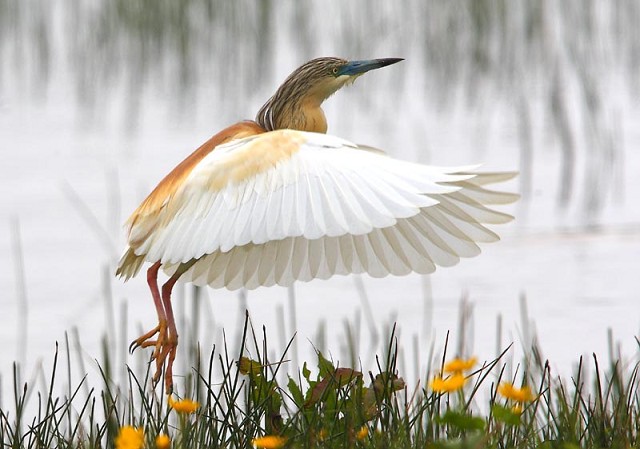 Squacco Heron, Urafirth, Mainland, Shetland (Photo: James Wood)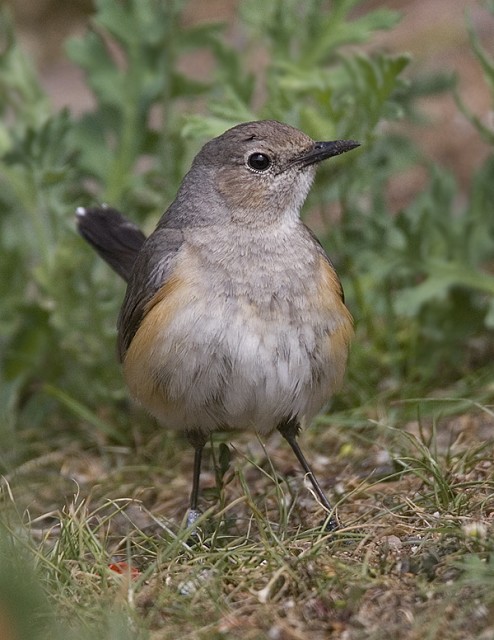 White-throated Robin, Hartlepool Headland, Cleveland (Photo: Will Bowell)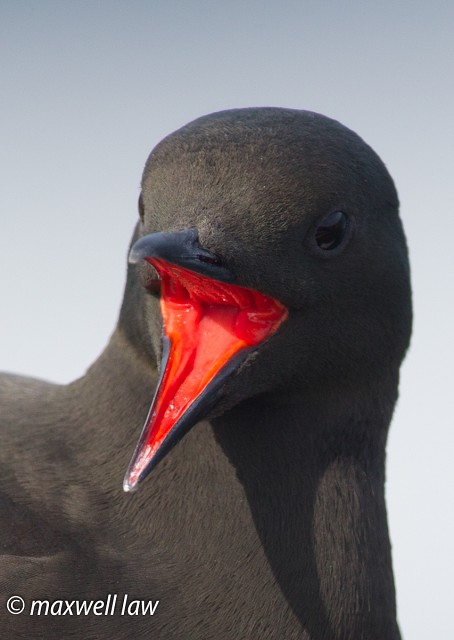 Black Guillemot, Papa Westray, Orkney (Photo: Maxwell)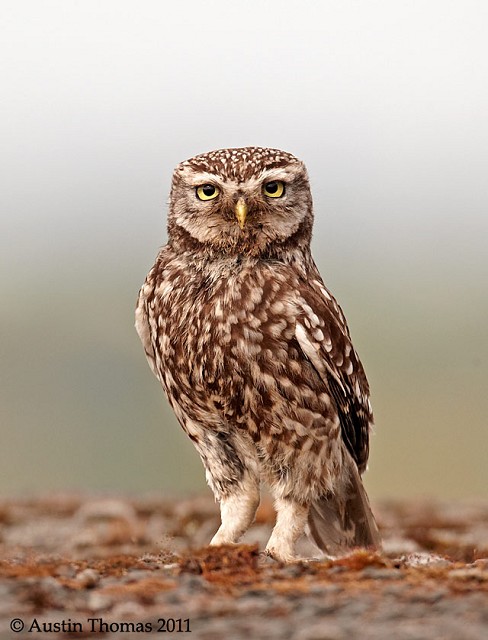 Little Owl, undisclosed site, Lancashire (Photo: Austin Thomas)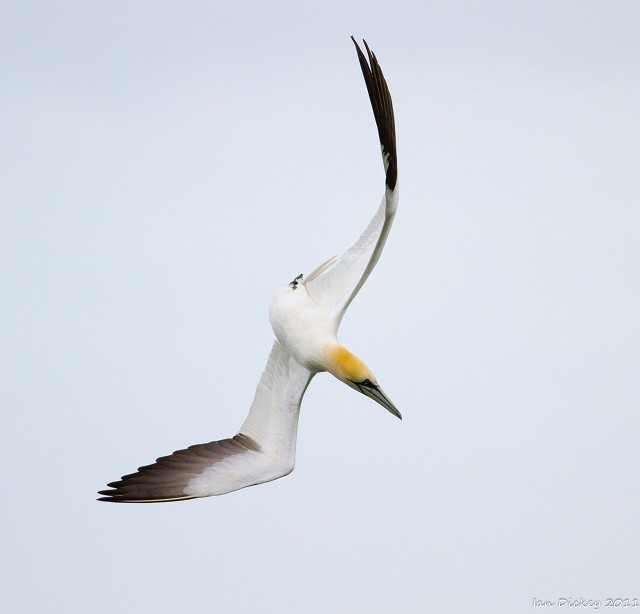 Gannet, Ballintoy, Antrim (Photo: Ian Dickey)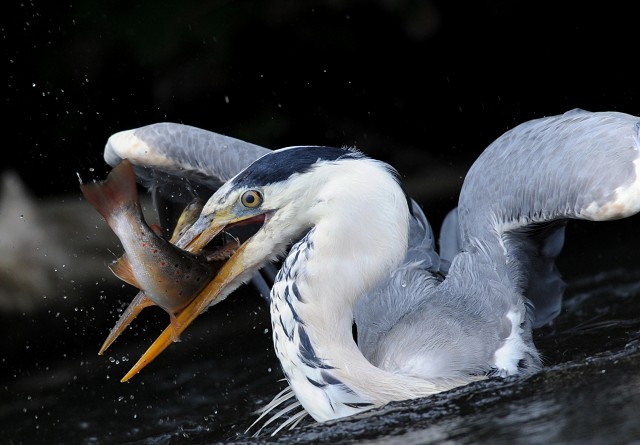 Grey Heron, St. Albans, Hertfordshire (Photo: Ben Andrew)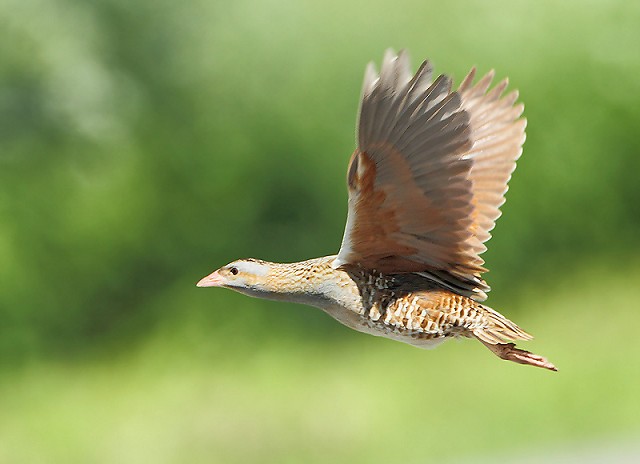 Corncrake, Poland (Photo: Rudi Debruyne)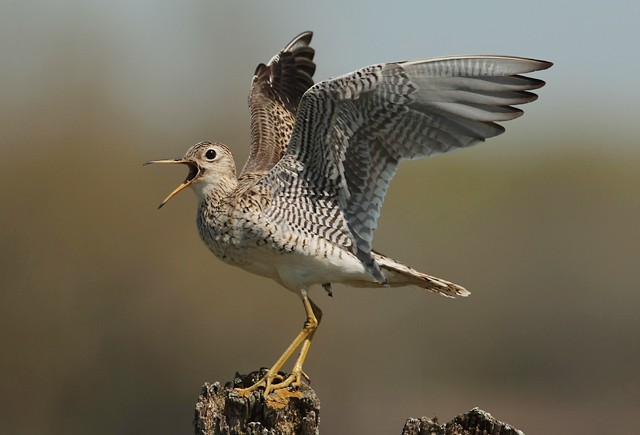 Upland Sandpiper, United States (Photo: Steve Arlow)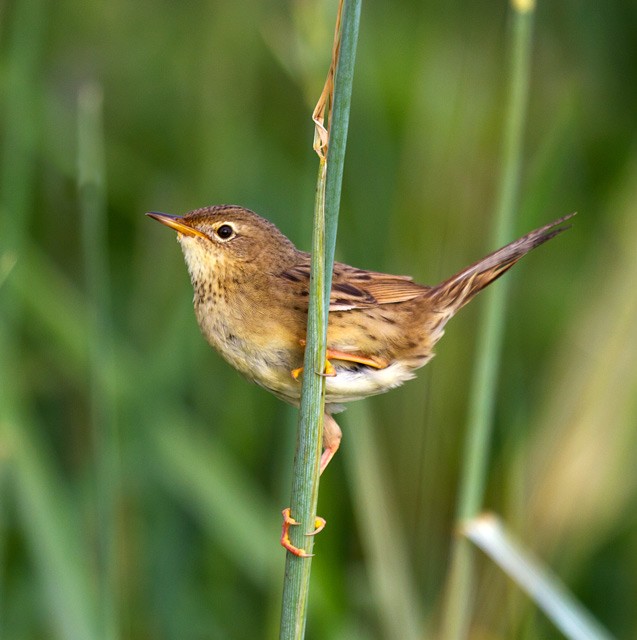 Grasshopper Warbler, Doonfoot, Ayrshire (Photo: Chas Moonie)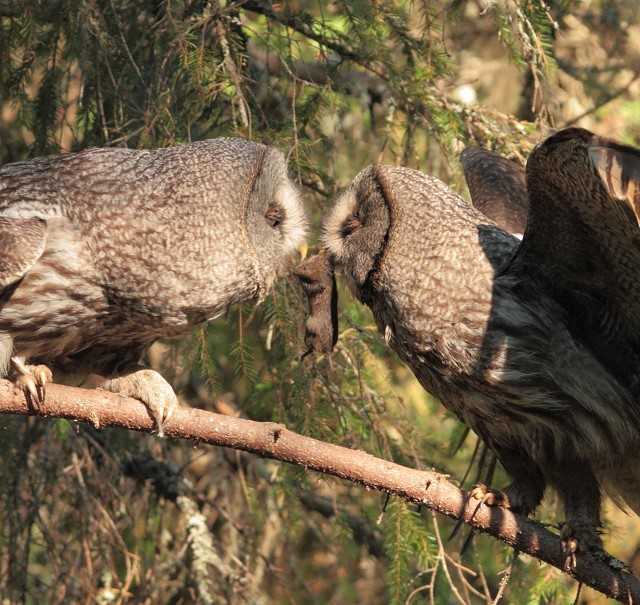 Great Grey Owl, Finland (Photo: Rob Smith)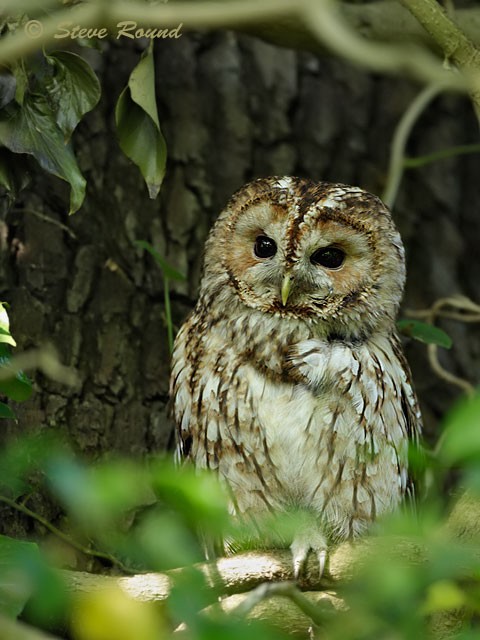 Tawny Owl, Spital, Cheshire (Photo: Steve Round)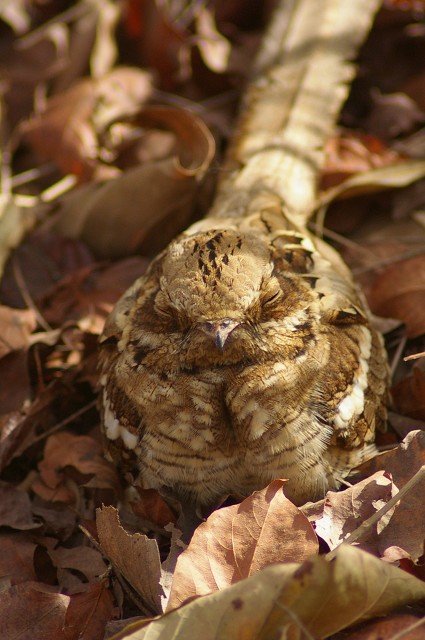 Long-tailed Nightjar, Gambia (Photo: George Tuthill)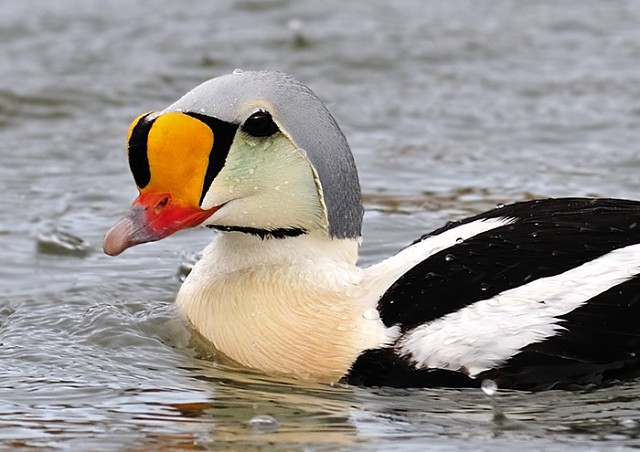 King Eider, Ythan Estuary, Aberdeenshire (Photo: Alan Sinclair)