The week at a glance
As we wind down towards the festive period, two recent headline birds continue to dominate the BirdGuides news page: the American Bittern at Castlefreke, Co Cork, which was still present on 14th, and the Oriental Turtle Dove at Scalloway, Shetland, which was still in situ on Tuesday (though it did go missing on 9–10th). Unfortunately last week's Black-browed Albatross in County Kerry failed to show up again, but at least the Cornish Pacific Diver was back off Penzance and Newlyn on 12th.

American Bittern, Castlefreke, Cork (Photo: Kris De Rouck)
New rarities are always at a premium in the final weeks of the year — the days are short and, as in the case of this year, grey and dreary all too often. With focus shifting to friends and family as the festive season approaches, birding tends to take a back seat and thus decent discoveries are generally scarce. Though found (and quickly lost again) last Monday, the reappearance of the three Penduline Tits at Titchfield Haven from 9–13th unsurprisingly drew plenty of admirers to this stretch of the Hampshire coastline as the trio proved twitchable for the first time, ultimately proving one of the highlights of a fairly quiet December week. On 15th they were impressively relocated at IBM Lake, several kilometres to the east.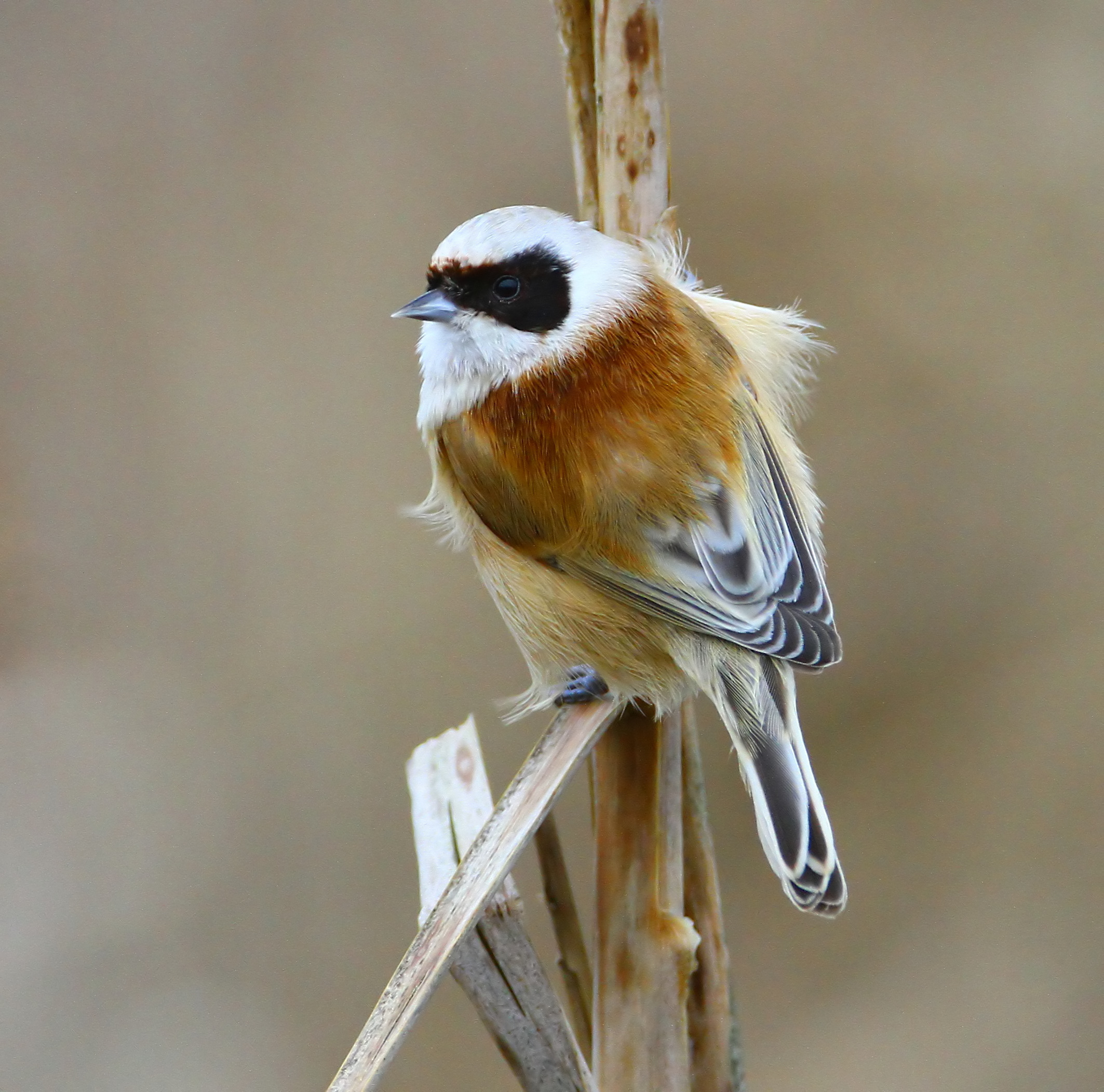 Penduline Tit, Titchfield Haven NNR, Hampshire (Photo: Lee Fuller)
What may prove to be the bird seen off Hartlepool last week, a Surf Scoter was found at Filey, N Yorks, on 15th. An impressive five were seen among many thousands of Common Scoters off Old Colwyn, Conwy, on 15th, while regular drakes remained in Lothian and Fife.
A female Lesser Scaup was a new find at The Gearagh, Co Cork, on 10th, while the drake remained stationary at Chew Valley Lake, Somerset. A pair of Ring-necked Ducks was fresh in at Dunfanaghy New Lake, Co Donegal, on 14th, the two females remained at Rooksbury Mill, Hants, to 13th and the drake was again at Pitlochry, Perthshire, on 12th; in Dumfries & Galloway, the young male also continued at Caerlaverock, where the drake Green-winged Teal also continued to perform. Further examples of the latter were seen in Devon, Gloucestershire, Cheshire, Lancashire, Clyde and Orkney, the last a new bird on Papa Westray from 13th, while a hybrid Green-winged × Eurasian Teal was at Breydon Water, Norfolk, on 13th.

Green-winged Teal, Banton Loch (Townhead Reservoir), Clyde (Photo: John Molloy)
A first-winter drake American Wigeon was at Bowling Green Marsh, Devon, from 11th, and the drake was still at Tain, Highland, late in the week; 'possibles' were reported on Orkney and in County Kerry. The drake Ferruginous Duck remains at Blashford Lakes, Hants, while the bird at Washington WWT, Durham, was still among its captive brethren on 13th, and the ringed bird remained in Berkshire.

American Wigeon, Bowling Green Marsh RSPB, Devon (Photo: David Boult)
The only Snow Goose this week was the white morph still in the Cardurnock and Anthorn area of Cumbria. An adult white-morph Ross's Goose was with Pink-feet at Carstairs Junction, Clyde, from 12–14th and was presumably the same individual as that reported at Bonnybridge, Forth, 'recently'. Seven Black Brants included one with just three Dark-bellied Brents at Covehithe Broad, Suffolk, on 15th, while the disgraced Ridgway's Cackling Goose was still cavorting with Mallards near Countess Weir, Devon, on 15th. The origins of two Red-breasted Geese at Berney Marshes, Norfolk, on 9th may be considered debatable.

Black Brant, Chichester Harbour, West Sussex (Photo: Dorian Mason)
What is presumably the same Cattle Egret roving around Norfolk was finally pinned down this week, typically among cattle, at Sea Palling from 11th. The only other report came from Tacumshin, Co Wexford, on 13th. Just three Glossy Ibis were reported: long-staying birds in Co Wexford and E Sussex and a new individual briefly at Amble Marshes, Cornwall, on 9th. Great White Egrets were once again reported from upwards of 30 sites.

Cattle Egret, Sea Palling, Norfolk (Photo: Tony Duckett)
With no reports of Gyr Falcons this week, the smashing juvenile male Pallid Harrier at Snettisham, Norfolk, took the 'raptor of the week' award. Still present on Tuesday, it looks to be have been giving great views at times. Interestingly a report was received of a male in the county at Egmere on 9th, but it hasn't been seen since. A total of seven Rough-legged Buzzards were reported, including at least four in Norfolk.

Pallid Harrier, Snettisham RSPB, Norfolk (Photo: Les Bunyan)
Long-billed Dowitchers remained in Hampshire and Northumberland to 9th and 14th respectively and the Spotted Sandpiper was still at Pilmore, Co Cork, on 13th. Breydon Water's Lesser Yellowlegs made its first appearance for three weeks on 12th. The Grey Phalaropes at Farmoor Reservoir, Oxon, was last seen at on 11th, with another in Glamorgan that day and at least two seen in Dorset on 12th.
An adult Bonaparte's Gull was a nice find at Kirkwall, Orkney, on 9th and was seen again on 15th. The long-stayer was still at Dawlish Warren, Devon, on 13th. The third-winter American Herring Gull was again near St Just, Cornwall, on 8–9th — the first time it has been reported in three weeks. Ring-billed Gull numbers remain low, with the adult still in Dingwall, Highland, the second-winter again in Preston, Lancs, and both first- and second-winters in Cornwall. Iceland and Glaucous Gull numbers remained on a par with last week, the former including a second-winter bearing a yellow Darvic ring near Watten, Highland — it had been ringed in Arbroath on 19 April 2015. There was a belated report of two Ross's Gulls seen at Applecross, Highland, on 7th.

Iceland Gull, King's Lynn, Norfolk (Photo: Jake Gearty)

Iceland Gull, Waterbeach, Cambridgeshire (Photo: Jon Heath)
Caspian Gull numbers remained healthy nationwide, the Dungeness peninsula continuing to attract a steady stream of birds of all ages; other good counts came from Staffordshire, Buckinghamshire and Cambridgeshire.

Caspian Gull, Dungeness NNR, Kent (Photo: Richard Smith)
With no sign of last week's bird in Suffolk, the Staffordshire Hoopoe was the sole representative of its species. It lingered throughout the week and often showed well; no doubt it will continue to enjoy the mild conditions forecast for the foreseeable future.

Hoopoe, Hinksford, Staffordshire (Photo: Phill Ward)
The Common Swift was still at Foreness Point, Kent, to 9th, and a Common/Pallid swift was seen briefly at Ardwell, Dumfries & Galloway, on 15th. A Swallow was at Cley, Norfolk, on 9th, with two at Kessingland, Suffolk, on 11th, one at Cliftonville, Kent, on 14–15th and several records from the south coast, particularly Dorset.
Three Shore Larks continued to show well at Holme Dunes, Norfolk, all week with another trio in the county at Burnham Overy Dunes from 12th. Three were still at Hartlepool, Cleveland, on 13th with one at North Gare on 11th. A Richard's Pipit flew over Holkham Pines, Norfolk, on 13th with another still at Shellness, Isle of Sheppey, Kent, that day; two were at Baltasound, Unst, on Friday.

Shore Lark, Holme Dunes NWT, Norfolk (Photo: Josh Jones)
Another week passes and there is still no onslaught of Waxwings; that said, 40 flying over Washington WWT, Durham, on 12th and 30 in Leicester on 11th suggests that there are a fair few about.

Waxwing, Gateshead, Durham (Photo: Mark Bowen)
The Barred Warbler was last noted at Thorntonloch, Lothian, on 13th — hopefully it has moved on rather than succumbed. A Dusky Warbler was reported again at Ham Wall, Somerset, on 9th with another at Atherington, W Sussex, from 9–11th. A Pallas's Warbler seemingly fresh in at Filey, N Yorks, on 15th suggests that we mustn't yet write off the autumn completely, and is testament to the exceptionally mild conditions that continue to linger over much of northern Europe. Another was reported briefly in Pulborough, W Sussex, on 14th. Six Yellow-browed Warblers were restricted to Cornwall (4) and Devon (2), while the former county also claimed a Rose-coloured Starling, at Lizard village on 13th.

Yellow-browed Warbler, Broadsands, Devon (Photo: Steve Ray)
Western Palearctic news
A generally quiet week across the region saw Israel claim the lion's share of the best birds on offer. Something of a surprise was the reappearance of the immature Bateleur on the south Judean plains — this bird was last seen near Kedma in mid-August. Another long-staying sub-Saharan mega, the Red-billed Teal, was still at Hazeva on 14th. The icing on the cake was Israel's eighth Great Bustard, present in the Jizreel valley from 12th.

Great Bustard, Israel (Video: Asaf Sasson)
An Azure Tit near Vilna, Lithuania, on 11th is only the fourth for the country since 1964; elsewhere the bird in Helsinki, Finland, continued to show over the weekend. The only other items of note were an American Coot on Pico, Azores, on 9th and the regular Long-legged Buzzard still at Maasvlakte, Netherlands.