The week at a glance
The second week of 2014 proved just as lively as the first, with plenty on offer across Britain and Ireland to keep all comers happy. In fact, to put into perspective the dynamism of birding on our shores at the moment, Saturday 11th saw 431 reports released on our bird news services, in comparison to 360 on the corresponding day last year — and that was during a big Waxwing winter! Of course, there are other factors at work (the prime example being weather, and this Saturday was largely a beautiful day), but it nevertheless gives a good impression of the quality of birding on offer countrywide at present, despite the almost total lack of any sort of cold snap.
But the week's biggest news actually referred to yet another top-quality feather to slot into 2013's already crowded cap. The bird in question was Britain's second-ever White-winged Scoter; it was photographed off Musselburgh (Lothian) on Boxing Day but the identification was only clinched when images of a distant Velvet Scoter flock were reviewed this week. The images themselves are good records that undeniably depict a White-winged Scoter, but exactly which of the two subspecies — deglandi or stejnegeri — they show is a little more difficult to determine. At this sort of distance, head and bill profile are quite difficult to judge reliably but, looking at the bill colouration (reddish towards the base with apparent yellowish edging), Stejneger's Scoter looks the more sensible choice. As the 2011 Aberdeenshire individual was an American White-winged Scoter, this could potentially mean that the Musselburgh bird is a British first; either way, extensive searching since has drawn a blank on what is a reasonably well-watched piece of coastline. That said, the scoters here are often very distant and the feeling is that this bird could well still be in the area.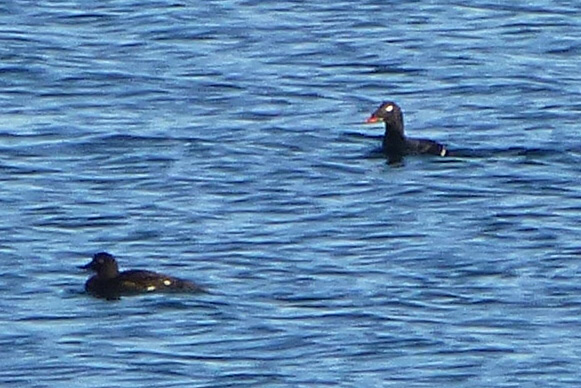 Presumed Stejneger's Scoter (right), Musselburgh, Lothian (Photo: Sarah-Louise Selly)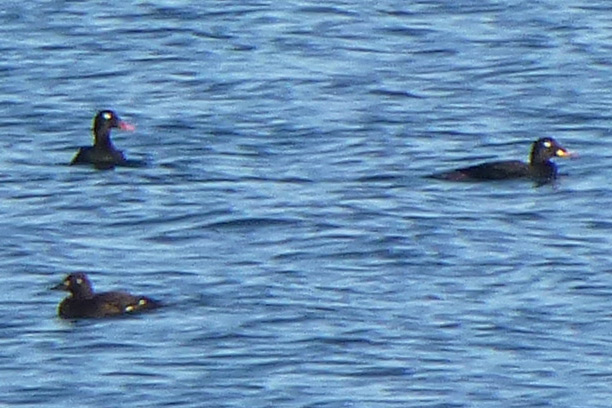 Presumed Stejneger's Scoter (top left), Musselburgh, Lothian (Photo: Sarah-Louise Selly)
The week also produced further Ivory Gull action, but this time it was Ireland that weighed in with its first of the winter, an undeniably beautiful juvenile at Tacumshin (Wexford) from 8th onwards. Unlike the majority of the winter's British records, this one performed outstandingly well throughout the week and was still present at the end of the review period.

Ivory Gull, Tacumshin, Wexford (Photo: Tom Shevlin)

Ivory Gull, Tacumshin, Wexford (Photo: Victor)
Meanwhile, back across the Irish Sea, the Thayer's Gull was again seen at the westernmost extremity of the Gower peninsula (Glamorgan) around the rocks at Burry Holms on 8th, 10th and 11th. With better photographs emerging of this bird, it certainly looks a reasonable candidate for a thayeri, albeit a rather well-marked and hoary individual that is arguably knocking on the door of kumlieni. In fact, with Kumlien's, Iceland and Glaucous Gulls all seen at the site during the week, it certainly wasn't a bad spot to be if you're a fan of white-winged gulls — though there were no candidate American Herring Gulls this week. Down in Kent, an adult Ross's Gull flew past Dungeness on 13th but, alas, did not stop.
Highlight of the week's waterbirds was the continuing American Coot at Loch Flemington (Highland) which, present for its first full weekend, drew admirers from right around Britain, many making the long drive north for a productive weekend in Scotland that included back-up birds such as the remaining female Lesser Scaup still off Alturlie Point. The Alturlie bird was one of five seen this week, with the South Uist bird relocating to Loch Bee from 8th and drakes still at Loch Watten (Highland), Cardiff Bay (Glamorgan) and Dozmary Pool (Cornwall). Ring-necked Ducks were not much more numerous, with eight seen: new drakes (though presumably returning birds from past winters) were at Carrowmore Lake (Mayo) on 10th, Wimbleball Lake (Somerset) from 11th and at Oxford Island (Armagh) on 12th, while others were still in Leicestershire, Aberdeenshire and Counties Waterford, Cavan and Down. A drake American Wigeon was on the Culdaff Estuary (Donegal) on 11th–12th and further lingering drakes were in Aberdeenshire, Orkney and Counties Leitrim and Armagh. It was an altogether more fruitful week for Green-winged Teal, with 15 seen nationwide including six new birds: drakes were new in at Neumann's Flash (Cheshire) from 8th, Coot Loch (Benbecula) on 10th, Holy Island (Northumberland) and Fairburn Ings (W Yorks) on 12th, and at Bude Marshes (Cornwall) on 12th–14th.

American Coot, Loch Flemington, Highland (Photo: Jacob Everitt)

American Coot, Loch Flemington, Highland (Photo: Jacob Everitt)
Geese were also prominent: the Red-breasted Goose was back in the Farlington/Keyhaven area of Hampshire from 13th (the Jersey bird was last reported on 11th). Snow Geese included twos at Boisdale, South Uist on 14th, near Forth (Clyde) on 13th (both blue), two still at Rhunahaorine Point (Argyll) on 12th, and two with Greylag Geese at Penrith (Cumbria). A blue morph was at Larne Lough (Antrim) on 12th, the white morph was still in County Kerry and at least one white morph was still in Aberdeenshire. Black Brants were still at a minimum of eleven sites nationwide, and included the juvenile still showing at Kilnsea (E Yorks).

Red-breasted Goose, Keyhaven Marshes, Hampshire (Photo: anon)
Offshore, at least one female King Eider remained between Gullane Point and Fidra (Lothian) throughout, with a young drake reported off Musselburgh on 11th. The female was off Blacksod (Mayo) all week and drakes were again off Nairn (Moray/Nairn) and in Bluemull Sound (Shetland). Drake Surf Scoters off Torcross (Devon) and Amroth (Pembrokeshire) on 11th and 12th respectively were 'new' sightings, while four drakes were seen in Colwyn Bay (Conwy) on 14th, in addition to others remaining in Dorset, Gwynedd, Lothian and County Cork. The White-billed Diver was last seen in the harbour at Brixham (Devon) on 8th, the altogether calmer conditions coaxing it out into open waters: it was to be found off nearby Berry Head from 10th. Another was on South Ronaldsay from 11th.
Cattle Egrets remained at Steeple Claydon (Bucks), Bunmahon (Waterford) and Stoke Gabriel (Devon), while high counts of Great White Egrets included at least half a dozen at Dungeness (Kent) and at least four in Northamptonshire. An amazing 131 reports of Glossy Ibis were put out on our news services during the week, with at least 36 birds involved. Multiple counts included at least three at Ballyhealy (Wexford) and twos at Boldon Flats (Durham), Carnan and Daliburgh (both South Uist), on the Otter Estuary (Devon) and at Owenahincha (Cork). At least two birds on Shetland included a new individual at Loch of Spiggie on 10th–11th, and another new bird was on Tiree (Argyll).

Cattle Egret, Steeple Claydon, Buckinghamshire (Photo: Dr George Kinsman)

Great White Egret, Gailey Reservoirs, Staffordshire (Photo: Tony Kinder)

Glossy Ibis, Boldon Flats NR, Durham (Photo: Mark Newsome)
Rough-legged Buzzards remained at a premium, with birds still in Essex and Suffolk, and three in Norfolk including two still at Haddiscoe Marshes and a third in the Holkham area.
Of the shorebirds, the highlight was again the Short-billed Dowitcher seemingly very much at home on North Ronaldsay (Orkney) on 10th. The Marsh Sandpiper continued to frequent the shoreline between Kyles Paible and Rubh' Arnal (North Uist) to 13th and the Lesser Yellowlegs was still at Lepe (Hants). Special mention, though, goes to the Grey Phalarope on the children's paddling pool along Hove seafront (E Sussex), which showed extraordinarily well throughout the week.

Lesser Yellowlegs, Lepe CP, Hampshire (Photo: Andy Johnson)

Grey Phalarope, Hove, East Sussex (Photo: John Stanton)

Grey Phalarope, Hove, East Sussex (Photo: Will Rawles)
The Bonaparte's Gull was still around Dawlish Warren (Devon) throughout the week and there was a welcome return by Cardiff Bay's adult, seen again there on 12th. Relatively unremarkable numbers of Ring-billed Gulls included four British birds: the adults in Highland and Hampshire in addition to an adult at Chew Valley Lake (Somerset) on 12th and a first-winter in the Loch of Skene (Aberdeenshire) roost on 11th. Of the Irish records, three remained around Cork City and two were still at Tralee (Kerry). White-winged gull numbers again swelled slightly, although it's looking like a significantly better year for Glaucous Gulls than Icelands — for example, six of the former could be found feasting on a putrid Sperm Whale at Askernish, South Uist on 14th.

Ring-billed Gull, Dingwall, Highland (Photo: Stef McElwee)

Ring-billed Gull, Portrush, Antrim (Photo: Christine Cassidy)

Glaucous Gull, Kildonan, S.Uist, Outer Hebrides (Photo: Yvonne Benting)

Glaucous Gull, Kildonan, S.Uist, Outer Hebrides (Photo: Yvonne Benting)
Cheshire's Buff-bellied Pipit reappeared at Burton Marsh again from 9th, and proved reliable until the week's end. Richard's Pipits were at Rhoscrowther (Pembrokeshire) on 9th and still at Kelling (Norfolk) on 12th, and the Rose-coloured Starling continued on St Mary's (Scilly). With an unconfirmed report from Suffolk remaining that way, Kent monopolised Hume's Leaf Warbler records: birds remained at Dungeness and Ramsgate cemetery throughout. Meanwhile, the probable Central Asian Lesser Whitethroat was trapped and ringed in Tynemouth (Northumberland) and eight Yellow-browed Warblers were noted among good numbers of Siberian Chiffchaffs. In East Yorkshire, a striking Northern Treecreeper (ssp. familiaris) was a fine find at Millennium Wood, Flamborough.

Buff-bellied Pipit, Burton Marsh, Cheshire (Photo: Malc Wright)

Hume's Leaf Warbler, Ramsgate, Kent (Photo: Steve Ray)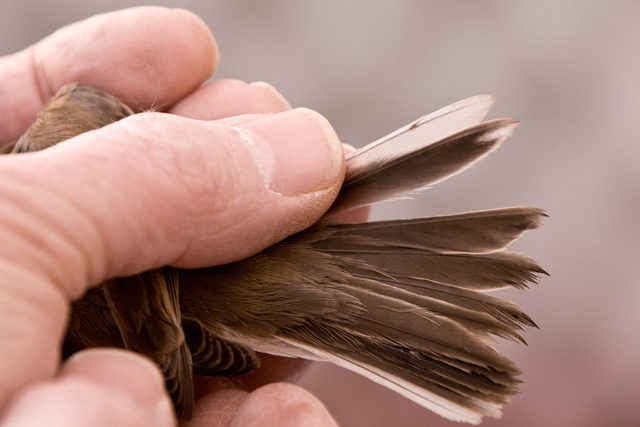 Central Asian Lesser Whitethroat, Tynemouth, Northumberland (Photo: Colin Bradshaw)

Siberian Chiffchaff, Broadwater GP, Greater London (Photo: Andrew Moon)

Siberian Chiffchaff, Holywood, Down (Photo: Ronald Surgenor)

Northern Treecreeper, Flamborough Head, East Yorkshire (Photo: Martin Garner)
Four Parrot Crossbills at Grime's Graves (Norfolk) on 12th were new, and a female was in Waveney Forest (Norfolk) from 10th — a male was also there on 13th. Otherwise, 14 remained at Budby Common (Notts), 11 were at Spink's Lodge (Suffolk), ten continued in Ashdown Forest (E Sussex), the male was alongside a Coues's Arctic Redpoll in Hemsted Forest (Kent) and a female was at Broomhead Reservoir (S Yorks), where at least seven Two-barred Crossbills also remained. Other Two-barreds included 15 still touring two sites in the Forest of Dean (Glos) with another — a male — at Nagshead RSPB on 10th. Three continued in the Wyre Forest (Shropshire), at least one was heard among Crossbills at Swinley Park (Berks) on 8th and the male was again reported from Lynford Arboretum (Norfolk).

Parrot Crossbill, Budby Common, Nottinghamshire (Photo: Jon Worthington)

Parrot Crossbill, Budby Common, Nottinghamshire (Photo: Steve Whiteley)
Photo of the Week

Two-barred Crossbill, Wyre Forest, Shropshire (Photo: Jim Almond)
Recently, we've had large numbers of photo submissions of the three different Crossbill species seen in the UK: Common, Parrot and Two-barred. We've come to expect high-quality images of Common Crossbills but, to date, good photos of the much rarer Parrot and Two-barred Crossbills have been in comparatively short supply. Images of the latter, in particular, have been mostly in the record-shot category or of birds in various stages of moult. To receive a good-quality image of a pristine male Two-barred was therefore quite unexpected. Not surprisingly, Jim Almond's well-posed image of this brilliant red bird resplendent amid the dark woodland setting of the Wyre Forest was extremely well received. The huge number of thumbs-up and comments recognise Jim's achievement and we're happy to add our recognition through Photo of the Week as well.
Other notable images

Grey Phalarope, Hove, East Sussex (Photo: Mark Tomlins)

Jay, Wigan, Greater Manchester (Photo: Roy)

Black-throated Diver, Cleethorpes, Lincolnshire (Photo: Dean Eades)

Red Grouse, Longformacus, Borders (Photo: Ron Mccombe)

Short-toed Eagle, India (Photo: Brian Lancastle)

Black Redstart, Sizewell, Suffolk (Photo: John Richardson)

Siberian Chiffchaff, Burton Marsh, Cheshire (Photo: anon)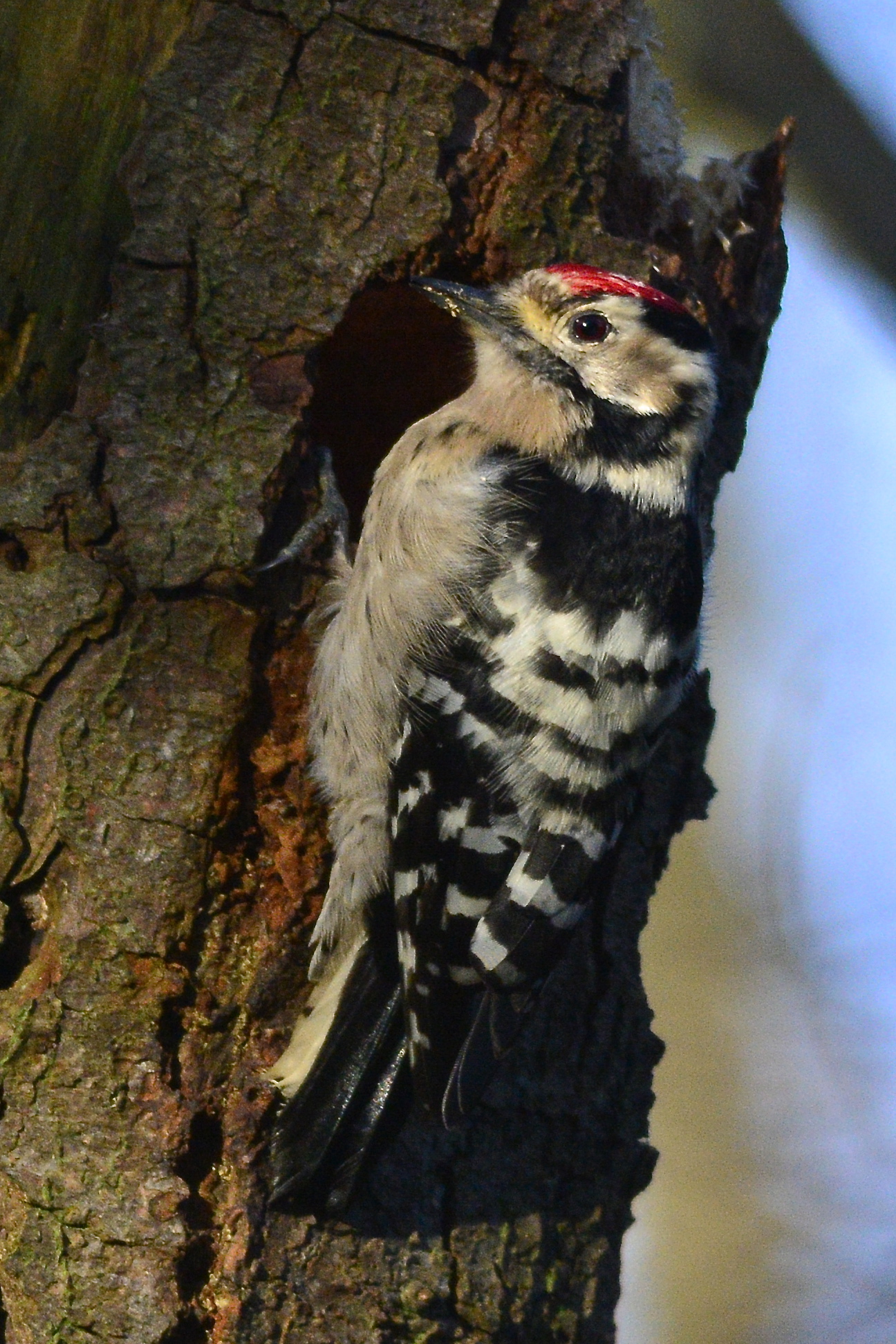 Lesser Spotted Woodpecker, Moore NR, Cheshire (Photo: John Donnelly)

Brambling, undisclosed site, Norfolk (Photo: Matt Crosby)

Pintail, Slimbridge WWT, Gloucestershire (Photo: Mr Clive Daelman)