The week at a glance
That's more like it May! After a relatively quiet start to the month last week, things stepped up a significant gear or two this week: a funny finch grabbed many of the ornithological headlines, closely followed (and overtaken) by a mega wader and a decent selection of two-, three- and four-star birds to boot. All of them appeared in a continuing stream of cooling northeasterly conditions, accompanied by some grot (especially over the weekend) and then brighter, but still chilly, weather as the review period drew to close (with snow on the hills of northern Britain).
Top of the bill this week, for many reasons — and worthy of an article all of its own — was the singing male House Finch at Land's End (Cornwall).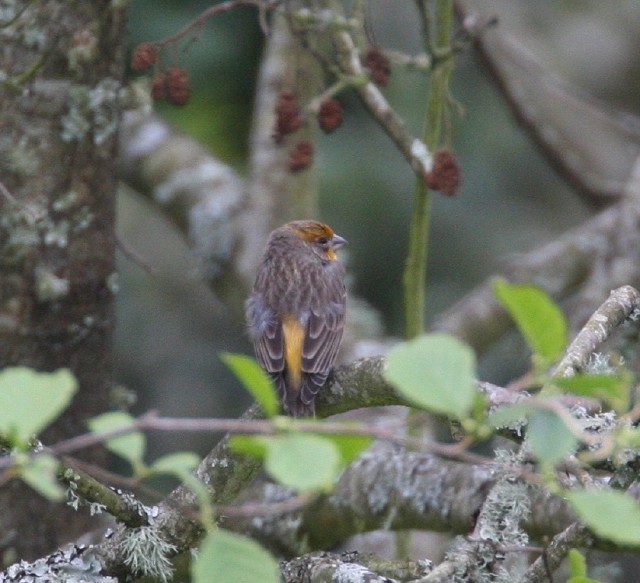 House Finch, Land's End, Cornwall (Photo: Steve Hinton)
The back story appears to be that the mystery bird was first seen in nearby Sennen on or around 4th. Glimpsed once or twice after that, it was on 6th that the bird was seen at Land's End and a minor birding mystery began. The bird — in its yellow variant form — was initially thought to be exactly what it turned out to be, but caution was exercised by local birders to ensure that they weren't about to make an error. The bird was still in place and still singing on 7th. Late into the night, confirmation came, via assorted third parties both here and in the USA: House Finch it was and, with the bird remaining in residence early on the morning of 8th, the news was out.
A steady turnover of a few hundred birders journeyed to the western tip of the country during the day and, although the bird decided to frequent part of a garden not viewable from the main road, the birding resident kindly agreed to allow people in during the afternoon and early evening. Slowly but surely those in the queue shuffled forward to enjoy their two or three minutes with this potential British first. The bird remained around the area until 12th and sometimes showed well, still singing and still drawing a crowd.
There has, though, been a cooler reception to the bird's arrival then you'd get with most potential British firsts — and with good reason. They are kept widely in captivity, they aren't known for their long migratory instincts in the Nearctic and the yellow variant form is popular with aviculturalists (the colour pigmentation is solely a diet issue — only some 5% of birds in North America appear in this guise). However, potentially in its favour are:
it appeared to be in perfect condition, showing no obvious damage to plumage or bare parts — although its moult state appears to be wrong for a wild bird at this time of year
its arrival in Cornwall came just three days after the singing male White-throated Sparrow in the north of the county
a potential new moth for Britain, an American macro moth (the stunning Hyalophora cecropia) was seen on Scilly this week — this too could be a red herring, though: it is newly emerged, so is highly unlikely to have just arrived
the bird's behaviour was completely in keeping with a wild bird
This is not the strongest evidence, by any means. Many people are arguing, ad infinitum, about all the negatives, but the above points may help anyone who wants to argue for the "pro" camp. Who knows what the BOURC will make of it (erring on the side of caution, the most likely scenario a place in Category C or D) but the sound of straws being clutched at is almost deafening. For those taking out an insurance policy, the bird was present to 12th.
Also on the House Finch front: there are two old records (never submitted) both from Fair Isle. A yellow male was trapped on the island in late May 1962 and a female, thought to have been this species, appeared there at the end of April 1966. Found when a Slate-coloured Junco was elsewhere on Shetland, the bird was trapped by Roy Dennis, the observatory warden at the time, and thought to have been a House Finch. With ship assistance a much bigger issue then than it is now and the potential confusion with other brown US finches at the time, the record never saw the light of day.
News emerged this week of a wintering Dark-eyed Junco near Cheltenham (Gloucestershire) from January to early April. News also arrived of five White-throated Sparrows seen leaving New York on board the QEII at the end of April: four were left as the ship was on the last day of its journey to Southampton (on May 5th — one presumably leapt off in sight of the Cornish mainland then) and one was in place when the boat docked on 6th. So, two more on the south coast maybe? There was no mention of any yellow finches though.
Better received (and perhaps understandably so) was Lincolnshire's first Oriental Pratincole, found at Frampton Marsh on 9th. As is often the case, the bird was first thought to be a Collared Pratincole, but the identification was quickly sorted out — unlike last year's protracted saga, in which a bird in Oxfordshire and West Sussex was identified after it had departed, and later appeared in Kent. This year's bird is presumably the same individual, and was still present to 12th.

Oriental Pratincole, Frampton Marsh RSPB, Lincolnshire (Photo: Russell Hayes)
In Kent, the singing male Iberian Chiffchaff at Walderslade was present throughout the week, a second bird appeared near Cadira Beeches (Gwent) from 10th and a third arrived at Potteric Carr (South Yorkshire) on 11th. In Ireland, the Pacific Diver was again off Finvarra Point (Co. Clare) on 8th–9th.

Iberian Chiffchaff, Walderslade, Kent (Photo: James Lowen)
On Shetland, a White-billed Diver remained in Bluemull Sound (Shetland) to 7th. 17 Long-tailed Skuas flew past Esha Ness, also on mainland Shetland, on 10th, and another Long-tailed Skua was seen in Hampshire on 10th. Only a handful of Pomarine Skuas were noted, but they did include 11 past Dungeness (Kent) on 12th.
In County Wexford, the long-staying Glossy Ibis was still at Tacumshin to 11th, and one was reported over Eastbourne in East Sussex on 11th. The only Great White Egrets this week were in Cambridgeshire and Norfolk . Around 25 Spoonbills were noted, with threes in Cornwall, Dorset, Suffolk and County Cork. A similar number of Common Cranes included six over Sustead (Norfolk) on 9th and four over Minsmere (Suffolk) on 11th. Two were seen at Baltasound, Unst (Shetland) on 8th, moving to mainland Shetland on 11th, and another was still on Islay (Argyll) on 6th.

Spoonbill, Amble Marshes, Cornwall (Photo: Colin Selway)

Common Crane, Minsmere RSPB, Suffolk (Photo: Jon Evans)
A Purple Heron was at Brew Pool (Cornwall) on 9th. White Storks were noted flying over Hastings (East Sussex) on 6th and on the cricket pitch at Forfar Loch (Angus & Dundee) on 12th. A Black Stork was seen drifting over the Findhorn Valley (Moray) on 8th; another was reported at Mote Park in Kent on 11th and a possible was over Dagenham (London) the same day.
The white Snow Geese remained at Loch of Strathbeg (Aberdeenshire) to 9th, and two potential Gray-bellied Brants were near Ballykinler (Co. Down) from 8th–10th. Drake Ring-necked Ducks were still on Loch Ballygrant, Islay (Argyll) and Inch Island Lake (Co. Donegal), while the almost-resident female was still on North Ronaldsay (Orkney) to 6th. The drake Ferruginous Duck was still at Chew Valley Lake (Somerset) to 9th.

Ring-necked Duck, Inch Island Lake, Donegal (Photo: Derek Charles)
A Green-winged Teal was found at Llandeilo (Carmarthenshire) on 7th (with a potential female), and others were at Tacumshin on 10th and Loch Gruinart (Argyll) on 11th–12th. The drake Blue-winged Teal was at Pepper Arden Bottom (North Yorkshire) until 6th. On the Outer Hebrides, a drake American Wigeon was on Loch Stiapavat, Lewis on 7th–12th (also accompanied by a probable female).
On mainland Shetland, a first-summer King Eider was seen off Leebotten on 8th and, after a short absence, the drake on the Ythan estuary (Aberdeenshire) was again seen on the 12th. A Surf Scoter was seen from Port Seton (Lothian) from 10th.
After a blank 2009, it was nice to see news of the increasingly rare Broad-billed Sandpiper making landfall this week, at Tacumshin on 7th. Perhaps unsurprisingly, this marvellous site has laid claim to every single one of the five accepted records of the species in Wexford, all since 1989, with the most recent being birds in May 2005 and 2006. Hot on its heels was a second bird, on Skye on 12th, only the second record for Highland.

Broad-billed Sandpiper, Broadford Bay, Skye, Highland (Photo: Martin Benson)
In Cornwall, a Lesser Yellowlegs was found at the Walmsley Sanctuary near Wadebridge on 10th, and an American Golden Plover was at West Gerinish, South Uist (Outer Hebrides) on 11th. A Pectoral Sandpiper was at Saltholme Pools (Cleveland) on 9th. In Norfolk, three Temminck's Stints were on Cley reserve from 6th–11th. Three were also seen at Coleshill GP (Warwickshire) on 12th and single birds were at Newport Wetlands (Gwent) on 8th, Wombwell Ings (South Yorkshire) on 11th–12th and Arlington Reservoir (East Sussex) on 12th.

Lesser Yellowlegs, Walmsley Sanctuary (MEMBERS ONLY), Cornwall (Photo: Colin Selway)
After a good week last week (with just under 150 birds seen) Dotterel numbers this week fell away to around 80 birds. Sixteen were near the Loch of Strathbeg to 11th, a dozen were near Malham Tarn (North Yorkshire) on 10th and nine were seen near Watergrove Reservoir (Greater Manchester) on 8th–10th. In Kent, a Red-necked Phalarope was on Elmley Marshes on 11th–12th.
The French wing-tagged female Montagu's Harrier was still at Minsmere (Suffolk) all week and Black Kites flew over Lydd (Kent) on 8th and Rother Valley CP (South Yorkshire) on 12th. A White-tailed Eagle flew over Orkney on 11th. A male Snowy Owl was on North Uist, at Aird an Runair, on 6th and one was then seen on Lewis on 11th. A possible Booted Eagle passed over Great Bromley (Essex) on 12th.
A first-summer Ring-billed Gull was at Cuskinny Marsh (Co. Cork) on 8th, and four Iceland Gulls and three Glaucous Gulls lingered around Britain and Ireland. A first-summer Caspian Gull was at Canvey Island (Essex) on 7th with another, of the same age, at Sandbach Flashes (Cheshire) on 11th.
In Kent, the second Whiskered Tern of 2010 was seen at Dungeness on 8th, the first in the county for a couple of years and the first for the site since September 2003. In Wexford, the adult Forster's Tern returned for another summer at Tacumshin from 8th.

Forster's Tern, Tacumshin, Wexford (Photo: Tom Shevlin)
The singing male White-spotted Bluethroat was still performing at Welney (Norfolk) throughout the week, and a female Bluethroat was on Lundy Island (Devon) on 9th. Single Bee-eaters were reported from Portland (Dorset) on 6th and Wincanton (Somerset) on 8th.
After some 40 birds last week, there were only six or seven Red-rumped Swallows around this week: two at Wawne (East Yorkshire) on 7th–8th (with one nearby at Weel on 8th) and two more at Arlington Reservoir (East Sussex) on 8th–12th, rising to three on the morning of 10th. Singletons remained at Rother Valley CP (South Yorkshire) from 6th–12th and Nursling (Hampshire) on 12th, and one was photographed at an undisclosed site in West Sussex on 10th. The following day saw another bird fly over the Ythan Estuary (Aberdeenshire). A Pallid Swift was seen over St. Helens (Merseyside) on 12th; maybe it's heading back to Seaforth?

Red-rumped Swallow, Arlington Reservoir, East Sussex (Photo: Howard Kearley)
A male Golden Oriole was singing in Alexandra Park (London) on 7th and another was heard at Goatham Green (East Sussex). A Hoopoe was still showing at Clayhanger Marsh (West Midlands) to 9th. Other Hoopoes were at Exnaboe (Shetland) and Cowfold (West Sussex) on 6th, at Corton (Suffolk) and St. Brides Castle (Pembrokeshire) on 9th, with another on Shetland, at North Roe, on 10th. A singing Wryneck was in the Parsonage on St. Agnes (Scilly) from 6th–8th, and in Cork the Short-toed Lark at Ballynamona beach was still in place to 10th at least.

Hoopoe, Clayhanger Marsh, West Midlands (Photo: D. Lovatt)
Lancashire's first singing Savi's Warbler for seven years was found north of Leighton Moss on 6th, remaining (albeit distant and elusive) until 12th. A similarly elusive singing Great Reed Warbler at Ilkeston on 12th was a long-overdue first for the county of Derbyshire. A male Eastern Subalpine Warbler was seen briefly on the Lizard (Cornwall) on 11th, a Yellow-browed Warbler was reported from a private site near Norwich (Norfolk) on 8th and a male Red-breasted Flycatcher was reported from Windmill Farm NR (Cornwall) on 8th.
The first-summer male Woodchat Shrike remained at Winterton Dunes (Norfolk) to 12th at least, and new birds arrived in the far southwest at Skewjack (Cornwall) and St. Mary's (Scilly) on 9th, and Caerthillian Cove (Cornwall) on 10th. The male Red-backed Shrike was again at Tidenham (Gloucestershire) on 7th and the same date saw a Great Grey Shrike appear on Fair Isle (Shetland).

Woodchat Shrike, Winterton Dunes NNR, Norfolk (Photo: Kevin Du Rose)
The adult Rose-coloured Starling was still near St. David's (Pembrokeshire) on 8th–12th. The Ortolan Bunting appeared again at Portland (Dorset) on 8th, and a second Ortolan was seen briefly at Walney Island (Cumbria) on 9th. Finally, a Little Bunting was present on Fair Isle, also on 9th.
Photo of the Week

Marsh Harrier, undisclosed site, Guernsey (Photo: Paul Hillion)
This week, Guernsey-based bird photographer Paul Hillion has uploaded a superb series of flight shots of a stunning pair of Marsh Harriers. The series is effectively a photo essay, showing the harriers nestbuilding, food-passing, and being mobbed by a Buzzard, as well as some close-up 'flight portraits'. All the images show the birds beautifully sunlit against blue skies. Our favourite, though, captures a moment in which the pair lined themselves up perfectly to allow Paul to create a very rare composition. Juxtaposed field-guide-style, the differences of size, structure and plumage between the sexes are clearly illustrated. Beyond that, though, there is enough interaction between the calling female and the head-turning male to convey a connection between the birds, and the position of the diagonal 'double subject' in the frame is spot on.

Little Ringed Plover, undisclosed site, Northamptonshire (Photo: John Betts)

Red-rumped Swallow, Arlington Reservoir, East Sussex (Photo: Dorian Mason)

Slavonian Grebe, Inverness, Highland (Photo: Mark Hancox)

Common Kingfisher, Rye Meads RSPB, Hertfordshire (Photo: Pixellence)

Little Egret, Alphington, Devon (Photo: Charlie Fleming)

Pochard, Reddish Vale CP, Greater Manchester (Photo: Anthony Dixon)

Red Kite, undisclosed site, Powys (Photo: Tom Melton)

Oriental Pratincole, Frampton Marsh RSPB, Lincolnshire (Photo: Will Bowell)

Woodchat Shrike, Winterton Dunes NNR, Norfolk (Photo: Jon Evans)

Dotterel, Pendle Hill, Lancashire (Photo: David Cookson)

Dartford Warbler, undisclosed site, Hampshire (Photo: Richard Steel)

Nightingale, Little Paxton, Cambridgeshire (Photo: Jim Almond)

Montagu's Harrier, Minsmere RSPB, Suffolk (Photo: Ian Clarke)

Hobby, Wraysbury GPs, Berkshire (Photo: Ian Curran)

Common Swift, Grove Ferry NNR, Kent (Photo: Steve Ashton)

Avocet, Salthouse, Norfolk (Photo: Nigel Pye)

Linnet, Lihou Headland, Guernsey (Photo: Chris Bale)

Siskin, Llandrindod Wells, Powys (Photo: Kev Joynes)

Yellowhammer, Coombe Abbey CP, Warwickshire (Photo: John Spraggett)

Eurasian Griffon Vulture, Bulgaria (Photo: Ian Cook)