We seem to have rapidly slipped into what is often dubbed the 'summer doldrums' – that time of the year when bird news is at its quietest, usually lasting for a month or so from the middle of June until the seawatching season and return wader passage begin to hot up in the second half of July.
Just a single red exclamation mark appeared on the BirdGuides news page over the entire seven days, and that related to a bird barely worthy of it, given it has now been present over four years: the Pied-billed Grebe at Loch Feorlin, Argyll.
There was some excitement, though, with the scattering of new rarities including a male Black-headed Bunting in a garden at Moylgrove, Pembs, on 6th (but only coming to light on 11th) and an apparent Black-headed Wagtail frequenting a bowling lawn in Dawlish, Devon, the same day. It later transpired that this was the same bird seen on St Kilda, Outer Hebrides, on 1 June.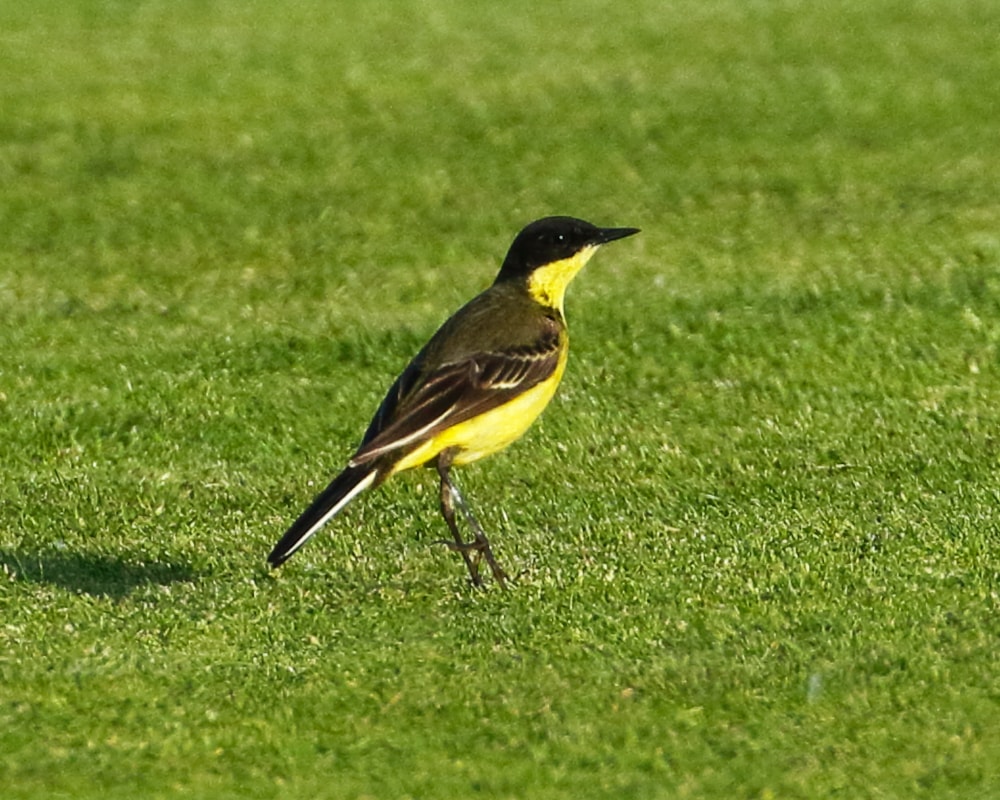 Black-headed Wagtail, Dawlish, Devon (Jo King).
The Rosy Starling influx continued at pace, with at least 45 sites logging birds. Although there is every possibility that some of these may have involved the same individuals, we're no doubt still only seeing the tip of the iceberg – starlings can be quite elusive at this time of year as birds feed out of sight in gardens, as well as move about a lot, making finding and tracking them a difficult task. There was a noticeable west coast bias to reports, with a minimum of six in Cornwall, three in Pembrokeshire, three in Co Kerry, two together in Co Donegal and three in Argyll. Further south and east, there were a couple of new birds in Lincolnshire and a twitchable, if elusive, bird in Rayleigh, Essex, from 9th.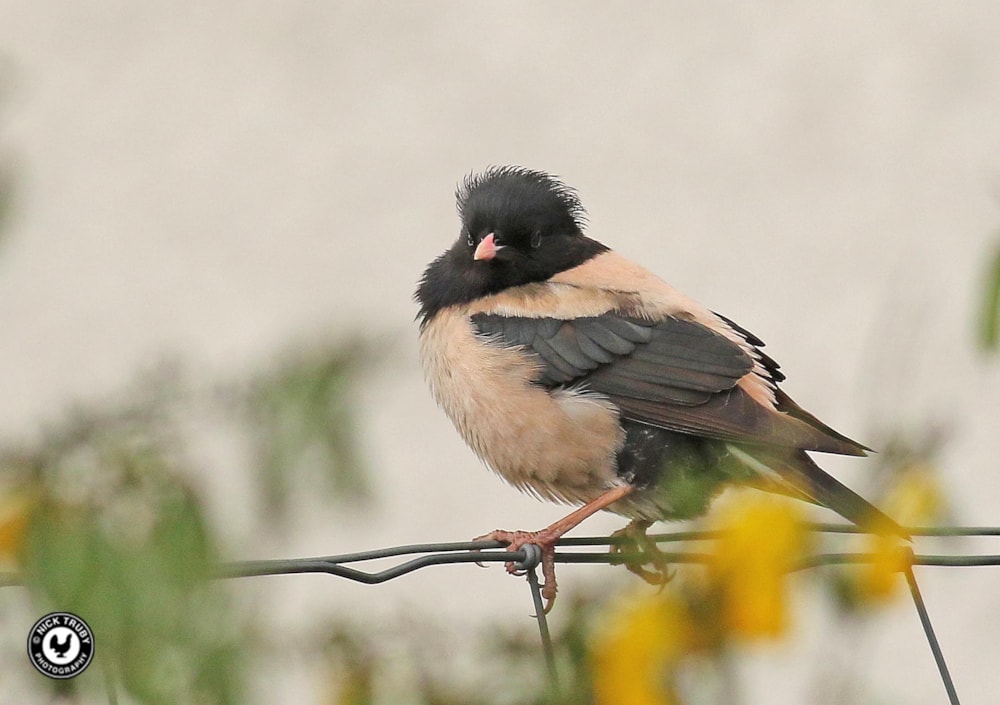 Rosy Starling, Beinn Alligin, Highland (Nick Truby).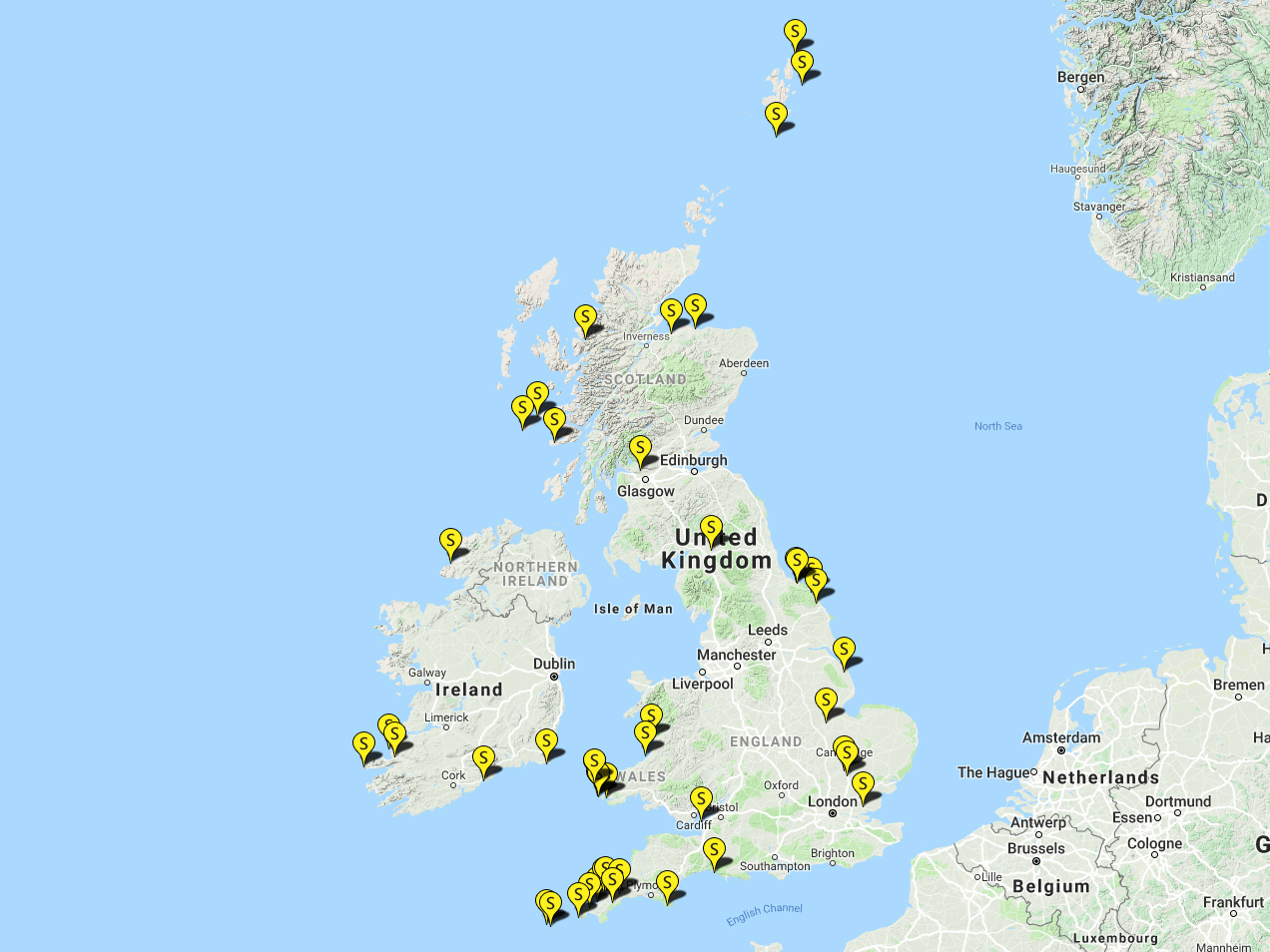 Map of Rosy Starling sightings across Britain and Ireland from 6-12 June 2018 (BirdGuides.com data).
Lingering songsters included the Savi's Warbler at Strumpshaw Fen, Norfolk, which was still reeling on 9th, and the Iberian Chiffchaffs at Thurstaston Common, Cheshire, and Norwood Edge, North Yorks. The female Eastern Subalpine Warbler remained on Fair Isle all week, while a presumed female Western Subalpine Warbler was at Portland Bill, Dorset, on 8th, the same day that an unidentified subalpine warbler was on Tiree, Argyll.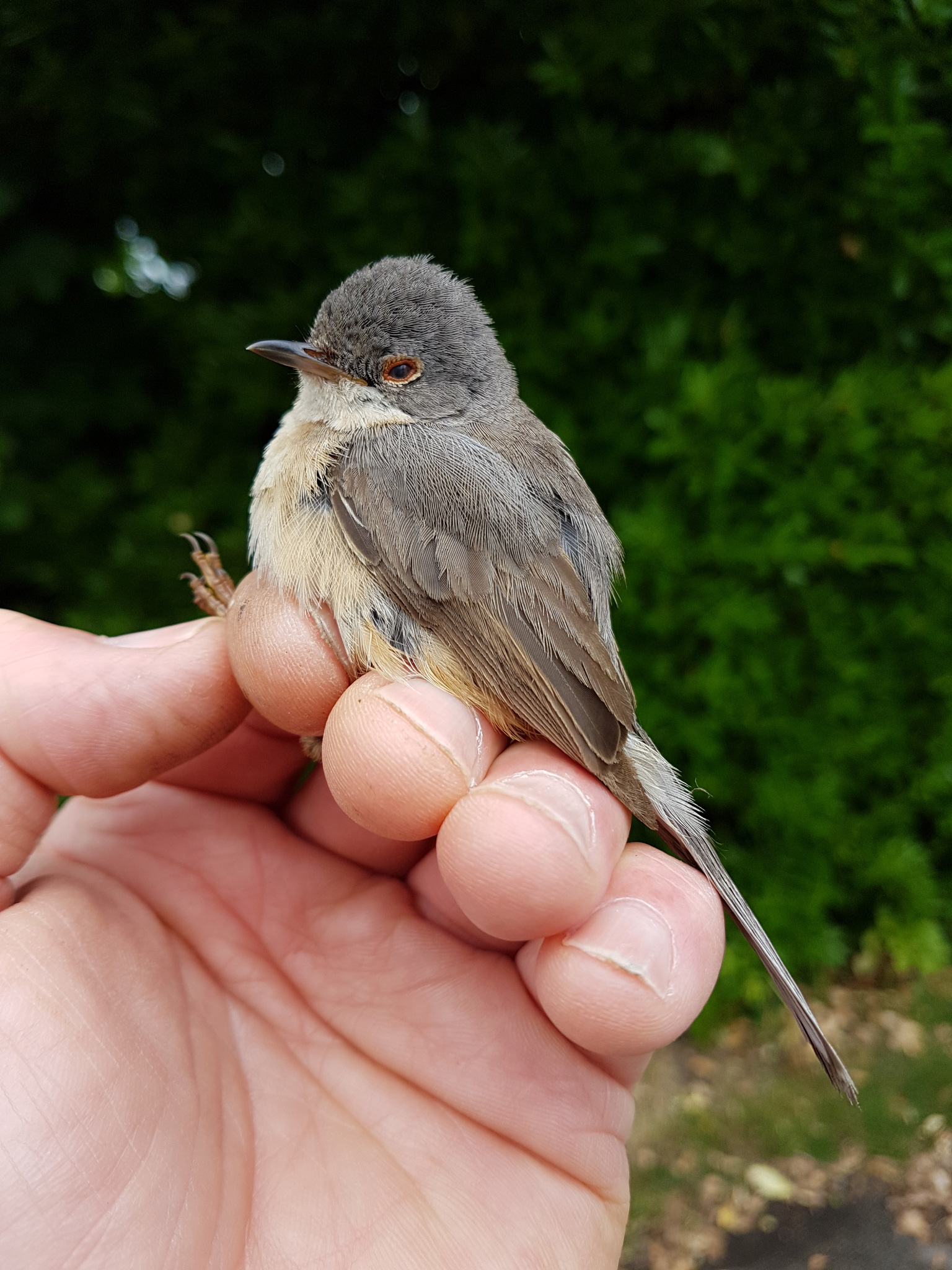 Western Subalpine Warbler, Portland, Dorset (Martin Cade).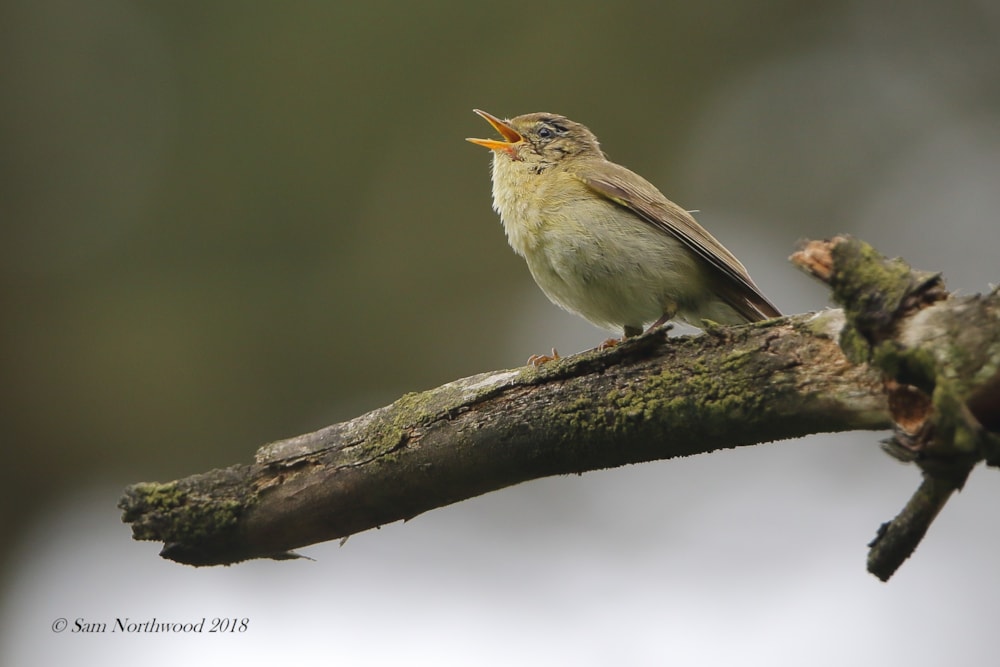 Iberian Chiffchaff, Norwood Edge, North Yorkshire (Sam Northwood).
A Blyth's Reed Warbler was new in at Bardsey Island, Gwynedd, on 6th – the island's second of the spring. Migrant Marsh Warblers sang as they paused at two sites in Northumberland during the week, while day counts of up to four were noted on Fair Isle and one was on North Ronaldsay, Orkney, on 8th. An Icterine Warbler was at Scatness, Shetland, on 6th, with one on Fair Isle to 10th.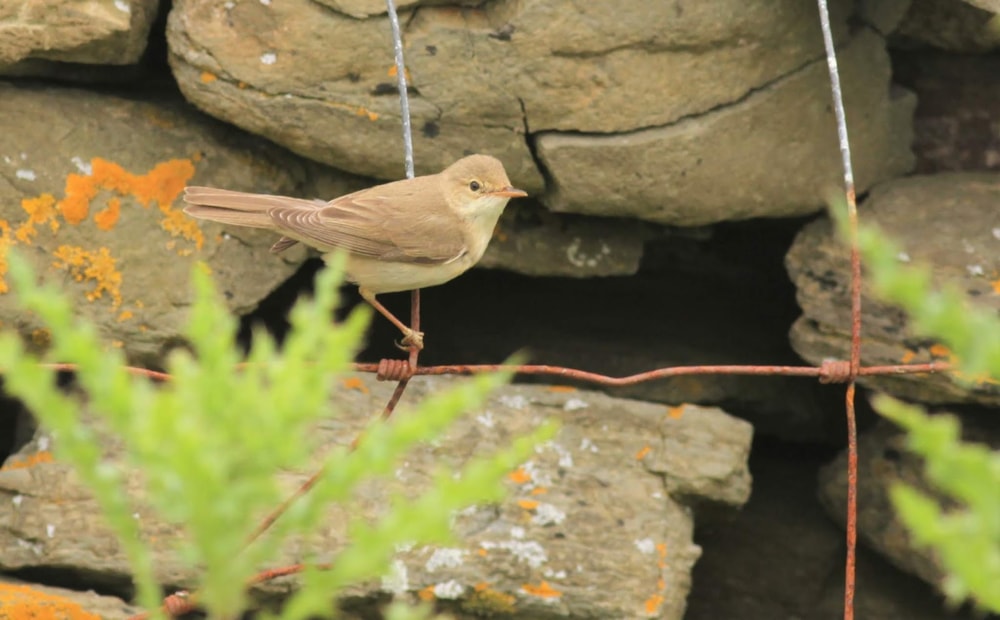 Marsh Warbler, North Ronaldsay, Orkney (Simon Davies).
Six European Bee-eaters passed over West Hougham, Kent, on 6th, with two over Wolviston, Cleveland, and three briefly perched at Earls Colne, Essex, the same day. A female-type Golden Oriole lingered at Houbie, Fetlar, Shetland, all week, while there were further records from Orkney, Lincolnshire and Portland, Dorset. This last site held a Hoopoe on 9th, with another seen at Arnfield Reservoir, Derbyshire, the following day. The Greater Short-toed Lark was last seen at Blakeney Point, Norfolk, on 6th.
A light scattering of new Red-backed Shrikes confirmed that at least a trickle of passage continued, with a male at Wyberton, Lincs, on 6th, two in Norfolk, one in Suffolk, a female at South Foreland, Kent, on 8th and another on Holy Island, Northumberland, on 7th. Further north, males were on Fair Isle and at Fladdabister, Mainland Shetland.
A European Serin flew over Dungeness, Kent, a couple of times on the morning of 7th, while another was at Gibraltar Point, Lincs, on 10th. 'Gib' also claimed a Common Rosefinch on 8-9th; another was on Vatersay, Outer Hebrides, on the latter date. Red-breasted Flycatchers were trapped at Holme, Norfolk, on 7th and Calf of Man, Isle of Man, on 10th. In a spring where they have been scarce, a Woodchat Shrike was a welcome discovery at Scaling Dam Reservoir, North Yorkshire, on 12th.
Given the easterly airflow of recent weeks, a Marsh Sandpiper was perhaps overdue in Britain, and the bird at Pennington Marshes, Hants, on 10th proved popular, even if it only lingered a day. Other shorebird news included the Baird's Sandpiper again at Marazion, Cornwall, on 6th and, in the same county, a surprise Buff-breasted Sandpiper at Davidstow Airfield on 11-12th. Curiously, the Black-winged Stilt reappeared at Eldernell, Cambs, on 7th, but wasn't reported subsequently.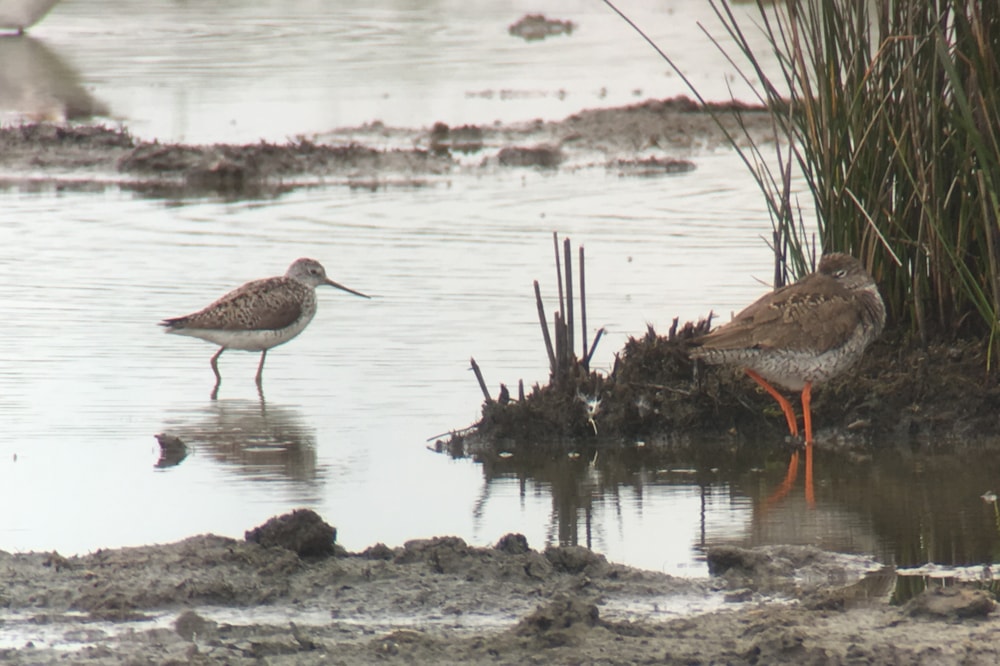 Marsh Sandpiper, Pennington Marshes, Hampshire (Amy Robjohns).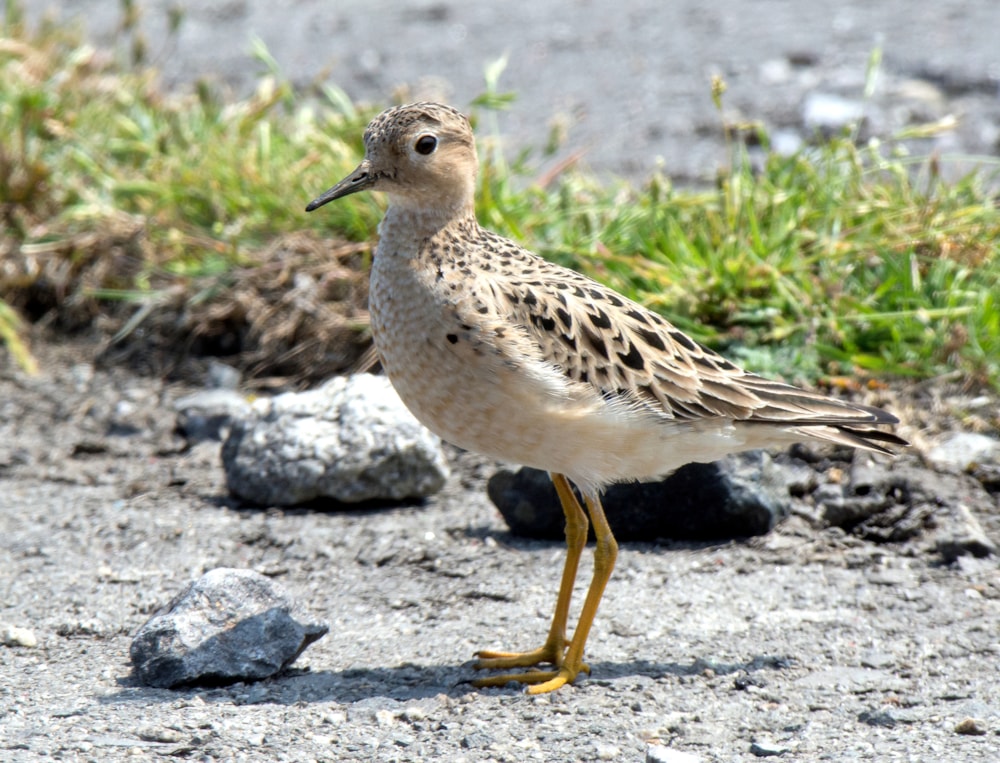 Buff-breasted Sandpiper, Davidstow Airfield, Cornwall (Alex McKechnie).
The adult Bonaparte's Gull once again returned to its moulting grounds at Oare Marshes, Kent, on 7th – this is now the sixth summer that it has been seen here, and the earliest it has returned (it usually pops up in July). A first-summer Ring-billed Gull was at Black Rock Strand, Co Kerry, on 6-7th, while the Shetland bird relocated to Hillwell on 8th. In south-east Ireland, the Forster's Tern remained at Tacumshin, Co Wexford, throughout.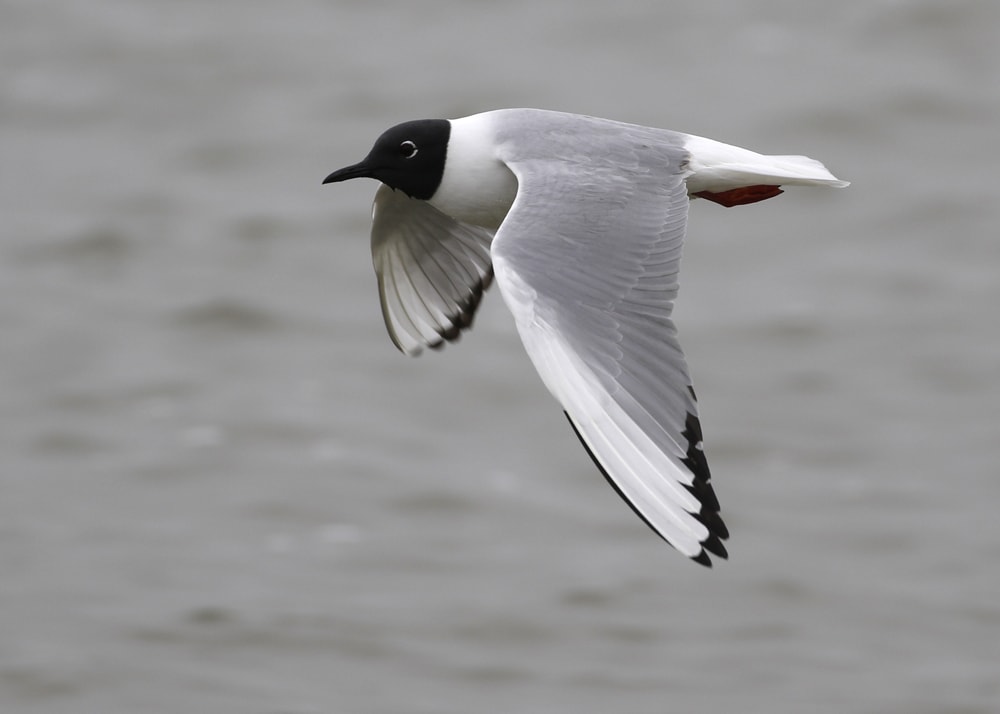 Bonaparte's Gull, Oare Marshes NR, Kent (Mike Buckland).
Wildfowl included the resident American Black Duck still at Strontian, Highland, and the drake King Eider still perfoming beautifully at Aberdeenshire's Ythan Estuary. A female King Eider reported at Alaw Estuary, Anglesey, on 10th wasn't seen again, but could perhaps be the Ceredigion bird moving north. A drake American Wigeon arrived at Loch of Tankerness, Orkney, on 9th, while the Northumberland male lingered at Grindon Lough, as did the Ring-necked Duck on Islay, Argyll. Somewhat unusually for the middle of June, a white-morph Snow Goose was at Grutness, Shetland, on 12th.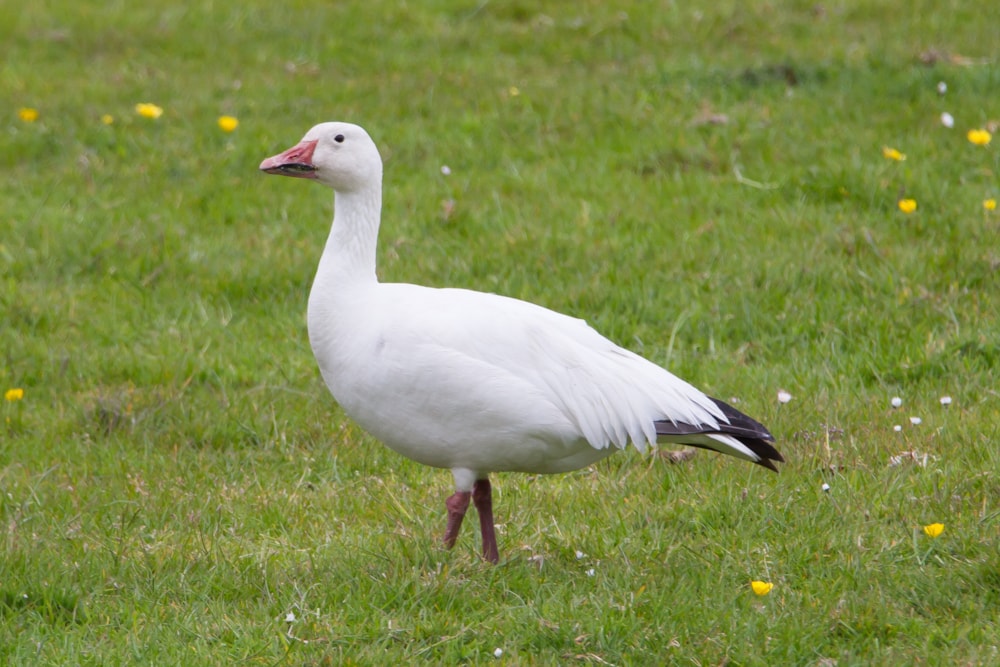 Snow Goose, Grutness, Mainland, Shetland (Mick Kemp).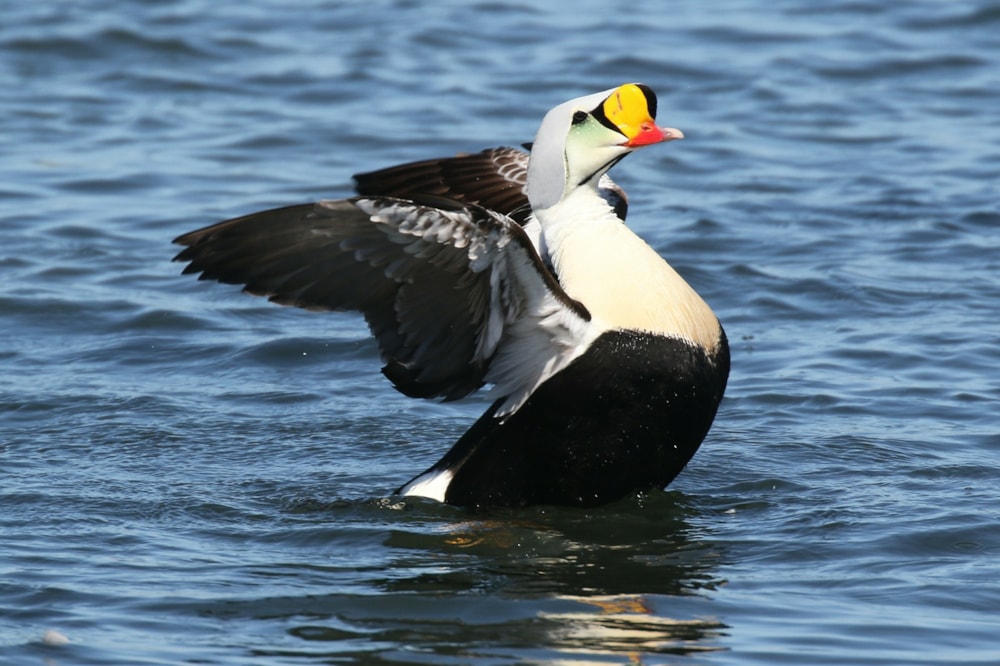 King Eider, Ythan Estuary, Aberdeenshire (Chris Teague).
A Purple Heron was at March Farmers, Cambs, on 12th, joining a Great Egret and two Western Cattle Egrets there. Another cattle egret was at Otmoor, Oxon, on 8th, with further records in Cheshire, Devon and Gloucestershire. The Glossy Ibis remained at Druridge Pools, Northumberland, throughout, while another briefly touched down at Carlton Marshes, Suffolk, on 10th.
With no news of last week's birds on Shetland and in Pembrokeshire, the only Snowy Owl noted this week was the long-staying female on St Kilda, Outer Hebrides. The long-staying Black Kite, presumably of eastern origin, was on North Ronaldsay, Orkney, on 7th, relocating to Fair Isle later that day, where it stayed to 11th. Elsewhere, one flew south over Minsmere, Suffolk, on 9th and another was reported over Havant, Hants, two days later. Female Red-footed Falcons were seen at Morden Bog, Dorset, and over Norwich, Norfolk, on 6th.
The early run of Wilson's Storm Petrels continues, with four from a Cork pelagic on 7th. Seabird news was otherwise rather scant – a Pomarine Skua at Felixstowe Ferry, Suffolk, on 6th was a good June record, as was the Sabine's Gull past Calf of Man on 9th.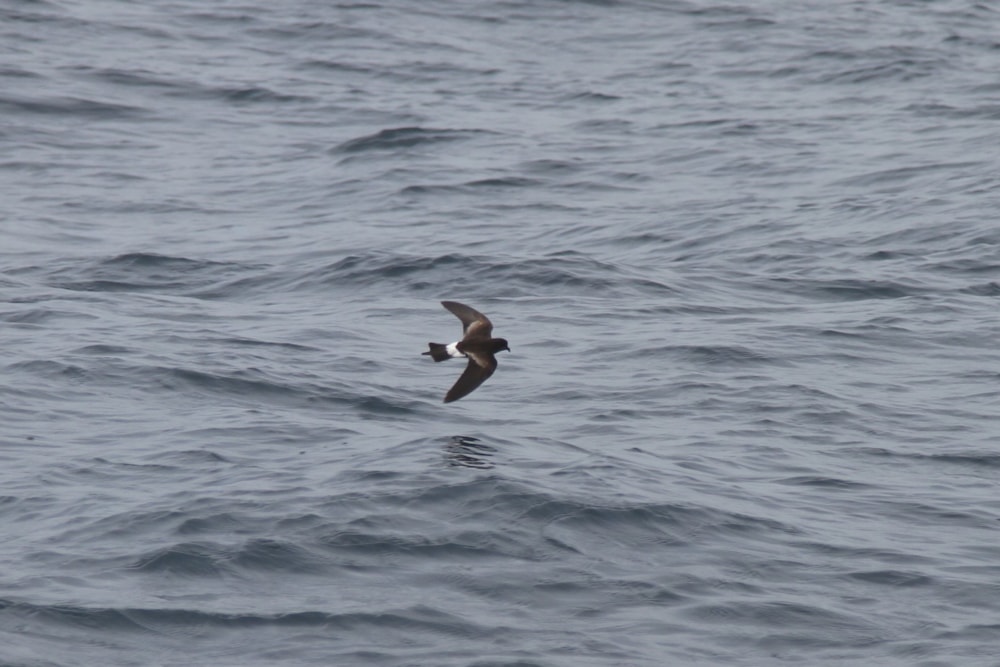 Wilson's Storm Petrel, Cork pelagic, Cork (Paul Connaughton).
Western Palearctic
Welcome news concerned the return of the Black-browed Albatross to Sylt, Germany, on 10-11th; it was seemingly in rude health following its long sojourn to south-west Ireland. Another good bird for Germany was a breeding-plumaged Sociable Lapwing near Lübben, Brandenburg, from 12th – could it have been the bird seen recently in Sweden? An Eastern Imperial Eagle flew north over Süderlügum, Schleswig-Holstein, on 7th, heading for Denmark.
The fifth Red-footed Booby for Spain flew past Punta de la Vaca, Asturias, on 6th before again being seen on 10th; elsewhere, a couple were also seen off Raso, Cape Verde. Israel's eighth Green Warbler was trapped at Jerusalem Bird Observatory on 10th.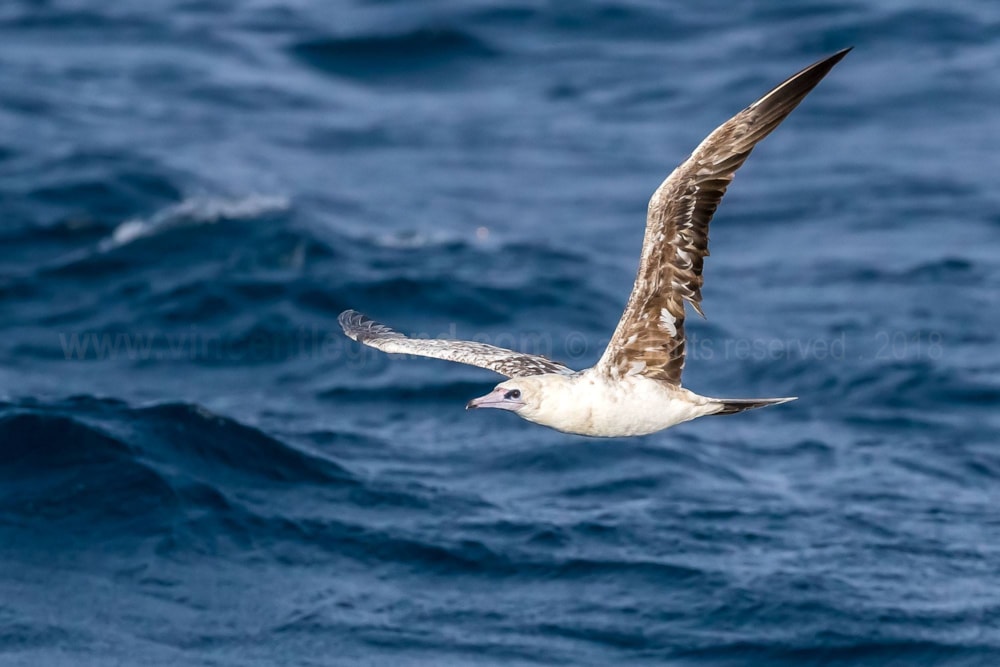 Red-footed Booby, Raso, Cape Verde (Vincent Legrand).
Poland enjoyed a good week, with its first Eastern Olivaceous Warbler singing at Kuźnica on 7th and its fourth Melodious Warbler vocal at Sady, near Łódź, on 8th.
Norway's first Northern Harrier was photographed on the hot-spot of Røst, Nordland, on 8th. Elsewhere, a drake Black Scoter was in Nordland and a Demoiselle Crane was in Trøndelag.
In Belgium, a Cinereous Vulture was seen alongside 25 Griffon Vultures at Macon on 9th. Meanwhile, the Pygmy Cormorant was still in Brussels on 8th.