The week at a glance
In the wake of the latest winter storm to batter Britain and Ireland, it was another busy week for birds. Unquestionable highlight for many was the emergence of news of a male Spanish Sparrow in gardens at Calshot (Hants) on the evening of 9th. It transpired that the bird had first been noted by the house owner during early December, though the presence of at least one apparent hybrid suggests that it has been present in the area for at least one breeding season. Although there will no doubt be frenzied panic from those not old enough to have seen the Cumbria bird of 1996–8, all the evidence suggests there is not necessarily a rush to head for the south coast.

Spanish Sparrow, Calshot, Hampshire (Photo: Doug Kelson)

Putative hybrid Spanish x House Sparrow, Calshot, Hampshire (Photo: Doug Kelson)
Also in Hampshire, the male Dark-eyed Junco continued at Hawkhill Inclosure throughout the week, visiting grain put out for it by opportunist locals. As with the sparrow, the close proximity of this bird to Southampton Water (and, therefore, dock) strongly suggests that a ship or two have played a significant role in its arrival.

Dark-eyed Junco, Hawkhill Inclosure, Hampshire (Photo: Kris De Rouck)
As predicted, Scilly's Northern Waterthrush reappeared at Lower Moors, St. Mary's on 7th–10th: plenty of patience appears to be an essential prerequisite to seeing this bird. Just over on the Cornish mainland, the female/first-winter Bufflehead was still in residence at Helston Loe Pool to 11th.

Bufflehead, Helston Loe Pool, Cornwall (Photo: John Nadin)
The adult Lesser White-fronted Goose was still consorting with the Taiga Beans at Buckenham Marshes (Norfolk) during the week while, in the same county, the first-winter Western Sandpiper continued to entertain visitors to Cley Marshes.

Western Sandpiper, Cley Marshes NWT, Norfolk (Photo: Mike Buckland)
Far to the north, Highland hung on to a rather more settled Greater Yellowlegs at Loch Fleet, where it seems to have taken a particular liking to roadside pools at Coul Farm — it was still there on 9th.
It was a good week for Richardson's Canada Geese: up to three were on Tiree (Argyll) on 8th–9th, with three also on Islay (two at Neriby on 8th and one at Loch Gruinart on 9th) in addition to the usual bird still at Torr Reservoir (Somerset) on 5th. Lancashire's Todd's Canada Goose was relocated near Fleetwood on 7th–9th, while a large, dark Canada Goose near Belmullet (Mayo) on 7th did a good job of defying racial identification.
sp.
Canada Goose, Belmullet, Mayo (Photo: Josh Jones)
The usual three Red-breasted Geese remained, birds again at Harwood Dale (N Yorks) to 7th, Tollesbury Wick (Essex) on 8th–10th, and Exminster Marshes (Devon) on 11th. Two new Irish Black Brants were found: at Kilshannig (Kerry) on 6th, and another with a couple of hybrid young on The Mullet (Mayo) on 8th. English birds were at Frampton Marsh (Lincs) on 8th, South Swale Nature Reserve (Kent) on 10th, Holkham (Norfolk) on 7th–11th, and two at Gibraltar Point (Lincs) on 11th.
The blue-morph Snow Goose was still at Abbeytown (Cumbria) to 6th, while white morphs were at Inch Levels (Donegal) on 8th and still in the Greenloaning (Perth/Kinross) area to 9th. The flock of three were also still at Leighton Moss (Lancs) to 11th. In north Norfolk, a confusing series of Ross's Goose records involved up to two in the Holkham, Wells and Burnham Overy Marshes area throughout the week — these presumably relate to the usual two escapees.

Ross's Goose, Glandford, Norfolk (Photo: Andy Thompson)
The most notable of seven American Wigeon was a new drake found at Rahasane Turlough (Galway) on 8th. Lancashire's drake also reappeared on the Ribble estuary at Longton on 7th then Newton Marsh on 8th, with other drakes still at Loch Bee, South Uist (Outer Hebrides) to 9th, Angler's Country Park (W Yorks) to 10th, and Dawlish Warren (Devon) and Kirk Loch (Dumf & Gall) to 11th. In addition, the female was again reported at Bodenham Lake (Herefordshire) on 6th. Twelve Green-winged Teal included new drakes at Strumpshaw Fen (Norfolk) on 7th, Torpoint (Cornwall) and Filey (N Yorks) on 8th, on the Rogerstown Estuary (Dublin) on 7th–9th, and at Greylake (Somerset) on 11th. Drakes were again at Leighton Moss on 6th–10th and Martin Mere (Lancs) on 10th, with others still at Soulseat Loch and Caerlaverock (both Dumf & Gall), East Chevington (Northumberland), Watton NR (E Yorks) and Eyebrook Reservoir (Leics). The female Blue-winged Teal was again at Bull Island (Dublin) on 6th, while others remained at Longham Lakes (Dorset) to 9th and St. Mary's (Scilly) to 11th.
A female Lesser Scaup was found at Loch of Skene (Aberdeenshire) on 8th–9th. Other females remained at Marden Quarry (Northumberland) to 7th and Slimbridge (Glos) to 11th, while the drake was still in Cardiff Bay (Glamorgan) on 9th. All but one of twelve Ring-necked Ducks were 'old' birds: a new female was at Tamur Lough (Donegal) on 11th. Braces of drakes were still at Carrowmore Lake (Mayo) on 7th and in the Forde Abbey (Dorset) area to 11th, with others still at College Reservoir (Cornwall) on 5th, Cowpen Bewley (Cleveland) and Lough Shivnagh (Donegal) on 6th, Castleward (Down) on 8th, and Par Beach Pool (Cornwall) to 10th. Females were again at Potteric Carr (S Yorks) on 10th and at Ranworth Broad (Norfolk) the same day. A new female Ferruginous Duck was at Paxton Pits (Cambs) on 7th–9th, and the drake remained at Blashford Lakes (Hants) to 10th.

Lesser Scaup, Slimbridge WWT, Gloucestershire (Photo: John Davenport)
A drake King Eider flying west past Chanonry Point (Highland) on 10th was felt likely to be the Burghead (Moray) bird, which was not seen this week. A new Surf Scoter was off Garretstown (Cork) on 8th, while others were still off Penzance (Cornwall) and Dawlish Warren (Devon) to 11th. A couple of White-billed Divers on Shetland popped up in traditional locations: off Kirkabister on 8th and in Bluemull Sound on 10th.
Glossy Ibis were still well represented throughout England. A new arrival at Sandbach Flashes (Cheshire) on 7th–10th replaced the St. Mary's (Scilly) bird, which disappeared on 5th. Two were still at Stodmarsh (Kent) to 11th, with others still at Exminster Marshes (Devon), Fingringhoe Wick (Essex) and Leighton Moss (Lancs) all to 11th.

Glossy Ibis, Exminster Marshes RSPB, Devon (Photo: Steve Hatch)
Two Cattle Egrets were still at Grouville Marsh (Jersey) on 11th, with the Warblington (Hants) bird also still around on 10th. A mediocre showing of around twenty Great White Egrets included a new Irish bird at Dunlavin (Wicklow) on 7th. Up to three were around Parkgate and Neston Marshes (Cheshire) throughout the week, with twos still at Dungeness (Kent) and Shapwick Heath (Somerset).

Great White Egret, Kirkby on Bain GPs, Lincolnshire (Photo: Kevin Du Rose)
A young Egyptian Vulture drifting over Taliaris Park (Carmarthenshire) on 7th must have been something of a shock for the observer, although the presence of jesses and a yellow ball-like structure on the bird's legs indicate this bird to have escaped from a local private collection. Less surprising was the continuing juvenile Pallid Harrier at Lough Corrib (Galway), which was still roosting there to 5th. An improved showing of at least seventeen Rough-legged Buzzards included two at Northward Hill (Kent) on 8th. Norfolk continued to dominate records: seven were reported in the county including two still in the Holkham area. Other new birds were at Woodborough (Notts) on 7th–10th and High Bradfield (S Yorks) on 8th–11th.

Egyptian Vulture, Taliaris Park, Carmarthen (Photo: Derek Moore)
A series of Common Crane records from the south and southwest almost certainly refer to the same, lonely individual: west over Brighton (E Sussex), Farlington Marshes (Hants) and Corfe Mullen (Dorset) on 6th, then Broadsands (Devon) on 7th. It subsequently reached Cornwall, flying over Hayle on 8th, Marazion on 9th and finally St. Buryan on 10th. Less stimulating was the apparent wild bird still with the 'plastics' at Aller Moor (Somerset) during the week.
The wintering Pectoral Sandpiper remained in residence at Dundonald Camp (Ayrshire) to 9th, while the touring Temminck's Stint continued to enjoy the Ouse Washes (Cambs) to 8th. Spotted Sandpipers were still present and correct at Chew Valley Lake (Somerset) and on the Plym Estuary (Devon) to 10th, but there was no news of the Lyme Regis bird. Somerset's Lesser Yellowlegs was still showing well at Burnham-on-Sea to 10th. An upturn in Long-billed Dowitcher records all related to lingering birds: the two were still at Lodmoor (Dorset) on 5th, while one at Wigtown (Dumf & Gall) on 7th–11th is presumably that last noted here on 15th November. Others were still at Kidwelly (Carmarthenshire) to 8th and North Slob (Wexford) on 7th–9th.
Content continues after advertisements

Spotted Sandpiper, Chew Valley Lake, Somerset & Bristol (Photo: Gary Thoburn)

Lesser Yellowlegs and Redshank, Burnham-on-Sea, Somerset & Bristol (Photo: Simon Johnson)
A scattering of Grey Phalaropes were at Portrush (Antrim), Dunmore East (Waterford) and Bamburgh (Northumberland) on 7th, with another off Filey Brigg (N Yorks) on 8th. After an excellent past couple of weeks, Balearic Shearwater records were reduced to something of a dribble off Cornwall and Pembrokeshire, and a Sooty Shearwater was off Dursey Island (Cork) on 11th. There were hardly any Little Auks, although one at Inch Island Lake (Donegal) on 6th was notable. The sole Sabine's Gull record concerned an adult off Hilbre Island (Cheshire) on 5th.
Though last week's storm appeared to do very little for seawatching, it did, however, cause one of the biggest wrecks of white-winged gulls (predominately Iceland Gulls) ever seen in northern and western areas. Over 25 Kumlien's Gulls included six different individuals at Killybegs (Donegal) over the weekend, with five there on 8th. Three were at Lerwick (Shetland) on 11th, and other notable records included dark birds at Ardglass (Down) and Lower Lough MacNean (Fermanagh), plus a 3rd-winter as far south as Hartlepool Headland (Cleveland) on 10th.

Juvenile Kumlien's Gull with adult Herring Gull, Killybegs, Donegal (Photo: Derek Charles)

Kumlien's Gull, Hartlepool Headland, Cleveland (Photo: Ian Forrest)
A conservative estimate of an astonishing 550 Iceland Gulls was made for reported birds during the week. The biggest concentrations came from the north and westerly extremities of the region, including a remarkable 46 around Unst (Shetland) on 10th.
A more detailed breakdown of significant counts can be found in the table below.
County
Site
Peak count
Shetland
Unst (Belmont)
Lerwick
46 (34)
23
Orkney
Bay of Skaill
Stromness
Marwick
27
8
7
Highland
Inverlael
Mallaig
Kinlochbervie
5
5
5
Argyll
Tiree
Ardfern
Taynuilt
10+
9
6
Down
Ardglass harbour
9
Antrim
Corbally Road Reservoir
13
Fermanagh
Enniskillen Dump
9
Donegal
Killybegs
Blanket Nook
31
7
Sligo
Sligo Town
7
Galway
Nimmo's Pier
Errislannan
Rossaveal
10
8
6
Peak Iceland Gull counts from northwestern counties.
Although a much lower figure, a conservative estimate of 220 Glaucous Gulls was still an exceptional total by recent standards. A minimum of 25 were at Killybegs (Donegal) on 8th, with 12 around The Mullet (Mayo) on 11th, 11 at Bay of Skaill (Orkney) on 8th and counts of up to eight from several other sites across Ireland and Scotland.

Glaucous Gull, Dungeness, Kent (Photo: Mark Tomlins)
In addition to the aforementioned wreck, Ring-billed Gull numbers also shot up — 28 were reported during the week. In Ireland, sixteen birds included up to four around Cork City during the week, with twos reported from Blennerville (Kerry) and Nimmo's Pier (Galway). New birds also included one at Kinsale (Cork) on 8th, and a first-winter at Bunaclugga Bay (Kerry) on 10th. Twelve British records included an impressive count of three (two adults and a second-winter) at Radipole (Dorset) throughout the week. New first-winters were a Barassie (Ayrshire) and Rumps Point (Cornwall) on 5th, and an adult reported at Levington Creek (Suffolk) on 10th would be a notable east-coast find. Last but not least, Antrim's cute adult Bonaparte's Gull was still commuting between Larne and Ballygalley all week, while the Galway Bay Forster's Tern was again off Parkmore Quay on 7th.

Ring-billed Gull, Chew Valley Lake, Somerset & Bristol (Photo: Gary Thoburn)

Bonaparte's Gull, Ballygalley, Antrim (Photo: Ian Dickey)
A Richard's Pipit flushed at Snettisham (Norfolk) was a surprise on 9th, although it flew off strongly and was not relocated. In contrast, the Wyke Regis (Dorset) bird continued to show well to all comers throughout. It was another quiet week for Shore Larks: up to four were still in Holkham Gap (Norfolk), with singletons at Grain, Shell Ness and Swalecliffe (all Kent).
Northumberland's Desert Wheatear appears to have finally departed, although the male at Bempton Cliffs (E Yorks) soldiered on into the second week of 2012 — it was still present by Staple Newk viewpoint to 11th. The young male Bluethroat was still at Clonea Strand (Waterford) on 6th, although there was negative news on 11th.

Desert Wheatear, Bempton Cliffs RSPB, East Yorkshire (Photo: Lee Johnson)
Just over fifty reports of Waxwings were received on Bird News Extra this week — a similar tally to previous weeks. The vast majority were restricted to east-coast counties, with Suffolk taking the lion's share: up to 70 were at Ipswich Hospital and 55 at Martlesham Heath throughout. Up to 38 were also at Costessey (Norfolk), although there were no other respectable counts. A small party at Kirk Hallam (Derbyshire) proved popular, and were about as far inland as the species penetrated.

Waxwing, Ipswich, Suffolk (Photo: Allan King)
The Hume's Leaf Warbler was still showing well at Wyke Regis (Dorset) to 11th, although there was a slight reduction in Yellow-browed Warbler reports this week. A new individual was at Par (Cornwall) on 5th, while others were still at Ham Wall (Somerset) to 6th, Clennon Valley Lakes (Devon) to 9th, Swanpool (Cornwall) to 11th and again at Chew Valley Lake that day. At least one Dusky Warbler persisted on St. Mary's (Scilly) to 11th. In the pleasantly mild conditions, it was no surprise that a few Siberian Chiffchaffs could be located away from the southwest — birds at Netherfield Lagoons (Notts) still to 8th, Priory Country Park (Beds) from 9th, Stubbington (Hants) to 10th, and Long Melford (Suffolk) on 7th–11th were all popular fixtures.

Siberian Chiffchaff, Stubbington, Hampshire (Photo: Steve Copsey)
Three Northern Long-tailed Tits reported coming to feeders in a Luddenden (W Yorks) garden on 10th were the first of this delightful race to be reported in the UK this winter. A Rose-coloured Starling in the Newquay/St. Columb Minor (Cornwall) area on 7th–9th also had penchant for locals' gardens, but was particularly mobile. Much less troublesome to pin down was the House Crow in Cork, which was still at Cobh seafront on 7th.

Rose-coloured Starling, St. Columb Minor, Cornwall (Photo: Christine Horsley)
A solid 27 Great Grey Shrikes were reported this week. The vast majority of records were of lingering birds from Northumberland south to Devon, although new English birds were at Weeley Heath (Essex) on 5th, Weir Wood Reservoir (E Sussex) on 9th, and Wrentham (Suffolk) on 10th. The sole Scottish record came from the Forest of Ae (Dumf & Gall), where one took up residence from 8th.

Great Grey Shrike, Upper Longdon, Staffordshire (Photo: Chris Cook)
A Coues's Arctic Redpoll was reported with a Mealy Redpoll at Kelling (Norfolk) briefly on 8th, although was not seen again. The first-winter just along the coast at Titchwell was still showing well to 11th; identification debates still persist about this not-so-classic individual. A final piece of interest was a Little Bunting at Grouville Marsh (Jersey) on 8th — this is presumably one of the two trapped and ringed here last autumn.
Photo of the Week: 5th–11th January

Ring-necked Parakeet, Hyde Park, Greater London (Photo: Daniel Trim)
In almost all branches of photography, one of the key image characteristics considered by photographers is Depth of Field (DOF). In landscape and macro photography, extreme techniques are often used to maximise DOF, i.e. to get as much of the image as possible to be acceptably sharp (front to back). The same approach can also work well with 'environmental' bird photography, in which birds are depicted within their natural habitats. More often than not, though, bird photographers seek to isolate their subjects from their settings to focus the attention on the birds themselves and make them 'pop' out of the image. This can be achieved by using longer focal length lenses and, in particular, wider aperture settings. Daniel Trim's image of a Ring-necked Parakeet taken in London's Hyde Park is a great example. Using a wide f/2.8 aperture, everything but the bird has been thrown so far out of focus that it even takes a while to recognise that the bird is sitting on a railing. In addition to paper-thin DOF, Daniel has made great use of composition, colour and an engaging pose to create a memorable image and gain his first Photo of the Week.
Other notable photos

Short-eared Owl, undisclosed site, Lancashire (Photo: Tom Charles)

Goosander, Hogganfield Loch, Clyde (Photo: Joe Graham)

Lilac-breasted Roller, Kenya (Photo: Dave Williams)

Blue Tit, undisclosed site, Norfolk (Photo: Matt Crosby)

Goldfinch, Wigan, Greater Manchester (Photo: Roy)

Penduline Tit, Spain (Photo: Steve Fletcher)

Sparrowhawk, North Wirral, Cheshire (Photo: Richard Steel)

Great Northern Diver, Rhyl, Clwyd (Photo: Mike Nesbitt)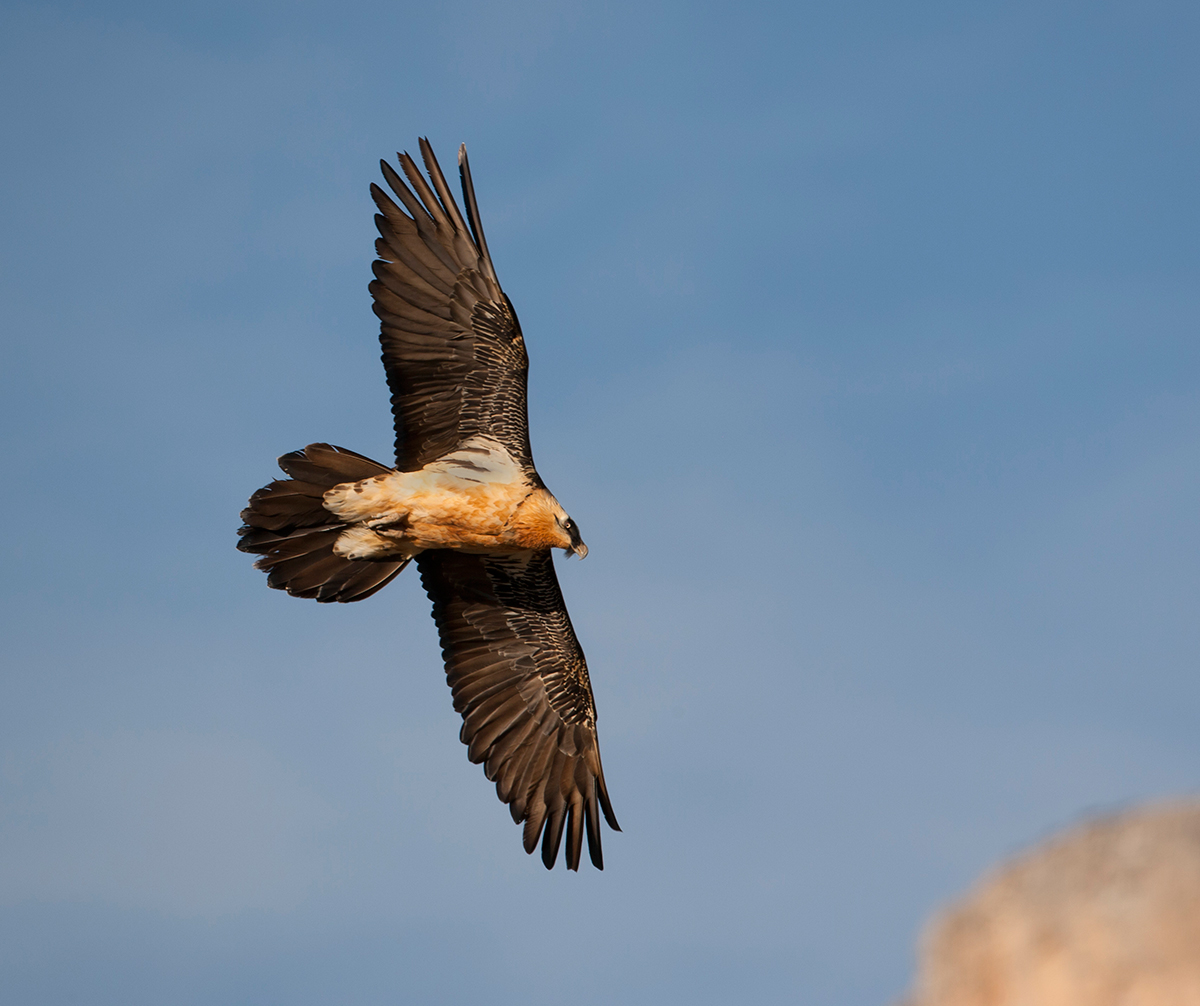 Lammergeier, Spain (Photo: Kevin Du Rose)

Glossy Ibis, Exminster Marshes RSPB, Devon (Photo: Rob Cross)

Shag, Seahouses, Northumberland (Photo: Marek Szczepanek)

Iceland Gull, Ballygalley, Antrim (Photo: Ian Dickey)