Spring juddered into summer doldrums this week, with many finding the time to fondly reflect on the eighth anniversary of the famous White-throated Robin twitch at Hartlepool Headland. It was left to near neighbour Northumberland to host the bird of the week, though, and the talents of wildlife artist Eric Ennion would have no doubt captured the secretive essence of the Baillon's Crake that was discovered on the afternoon of 5th, not a stone's throw away from the bird observatory he ran with his wife in the middle of the last century.
Found by a visiting birder on a small pool adjacent to the main coast road, the first record in Northumberland since a wartime report in 1942 appeared briefly later that evening to a small gathering. Dawn to dusk vigils the following day proved crake-less for those unable to make it the previous evening, though.

Baillon's Crake, Monks House, Northumberland (Jonathan Farooqi).
Just a few miles down the road, in Druridge Bay, the drake Baikal Teal appeared to be enjoying its northern holiday destination and showed admirable resistance to leaving anytime soon, this despite the best efforts of dogs off leads, low-flying planes and the wishful thinking of many hundreds of birders that have it neatly pencilled into their lists. Indeed, it held its nerve to remain around the Druridge Pools area until the end of the week.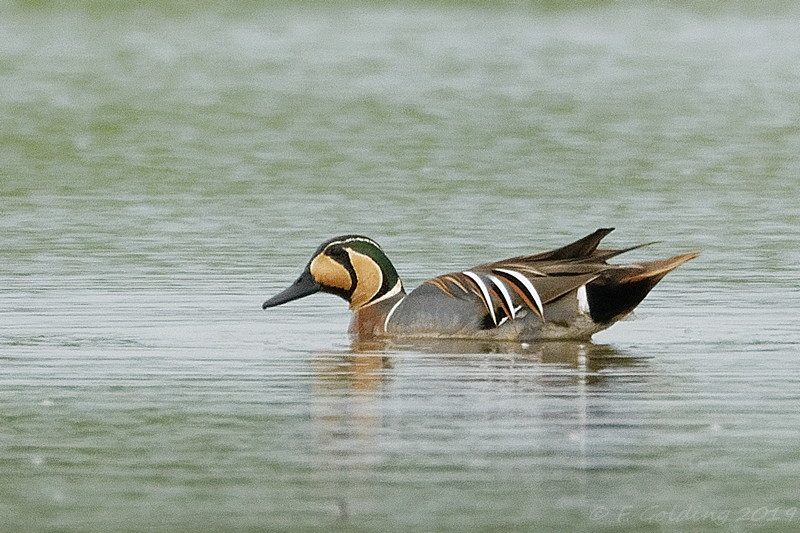 Baikal Teal, Hemscott Hill, Northumberland (Frank Golding).
A Eurasian Scops Owl found on 10th had sadly died in the days before, its undignified final resting place being an old, roof-less shed on Bressay, Shetland. It will become the 15th record for the archipelao if/when accepted, and the first since 2014.
Like London buses, not one but two male Black-headed Buntings appeared with individuals, found at either side of the country. The first was photographed in a garden at Strathwillan, Arran, Clyde Islands on 6th, and presumably the same individual was seen two days later a short flight west on the Isle of Gigha, Argyll. Sandwiched between those two days another male was discovered near Old Fall, at Flamborough Head, East Yorkshire, lingering from the afternoon of 7th through to the evening of 9th.
Skokholm, Pembs, scored on 10th with its first Laughing Gull, the second-summer bird remaining briefly for a decent set of images to be captured before departing north. Further north, an adult Franklin's Gull was noted following a ship just to south and within sight of Fair Isle on the morning of 6th. Remarkably, some four hours later it was re-found on the isle and it hung about for little over an hour before departing north.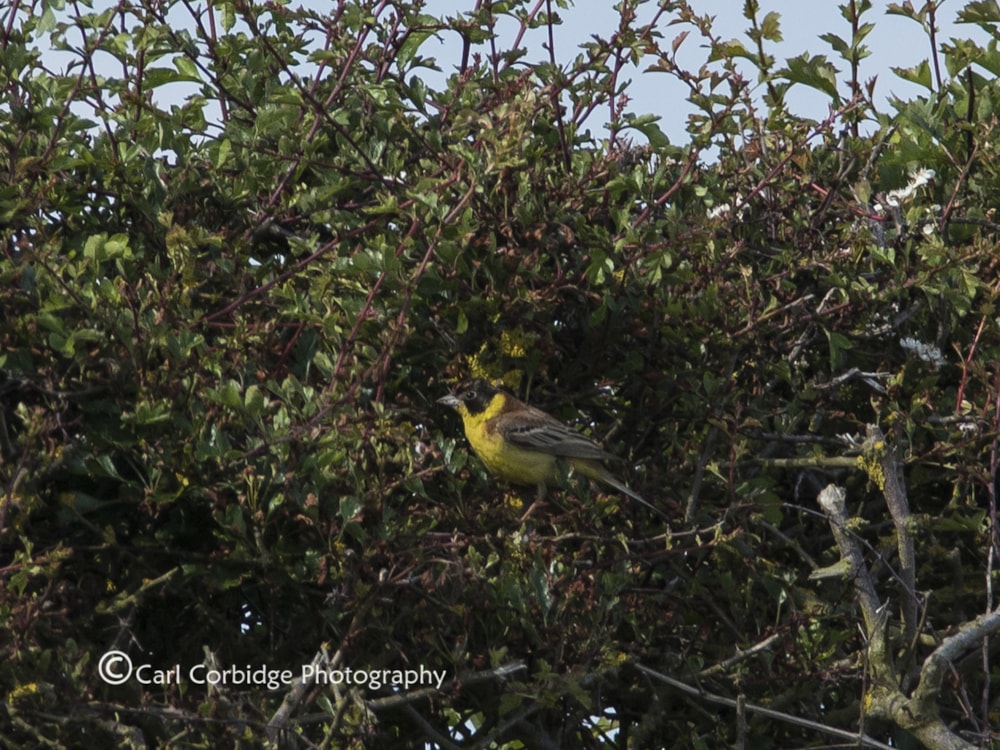 Black-headed Bunting, Flamborough Head, East Yorkshire (C Corbidge).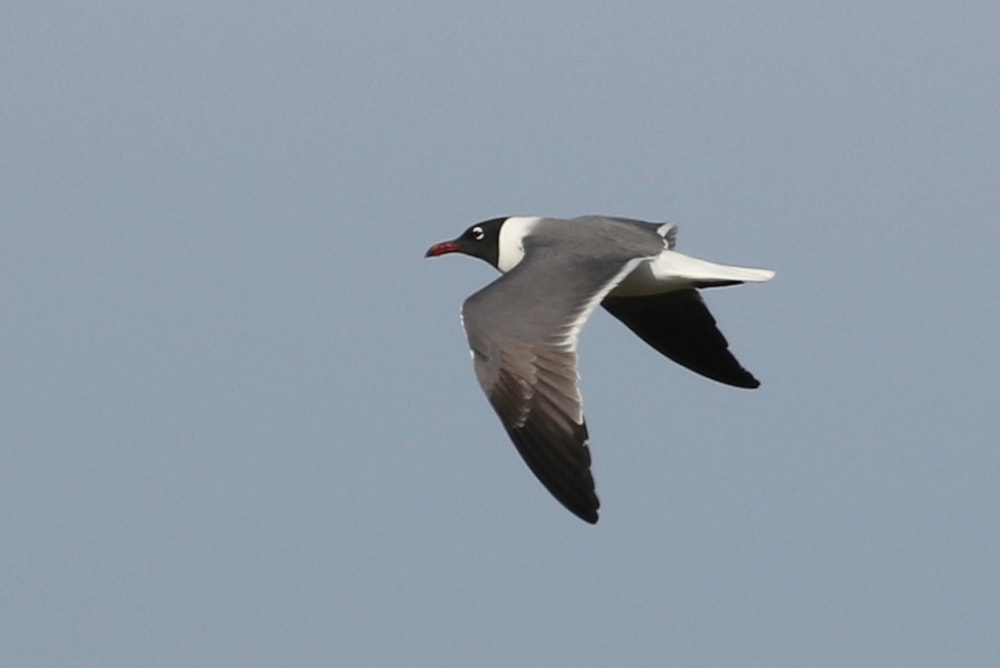 Laughing Gull, Skokholm, Pembrokeshire (Richard Brown).
Other highlights of the week included what was presumably last week's Black Stork relocating from Aberdeenshire to Findhorn Bay, Moray, on 9th and staying until 10th at least. Over in Ireland, a Broad-billed Sandpiper appeared at Tacumshin, Wexford on 7th, with the Holy Island, Northumberland, bird again on the evening of 5th but not seen subsequently. A Lesser Grey Shrike found at Horsey, Norfolk on 8th was still present as the week ended.
In what has been a decent period for Subalpine Warblers, a probable male Western was kicking about the Half-Moon Slack on Holy Island on 5th, with male Eastern on Papa Westray, Orkney on 8th and Fair Isle, on 9th, as well as a female-type Subalpine Warbler sp. on the golf course at Flamborough Head between 8th and 10th.

Lesser Grey Shrike, Horsey, Norfolk (David Griffiths).
West Yorkshire acquired a second singing male Great Reed Warbler on 10th with both this individual and the long-staying male at Wintersett Reservoir overlapping on 11th. Two male Savi's Warblers were regular at Minsmere RSPB, Suffolk and the male at Brittas Bay, Co Wicklow was heard again on 7th. Three singing male Iberian Chiffchaffs continued to belt out song.
Up in Northumberland the drake American Wigeon remained at Grindon Lough throughout and a new drake was found at Cahore Marsh, Co Wexford, on 7th. A drake Green-winged Teal was briefly at Haroldswick, Unst, Shetland, on 5th. The drake Ferruginous Duck extended its stay in West Yorkshire. Five Ring-necked Ducks included new individuals at Loch na Reivil, North Uist, Outer Hebrides, and Grimley, Worcestershire, on 10th. The drake King Eider lingered off Nairn until 7th at least.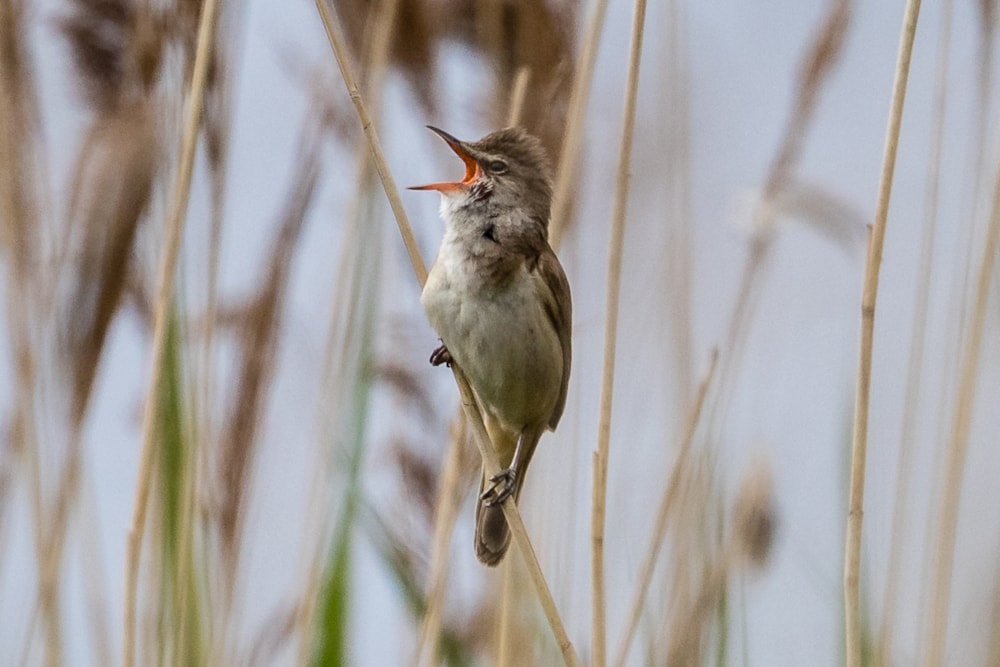 Great Reed Warbler, Wintersett Reservoir, West Yorkshire (Ian Bollen).
An immature White-billed Diver was tracked north past three sites on the Durham and Northumberland coasts on 8th. Sea-watching was generally quiet – six Cory's Shearwaters flew west at Downderry, Cornwall on 9th and small numbers of Balearic Shearwaters were noted off Dorset, Devon, Cornwall, Hampshire and Kent coasts including 10 off Lizard Point, Cornwall on 5th.
The Little Bittern lingered on Foula until 5th. In Hampshire, the Squacco Heron remained at Titchfield Haven NNR until 9th and it's surely no coincidence that following its absence one was found at Pagham Harbour LNR, West Sussex, on 11th. The adult Purple Heron at Titchwell RSPB was a permanent fixture in the week and further north on Barra, presumably the same adult as present in May was again Loch an Ali from 9-10th at least. Six Glossy Ibises were present with a distinct westerly bias.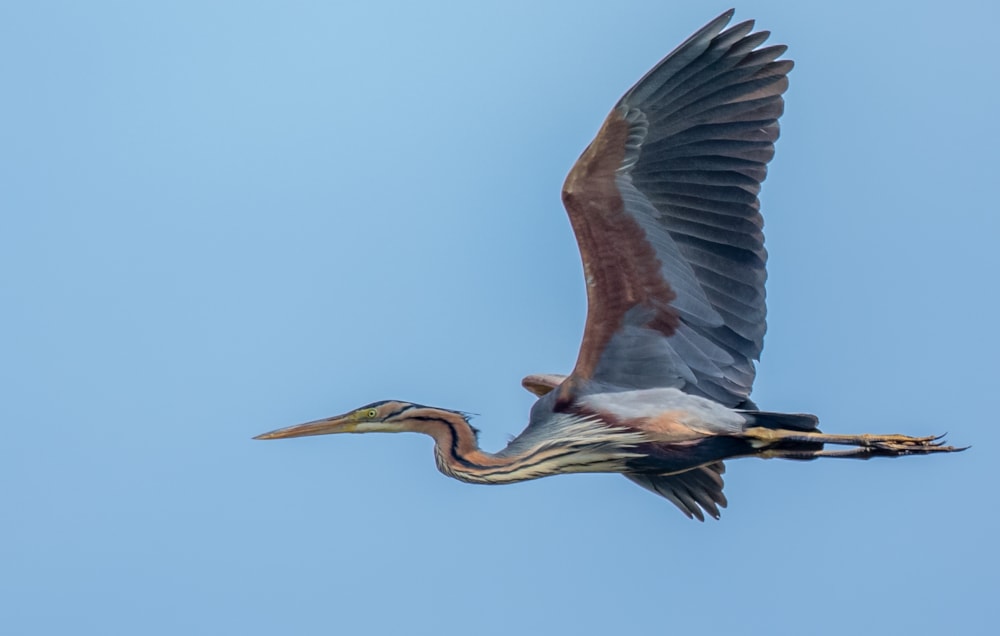 Purple Heron, Titchwell RSPB, Norfolk (Daniel Mahil).
Content continues after advertisements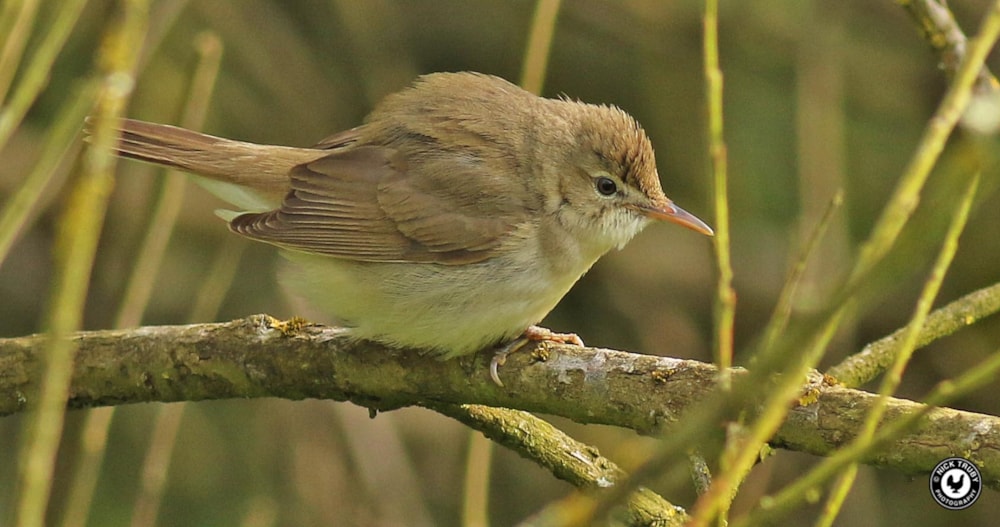 Blyth's Reed Warbler, Collieston, Aberdeenshire (Nick Truby).
Last week's female Red-footed Falcon stayed in place at Cahore Marsh, Co Wexford, until 9th and another female-type was on North Yorkshire Moors at Gerrick Moor on 10th. A Snowy Owl was reported from Great Blasket Island, Co Kerry, on 8th.
Red-necked Phalaropes were at five well-spread mainland sites during the week, from Camarthen to Highland. In Devon, the 1st-summer Bonaparte's Gull lingered at Exmouth until 8th only, unseasonal Glaucous Gulls were at Co Kerry and Moray & Nairn and four Iceland Gulls were noted. The adult Gull-billed Tern continued to show in Co Kerry until Sunday 9th and the long-staying Irish Forster's Tern put in a brief visit to the Inishroo tern colony in Co Galway on 6th.
Single Alpine Swifts were noted in five counties, four sites logged European Bee-eaters and a Wryneck was intriguingly photographed in Cumbria. Meanwhile, the Greater Short-toed Lark stuck about on St Mary's, Scilly, until 8th and a Red-rumped Swallow flew through Spurn, East Yorks, on 5th. A Grey-headed Wagtail was on Out Skerries on 6th and a Red-spotted Bluethroat on Holy Island from 8-9th.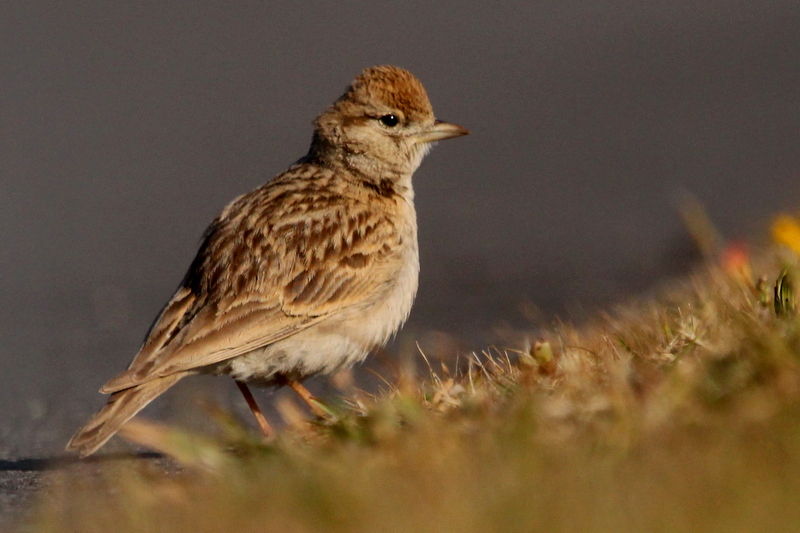 Greater Short-toed Lark, St. Mary's, Isles of Scilly (Kris Webb).
A scattering of up to nine singing male Marsh Warblers were spread along the East Coast up to Orkney and Shetland. An individual carrying a Swedish ring on North Ronaldsay was of note and indicates the final destination of many of these transient East Coast males. Seven Icterine Warblers included three on the Isle of May, Fife during the week, with others in Lincolnshire, Northumberland, and Out Skerries and Fair Isle.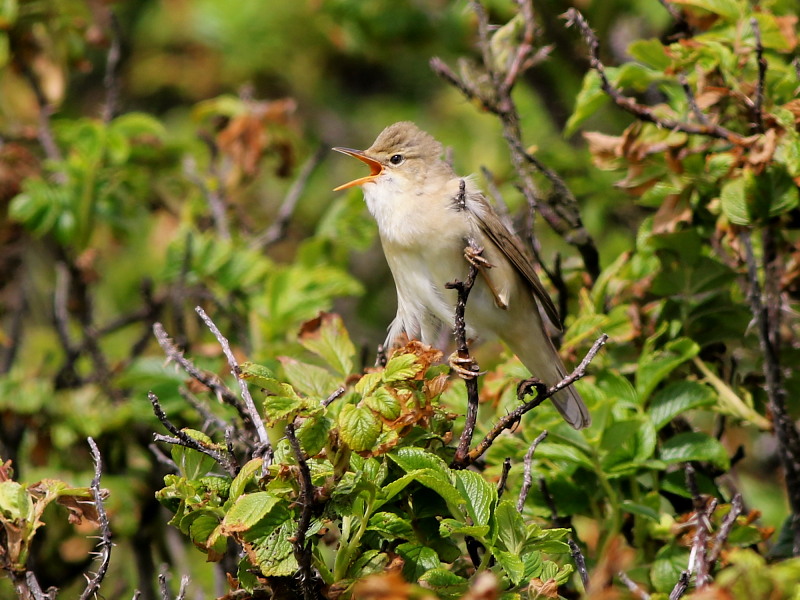 Marsh Warbler, Unst, Shetland (David Cooper).
Melodious Warblers were again on Fair Isle and St. Mary's, with belated news of a singing male well inland at Ebernoe Common, West Sussex, on 4th. A Greenish Warbler was trapped and ringed on Bardsey Island, Gwynedd, on 6th with others at two sites in Cornwall and a one day singing male at Lowestoft, Suffolk, on 7th.
A Red-breasted Flycatcher was trapped and ringed on the Calf of Man on 6th and a male was singing at North Locheynort, South Uist, on Outer Hebrides on 10th. In Cambridgeshire, the summering Great Grey Shrike was faithful to Needingworth Quarry Lakes. Up to 14 Red-backed Shrikes were mainly along the northern East Coast and Northern Isles, with individuals on Bryher and Tresco, Scilly, the exceptions to this distribution. A Woodchat Shrike was on Great Saltee, Co Wexford, on 8th and another was rather more accessible at Kessingland, Suffolk, from 9th-10th.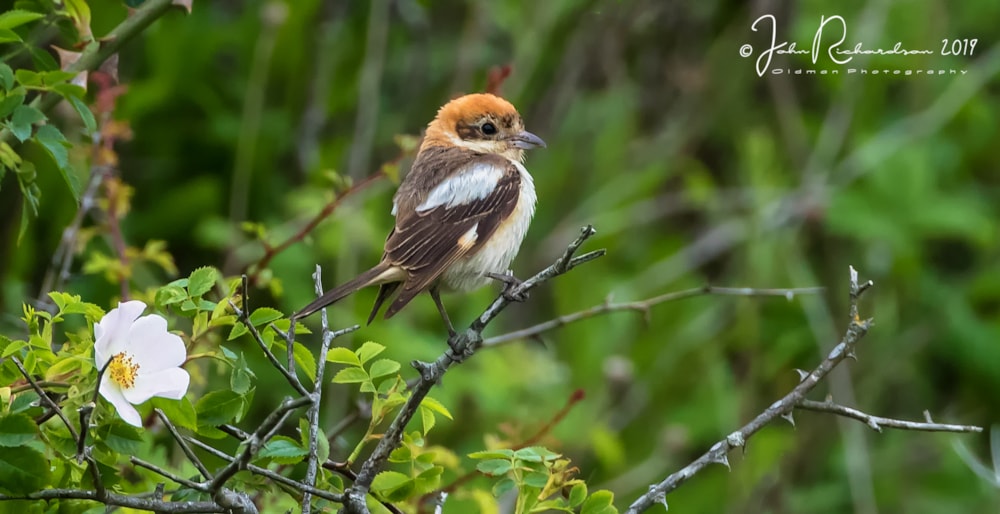 Woodchat Shrike, Kessingland, Suffolk (John Richardson).
A good spread of 10 adult Rosy Starlings may indicate a decent summer ahead for the species. In Kent, the singing male European Serin remained site faithful at Littlestone-on-Sea throughout the week. Five Common Rosefinches were widely distributed and mostly elusive. A male Rustic Bunting continued to roam around a number of sites on Unst, Shetland, until 7th.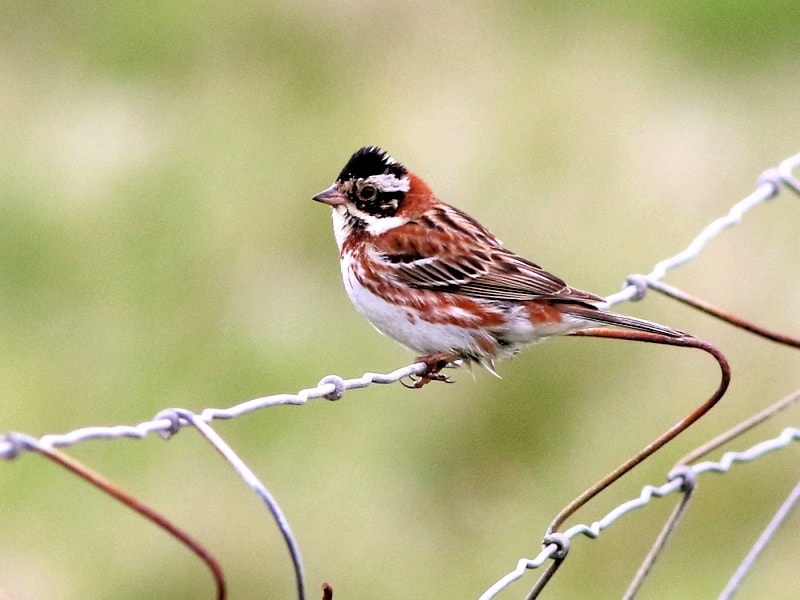 Rustic Bunting, Burrafirth, Unst, Shetland (David Cooper).
Western Palearctic
Two notable Iberian records stood out this week. In Portugal, a first mainland record of Red-footed Booby occured at Cape Sardao on Monday 3rd with news only coming out on Wednesday. Meanwhile, Spain's fourth Kelp Gull was found on the northern coast at Urdaibai on 6th.
In France, notable congregations of two waterbird species hogged the limelight. An incredible count of at least 12 Baillon's Crakes came from Parc Naturel Régional de Brière in Loire-Atlantique on Sunday. It seems that an influx of this diminutive rallid into north-west Europe may be upon us, and with at least 25 sites holding the species in The Netherland, perhaps a few will be unearthed on our isles over the coming weeks.
Down in Nouvelle-Aquitaine, the three young Great White Pelicans were still at Réserve Naturelle de l'Étang des Landes. Further north, in The Netherlands, the Nutcracker lingered, the Pygmy Cormorant previously in Belgium was at Nijmegen and a Lesser Spotted Eagle (or possible hybrid/Greater Spotted Eagle) flew over Piaam on Friday 7th.
After a busy spring, things were slightly quieter in Scandinavia. However, in Sweden an Eastern Olivaceous Warbler at Umeå on 7th wasn't to be sniffed at, and neither was a Squacco Heron in southern Norway and a Franklin's Gull (likely the same as on Fair Isle) at Sneum Digesø. At the latter site, a drake Baikal Teal on 7th was a curious record, certainly in light of the lingering British bird.
There was late news of an Dunn's Lark at the famous Tagdilt Track near Boumalne Dades in Morocco on 1st. In Turkey, a Sykes's Warbler trapped and ringed at Aras Bird Research Station was only the second national record. Finally, Poland scored a remarkable record of two Slender-billed Gulls at Zator Fishponds, west of Kraków, on 11th.