Always an amazing bird wherever you are lucky enough to clap eyes on one, the first-winter male Belted Kingfisher at Dunboy, just outside Castletownbere, Co Cork, must have stunned the fortunate finder on 9th. Just the eleventh record of this attractive American kingfisher across Britain and Ireland as a collective, all three of those found during the winter have lasted several months (Ballina, Co Mayo, between December 1978 and February 1979, Sladesbridge, Cornwall, from October 1979 to June 1980, and near Ballyvaughan, Co Clare, between October 1984 and March 1985). Still present until the following day at least, it is sure to be a popular destination once the Irish lockdown ends on 1 December.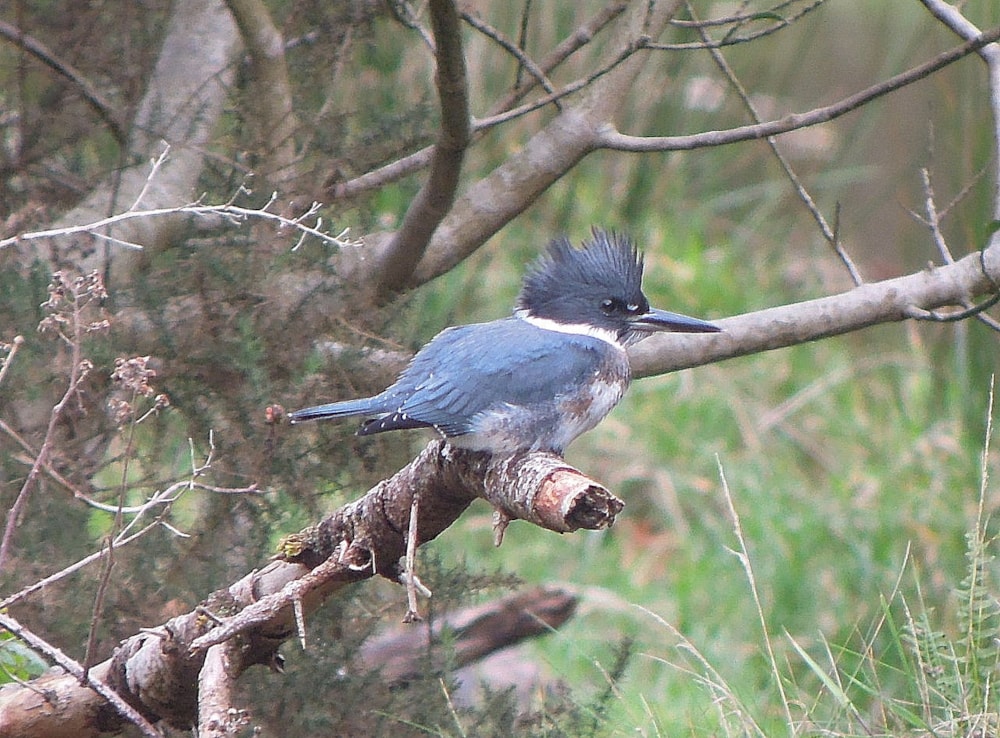 Belted Kingfisher, Castletown Bearhaven, Cork (Fionn Moore).
Photographed on the Eden Estuary on 3rd but only belatedly identified late on 9th, Fife's first Hudsonian Godwit was thankfully still in the same place on 10th. Just the fifth record for Britain, it follows two records from the 1980s and, more recently, records from Meare Heath, Somerset, in May 2015 and Co Galway that summer.

Hudsonian Godwit, Eden Estuary, Fife (Keith Simpson).
Found on 7th, an adult Greater Yellowlegs was at Dunwich Pools, Suffolk, was another top November find. The county's fourth, it remained faithful to the site until the end of the week. In Cleveland, a Hudsonian Whimbrel was a morning visitor to South Gare on 4th, although unfortunately wasn't to be relocated.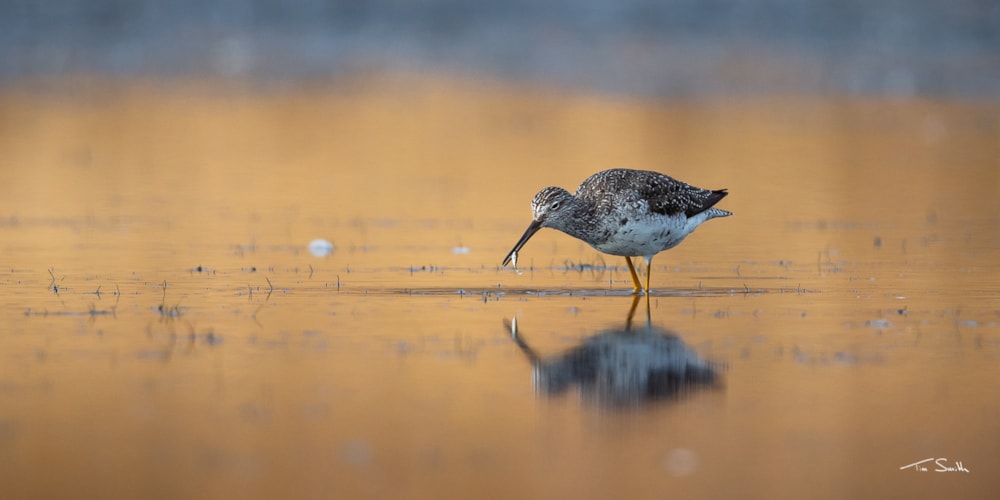 Greater Yellowlegs, Dunwich Pools, Suffolk (Tim Smith).
A quirky bird photographed in flight over Burham Marsh and posted on Facebook on 6th proved to be Kent's first Common Nighthawk, although unfortunately wasn't seen again. It is the autumn's second record of this mega Nearctic passerine, after another one-day individual at Church Norton, West Sussex, on 8 October.
In Co Clare, a first-winter male Lesser Kestrel was seen at an undisclosed site on 9th. Only the second Irish record, it appeared almost 130 years to the day after the only other record – another male at Glenamuck, Co Dublin, from 8 November 1890 to 17 February 1891, which was regularly observed following ploughs feeding on invertebrates throughout the winter.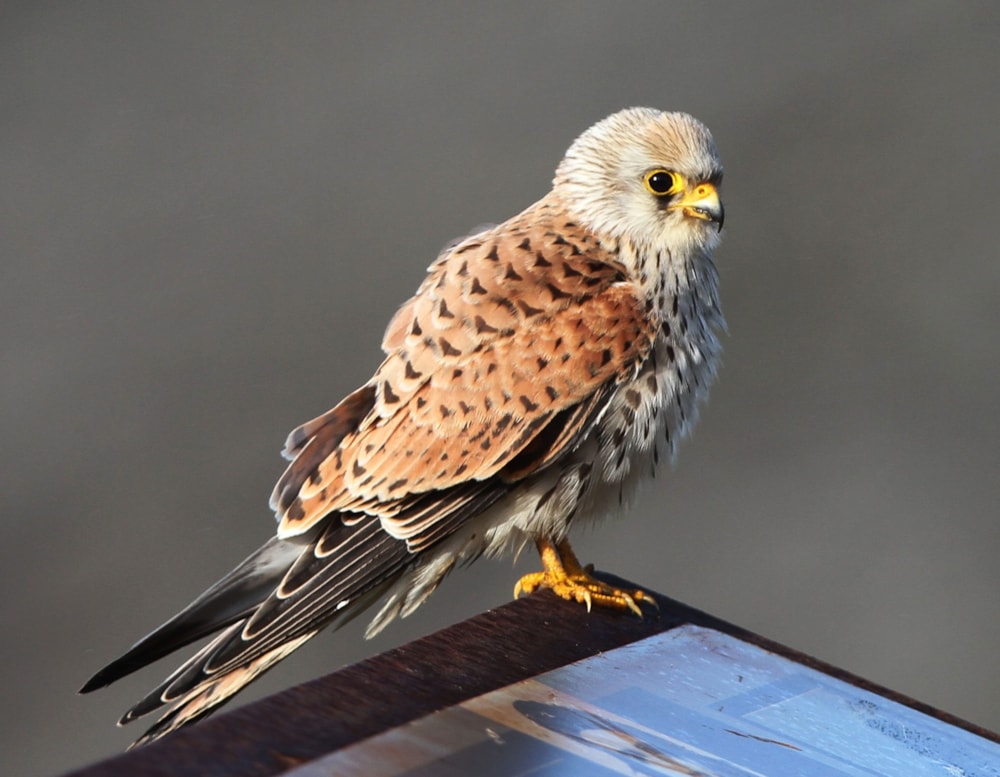 Lesser Kestrel, undisclosed site, Clare (John N Murphy).
The final major Irish rarities of the week came in the form of a Little Swift at Glengarriff, Co Cork, and first-winter female Pine Bunting seen on private farmland in Co Kildare, both on 10th. Each represents the third national record, with the swift the first since 2002.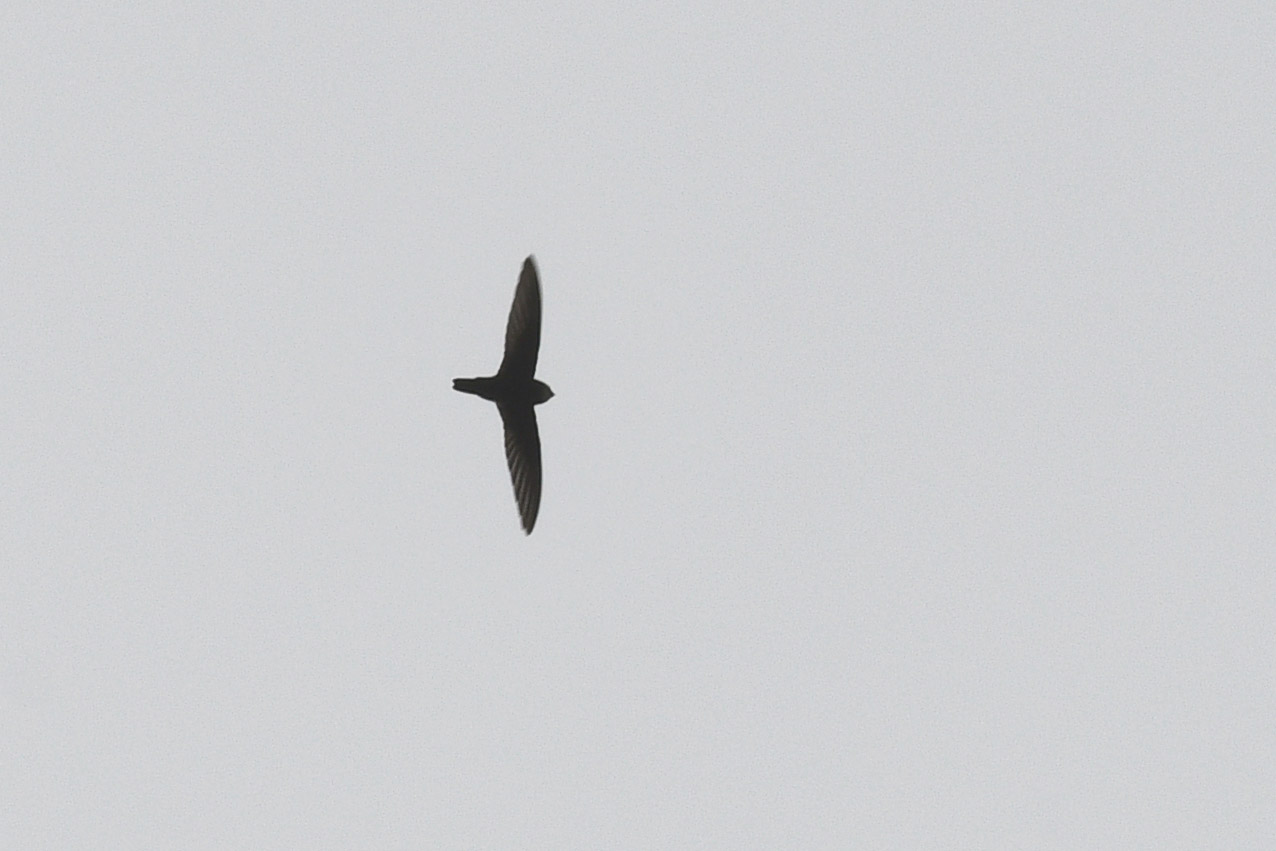 Little Swift, Glengarriff, Cork (Simon Carter).
Cumbria came up trumps on 6th, when a Pied-billed Grebe was found on pits at South Walney NR. Although there has been a marked increase in records over the past decade, it nevertheless remains a very rare bird and is a first for the west-coast county, and was still there two days later. Argyll's resident male was still at Loch Feorlin too – reported on 6th.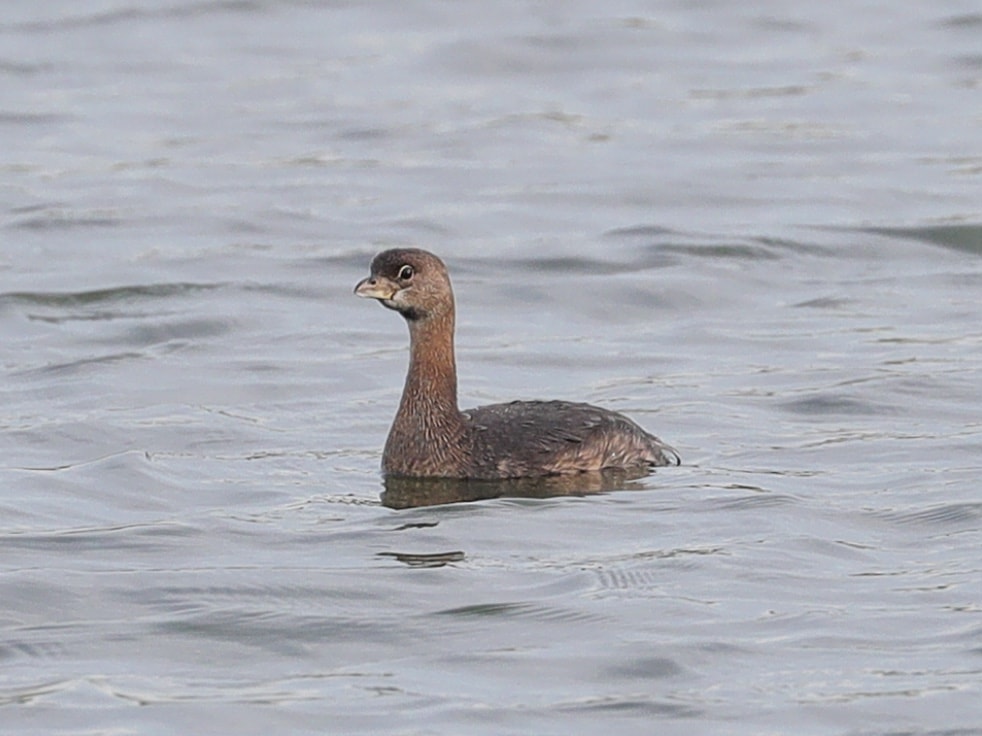 Pied-billed Grebe, South Walney NR, Cumbria (Mark Nightingale).
Also in Highland, the drake American Black Duck was reported from Strontian on 8th, while the drake King Eider was still with burgeoning Common Eider flocks off Findorn, Moray & Nairn. Off the Northumberland coast, the popular drake Black Scoter was back for his tenth winter off Cocklawburn Beach from 10th, while a Ferruginous Duck was a fleeting visitor to Hornsea Mere, East Yorkshire, on 5th. Sneaking into the review, Somerset's drake Lesser Scaup wasn't noted at Chew Valley Lake past 4th. A possible first-winter female was at Loch Skerrols on Islay, Argyll, on 6th, too.
In Clyde, Richardson's Cackling Goose was among throngs of Pink-footed Geese at Cadder on 6-7th. The only other report came from Islay on 7th, where one was still with Barnacle Geese on 7th. It is a disappointingly poor year for the species on the island so far, with just two individuals recorded. Meanwhile, a new possible adult Grey-bellied Brant was with Dark-bellied Brents on The Fleet at Littlesea, Dorset, from 6th, while two other possible adults were again with Pale-bellied Brents at Sandymount, Co Dublin, the previous day.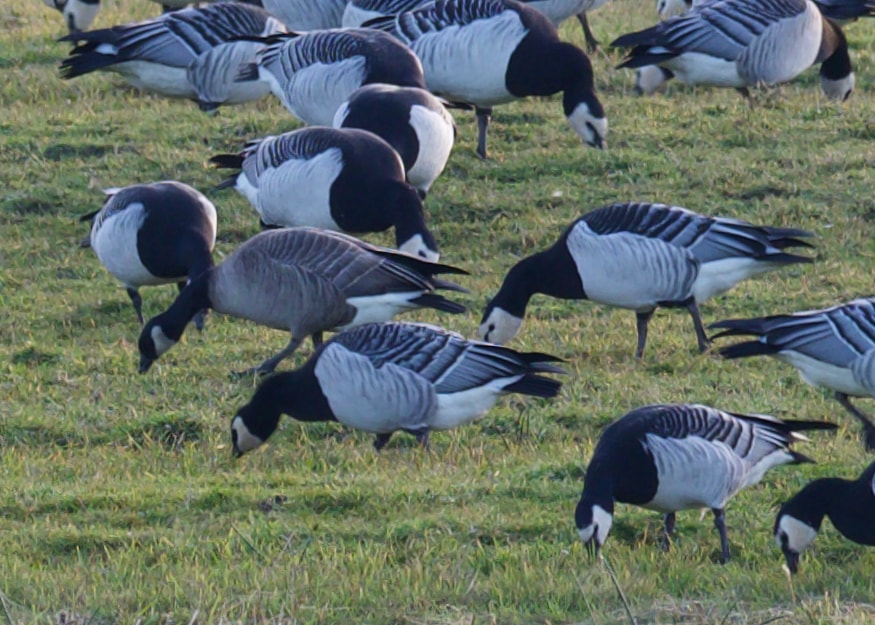 Richardson's Cackling Goose, Loch Gruinart RSPB, Islay, Argyll (Dan Brown).
The first-winter Long-billed Dowitcher was still at Scorton, North Yorkshire, while Cumbria's adult was last noted at Old Anthorn on 4th. In Somerset, a Kentish Plover was on Stert Island, Burnham-on-Sea, from 9th – and is presumably the individual first noted in the very same spot back in March. Further north, the juvenile Pacific Golden Plover was still at Findhorn Bay, Moray & Nairn, until 7th.
On 10th, an adult Franklin's Gull roosted at Anglers CP, West Yorkshire; the adult Forster's Tern – a Co Galway stalwart – was back at Kinvarra on the same date. The adult Bonaparte's Gull was again noted on Pembrokeshire's Gann Estuary on 7th.
A Snowy Owl photographed devouring a gull on the harbour wall at Cobh, Co Cork, must have made for quite a sight, and is presumably of the Nearctic ship-assisted variety, while the St Kilda female unsurprisingly remained in situ.
In what is now an expected feature of late autumn, four Eastern Yellow Wagtails made an appearance this week. The smartest of these was a male Alaskan Yellow Wagtail at Dunwich Pools, Suffolk, from 5th – joining a more typical monochrome first-winter Eastern found the previous day. Providing a fine supporting cast to the Greater Yellowlegs found later in the week, both were present until 10th at least. On the north Norfolk coast, another first-winter was at Kelling Water Meadows from 6th. Remarkably, a third first-winter fleetingly cropped up at Prestwick Carr, Northumberland, on the same date – in the very same horse paddocks where one spent four long, cold months last winter.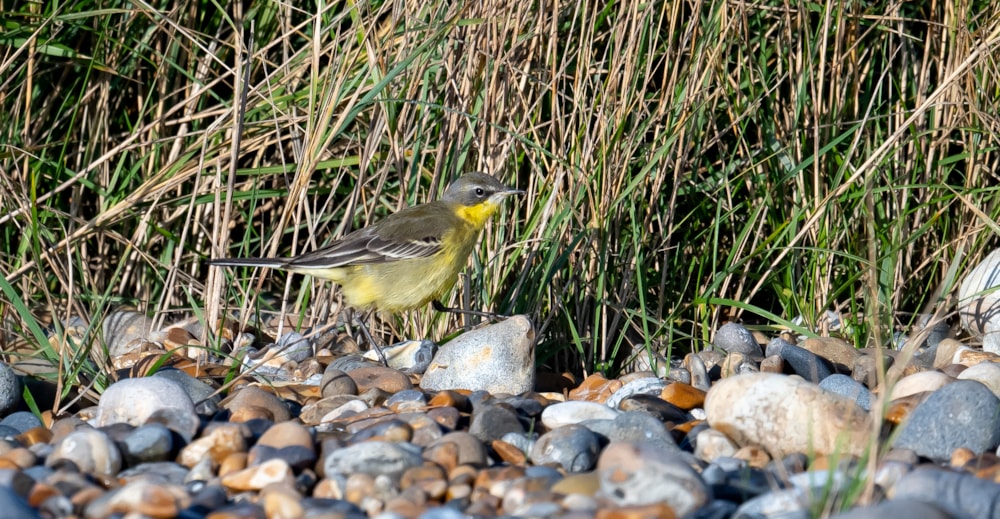 Alaskan Yellow Wagtail, Dunwich Pools, Suffolk (Brian Small).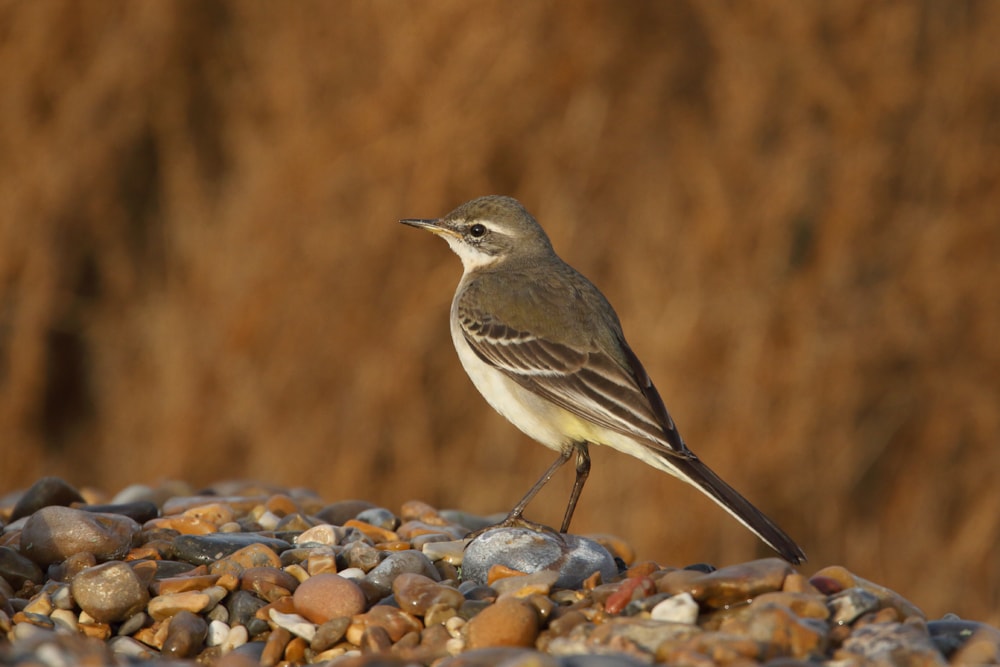 Eastern Yellow Wagtail, Dunwich Pools, Suffolk (Chris Mayne).
It is remarkable really that Cornwall had never recorded an Arctic Redpoll of any type before this week, when a first-winter Coues's Arctic Redpoll was discovered at Trevose Head on 7th, remaining until 9th at least. Another possible was at Nanquidno Valley on 9-10th. Just a single Hornemann's Arctic Redpoll report was received from Shetland, at Baltasound, Unst, on 10th, with an unassigned Arctic on Rousay, Orkney, on 5th.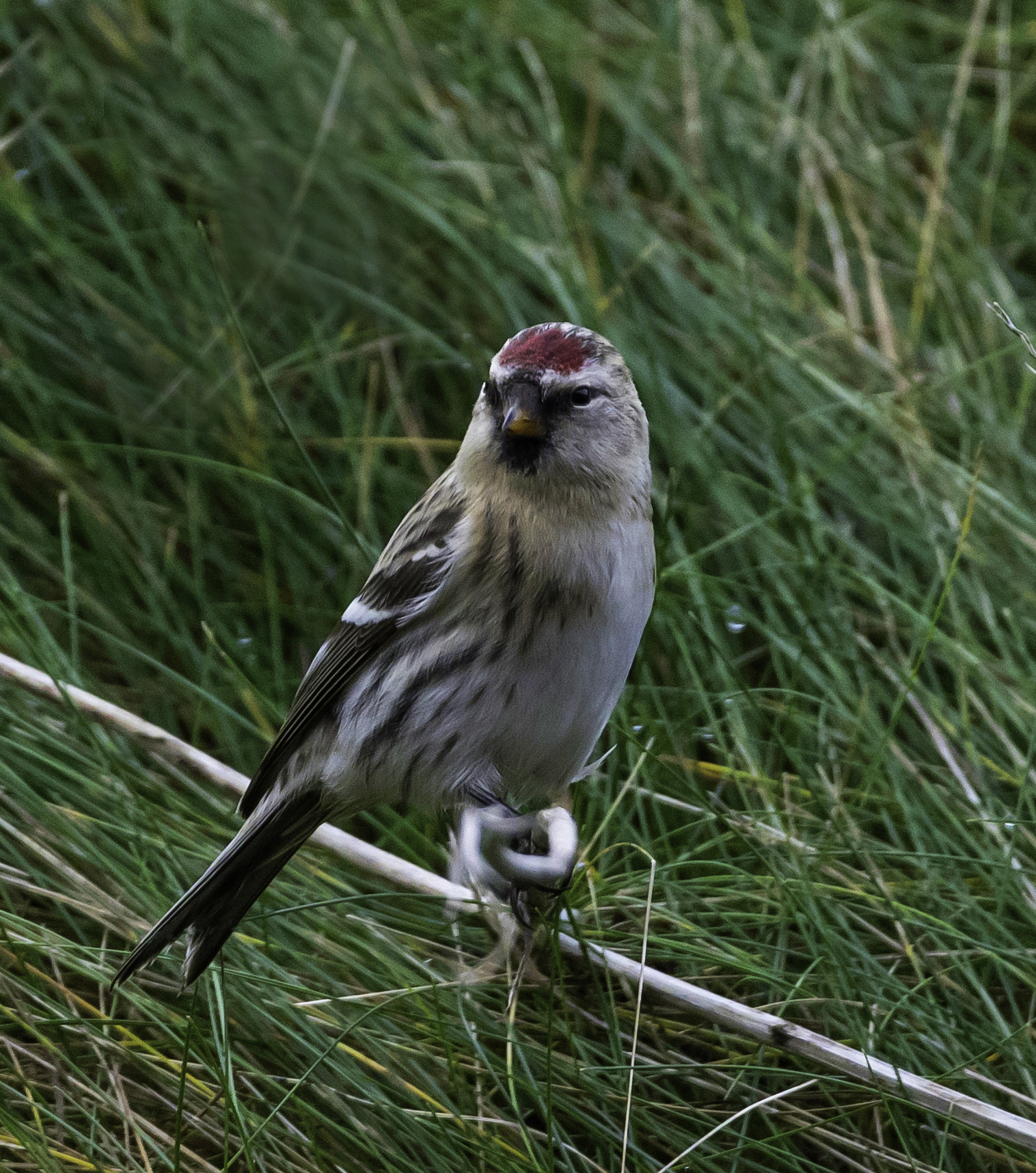 Coues's Arctic Redpoll, Trevose Head, Cornwall (Phil Carter).
On the Lanius front, a first-winter isabelline shrike sp was new on Yell, Shetland – found at Burravoe on 10th. Meanwhile, a first-winter Brown Shrike at Port Skigersta, Lewis, at the far northern tip of the Outer Hebrides. Numbering nine records already this year, it looks set to be a record-breaking year for the species, beating the previous maximum of six in 2016.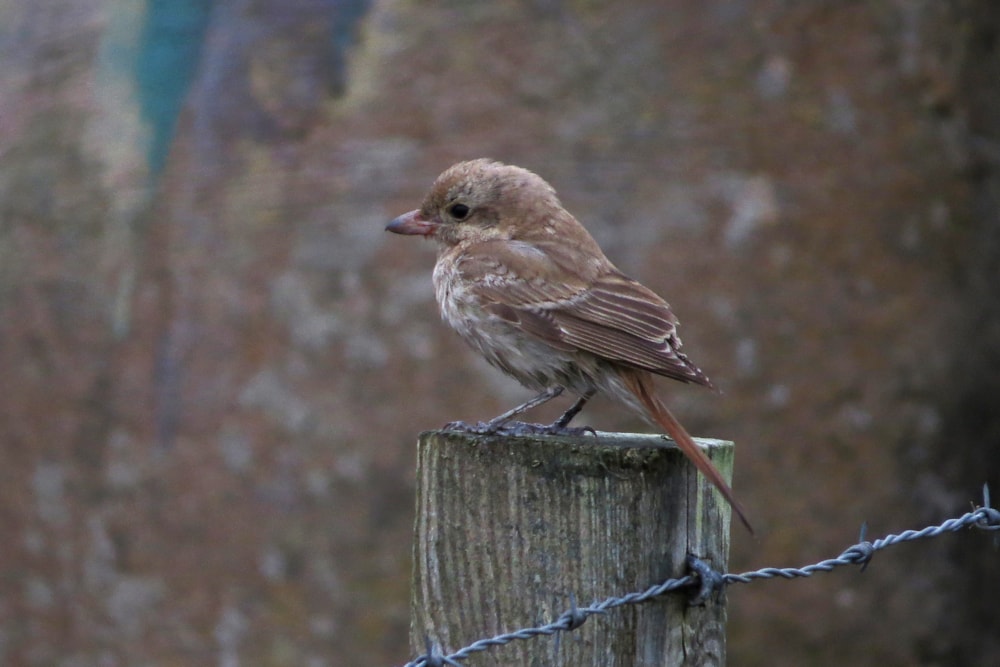 Isabelline shrike sp, Burravoe, Yell, Shetland (Adrian Kettle).

Brown Shrike, Port Nis, Lewis, Outer Hebrides (Sam Hawkins).
A Pallid Swift was reported over Towan Head, Cornwall, on 9th, with a probable roosting at Amlwch, Anglesey, on 10th. An apparent first-winter Siberian Stonechat at Sammy's Point, East Yorkshire, on 4th was the highlight in the Spurn recording area.

Siberian Stonechat, Sammy's Point, East Yorkshire (John Hewitt).
A late flurry of south-easterlies deposited a significant tally of Dusky Warblers across the Isles, along with a sprinkling of Hume's Leaf Warblers. New Hume's were at Dungeness NNR, Kent, on 6th, Kilnsea, East Yorkshire, on 7th, and Gunton, Suffolk, and Anderby Creek, Lincolnshire, on 8th. On Orkney, one remained at Deerness, Mainland, until 6th. With this latest arrival, this autumn's tally of Dusky Warblers has now reached an incredible estimated 95 individuals, including some 19 in Norfolk and 13 in both Shetland and Yorkshire, smashing the previous peak of 70 in 2016.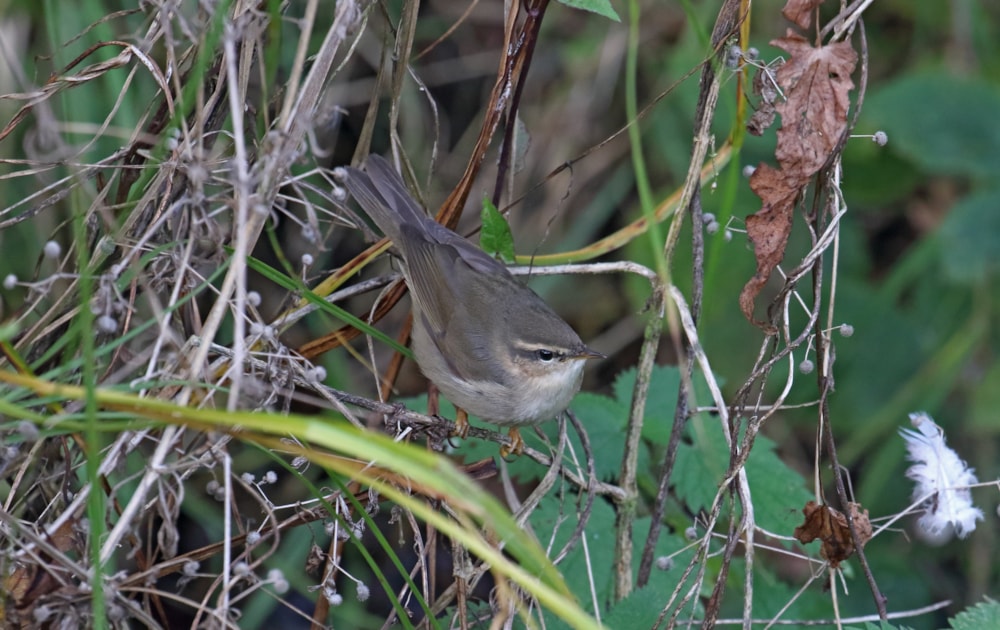 Dusky Warbler, Kilnsea, East Yorkshire (John Hewitt).
Scottish mainland
There was a strong showing of geese across the Scottish mainland with a number of interesting 'white-cheeked' geese spread across the west side of the country. Rhunahaorine Point, Argyll, on 5th held four individuals that were almost certainly Todd's Canada Geese; a further two were at Stewarton, Argyll, on 7th and another was at Buckley, Clyde, on 8th. Two adult white-morph Snow Geese were at Skinflats Lagoon, Forth, on 6-7th and an intermediate morph was still at Portmahomack, Highland, on 8th. Offshore, Surf Scoter were still in the Gosford Bay/Musselburgh area of Lothian and both drakes remained off Dornoch, Highland.
New birds included a wandering White-tailed Eagle over Lunderston Bay, Clyde, on 4th and a Great Grey Shrike close to Craobh Haven, Argyll, on 7th. Mild conditions and a change of wind direction prompted some arrivals on 9th, with a Greater Short-toed Lark found at Girdle Ness, Aberdeenshire, a possible Arctic Warbler in an Aberdeen park and a Dusky Warbler at Red Point, Highland – remarkably a county first – where a Firecrest was in the same area. Up to six Iceland Gulls and four Glaucous Gulls were noted in the week. A small arrival of Waxwings was also evident with single-figure counts coming from Moray & Nairn, Aberdeenshire, Angus & Dundee and Fife. Only two mainland Siberian Chiffchaffs and Yellow-browed Warblers were found in the period.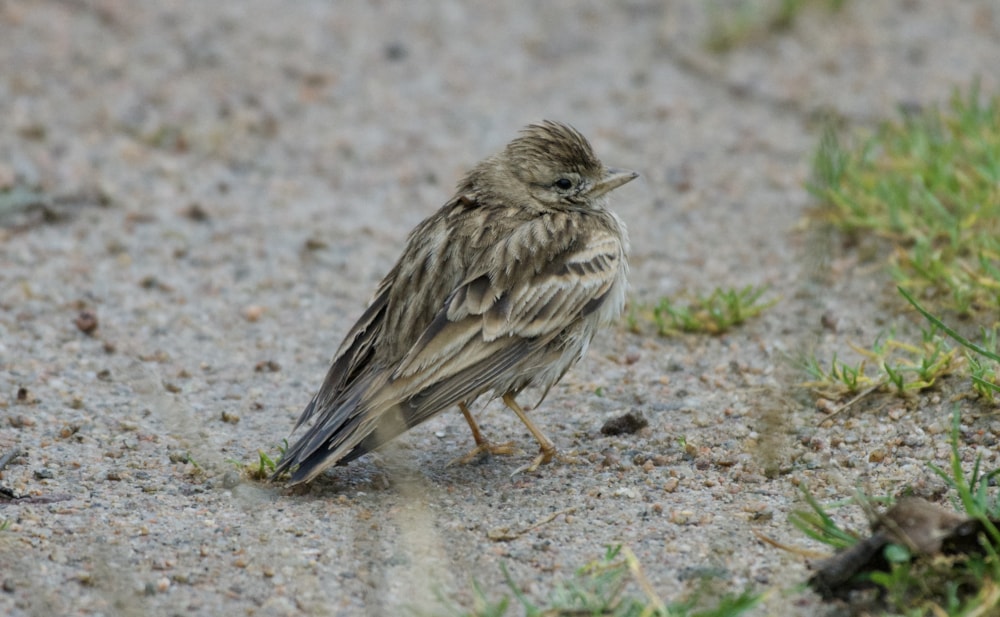 Greater Short-toed Lark, Girdle Ness, Aberdeenshire (Mark Lewis).
Northern Isles and the Hebrides
As might be expected, the pace began to slow in Shetland this week, with a single White-billed Diver was noted passing Quendale on 6th and a drake Green-winged Teal new in at Scatness the same day two highlights. Unst seemed to fare best for scarce passerines, with a Barred Warbler at Norwick on 7th, Little Bunting at Baltasound on 8th and a Radde's Warbler at Norwick on 10th. Elsewhere, a Bluethroat remained on Fair Isle on 4th, a Common Rosefinch report came from Foula on 6th and as the week ended a Dusky Warbler was at Quendale Mill and a Great Grey Shrike was at Skaw, Whalsay. White-winged gull numbers were still in single digits; three Iceland Gulls and five Glaucous Gulls dotted around the islands.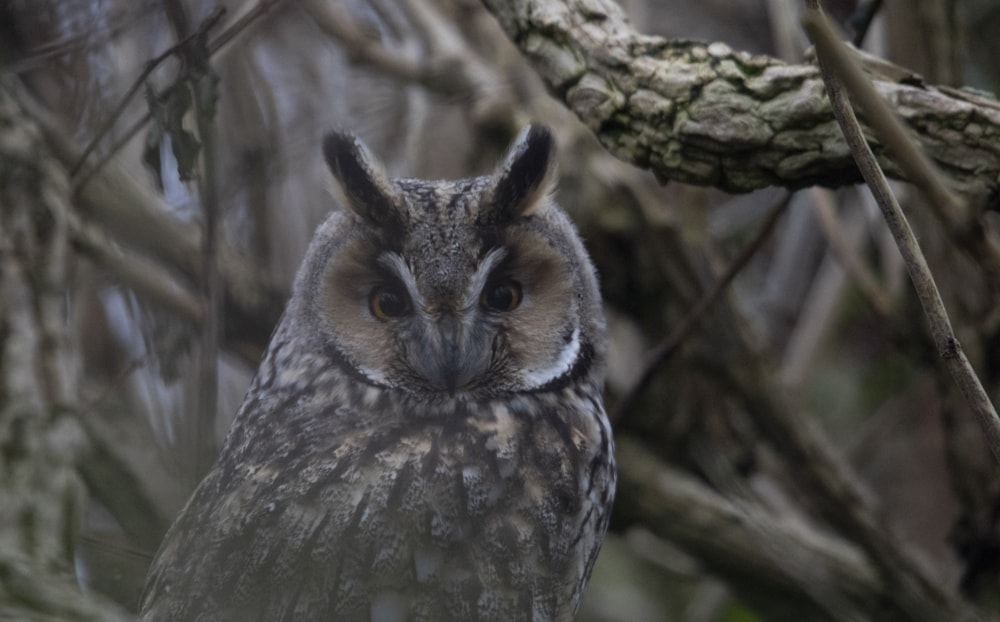 Long-eared Owl, North Ronaldsay, Orkney (George Gay).
Sea-watching from Papa Westray, Orkney, was again productive for White-billed Divers. Three were noted on 4th, with a supporting cast of 22 Little Auks. A drake Surf Scoter was in Bay of Kirkwall on 7th. A lingering Woodlark was on North Ronaldsay. Three Iceland Gulls and a lone Glaucous Gull were seen in the period.
The Outer Hebrides was another archipelago to have a quiet week. Barra caught the tail end of passerine movements with a Dusky Warbler at Castlebay along with up to five Siberian Chiffchaffs and two presumed Siberian Lesser Whitethroats. Three Yellow-browed Warblers were noted, including one on Harris. The wintering drake Surf Scoter was again seen in the Sound of Taransay on 10th, while a lone Iceland Gull was outnumbered by up to six Glaucous Gulls.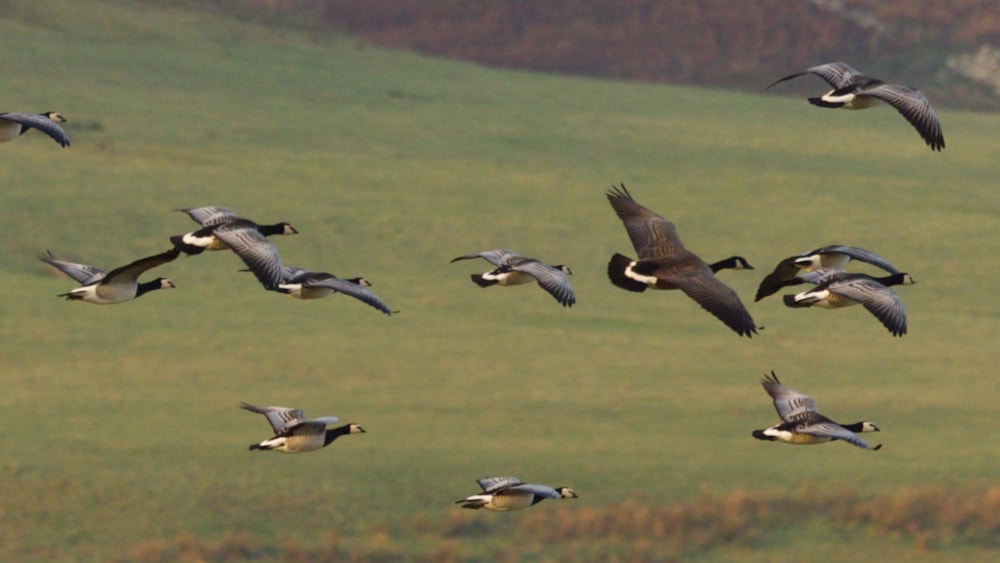 Todd's Canada Goose, Loch Gruinart RSPB, Islay, Argyll (Dan Brown).
North-East England
Northumberland's week began with a surprising report of a late juvenile European Honey Buzzard, initially identified as a Common Buzzard before being corrected from shared images online on 4th. The bird roosted overnight and was noted again the following morning before departing south. Continuing this autumn's strong showing for the species, another Dusky Warbler was found at Seaton Point, Boulmer, on 9-10th. A Hoopoe was reported by farmworkers near Alnwick on 5th. Four Siberian Chiffchaffs were all typically coastal birds and the drake Green-winged Teal lingered at Budle Bay. The end of the week brought delight for Tyneside patch watchers in the form of a male Hen Harrier briefly at St Mary's Island, before heading off for greener pastures. Shore Larks were at Newbiggin-by-the-Sea, Ross Back Sands and St Mary's Island.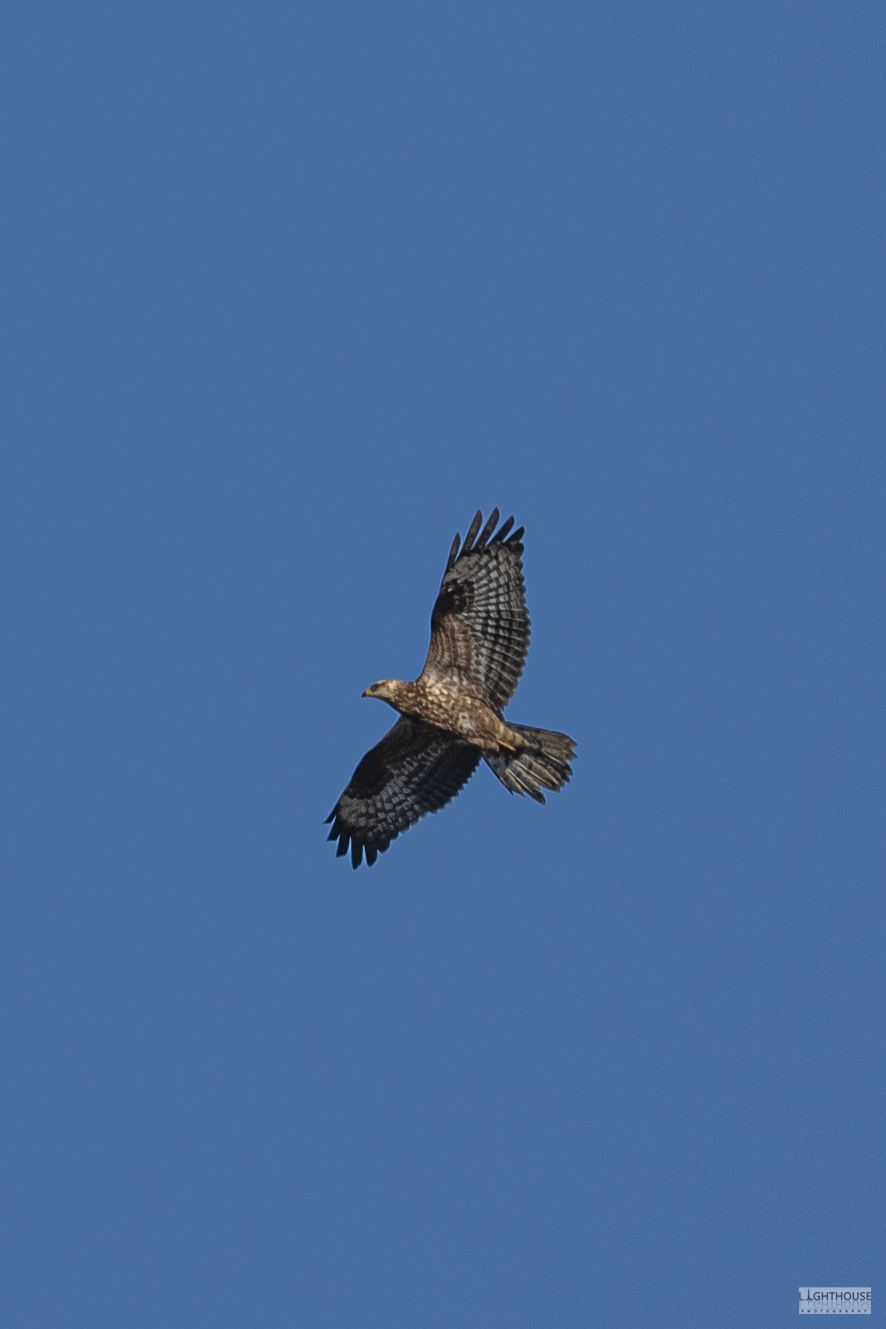 European Honey Buzzard, Rising Sun CP, Northumberland (Michael Matthews).
Durham's week kicked off with eight Tundra Bean Geese moving past Whitburn Coastal Park. The site chipped in a good proportion of the county's news later in the week too, with Lapland Bunting, Snow Bunting and Durham's only Siberian Chiffchaff all there. Elsewhere, single Hawfinches were noted at Woodland on 4th and Croxdale Hall on 10th, while a Black Redstart was found on the Roker side of Sunderland's River Wear on 10th.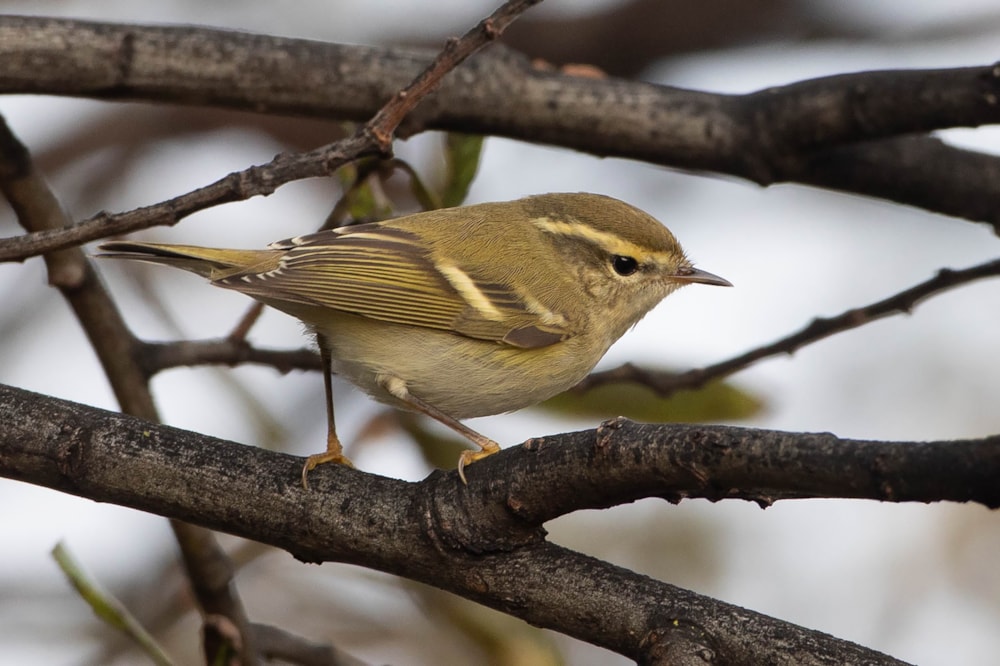 Yellow-browed Warbler, Hartlepool Headland, Cleveland (Martyn Sidwell).
The juvenile Garganey at Cowpen Marsh, Cleveland, remained until 6th, becoming the county's latest-ever record of the species in the process. Not so long ago Great Egret in November would have been unthinkable but an individual still at Saltholme RSPB on 7th would almost pass without comment now. South Gare had a steady week, with juvenile Iceland Gull, Lapland Bunting, up to 21 Snow Buntings, Black Redstart, and an impressive 200-strong flock of Twite. Two Yellow-browed Warblers snuck into the period at Cowbar and Hartlepool Headland.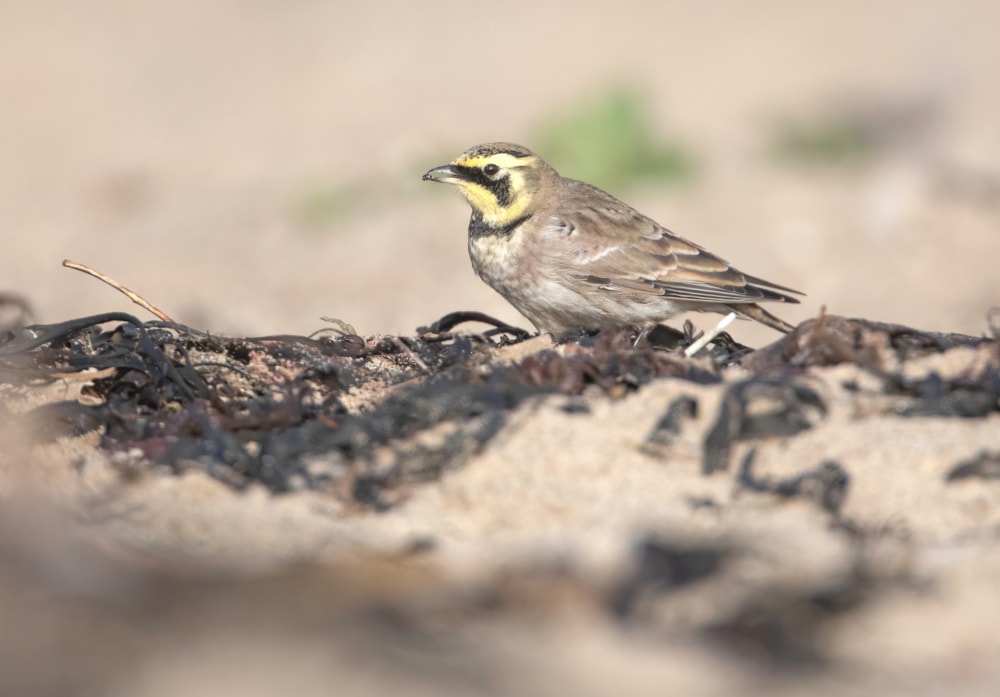 Shore Lark, Newbiggin-by-the-Sea, Northumberland (John Malloy).
North-West England
Lancashire welcomed the first Bewick's Swan of the winter, with one off Wyke Wood Lane, Churchtown Moss, on 7th. Other winter wildfowl included both Greenland and Russian White-fronted Geese, while the Ring-necked Duck lengthened his stay at Pine Lake. Turning to passerines now; the East Lancashire recording area welcomed its first Bearded Tit record since the Seventies when one was found by the A59 roundabout at Barrow on 4th! A Yellow-browed Warbler was present at Old Hollow Farm, Banks, from 7-9th, while Siberian Chiffchaffs and Snow Buntings were at two sites each. Also of interest, a Vagrant Emperor was reported from Little Thornton on 3-4th.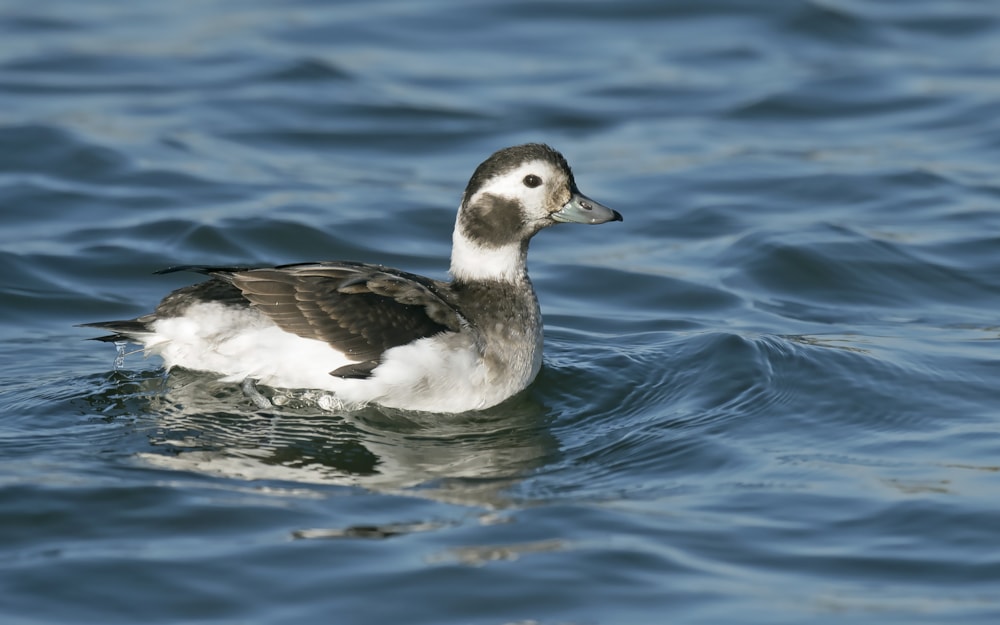 Long-tailed Duck, Crosby Marine Park, Lancashire (Steve Young).
Cumbria continued its slump into the winter doldrums, however a Common Crane in roadside fields off the A66 at Embleton on 7th was a decent local record. Elsewhere, Snow Buntings were at Workington, Blencathra and South Walney NR.
The Snow Bunting remained at Leasowe, Cheshire, on 4th, with another photographed at Shining Tor on 7th. A Grey Phalarope was reported at Doddington Pool on 6th while an exceptionally late Common Whitethroat was at Gowy Meadows CWT the same day. Better late than never, Leasowe also welcomed a Yellow-browed Warbler on 10th. The first-winter drake Greater Scaup remained at Elton Reservoir, Greater Manchester, while adult and first-winter Caspian Gulls roosted at Audenshaw Reservoirs.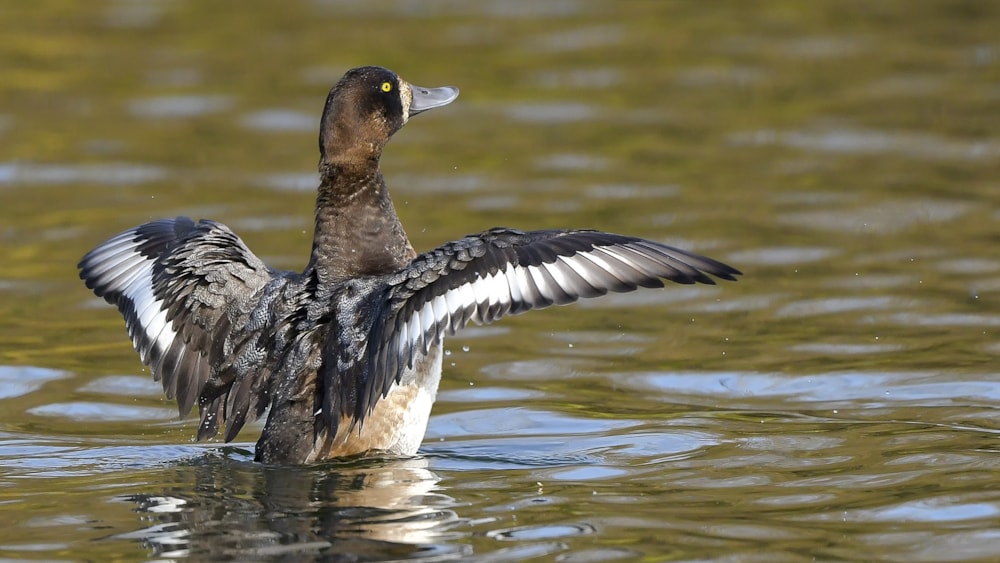 Greater Scaup, Elton, Greater Manchester (Paul Wilson).
Lincolnshire and Yorkshire
With a whiff of east in the wind, the coast sprung into life again – although it was Goxhill Haven, some way up the Humber, that scored two of Lincolnshire's best birds this week. Both Dusky Warbler and Olive-backed Pipit were found there on 8th, with the pipit still present the following day. A couple of Yellow-browed Warblers were also noted on the coast, while inland sightings included Slavonian Grebe at Covenham Reservoir, Long-tailed Duck at Manby Flashes and Great Northern Diver along the River Welland near Crowland.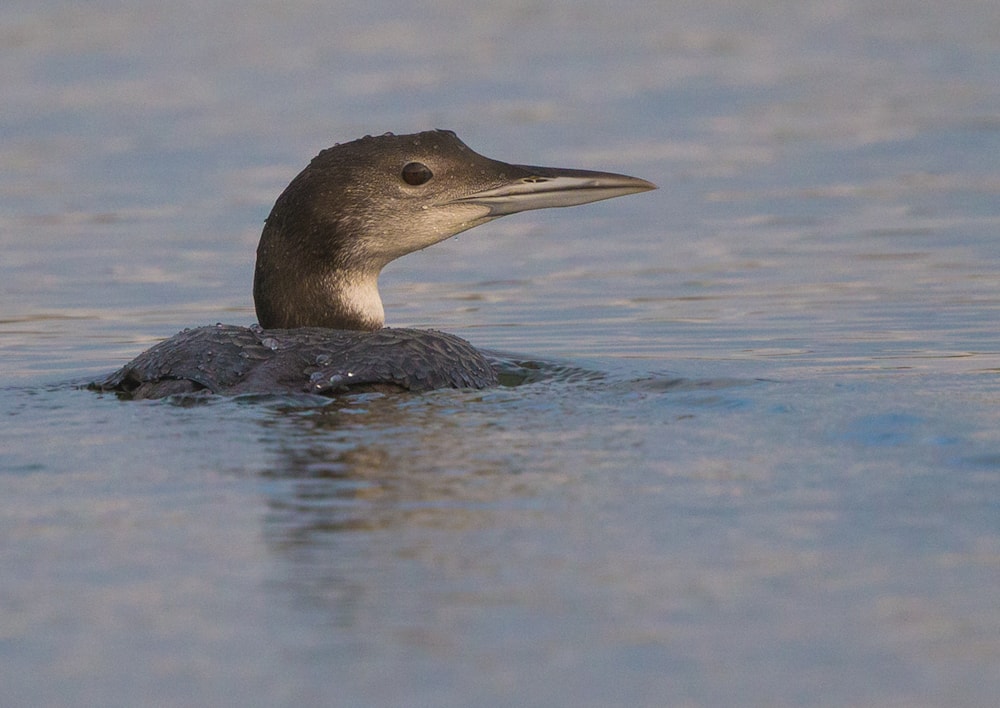 Great Northern Diver, Deeping High Bank, Lincolnshire (Will Bowell).
In inland East Yorkshire, North Cave Wetlands had a good week with a juvenile Greenland White-fronted Goose arriving alongside the lingering Green-winged Teal. Another of the latter was still at Watton NR on 6th, while Slavonian Grebe, Tundra Bean Goose and Long-tailed Duck were all on offer at Hornsea Mere. A Shore Lark was at Aldbrough on 10th, with a Bewick's Swan at Sammy's Point that day and a couple of Dusky Warblers were in the Spurn area.
A Pallas's Warbler was at Flamborough Head on 10th, while Filey's regulars included a Red-necked Grebe in the bay. The Great Grey Shrike hung around in Langdale Forest, as did the Lesser Yellowlegs at Nosterfield LNR. A Hoopoe was at Starbeck "last week", while a Waxwing was at Bishopthorpe on 7th.
In West Yorkshire, Fairburn Ings produced Common Scoter and Red-breasted Merganser, with two of the latter at Wintersett Reservoir on 4th, where a Garganey remained. Another was still at Potteric Carr, while a Lapland Bunting flew over Harden near Penistone on 6th.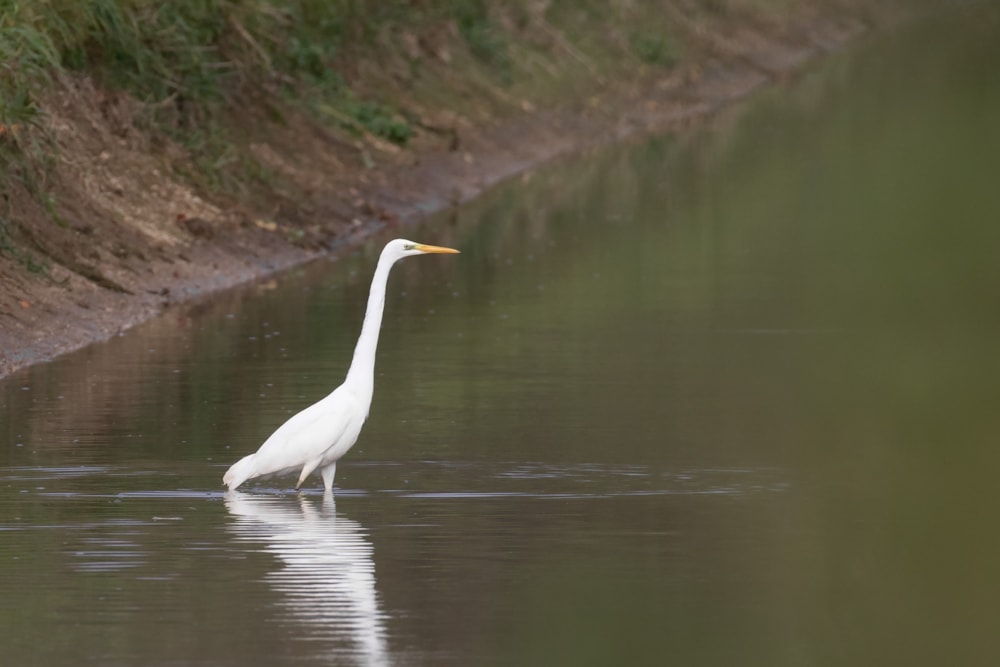 Great Egret, Baston & Langtoft Pits, Lincolnshire (Josh Jones).
West Midlands
A Dark-bellied Brent Goose was at Blithfield Reservoir, Staffordshire, on 6th and a Long-tailed Duck was on the Conservation Pool at Tittesworth Reservoir on 10th. Meanwhile, the juvenile Great Northern Diver remained at Chasewater, Garganey at Middleton Lakes RSPB and Little Stint at Belvide Reservoir. Caspian Gulls enlivened the evening gull roosts at Belvide, Chasewater, Silverdale Community CP and Branston GPs. Moving to Shropshire, a juvenile Great Northern Diver was at Chelmarsh Reservoir until 8th and multiple Caspian Gulls were at both Priorslee Lake and Edgerley.
In Herefordshire, a Black-necked Grebe was on the main lake at Wellington GPs on 8-9th, while a Long-tailed Duck and European Shag both pitched up at Brockhall GPs. Another late Garganey was in the region, with one at Marsh Lane NR, West Midlands, on 8th.
Worcestershire also played host to Dark-bellied Brent Geese, with singles at Upton Warren NR and Bredon's Hardwick. Other points of interest included a Greater Scaup at Ripple GPs on 5th, two Black-necked Grebes at Bevere on 7th and up to four Hawfinches scattered across three sites. More Great Northern Diver action was to be had over in Warwickshire, with two reported at Draycote Water throughout. Also here, up to five European Shags were present and four Caspian Gulls came to roost. A Mealy Redpoll was trapped and ringed at Morton Bagot on 6th.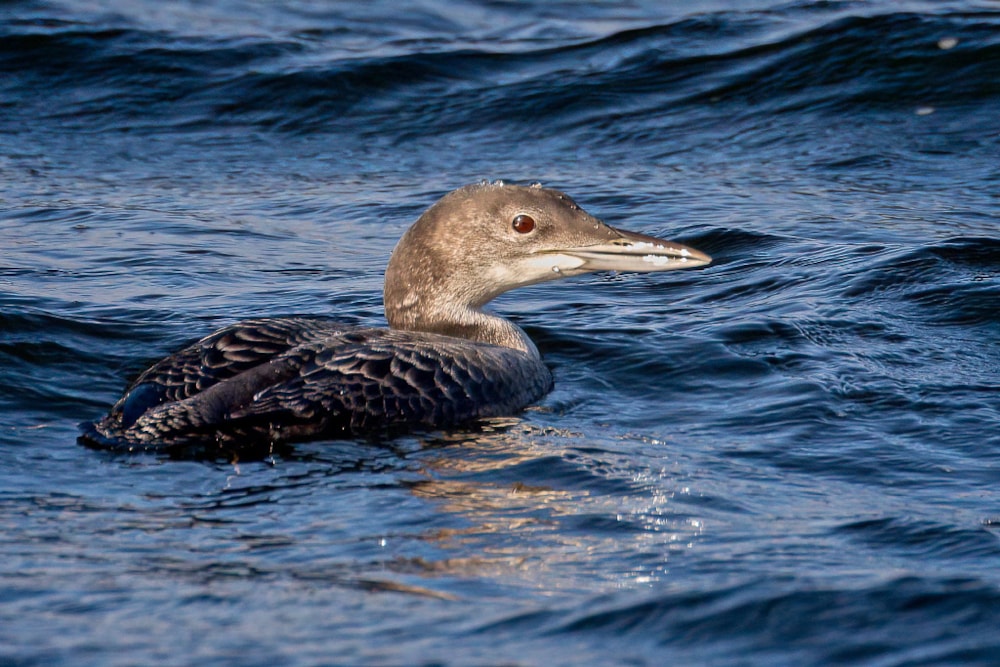 Great Northern Diver, Chasewater, Staffordshire (Derek Lees).
East Midlands
A Brent Goose was an excellent inland find at Erewash Meadows NR, Derbyshire, on 8th. Other local excellence included a Red-throated Diver at St Chad's Water from 9th and a bean goose sp over Carsington Water on 10th. Three Caspian Gulls roosted at Foremark Reservoir. Nottinghamshire was largely quiet, although Cottam had a respectable week with two Bewick's Swans south on 8th a welcome sight, as was a showy Great Grey Shrike there from 9th. A Hoopoe was in Northants, seen in flight at Pitsford Reservoir on 5th. A third-winter Caspian Gull was at Hollowell Reservoir on 9th.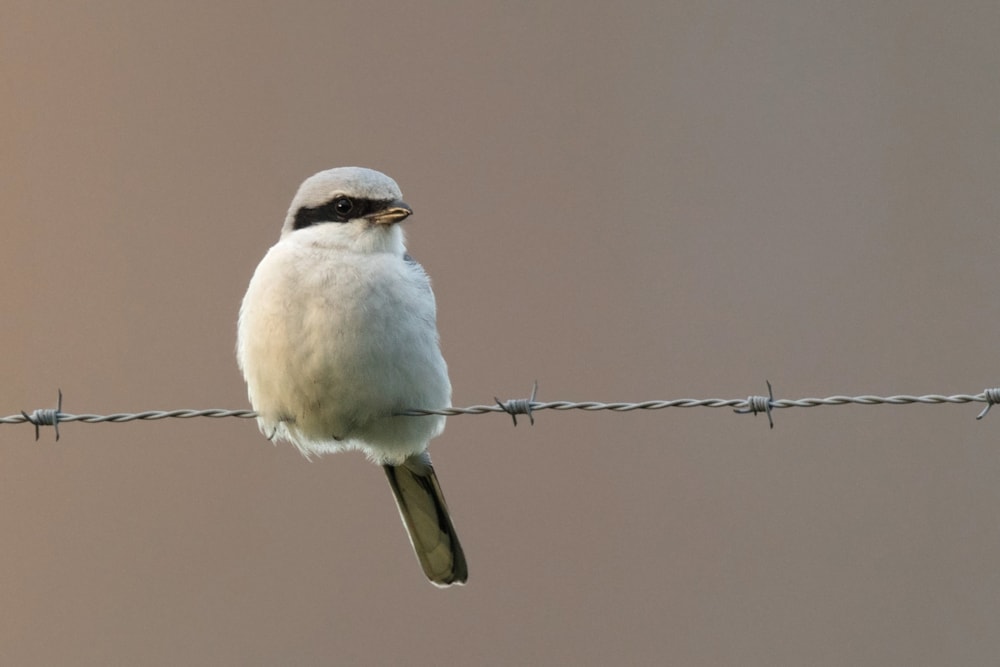 Great Grey Shrike, Cottam, Nottinghamshire (Paul Coombes).
Rutland Water had an massive inland count of five Great Northern Divers off the dam on 4th, with three still present until the end of the week. At least two European Shags were present throughout and three Avocets were on Lagoon 1 on 8th, while a Greater Scaup was among the more orthodox winter affair. Elsewhere, another European Shag remained at Thornton Reservoir on 4th and the drake Greater Scaup was still at Swithland Reservoir the same day. The Wood Sandpiper at Kegworth ought to check its diary, as it was still kicking about the gravel workings there on 10th.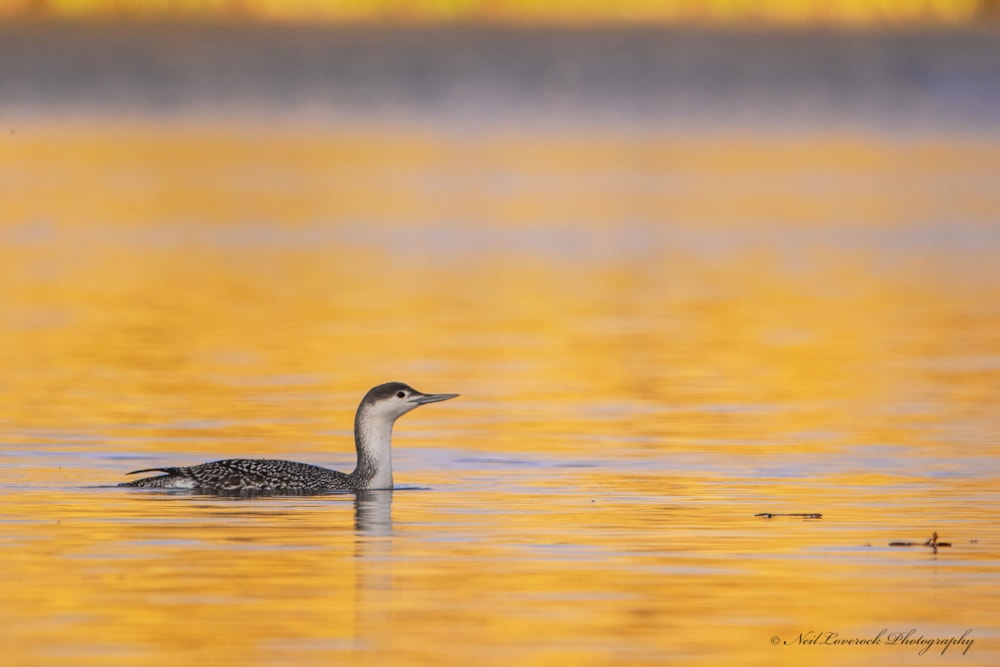 Red-throated Diver, St Chad's Water, Derbyshire (Neil Loverock).
East of England
Norfolk continued to be productive for quality birds, with East Hills, Wells-next-the-Sea, hosting Red-flanked Bluetail and Dusky Warbler over the weekend. At least two Pallas's Warblers were in Holkham Pines/Wells Woods, while a late Radde's and a Dusky Warbler were on Blakeney Point on 9th. Further Duskies were at Holme NOA, Muckleburgh Hill, Eccles on Sea and, most impressively, well inland at Bintree on 10th. A Pallas's was at Happisburgh on 7th and a Barred Warbler was at Winterton North Dunes on 8th.
Cley's confiding Lesser Yellowlegs moved east to Salthouse from 7th, while the Isle of Wight White-tailed Eagle remained in the Snettisham area. The Glossy Ibis moved from Breydon Water to the Acle Straight. Single Shore Larks were at Thornham Point and Blakeney Point.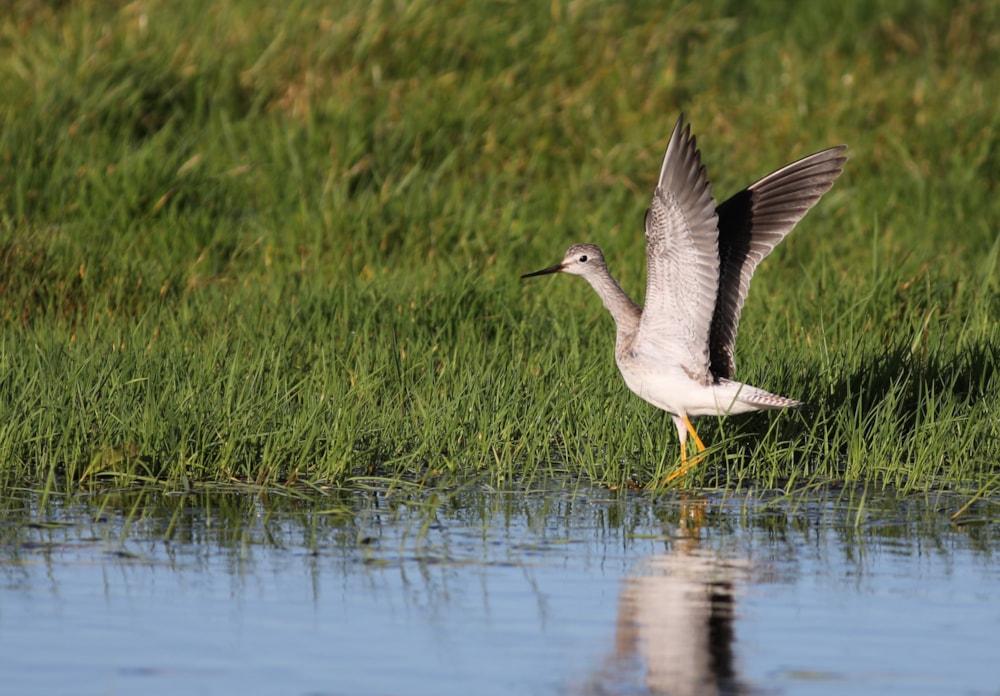 Lesser Yellowlegs, Cley Marshes NWT, Norfolk (Brian Anderson).
A Pallas's Warbler at Landguard, Suffolk, on 7th was joined by a second from 9th. Another was at Minsmere RSPB on 7-8th, while Dusky Warblers were at Southwold and Lowestoft. Dunwich is proving to be a site in real form, with three flyover Glossy Ibises on 4th, Caspian Gull, and Lapland and Snow Buntings all providing back-up to the high-profile rarities there this week. The Great Grey Shrike remained at Hollesley Common.
In Essex, two Pallas's Warblers were at The Naze on 9th and a Yellow-browed Warbler was at St Osyth on 5th. Among the array of birds on offer at Abberton Reservoir were Slavonian Grebe, Long-tailed Duck and Short-eared Owl. Two Lapland Buntings were at Stow Marsh on 6th.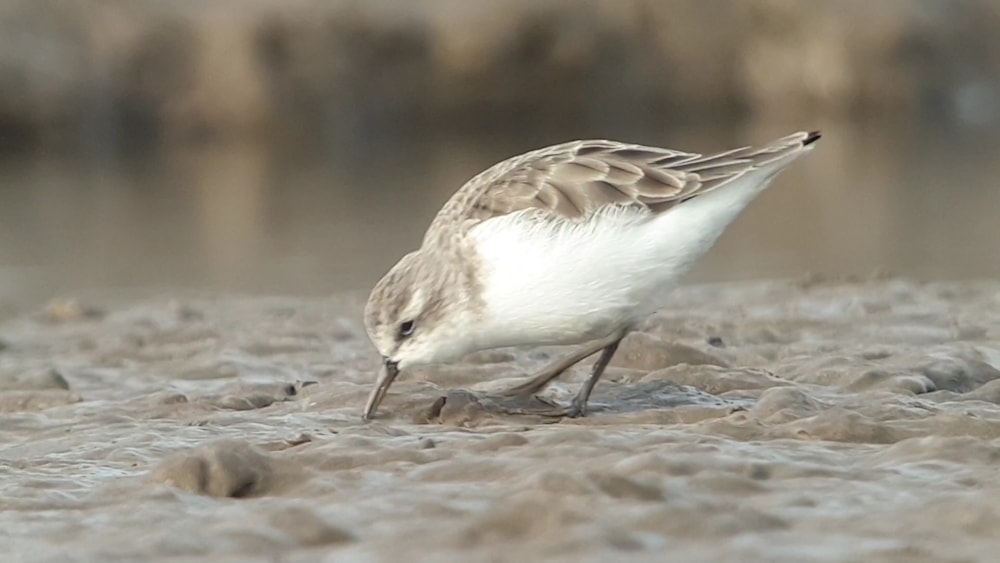 Little Stint, Snettisham RSPB, Norfolk (Chris Kelly).
The Black-necked Grebe remained at Wilstone Reservoir, Hertfordshire, and a Eurasian Bittern was a regular rooster at nearby Marsworth Reservoir. Clear highlight in Bedfordshire was a Hoopoe at Northill from 8th, although a Slavonian Grebe was at Stewartby Lake on the evening of 4th.
A Kittiwake was at Dernford Farm Reservoir, Cambs, on 4th, where up to two Caspian Gulls roosted. Grafham Water hosted up to three Great Northern Divers and a Greater Scaup, while six Brent Geese flew south on 6th. Up to 50 Common Cranes remained on the Nene Washes.

Twite, Thornham, Norfolk (Andy Thompson).
South-East England
A gentle blow of easterlies around the weekend produced a few bits in Kent including two Dusky Warblers, with Dungeness and Sandwich Bay both recording the species on 7th. The latter site also hosted a Pallas's Warbler on 5th, the same day a Richard's Pipit flew over Abbot's Cliff. From the opposite point of the compass, a first-winter Lesser Yellowlegs was a surprise find on private farmland near Capel Fleet, Sheppey, on 9th. Glossy Ibises were recorded at Dungeness, Stodmarsh and Wouldham, and the Worth Marsh Great Grey Shrike was last noted on 4th. Five Yellow-browed Warblers were logged.
Sussex also bagged a Dusky Warbler, with one trapped and ringed at Beachy Head on 5th, though the Ifield Mill Pond bird had done a bunk by 4th. Things were otherwise quiet as things settled into a wintry rhythm, though Church Norton scored a Grey Phalarope on 5th and two Russian White-fronted Geese inland at Amberley Brooks were of note.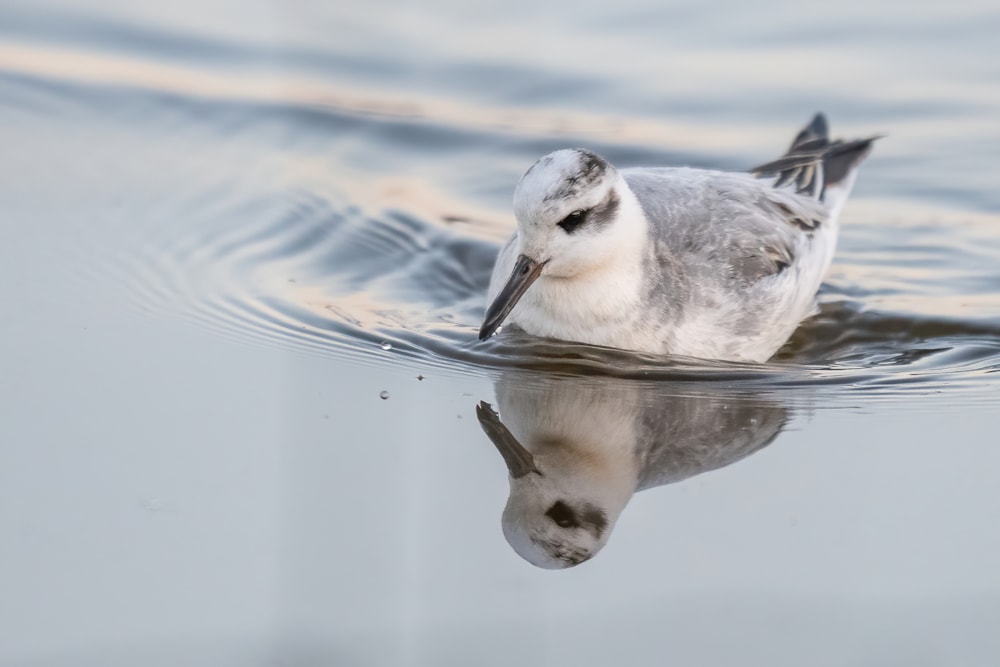 Grey Phalarope, Pennington Marshes, Hampshire (Matthew Barfield).
On the Isle of Wight, the Brading Marshes Glossy Ibis put in a couple of showings during the week. Across the Solent, Grey Phalaropes were at Keyhaven and Pennington Marshes, Hampshire, with the former site also scoring Lapland Bunting on 7th. One of the reintroduced White-tailed Eagles flew over Hythe on 4th.
The Little Bunting continued at Thursley Common but remained mobile and rather tricky to catch up with. The same site hosted a Great Grey Shrike on 6th – perhaps a precursor for a wintering bird on the south-west Surrey commons this season. In London, a Richard's Pipit at Rainham Marshes on 10th was a smart find, as was a Yellow-browed Warbler in Epping Forest on 4th.
In Oxfordshire, a Siberian Chiffchaff was photographed at Farmoor on 10th, where the Great Northern Diver continued throughout. An early Iceland Gull was at Didcot landfill and Sutton Courtenay/Appleford GPs, while two Whooper Swans kept both Oxon and Buckinghamshire birders happy by showing on both sides of the border east of Bicester. Bucks also scored a Sibe Chiff – in Buckingham on 10th – while Berkshire continued to boast Great and Western Cattle Egrets.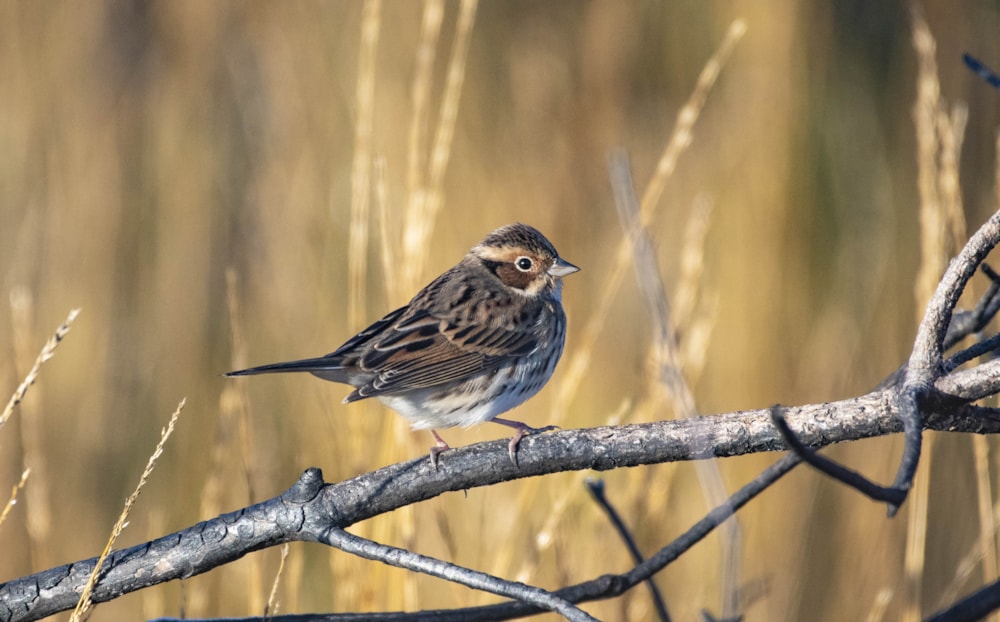 Little Bunting, Thursley Common, Surrey (Ed Stubbs).
South-West England
In Somerset, a returning drake Long-tailed Duck at Barrow Gurney Reservoirs from 7th is sure to be a popular feature over the coming months – as are the tame trio of a juvenile Tundra Bean and two Russian White-fronted Geese at Apex Leisure Park. Elsewhere, a Ruddy Shelduck remained at Westhay Moor NNR, a Lapland Bunting flew over Huntspill, Yellow-browed Warblers were at four sites, and a Snow Bunting was at Hurlstone Point.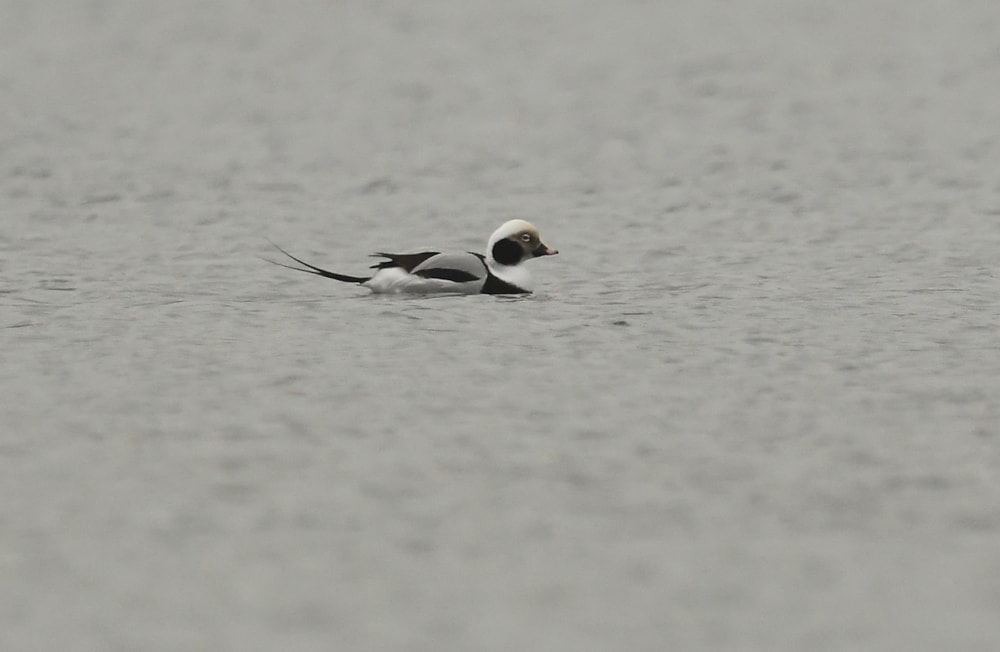 Long-tailed Duck, Barrow Gurney Reservoirs, Somerset & Bristol (Brian Thompson).
The first returning Bewick's Swans were back at Slimbridge WWT, Gloucestershire, from 5th, while tame Snow Buntings were a delight at New Passage (two) and Saul Warth. The Great Grey Shrike remained at Crabtree Hill, while a Siberian Chiffchaff was at Ashleworth Ham NR on 7th. A Grey Plover over Salisbury, Wiltshire, on 9th was notable, while the county also saw a small influx of Black Redstarts.
Portland was the epicentre of Dorset's avian action, including a trapped Siberian Lesser Whitethroat on 8th and a Pallas's Warbler at Pennsylvania Castle the following day. Two Rosy Starlings were on the headland, while a Siberian Chiffchaff was in a garden at Southwell too. Away from Portland, Siberian Chiffchaffs were at Puncknowle and Hengistbury Head, a Great Grey Shrike at Hengistbury Head, Grey Phalaropes at four sites, and a Glossy Ibises at Stanpit Marsh and Lodmoor RSPB, while a drake Green-winged Teal remained at Longham Lakes.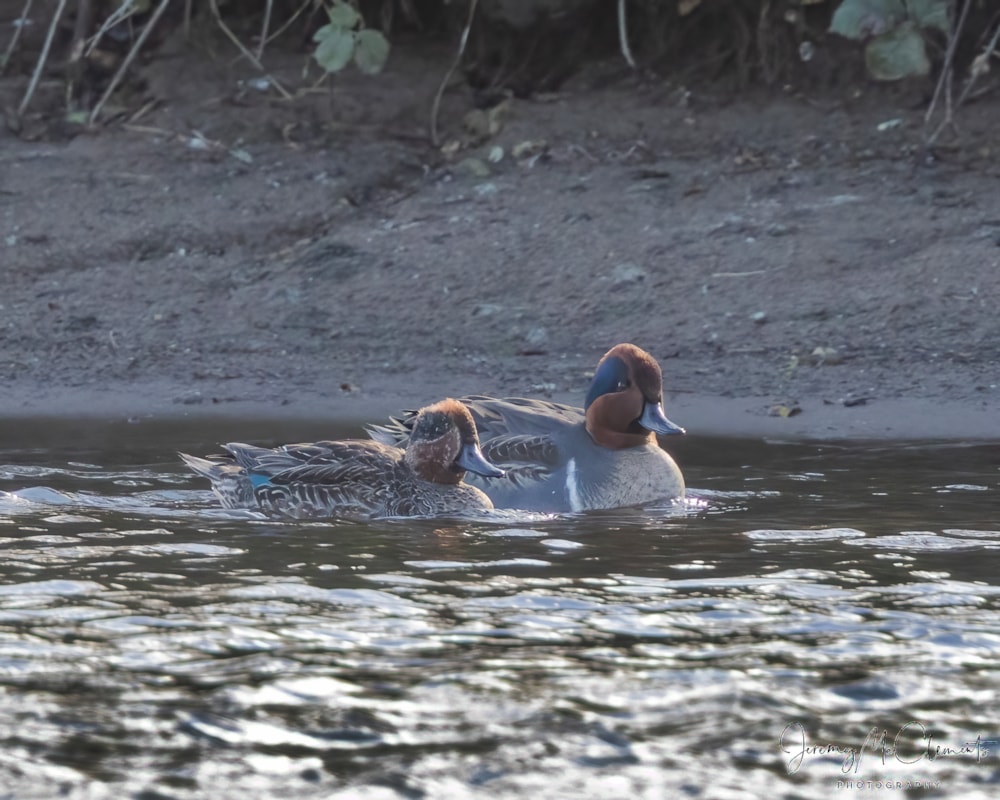 Green-winged Teal, Longham Lakes, Dorset (Jeremy Mcclements).
In Devon, Pallas's Warblers were at both Berry Head and East Prawle, alongside a first-winter Red-backed Shrike at Prawle Point and a Richard's Pipit at Dawlish Warren NNR. A drake Green-winged Teal was a smart find at Exminster Marshes RSPB at the end of the week, with a mobile Common Crane on 4-5th. Lingering scarcities included a Lesser Yellowlegs at South Efford Marsh, four Glossy Ibises at Fremington Pill, and a drake Ring-necked Duck at Slapton Ley.
Cornwall's Nanquidno Valley saw a brief European Serin on 9th. Nanjizal Valley played host to a flyover Olive-backed Pipit on 4th, the same day a Dusky Warbler was trapped and ringed, followed by a Grey Phalarope on 7th. Other Dusky Warblers were at Park Head on 5th and Porthgwarra on 8th, while a new drake Green-winged Teal was at College Reservoir from 7th, and one of the Isle of Wight White-tailed Eagles flew over Carnmenellis, Crows-an-Wra, Troon and Ladock.
On Scilly, a delightful Red-flanked Bluetail impressed St Mary's at Porth Hellick from 5-7th with at least two Dusky Warblers – the young Red-backed Shrike also remained. Several Siberian Chiffchaffs were on the island, while a female American Wigeon was at Lower Moors on 5th. Another Dusky Warbler was on Tresco on 8th, alongside a Lapland Bunting, three Siberian Chiffchaffs and four Western Cattle Egrets. A Richard's Pipit was on St Martin's on 9th.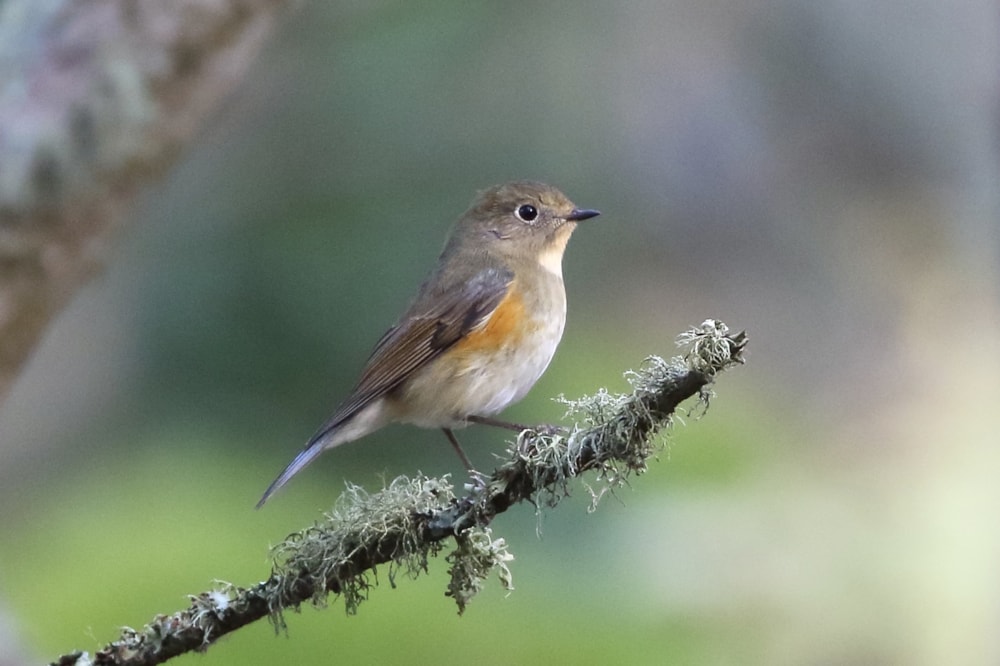 Red-flanked Bluetail, St Mary's, Isles of Scilly (Scott Reid).
Wales
Wildfowl in the country included both Ring-necked Ducks still at Cardiff Bay, Glamorgan, until 7th at least, with both flavours of Greater White-fronted Goose on offer. A Glaucous Gull flew west past Marloes Mere, Pembrokeshire, on 6th, and a juvenile Iceland Gull was at Fishguard on 9th. Meanwhile, a Great Northern Diver was at Lisvane Reservoir, Glamorgan, on 5-6th, and Grey Phalaropes were at Glandyfi, Ceredigion, on 4th and Colwyn Bay, Conwy, on 6th. In the south of the country, a first-winter Red-necked Phalarope at Sker Point, Glamorgan, on 4th proved a cool customer.
The Eurasian Spoonbill flock continues to commute between Pen-clawdd, Glamorgan, and Llanelli WWT, Carmarthen, with a peak count of six at the latter site on 9th. Two Glossy Ibis were at Goldcliff Pools NR, Gwent, on the same date. A probable Red-backed Shrike was reported at Mynydd-y-Garth, Glamorgan, on 6th, but sadly hasn't been reported since. Great Grey Shrikes proved more reliable with five sites scoring birds, perhaps the most reliable of which was the bird at Brechfa Forest, Carmarthen. Both Lapland and Snow Buntings were reported, while three sites produced Yellow-browed Warblers.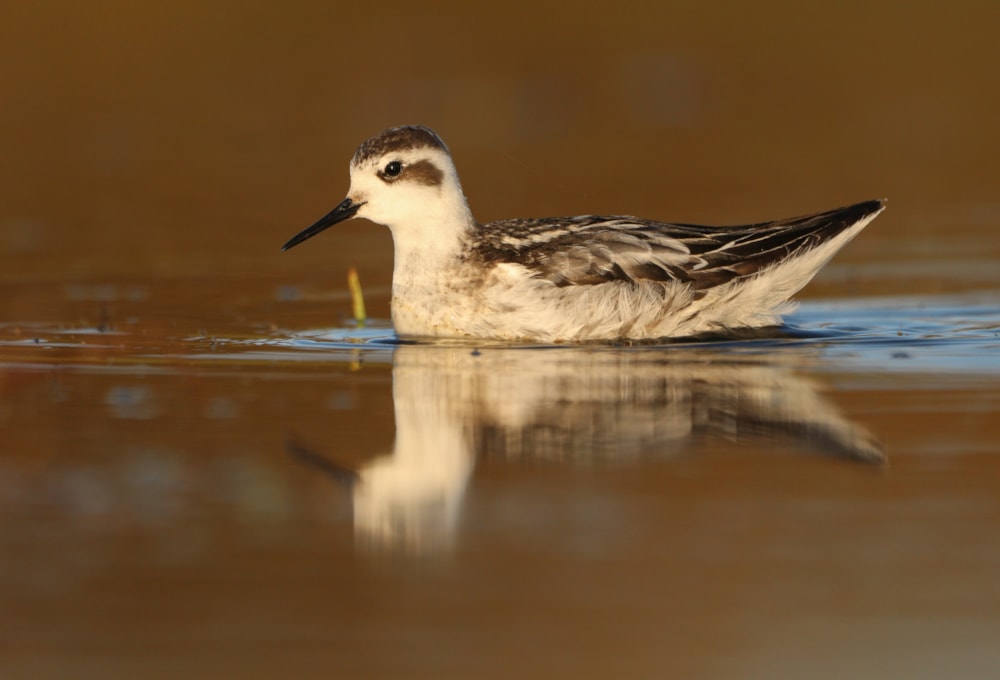 Red-necked Phalarope, Sker Point, Glamorgan (Tate Lloyd).
Ireland
The Tacumshin area attracted juvenile American Golden Plover, White-rumped Sandpiper, Ring-necked Duck and Glossy Ibis this week, while the Lesser Yellowlegs was still at Killongford, Co Waterford. The latter county's first Little Bunting was picked up dead at Ardmore on 9th.
A Russian White-fronted Goose near The Gearagh, Co Cork, was a major county rarity. Iceland Gull and Yellow-browed Warbler were seen in Limerick. A significant influx of Great Egret appears to have taken place across Ireland in the past few weeks, with at least five different birds in Northern Ireland alone.
Two Ring-necked Duck remained at Lough Gara, Co Sligo, with singles in Cos Clare and Dublin. A Todd's Canada Goose was at Duleek, Co Meath. The Green-winged Teal continued on the Co Wicklow coast and a Glossy Ibis was at Hazelhatch, Co Kildare.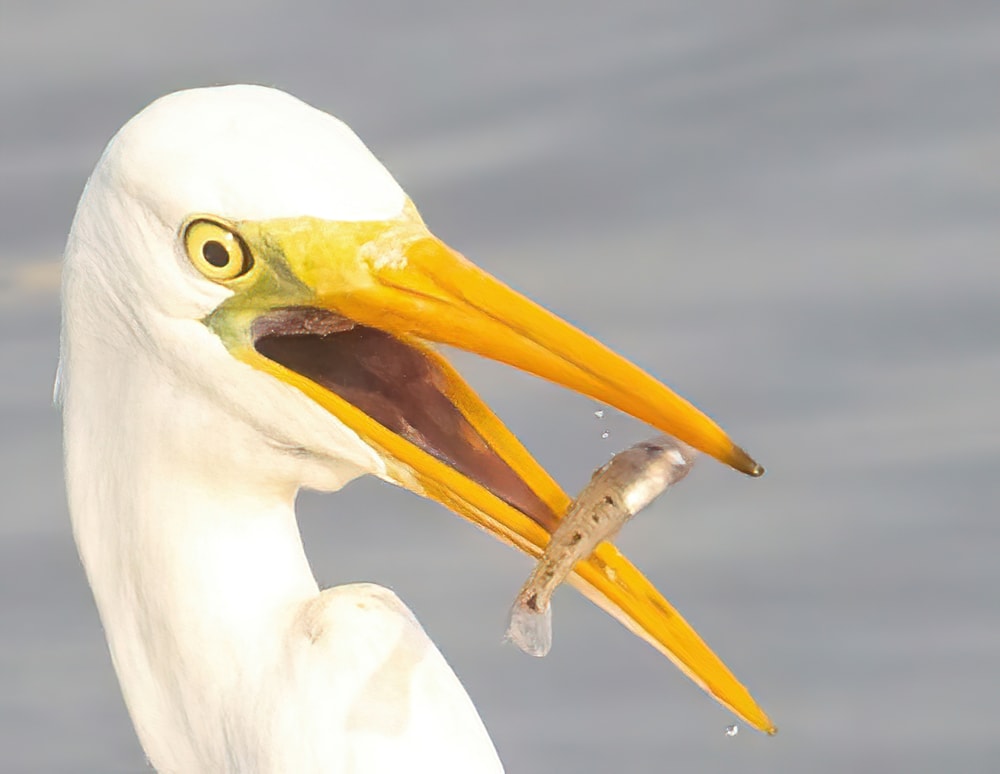 Great Egret, Ballycarry, Antrim (Ian Dickey).
Western Palearctic
A true Canary Islands purple patch saw firsts from both ends of the Palearctic, with Spain's first Amur Falcon – an adult female – at Los Rodeos, Tenerife, on 5th complimented by a male Belted Kingfisher at Arrecife, Lanzarote, on 8th – another Canarias first. In mainland Spain, the returning American Herring Gull was back at Muxía from 6th.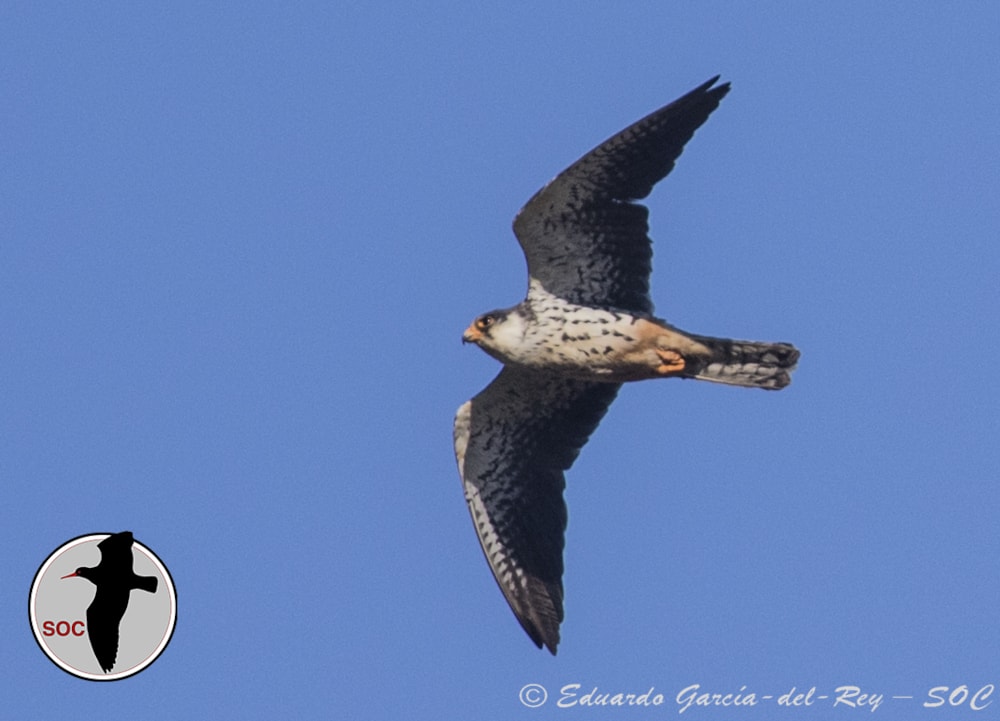 Amur Falcon, San Cristobal de La Laguna, Tenerife (Eduardo Garcia-del-Rey).
On São Jorge, Azores, a Greater Yellowlegs was reported for the first time since February, at Fajã dos Cubres on 8th, while the female Belted Kingfisher was still at Lajes do Pico, Pico, on 6th. Even more remarkable was the female Red-crested Pochard in the bay off Porto Pim, Faial, on 9th, a first for the Azores. Continuing the Nearctic flair, a young Hermit Thrush was ringed at Höfn, Iceland, on 5th.
First picked up heading south-west over Breskens, The Netherlands, on 8th, a Eurasian Crag Martin soon relocated across the border to Ostend, Belgium, where it subsequently went to roost on the balcony of a tall apartment block. Earlier in the week, Belgium's sixth had flown south-west through De Panne, too. Elsewhere in The Netherlands, a male Pine Bunting tracked south along the dunes at Katwijk on 6th was a remarkable vismig record. An even more stunning vismig record hailed from Manche, France, where a Wallcreeper flew north along the coast just outside Jullouville – a site due south of the Isle of Wight, funnily enough ...
In Denmark, a Red-tailed Shrike at Lidsø on 8th looks set to become the country's second record. Another Dusky Thrush – a first-winter male – was at Karmøy, on the Norwegian North Sea coast, on 4th, with an Oriental Turtle Dove at nearby Svortland on the same date, and an Eastern Yellow Wagtail at Eigersund.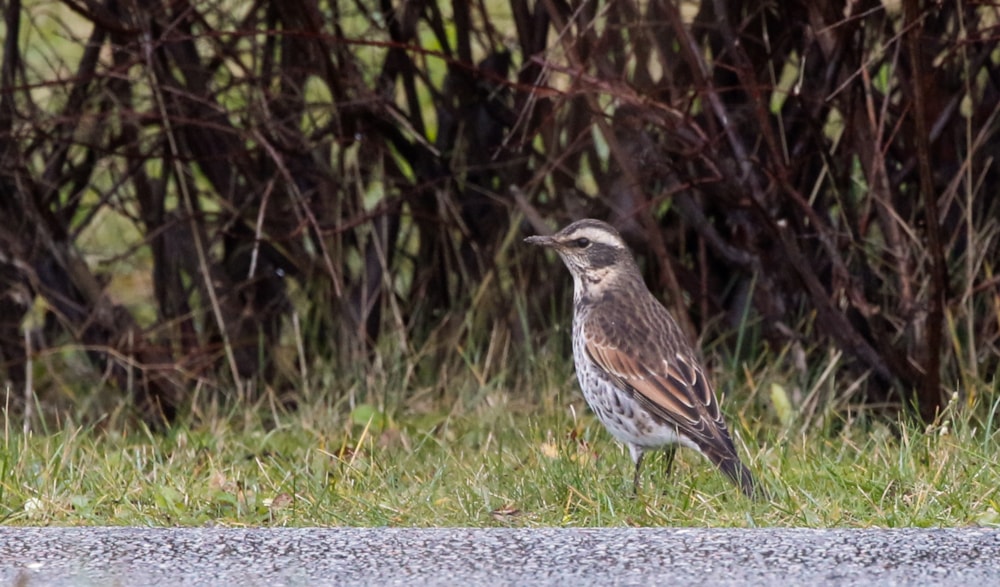 Dusky Thrush, Karmøy, Rogaland (Bjørn Mo).
A small influx of Lesser Short-toed Larks to the Baltics included individuals at Lisalmi, Finland, on 7th and Kupisk, Belarus, the next day – the nation's first. Poland hosted two White-headed Ducks (including one at Zbiornik Jutrosin on 8th), while further west, another was at Kronstorf, Austria, from 9th. The Czech Republic's first-ever Lesser Yellowlegs was at Jistebník on 5th, while Algeria's first – and long overdue – Little Bunting was photographed at Touggourt on 31 October.
In Israel, a Kurdish Wheatear was at Ein Avdat NP at the end of the week, while an Oriental Turtle Dove was at Hatzuk Beach, Tel Aviv, on 8th. The Persian Shearwater remained off Eilat until the 9th at least. Two Black-winged Kites were on Cyprus at Akrotiri.
On the Channel Islands, highlights included a Dusky Warbler trapped and ringed on Alderney on 7th, a Hoopoe at Rocquaine Bay, Guernsey, from 8th, and a Pallid Swift at Gorey Bay, Jersey, on 10th.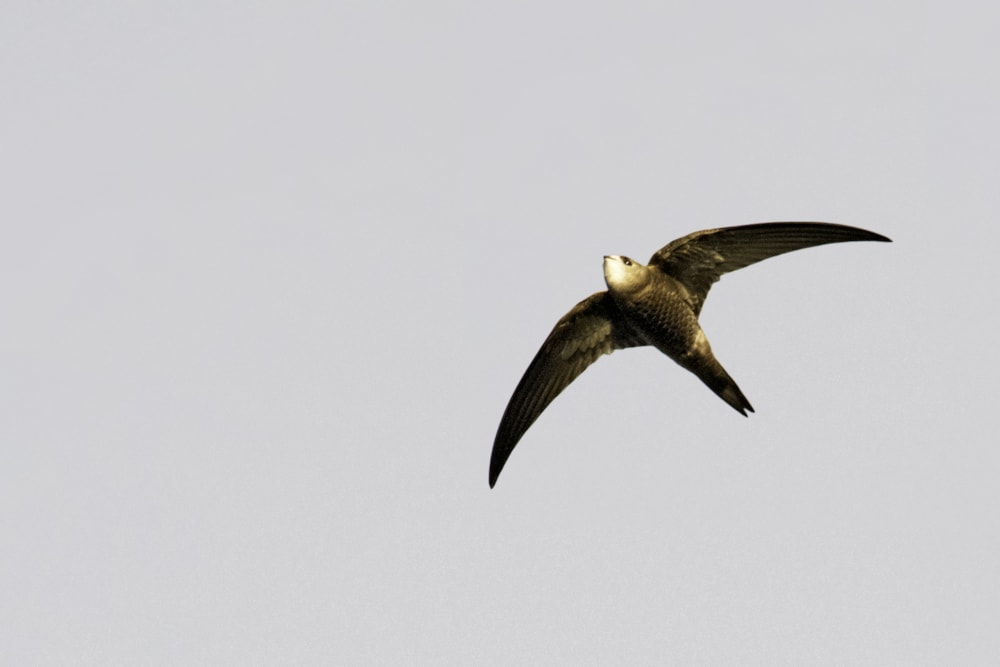 Pallid Swift, Gorey Bay, Jersey (Romano Da Costa).