The week at a glance
If you'd said to birders at the start of this week that the headline bird over the coming seven days would be a Eurasian Crag Martin in central Chesterfield, they would have scoffed, looked at you quizzically or just ignored your claim altogether. Yet November invariably produces one or two surprises, and this week's shock was indeed as outlined above.
The bird was found in the late morning on Sunday around the town's famous crooked spire, which sits atop the Church of St Mary and All Saints. Identification was clinched and news released soon afterwards, allowing quick-moving birders (essentially those within an hour or so of the town) to connect as the bird gave two relatively brief showcases at around 12:30 and again some time before 14:00. After that it was gone, but the poor weather suggested that it couldn't have gone far...

Crag Martin, Chesterfield, Derbyshire (Photo: Andy Butler)
Content continues after advertisements
... and so it proved the next morning, when the martin was back around the church a little after 08:00 and lingered there for most of the morning and early afternoon, before it repeated its early disappearing act once again. It was back on Tuesday, once again showing well throughout the day, and now comfortably ranks as the most twitchable of Britain's 10 Crag Martins. A late-autumn appearance may at first seem unusual, but there have been a few recent records of lingering birds in at this time of year, such as in The Netherlands (2006, 2009) and Sweden (2006).

Crag Martin, Chesterfield, Derbyshire (Photo: Andy Butler)

Crag Martin, Chesterfield, Derbyshire (Photo: Steve Nuttall)
The mild and blustery conditions also continued to produce swift sightings across a large swathe of the country. The brevity of many sightings, coupled with the often dismal weather, ensured that many went down as Common/Pallid Swifts, although a couple of Pallids were confirmed: at Sizewell, Suffolk, on 7th and Margate, Kent, on 9th, with a probable lingering over Glyn-neath, Glamorgan, on 5–6th.
Elsewhere the best find was a first-winter Rose-breasted Grosbeak at Fort Quesnard, Alderney, late on Sunday 8th. Following records from Sark in September 1975 and Guernsey in October 1987, this represents the third for the Channel Islands. Unfortunately there was no sign of it the following morning.
A White-billed Diver was at the traditional location of Bluemull Sound, Shetland, on 6th. Two drake Surf Scoters were seen again off Llanddulas, Conwy, on 7th, but the drake off the Lothian coastline the only other reported this week. The drake Lesser Scaup looks to have settled in for another winter at Lough Gill, Co Kerry, while a drake Ring-necked Duck was at Loch of Harray, Orkney, on 7th and a female was found at Wexford Wildfowl Reserve on 8th. The Startops drake moved to College Lake, Bucks, at dusk on 7th and others were still in situ in Perthshire and Co Down. Once again the only Ferruginous Duck was the free-flying drake amid its captive congeners at Washington WWT, Durham.

Ring-necked Duck, Startop's End Reservoir, Hertfordshire (Photo: Josh Jones)

Ring-necked Duck, Pitlochry, Perth & Kinross (Photo: Barry Farquharson)
Drake Green-winged Teal were found at Seal Sands, Cleveland, on 8th and Loch Leven, Perth/Kinross, on 9th, with the usual Caerlaverock drake also still in residence. American Wigeon continued on Tiree, Argyll, and in Counties Wexford and Leitrim.
With no goose news from Islay and only the white-morph Snow Goose seen on the Solway (near Campfield Marsh on 10th), it was a quiet week for other wildfowl. The Ridgway's Cackling Goose was on Exminster Marshes, Devon, while Black Brants were reported from Dorset, Essex and Norfolk.

Snow Goose, Campfield Marsh RSPB, Cumbria (Photo: Judith Rogers)

Black Brant, Cley next the Sea, Norfolk (Photo: Rob Holmes)
A new Glossy Ibis was found at Pilning Wetland, Glos, on 6th and lingered from then on; one hung on at Seaton Marshes, Devon, to 4th, two were at Lough Gill, Co Kerry, while others continued in Somerset and Essex.
Three Cattle Egrets were found at Aventon Gifford, Devon, on 10th, with up to three also still in the county at Teigngrace; in Cornwall one was on the Camel Estuary on 8th, while in Somerset birds continued at Steart and Shapwick Heath. Another remained at Tacumshin, Co Wexford, to at least 7th. Great White Egrets were widely spread and included at least one at the west end of the Dingle peninsula, Co Kerry, and another in Co Monaghan.

Cattle Egret, Aveton Gifford, Devon (Photo: Alan Doidge)

Cattle Egret, Tacumshin, Wexford (Photo: Paul Kelly)

Glossy Ibis, Wat Tyler CP, Essex (Photo: Jim Bailey)
There was a report of a Pallid Harrier on Holy Island, Northumberland, on 5th but not subsequently. The juvenile was seen again at Gibraltar Point, Lincs, on 5th and showed well at times there until 8th. October's influx of Rough-legged Buzzards has ebbed away, with birds seen at Holland Haven in Essex, the Great Fen in Cambridgeshire, Titchwell in Norfolk and Sleddale in Cleveland.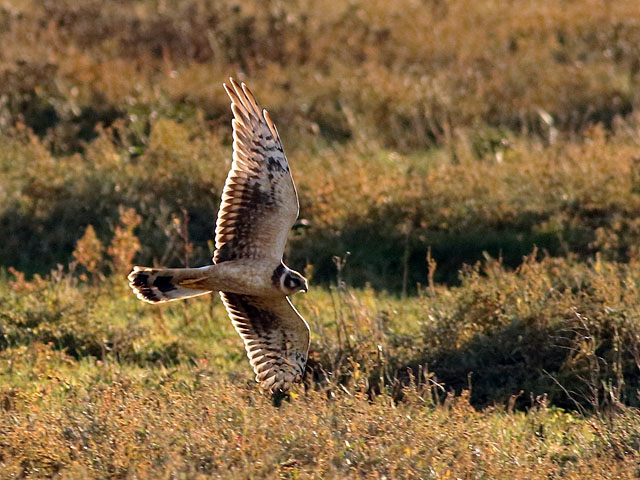 Pallid Harrier, Gibraltar Point NNR, Lincolnshire (Photo: Russell Hayes)
Given the position of the jet stream and resultant flow of inclement transatlantic weather systems, it was a surprise that there weren't more White-rumped Sandpipers seen, with two juveniles at Ballycotton, Co Cork, on 7–8th the only ones found. The Semipalmated Sandpiper was again at Slimbridge, Glos, from 4–6th. Red-necked Phalaropes are never particularly common in November so first-winters at Upton Warren, Worcs, on 9–10th and Hollesley Marshes, Suffolk, from 8th were noteworthy.

Red-necked Phalarope, Upton Warren NR (Permit Only), Worcestershire (Photo: Philip John Parsons)
The Hudsonian Whimbrel was seen consistently at Marazion, Cornwall, to 6th but not at all on 7th; a brief reappearance mid-afternoon on 8th was all it could muster, and there was no sign again on 9th.
A Long-billed Dowitcher was new in at Cresswell Pond, Northumberland, on 9th and was still there the following day; another — a juvenile — was found on the Rogerstown Estuary, Co Dublin, on 8th. The Lesser Yellowlegs at Breydon Water, Norfolk, continued to show until at least 8th, but there was no news on the Isle of Wight Greater Yellowlegs. A total of seven American Golden Plovers were seen, though the only new bird was a juvenile near Scorton, N Yorks, on 6th. The long-stayer was last seen at Kilnsea, E Yorks, on 7th, while others remained in Lothian, Outer Hebrides and Counties Cork (2) and Londonderry.

American Golden Plover, Kilnsea, East Yorkshire (Photo: Dean Nicholson)
Another week passes and the Gull-billed Tern shows no sign of abandoning its routine of patrolling the estuary at Blennerville, Co Kerry; it was still there all week. The third-winter American Herring Gull was again at St Just, Cornwall, on 4th and then seen at Mousehole on 6th, and the adult Bonaparte's Gull was at Dawlish Warren, Devon, on 5th. The adult Ring-billed Gull was at Dingwall, Highland, on 4th and a second-winter was in Sligo City on 7th. The rather testing weather conditions also produced the lightest scattering of Iceland Gulls to the far north and west during the week — hopefully these will be the first of many.

Gull-billed Tern, Blennerville, Kerry (Photo: Ed Carty)
An Olive-backed Pipit was still on Fair Isle on 4th, while Spurn's first Blyth's Pipit was a brief visitor to The Narrows in mid-morning on 5th before heading south towards Lincolnshire. This is also potentially just the second for Yorkshire, following last winter's well-watched individual near Wakefield. Just a handful of Richard's Pipits included the lingering bird at Selsley Common, Glos, to 8th. There were a couple of teasing reports of a possible Amur Wagtail at Titchwell, Norfolk, on 8–9th, though no photos have emerged and the bird hasn't been reported again. Shore Lark reports came from Norfolk, Lincolnshire, East Yorkshire and Northumberland this week.

Richard's Pipit, Selsley, Gloucestershire (Photo: Mark Leitch)
There isn't much to suggest it's going to be a big Waxwing winter currently, although four sites registered birds on Shetland, four were at Washington, Durham, on 7th and 10+ were at South Shields that day. Seven were reported from Banchory, Aberdeenshire, on 10th.

Waxwing, Fair Isle, Shetland (Photo: Lee Gregory)
The Durham Arctic Warbler lasted at Marsden Quarry until 7th, while Dusky Warblers could be found at Clibberswick, Unst, from 5–7th and Mizen Head, Co Cork, on 7–8th. Yellow-browed Warblers numbered in to the twenties but just a sole Pallas's Warbler was reported: at St Levan, Cornwall, on 10th.

This Dusky Warbler was photographed in Flevoland, Netherlands, on 8 November (Photo: Marc FASOL)
Migrant passerine numbers have really dropped off — for example, there were no Barred Warblers reported this week for the first time in almost three months. The only Red-breasted Flycatcher was the continuing bird at Brownstown Head, Co Waterford, while the only European Serin was that still in Exmouth, Devon, to 8th. Around 25 Great Grey Shrikes were reported, but most were birds on traditional wintering sites.

Serin, Exmouth, Devon (Photo: P. Tongue)
The Ortolan Bunting remained on Fair Isle to 6th, while Little Buntings were found on Tory Island, Co Donegal, on 5th and at Burrafirth, Unst, on 7th in addition to the bird still on St Agnes, Scilly, on 4th. A fly-by Penduline Tit was seen at St Olaves, Norfolk, on 8th and there was late news of two on private land at Broom Gravel Pits, Beds, to 2nd.
Western Palearctic news
Late news concerned the presence of a Pied Crow near M'Hamid, Morocco, on 1st — still a big regional rarity and a bird that may well be twitched if it hangs around. An Eastern Imperial Eagle at Buskett, Malta, on 3rd was unsurprisingly a first for the island — the bird, bearing a satellite transmitter, is from an Austrian nest but is feared to have been illegally shot by hunters, for it was not present the following day.

Imperial Eagle, Malta (Photo: Stephen Cilia)
In the Azores, the male Belted Kingfisher continued to be seen in Praia da Vitória, Terceira, throughout the week. A Long-tailed Duck at Janubio, Lanzarote, on 7th was a first for the Canary Islands, while Cyprus' eighth Red-breasted Goose arrived at Larnaca on 5th.

Belted Kingfisher, Terceira, Azores (Photo: Sofia Goulart)
Further hope that a British Black-winged Kite might just be round the corner was provided by no fewer than three birds on 10th: one in Germany, one in the Netherlands and one straddling the Dutch/Belgian border. The first Upland Sandpiper to be seen in Denmark for 95 years was at Ringkøbing from 8th. A Cattle Egret at Inderøy, Norway, on 8th might sound uninspiring but it represents just the sixth national record.