The week at a glance
With changeable, rather un-summery weather this week, it was a case of "making do" with the scarcities and rarities that were on offer. Not that the list wasn't a decent one, far from it, but it had to be said that the "wow factor" was a little on the low side. However, this is early July and it won't be long until things perk up....

Terek Sandpiper, Saltholme Pools, Cleveland (Photo: Mr Lawton)
Though no longer afforded "mega" status, this week's undoubted pick of the bunch was the adult summer Terek Sandpiper that arrived at Saltholme Pools (Cleveland) on 5th and remained there until 9th. This bird represents the fourth record for the county oddball that is Cleveland, although two of these records actually occurred outside the area: one was in Yorkshire (at Scaling Dam in 1971) and the other was actually in County Durham, at Cowpen Marsh, in 1952. The only other "true" Cleveland record was at Teesmouth in 1979, so the local county listers would have been delighted with this bird's appearance.

White-billed Diver, South Ronaldsay, Orkney (Photo: anon)
The stunning summer adult White-billed Diver remained off Cara and St. Margaret's Hope, South Ronaldsay (Orkney) throughout the week and it would be hard to find a more dashing species anywhere around the country this week. The run of low-pressure systems moving through the Western Approaches certainly seemed to have an effect on some pelagic species, with the first Great Shearwater of the summer appearing off Berry Head (Devon) on 5th, along with two Cory's Shearwaters. Another Great Shearwater was seen passing Galley Head (Co. Cork) on 9th. Aside from the two Cory's Shearwaters in Devon, further records this week included, on 3rd, singles from Whitburn Coastal Park (Co. Durham) and Gorran Haven (Cornwall) while three birds flew past Galley Head (Co. Cork). On 4th, three birds were seen at sea from the RRS James Cook, some 40 kilometres south of Lizard Point (Cornwall). The 5th saw one fly past the seafront at Southwold (Suffolk), two more were seen from the James Cook, now 100 kilometres off Scilly along the Jones' Bank, and a male was trapped and ringed on Great Skellig (Co. Kerry) overnight. The 6th saw a single Cory's fly past Portland Bill (Dorset) and 46 birds were seen from the James Cook, again off the Jones' Bank. Another single was reported off Portland Bill on 7th, and another was seen from Achill Island (Co. Mayo). Four birds were seen at sea off the Jones' Bank, with 10 birds noted there on 8th while on the same date, another Cory's was noted way off to the north, off Gairloch (Highland). A handful of single Sooty Shearwaters were noted this week (off County Durham, Devon, Cornwall, and Scilly), with two birds seen from Galley Head on 9th. Balearic Shearwater numbers included some impressive figures off Portland Bill, where 40 were seen on 3rd, followed by 65 the following day. Double figures were noted for the rest of the week off the Bill, including 30 on 5th and 20 on 8th. Elsewhere 15 birds were seen from Berry Head (Devon) on 5th, with 34 were noted there on 6th. The same date saw two pass by Selsey Bill (West Sussex) and three were noted from Ventnor (Isle of Wight) and four birds were seen from Sennen Cove (Cornwall). Four birds were seen from Branksome Chine (Dorset) on 7th and one flew past Ovingdean (East Sussex) on 8th. On 9th, 25 Balearics were seen off Brixham (Devon). Two Leach's Storm-petrels were seen in Scapa Flow (Orkney) on 4th with another trapped and ringed overnight on North Ronaldsay on 9th. Five Leach's Storm-petrels were also trapped and ringed on Great Skellig (Co. Kerry) this week. European Storm-petrels have been recorded in quite some numbers along the south coast this week, including 75 off Hengistbury Head (Dorset) and 203 off Dawlish Warren NNR (Devon) on 8th, followed by an impressive 282 off Brixham (Devon) the following day. Single Pomarine Skuas were seen from Gorran Haven (Cornwall) and from Long Nab, Burniston (North Yorkshire) on 6th, with two birds seen from Galley Head on 9th, while the week's only Long-tailed Skua, an adult, flew past Thornwick Bay, Flamborough Head (East Yorkshire) on 5th. A couple of Little Auks were seen during the week, including one in Scapa Flow (Orkney) on 4th.

Spoonbill, Ogmore Estuary, Glamorgan (Photo: Paul Roberts)
A Cattle Egret was found at Goldcliff Pools, Newport Wetlands (Gwent) on 6th, while the summering Great White Egret in Suffolk was seen at Brantham on 4th. Some 24 Spoonbills were seen around the country this week, with nine birds in Norfolk on 3rd, five at Buckenham Marshes and four at Cley Marshes NWT. By 6th, the Cley tally had risen to six birds, all still present to 8th at least. Elsewhere two birds were at Kinneil Lagoon (Forth) from 3rd-9th, while in Lancashire, two birds were at Martin Mere on 7th and two birds were also noted at Leighton Moss on 6th and 7th. Next door in Cumbria, two birds were at Newbiggin on 6th. Inland, a single Spoonbill remained at Old Moor (South Yorkshire) to 3rd with presumably the same bird turning up elsewhere in the Dearne Valley later in the week. The dashingly handsome Glossy Ibis nipped in to Martin Mere (Lancashire) on 4th before heading back to Marshside on 5th-9th. A Common Crane was at Cley Marshes (Norfolk) on 3rd and at Caerlaverock (Dumfries & Galloway), one was still present on 6th. A White Stork flew over Glapwell (Derbyshire) on 4th.
Given that it is the height of midsummer, it is little surprise that there has been a dearth of wildfowl records this week. In Dorset, the first-summer drake Hooded Merganser remained at Radipole (Dorset) from 3rd-8th at least, but its appeal has started to diminish somewhat. The drake Green-winged Teal remained at Grafham Water (Cambridgeshire) to 7th.
A Black Kite was reported at Fakenham (Norfolk) on 8th, but a Red Kite was present in almost the same spot the following day.... Nearby at Sculthorpe, an adult female Red-footed Falcon flew north on 4th while, still in the Wensum Valley, Honey Buzzards continued to show at the raptor watchpoint at Great Ryburgh. Off the coast of Northumberland, a Honey Buzzard was seen on the Farnes (on Staple Island) on 6th.

Lesser Yellowlegs, Cley Marshes NWT, Norfolk (Photo: John Miller)

Pectoral Sandpiper, Inner Marsh Farm RSPB (Members Only), Cheshire (Photo: Julie Rogers)
The summer adult Lesser Yellowlegs at Cley Marshes (Norfolk) was present until mid-evening of 7th when, after constant calling for half an hour or more, with a mini-front approaching and a larger than normal group of Redshank appearing as the first spots of rain came down, the "Legs" took flight to the east, and didn't return. Up to four Pectoral Sandpipers were seen this week: the bird at Coedbach Marsh, Kidwelly (Carmarthenshire) remained to 3rd, with one at Nosterfield LNR (North Yorkshire) on 4th. On 7th, one arrived at Inner Marsh Farm (Cheshire) where it remained until 9th while on 8th, the final bird of the week was seen at Marshside (Lancashire). A Temminck's Stint kept the Terek Sandpiper company at Saltholme Pools (Cleveland) on 6th.
The potential American Herring Gull remained at Chew Valley Lake (Somerset) to 4th. Arctic gulls lingering into July included six Iceland Gulls (on Orkney, in Northumberland, Co. Antrim, Sligo and Louth, as well as one still on Scilly) while Glaucous Gulls were at Pensarn (Conwy) and two were at Seisiadar, Lewis (Outer Hebrides) on 6th. A first-summer Ring-billed Gull was at Belfast Lough (Co. Antrim) on 8th, while four or five Caspian Gulls were noted, including a juvenile at Willington GPs (Derbyshire) on 9th. A Sabine's Gull flew past Galley Head (Co. Cork) on 9th. In County Wexford, the adult Forster's Tern remained at Tacumshin on 3rd-6th at least.

Red-backed Shrike, Sea Palling, Norfolk (Photo: Jonathan Theobald)
On North Uist, at Aird an Runair, the summering female Snowy Owl was still present to 4th at least. A Bee-eater was seen at Boyton Marshes (Suffolk) on 8th with presumably the same bird appearing at Landguard the following day. A male Golden Oriole was at Balephuil, Tiree (Argyll) on 5th. In Norfolk, the summering male Red-backed Shrike at Sea Palling (Norfolk) remained all week. Unusual warblers were, unsurprisingly, thin on the ground but a Marsh Warbler was on Fair Isle (Shetland) on 3rd while a Melodious Warbler was trapped and ringed at Portland Bill (Dorset) on 4th - yet another early July rare Hippolais for the site (following on from Eastern Olivaceous and Sykes's Warblers in recent years).
The adult male Common Rosefinch remained at Tyndrum (Forth) from 4th-8th at least while, also on 8th, a male Rosefinch was found on the Isle of May (Fife). Four Rose-coloured Starlings were noted in Scotland this week: one continued to visit gardens at St. Margaret's Hope, South Ronaldsay (Orkney) throughout the week (how many places around the world could you see Rose-coloured Starling and White-billed Diver at more-or-less the same spot?), while others were seen at Lossiemouth (Moray) on 3rd, at Portsoy (Aberdeenshire) on 4th-5th and at Barvas, Lewis (Outer Hebrides) on 9th. At the opposite end of Britain, an adult Rose-coloured Starling was found by our very own Dave Gosney at St. Ives (Cornwall) on 9th. Finally, a Chough reported flying over Burton Agnes (North Yorkshire) on 9th must have caused some major excitement for Yorkshire listers, but where did it go and where did it come from?
Photo of the Week

Osprey, Aviemore, Highland (Photo: Steve Round)
Steve Round's action shot of an Osprey having successfully grabbed a fish is a classic 'nature in the raw' image. The Osprey's menacing expression and vicious talons reflect its status as a true predator, the power of its wingbeats reflected in the motion blur of the wings. An equally key component of the image, though, is its perfectly-framed prey: impaled and dripping, it looks every bit the bewildered victim that has been plucked in an instant from its peaceful existence.
Other notable photos

Rainbow Bee-eater, Australia (Photo: Marion)

Sand Martin, Oare Marshes NR, Kent (Photo: Steve Ashton)

Striated Caracara, Falkland Islands (Photo: Simon Evans)

Kittiwake, Whitburn, Durham (Photo: Peter Simpson)

Puffin, Farne Islands, Northumberland (Photo: David Cookson)

Shag, Farne Islands, Northumberland (Photo: Peter Simpson)

Gannet, Bempton Cliffs RSPB, East Yorkshire (Photo: David Cookson)

Nuthatch, Spital, Cheshire (Photo: Steve Round)

Collared Dove, Benderloch, Argyll (Photo: Alan Saunders)

Common Tern, Summer Leys LNR, Northamptonshire (Photo: Richard Bedford)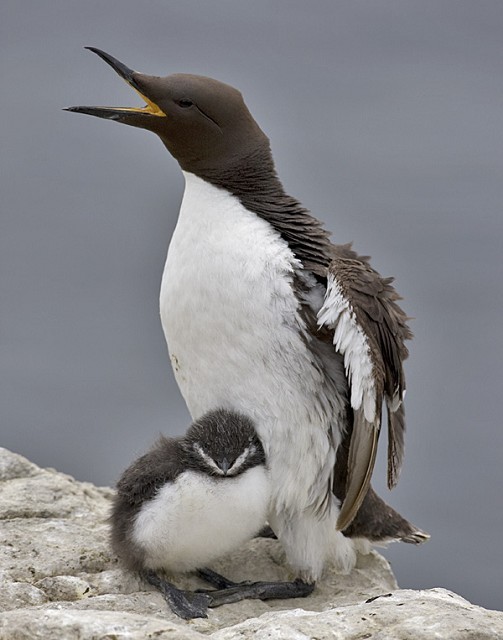 Guillemot, Farne Islands, Northumberland (Photo: Chris Upson)

Green Woodpecker, Venus Pool NR, Shropshire (Photo: Jim Almond)

Common Sandpiper, Dervaig, Mull, Argyll (Photo: Alan Saunders)

Hen Harrier and White-tailed Eagle, Mull, Argyll (Photo: Steve Race)