The week at a glance
As May eased into June and the wind slipped away from the east, there was an altogether sleepier feel to proceedings, particularly when compared to the hustle and bustle of last week. Nevertheless, a few typical late spring arrivals — including good numbers of singing Marsh Warblers and Red-footed Falcons — meant that there was still plenty to see nationwide.
Rather undeservedly cast into the shadow of last week's Western Orphean Warbler, the Spurn Roller was relocated some 20 miles up the coast at Aldbrough (E Yorks) on 31st, where it settled in a tilled field and rapidly became the week's 'most twitched'. Following a dry patch during the early 2000s, the species has enjoyed a welcome resurgence of appearances in Britain since the arrival of a juvenile in Cleveland in August 2006, with at least seven records occurring between then and now. Nevertheless, this is both the longest-staying and (arguably) best-looking of the lot, and has rightly proved very popular. Sensationally, an apparent second bird was reported around the village of Hornsea, six miles to the north, on 4th and 6th — what a unique double this could be, if the latter is pinned down!

European Roller, Aldbrough, East Yorkshire (Photo: Paul Thomas)

European Roller, Aldbrough, East Yorkshire (Photo: Mark Coates)
Much rarer in terms of records was the American Eider again between Doagh Isle and Malin Head (Donegal), which was reported a couple of times on 3rd. First seen in nearby Glassagh Bay in early January 2010 (although a report of a possible from that site in October 2007 might relate to the same bird), this lonesome drake is presumably resident among the impressive flotilla of Eiders off the north Donegal coastline. However, scant coverage and the large area have no doubt played their part in limiting this individual to just four separate appearances in two and a half years. Given that it spent a fortnight off Doagh Isle from 8th June 2011, it seems reasonable to assume it will be in the area for the weeks to come.
The lingering Scottish Greater Yellowlegs disappeared from the Loch of Strathbeg (Aberdeenshire) on 27th May. Negative news from Strathbeg over the following few days was soon clarified: a belated report emerged on 4th that it had been photographed at Loch of Mey, a stone's throw away from Dunnet Head at the northern tip of the Scottish Highlands, on 28th. Whether it has remained there, or continued northwards to pastures new, remains to be seen. Also hanging on this week was the Anglesey Baillon's Crake, although there is no further access to the fields adjacent to the marsh.
What is presumably the long-staying Green-winged Teal at Loch of Strathbeg (Aberdeenshire) reappeared on 31st only. The drake Ring-necked Duck at Blanket Nook (Donegal) also showed again on 3rd, with another drake found at Frodsham Marsh (Cheshire) on 4th–6th. Although a Ferruginous Duck at Shapwick Heath (Somerset) on 5th was right on cue for the county, it was away from the more usual haunt of nearby Chew Valley Lake. While the origins of these ducks are unlikely to prompt scepticism, a Red-breasted Goose among Greylags at Loch Riddon (Argyll) on 5th must be considered, at best, questionable. A summer-plumaged White-billed Diver off Evie (Orkney) on 3rd was the sole report of the week, while the splendid drake King Eider continued to meander about on the Aberdeenshire coastline throughout.

Red-breasted Goose, Loch Riddon, Argyll (Photo: Jim Dickson)
A first-summer Purple Heron proved elusive at Church Norton (W Sussex) on 4th, before flying east that evening and presumably relocating to Dungeness (Kent) on 5th–6th. A second bird was seen flying south at Brogborough Lake (Beds) on 2nd. In Hampshire, a showy Night Heron graced fishing ponds at Lower Pennington on 2nd–4th; it flew high towards the Isle of Wight during the evening of the latter date and was not seen again. Apart from the birds — including two youngsters — at Shapwick Heath (Somerset) throughout the week, Great White Egrets were restricted to a flyover at Lowestoft (Suffolk) on 31st, and continuing individuals still at Parkgate Marsh (Cheshire) and Brading Marshes (IoW) on 6th.

Purple Heron, Dungeness RSPB, Kent (Photo: Martin Casemore)

Night Heron, Pennington Marshes, Hampshire (Photo: Ted Pressey)
Ten Glossy Ibises included up to three still at Marloes Mere (Pembrokeshire) throughout the week, with up to two also still at Minsmere (Suffolk). A new bird flew north over Belhus Wood (Essex) on 1st, with lingering birds still in Devon, Hampshire, West Sussex and Cork. Contrary to last week's prediction that they would be 'lurking somewhere in East Anglia', the four White Storks surprised everyone by reappearing in South Yorkshire on 2nd, flying over Aston then Redmires Reservoirs. By 4th they had turned back south, being seen over Titchwell (Norfolk) during the early evening. Remarkably, by 6th, they had moved across the country to Gwent, where they were found in a field at Dingestow late on in the day! A belated report of a Black Stork at Tregaron Bog (Ceredigion) on 27th May perhaps accounts for that seen for 25 minutes over Booltiagh Bog (Clare) on 4th, before flying south towards the Shannon Estuary and Kerry. Irish birders will be particularly keen for relocation — the only previous national record was an untwitchable one-dayer seen over a Dublin air show in 1987!
The pitiful Bank Holiday weather ensured that Black Kite records plummeted: just three were reported from Otterham Station (Cornwall) and Cranfield (Beds) on 31st, and Faseny Bridge (Lothian) on 4th. In contrast, it was another strong week for Red-footed Falcons with eight birds recorded. Proving most popular was a first-summer male at Willington Gravel Pits (Derbys) from 4th, while the Tacumshin (Wexford) bird also remained in residence all week. Four birds on 31st included lingering females at Rockland Broad (Norfolk) and Minsmere (Suffolk), while a male flew over Vange (Essex) and a further female was found at the unfortunately named Dull (Perth/Kinross), the latter lingering until the following morning. Further brief males were at Kileenaran (Galway) on 4th and 5th, and at Tealham Moor (Somerset) on 4th and 6th.

Red-footed Falcon, Willington GPs, Derbyshire (Photo: Paul Thomas)

Red-footed Falcon, Dull, Perth & Kinross (Photo: John Nadin)
Yet another first-summer Pallid Harrier was found to the south of Barton-upon-Humber (Lincs) on 5th–6th while, in the Outer Hebrides, the male Snowy Owl continued to make the machair at Solas, North Uist its home.

Snowy Owl, Solas, N.Uist, Outer Hebrides (Photo: Steven Fryer)
The Black-winged Stilt was last seen at Fairburn Ings (W Yorks) on 31st, although the male reappeared again at Pennington Marshes (Hants) on 2nd — this time with a female in tow. They remained to at least 6th, when a further bird was found at Cley Marshes (Norfolk). There was presumably a strong passage of Red-necked Phalaropes north to Iceland during the week, with two passing the Inishkea Islands (Mayo) on 4th, and a third seen from the Tory Island (Donegal) the same day. Meanwhile in Gloucestershire, the long-staying female continued at Coombe Hill Meadows to 3rd, before relocating back to Slimbridge on 5th, and a further bird was at Nosterfield (N Yorks) on 6th.

Black-winged Stilt, Pennington Marshes, Hampshire (Photo: Andy Johnson)
Content continues after advertisements
A Pacific Golden Plover graced the Inishkea Islands on 4th, having seen to fly in-off the sea calling. The next piece of land due west is the eastern seaboard of America, so first thoughts must surely have been of American Golden Plover — one of which touched down on North Ronaldsay (Orkney) for the day on 3rd. A resplendent Long-billed Dowitcher at Saltholme (Cleveland) on 2nd–4th was apparently a different bird to that seen during May.

Pacific Golden Plover, Inishkea Islands, Mayo (Photo: Dave Suddaby)

Long-billed Dowitcher, Saltholme RSPB, Cleveland (Photo: Ian Forrest)
Also originating Stateside was a Buff-breasted Sandpiper at Tyninghame Bay (Lothian) during the evening of 5th, although it was not reported the following day. The impressive spring for Pectoral Sandpiper continues, with seven birds including twos at Beacon Ponds (E Yorks) briefly on 2nd and at Tacumshin (Wexford) from 4th. Singletons were in Devon, Cumbria, and Wicklow. Tacumshin's Forster's Tern was also seen regularly throughout the week, while a first-summer Ring-billed Gull on Fair Isle (Shetland) on 4th–5th was a good island record.

Buff-breasted Sandpiper, Tyninghame Bay, Lothian (Photo: Ian Andrews)
In a similar fashion to Black Kites, the return to miserable weather conditions ensured that Bee-eater reports were also comparatively scant. Five south over Spurn on 5th was the best count, with single birds in Dorset on 31st, Kent on 1st, Angus on 2nd and Norfolk on 6th making up the roll-call. A single Hoopoe was seen in a garden in Tincleton (Dorset) on 2nd, with a late Wryneck at Sumburgh Head (Shetland) the following day.
Two Short-toed Larks were on Lundy (Devon) from 1st, with others at Baltasound, Unst (Shetland) on 31st and Cape Clear (Cork) on 3rd. A couple of Grey-headed Wagtail reports from the Scarborough area (N Yorks) on 1st and 3rd perhaps related to one, wandering bird. The only Bluethroat of the week was on the Isle of May (Fife) on 1st, where the Thrush Nightingale — trapped and ringed last week — remained to 2nd.

Thrush Nightingale, Isle of May, Fife (Photo: John Anderson)
A female Subalpine Warbler at Quendale (Shetland) on 1st–2nd had apparently been present for four days, while one of last week's males remained on Lundy to 2nd. In Cornwall, the Iberian Chiffchaff continued to sing at the top end of Kenidjack Valley to 5th, with another probable singing at Porlock (Somerset) on 6th. Greenish Warblers were on Walney Island (Cumbria) on 4th and the Isle of May on 6th. The singing Great Reed Warbler was last noted at Weston-super-Mare sewage works (Somerset) on 2nd, although it was quickly replaced by another elusive songster at Gunwalloe (Cornwall) from 3rd.
A productive week for Marsh Warbler records saw at least a dozen birds recorded, several of which proved co-operative. Continuing their respective stays on from last week, males at Cleethorpes (Lincs) and Blacktoft Sands (E Yorks) were still singing on 4th and 6th. They were joined by new songsters at Rainham Marshes (London) from 1st (a stone's throw from a singing bird there in 2007) and at Ibsley Water Meadows (Hants) and Hadston Carrs (Northumberland) from 5th, with all five attracting appreciative crowds. Others were, more typically, scattered along the east coast between Kent and Fair Isle, although the exception was a one-day singer at Fairburn Ings (W Yorks) on 1st. Around five Icterine Warblers were seen, while a Melodious Warbler lingered on Bardsey Island (Gwynedd) on 3rd–5th.

Marsh Warbler, Hadston, Northumberland (Photo: Chris Barlow)

Melodious Warbler, Bardsey Island, Gwynedd (Photo: Steve Stansfield)
In addition to the Melodious, Bardsey had a productive week for scarcities. A Red-breasted Flycatcher was noted on 6th, while a Woodchat Shrike was trapped and ringed on 3rd. Other Woodchats were, for a change, away from the English south coast: a rather drab first-summer female commenced an extended stay at Winterton Dunes (Norfolk) from 1st, while the male continued on Sherkin Island (Cork) throughout the week. Red-backed Shrike numbers dropped off rapidly, with just ten or so reported; most were along the east coast, save a male at Land's End (Cornwall) on 1st.

Red-breasted Flycatcher, Bardsey Island, Gwynedd (Photo: Richard Brown)
The light scattering of adult Rose-coloured Starlings continued, with three new birds: one at Gillingham (Kent) on 3rd was presumably the same as that in nearby Higham the following day, while another was located on the headland at Martin's Haven (Pembrokeshire) on 5th. An adult in Eastbourne (E Sussex) on 6th had apparently been present since 2nd.
Around ten Common Rosefinches included a lingering bird on Bardsey Island on 4th–6th, while the majority of others sprung up at familiar east-coast locations: Spurn, the Isle of May and Fair Isle all claimed at least one during the week. Three Serins included the long-staying female still at Landguard (Suffolk) in addition to flyovers at Spurn and on St. Mary's (Scilly). A magnificent male Rustic Bunting kindly lingered on the Farne Islands (Northumberland) on 31st–1st, allowing birders to make the trip across and marvel at it while being attacked by the local seabirds. A second was on Mingulay (Outer Hebs) on 4th. Equally gaudy, the male Black-headed Bunting remained at Gloup, Yell (Shetland) to 1st at least.

Common Rosefinch, Bardsey Island, Gwynedd (Photo: Steve Stansfield)

Rustic Bunting, Farne Islands, Northumberland (Photo: Gary Woodburn)
Photo of the Week

European Roller, Aldbrough, East Yorkshire (Photo: Rebecca Nason)
For the third time in the last four weeks, we've been in the wonderful position of having top-quality photos of exotic rarities to choose from. This time, it's the turn of the splendid European Roller that has frequented the East Yorkshire coast since the end of May. As the 'most twitched' bird of the week, it's not surprising that we've had dozens of photos uploaded, but our pick of these is the arresting flight shot by leading bird photographer Rebecca Nason. Rebecca's image highlights the elegant shape of the Roller against the plain background. Most of all, though, it captures the brilliant colours of the various plumage panels that make this species so striking. How many people could see this image without thinking "Wow, I wish I'd seen that!"?
Other notable photos

Sand Martin, Ballintoy, Antrim (Photo: Ian Dickey)

Puffin, Skomer, Pembrokeshire (Photo: Wayne Davies)

Gannet, Bempton Cliffs RSPB, East Yorkshire (Photo: Andrew Mcintosh)

Pied Flycatcher, undisclosed site, Powys (Photo: Mr Clive Daelman)

Zitting Cisticola, Malta (Photo: Natalino Fenech)

Common Tern, Poland (Photo: Artur Stankiewicz)

European Stonechat, Strumble Head, Pembrokeshire (Photo: Richard Stonier)

Cuckoo, undisclosed site, Outer Hebrides (Photo: Jamie MacArthur)

Common Buzzard, Three Legged Cross, Dorset (Photo: Pete Blanchard)

Little Owl, Fleckney, Leicestershire and Rutland (Photo: Paul Riddle)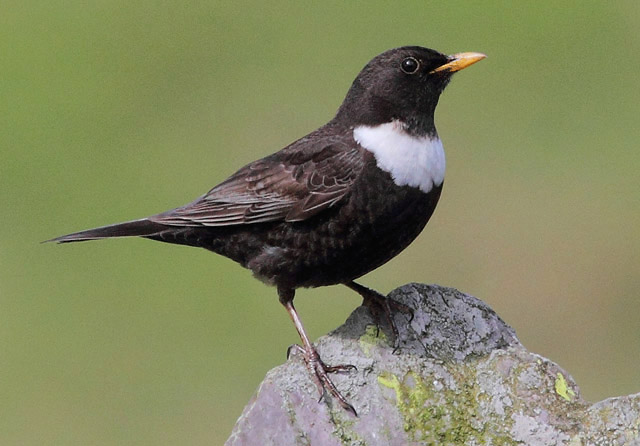 Ring Ouzel, undisclosed site, Gwynedd (Photo: Bob Garrett)

Yellow Wagtail, undisclosed site, Suffolk (Photo: Jon Evans)

Pheasant, Gibraltar Point NNR, Lincolnshire (Photo: Russ Telfer)

Guillemot, Bempton Cliffs RSPB, East Yorkshire (Photo: Simon Richardson)

Tree Pipit, undisclosed site, Nottinghamshire (Photo: John Dickenson)