The week at a glance
Autumn migration continued apace, despite many areas of the county basking in the calm sunny conditions of an Indian summer. More than 400 reports were broadcast on our bird news services on Sunday 4th, the first time we've broken through that threshold since August.
The rarest bird, measured by previous records, was the Siberian Thrush seen twice by single observers on Fair Isle on Monday 5th. Unfortunately it was not seen after 11.30am, and low cloud and strong winds would have prevented any would-be twitchers from reaching the island anyway. This was the first since a bird trapped at Scousburgh on the Shetland mainland on 15 October 2014, and before that you have to go back to 2008 (again on Fair Isle), ignoring the controversial bird in Norfolk in March 2009.
Speaking of Norfolk moves us neatly on to the Blyth's Pipit that was found on the saltmarsh at Stiffkey on 2nd. It was still there early the following morning, but the state of the tides prevented subsequent access and it was not seen again. This represents the third-ever record for Norfolk and the first new Blyth's found in the UK this year.
Content continues after advertisements
A Swainson's Thrush on Unst was well photographed, and is the fourth of the year, coming hot on the heels of last week's bird on Orkney. The only other "mega" of the week was the Greater Yellowlegs on the Isle of Wight, which lingered on the River Medina at Whippingham to 6th at least. While on the subject of megas, the news came through that a DNA test on droppings collected from the Empidonax flycatcher at Dungeness had confirmed that the bird was, as suspected, an Acadian Flycatcher and a first for the UK.

Swainson's Thrush, Baltasound, Unst, Shetland (Photo: Micky Maher)
Turning away from major rarities, rare geese this week included a Cackling Goose among a large flock of Pink-footed Geese in the vicinity of Findhorn Bay in Moray/Nairn on 2nd, and the Ridgway's Cackling Goose still among the flock of Dark-bellied Brent Geese on the Exe Estuary off Exmouth to 5th at least. A Black Brant was found not far away on the Exe on the same day, and others were reported with Brent flocks on the Essex and Dorset coasts.
The American Wigeon on Westray, Orkney, and at Tacumshin, Wexford, continued their stays this week, as did the long-staying Ferruginous Duck on Blashford Lakes, Hants. A drake Ring-necked Duck was found on Wilstone Reservoir, Herts, on 2nd and was relocated on nearby Startop's End Reservoir on 4th, where it has remained since. The first Welsh Surf Scoter of the autumn was found off Llanddulas, Conwy, on 1st, and a female or immature was picked out off Glenbeigh, Kerry, on 5th; the drake off the Aberdeenshire coast was seen several times around Gosford and Aberlady Bays. Further north up the east coast of Scotland, an adult White-billed Diver off Nairn was the first anywhere since June.
New Glossy Ibises included a group of up to five on Fair Isle and a singleton at Midleton, Cork, on 2nd, and further singles at Martin Mere, Lancs, and Burton Mere, Cheshire on 4th, while longer-staying birds remained at Clohernagh in Co Waterford, Ham Wall in Somerset and Wat Tyler Country Park in Essex. A minor flurry of Cattle Egret reports around the Severn Estuary at the turn of the month, which may have involved some cross-overs, included a single at Kenfig from 30th onward, a flock of four at Apex Leisure Park near Burnham-on-Sea on 1st, and a single on Sully Beach the same day. Not far away, a single was seen intermittently on the Somerset Levels from 1-6th. Outliers were at Abbotsbury, Dorset; Dungeness, Kent; and St Ouen's Pond, Jersey. The only Purple Heron of the week was a bird on the shores of Cork Harbour on 1st, whereas Great White Egrets were widely reported (we published over 100 reports during the period; the bulk were in England but across the home nations and the Republic of Ireland, only Scotland missed out).

Glossy Ibises, Fair Isle, Shetland (Photo: Steve Arlow)
Honey Buzzards were reported almost exclusively from the east coast of England, from Thornwick Bay (E Yorks) to Folkestone (Kent). The only inland bird was one over Kingsnorth near Ashford (Kent) on the afternoon of 1st. A possible Black Kite flew over Otmoor, Oxon, on 3rd. The Northern Harrier remained on North Ronaldsay to 6th at least. There were four Pallid Harriers this week: the bird on the South Downs above Burpham, West Sussex, was still present at the time of writing but the juvenile on Unst, Shetland, was last seen on 2nd. A possible flew up the Dee Estuary off Hoylake on 1st and a juvenile was seen at Tarbat Ness, Highland, on 4th. An unconfirmed report of a Rough-legged Buzzard was received from Rising Sun CP, Northumberland, on 2nd and an adult white-morph Gyr Falcon circled over Poulnasherry Bay, Clare, on 3rd. Just sneaking into this week's review was the Red-footed Falcon at Gibraltar Point, Lincs that was last seen on 30th – it's tempting to suggest that that may be that for this year as far as this species is concerned, though October birds aren't unprecedented and we've even had reports into the first week of November.

Red-footed Falcon, Gibraltar Point NNR, Lincolnshire (Photo: Paul Neale)
Corncrakes were reported from opposite ends of the country: at Portland, Dorset, on 2nd and Sumburgh, Shetland, on 4th. A vague report of a Spotted Crake came in from the Aire valley near Skipton, North Yorks, on 30th whereas a report from Burton Mere, Cheshire, on 3rd was more confident and conventional. Not far away, two Common Cranes on Frodsham Marsh on 4th and 5th were probably the most notable among 11 records; others away from regular sites included birds at St Mellons, Glamorgan; Blithfield Reservoir, Staffs; Dalston, Cumbria; and Montrose Basin, Angus & Dundee.
Eight sites recorded American Golden Plover, from Cornwall to Shetland. The Long-billed Dowitcher was still on Pennington and Keyhaven Marshes, Hants, to 6th at least, and a dowitcher also thought to be this species was seen on Sanday, Orkney, on 2nd. A Marsh Sandpiper on Cley Marshes, Norfolk, on 2nd and 3rd was the first of the year. A Lesser Yellowlegs flew into White's Marsh, Co Cork, on 1st and visited various sites around Clonakilty Bay between then and 6th. Last week's Semipalmated Sandpipers at Slimbridge, Glos, and Inny Strand, Kerry, hung around until 5th and 1st respectively. The Temminck's Stint at Titchwell was last seen on 30th. A White-rumped Sandpiper put in an appearance at The Gearagh, Cork, on 1st, and the Baird's Sandpiper on Tiree remained until 2nd. Four lingering Pectoral Sandpipers included a bird that flew over Dawlish Warren, Devon, on 2nd — could it have been the bird last seen in the area on 16th September? Others were at Burton Mere, Cheshire, and Adwick Washlands, South Yorkshire, to 4th and on St Mary's, Scilly, to 6th. Two Buff-breasted Sandpipers were by the lighthouse on North Ronaldsay, Orkney, on 3rd.

American Golden Plover, Anthorn, Cumbria (Photo: Sam Northwood)

Baird's Sandpiper, Tiree, Argyll (Photo: Jim Dickson)

Pectoral Sandpiper, Adwick Washlands RSPB (Dearne Valley), South Yorkshire (Photo: Edward Wiper)
The popular Wilson's Phalarope at Vange Marsh RSPB, Essex, was last seen on 3rd; Grey Phalaropes were reported from Kent, Somerset, Lancashire and Orkney, and five were seen from a Scilly pelagic on 3rd.

Grey Phalarope, Scilly pelagic, Isles of Scilly (Photo: Joe Pender)
Sabine's Gulls were seen in diverse locations including Elmley, Kent, the Isle of May, Fife, and Staffin Bay, Skye. An adult Bonaparte's Gull turned up on the Lossie Estuary, Moray/Nairn on 4th and stayed for two days at least. Six Ring-billed Gulls comprised three in the Republic of Ireland, one in Scotland, one in England and one in Northern Ireland — these last three all long-staying or returning birds. A possible Baltic Gull excited the larophiles on the gravel pits of North Hykeham, Lincs, from 30th to 3rd at least. The moulting White-winged Black Tern continued to be seen feeding around the power station outfall at Heysham, Lancs, until 1st but not thereafter.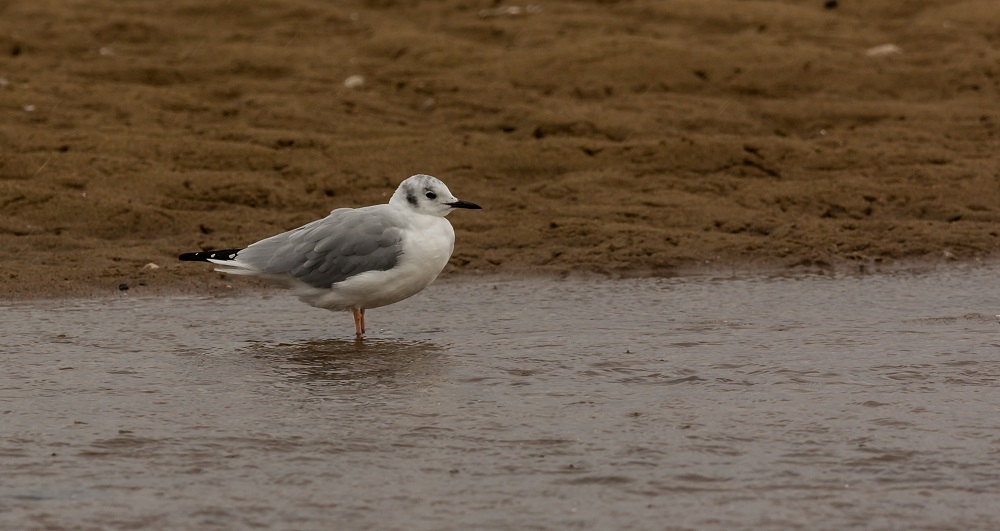 Bonaparte's Gull, Lossie Estuary, Moray & Nairn (Photo: David Main)

White-winged Black Tern, Heysham, Lancashire (Photo: David Shallcross)
An Alpine Swift graced the skies above the Little Orme peninsula, Conway, on 5th and was still being seen in the area on 6th. A Hoopoe flew in off the sea at Portland Bill, Dorset, on 2nd, and on 6th there were birds on Jersey and the Isle of May. Five Wrynecks included two on Gugh, Scilly, and singles at Penmaen on the Gower peninsula, in Shannon in County Clare, and on Inishmore in County Galway.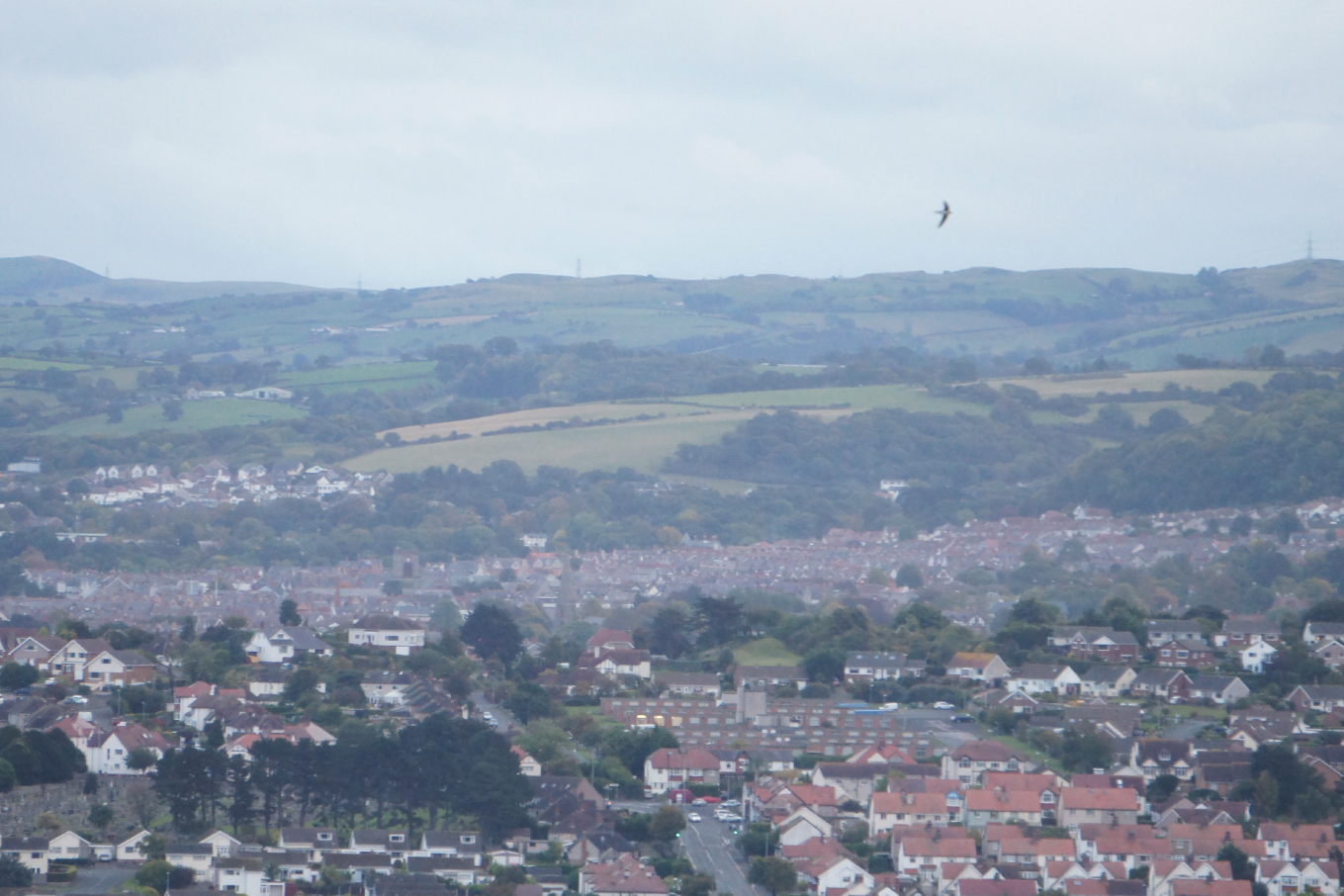 Alpine Swift, Little Orme, Conwy (Photo: Rob Sandham)
Juvenile Red-backed Shrikes were on Hayling Island, Hants, from 30th to 4th; on Out Skerries, Shetland on 4th; on Unst, Shetland, until 5th; and at Evie, Orkney, on 6th. This species was slightly outscored by Great Grey Shrike: a total of six comprised singles at Buckton, E Yorks, on 2nd–3rd; at Northrepps, Norfolk, on 4th; near Clophill, Beds, and at Horsey, Norfolk, from 4th–6th; at Quendale, Shetland, on 5th; and lastly at Oare Marshes, Kent, on 6th.

Red-backed Shrike, Burrafirth, Unst, Shetland (Photo: Gavin Thomas)
There were two Siberian Chiffchaffs at different sites on Shetland on 6th, and a possible on the Isle of May, Fife, was reported for its third day on 30th. A Dusky Warbler was photographed at Grutness, Shetland, on 5th, and a Radde's Warbler was on Inishbofin, Galway, on 6th. Pallas's Warblers were at Fingringhoe, Essex, Bolt Head, Devon, and on Westray, Orkney. The Arctic Warbler at Kilnsea, East Yorks, was trapped and ringed on 4th, and another was discovered at Cott, Shetland, on 30th, remaining to 2nd. At the other end of the country, the Red-eyed Vireo on St Agnes, Scilly, remained until 2nd.

Dusky Warbler, Grutness, Mainland, Shetland (Photo: Roger Riddington)

Arctic Warbler, Weisdale Voe, Mainland, Shetland (Photo: Peter Garrity)

Red-eyed Vireo, St Agnes, Isles of Scilly (Photo: Tom Hines)
The flood of Yellow-browed Warblers showed no signs of letting up, with 492 reports published on Bird News Extra during the week, representing well over 200 different individuals or clusters of birds. Few east coast sites worth their salt can have failed to log one: viewed on a map, the squares form an almost unbroken line down the coast from the Firth of Forth to the Isle of Thanet. There were significant numbers on western coasts as well (from the Scillies to the Hebrides, including both the Welsh and Irish west coasts) and a decent scattering of inland records from West Yorkshire to West Sussex. There has surely never been a better time to go out and find one of your own, especially inland where they remain a real prize.

Yellow-browed Warbler, Landguard NR, Suffolk (Photo: Nick Brown)

Yellow-browed Warbler, Sumburgh, Mainland, Shetland (Photo: Josh Jones)
In contrast, it's a sign of the species' recent rarity that an Aquatic Warbler in a maize field near The Lizard, Cornwall, attracted a great deal of interest from the twitching fraternity. It's difficult to establish exactly how many different individuals are involved in a continuing trickle of Blyth's Reed Warbler records from mainland Shetland between 25th and 2nd; no such confusion surrounds the Marsh Warbler trapped and ringed in a garden in Fleetwood, Lancs, on 2nd. The only Melodious Warbler of the week was on Inishmore, Co Galway, on 5th, and the only confirmed Lanceolated Warbler was on Out Skerries, Shetland on 5th; a possible was claimed from Chalky Point, Kilnsea (E Yorks) on 1st. Barred Warblers were mostly clustered in the Northern Isles, but there were a few east coast records, one on Newport Wetlands in Gwent and one or two in the Firkeel area of Cork.

Aquatic Warbler, Lizard (village), Cornwall (Photo: Tony Blunden)

Barred Warbler, Flamborough Head, East Yorkshire (Photo: Tony Dixon)
There were five possible Siberian Lesser Whitethroats: singles at Gulberwick and Lerwick, Shetland, and at Spurn, E Yorks, and two trapped and ringed on the Hollesley Marshes in Suffolk. The Eastern Subalpine Warblers at Flamborough, E Yorks, and Mossbank, Shetland, were seen until 1st and 4th respectively.
Rose-coloured Starlings were in Cornwall at Porthgwarra, Land's End and the Lizard (the last being the only adult of the week); in Vazon Bay, Guernsey; and in Tewkesbury, Glos. The only Bluethroats away from Orkney and Shetland were a reported bird at Leighton Moss, Lancs, on 30th and one at Loop Head, Clare, on 6th. A Red-flanked Bluetail was on the cliffs at Noup Head, Westray, Orkney, on 5th and a Pied Wheatear was at Spurn on 3rd. It was a productive week for Red-breasted Flycatchers, with birds in Cornwall, Pembrokeshire, Waterford, Cork, East Yorkshire, Durham, Northumberland, the Outer Hebrides, Orkney and Shetland.

Rose-coloured Starling, Vazon Bay, Guernsey (Photo: Mark Guppy)

Red-flanked Bluetail, Noup Cliffs RSPB, Westray, Orkney (Photo: Russell Wynn)

Pied Wheatear, Spurn YWT, East Yorkshire (Photo: David John Tucker)

Red-breasted Flycatcher, Hestingott, Mainland, Shetland (Photo: Peter Garrity)
A Citrine Wagtail mainly frequented the Canal Scrape at Spurn, E Yorks, between 3rd and 7th though it occasionally went walkabout; another was at Ballycotton, Cork, in the afternoon and evening of 3rd. Richard's Pipits were encountered at a scattering of east coast sites and in the Northern Isles, with a handful of outliers at Great Orme (Conwy), Hilbre Island (Cheshire) and on Tory Island (Donegal), and a possible reported inland at Stowupland, Suffolk, on 6th. The Pechora Pipit continued to show well at Loch of Norby, Shetland, until 2nd. Olive-backed Pipit records showed a fairly typical autumn distribution, with birds at Lerwick, Scatness and on Fair Isle in Shetland, at Spurn and Gibraltar Point on the east coast, and in the Nanjizal valley in Cornwall. Belated news also broke on 7th of a Co Kerry's first, photographed at Bolus Head on 30 September (details here). Red-throated Pipit reports showed a similar pattern, with individuals on St Mary's, Scilly; on the Severn Estuary in Gloucestershire; on the Isle of May; and then at the same three Shetland sites as the former species.

Citrine Wagtail, Spurn YWT, East Yorkshire (Video: Dave Tucker)

Citrine Wagtail, Ballycotton, Cork (Photo: Ronan McLaughlin)

Pechora Pipit, Loch of Norby, Mainland, Shetland (Photo: Chris Sharp)
The only European Serin of the week was a bird that flew over Maer Lane sewage works in Exmouth, Devon, on 4th. Common Rosefinches were limited to Shetland, with birds on Mainland and Unst, and the only Ortolan Bunting was one briefly at Marsden Quarry, Durham, on 1st. Little Buntings were fairly widespread, with 17 reports ranging from the Northern Isles sparsely down the east coast to East Anglia, and a south coast record from Hengistury Head, Dorset, on 4th. The bird at Spurn was trapped and ringed on 4th.

Little Bunting, Fair Isle, Shetland (Photo: Ian Andrews)
Western Palearctic news
The vagrant hot-spot of Corvo illustrated its potential to receive lost waifs from all points of the compass this week as it produced two Azores firsts on 3rd in the form of Wood Warbler and, more outrageously, Arctic Warbler. A Bobolink was also seen in the same area as the latter and was one of two to reach the region this week, the other — on Lanzarote from 30–2nd — representing the second for the island (and for the Canaries). Continuing the Nearctic theme, Norway's second Baltimore Oriole was at Værøy on 3rd.

Arctic Warbler, Corvo, Azores (Photo: Rami Mizrachi)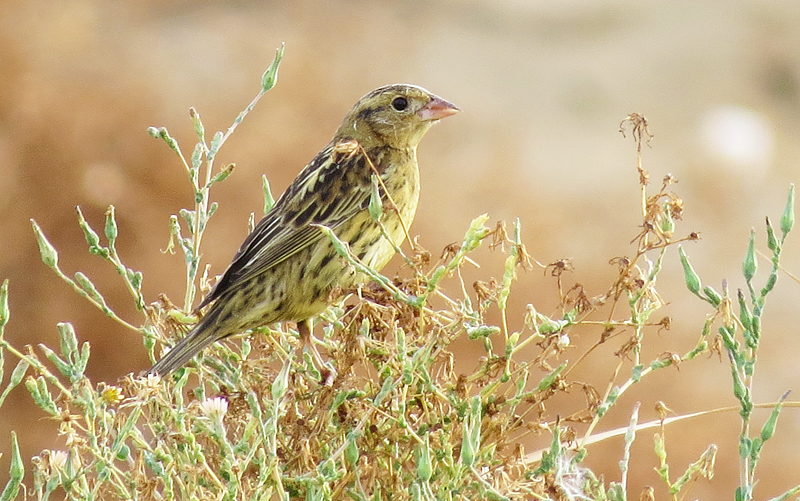 Bobolink, Lanzarote, Canary Islands (Photo: Francisco Javier)
The most ridiculous record of the week, though, was undoubtedly a Black-crowned Sparrow-lark at the migration bottleneck of Batumi, Georgia, on 2nd. Iceland's third Mediterranean Gull was at Höfn on 1st, while a Solitary Sandpiper was seen near Málaga, Spain, throughout the week. Could the Black-browed Albatross seen flying past Punta de la Vaca, Asturias, Spain, on 4th be the Danish bird heading south? The Black-winged Kite remained in northern Italy, while a Pintail Snipe was identified from photos at Nir-Oz, Israel, on 5th.