Contrary to popular belief, early June is a bad time to drop one's guard in birding – especially if you're on the east coast or Northern Isles, or can be on standby to get there when something big is found. With a reasonable dose of east in the week's airflow, bringing a continuing steady supply of drift migrants, overshoots and decent rarities, the scene feels set for the classic summer mega we're all dreaming of. For some, the singing male Moltoni's Warbler at Blakeney Point, Norfolk, from 2-3rd was just enough. Birders in the south who expected one to turn up nearer than Highland before long were proved correct, and it was a new British bird for many. There seems to always be a catch with Moltoni's Warblers, though, and this bird demanded the same three-mile trek across shingle as England's last bird in 2015, because it was in virtually the same spot! The bird at Duncansby Head, Highland, was still on offer till 30th, but hasn't been seen since.

Moltoni's Warbler, Duncansby Head, Highland (Mark Rayment).
The week carried some teasing word that a Eurasian Scops Owl had been recorded at some point in May at Portsoy, Aberdeenshire, but it's not clear whether this is news of yore or the bird has been present even during the scope of the review and is potentially still in the area. Hopefully more light will be shed on the record soon. As much frustrating as hopeful was the relocation of Europe's Black-browed Albatross as it dominated the celebrated seabird island of Skellig Michael, Co Kerry, for much of the day on 30th before returning to the ether. However, an unidentified albatross at sea 16km south of The Stags, Co Cork, on 4th surely related to our peripatetic old friend.
The buzzing song of a River Warbler at Skirza, Highland, on 3rd was one of the week's true highlights, and the first in Britain for almost five years, but the bird chose not to take up territory and vanished overnight. Blakeney Point also pulled in a Paddyfield Warbler, showing occasionally on 4-5th, and an interesting report emerged of a candidate Marmora's Warbler seen only in flight there on 5th.
In Kent, a Great Reed Warbler blasted out its chugging notes on the edge of Dungeness RSPB's ARC Pit from 29-30th and showed fantastically well for the species. Another was found at Halligarth on Unst, Shetland, on 1st. Unsurprisingly, given the time of year and conditions, it was a fruitful week for Greenish Warblers, with five birds to be found. The first turned up on Bardsey Island, Gwynedd, on 30th and remained to 2nd, while Scatness, Shetland, bagged one on 31st. The island of Great Saltee, Co Wexford, also hosted one on 2nd and two sites in Aberdeenshire scored: Rattray Head on 31-1st and Girdle Ness on 2nd.

Greenish Warbler, Bardsey Island, Gwynedd (Ephraim Perfect).
Two Thrush Nightingales paused on Fair Isle on 30-31st, with one still there on 1st, while others were on the Isle of May, Fife, on 31-1st and Out Skerries, Shetland, on 30th. A Black-headed Bunting in a Bridlington garden, East Yorks, on 2nd flew into the public domain but couldn't be relocated. Continuing a good run for the taxon this spring, a female Eastern Subalpine Warbler was trapped and ringed at the Calf of Man on 30th and others were discovered at South Gare, Cleveland, on 31st and Nanjizal Valley, Cornwall, on 2nd, with a female also on Fair Isle. An elusive female Subalpine Warbler at Heysham, Lancs, went to ground on 1st before it could be identified more precisely.
The Rosy Starling influx has been kept afloat with a strong flow of new birds. A healthy total of some 41 individuals, almost all freshly arrived, was reported during this review period. These were scattered widely from Shetland and Orkney, and peppered across a variety of coastal sites on the mainland. However, two in a private garden in Co Wexford made for the only Irish report. Other duos appeared at Portland, Dorset; Landguard, Suffolk; St Just, Cornwall; Lundy, Devon; and Fair Isle. If the theory is correct, the peak of arrival is yet to come so keep checking those Common Starling flocks and we'll see how big this event becomes!

Rosy Starlings, Landguard NR, Suffolk (Bill Plumb).

Rosy Starling, Hinxton, Cambridgeshire (Brendan Doe).
The London Wetland Centre was an unusually urban setting to be filled with the intermittent reeling of a Savi's Warbler on 3rd, a sound also enjoyed at Spurn, East Yorks, on 30-31st and continuing at Minsmere RSPB, Suffolk, to at least 30th. Just two Iberian Chiffchaffs held court into the week, the songsters at Millpond Park in Hayle, Cornwall, and Norwood Edge, North Yorks, reported to 4th and 5th respectively. The voice of a Siberian Chiffchaff at Long Eaton GP, Derbys, was an unseasonable addition to the local repertoire on 1st.
A Melodious Warbler was in voice at Porth Hellick Down on St Mary's, Scilly, on 3rd but Icterine Warblers were typically more numerous with 10 birds logged this week, mainly on the Northern Isles, but with mainland records at Spurn on 30th and, more significantly, at Arnside Knott, Cumbria, on the same day. Many of the week's 27 Marsh Warblers were on Shetland, with fewer birds on offer in the south. In fact, one at Blakeney Point on 30th was the most southerly report.

Icterine Warbler, Quendale, Mainland, Shetland (Mick Kemp).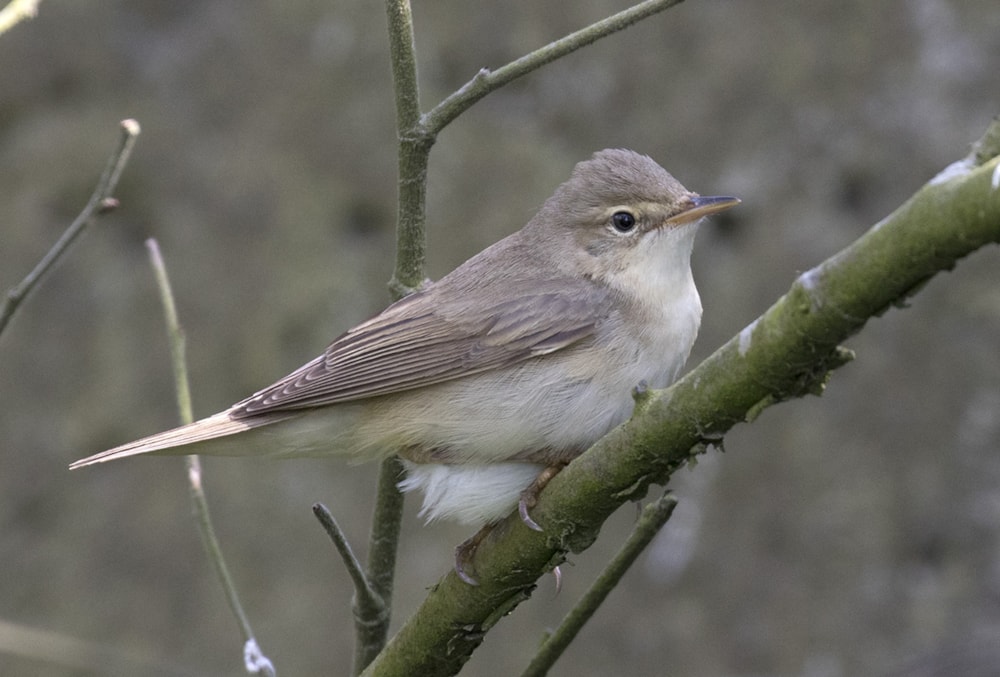 Marsh Warbler, Quendale, Mainland, Shetland (Roger Riddington).
Shetland boasted three Red-breasted Flycatchers during the week, including a delightful singing male at Loch of Voe on 30th. Lingering Greater Short-toed Larks were on the Isle of May to 1st and at Blakeney Point to 5th, while Ireland turned up birds on Great Saltee on 2-3rd and at Loop Head, Co Clare, on 3rd. Kelling, Norfolk, hosted a late but elusive male White-spotted Bluethroat from 30-3rd, while Red-spotted birds were limited to three on Fair Isle. Forty Red-backed Shrikes were fairly dotted around coastal and island sites from Unst to Portland and five were counted on Fair Isle on 31st.

Red-backed Shrike, Minsmere RSPB, Suffolk (Andrew Moon).
A rather late Alpine Swift was seen as it flew from Annet to St Agnes, Scilly, on 31st and a Red-rumped Swallow was a similarly off-peak treat at Pegwell Bay, Kent, on 2nd. European Bee-eaters were in strong supply with a flock of five seen over Quorn, Leics, on 31st and the same number also over Dungeness, Kent, on 4th. The bird on North Ronaldsay, Orkney, remained to 30th and another flew over Lybster, Highland, on 30th. Ireland chipped in with a lone bird between Goleen and Lissagriffin, Co Cork, on 31st and further singles appeared at Medmerry RSPB, West Sussex, and Drift Reservoir, Cornwall, on 2nd, as well as at Beddgelert, Gwynedd, on 1st. A total of 11 Golden Orioles included five on the Northern Isles and a three-day bird around Kilnsea, East Yorks, from 30th. Hoopoes graced Folkestone, Kent, and Stover CP, Devon, both on 30th.
Content continues after advertisements

Golden Oriole, Kilnsea, East Yorkshire (Ian Bollen).
A male Rustic Bunting was a quality find at Kilnsea, East Yorks, on 1st and an Ortolan Bunting was unearthed at Millfield, Unst, Shetland, on 31st. Half of the week's six Common Rosefinches were in the Spurn area, the others being singles at Landguard, Suffolk, on 31st, Barra, Outer Hebrides, on 2nd and Salthouse, Norfolk, on 3rd. Grey-headed Wagtails were identified on North Ronaldsay and Out Skerries on 30th, then on Fair Isle on 1st.

Ortolan Bunting, Norwick, Unst, Shetland (David Cooper).
There were tantalising signs of early promise at sea this week. Cornwall scored two Wilson's Storm Petrels, the first seen from the MV Mermaid II in Mount's Bay on 30th and the other following a lobster boat off Black Head, Mevagissey, but things really started to get exciting when a pelagic south of Toe Head, Co Cork, notched up four on 5th. The first Cory's Shearwater of the year was seen off Porthgwarra, Cornwall, on 3rd and the second was a rare North Sea record off Spurn on 5th. As the time comes for Pomarine Skuas to hand over to Balearic Shearwaters as seawatching filler, the two species matched each other this week: two Poms past Portland on 1st preceded a brace of Balearics off Porthgwarra on 3rd. Long-tailed Skuas passed Coverack on 30th and Lizard Point on 2nd, both Cornwall, and a somewhat random adult was settled in the Cairngorms near Tomintoul, Moray and Nairn, on 3rd. Attention will no doubt shift towards pelagic birds over the coming weeks; dare we hope for a seabird season to compare with 2017's?

Long-tailed Skua, undisclosed site, Moray & Nairn (Chris Teague).
As far as wader movement goes, the scene continued to simmer very gently and we can only hope that things are brought to the boil as summer moves on. The Baird's Sandpiper resurfaced on the beach at Marazion, Cornwall, on 31st and 1st but struggled to find peace at this popular tourist spot. Braunton Burrowes, Devon, had a male Kentish Plover on 31st and the Pectoral Sandpiper was still at Druridge Pools, Northumberland, to 31st. Fleeting inland appearances were made by lone migrant Red-necked Phalaropes at Port Meadow, Oxon, on 30th and Wanlip Meadows, Leics, on 1st. Equally ephemeral was a pair at Attenborough NR, Notts, on 30th, while two were also sighted off Sumburgh, Shetland, on 2nd. Braces of Temminck's Stint treated observers at Cley NWT, Norfolk, on 30th and Saltholme RSPB, Cleveland, on 31st. Singletons were at Thornwick Pools, East Yorks, and Balnakeil, Highland, on 30th, as well as at Tinker's Marshes from 31-1st and on Unst on 31st. The roving Black-winged Stilt appeared at Freiston Shore RSPB, Lincs, from 30-31st before debunking to nearby Frampton Marsh RSPB on 1st. Two were at Pipps Ford, Suffolk, on 30th and singles were found at Sidlesham Ferry, West Sussex, and Oare Marshes, Kent, on 3rd and 4th respectively.

Pectoral Sandpiper, Druridge Pools, Northumberland (Colin Bradshaw).

Temminck's Stint, Westing, Unst, Shetland (David Cooper).

Black-winged Stilt, Oare Marshes NR, Kent (Chris Bond).
Not a species to lose its power to grip, a male Pallid Harrier sailed over the viewing platform at Grove Ferry NNR, Kent, on 30th, headlining the week's raptor bill. As many as three Red-footed Falcons, all females, were recorded in the South-West although it is entirely plausible (if unlikely) that all sightings relate to the showy female at Isle Brewers, Somerset, which was last seen on 31st. The next day, a female tailed a cruise boat in Isles of Scilly waters for a full 30 minutes and another sighting came on 4th over Durlston CP, Dorset. A Black Kite flew over Niton, Isle of Wight, on 30th and reports from Godmanchester and St Ives, both Cambs, on 1st and 2nd respectively probably related to the same individual. Another was seen not far from Balbriggin, Co Dublin, on 4th. European Honey Buzzards were the most likely reward for sky-scanning, with a scattering of 17 migrants seen during the review period. The adult female Montagu's Harrier was still showing at Blacktoft Sands RSPB, East Yorks, on 1st and migrants were reported at Shingle Street, Suffolk, on 3rd and Sammy's Point, East Yorks, on 30th.

Red-footed Falcon, Isle Brewers, Somerset & Bristol (Jeff Hazell).
A pair of angry Great Black-backed Gulls betrayed the presence of a Snowy Owl on Skomer, Pembs, on 30th and a male had stationed itself near the Burn of Sevdale, Shetland, on 5th. Tory Island, Co Donegal, continues to prove itself as Ireland's White-billed Diver hot-spot, with three offshore on 30th and one loitering to 2nd. As the White-billed Diver season concludes, the only other bird was off Lewis, Outer Hebrides, on 4th. A check of Loch Feorlin, Argyll, on 30th confirmed the Pied-billed Grebe had not let up its tenure and the same applied to the American Black Duck at Strontian, Highland, on 31st. The drake Surf Scoter resided off Musselburgh, Lothian, to 3rd and the American Wigeon was quite at home at Grindon Lough, Northumberland, to 4th. The Green-winged Teal at Loch Gruinart RSPB, Islay, Argyll, was reported again on 31st and another turned up at Deeping Lakes, Lincs, on 3rd. Also new was a Ring-necked Duck at Caerlaverock WWT, Dumfries and Galloway, on 4-5th.

American Black Duck, Strontian, Highland (Simon Knight).
Purple Herons included the bird at Minsmere RSPB to 30th and a fresh arrival at Ham Wall RSPB, Somerset, on 31st. In Northumberland, the Glossy Ibis remained around Druridge Pools to 4th. Two White Storks over Sandwich Bay, Kent, on 3rd might actually have been genuinely wild birds; the circumstances were befitting but it seems almost impossible to be sure these days. Spotted Crakes emitted their whiplashing song across Lodmoor RSPB, Dorset, on 30-1st, Thorne Moors, South Yorks, on 1st and Kenfig NNR, Glamorgan, on 2-3rd.
Old faithfuls included the drake King Eider on the Ythan Estuary, Aberdeenshire, to 2nd at least and the Forster's Tern at Tacumshin, Co Wexford, to 3rd. Devon's Bonaparte's Gull rematerialised once again on the Clyst Estuary on 30th and a new first-summer was found on Tiree, Argyll, on 31st. Grutness Voe, Shetland, hosted a first-summer Ring-billed Gull on 31st; it then moved to Hillwell on 4th.
Western Palearctic
The Netherlands enjoyed a push of vultures, starting with a Bearded Vulture over Schoorl Dunes, North Holland, on 31st and followed by four Griffon Vultures over Tilburgh, North Brabant, on 3rd. The raptor theme was strengthened by an Eastern Imperial Eagle which tracked north over Pori, Finland, on 2nd.
In Belgium, the Pygmy Cormorant showed again on the smaller lake at Parc Domaine du Val Duchesse, Brussels, on 3rd. Norway boasted a Demoiselle Crane at Trondheim, Trøndelag county, on 3rd and a first-summer Ross's Gull at Fredrikstad, Østfold, on 30th. In Sweden, Götalands län turned up a stunning adult summer Sociable Lapwing at Lysekil on 31st and a Grey-necked Bunting at Gotska Sandön on 2nd. Germany had a male Black-headed Bunting at Königshovener Höhe in Bedburg, North Rhine-Westphalia. Kuwait's White-eyed Gull reappeared at Jahra Pools on 3rd and 5th.