The week at a glance
The first weekend of April was a pleasant affair as light winds, generally bright skies and mild temperatures treated many areas to a welcome dose of springlike weather. With it came a significant push of summer migrants: Ring Ouzels began to turn up at traditional haunts, a strong movement of Common Redstarts (largely males) occurred from Monday and, following the first in West Sussex on Sunday, Pied Flycatchers were back on territory in Devon by 5th. Suffolk claimed the first Common Whitethroat and Grasshopper Warbler of the year on 30th and 31st respectively, Sedge Warblers were back in Kent on 29th and the first Reed Warblers sang as far north as Lancashire from 3rd.

Ring Ouzel, St Osyth, Essex (Photo: Nick Brown)

Common Redstart, Woolmer Pond, Hampshire (Photo: Mark Leitch)
Content continues after advertisements
So, things are looking up and naturally anticipation starts to grow as to what might overshoot and end up in Britain and Ireland in the coming weeks. It's not been a vintage start to spring, so the Woodchat Shrike at Windmill Farm, Cornwall, from 2nd was exotic enough to lift the spirits at this point in the season. More expected at this date were the four Hoopoes that arrived in southern counties on 3rd (a fifth came on 4th and another on 5th, both in Cornwall); the Staffordshire bird finally appears to have moved on, with no sign after 31st. An Alpine Swift called in briefly at Bolton Ings, S Yorks, on 1st and no fewer than five European Serins were classic early-April arrivals, though none proved twitchable. Early Wryneck records are always pleasing and a bird trapped at Portland Bill early on 3rd lived up to its name; another was in East Sussex on 4th.
The Wryneck doing its thing: pic.twitter.com/tWMVw9l6I4

— Martin Cade (@PortlandBirdObs) April 3, 2016
The rarest news this week, albeit belated, was of a meena Oriental Turtle Dove present in a private garden in Otford, Kent, from mid-February until late March. Though there was the bird on Shetland earlier this winter, this would no doubt have been a popular bird had it been accessible — the last meena to linger on the mainland was in Caithness back in 2003.
Though never likely to attract a large-scale twitch from the British mainland, the discovery of a stunning male Dark-eyed Junco at Point of Ayre, Isle of Man, on 3rd was more than notable and a fine first for the island. Showing well at times, it was well documented by the many excellent Manx photographers, not least finder Sean Gray.

Dark-eyed Junco, Point of Ayre, Isle of Man (Photo: Sean Gray)
At a time when birders might be hoping for rarities such as Eurasian Scops Owl, Great Spotted Cuckoo or Black-eared Wheatear to be turning up in Cornwall, it was ironic that two of the week's best birds were actually from the High Arctic. The first was a Gyr Falcon seen at several sites after its discovery at St Just early afternoon on 3rd. Unfortunately it was not relocated the following morning but was, quite remarkably, replaced by a male Snowy Owl on the outskirts of the same village! Here this quite bedraggled owl, sporting brown staining on its remiges and underparts, spent the entire day sitting on a wall — though it too did an overnight disappearing act and was also not seen again by the time of writing. Cornwall also hung on to the Pacific Diver and the Hudsonian Whimbrel was again to be found at Perranuthnoe from 2nd, just after we thought we'd seen the last of it back in mid-March.

Snowy Owl, Kenidjack Valley, Cornwall (Photo: Alex McKechnie)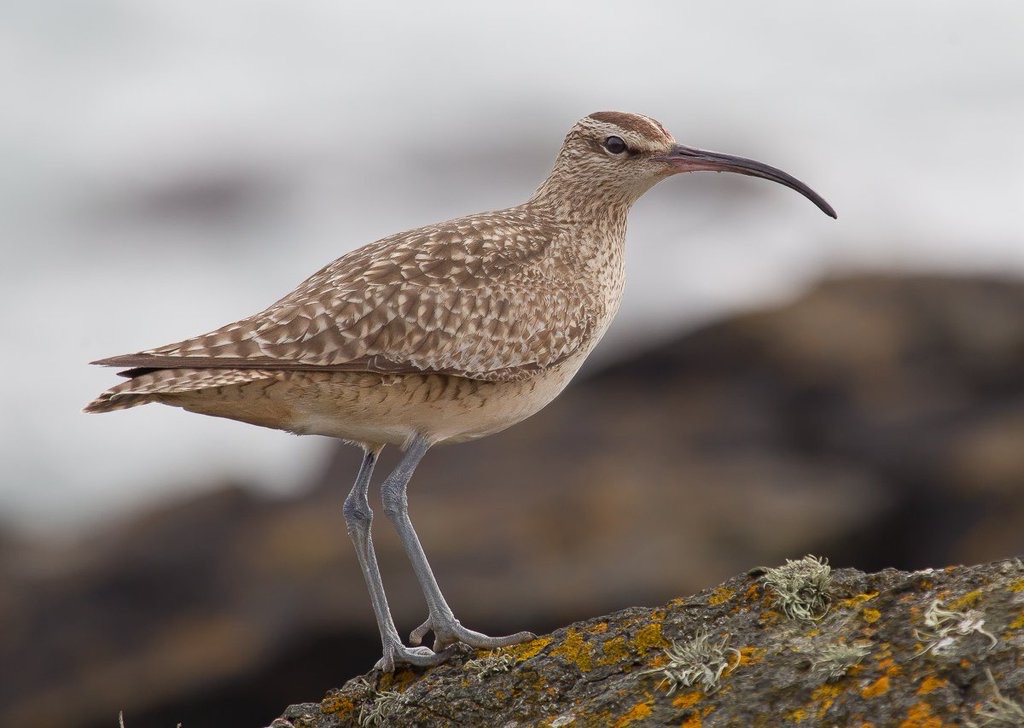 Hudsonian Whimbrel, Perranuthnoe, Cornwall (Photo: Chris Griffin)
Up to three White-billed Divers remain off the north-east coast of Lewis, Outer Hebrides, with another still off Barra and further birds in Moray and Orkney. An amazing nine Surf Scoters were off Claggan Island, Co Mayo, on 2nd and a further five were seen at other British and Irish locations, all lingering birds. Female King Eiders remained in Co Wexford and Fife.
Five American Wigeon were seen this week, three of which were in Co Donegal: two males were at Goorey and a third at Inch Island Lake, this last individual alongside a couple of hybrids. At least 12 Green-winged Teal were noted across Britain and Ireland including a new bird in west Norfolk and two still together at Loch Flemington, Highland. Seven Ring-necked Ducks and two Lesser Scaup were logged nationwide.
Both the Richardson's Cackling and Todd's Canada Geese continued in Co Sligo and the white-morph Snow Goose was again at Rockcliffe Marsh, Cumbria, on 5th. A Ross's Goose was with Pink-feet at Bathgate, Lothian, from 3rd and Black Brants were seen in Hampshire, Essex and East Yorkshire.
No fewer than five Cattle Egrets included the first-ever to be seen in Co Sligo: the bird, reported for the first time near Enniscrone on 4th, had apparently been present for at least a couple of months! Nine Glossy Ibises were seen and Great White Egrets seemed to be on the move as several new birds were found as far north as Aberdeenshire. A series of East Anglian White Stork records presumably all refer to free-flying escapes but the bird at Tealham Moor, Somerset, from 4th arguably seems a better candidate for wild origin.

Great White Egret, Elmley NNR, Kent (Photo: Gavin Coultrip)

White Stork, Tealham Moor, Somerset & Bristol (Photo: Jeff Hazell)
The long-staying Gyr Falcon on North Uist has featured consistently among recent weeks' highlights and once again it proved one of the stand-out sightings. This massive white morph spent much of the past seven days devouring a dead swan and afforded visitors views that can might be described as both memorable and hugely enviable. Nine Rough-legged Buzzards were also logged.

Gyr Falcon, Balranald RSPB, North Uist, Outer Hebrides (Photo: Robert McMillan)
Each of the three continuing Long-billed Dowitchers prolonged its stay through the week, with the Northumberland individual apparently starting to gain some colour. A Lesser Yellowlegs at Carlton Marshes, Suffolk, proved a one-day wonder. The American Herring Gull continued on Barra, Outer Hebrides, and at least one, probably two, were seen at Cahermore, Co Cork — the second-winter may well be a returning bird. The anticipated return of the Bonaparte's Gull to Cardiff Bay, Glamorgan, came on 5th and the adult was still in Thurso, Highland, on 30th. Just four Ring-billed Gulls were seen, including two in Cork City.

Long-billed Dowitcher, Cresswell Pond NWT, Northumberland (Photo: Jack Bucknall)

American Herring Gull, Cahermore, Cork (Photo: Fionn Moore)
Two Richard's Pipits lingered on at Flamborough Head, E Yorks, and the Kent individual continued on Sheppey. A reported Black-headed Wagtail at Ecton, Staffs, was not seen again after the initial sighting on 3rd. Two Shore Larks continued at Hartlepool, Cleveland, while 18 Great Grey Shrikes were noted.
The Pallas's Warbler was in Dorset all week and a Yellow-browed Warbler was discovered at Brent Reservoir, London, on 3rd — one assumes that this is the bird last reported at the site on New Year's Day. The Little Bunting was still at Pyrford, Surrey, on the final day of March at least.
Western Palearctic news
Extraordinarily, what is almost certainly a second immature Bateleur was discovered in Israel on 5th — the bird was photographed at Agamon Hula, in the north of the country, and appears to be a different bird to the long-staying individual that was still on the Judean Plains until 2nd at least. Also in Israel the Red-billed Teal continued to commute between three sites in the Hazeva area.
An Alpine Accentor in coastal Holland on 5th came with gripping photographs attached — it's almost two years now since the last (very brief) British record and another gettable bird would be a big hit here in the coming weeks. The Dutch rubythroat also continues to frequent Hoogwoud, while the Norwegian county of Nord-Trøndelag held on to two Pacific wanderers: the Stejneger's Scoter and Pacific Diver. Poland's third Moustached Warbler was documented in the Malopolska region and an Oriental Turtle Dove continued in Finland.

Pacific Diver, Norway (Video: Vegard Aksnes)
Cape Verde's good run continued with confirmation that a male Sudan Golden Sparrow had been photographed on Sal on 23 March (but not seen subsequently) and a Black-headed Heron was reported on Boa Vista on 2nd.

Sudan Golden Sparrow, Cape Verde (Photo: Aaron Ofner)