The week at a glance
Autumn is most definitely here, with the volume of news disseminated on Bird News Extra going up a notch again: 393 reports were broadcast on Saturday 6th, and 456 on Sunday — the latter our highest daily figure since 27 April. With a few exceptions, it was a pleasant and often quite warm week and, with no immediate change in the forecast, Britain and Ireland look set to bask in an Indian summer for some while yet. As a result, birders' eyes were inevitably trained eastwards as Scandinavian drift migrants continued to be fanned westwards to our shores. Scarcities aside, many areas enjoyed a good crop of typical early autumn migrants such as Redstarts, Pied Flycatchers, Yellow Wagtails and, in particular, Whinchats. Counts of the last species early in the week included a remarkable 60 between Donna Nook and Grainthorpe Haven (Lincs) on 4th, and in Norfolk at least 35 on Blakeney Point and 30 at Winterton Dunes.
But for the week's biggest rarities it was generally a case of 'what could have been'. For starters, belated news of a (the?) Short-toed Eagle present at Grime's Graves near Lynford between 19 July and 17 August must have been galling for Norfolk birders — and indeed anyone else who didn't catch up with the roving bird in June. Then there was short-lived excitement concerning a reported Eastern Phoebe at Nanquidno (Cornwall) during the morning of 8th: alas, the photos appeared to show a Spotted Flycatcher and the dust settled once more. There was a report of a brief Trumpeter Finch briefly "near Gosport" on 7th, while a Zitting Cisticola — not seen in Britain since 2010 — was at Noirmont Point (Jersey) on 3rd.
There were, however, no questions about the Pallas's Grasshopper Warbler extracted from a mistnet at Titchfield Haven (Hants) in the early morning on Saturday 6th — the earliest-ever British record and at a south-coast location to boot! Alas a twitch was never on the cards, the bird rather predictably disappearing into the abyss after release. The wait for a twitchable mainland bird goes on; hopefully it's the first of several this autumn.

Pallas's Grasshopper Warbler, Titchfield Haven NNR, Hampshire (Photo: Amy Robjohns)

Pallas's Grasshopper Warbler, Titchfield Haven NNR, Hampshire (Photo: Amy Robjohns)
Content continues after advertisements
Another altogether too brief bird was a juvenile Little Crake at Seaton Marshes (Devon) on 4th. This, the first British record since a female in West Sussex in spring 2011 (pictured below), was reported briefly the following morning but not again. Such a fleeting performance was at odds with the most recent autumn records: a bird spent almost three weeks at Slimbridge in September–October 2005 and a juvenile in Cornwall the previous November put in a 12-day appearance.

Little Crake, Seaton Marshes, Devon (Video: rharris70).

Little Crake, Arundel WWT, West Sussex (Photo: Dorian Mason)
In Norfolk, the apparent Eastern Common Tern was noted in the Cley and Blakeney Point area on 3-4th, but again evaded a wide audience thanks to its relatively brief appearances. Seawatching was relatively unproductive in such a settled week, although a Fea's-type Petrel was seen from a boat seven miles south-east of Baltimore (Cork) on 4th.

Apparent Eastern Common Tern, Cley Marshes NWT, Norfolk (Photo: Trevor Williams)
There was marginally more excitement on the wildfowl front, with a female King Eider at Basta Voe, Yell (Shetland) on 4th the best find; the Lesser Scaup was still at Chew Valley Lake (Somerset) to 3rd but then presumably relocated to Cardiff Bay (Glamorgan) from 4th. The drake Ring-necked Duck remained at Meikle Loch (Aberdeenshire) on 3rd, while a Blue-winged Teal at Castle Island (Northumberland) had some scratching their heads — its rather demure appearance, head pattern and extensive pale edging to the bill seemed atypical for the species, as was its incredibly confiding behaviour.

Blue-winged Teal, Castle Island, Northumberland (Photo: John Forbes)

Blue-winged Teal, Castle Island, Northumberland (Photo: David Dack)
The autumn's second Pallid Harrier was a stunning juvenile on Fair Isle from 8th; altogether less evocative was the sight of a bling-laden Gyr-type on a roof in Wembley (London) on 4th — perhaps this bird also accounts for recent reports from Kent and East Sussex? A Black Kite over Abberton Reservoir (Essex) on 7th was the only sighting of the week, while news reached us that an intrepid few had succeeded in seeing the Snowy Owl on Ben Macdui — it was still there on 9th. High pressure and resulting fine weather was no doubt responsible for a good week of Honey Buzzard migration; numbers are not yet anywhere near those of recent influxes, but the sight of six and five at Wells and Holkham (Norfolk) on 8th and 9th respectively must have been quite something. Talking of influxes, a massive arrival of Red-footed Falcons has taken place in Poland in recent days, with over 1,500 seen countrywide. Given the continuing high pressure and easterly winds in coming days, what odds on one or two making it across the North Sea?

Gyrfalcon, Wembley, Greater London (Photo: John Howlett)

Red-footed Falcons, Poland (Video: Sylwester Aftyka)
Aside from the usual scattering of Great White Egrets and Glossy Ibis, Cattle Egrets were at Burton Mere Wetlands (Cheshire) from 3rd, over the Beaulieu River Estuary (Hants) on 6th and at Welney (Norfolk) on 7th.

Cattle Egret, Burton Mere Wetlands RSPB, Cheshire (Photo: Gavin Thomas)

Great White Egret, Leighton Moss RSPB, Lancashire (Photo: Steve Round)
A good week for Lesser Yellowlegs records saw last week's juvenile still at Croft Pascoe Pool (Cornwall) to 4th; perhaps the same bird was then relocated on 5th at Normandy Marsh (Hants), where it lingered until the week's end. In Ireland, two at Derrinlough (Offaly) on 9th continued this inland county's good run after the recent Long-billed Dowitcher; another was at Blanket Nook (Donegal) on 6–7th.

Lesser Yellowlegs, Normandy Marsh, Hampshire (Photo: Mike Trew)
An American Golden Plover was found on Tiree (Argyll) on 3rd, with one of the week's Buff-breasted Sandpipers also on the island at Loch a'Phuill on 4–8th. Other Buff-breasts were at Tacumshin (Wexford) from 6th and nearby at The Cull on 7th. Last week's Stilt Sandpiper relocated to Ring Marsh (Wexford) on 3rd before flying some 87 miles north on 4th to Broadmeadows Estuary, Swords (Dublin), where it remained to 7th. A first for County Dublin, this is far from the first time birds have commuted between south-east Wexford and sites further north, and it was no great surprise to hear that the bird had returned to Lady's Island Lake by this morning.

American Golden Plover, Tiree, Argyll (Photo: John Bowler)

Buff-breasted Sandpiper, Tacumshin, Wexford (Photo: Paul Kelly)

Stilt Sandpiper, Swords Estuary, Dublin (Photo: Paul Kelly)
It was a good week for Pectoral Sandpipers, with at least 37 recorded across Britain and Ireland; the peak count was of three on Bryher (Scilly) but there were twos at Tacumshin (Wexford) on 5th, Abberton Reservoir (Essex) on 6th and Loch of Strathbeg (Aberdeenshire) on 7th. Juvenile Red-necked Phalaropes were at Burton Mere Wetlands (Cheshire) from 4th and Frampton Marsh (Lincs) and Oare Marshes (Kent) on 5th. A Grey Phalarope was a brief visitor to Cley (Norfolk) on 5th, while a Temminck's Stint was new at Clifton Pits (Worcs) from 5th in addition to last week's bird still at Frampton Marsh to 6th.

Pectoral Sandpiper, Ballyconneely, Galway (Video: Dermot Breen)

Pectoral Sandpiper, Nairn, Moray & Nairn (Photo: David Edge)

Temminck's Stint, Clifton Pits, Worcestershire (Photo: Phil Carter)
The Laughing Gull remained around the pier at Ballycotton (Cork) for another week and the Bonaparte's Gull was again seen at Oare Marshes (Kent) on 7th. Great news from Highland concerned the reappearance of the returning Ring-billed Gull at Dingwall Academy for at least its 12th winter on 8th. A juvenile White-winged Black Tern popped in at Frampton Marsh (Lincs) briefly on 3rd.

White-winged Black Tern, Frampton Marsh RSPB, Lincolnshire (Photo: Michael Powell)
Just a single Hoopoe was seen this week, in a private garden at Corfe Mullen (Dorset) on 9th. The Short-toed Lark was still on Fair Isle early on, and another was seen on a boat in the North Sea off Yorkshire on 6th. Citrine Wagtails were found on the Isle of May (Fife) on 4–5th and at Lough Gash (Clare) on 8th; last week's bird was still at Howmore (South Uist) to 7th.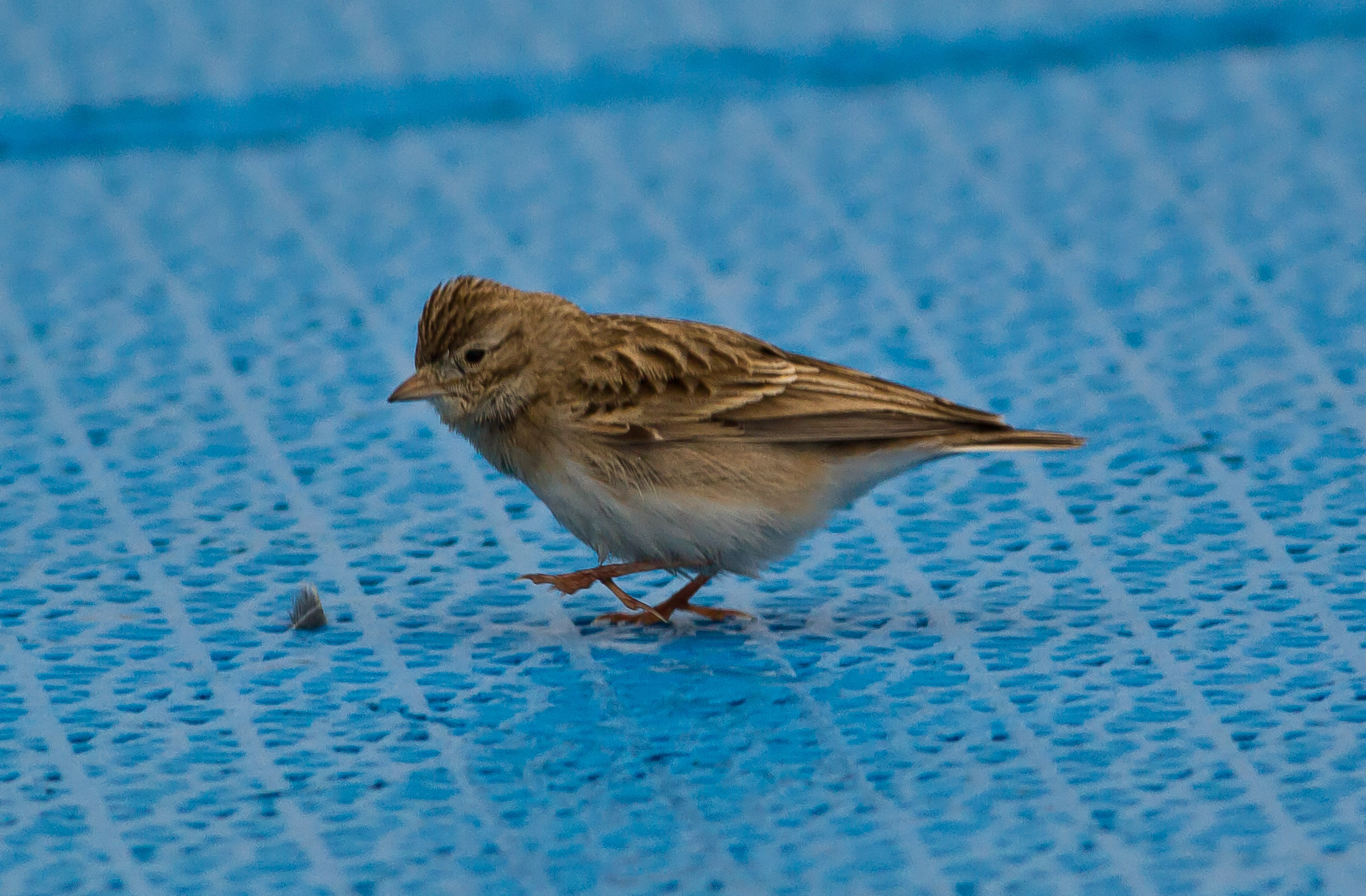 Short-toed Lark, at sea, North Yorkshire (Photo: John Richardson)
Three Paddyfield Warblers were reported: birds were on North Ronaldsay on 4–5th and Fair Isle on 5th and another report on 5th concerned belated news of a juvenile trapped and ringed in Nanjizal Valley (Cornwall) on 31 August. Ireland's first Aquatic Warbler for 25 years was in a private area on Mizen Head (Cork) on 4th — an even more remarkable record given the acute paucity of this species in 2014.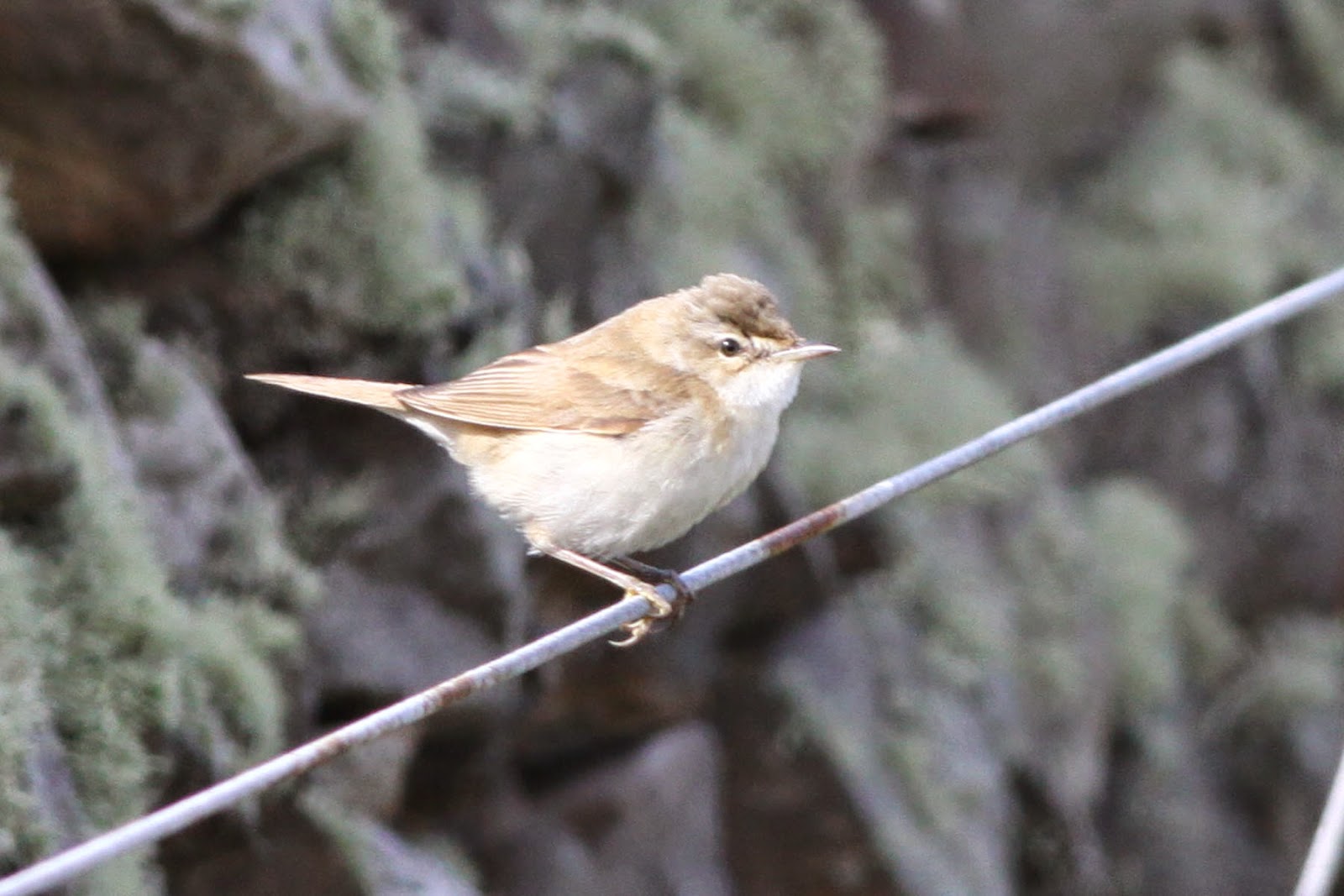 Paddyfield Warbler, Fair Isle, Shetland (Photo: David Parnaby)

Paddyfield Warbler, North Ronaldsay, Orkney (Photo: Mark Warren/North Ronaldsay Bird Obs)

Paddyfield Warbler, Nanjizal Valley, Cornwall (Photo: Pete Roseveare)
A Western Bonelli's Warbler was identified at Kelling (Norfolk) on 7th and an Arctic Warbler was still on Foula (Shetland) on 5th. Greenish Warblers — reduced in number this week — were on Bardsey Island (Gwynedd) on 4th and at Bornish (South Uist) on 3–6th, in addition to two at Whitburn (Durham) on 3rd, with one there to 6th and another on 9th. The Eastern Subalpine Warbler was last seen at Landguard (Suffolk) on 4th, while candidate Siberian Lesser Whitethroats were reported from both Spurn and Flamborough Head.

Western Bonelli's Warbler, Kelling, Norfolk (Photo: Jim Almond)

Possible Siberian Lesser Whitethroat, Flamborough Head, East Yorkshire (Photo: Anthony Capuano)
Marsh Warblers were on Bardsey Island on 4–5th, at Hengistbury Head (Dorset) on 6th and at Rinsey Head (Cornwall) on 7th. Three was also the total for the week's Melodious Warblers, with birds on Skomer (Pembrokeshire) on 3rd and two in Cork: at Mizen Head on 4th and on Dursey Island on 8th. Icterine Warblers were only slightly more numerous, with birds at Hawkser Bottoms (N Yorks) and Sandwich Bay (Kent) on 3rd, at Portland (Dorset) on 5th and 8–9th, and at Grutness (Shetland) from 5–7th.
A slightly improved showing of Red-backed Shrikes saw at least 17 recorded nationwide. A bird on St Kilda (Outer Hebrides) on 5th must have been regretting its mistake, as would the Oleander Hawkmoth found there the previous day (see pic here). Twos were at Bockhill Farm (Kent) on 6th and at Southwold (Suffolk) on 8th, while the male was last seen at Winterton Dunes on 4th. A juvenile Woodchat was at Dawlish Warren (Devon) on 8th, and the year's second Lesser Grey — a female — spent a couple of days between Shingle Street and Hollesley (Suffolk) on 6–7th.

Red-backed Shrike, Sandy Point, Hampshire (Photo: Andy Johnson)

Red-backed Shrike, Dungeness RSPB, Kent (Photo: Chris Bond)

Red-backed Shrike, Blakeney Freshmarsh, Norfolk (Photo: Neil Rendall)
Wrynecks were again very numerous with a thoroughly impressive showing nationwide, as can be seen on the BirdMap — all in all, the species was a main news item on our news services 244 times during the week (this of course includes multiple reports of the same individuals).

Wryneck, Kilnsea, East Yorkshire (Photo: Sam Viles)

Wryneck, Hadston Carrs, Northumberland (Photo: Tristan Reid)

Wryneck, Dungeness NNR, Kent (Photo: Mike Buckland)

Wryneck, Cley Marshes NWT, Norfolk (Photo: Max Silverman)
Other scarce migrants included at least eight Rose-coloured Starlings, 20 Common Rosefinches (including five on Fair Isle on 5th), slightly reduced numbers of Barred Warblers, 10 Ortolan Buntings (including only the second for Galway at Ballyconneely on 6–7th), Red-breasted Flycatchers at Filey (N Yorks) on 4th, Gibraltar Point (Lincs) from 6th and on Foula on 8th, and the Rustic Bunting still on Unst on 8th. A Black-headed Bunting was briefly at Sumburgh Quarry (Shetland) on 4th, but was not seen again.

Rose-coloured Starling, Weybourne, Norfolk (Photo: Peter Beesley)

Rose-coloured Starling, North Ronaldsay, Orkney (Photo: Mark Warren/North Ronaldsay Bird Obs)

Barred Warbler, Thorpeness, Suffolk (Photo: Debra Pickering)

Ortolan Bunting, Ballyconneely, Galway (Photo: Dermot Breen)
Further afield, news that the first Yellow-browed Warblers had begun to appear in Sweden and Norway on 9th indicates that the first British birds can only be a few days away now. Incidentally, the Netherlands' second-ever Oriental Pratincole in Zeeland hints that we may yet complete the pratincole hat-trick for 2014, given that it hasn't been seen since 8th.
Photo of the Week

Red-backed Shrike, Winterton Dunes NNR, Norfolk (Photo: Kevin Elsby)
Steve Young comments: "There have been plenty of Red-backed Shrike images posted in our Iris galleries this week. For me, though, but none have been better than this shot of the long-staying bird at Winterton (Norfolk). The shrike is a lovely-looking male in pristine plumage, with the obvious added 'bonus' of a Migrant Hawker dragonfly caught in its bill; an aperture of f11 has given good depth of field ensuring both the dragonfly and most of the bird is in focus while the thorny branch and plain background all add to this winning image; congratulations to Kevin on his superb photo."
Other notable images

Little Stint, Widewater Lagoon, West Sussex (Photo: Leigh Prevost)

Osprey, undisclosed site, Norfolk (Photo: Ian Clarke)

Spotted Flycatcher, Upton Warren NR (Permit Only), Worcestershire (Photo: Chris Cook)

Common Snipe, Havannah NR, Northumberland (Photo: Tim Mason)

Wren, Luxulyan, Cornwall (Photo: Maxwell Law)

Rufous Bush Robin, Saudi Arabia (Photo: Duha)

Wryneck, Minsmere RSPB, Suffolk (Photo: Jon Evans)

Moorhen, Kirkby on Bain GPs, Lincolnshire (Photo: Gordon Bowes)

Bald Eagle, United States (Photo: Dennis Morrison)

Cuckoo, Cholsey, Oxfordshire (Photo: Roger Wyatt)

Hobby, Lakenheath (Hockwold) Fen, Suffolk (Photo: Neil Rolph)