The week at a glance
Although the overall volume of news dropped this week, a run of classy finds ensured that it was a very reasonable seven days nationwide.
Rarest find of the week was a gorgeous male Spectacled Warbler at the south-coast hot-spot of Portland Bill, Dorset. Found late in the afternoon on 8th, the bird performed beautifully in the golden evening sunshine and was still feeding actively towards dusk. It came as no surprise that the bird wasn't present on Tuesday morning, and this will go down as an enviable record enjoyed by a precious few who happened to be within striking distance on Monday evening.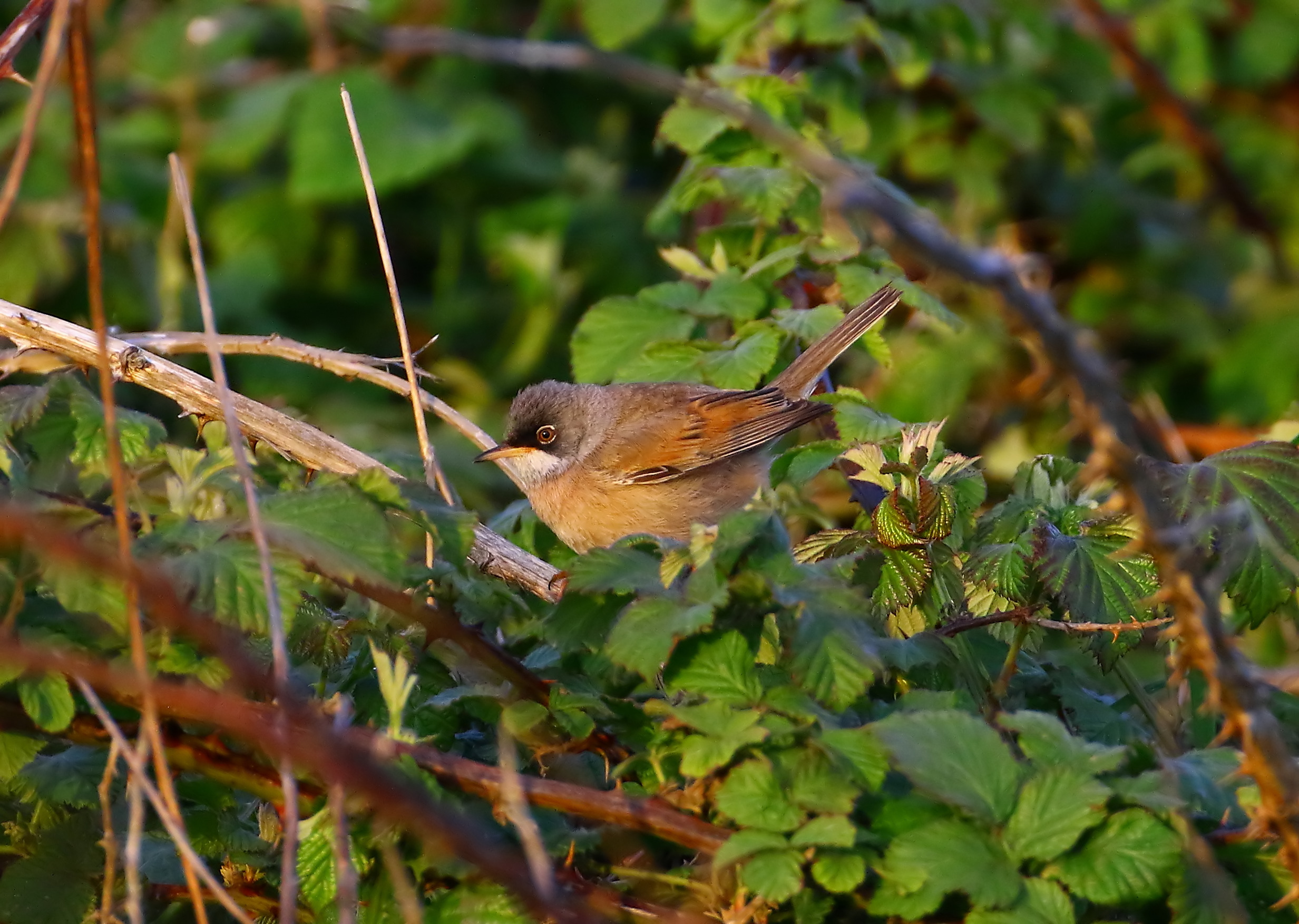 Spectacled Warbler, Portland, Dorset (Photo: Lee Fuller)
Content continues after advertisements
Found the same day as the Spectacled and thus overshadowed somewhat, a fine Dark-eyed Junco appeared on Skomer Island, Pembrokeshire. Like the warbler, it proved a one-day wonder and represents the second seen in Britain this spring. It is, incidentally, just the second for Wales and the first since 1975, so no doubt there were a few aggrieved Welsh listers when the 'no sign' message came out on Tuesday. Skomer also boasted a male Eastern Subalpine Warbler to complete a memorable Monday.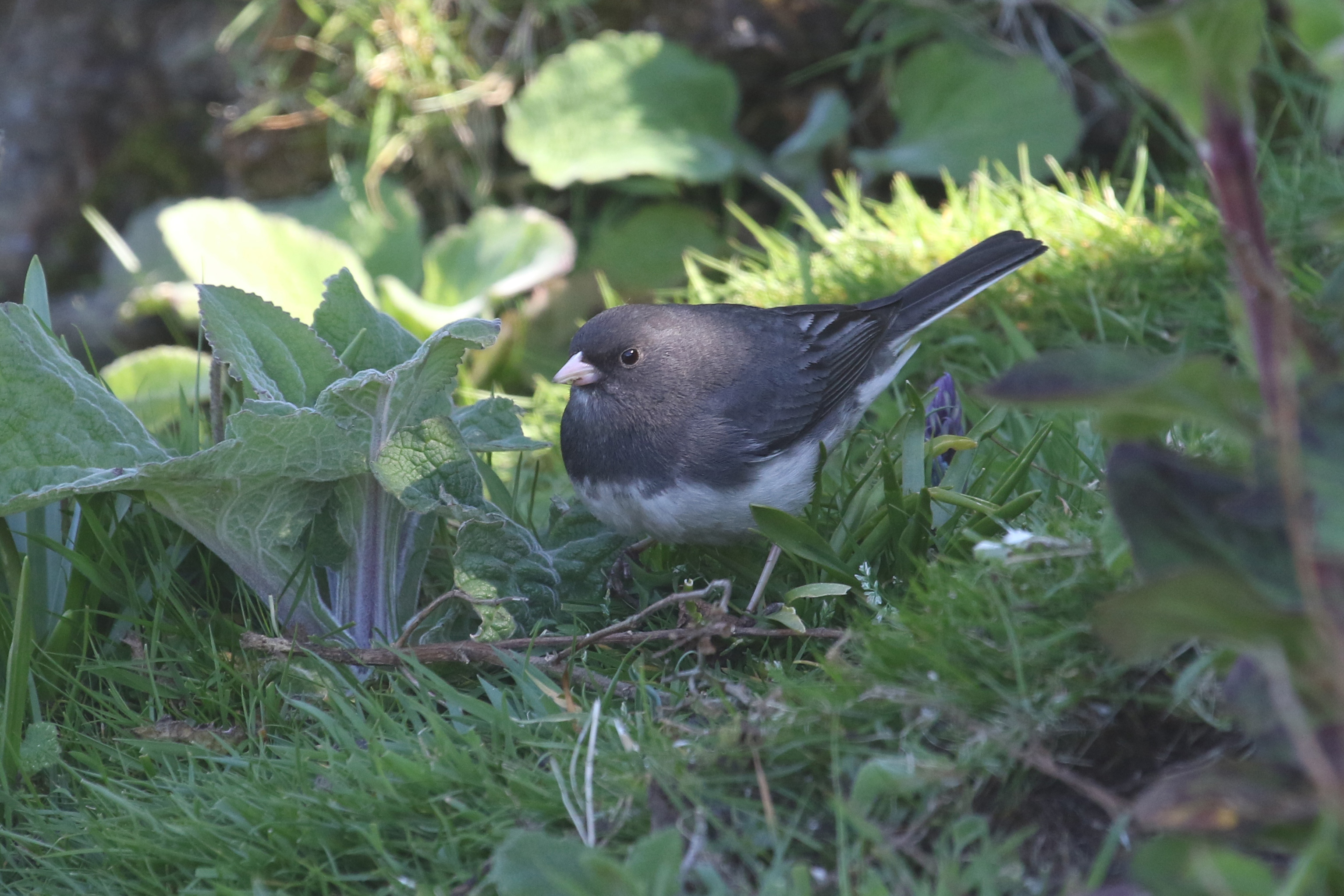 Dark-eyed Junco, Skomer, Pembrokeshire (Photo: Jason Moss)
Last week's star bird, the Red-winged Blackbird on North Ronaldsay, lasted another seven days on this most northerly of the Orkney isles. It'll be interesting to see how long it stays — it's fair to say that it's already exceeded what most would have expected from a spring 'Yank'. Judging from the shots uploaded to our galleries, it appears to have been showing a little better this week, too.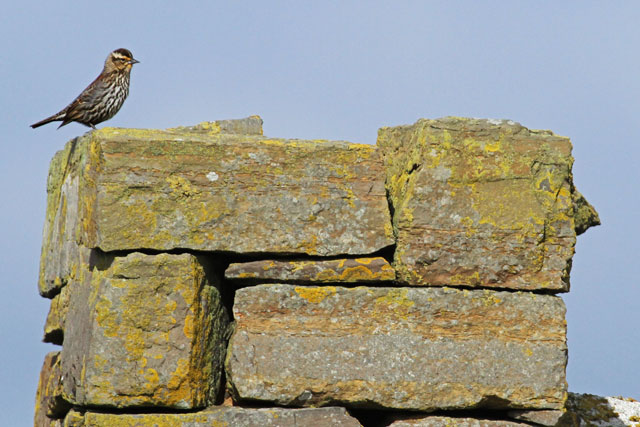 Red-winged Blackbird, North Ronaldsay, Orkney (Photo: Sam Viles)
A Hudsonian Whimbrel was a brief visitor to White's Marsh near Clonakilty, Co Cork, on 5th but unfortunately it flew off before anyone but the finder could get down to see it. Also in that county, there was a report of a possible Eurasian Scops Owl near Ballyvourney on 9th, though it remains unsubstantiated.
Two fine waders in the environs of the Irish Sea included a twitchable Marsh Sandpiper on the Swords Estuary, Co Dublin — just the fifth for Ireland, it's also the first to be gettable since a couple of juveniles in Co Wexford in 1994 and so was a tick for many visitors. The other was a pristine Broad-billed Sandpiper performing delightfully on the beach at Derbyhaven, Isle of Man, from 6–9th — a first for the island.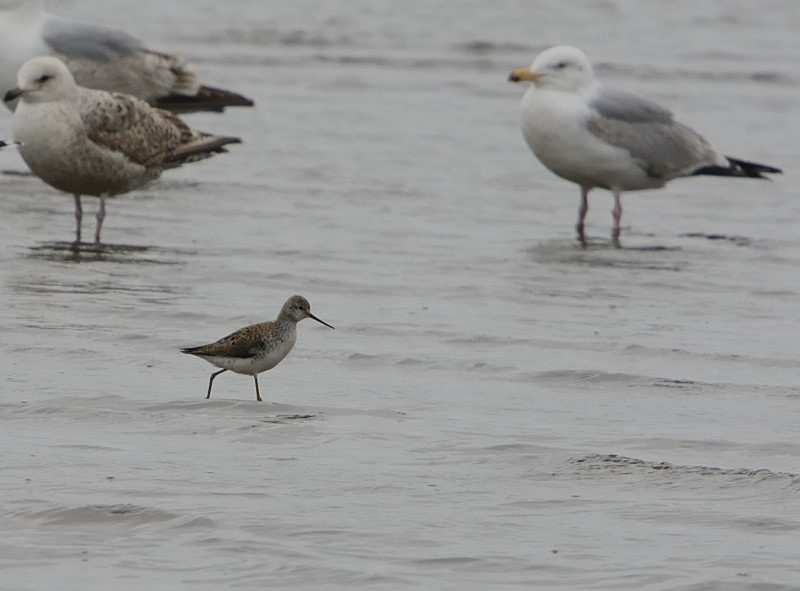 Marsh Sandpiper, Swords Estuary, Dublin (Photo: Gerard Murray)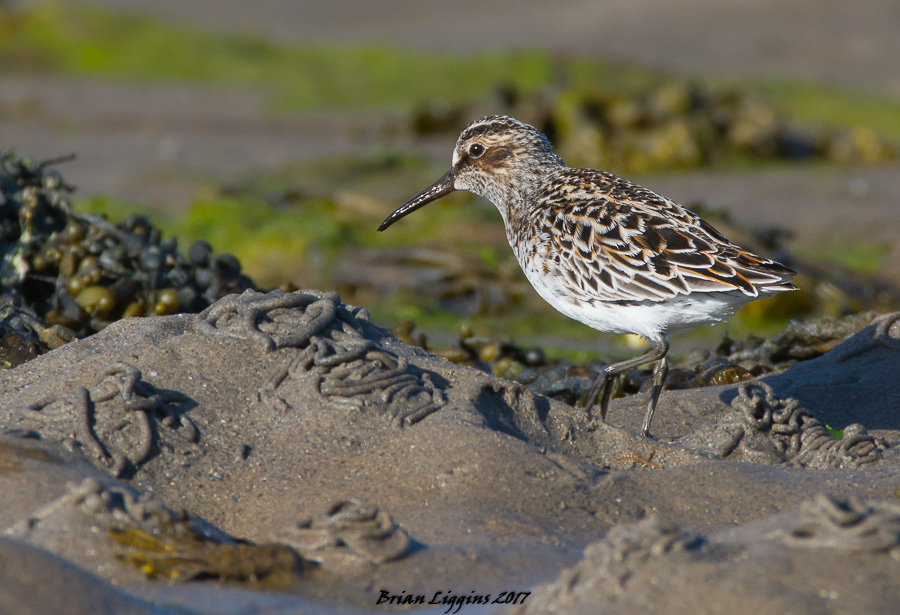 Broad-billed Sandpiper, Derbyhaven, Isle of Man (Photo: Brian Liggins)
These were the highlights of another respectable week for shorebird passage, in which a persistent north-easterly airflow continued to provide good visible migration through inland patches. Most conspicuous were the likes of Grey Plover, Whimbrel, Bar-tailed Godwit and Sanderling, the last-named traditionally one of the latest northbound migrants. Wood Sandpipers were well represented, with around 100 sites registering the species, including respectable counts such as 17 at Coveney Byall Fen, Cambs, on 8th.
Scarcer species included a Kentish Plover at Hickling Broad, Norfolk, on 5–6th and 11 Temminck's Stints at 10 sites. A Pectoral Sandpiper spent a few days at Loch Stiapavat, Lewis, while the American Golden Plover was still at Monreith, Dumfries & Galloway, on 6th. A slight increase in Dotterel numbers saw 22 sites register birds, including up to five in fields by Choseley Drying Barns, Norfolk, a hot-spot for big numbers in recent springs. Traditional sites such as Pendle Hill also finally harboured birds, though the famous Lancashire staging ground only held three on 7th and one on 9th — a pitiful return when compared to past glories.
Another good showing of Black-winged Stilts included two at Potter Heigham Marshes, Norfolk, from 5th, another two in the county at Burnham Norton on 9th, singles at Northwick Warth, Glos, and West Moor, Hambridge, Somerset, and a further two on Jersey.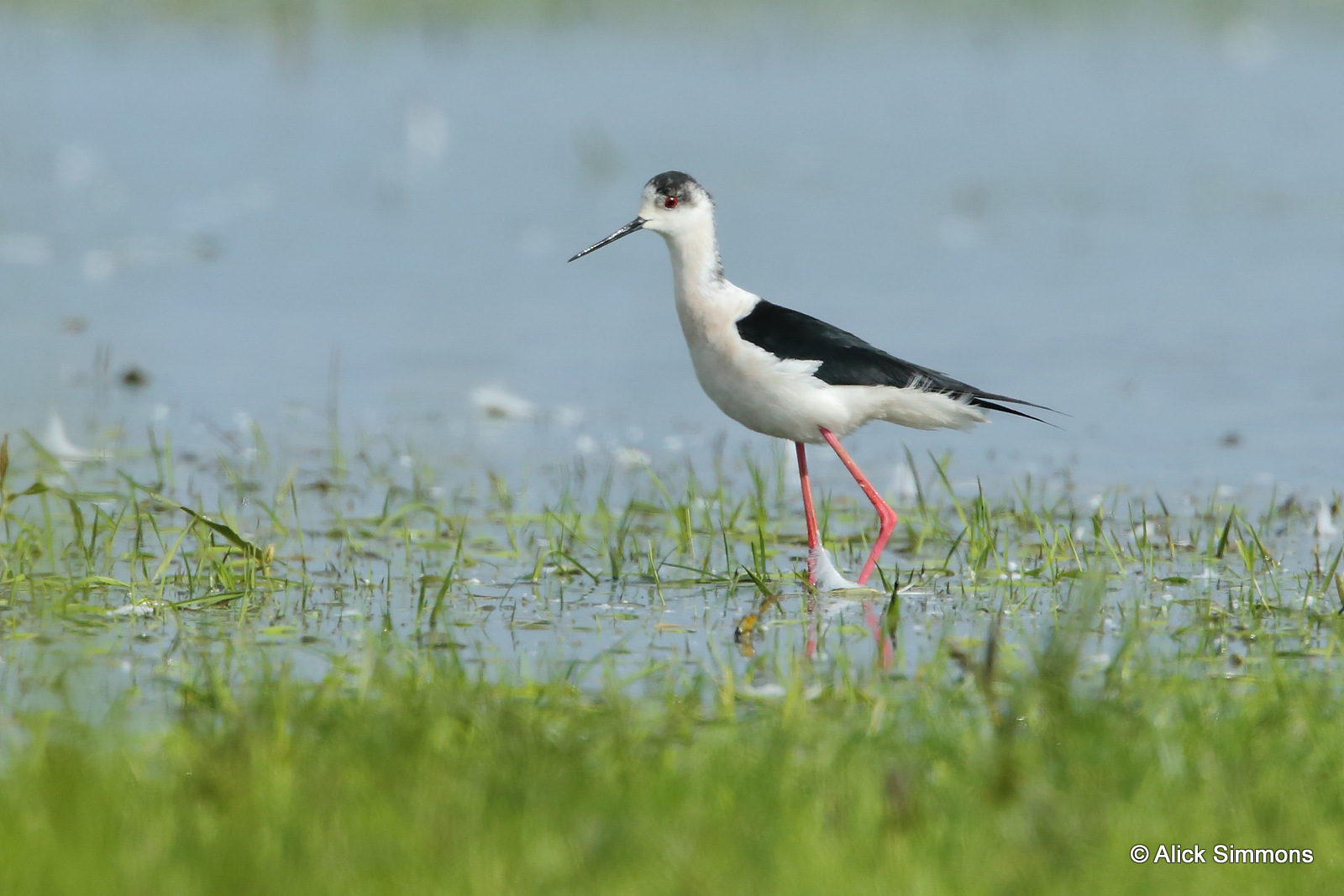 Black-winged Stilt, West Moor, Hambridge, Somerset & Bristol (Photo: Alick Simmons)
Passerine migration is beginning to wilt and, as May progresses, focus switches ever more to lost waifs rather than falls of common migrants. An Eastern Subalpine Warbler showed well at Scatness, Shetland, on 3–4th, while the year's first Red-backed Shrike was at Baltasound, Unst, on 3rd and nearby a Short-toed Lark was at Haroldswick from 6th. Incidentally, a Ring-billed Gull was another good South Mainland find at Loch of Hillwell from 5th.
At the opposite end of the country, a male Western Bonelli's Warbler was identified on St Mary's, Scilly, on 3rd and sang there until 7th. The female Little Bittern also continued to perform well at Lower Moors and a Black-winged Stilt remained on Tresco to 7th. Other notable migrants from the archipelago included a couple each of Golden Oriole and Richard's Pipit, and a Night Heron on St Mary's.
In a continuation of this rather unusual spring, additional northbound Sibes were found — most notably a female Siberian Stonechat at Flamborough Head, East Yorks, from 6th. Last week's Pallas's Warbler was still on the Farne Islands, Northumberland, on 3rd and a metal-ringed bird appeared on Bardsey Island, Gwynedd, on 7th — this, the second individual on Bardsey this spring, had originally been ringed at Spurn on 11 October 2016. A Yellow-browed Warbler was at Gibraltar Point, Lincs, on 7th. More expected was the year's first Red-throated Pipit, a typically fleeting bird at Pendeen, Cornwall, on 5th.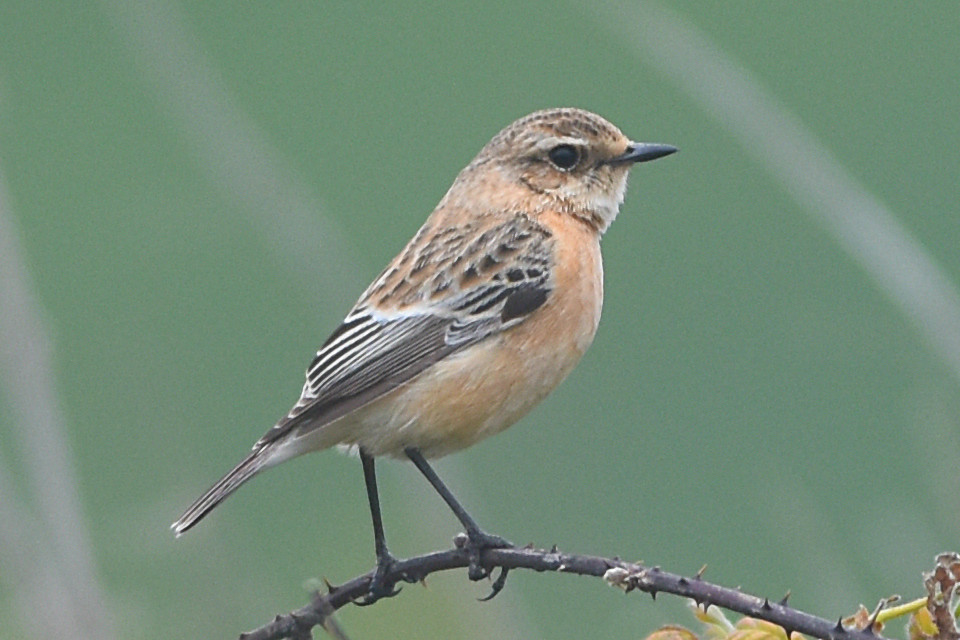 Siberian Stonechat, Flamborough Head, East Yorkshire (Photo: Andy Hood)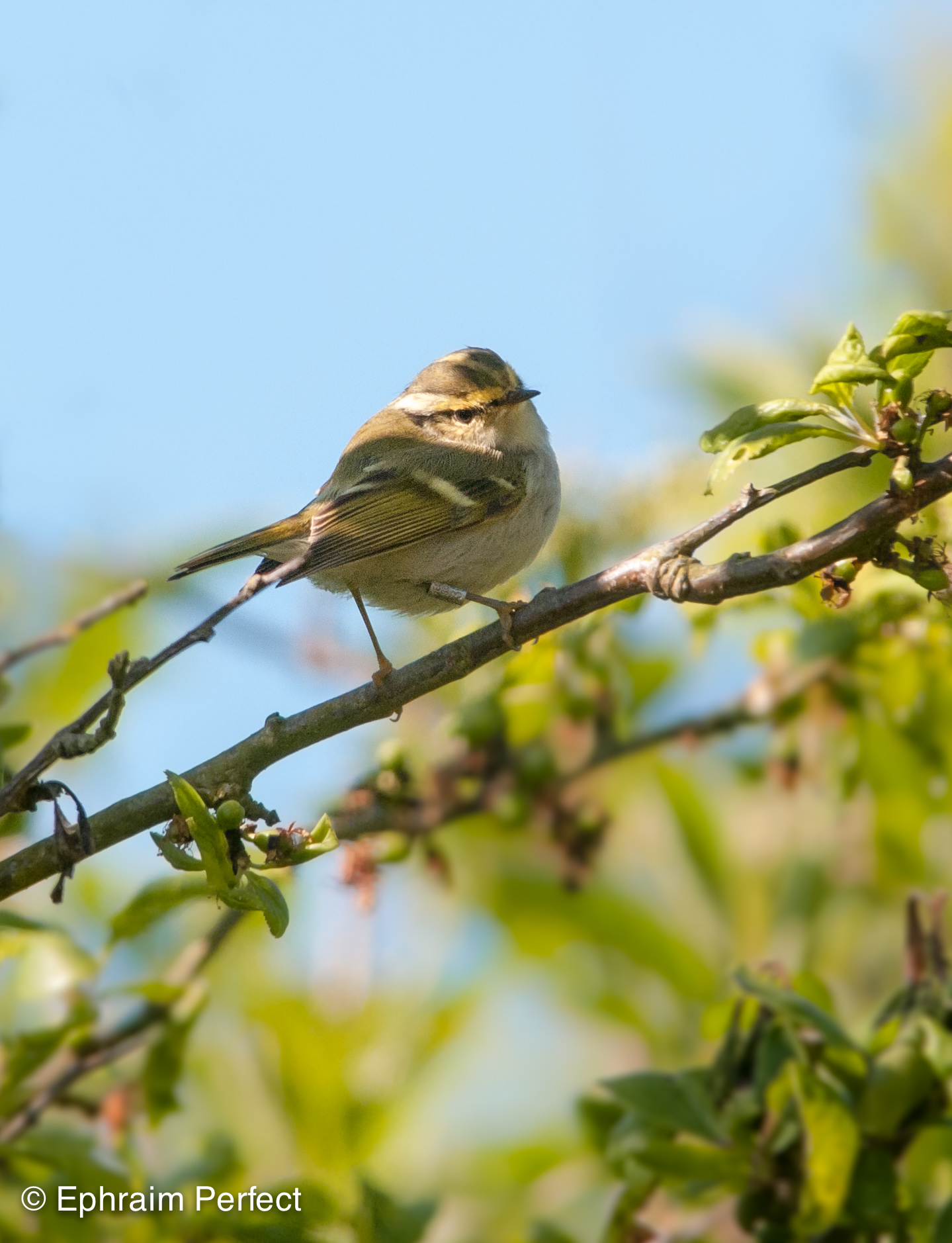 Pallas's Warbler, Bardsey Island, Gwynedd (Photo: Ephraim Perfect)
The male Pallid Harrier continued to display in vain over Lancashire's Whitendale Valley all week, though at least it brought great joy to the steady stream of admirers that paid homage to it. Confirmed Montagu's Harriers were limited to single birds in Dorset, Suffolk and East Yorkshire. The immature White-tailed Eagle continued in East Anglia — still at Buckenham Marshes, Norfolk, on 4th, it was relocated in Suffolk and Snape then Trimley on 8–9th. There were Black Kite reports from Cornwall, Dorset, Somerset and Kent (2), but none lingered.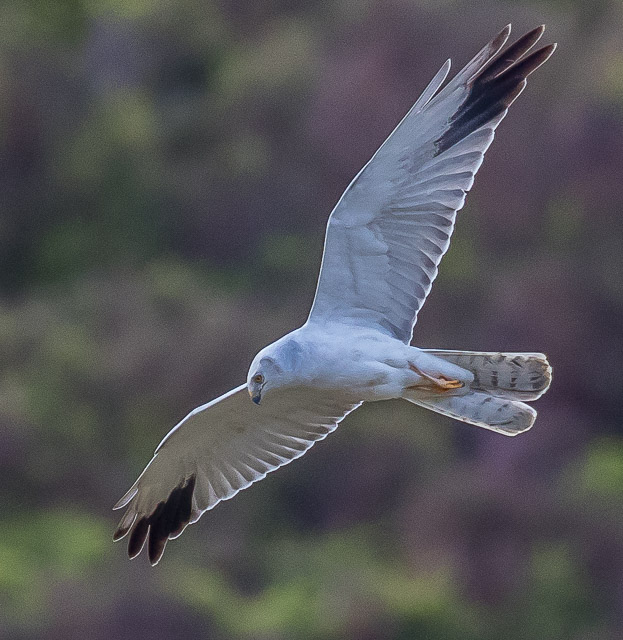 Pallid Harrier, Dunsop Bridge, Lancashire (Photo: Jon Worthington)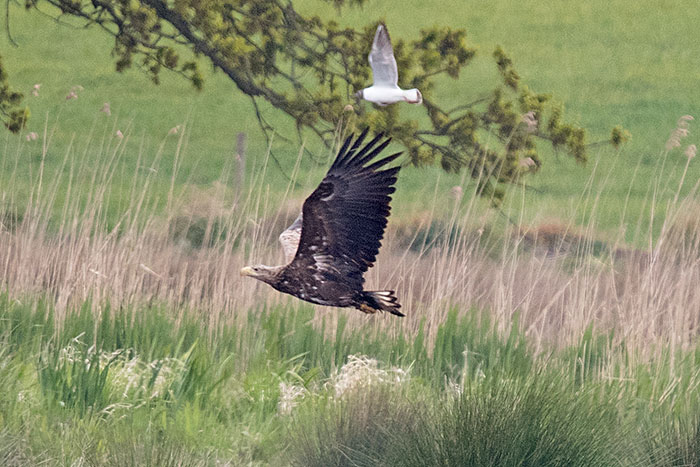 White-tailed Eagle, Snape, Suffolk (Photo: Andrew Moon)
It's been a decent start to May for Red-footed Falcons, with no fewer than seven seen this week. By far the most popular was an at times very confiding female at Fen Drayton Lakes, Cambs, from 5th. A first-summer male gave birders the run-around at Portland, Dorset, on 4th before it flew out to sea while, more sensationally, a beautiful adult male was trapped and ringed at Calf of Man observatory on 7th, lingering thereafter — it's just the fifth of its kind to be ringed in Britain. Others were in Hampshire, South Yorkshire, Lothian and on Anglesey.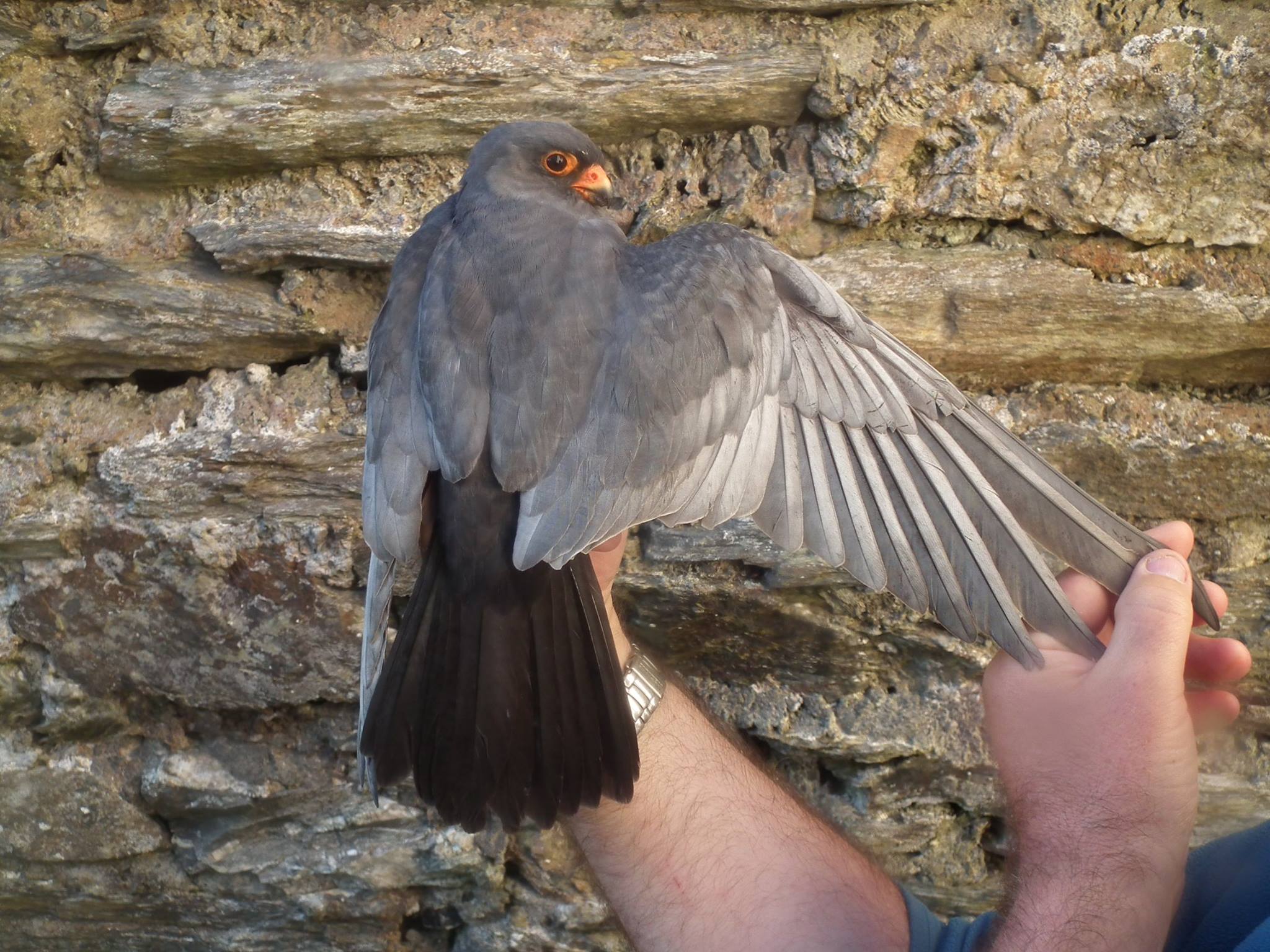 Red-footed Falcon, Calf of Man, Isle of Man (Photo: Calf of Man Bird Observatory)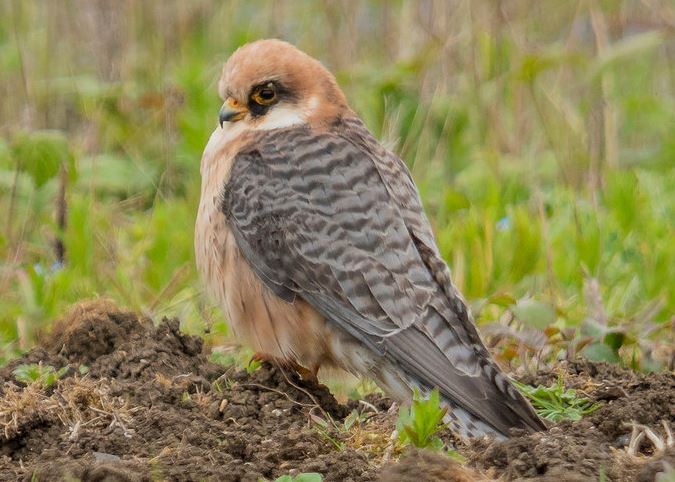 Red-footed Falcon, Fen Drayton Lakes RSPB, Cambridgeshire (Photo: Steve Blain)

Red-footed Falcon, Portland, Dorset (Video: Martin Cade)
The Pied-billed Grebe remained at Loch Feorlin, Argyll, this week and the American Black Duck did the same at Strontian, Highland. The White-billed Diver off South Ronaldsay, Orkney, proved a high-quality notebook padder for Red-winged Blackbird twitchers, while there were several other records from around Scottish coasts. The exception was a bird off Tory Island, Co Donegal, on 9th.
Shrewsbury's Night Heron continued to perform well throughout the week and the Co Limerick bird was still in an Adare garden on 4th. Two also remained on Barra, Outer Hebrides. Purple Herons were logged at two sites in both Cornwall and Pembrokeshire, while another was reported over Tralee Bay Wetlands, Co Kerry, on 9th. A White Stork flew over Minsmere, Suffolk, on 3rd. A slight increase in Glossy Ibises saw birds reported from seven sites, including a south-coast arrival at Radipole Lake, Dorset, on 8th. Cattle Egrets were still at more than 20 sites.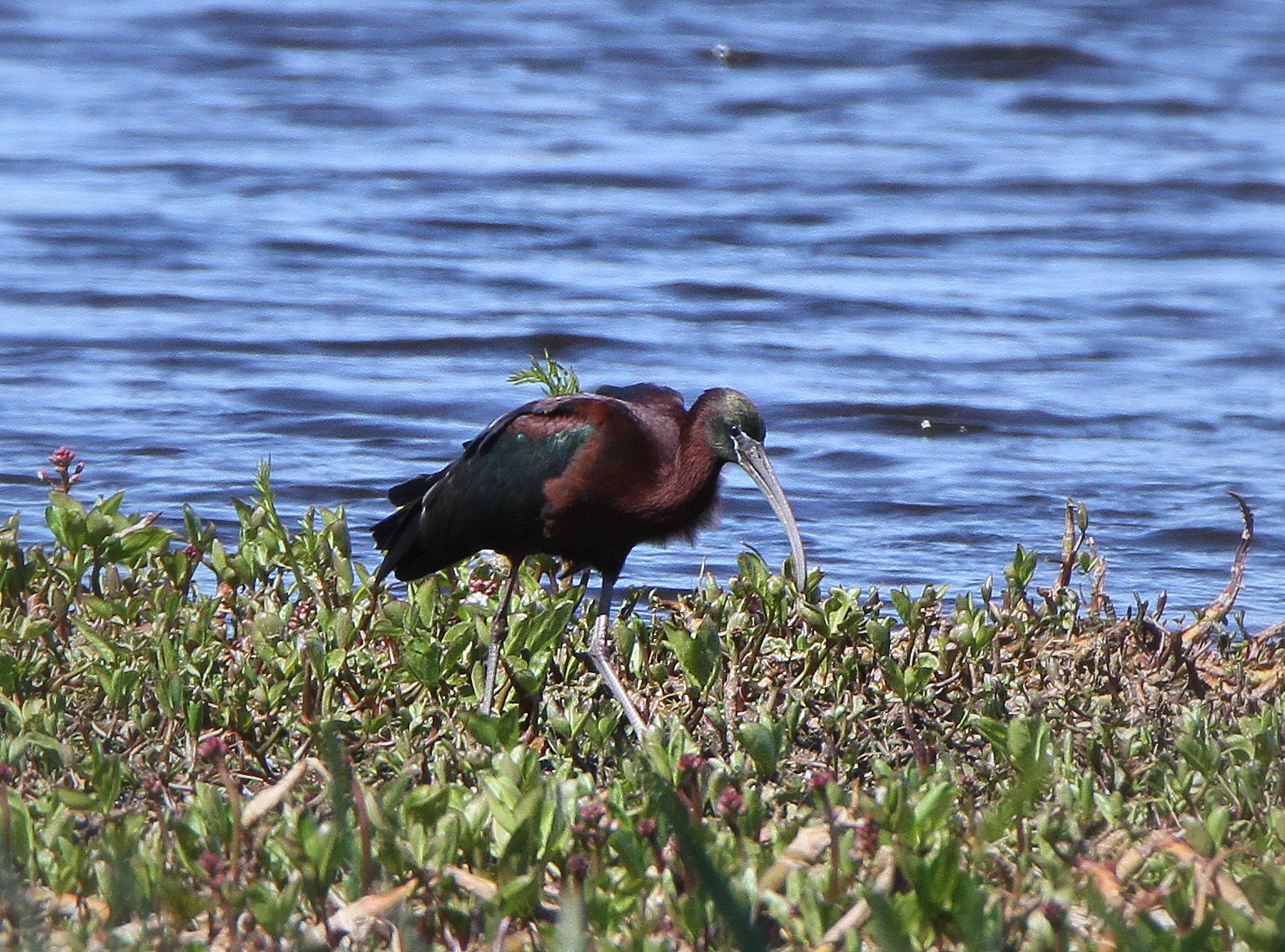 Glossy Ibis, Loch of Kinnordy RSPB, Angus & Dundee (Photo: Gus Guthrie)
The Gull-billed Tern was last seen at Clonakilty, Co Cork, on 6th. Decent numbers of Black Terns were still around during the week, albeit not in the quantity they were last week. A likely Laughing Gull (Franklin's not ruled out) was at Rainham Marshes, London, on 9th but proved painfully difficult to pin down. A new first-summer Bonaparte's Gull was seen at Portbury Wharf, Somerset, on 6th while others remained in Dorset, Hampshire, Oxfordshire and Essex. A first-summer Ring-billed Gull was at Ullapool, Highland, on 8th and another was found at Ynyslas, Ceredigion, on 3rd (lingering to 8th).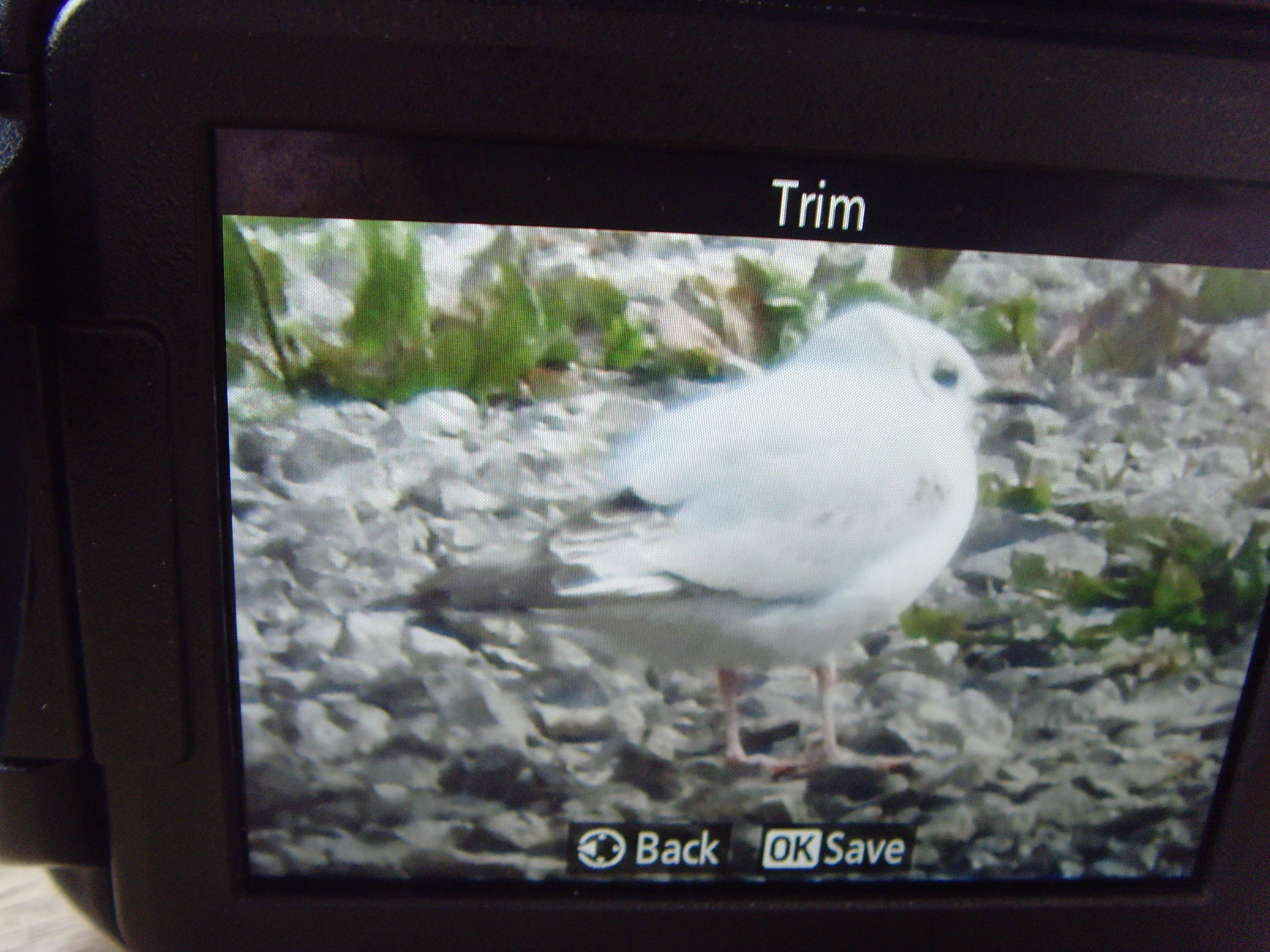 Bonaparte's Gull, Portbury Wharf, Somerset & Bristol (Photo: Rob Richardson — back of camera shot Chris Stone)

Ring-billed Gull, Hillwell, Shetland (Video: Hugh Harrop)
Savi's Warblers remained on territory in Norfolk and Suffolk. A female subalpine warbler species was on Whalsay, Shetland, and a male Western Subalpine Warbler reached Tiree, Argyll, on 7th. Unfortunately, a singing Melodious Warbler at Llandudno, Conwy, lingered for no more than a few hours on the afternoon of 8th. Singing Great Reed Warblers called in at Belvide Reservoir, Staffs, on 4th, Albert Village Lake, Leics, on 6–7th and, most curiously, at Landguard, Suffolk, from 7th.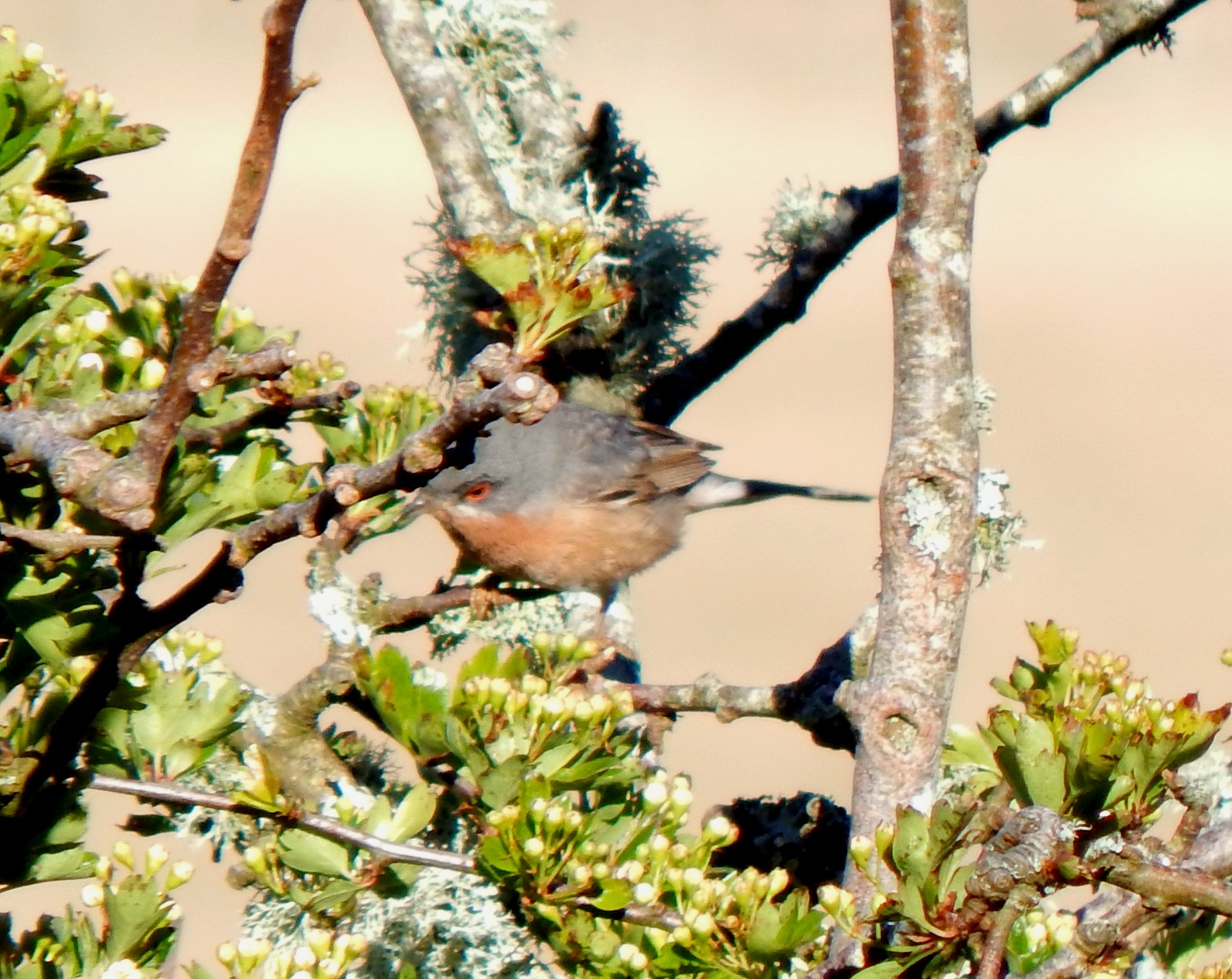 Western Subalpine Warbler, Tiree, Argyll (Photo: John Bowler)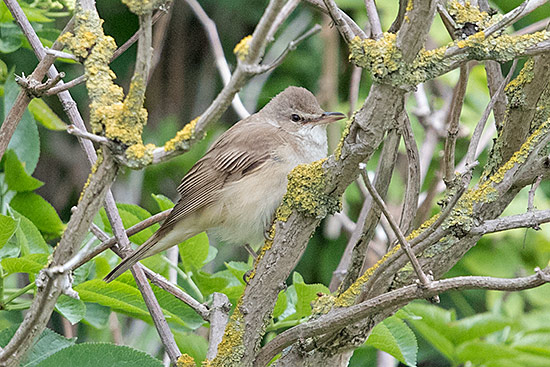 Great Reed Warbler, Landguard NR, Suffolk (Photo: Andrew Moon)
A Short-toed Lark was a surprise at Catton, Northumberland, on 8th and lingered thereafter. Another was at the more expected location of Portland on 3rd, while a Richard's Pipit remained near Lizard village, Cornwall, early in the week. Red-rumped Swallows were noted at six sites, in Kent, Hampshire, Suffolk, Norfolk, Dorset and on Jersey. An Alpine Swift was over Pendeen, Cornwall, on 5th and another was over Furnace Pond, Kent, on 6th. Half-a-dozen Eurasian Hoopoes were noted, as were 15 Eurasian Wrynecks. At least one Golden Oriole was on Bardsey, Gwynedd, while a female Citrine Wagtail was a nice find at Morfa Madryn, Conwy, on 6–7th.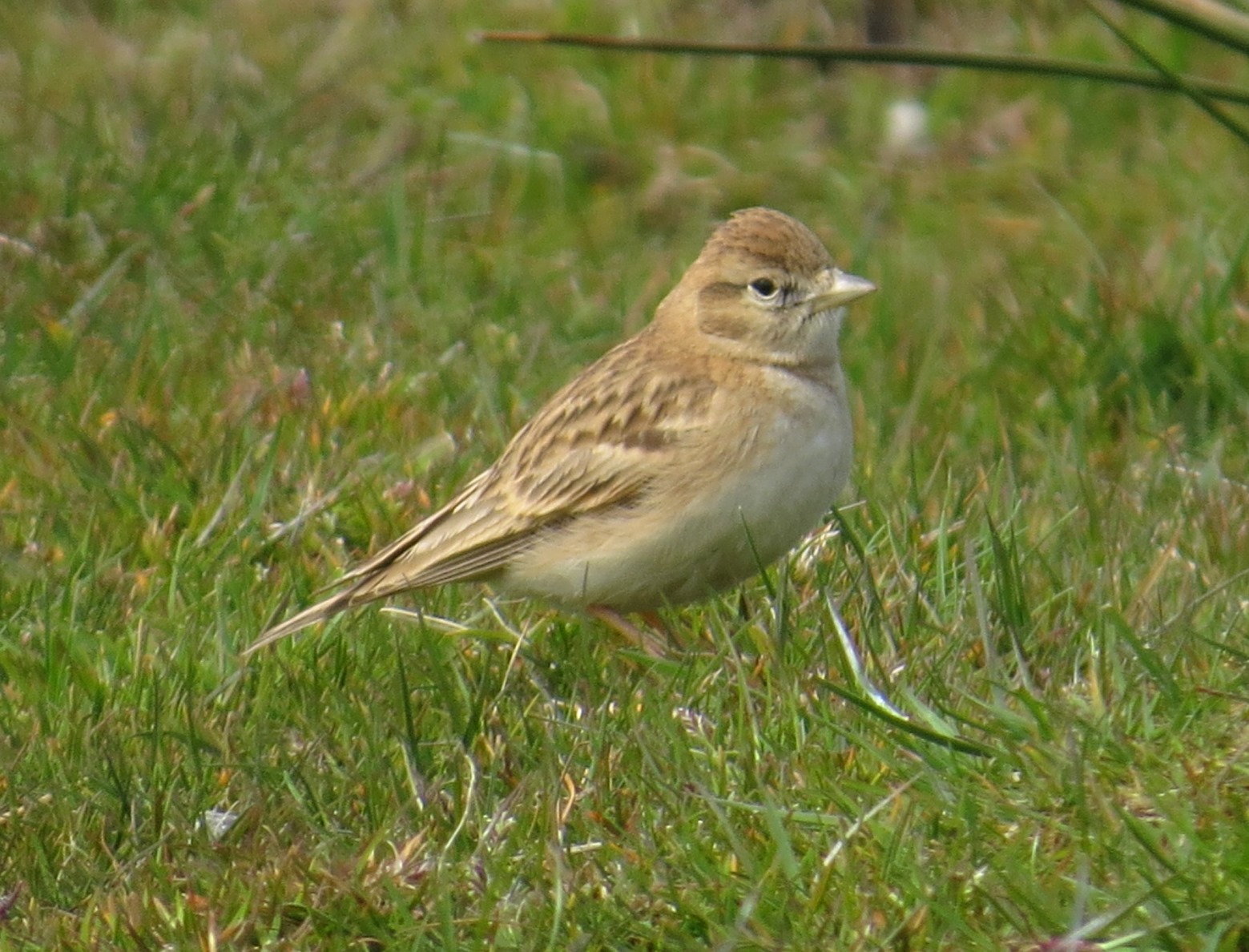 Short-toed Lark, Catton, Northumberland (Photo: Nick Littlewood)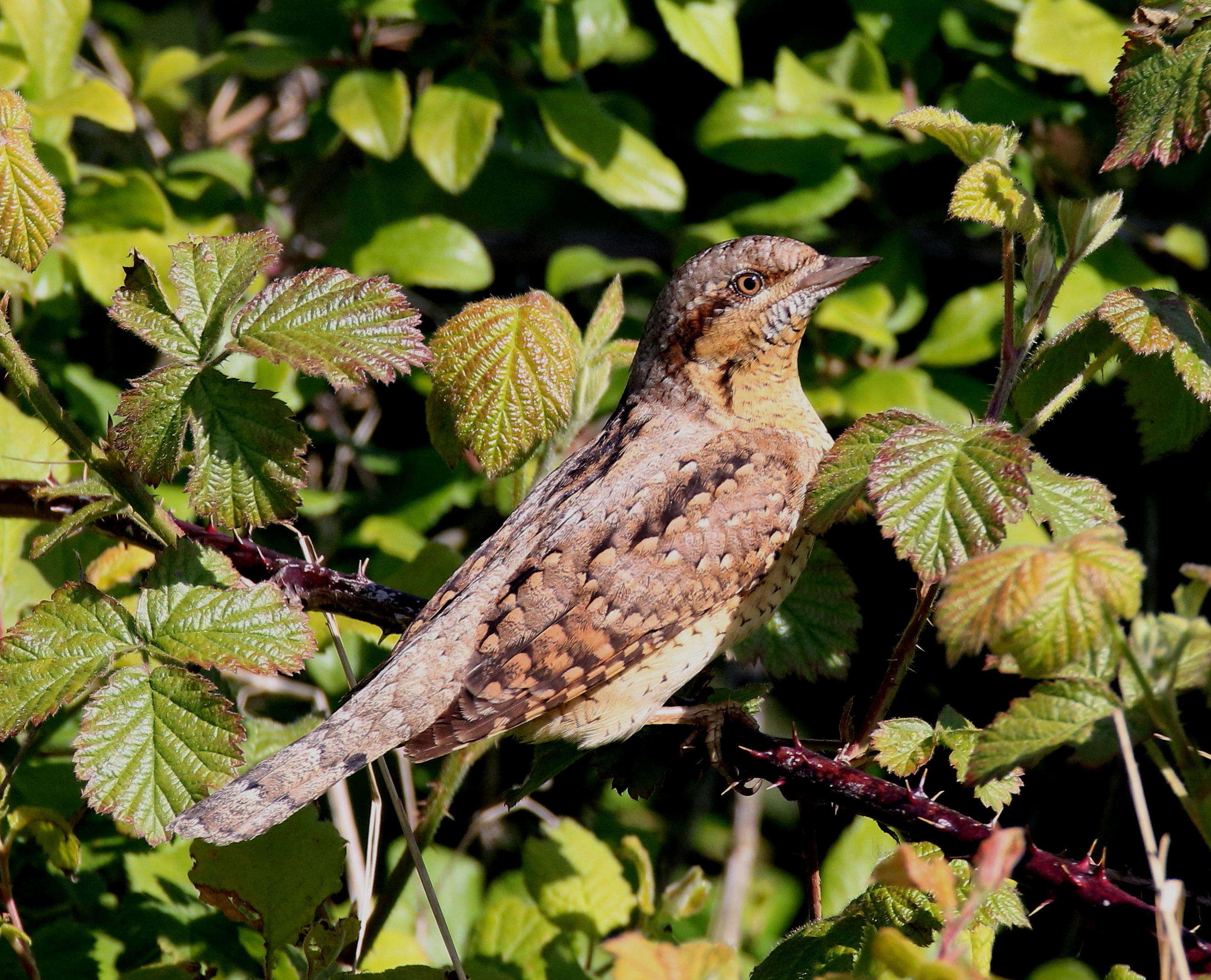 Wryneck, Kilnsea, East Yorkshire (Photo: Nigel Genn)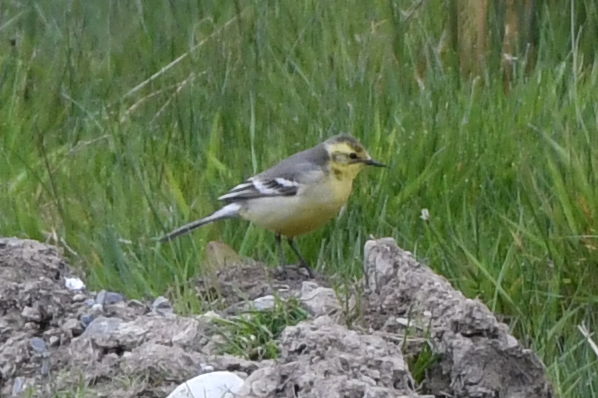 Citrine Wagtail, Morfa Madryn NR, Gwynedd (Photo: Martin Jones)
One of the week's star birds was a deliciously confiding male Red-breasted Flycatcher at Holme Dunes, Norfolk, from 5–7th which followed another brief male in the county at Gramborough Hill on 4th. A Little Bunting remained on Fair Isle earlier in the week, while the only one of six European Serins to be seen away from the south coast was a singing male at Kilnsea, East Yorks, on 3rd. Finally, a Great Grey Shrike remained on Surrey's Chobham Common to 5th.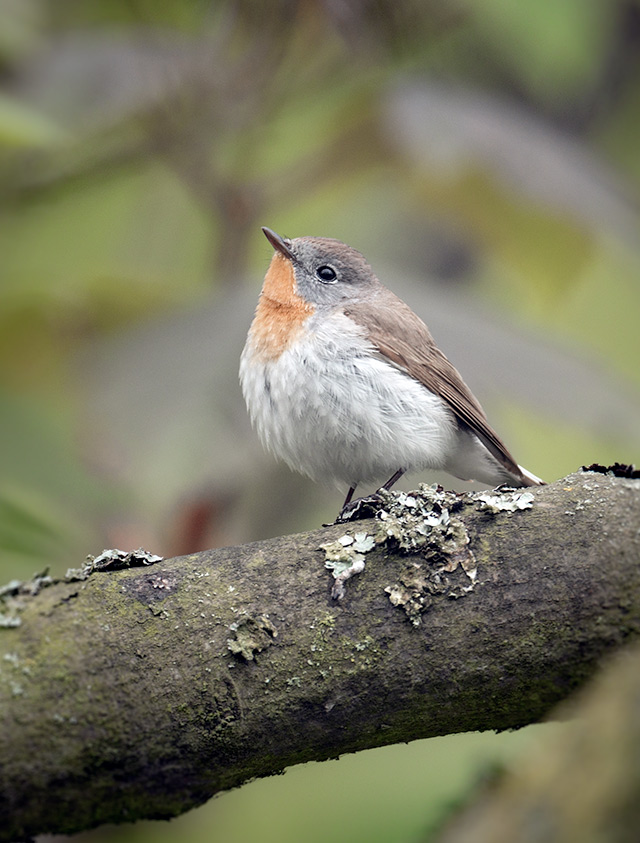 Red-breasted Flycatcher, Holme Dunes NWT, Norfolk (Photo: Major Wildlife)
Western Palearctic news
It was far from a vintage week around the region, so an unusual spring record of Upland Sandpiper from Mosteiros, São Miguel, Azores, is arguably find of the week. Late news of Algeria's first Pectoral Sandpiper was received, seen at Constantine on 1st.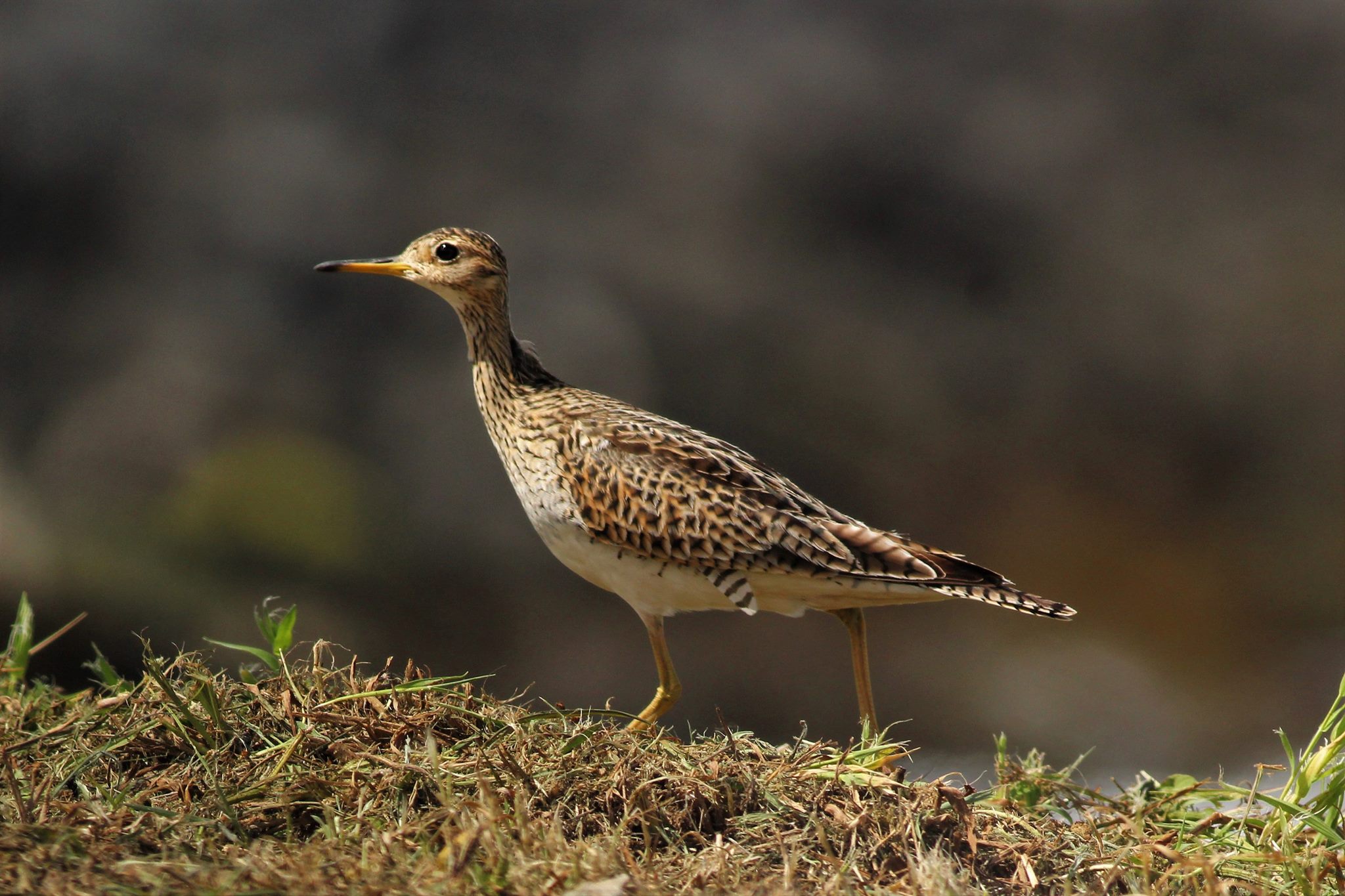 Upland Sandpiper, Azores (Photo: Gerby Michielsen)
Claiming a sure-fire Armenian Gull in Western Europe will always require good documentation, and a gull photographed at Blåvand, Denmark, on 4th certainly looks the part. However, will it be enough to get it accepted?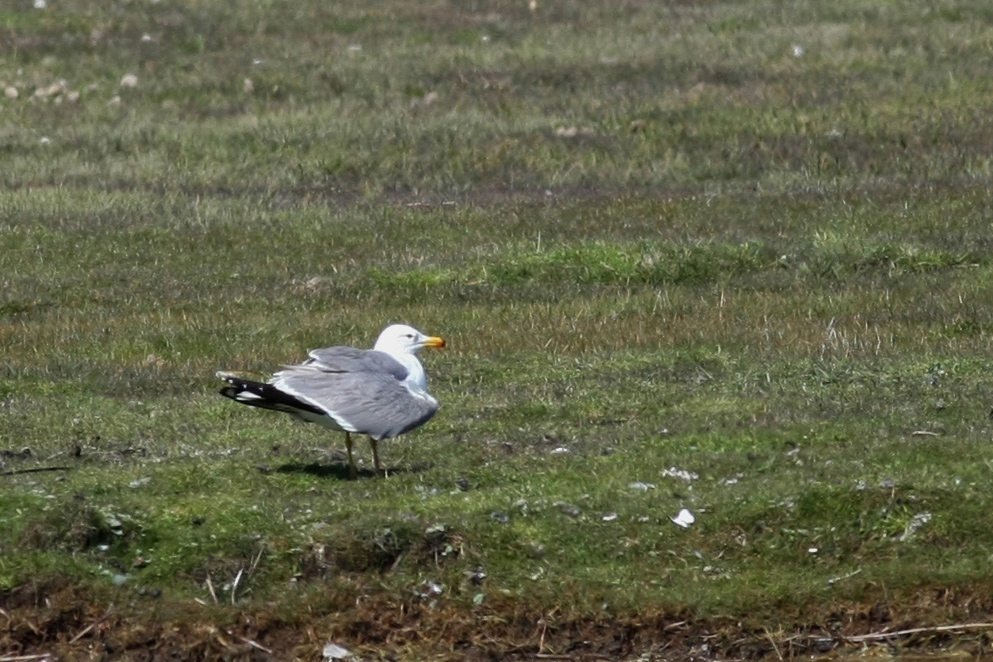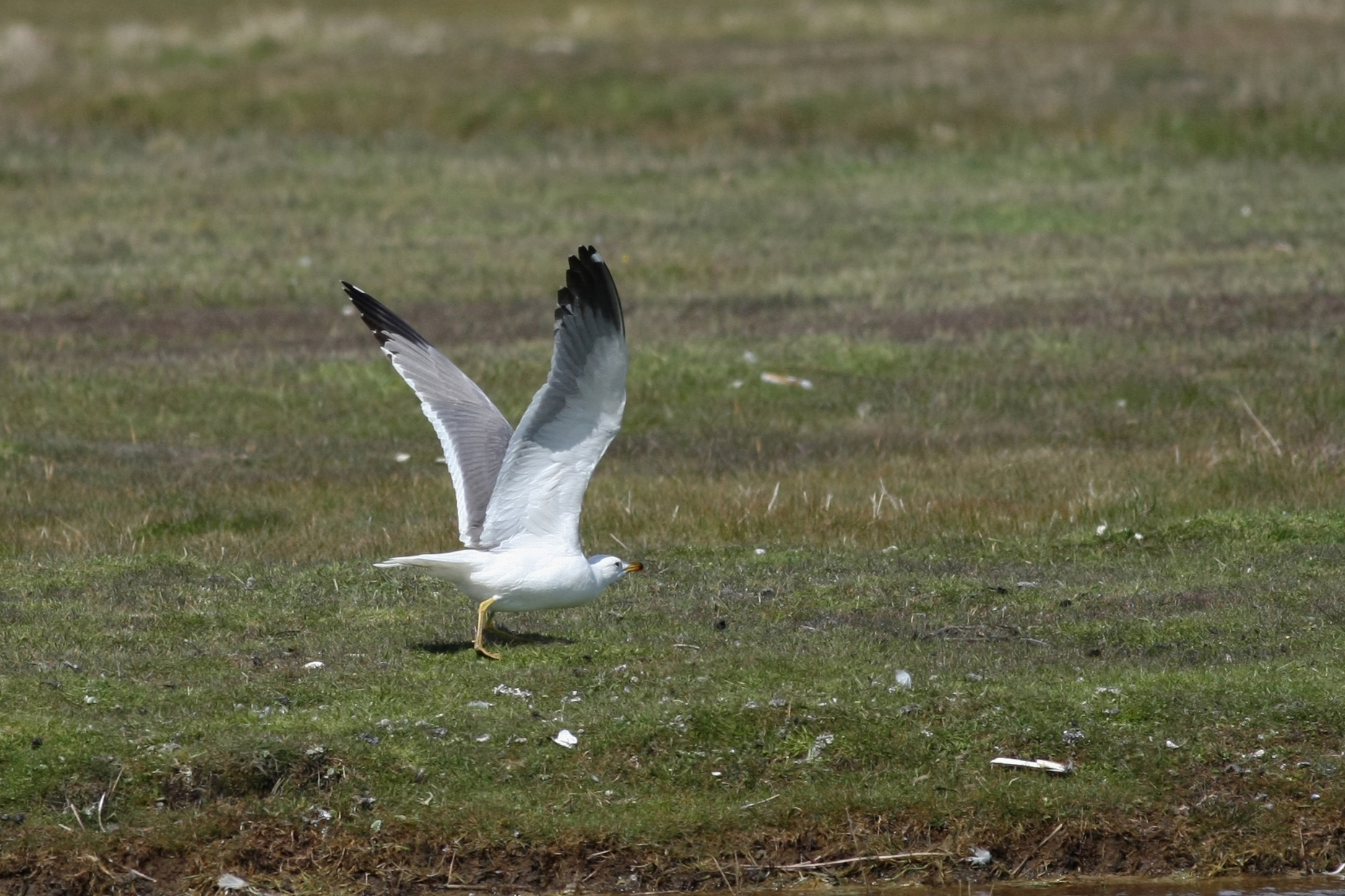 Armenian Gull, Denmark (Photos: Henrik Knudsen)
Other notable records included a Common Rock Thrush at Den Helder, Netherlands, on 3–4th and a Lesser Spotted Eagle at Groningen, the Black-browed Albatross again intermittently at Sylt, Germany, Poland's ninth Black Scoter at Pobierowo on 6th with a Western Bonelli's Warbler at Vistula Spit that day, two immature Ivory Gulls at Porttipahta Reservoir, Finland, on 5th, Austria's second Isabelline Wheatear and sixth Pallas's Gull both at Seewinkel on 8th and, finally, Romania's first Great Spotted Cuckoo at Gura Dobrogei.