The week at a glance
It has to be a good week when Scarlet Tanager and Common Nighthawk aren't the top dishes on the menu. This week goes down as one of the best for major rarities in recent memory, with two possible firsts for the UK and Ireland.

Little Blue Heron, Letterfrack, Galway (Photo: Ronan McLaughlin)
Attention shifted from the Northern Isles to south and west coasts this week, beginning with the belated identification of Britain and Ireland's first Little Blue Heron near Letterfrack (Co. Galway). Although first seen on 24th September, identification of the juvenile was not finally clinched until 5th October. Luckily for all those making the journey the bird, only the 4th record for the Western Palearctic, was still present on 8th. The breeding range of Little Blue Heron extends from the southern USA and the Caribbean into northern South America. Adults are a slaty-blue in colour, but juveniles like this bird are all-white.

Alder Flycatcher, Nanjizal Valley, Cornwall (Photo: Steve Rogers)
The same county of Cornwall produced the next major surprise of the autumn in the form of an Empidonax flycatcher at Nanjizal Valley on 8th. Although narrowed down to either Alder Flycatcher or Willow Flycatcher, the autumn identification of these two species in the field, and even in the hand, is at best regarded as very difficult and at worst impossible. Our transatlantic colleagues even refer to the species pair as Traill's Flycatcher because so many are not specifically identified at this time of year. If it could be nailed, it would be either the first Willow Flycatcher for the Western Palearctic or the second Alder Flycatcher (the first was a bird trapped in Iceland on 10th October 2003). [Update: the bird was trapped and identified in the hand as an Alder Flycatcher, probably a male, on Thursday 9th October.]

Scarlet Tanager, Garinish Point, Cork (Photo: Sean Cronin)
Although not quite in the same league, another significant Irish find was a first-winter male Scarlet Tanager at Garinish Point (Co. Cork) on 7th. This is only the 8th record of this American vagrant for Britain and Ireland, and the first since 1985. The discovery of a dead Common Nighthawk on St. Mary's (Scilly) on 6th could have done little to prepare lucky observers for the spectacle of another bird appearing to fly in off the sea between Lizard Point and Church Cove (Cornwall) on 7th. Although elusive, this bird was still in the area around Church Cove on 8th.

Buff-bellied Pipit, North Ronaldsay, Orkney (Photo: Paul A Brown)

White's Thrush, Fair Isle, Shetland (Photo: Craig Shaw)
After last year's influx, the appearance of single Buff-bellied Pipits on Bryher (Scilly) and North Ronaldsay (Orkney) on 3rd hardly created the clamber for boats and planes that they would have a few years ago. A Grey-cheeked Thrush trapped and ringed at Portland (Dorset) on 8th was an excellent mainland find and county first to boot. With Nearctic vagrants of this quality in the south and west it came as no real surprise when both Blackpoll Warbler and Red-eyed Vireo appeared on St. Agnes (Scilly) on 8th. In the Northern Isles, Foula (Shetland) continued its impressive run of form with a Pallas's Grasshopper Warbler on 2nd and Fair Isle chipped in with what was probably its third White's Thrush of the autumn on 8th. On the same day another White's Thrush was seen to fly in off the sea and west along The Headland at Hartlepool (Cleveland). Other megas reported this week were a possible immature male Lesser Kestrel at Stiffkey (Norfolk) on 4th and a probable Little Shearwater flying south off Clevedon (Somerset) and then off Weston-super-Mare (Somerset) 50 minutes later on 4th.

Grey Phalarope, Draycote Water, Warwickshire (Photo: Dave Hutton)

Ring-billed Gull, Portrush, Antrim (Photo: Derek Charles)

Gull-billed Tern, Tiree, Argyll (Photo: Jim Dickson)
Seawatching conditions continued to be good with the main prize being single Fea's Petrels passing Pendeen and St. Ives in Cornwall on 3rd. Large shearwaters were scarce with just 5 Cory's Shearwaters reported, from as far afield as Orkney and Guernsey, and just two single Great Shearwaters were seen, off Mizen Head (Co. Cork) on 4th and 6th. Balearic Shearwaters were seen from several typical locations with a maximum of 115 past Porthgwarra (Cornwall) on 6th. Good numbers of Leach's Petrels continued to be seen early in the week, mainly from the west coast, with maximum counts of 107 past Hilbre Island (Cheshire) on 2nd and 110 past Rhos Point (Conwy) on 3rd. Surprisingly none were reported inland during this period. Small numbers of Long-tailed Skuas were reported, mainly from the east and south coasts but also two inland over Foul Anchor (Cambs) on 3rd. Pomarine Skuas showed a similar distribution but were more numerous, with a maximum of 24 past Spurn (E. Yorks) on 3rd. Once again the only inland report came from Cambridgeshire where at least 5 flew over Foul Anchor on 3rd. Sabine's Gulls were reported from no fewer than 15 coastal counties but only in ones and twos, with a maximum of 3 past Kilcummin Head (Co. Mayo) on 2nd. Grey Phalarope numbers were well down on the previous week but still showed a westerly bias. The maximum count was 50+ off Porthgwarra (Cornwall) on 8th and 20+ off Sennen Cove (Cornwall) on 7th. Just one was seen on the east coast but inland there were singles at Chew Valley Lake (Somerset) on 4th, Colyford Common (Devon) on 5th, Draycote Water (Warwickshire) on 6th-7th and Cheddar Reservoir (Somerset) on 7th. A single Red-necked Phalarope was seen off Dungeness (Kent) on 7th. Regular adult Ring-billed Gulls remained at Portrush (Antrim) and Westcliff-on-Sea (Essex) throughout and another adult was reported from Ormsary (Argyll) on 5th. The Gull-billed Tern remained on Tiree to at least 3rd and the adult Forster's Tern was still at Cruisetown Strand (Louth) to at least 6th.

Great White Egret, Minsmere RSPB, Suffolk (Photo: Sean Nixon)

Glossy Ibis, Sutton Gault, Cambridgeshire (Photo: Bill Plumb)
Great White Egrets were still at both Blashford Lakes (Hampshire) and Minsmere (Suffolk) from the previous week with new birds reported from Blithfield Reservoir (Staffordshire) and Leigh-on-Sea (Essex) on 2nd and Hartshill (Warwickshire) on 8th. Four wandering Cattle Egrets were at Pagham Harbour (W. Sussex) on 8th with singles at Exminster Marshes (Devon) on 2nd-3rd and Seaton Marshes (Devon) on 5th. Last week's Glossy Ibises were still on the Cambridgeshire washes and at Swillington Ings (W. Yorks) throughout. A total of 13 Spoonbills were reported, mainly singles but 3 were at Isley Marsh RSPB (Devon) on 8th and 2 were at Connah's Quay NR (Clwyd) on 2nd. Away from the Norfolk population just 3 Common Cranes were reported, with the long-stayer still at Caerlaverock WWT (Dumfries and Galloway) on 2nd and 2 still at Dungeness RSPB (Kent) on the same day.

Lesser Scaup, Queen Mother Resr (Permit Only), Berkshire (Photo: Andrew Moon)
As goose numbers continued to build up in their traditional wintering areas two Taverner's Canada Geese were reported from Caerlaverock WWT (Dumfries & Galloway) on 4th with two Richardson's Canada Geese reported there on 5th. Another two Richardson's Canada Geese were at Loch Gruinart RSPB (Argyll) on 4th with single bird there on 5th. Single Black Brants were back at The Cunnigar (Waterford) on 4th and Strand Loch (Co. Down) on 5th. The long-staying drake Green-winged Teal was still at Inner Marsh Farm RSPB to at 5th. A total of 17 Ring-necked Ducks were reported during the week, but incredibly 15 of them were at the same site, Inish Mor (Galway) on 8th. The other two were both from Shetland. A drake Ferruginous Duck appeared briefly at Foxcote Reservoir (Bucks) on 2nd and was relocated at Calvert Lakes (Bucks) on 4th where it remained throughout. A drake Lesser Scaup was at Queen Mother Reservoir (Berks) on 8th. A drake King Eider reappeared off Tronda (Shetland) on 4th-5th after an absence of almost a year and 2 drake Surf Scoter were still in Lunan Bay (Angus) to at least 5th.

Rough-legged Buzzard, Kilpheder, S.Uist, Outer Hebrides (Photo: Andrew Stevenson)
Just 10 Honey Buzzard reports were received this week, from as far north as Shetland, and there were Rough-legged Buzzards at Kilpheder (Outer Hebrides) on 2nd, over Leicester on 5th and Sandwich Bay (Kent) on 8th. The 1st-summer male Red-footed Falcon remained at Tophill Low (E. Yorks) throughout while the almost-resident female Snowy Owl was still at Termon Hill (Co. Mayo) on 6th.

Broad-billed Sandpiper, Wallasea Island, Essex (Photo: Jeff Delve)

Buff-breasted Sandpiper, Myroe Levels, Londonderry (Photo: Derek Charles)

Pectoral Sandpiper, Loch Bee, S.Uist, Outer Hebrides (Photo: Andrew Stevenson)
American Golden Plovers were on Barra (Outer Hebrides) on 6th-7th, Tresco and St. Mary's (Scilly) from 6th, Annagh Head (Mayo) on 8th with 2 on Tiree (Argyll) on 7th. The latter island also hosted a possible Pacific Golden Plover on 8th. A Lesser Yellowlegs was seen briefly on Barra (Outer Hebrides) on 2nd and an almost as brief 1st-winter Wilson's Phalarope was at Cley Marshes NWT (Norfolk) on 7th. Two Long-billed Dowitchers were seen in Ireland at Inish Mor (Galway) on 4th-5th and Lough Beg (Co. Cork) on 5th. Unsurprisingly Ireland seemed to get the lion's share of rare waders with a Semipalmated Sandpiper alongside 4 Pectoral Sandpipers at Rahasane Turlough (Galway) on 5th, a White-rumped Sandpiper at Lissagriffin (Co. Cork) on 4th and single Baird's Sandpipers at Ventry (Kerry) on 2nd and Derrymore (Kerry) on 3rd. The east coast fought back, however, with an elusive juvenile Broad-billed Sandpiper at Wallasea Island (Essex) on 4th-6th. A total of six Buff-breasted Sandpipers were reported, from Dublin, Londonderry, Donegal, Argyll and Orkney. Pectoral Sandpipers continue to be reported in good numbers with at least 34 individuals from widely scattered locations including 4 together at Rahasane Turlough (Galway) on 5th and Swine Moor (E. Yorks) on 6th.

Red-throated Pipit, Pool of Virkie, Mainland, Shetland (Photo: Craig Shaw)

Great Grey Shrike, Brent Reservoir, London, Greater (Photo: Richard Jones)

Red-backed Shrike, Keyhaven Marshes, Hampshire (Photo: Richard Ford)
Hoopoes were reported at Newport (Gwent) on 3rd, Newmachar (Aberdeenshire) on 5th and Cromer (Norfolk) on 8th. Five Wrynecks were restricted to the southwest with the exception of an inland bird at King's Wood (Beds) on 8th. Short-toed Larks were at opposite ends of the country, on Bryher (Scilly) and St. Agnes (Scilly) and Foula (Shetland). A dead Citrine Wagtail was picked up on Barra (Outer Hebrides) on 3rd with a live bird on Fair Isle (Shetland) on 6th. A Pechora Pipit was an excellent find on North Uist (Outer Hebrides) on 4th-5th. A Red-throated Pipit was at Pool of Virkie (Shetland) on 5th with a possible briefly on Bryher the same day and a fly-over at Nanjizal Valley (Cornwall) on 8th. Only 12 Richard's Pipits were reported during the week, including 3 on Fair Isle (Shetland) on 7th, so it was unusual that inland birds were seen at Woolston Eyes NR (Cheshire) on 4th and Abberton Reservoir (Essex) on 6th. After the previous week's shrike bonanza just three species were reported, the pick of which was the juvenile Woodchat Shrike still on Papa Westray (Orkney) on 2nd. There were 9 Great Grey Shrikes, the majority of which were inland, and 7 Red-backed Shrikes, of which just two were inland, in Dorset and Hertfordshire.

Bluethroat, Fair Isle, Shetland (Photo: Craig Shaw)

Yellow-browed Warbler, St. Mary's, Isles of Scilly (Photo: Juliet Moore)
Single Bluethroats were on Fair Isle on 4th and Unst (Shetland) on 8th. The Siberian Stonechat was still at Bere Regis (Devon) throughout with others on Lewis (Outer Hebrides) and Shetland. The identity of a long-staying Acrocephalus warbler in Nanquidno Valley (Cornwall) was finally nailed on 6th as Marsh Warbler. The Blyth's Reed Warbler was still on Foula (Shetland) on 2nd and another was in Wells Woods (Norfolk) from 5th. A Melodious Warbler was at Barton-on-Sea (Hants) on 8th with a probable reported at Porthgwarra (Cornwall) on 3rd. A Radde's Warbler was trapped and released at Weybourne (Norfolk) on 6th but promptly disappeared. Once again Yellow-browed Warblers seemed to be everywhere with at least 14 birds reported inland this week including two together in both Powys and Norfolk. There was a Greenish Warbler at Tacumshin (Wexford) on 6th and a Subalpine Warbler in Nanquidno Valley (Cornwall) on 5th. Seven of the eight Barred Warblers reported this week were on Shetland with the odd one out being much further west on Inishbofin (Galway) on 6th.

Little Bunting, St. Mary's, Isles of Scilly (Photo: Martin Goodey)

Common Rosefinch, Fair Isle, Shetland (Photo: Craig Shaw)

Arctic Redpoll, Norwick, Unst, Shetland (Photo: Graeme Stephen)
In total, 9 Red-breasted Flycatchers were reported, mainly from the southwest and the Northern Isles, although one was as far west as Dale (Pembroke) on 5th. Just a single Ortolan Bunting flew over Durlston CP (Dorset) on 8th, while the Rustic Bunting remained on South Walney (Cumbria) to at least 2nd with another belatedly reported in (Dumfries & Galloway) on 1st. Three Little Buntings were seen on Shetland during the week but the two on St. Mary's (Scilly) were last seen on 6th with one still the following day. A female bunting, either Red-headed or Black-headed, was seen briefly at Nanquidno Valley (Cornwall) on 8th and two typically elusive fly-over Serins were reported in Surrey on 5th and 8th. In contrast to last week, Common Rosefinches were widely scattered with reports from the Outer Hebrides, Devon, Co. Clare, Waterford and Shetland. The Shetlands remained the stronghold for Arctic Redpolls though, with 6 birds reported on four different islands; away from the Northern Isles one was at Termon Hill (Co. Mayo) on 3rd. Just two Rose-coloured Starlings were reported this week, both in the west: one on Islay (Argyll) again on 6th, and the other about as far west as you can get at Inish Mor (Galway).

Snow Bunting, Titchwell RSPB, Norfolk (Photo: Douglas McFarlane)
Content continues after advertisements
Photo of the Week

Leach's Storm-petrel, North Wirral CP, Cheshire (Photo: Steve Round)
There are some bird species that are almost impossible to photograph most of the time but that, under the right circumstances, can be located quite predictably. At this time of year, with suitable weather conditions, Leach's Storm-petrels pass in good numbers around certain promontaries. This week, literally hundreds have been seen passing the Wirral Peninsula, the north coast of which has the added advantage of allowing photography with the sun behind you, which is particularly important when trying to bring out details in dark-coloured birds. Seizing this opportunity, Steve Round captured a superbly lit and posed image, freezing the bird in its typical 'pattering on water' behaviour. In fact, this is the only photo of this species we've received this year, so all credit to Steve for making the most of the opportunity.
Other notable photos

Common Buzzard, Farlington Marshes HWT, Hampshire (Photo: Jason Crook)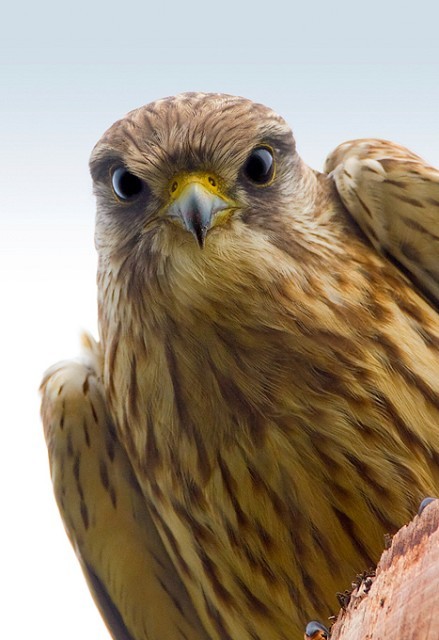 Common Kestrel, Cley Marshes NWT, Norfolk (Photo: Nigel Pye)

European Bee-eater, Cyprus (Photo: Steve Wilce)

Shag, Hilbre Island, Cheshire (Photo: Steve Oakes, AEBS Limited)

Barn Owl, Stithians Reservoir, Cornwall (Photo: Brian McGeough)

Red-backed Shrike, Keyhaven Marshes, Hampshire (Photo: Richard Ford)

Little Stint, Toft Newton Reservoir, Lincolnshire (Photo: Matt Latham)

Dipper, Leominster, Herefordshire (Photo: George Ewart)

Ruff, Boyton Marshes, Suffolk (Photo: Richard Crossen)

European Stonechat, Salthouse, Norfolk (Photo: Nigel Pye)

Black-headed Gull, New Brighton, Cheshire (Photo: Richard Steel)

Little Egret, France (Photo: Barry Boswell)

Golden Plover, Pleinmont, Guernsey (Photo: Paul Hillion)

Spotted Redshank, Humberston, Lincolnshire (Photo: Dean Eades)

Pectoral Sandpiper, Llanrhystud, Ceredigion (Photo: Kev Joynes)