The week at a glance
With the week dominated by westerlies, arrivals of note from the east were few and far between. But overnight northeasterlies delivered the goods to northern Britain and an eastern mega was finally unblocked for many.
The weather was looking good for an arrival in the northeast, and one lucky ringer at Hartlepool Headland (Cleveland) opened his nets on 6th to find what he initially assumed was a female Red-flanked Bluetail soon after. Once the news had been spread to local birders, a closer examination in the hand revealed this was in fact a first-summer White-throated Robin. It was duly ringed, processed and released and spent the morning feeding on and around the nearby bowling green, before causing stress to many by moving into the legendary Doctor's Garden. For those who don't know the site, the ten-foot walls surrounding this migrant haven prove a rather large barrier to a mass twitch. But what ensued was likened to a mediaeval siege: passing white vans and ladders from local businesses were commandeered, or rented, to allow viewing over the wall, although some still fell foul of the anti-climb paint on the wall. As word spread, more vans and ladders arrived and queuing systems ensured that everyone got their chance to see this gem. Local residents also chipped in, providing tea and sandwiches and renting space on balconies overlooking the garden, with some funds raised being donated to Tees Ringing Group. Over 1,700 birders connected with the bird over the first couple of days. Perhaps quite surprisingly, the bird stayed and was still present at the time of writing (9th). This is just the third record for the British Isles: the first was a male at Calf of Man Bird Observatory in June 1983 and the second was also an island bird, on Skokholm (Pembrokeshire) on 27th–30th May 1990.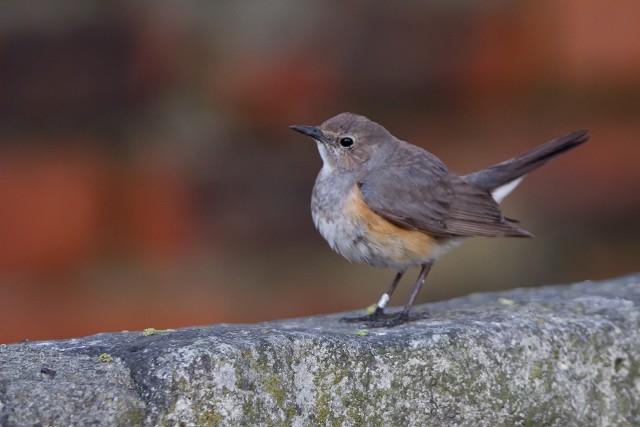 White-throated Robin, Hartlepool Headland, Cleveland (Photo: Roger Wyatt)

Video: BoyWonderBirding

Video: dihunton
Another record that would have been equally well received never came to be. An email to the Devon County Recorder gave a rather convincing description of a male Blue Rock Thrush, seen perched on a rock at Brat Tor (also known as Bray Tor) on Dartmoor on 2nd, but unfortunately subsequent searches failed to refind the bird. There are just six previous records, including three spring birds and three in the southwest, so this would have been an excellent distraction.
The BTO's track record for unearthing quality birds was enhanced this week: a photo of a male Trumpeter Finch sent to the BirdTrack team followed Oxfordshire's Oriental Turtle Dove and the much-debated Rock Bunting in North Yorkshire. This latest find was photographed at Morte Point (Devon) on 2nd and may have been the Lundy bird relocating, but sadly it couldn't be refound.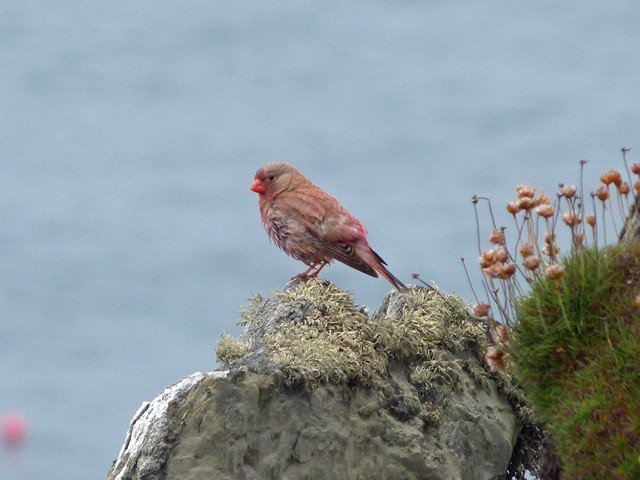 Trumpeter Finch, Morte Point, Devon (Photo: Derek Stacey)
Although currently only considered a race, one of the most notable birds of the week was a drake American Eider of the race dresseri, at Doagh (Donegal) on 8th. This remains an exceptionally rare bird and it's interesting to speculate whether this is the same bird as in nearby Glassagh Bay at the start of 2010. Last but not least was a belated report of a Eurasian Scops Owl on Bryher (Scilly) on 2nd, though again nothing more came of this.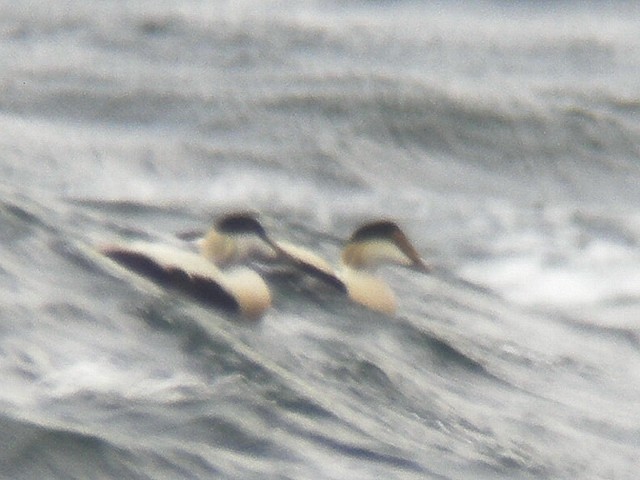 American Eider (race dresseri), Doagh Isle, Donegal (Photo: Ronan McLaughlin)
The long-staying Ross's Goose was again on Loch Leven (Perth & Kinross) on 3rd–8th and also of note was a Taiga Bean Goose on North Ronaldsay (Orkney) on 2nd–5th, the first summer record for the island.
Few other wildfowl of note were reported, with just one Ring-necked Duck remaining, a drake at Ham Wall (Somerset) to 5th, and just one American Wigeon, a drake new in at Loch of Strathbeg (Aberdeenshire) on 2nd–8th. On the sea, drake Surf Scoters remained off Musselburgh (Lothian) all week and off Blackhall Rocks (Durham) to 5th, with another drake off Murcar Golf Course (Aberdeenshire) on 5th and two drakes there on 8th. Also in Scotland, the drake King Eider remained all week on the Ythan estuary (Aberdeenshire).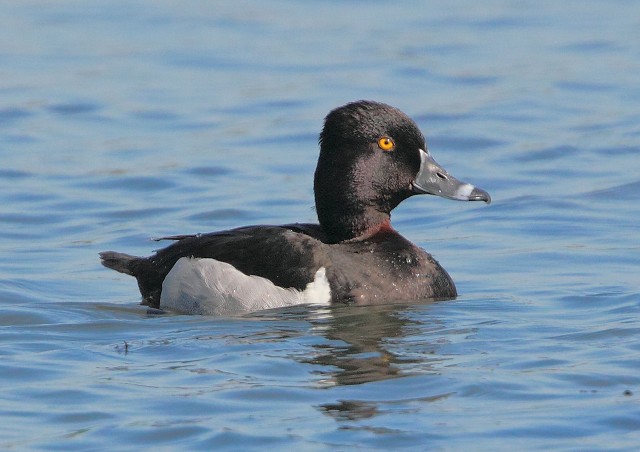 Ring-necked Duck, Ham Wall RSPB, Somerset & Bristol (Photo: Ian Seward)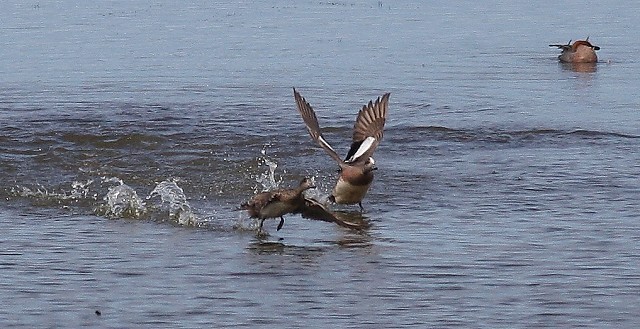 American Wigeon, Loch of Strathbeg RSPB, Aberdeenshire (Photo: Joseph Nichols (aged 16))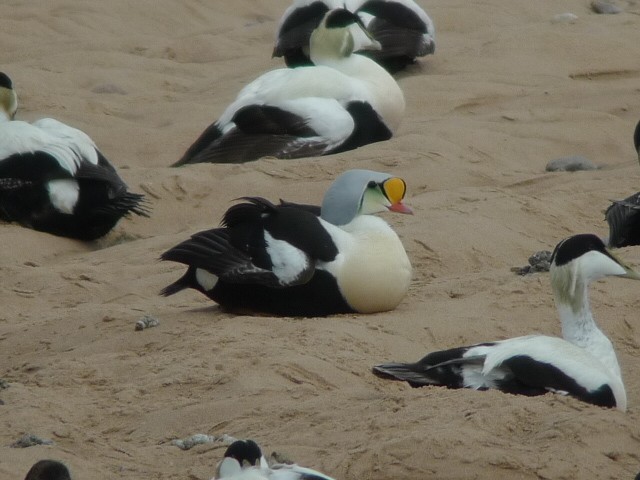 King Eider, Newburgh, Aberdeenshire (Photo: J Dexter)
Other pelagic highlights included a summer-plumaged White-billed Diver at Evie (Orkney) on 7th, the first Wilson's Storm-petrel of the year from the Scilly pelagic on 6th, three Balearic Shearwaters past La Coupe (Jersey) on 6th and two past Portland (Dorset) on 2nd, where there was also one (or perhaps two) very early Sooty Shearwaters on 8th. A rather disoriented adult Gannet was seen over Empingham (Leics) on 8th.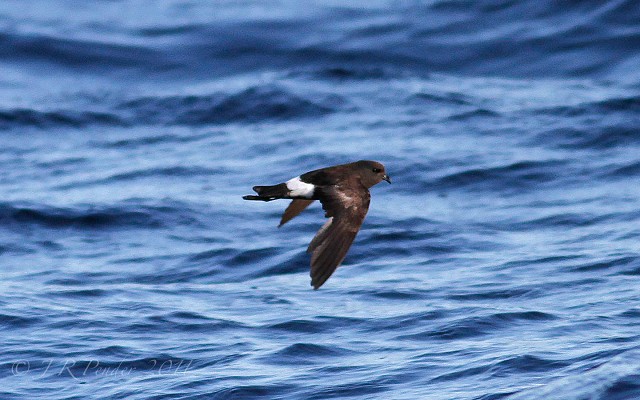 Wilson's Storm-petrel, Scilly pelagic, Isles of Scilly (Photo: Joe Pender)
The Purple Heron remained at Minsmere (Suffolk) all week, and another was at Sutton Bingham Reservoir (Somerset) on 8th. The week saw the return of the Night Heron at Tacumshin (Wexford) on 3rd–4th, and another, or the same, adult was at Ballycarney (Wexford) on 5th. Single Great White Egrets were reported from five locations this week: Dungeness (Kent), Gayton Sands (Cheshire), Leighton Moss (Lancs), Bassenthwaite Lake (Cumbria) and Loch of Kinnordy (Angus & Dundee) on 5th–7th. Of more interest in Scotland, though, was Shetland's first Squacco Heron, present at Urafirth on 6th–7th.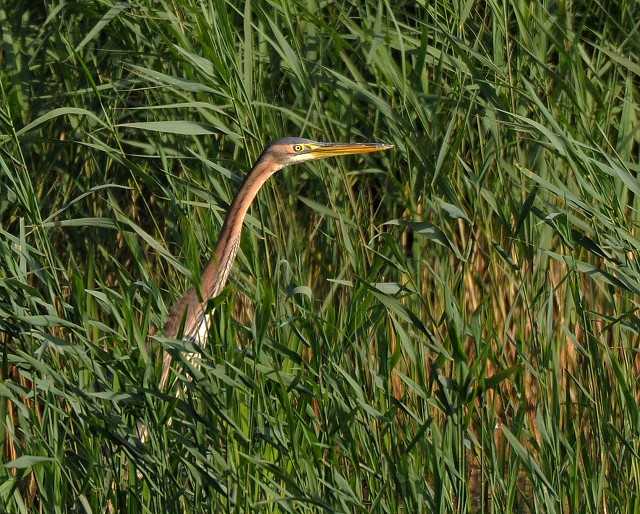 Purple Heron, Minsmere RSPB, Suffolk (Photo: Jon Evans)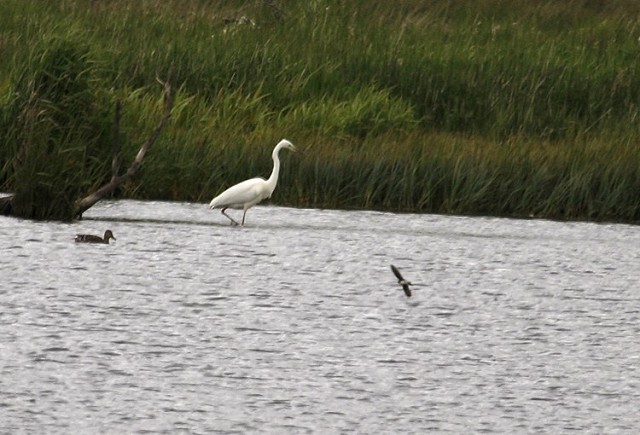 Great White Egret, Loch of Kinnordy RSPB, Angus & Dundee (Photo: Harry Spence)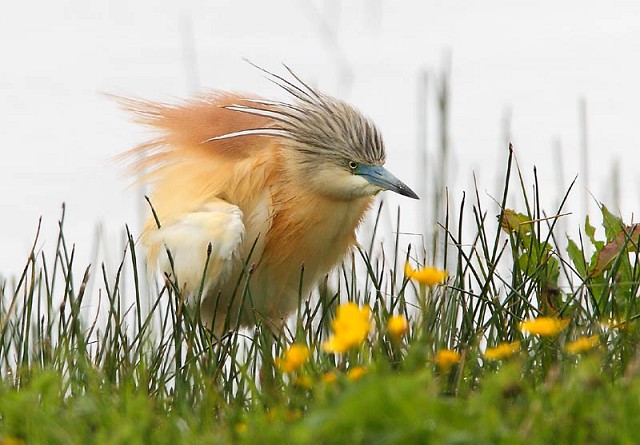 Squacco Heron, Urafirth, Mainland, Shetland (Photo: James Wood)
Spoonbills were again widespread, with birds as far north as Kinneil Lagoon (Forth) on 4th and one remaining at Killongford (Waterford). Once again, most were singletons, but four remained at Druridge Pools (Northumberland) and up to six were at Minsmere (Suffolk). The only storks this week were a Black Stork over Hythe (Kent) on 8th and two unconfirmed reports; of a White Stork near Spalding (Lincs) on 6th and an unidentified stork over Bedford on 2nd.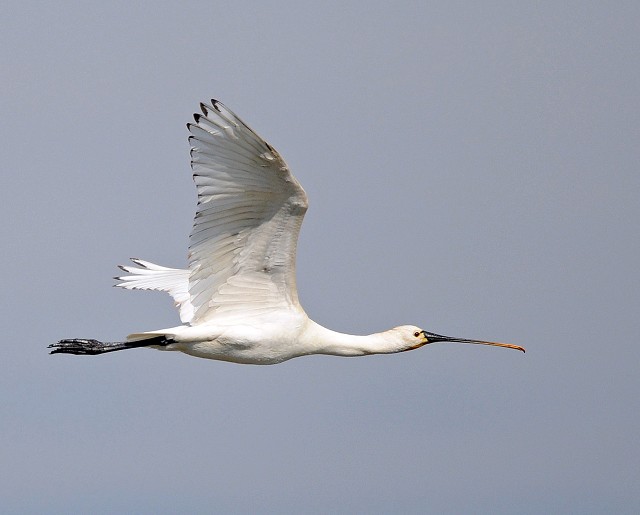 Spoonbill, Minsmere RSPB, Suffolk (Photo: Jon Evans)
Content continues after advertisements
Just one Rough-legged Buzzard was reported this week, on Islay (Argyll) on 3rd. However, the juvenile White-tailed Eagle in Lincolnshire was more predictable, staying put at Ruckland all week. The now annual mass arrival of Red Kites into the southwest was seen again this year, if slightly later than usual. The arrival started on 3rd, when 13 roosted in Kenidjack Valley (Cornwall), 23 were over Trefeiddan Marsh (Pembrokeshire) and 66 passed over Ramsey Island (Pembrokeshire). The next day saw a large increase in numbers, with birds seemingly concentrated in Cornwall. Records of singletons and small flocks came in from across the county, the peak day-count being 80 over Porthgwarra and Polgigga. Birds then seemed to filter northwards, with small flocks reported in Somerset and Gloucestershire. The orientation of these birds might suggest a Continental origin, but this speculation seems unfounded. These are thought to be non-breeding birds of British origin: several of the Cornish birds appeared to be wing-tagged, but only one was seen well enough to suggest that it was one of the Rutland birds, originally ringed in 2002. Accompanying the Cornish birds was a single Black Kite, over Polgigga on 4th; the only other report of this species was a probable at Minsmere (Suffolk) on the same date.
There were two new Red-footed Falcons this week, an immature female at Ledbury (Herefordshire) on 7th–8th (though possibly present for much longer before this), and a first-summer male that was briefly at Horsey (Norfolk) on 8th, before heading off north.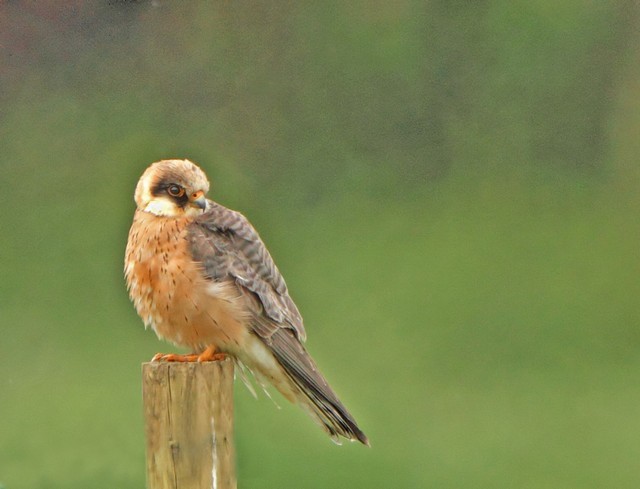 Red-footed Falcon, Ledbury, Herefordshire (Photo: Ron Jones)
The recent run of Nearctic waders continued with an American Golden Plover on Heir Island (Cork) on 2nd, a Buff-breasted Sandpiper at Kilcoole (Wicklow) on 8th and late news of the year's first White-rumped Sandpiper, on Fetlar (Shetland) on 31st May. There were then just four reports of Pectoral Sandpiper, including one remaining at Tacumshin (Wexford) to 2nd. Others were new in at Inner Marsh Farm (Cheshire) on 5th–7th, Loch of Tankerness (Orkney) on 5th and one reported late at Loch Stiapavat, Lewis (Outer Hebrides) from 1st. In Norfolk, the Broad-billed Sandpiper remained at Breydon Water to 3rd.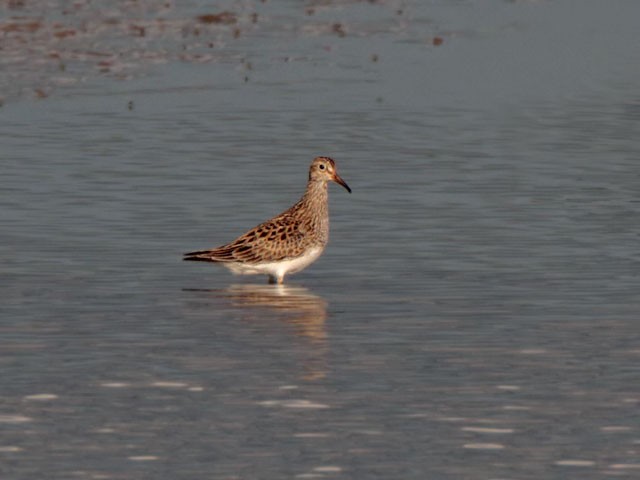 Pectoral Sandpiper, Inner Marsh Farm RSPB, Cheshire (Photo: Steve Round)

Broad-billed Sandpiper, Breydon Water RSPB, Norfolk (Photo: Julian Thomas)
The female Red-necked Phalarope remained at Upton Warren (Worcs) to 4th; other inland birds were at Kilvington (Notts) on 6th and on Blithfield Reservoir (Staffs) on the same date. The only other passage birds were two at sea off Skye (Highland) on 5th. A surprise mid-summer find was a summer-plumaged female Grey Phalarope at Titchfield Haven (Hants) briefly on 4th.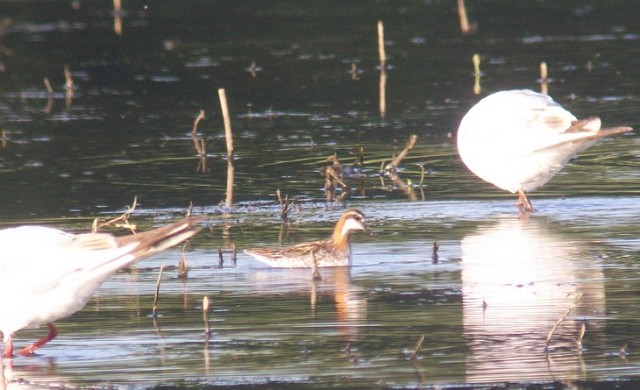 Red-necked Phalarope, Blithfield Reservoir, Staffordshire (Photo: Richard Powell)
There were just three Glaucous Gulls reported this week, all juveniles: the long-staying bird at Dungeness (Kent) to 5th, and others at North Boisdale, North Uist (Outer Hebrides) on 4th and Forfar Loch (Angus & Dundee) on 7th. There were seven Iceland Gulls, of which just two were juveniles, at Ardivachar Point, South Uist (Outer Hebrides) and Loch Calder (Highland). Most were in Scotland, with just one further south, a third-summer at North Shields and Holywell Pond (Northumberland) on 4th–5th. The first-summer Bonaparte's Gull was again reported from various sites along the Exe estuary (Devon) to at least 6th, and another was again at Borve, Lewis (Outer Hebrides) on 4th. Elsewhere, a new first-summer bird was at Loch of Strathbeg (Aberdeenshire) on 4th–6th. The only remaining Ring-billed Gulls were a first-summer at Achmelvich (Highland) on 6th and an adult at Crossmolina (Mayo) on 7th. At sea, the only Sabine's Gull was recorded between Skye and Harris (Outer Highland) on 3rd.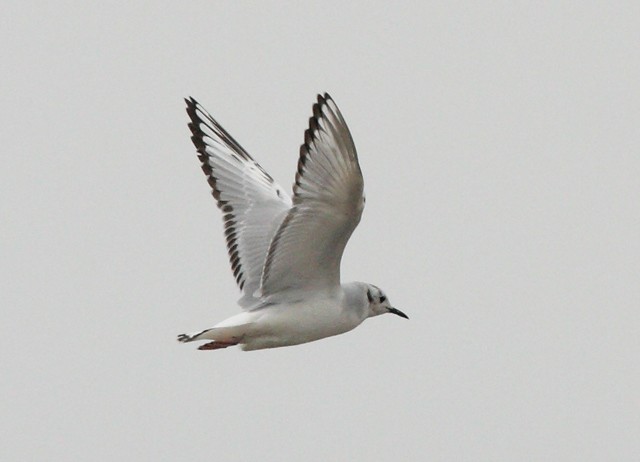 Bonaparte's Gull, Berrow, Somerset & Bristol (Photo: James Packer)
In Ireland, the regular Forster's Tern was again at Tacumshin (Wexford) to at least 6th, and a new adult White-winged Black Tern was at Louth Atedaun (Clare) on 5th. After last week's notable passage of Long-tailed Skuas, there were few records this week: singles were reported from several sites in Scotland and a there was single English record of two past Whitburn Coastal Park (Durham) on 5th, along with an impressive 1,251 Manx Shearwaters.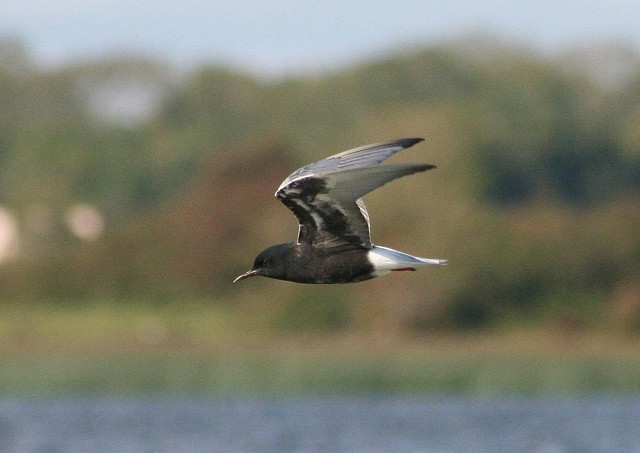 White-winged Black Tern, Lough Atedaun, Clare (Photo: Jeffcop)
With weather conditions not exactly ideal for drift migration, records of some scarce migrants were much reduced. There was a possible Pallid Swift at Newton Abbot (Devon) on 2nd. Bee-eaters were recorded as follows: singles at Portland (Dorset) and Eyeries (Cork) on 3rd, one at Dursey Island (Cork) and two at Cults (Aberdeenshire) on 4th, and one on St Mary's (Scilly) on 5th. There was also an unconfirmed report of one at High Hawkser (North Yorks) on 3rd. There were a few more Hoopoes than in previous weeks, though, with birds at Acres Down (Hants) on 2nd and at St Brelade (Jersey), Beetham (Cumbria) and South Kilworth (Leics) on 4th. The latter was the first twitchable bird in the county for many years and may have been the bird present in a garden at Whitwick on 27th–31st May, as reported in the Leicester Mercury.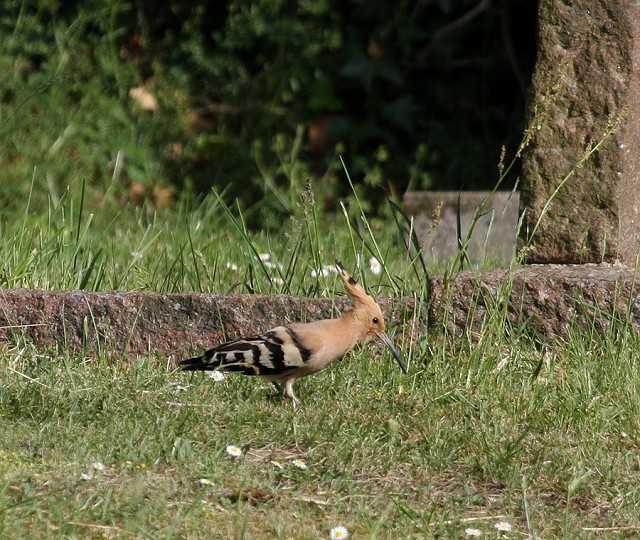 Hoopoe, South Kilworth, Leicestershire and Rutland (Photo: Kevin Groocock)
The only Tawny Pipit was a "possible" in flight on Fair Isle on 5th, and the only wagtail of note was a Channel Wagtail at Great Yarmouth (Norfolk) on 2nd. The singing male white-spotted Bluethroat remained at Welney (Norfolk) all week.
The start of the week saw Red-backed Shrikes at Baltasound, Unst (Shetland) to 3rd and a female at Conwy RSPB on 4th. The recent easterlies then brought several new birds to the east coast, including records from Buckton and Flamborough Head (East Yorks) on 5th, Seaton Carew and Saltholme (Cleveland) and Howden's Pullover (Lincs) on 6th. Further south, one was at Dungeness (Kent) on 7th. There were also just two Red-rumped Swallows, at Exmouth (Devon) on 4th and Ogston Reservoir (Derbys) on 7th.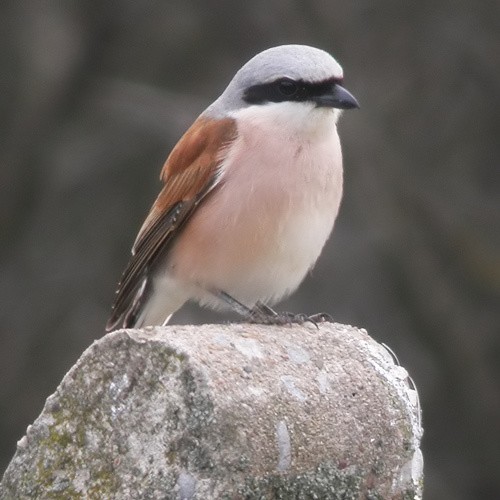 Red-backed Shrike, Seaton Carew, Cleveland (Photo: Darren Robson)
Yet another singing Savi's Warbler turned up this week, at Rutland Water on the evening of 6th, but it was barely twitchable and was unfortunately absent the next morning. This is the third at the site, following singing birds in 1988 and 2005. The easterly blow also brought a small arrival of interesting warblers to Bird Observatories: up to three Marsh Warblers and an Icterine Warbler were at Spurn over 4th–7th, Blyth's Reed Warblers were ringed at Hilbre Island (Cheshire) on 5th and North Ronaldsay (Orkney) on 7th, and a Marsh Warbler was at the latter site on 7th. Things quietened down a bit on Fair Isle, though: a Marsh Warbler was ringed on 6th and the male Eastern Subalpine Warbler remained to 6th. Warbler interest away from the Observatories was all in Shetland, namely a singing Great Reed Warbler at Vidlin (Shetland) on 7th and a male Eastern Subalpine Warbler at Kergord on 3rd–7th.
There were two records of Rose-coloured Starlings, one at Treen (Cornwall) on 2nd and an adult at Hunterston Sands (Ayrshire) on 5th. There were also several migrant Golden Orioles reported, mostly after 5th, including birds at Kilnsea (East Yorks), Alkborough Flats (Lincs) and Farley Mount Country Park (Hants) and a female ringed at Askernish, South Uist (Outer Hebrides) on 5th.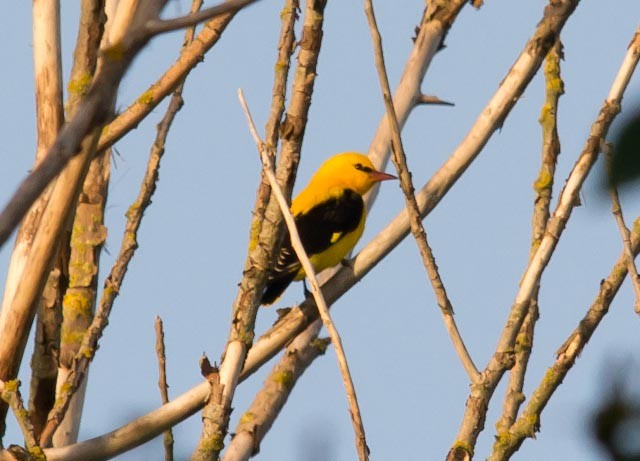 Golden Oriole, Lakenheath (Hockwold) Fen, Suffolk (Photo: Phil)
Perhaps surprisingly, there were rather few Common Rosefinches reported this week. The only bird in the east was one singing at Spurn (East Yorks) on 5th. Other singing males were at Cerrig-man (Anglesey) on 4th–8th and St Agnes (Scilly) and Scatness (Shetland) on 6th, and one at Lizard Point (Cornwall) on 6th was relocated on 8th. There were also 'brown birds' on Portland (Dorset) on 3rd and Dursey Island (Cork) on 4th.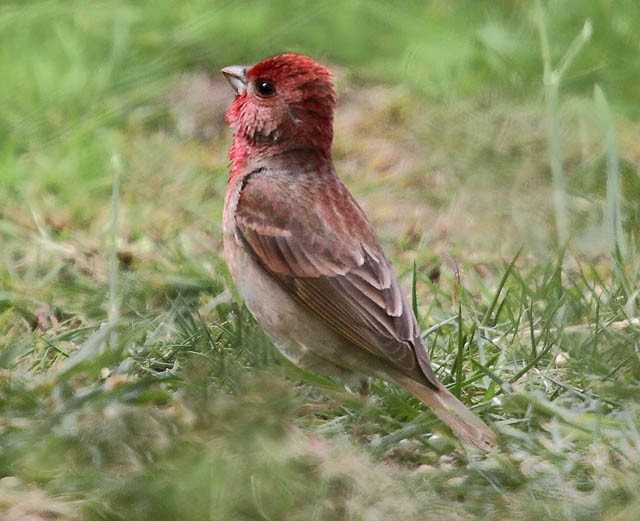 Common Rosefinch, Amlwch, Anglesey (Photo: Bob Garrett)
The male Black-headed Bunting continued to take advantage of a garden feeder at Mallaig (Highland) to 2nd, and the only Serin of the week was one ringed at Portland Bird Observatory (Dorset) on 4th. Also of note was a singing male Cirl Bunting on Jersey, the first island record for seven years of this once-resident species.
In a slight divergence from bird news, one of the migration spectacles of the week was an exceptional influx of Rannoch Looper moths to southern England, thought to have originated from Belgium. The night of 3rd saw 34 recorded, as far west as Cornwall, and more arrived on 4th, including 21 at Orlestone Forest (Kent). As the northeasterly winds increased, so the night of 6th saw the largest numbers, with as many as 159 across southern counties, including 57 at Sissinghurst Castle (Kent). Kent was certainly the focus of the arrival: there were up to 33 at one site on 7th.
Photo of the Week: 2nd–8th June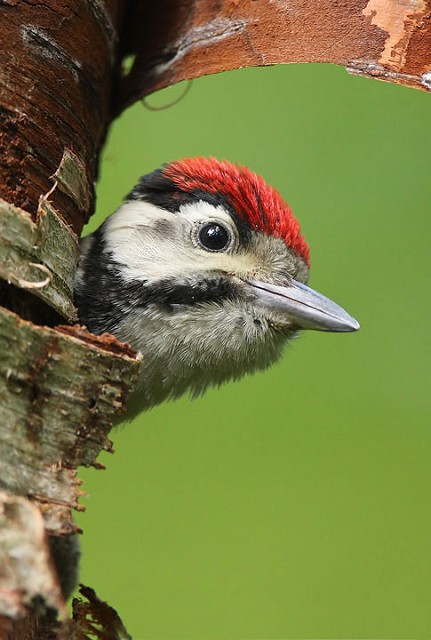 Great Spotted Woodpecker, undisclosed site, Nottinghamshire (Photo: John Dickenson)
John Dickenson is one of a very small group of people who have been uploading photos to BirdGuides continuously since 2003. With 500 uploads now to his name, including some nice Notables, it's great to finally be able to award John his first Photo of the Week. Looking back over John's uploads, you see the familiar pattern of early digiscoped record shots gradually transforming into better and better bird images. Although John's camera gear has improved over the years, what's really made the biggest difference to his photos is developing a 'eye' for an image. John obviously looks for simple, uncluttered compositions to keep the emphasis on his subjects, but then goes further by waiting for the bird to strike the right pose, making good use of body/head angles and eye contact to create engaging portraits. Budding photographers who struggle with the concept of 'engagement' would do well to study John's photo of a Great Spotted Woodpecker peering round a silver birch trunk. The photo has great colours and framing, but its main appeal lies in the way the bird is so obviously looking at the photographer, and hence at us as the viewers. The attentiveness is evident in the way the bird's neck is extended, its head cocked, its feathers raised and its eye fully opened and pointed towards us. These 'signals' convey a mood of curiosity rather than fear, suggesting the bird is as interested in us as we are in it. The more photographers are tuned in to these 'moments of connection' in the field, the more their images connect will with their viewers as a result.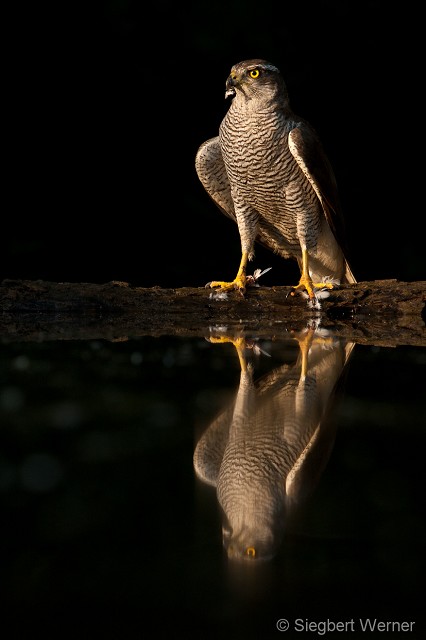 Goshawk, Hungary (Photo: Siegbert Werner)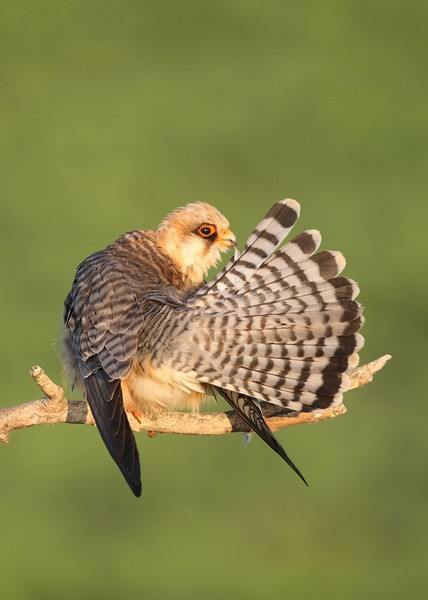 Red-footed Falcon, Hungary (Photo: Mick Southcott)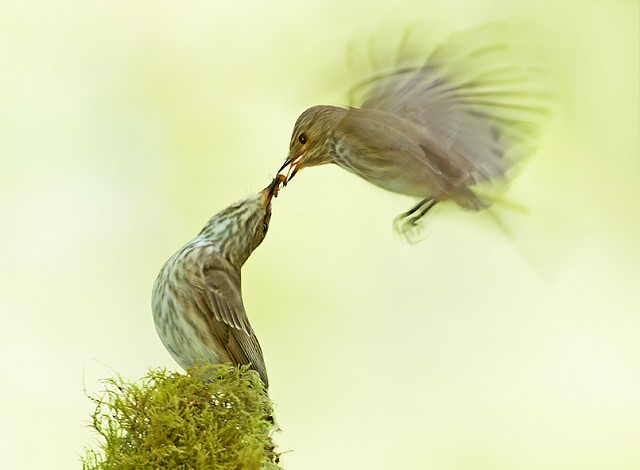 Spotted Flycatcher, undisclosed site, Shropshire (Photo: John Fielding)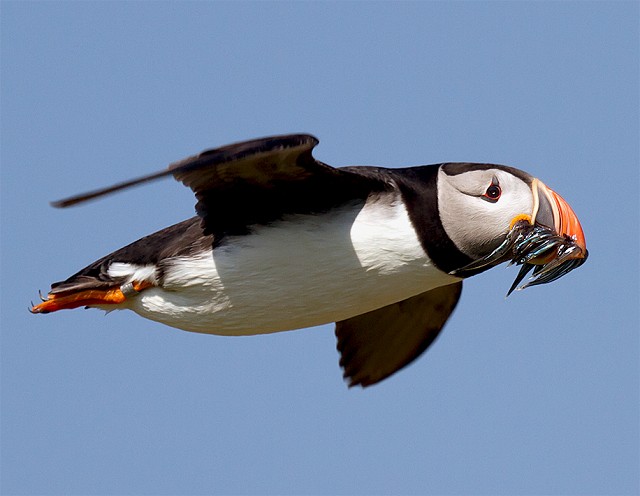 Puffin, Isle of May, Fife (Photo: Chas Moonie)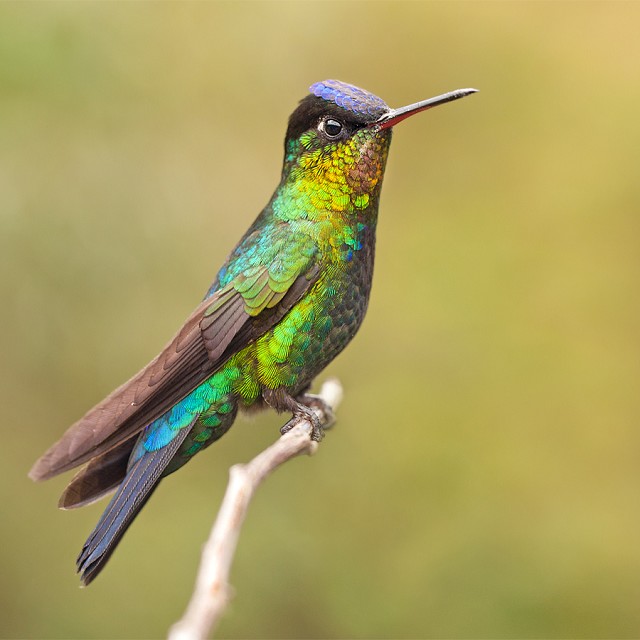 Fiery-throated Hummingbird, Costa Rica (Photo: Jamie MacArthur)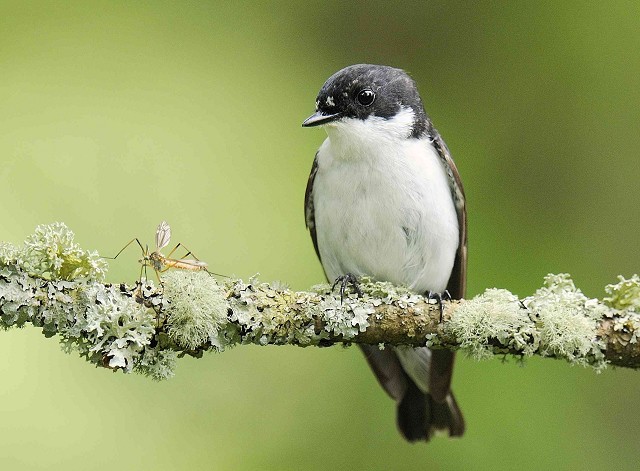 Pied Flycatcher, private site, Powys (Photo: Mick Colquhoun)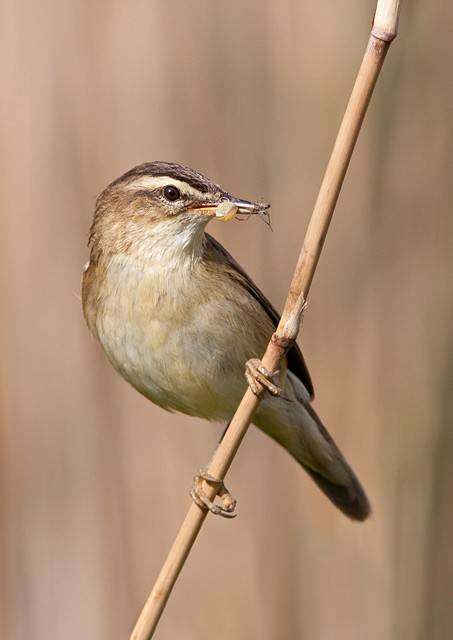 Sedge Warbler, East Tilbury, Essex (Photo: Lea Roberts)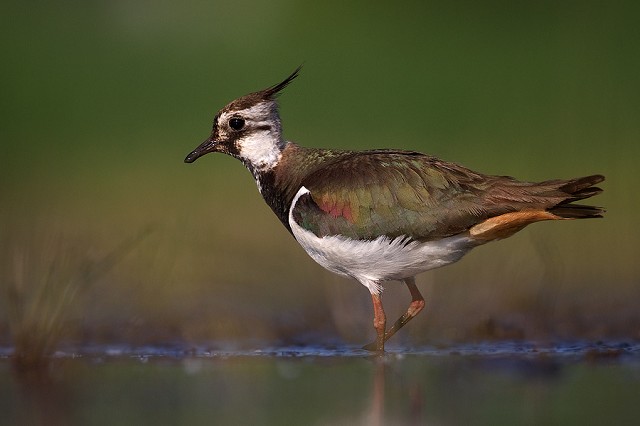 Lapwing, Czech Republic (Photo: Honza)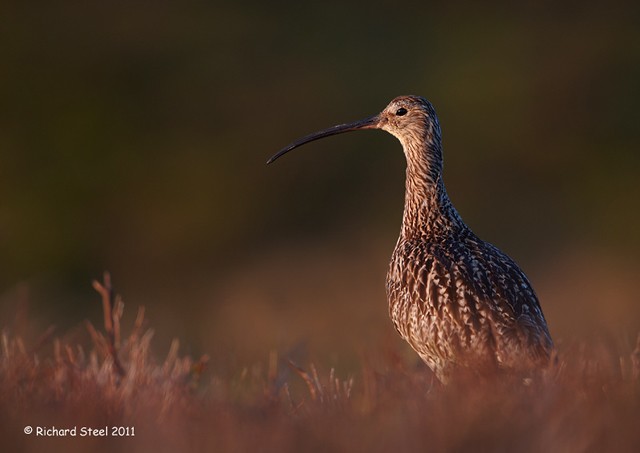 Curlew, undisclosed site, Clwyd (Photo: Richard Steel)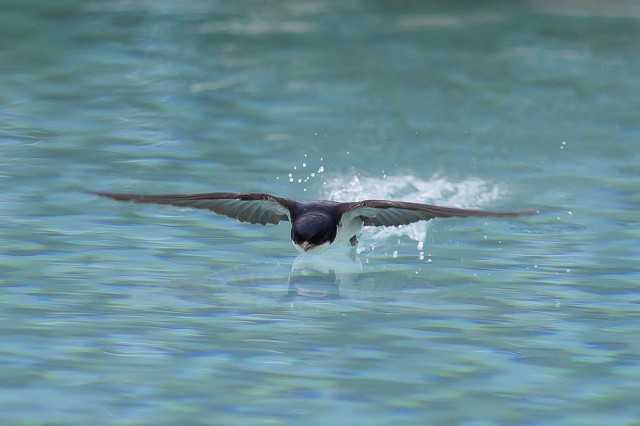 House Martin, Italy (Photo: Paolo Caretta)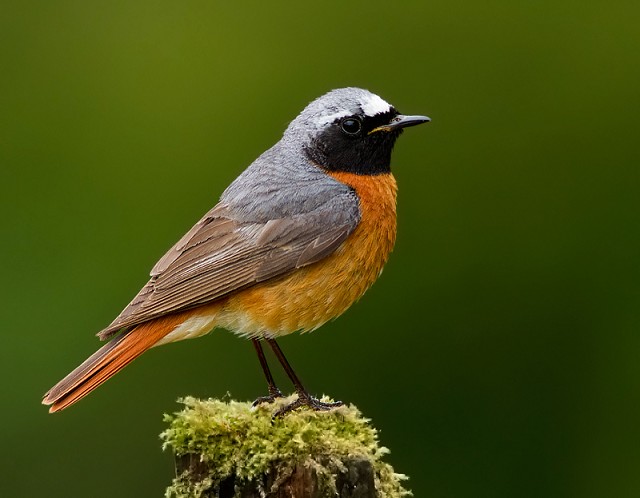 Common Redstart, undisclosed site, Worcestershire (Photo: Carl Day)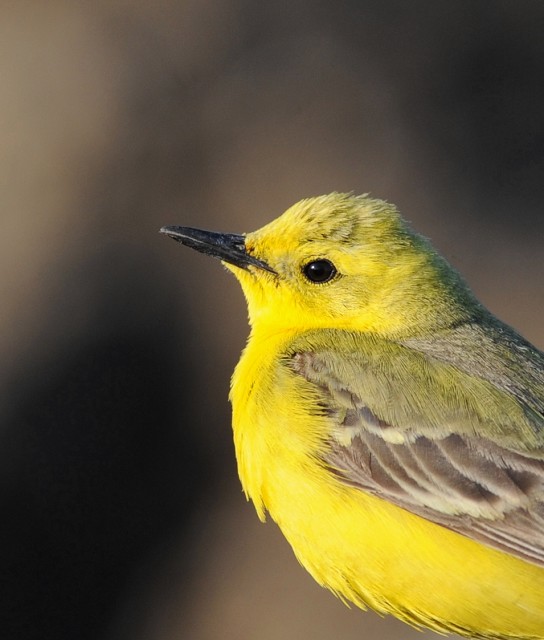 Yellow Wagtail, undisclosed site, Hertfordshire (Photo: Ben Andrew)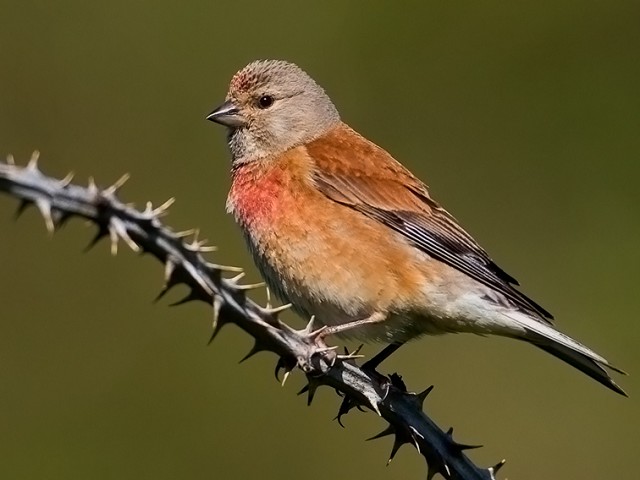 Linnet, undisclosed site, Pembrokeshire (Photo: Tom Melton)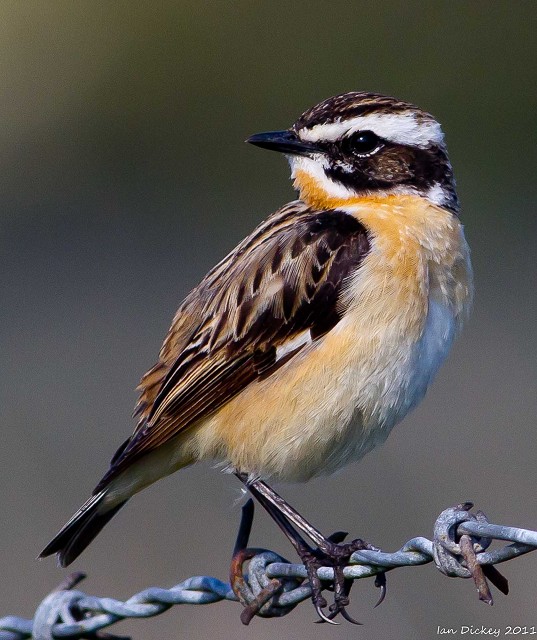 Whinchat, undisclosed site, Antrim (Photo: Ian Dickey)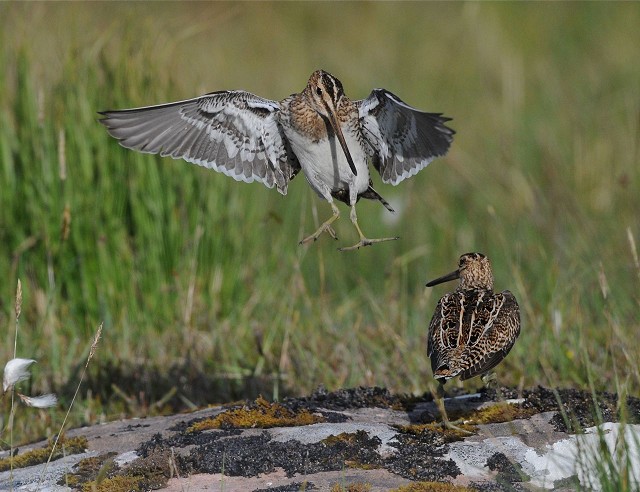 Common Snipe, Achnahaird, Highland (Photo: Roger Ridley)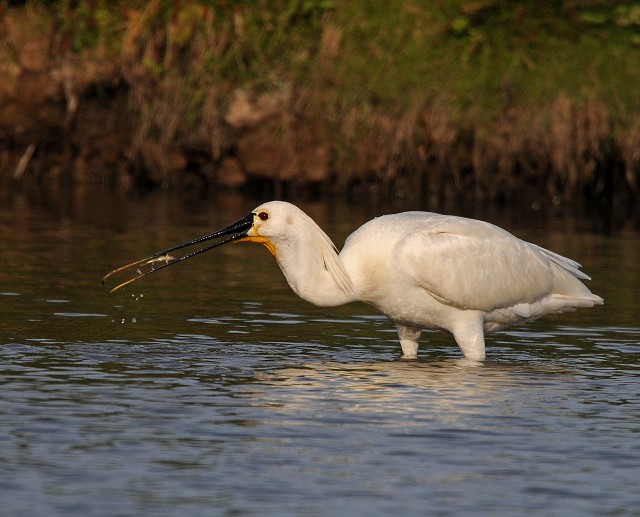 Spoonbill, Minsmere RSPB, Suffolk (Photo: Jon Evans)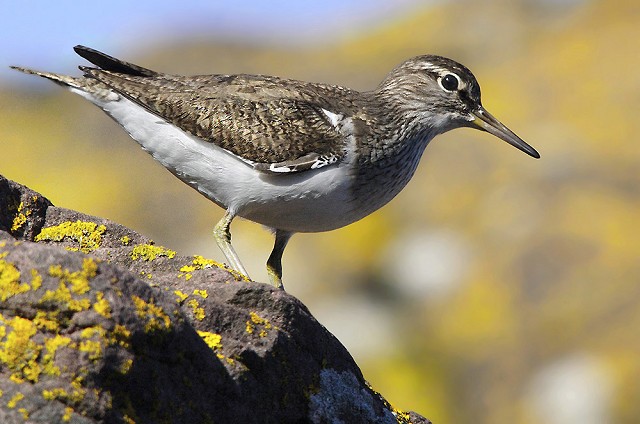 Common Sandpiper, Achinhoan, Argyll (Photo: Jimmy MacDonald)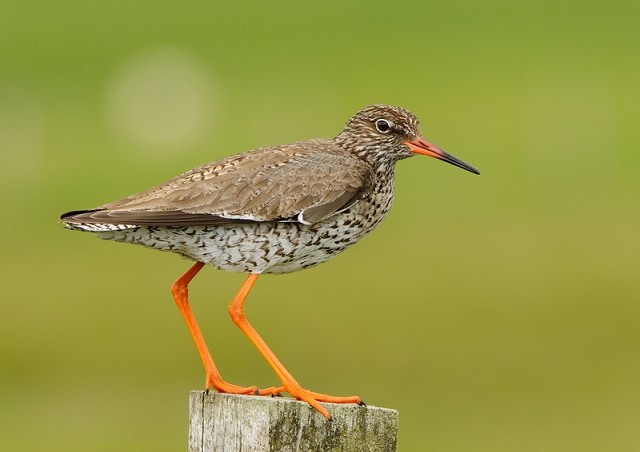 Common Redshank, Balranald RSPB, N.Uist, Outer Hebrides (Photo: Dave Perrett)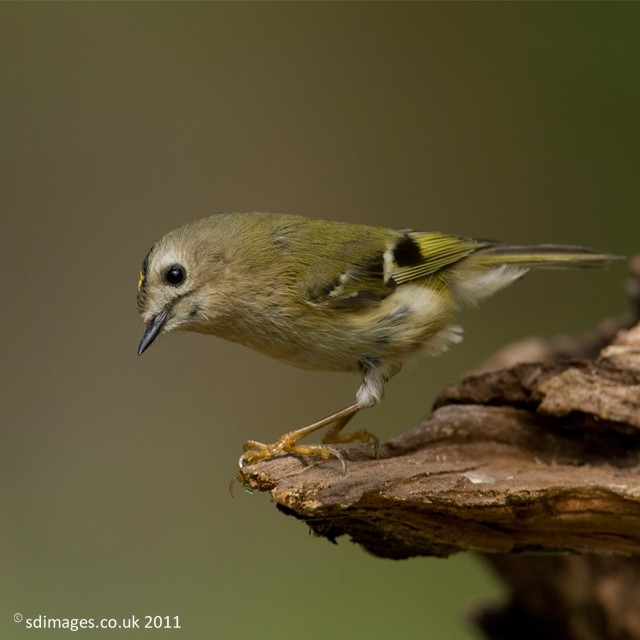 Goldcrest, undisclosed site, Cheshire (Photo: Steve Dolan)