The week at a glance
Another particularly quiet week was interjected by a sprinkling of great birds, not least the returning Swinhoe's Storm-petrel on Fair Isle which was retrapped during the early hours of Wednesday 9th. The bird was bearing the tell-tale ring which confirms it as last year's reliable 'second' Swinhoe's, present between 7th August and 3rd September (the first has not been recorded again).

Swinhoe's Storm-petrel, Fair Isle, Shetland (Photo: David Parnaby)
Having now been writing these round-ups for the best part of three years, it's therefore quite significant that compiling this week's proved comfortably the easiest job I've ever had. June, July and sometimes early August can be distinctly quiet affairs, but my notes for this week barely stretched beyond a single page! One bird that did figure heavily, however, was the North-East's Black-winged Pratincole, which became a first for Durham on Saturday when it spent the day at Hurworth Burn Reservoir. Lingering only until early the next morning, it was relocated back in Northumberland — at Holywell Pond — on Sunday evening and was seen again there briefly on Monday morning.
Content continues after advertisements

Black-winged Pratincole, Hurworth Burn Reservoir, Durham (Photo: David Aitken)

Black-winged Pratincole, Hurworth Burn Reservoir, Durham (Photo: Martyn Sidwell)
Though it is still early, decent seawatching has been effectively non-existent so far this summer. A couple of exceptions came this week, most notably in the form of a Black-browed Albatross that was seen distantly heading east past Portland Bill (Dorset) early morning on 5th. It was later seen from a boat off Durlston Country Park, in the same county, and then possibles were reported from Worthing (W Sussex) and Dungeness (Kent), though never confirmed. It is reasonably safe to assume that this must be the recent German bird, which has not been seen on Heligoland since mid-June, wandering around — no doubt many still live in hope that it may find one of our own Gannet colonies alluring as it meanders about north-west Europe. The first Cory's Shearwater of the year passed Galley Head (Cork) on 4th, and there was late news of a Wilson's Storm-petrel at sea off the same site on 29th June.
Lingering highlights involved the Bridled Tern, which was still making intermittent visits to the Farne Islands until at least 8th. The Short-toed Eagle was last seen at Pig Bush (Hants) on 2nd, but then relocated not far away at Beaulieu Road Station on 5th. The Lesser Grey Shrike continues to muck about on Unst, lingering at Baltasound until 7th. Not far away, a Marsh Warbler was at Haroldswick on 7th and two remained on Fair Isle to at least 5th. The only Rose-coloured Starling to remain was the Burnley (Lancs) bird to 5th; other notables were a Hoopoe in Wareham (Dorset) on Saturday and a Serin over Beachy Head, in the direction of Eastbourne (E Sussex), on 7th.

Bridled Tern, Farne Islands, Northumberland (Photo: Paul Hackett)

Bridled Tern, Farne Islands, Northumberland (Photo: Gary Spicer)

Rose-coloured Starling, Burnley, Lancashire (Photo: Jon Worthington)
Further evidence that the Somerset Levels may be about to add another species to their already impressive list of breeding herons came this week, with three adult Night Herons again seen over Ham Wall at dusk on 3rd and two again on 8th — this follows three records of single birds during June. Also reappearing this week was the Gloucestershire individual, again frequenting the lake in Pittville Park, Cheltenham, from 6th (it was last seen there on 13 June). An early juvenile Purple Heron was reported at Blashford Lakes (Hants) on 4th and the ever-present Cattle Egret was still near Hillsborough (Down).

Night Heron, Cheltenham, Gloucestershire (Photo: Mike Trew)
A Temminck's Stint off Merrion Gates at Sandymount Strand (Dublin) on 5th is the first Irish record since a similar occurrence on the nearby Rogerstown Estuary back on 3 July 2009; meanwhile, the Northumberland bird remained at Derwent Reservoir until 3rd. A fine Spotted Sandpiper was one of the better finds of the week, but it spent only one evening on the banks of the Clyde adjacent to Baron's Haugh RSPB on 6th. Pectoral Sandpipers were new in at Cley (Norfolk) from 3rd and at St Peter's Pool (Orkney) on 7th, in addition to the remaining Unst bird at Haroldswick; the Grey Phalarope also remained on North Ronaldsay (Orkney) and two adult Black-winged Stilts, with their one remaining youngster, were still at Medmerry (W Sussex).

Spotted Sandpiper, Baron's Haugh RSPB, Clyde (Photo: D Abraham)

Pectoral Sandpiper, Haroldswick, Unst, Shetland (Photo: Mike Pennington)
The returning Laughing Gull was still at Ballycotton (Cork) on 5th and the long-staying Ross's Gull remained at Bowling Green Marsh (Devon) all week. An eclipse drake Blue-winged Teal was briefly at Idle Valley (Notts), while the Lesser Scaup continued at Blagdon Lake (Somerset). The presumed escape Black Kite loitered near Wrentham (Suffolk).
News from the wider Western Palearctic was hard to come by, although the occurrence of a Pied Crow in Ceuta, a Spanish outpost on the Moroccan coastline, was notable — whether ship-assisted or not.
Photo of the Week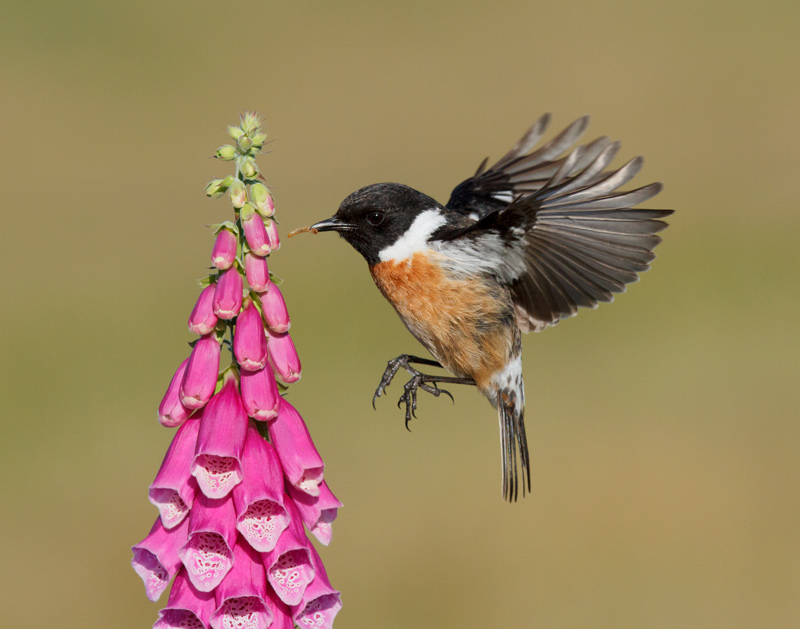 Stonechat, Wayoh Reservoir, Lancashire (Photo: John Barlow)
Steve Young comments: "When I first saw this image I just thought 'what a lovely shot' and it is just that! John Barlow has captured a splendid photograph of a very photogenic species — it's sharp, beautifully-lit and set to a great background. What makes it, though, is the colourful foxglove which really adds to the overall impression of the image. Take the flower away and a lot of the impact would be lost — despite the skill involved in taking a flight shot of a Stonechat catching a caterpillar! Congratulations to John on his fourth Photo of the Week."
Other notable images

Puffin, Skomer, Pembrokeshire (Photo: Craig Richardson)

Puffin, Farne Islands, Northumberland (Photo: Ivan Ellison)

Arctic Tern, Isle of May, Fife (Photo: John Anderson)

Swallow, Holy Island, Northumberland (Photo: Mr Clive Daelman)

Treecreeper, Nunnery Lakes Reserve, Norfolk (Photo: David Lord)

Red-necked Phalarope, Iceland (Photo: Mick Southcott)

White-faced Storm-petrel, Madeira (Photo: John Fraser)

Bulwer's Petrel, Madeira (Photo: John Fraser)

Red Grouse, undisclosed site, Highland (Photo: Dennis Morrison)