The week at a glance
On paper, the first week of April didn't actually look too bad — there may not have been any big arrivals of migrants (common or scarce), but there were a handful of decent rarities on show to get most through another relatively unremarkable seven days. After the sometimes balmy conditions of March, the weather returned to a somewhat more seasonable mixed bag of sunshine and showers, and cooler temperatures. As already mentioned, common migrants didn't really arrive with any sort of bang — rather, they simply continued to filter in in low-key fashion, with traditional stop-over sites beginning to report passage Ring Ouzels, Common Redstarts and Ospreys in addition to the commoner species. There was even an early Common Swift report from Edinburgh on 8th.
Rarities were headed by a fine one-day Great Spotted Cuckoo between Branscombe and Beer Head (Devon) on 4th; despite overnight fog, there was no sign of it the following morning. Considering there had been no records since 2009 this, the third individual of this spring after birds in Pembrokeshire and on Jersey, is particularly noteworthy. Incidentally, it represents the first Devon record since a bird at Dawlish Warren in late February 1998, and is only the fourth county record.

Great Spotted Cuckoo, Beer, Devon (Photo: Ian Seward)

Great Spotted Cuckoo, Beer, Devon (Photo: Dave Helliar)

Great Spotted Cuckoo, St Ouen's Pond, Jersey (Photo: Mick Dryden)
More surprising was the sudden reappearance of Scilly's Sora, again to be found creeping among the boggy areas of Lower Moors, St Mary's, daily between 3rd and 7th. This is the first time that it has strung together appearances on more than two consecutive days since its initial appearance over 170 days ago in October 2013. It was last seen in early February. Also potentially reappearing was a (the?) Pacific Diver off Tawin, in Galway Bay. Given how frequently elusive and unpredictable the Cornish bird could be, it seems plausible that this might be the bird last seen off Finvarra Point (Clare) in February 2011 but seen off the exact same spot at near Tawin in January 2009. Galway Bay is a huge, scantily watched expanse of water, and there are plenty of places for a diver to hide for long, long periods.
Last week's Baikal Teal was still at Fen Drayton Lakes (Cambs) to 4th, before relocating to Sutton Gault on the Ouse Washes for a day on 5th and then disappearing. The American Wigeon was also in the area at Pymoor to 3rd, while the female Ring-necked Duck was also still knocking about on the Washes through the week. In neighbouring Northamptonshire, the drake Blue-winged Teal was reported briefly from floods at Irthlingborough on 3rd. Green-winged Teals included new birds at Red Rocks and Meols (Cheshire) on 4th and Blashford Lakes (Hants) from 6th; others remained in Glamorgan, Warwickshire, Dumfries & Galloway and on Islay. A drake Ring-necked Duck showed well for a day at Newton Lake (Lancs) on 7th, with the drake still on Shetland and a female at Langais, North Uist, was presumably the Balranald bird relocating. Big news for Northumberland concerned the county's first Ferruginous Duck since a one-day wonder in 2004: a fine drake was at Gosforth Park from 6th onwards. The female was also seen again at Dagenham Chase (London) on 2nd. Meanwhile, the American Coot was still at Loch Flemington (Highland) to at least 7th.

Ring-necked Duck, Newton Lake, Lancashire (Photo: John Tymon)

Ferruginous Duck, Gosforth Park NR (members only), Northumberland (Photo: David Boorman)

Ferruginous Duck, Gosforth Park NR (members only), Northumberland (Photo: Jonathan Farooqi (Age 13))

American Coot, Loch Flemington, Highland (Photo: Mike Thrower)
After spending a few days in Dorset, the Red-breasted Goose migrated east on 3rd, leaving Stanpit Marsh and tracking past Selsey Bill (W Sussex) and then Splash Point and Birling Gap (E Sussex) with a party of Dark-bellied Brents; this was part of a wider movement of the carrier species, with 3,000+ past Dungeness (Kent) the following morning. The only Black Brant was a bird at Levington Creek (Suffolk), but the Grey-bellied Brant was seen again in Dundrum Bay (Down) on 6th (it was last seen on 3rd December 2013) and the Todd's Canada Goose remained at Lurgan Green (Louth). Snow Geese were more numerous, with twos still at Braehead (Clyde) and Tayinloan (Argyll) in addition to birds at Rattray Head (Aberdeenshire) and Evie (Orkney).

Red-breasted Goose, Splash Point, East Sussex (Photo: Matthew Eade)
The Pied-billed Grebe extended its stay yet further on North Uist, present there until at least 7th, while a number of Red-necked Grebes included a popular, showy summer-plumaged bird at Farmoor Reservoir (Oxon) from 5th — a rather scarce sight in Britain these days. The tally of White-billed Divers in north Aberdeenshire swelled further, with an impressive 14 seen from a trip aboard MV Gemini Explorer on Sunday 6th. Another lingered off Burghead (Moray/Nairn) on 2nd–6th, and a further individual was off Handa Island (Highland) on 5th. A drake King Eider was again off Burghead on 2nd and the drake was still off Uyeasound, Unst (Shetland) on 5th; a female was reported at Loch Erribol (Highland) on 3rd, with others still in Fife and County Mayo.

Red-necked Grebe, Farmoor Reservoir, Oxfordshire (Photo: Roger Wyatt)

White-billed Diver, Portsoy, Aberdeenshire (Photo: Ian Broadbent)

White-billed Diver, Portsoy, Aberdeenshire (Photo: Tim Marshall)
A Cattle Egret at Connor Downs (Cornwall) was the only record of the week apart from the long-staying bird at Steeple Claydon (Bucks), while a Purple Heron at Millbrook (Cornwall) on 2nd–3rd was notable. Great White Egrets remain relatively widespread in small numbers. Glossy Ibis were still in Kent, Nottinghamshire (2), West Midlands, and Counties Cork, Limerick, Sligo (2) and Antrim, with 'new' birds in East Sussex, Warwickshire, Leicestershire and on the Isle of Wight.
Rare gull action was limited to the Cardiff Bay Bonaparte's, still present on 3rd. An adult Ring-billed Gull was at Drift Reservoir (Cornwall) on 8th, while in Ireland first-winters were in Cork City and at Black Rock Strand (Kerry), and adults remained at Timoleague and Cuskinny Marsh (both Cork). Small numbers of Arctic Terns were reported from more southerly areas, and the first Little Terns of 2014 were recorded in Devon and Hampshire on 6th.

Bonaparte's Gull, Cardiff Bay, Glamorgan (Photo: Jim Almond)
Hoopoes were again the only scarce migrants that appeared in reasonable numbers: 13 were recorded, with most new birds in southern counties. Birds were recorded in Cornwall, Devon (3), Dorset, East Sussex and Kent. Further north, birds appeared in private gardens in Nocton (Lincs) on 3rd and Sandhurst (Glos) on 6th–8th, while Dumfries & Galloway produced two birds: the long-stayer still at Leswalt and another in Monreith from 5th. In Ireland, one was at Mizen Head (Cork) on 2nd–3rd and another was in Wicklow town on 5th. Just a single Wryneck was found, in the Spurn/Kilnsea area on 4th (when it was trapped and ringed) and 5th. An early Bee-eater was heard over Angmering (W Sussex) on 8th, while three Red-rumped Swallows included two in East Yorkshire — at Flamborough Head and Easington/Spurn on 5th — and a third in Dorset, which lingered at Lodmoor on 5th–8th. Norfolk's Richard's Pipit was again at Gramborough Hill on 5th, and the Red-flanked Bluetail was seen again on Fair Isle the same day.

Hoopoe, Monreith, Dumfries & Galloway (Photo: Dorothy Davey)

Red-rumped Swallow, Lodmoor RSPB, Dorset (Photo: Brendan Sheils)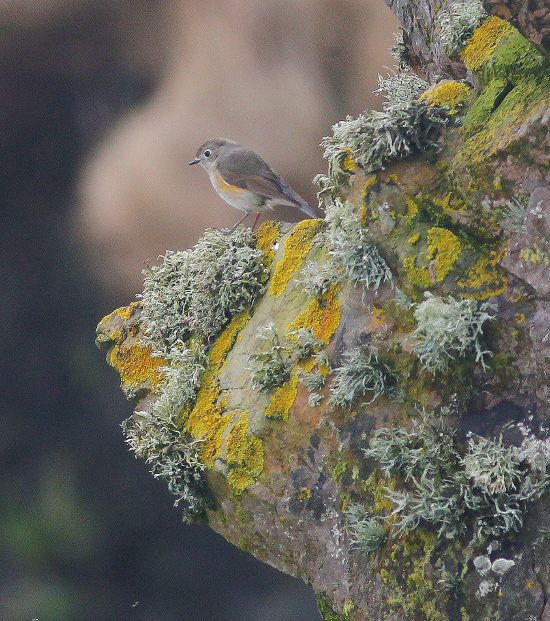 Red-flanked Bluetail, Fair Isle, Shetland (Photo: Mark Rayment)
Long-stayers included the presumed Siberian Lesser Whitethroat present for its 80th day in Sheffield (S Yorks) on 3rd. The Hume's Leaf Warbler remained at Dungeness (Kent) all week, and wintering Yellow-browed Warblers were still at Studland (Dorset), and Gwennap and Ponsanooth (Cornwall). In Suffolk, Oulton Marshes' Dusky Warbler also stuck around for another week.
A smart Coues's Arctic Redpoll was a good find at Waters' Edge Country Park (Lincs) on 6th–7th, while a Serin in a garden in Trimingham (Norfolk) was found to be sporting a white closed ring, which confirms it as a surprise escapee. Three Two-barred Crossbills continued around Lynford Arboretum (Norfolk) throughout, two were still at Broomhead Reservoir (S Yorks) early on, one was again in Wyre Forest (Shropshire), and males were still in Hemsted Forest (Kent) on 5th and at Dove Stone (Gtr Man) on 7th.

Coues' Arctic Redpoll, Waters' Edge CP, Lincolnshire (Photo: Richard Dawkins)

Two-barred Crossbill, Lynford Arboretum, Norfolk (Photo: Keith Bilverstone)
Photo of the Week

Ring Ouzel, Bollihope Common, Durham (Photo: Derek Bilton)
At this time of year, Ring Ouzels can be seen passing through much of the UK on their way to their upland breeding grounds. To the layman, these birds look just like Blackbirds and so photos of this species don't tend to impress the uninitiated. Birders, on the other hand, appreciate not only the plumage and other physical differences, but also the difficulty of getting a decent shot of such an uncommon and wary species. Whereas a Blackbird will happily feed within feet of boisterous humans, Ring Ouzels are more likely to disappear over the horizon at the first sight of even the stealthiest of birders. Heading up to the moors of North-east England, Derek Bilton managed to bag his 'bogey bird' in style when he located three male birds and managed some stunning close-ups (see his website), apparently with the help of a throw-over hide. A clean portrait with classic pose, well-captured highlight and shadow details and a natural perch that neatly mirrors the curves of the bird give Derek a well deserved first Photo of the Week.
Other notable images

Tawny Owl, Cosby, Leicestershire and Rutland (Photo: Paul Riddle)

Dipper, undisclosed site, Shropshire (Photo: John Fielding)

Painted Snipe, Gambia (Photo: Charlie Fleming)

Great Crested Grebe, undisclosed site, Shropshire (Photo: Paul Burgess)

Linnet, Bawdsey, Suffolk (Photo: John Richardson)

Siskin, Llandrindod Wells, Powys (Photo: Kev Joynes)

Goldcrest, undisclosed site, Warwickshire (Photo: Tom Melton)