The week at a glance
Though there have been exceptions, March has been a largely pleasant month and the glorious weather continued into the first weekend of April, with many areas experiencing conditions more akin to early summer than early spring from Saturday to Monday.
Migration seems to be in full flow now and, if anything, the weather has been rather too nice for any major falls. Clear skies and southerly winds encourage migrating birds to keep doing just that and it was no surprise to hear that many species were back on territory days, or even weeks, earlier than in 2016 (Pied Flycatchers in mid-Wales being an obvious example).
The first Common Redstarts also came in this week, with good numbers already present in the southern half of England and Wales in the first few days of April. There were also several early reports of Common Swifts, while the first Garden and Grasshopper Warblers were noted back in song by the end of the seven days. Other species much more conspicuous this week than last were Ring Ouzel, Yellow Wagtail and Tree Pipit, while Reed and Sedge Warblers seem quite widespread already — quite impressive for the opening days of April. The first Common Cuckoo of the season was reported at Knepp Mill Pond, W Sussex, on 30th, with another in the county at Iping Common on 3rd and a third bird singing at Berry Head, Devon, on 2nd.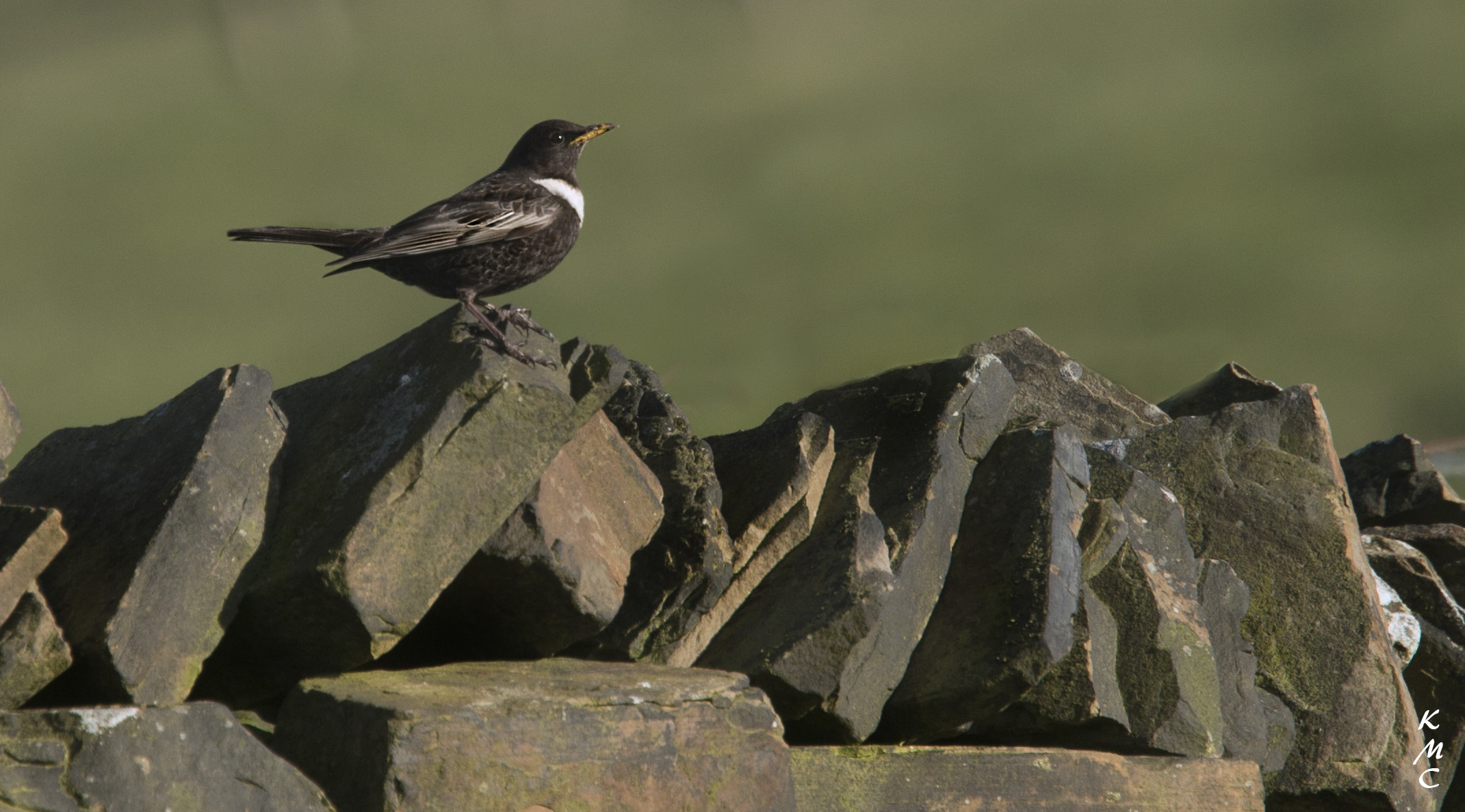 Ring Ouzel, Accrington, Lancashire (Photo: Kev Mac)
The first Red-rumped Swallow of the year arrived at Newport Wetlands, Gwent, on 30th but quickly moved on. Two more followed on St Mary's, Scilly, on 31st, with another flying through Spurn, E Yorks, and a fourth briefly at Himley Hall, Staffs. Though reported from five different sites, it seems likely that just two Alpine Swifts were seen this week: a bird over Hartlepool Headland, Cleveland, then Crimdon and Sunderland, Durham, on 30th, and a second over Bolt Head and Thurlestone, Devon, on 1st.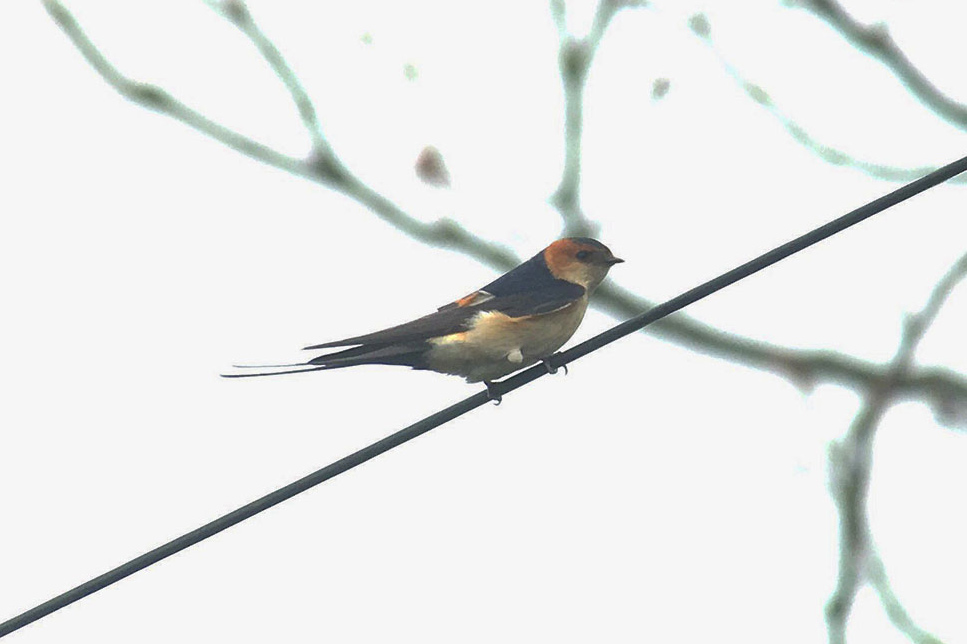 Red-rumped Swallow, Newport Wetlands, Gwent (Photo: Darryl Spittle)
A couple of Woodchat Shrikes also arrived this week, both in Cornwall. One was in the Nanquidno/Cot Valley area on 2–3rd, while a female showed well at Kynance Cove from 1–4th at least. Five Hoopoes were seen, including three in Cornwall; the others were at Haverfordwest, Pembrokeshire, on 30th, Mothecombe, Devon, on 31st and Trull, Somerset, on 1st.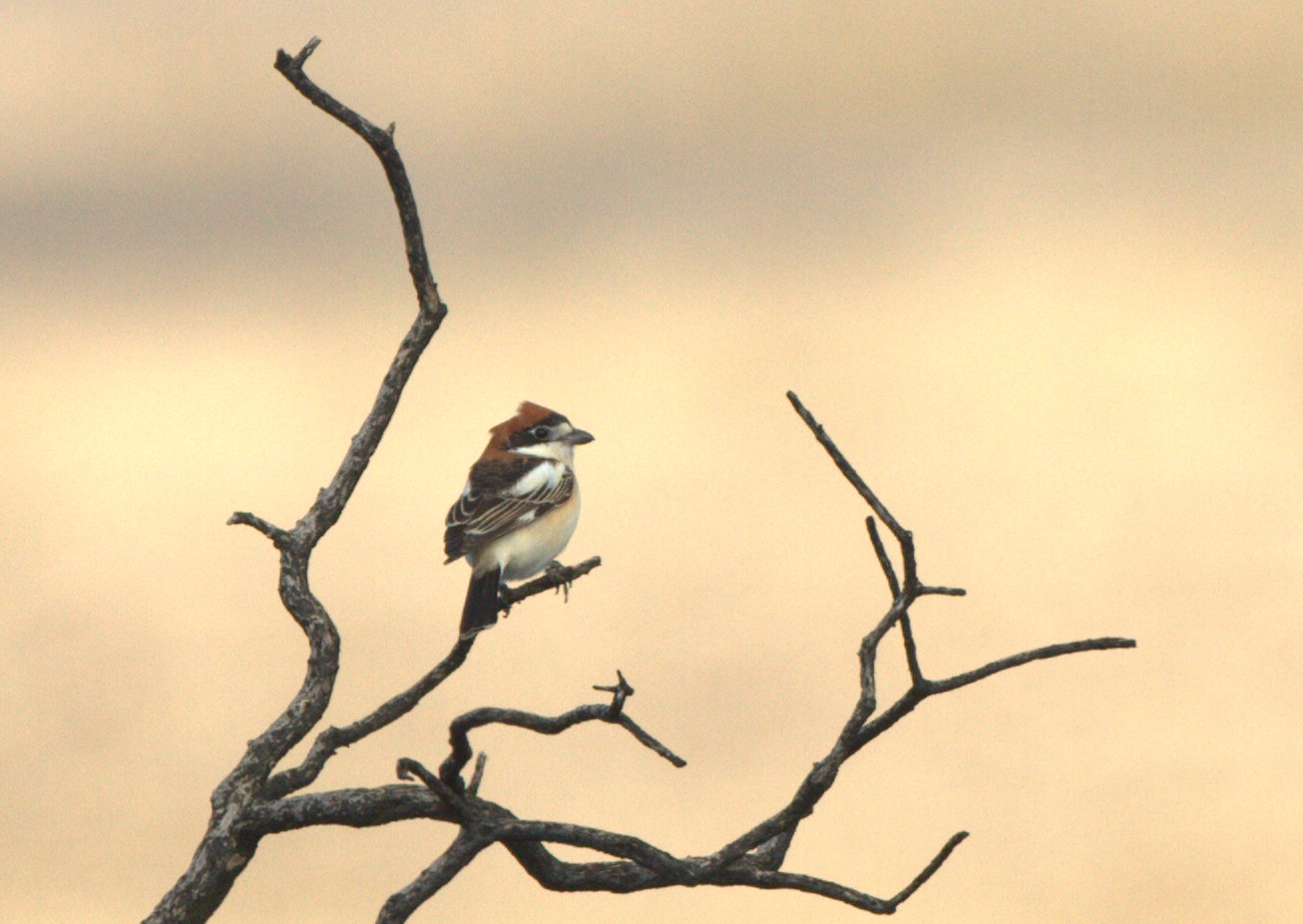 Woodchat Shrike, Kynance Cove, Cornwall (Photo: Brian Mellow)
Iberian Chiffchaff seems to be very much expected fare these days, with four recorded this week. Of these it was the return of last spring's popular bird near Telford, Shropshire, that was the most noteworthy. Back singing on 3rd, its arrival date was strikingly similar to last year (5 April) and it'll be interesting to see how long it stays. Elsewhere, singing males arrived on St Mary's, Scilly, on 30th and at Seaton Gravel Pits, Kent, on 1st. Late news of a male singing at Windsor, Berkshire, on 30th came on 2nd.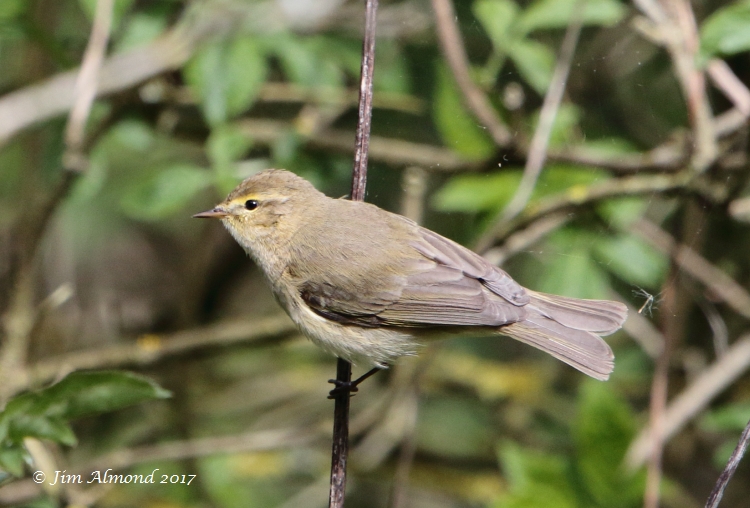 Iberian Chiffchaff, Telford, Shropshire (Photo: Jim Almond)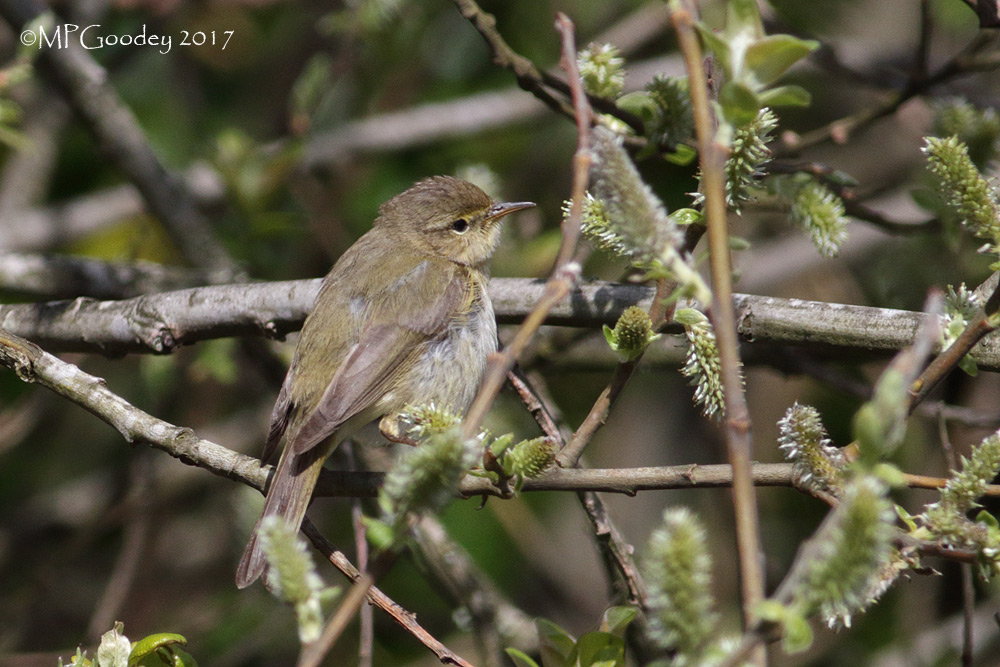 Iberian Chiffchaff, St. Mary's, Isles of Scilly (Photo: Martin Goodey)
Scilly boasted the week's noteworthy herons: a Purple Heron on St Mary's on 3rd was eclipsed by a male Little Bittern there the following day, with a Purple Heron seen in flight over St Agnes on 4th. Once again, the provenance of the week's White Stork records caused some head scratching. Sightings in Derbyshire and Nottinghamshire on 1–2nd involved the green-ringed escape that has toured England since its first appearance in February 2016. However, at least a couple were still roaming East Anglia and it's unclear whether the fly-over at Frampton Marsh, Lincs, on 3rd was ringed or not. In Ireland, one flew over Phoenix Park, Dublin, on 2nd. Cattle Egrets were seen at 44 sites, this including 19 at Chivelstone, Devon. Glossy Ibises were still in six counties, as they have been for much of the winter.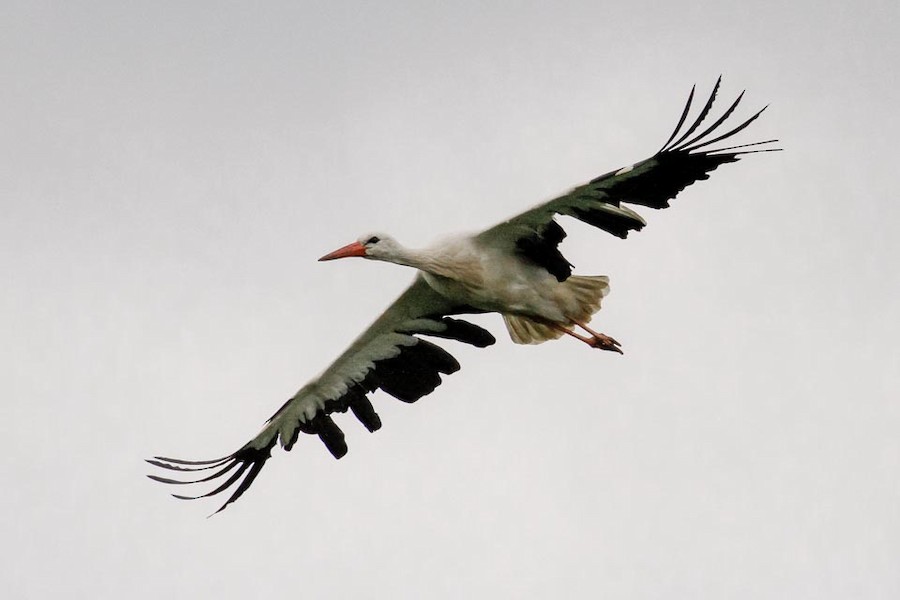 White Stork, Campsey Ash, Suffolk (Photo: James Kennerley)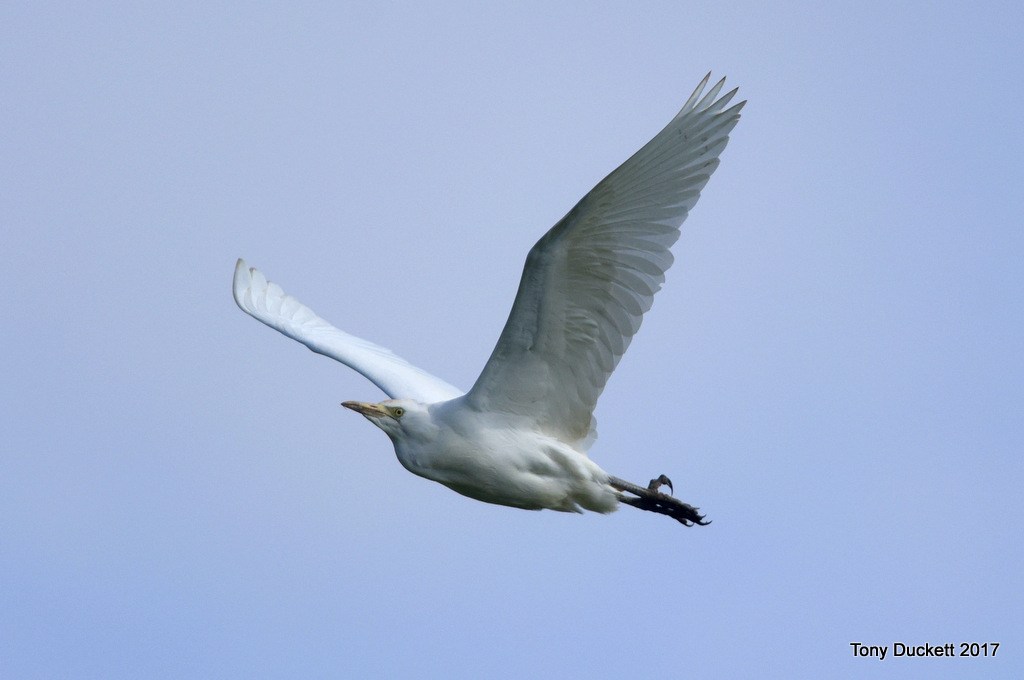 Cattle Egret, Hickling Broad, Norfolk (Photo: Tony Duckett)
Arguably the find of the week was a male Dark-eyed Junco in a garden at Melrose, Borders, on 31–1st, but news didn't surface until a couple of days after — by which point it seems the bird had gone.
Moving from arrivals to departures, we seem to have said goodbye to two of our favourite chats this week. The Eastern Black Redstart at Skinningrove, Cleveland, wasn't seen beyond 28th, while the Bluethroat at Willow Tree Fen, Lincs, was last reported on 29th. Another Bluethroat, a female, was at Lowestoft, Suffolk, on 1st.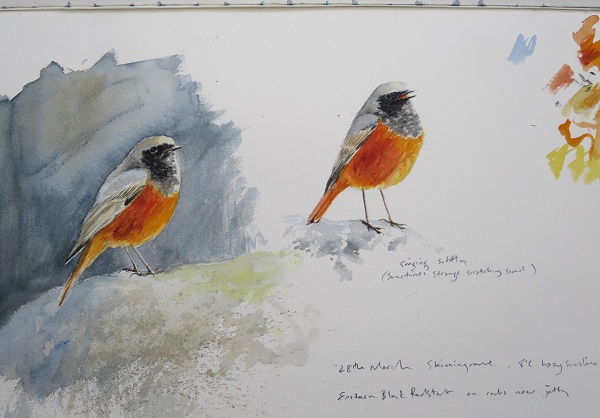 Eastern Black Redstart, Skinningrove, Cleveland (Artwork: Jonathan Pomroy)
The Pied-billed Grebe was still at Loch Feorlin, Argyll, on 4th. White-billed Divers were noted at six Scottish sites, including up to four still off Sandend, Aberdeenshire, and one off the north-east coast of Lewis, Outer Hebrides, on 1st.
Just three American Wigeon remained across Britain and Ireland, including the female still at Holt, Worcs, throughout. By contrast, it was a great week for Green-winged Teal, with 15 sites attracting this cute Nearctic dabbler. Several of these were new, such as drakes on the Ythan Estuary, Aberdeenshire, on 29th and at Burnham Norton, Norfolk, from 3rd. The American Black Duck was still at Strontian, Highland, on 29th. Garganey were reported from almost 70 sites.
The Ferruginous Duck was back at Washington WWT, Durham, from 31–2nd before relocating to Arcot Ponds, Northumberland, on 3rd and back to Silverlink Park on 4th. The drake Lesser Scaup was again at Dozmary Pool, Cornwall, on 1st, while 10 Ring-necked Ducks include a pair at Dunfanaghy New Lake, Co Donegal, on 1st and a new male at Acharacle, Highland, on 31st.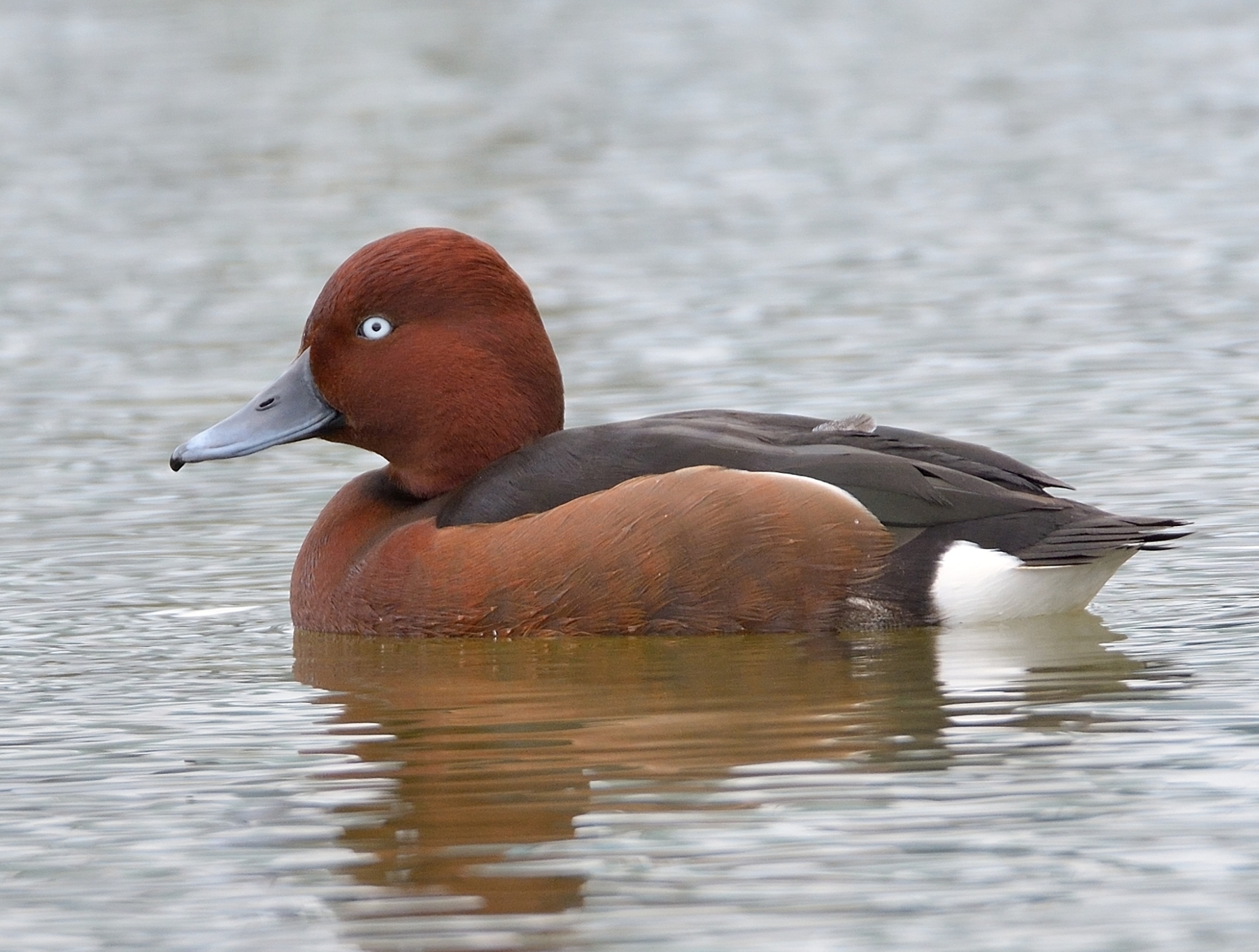 Ferruginous Duck, Silverlink Park, Northumberland (Photo: Dennis Morrison)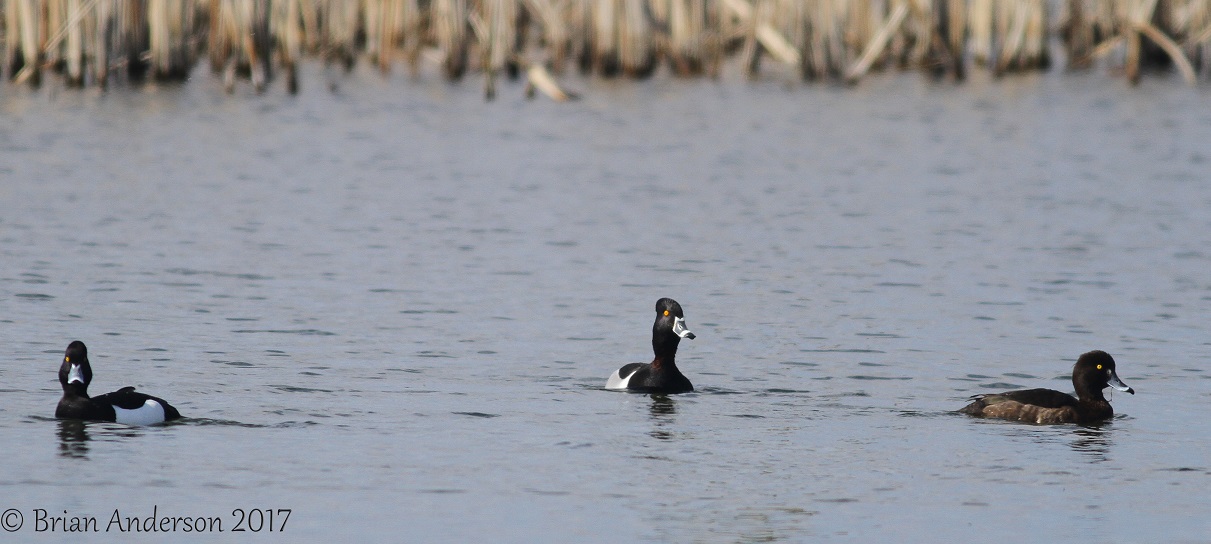 Ring-necked Duck, Dungeness RSPB, Kent (Photo: Brian Anderson)
A probable drake Black Scoter was off Gullane Point, Lothian, on 2nd. Surf Scoters were off Shetland, Lothian, Fife, Co Clare and Co Meath. A drake King Eider was off Fort George, Highland, from 30th, and the long stayer was still at Ballysadare Bay, Co Sligo.
A sole Richardson's Cackling Goose remained on Islay, Argyll, on 29th. The Todd's Canada Goose was still at Crossens Outer Marsh, Lancs, to 2nd. Black Brants lingered in Lincolnshire and East Yorkshire.
Though primarily seen around New Holkham, Norfolk's Pallid Harrier did stray as far as Sculthorpe Moor on 31st. The Northern Harrier was still frequenting North Ronaldsay, Orkney, on 3rd and the Snowy Owl was also still on nearby Eday on 1st. A Gyr Falcon was seen near Stornoway, Lewis, on 28th.
Black-winged Stilt is another emblematic spring overshoot in Britain, and the first individuals of 2017 were noted this week. It's entirely possible that the same bird was present for sightings at Cuckmere Haven, W Sussex, on 30th, Brading Marshes, IoW, on 31st and Titchfield Haven, Hants, on 1–2nd. Two were at Vange Marsh, Essex, on 30th, with at least one in the Vange/Bowers Marsh area on 1st. The Killdeer was still at Sandwick, Shetland, on 4th and the Hudsonian Whimbrel still at Perranuthnoe, Cornwall, on the last day of March. The Lesser Yellowlegs at Lytchett Bay, Dorset, and the Long-billed Dowitcher at Tacumshin, Co Wexford, were both still around all week.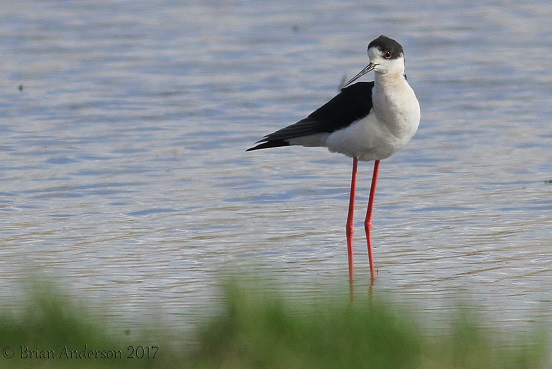 Black-winged Stilt, Vange Marsh RSPB, Essex (Photo: Brian Anderson)
Neither the Bonaparte's Gulls at Kenmare, Co Kerry, or Bowling Green Marsh, Devon, were seen after 29th. At least a couple of Ring-billed Gulls remained around Tralee, Co Kerry; others were in Co Dublin and Cornwall. There was no shortage of lingering immature Glaucous and Iceland Gulls, including double figures still around the northern end of Lewis, Outer Hebrides. Caspian Gull numbers, however, have decreased considerably over the past fortnight.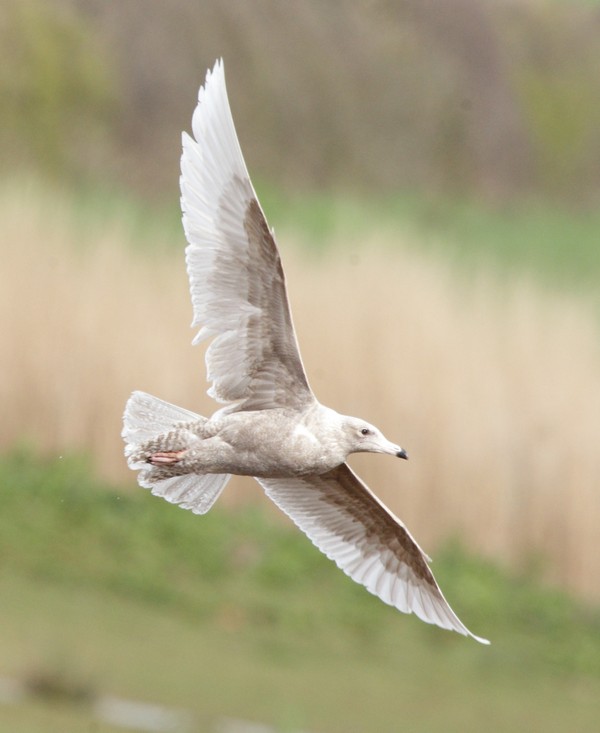 Glaucous Gull, South Huish Marsh, Devon (Photo: Alan Doidge)
The Hume's Leaf Warbler was still at Portland, Dorset, on 3rd. Half a dozen sites logged Yellow-browed Warblers, including one near Telford, Shropshire, from 2nd as well as continuing birds in Staffordshire, Cornwall and Devon.
Six counties held Shore Larks, among them the two inland at Stainton, S Yorks, on 2nd and up to 22 at Donna Nook, Lincs. A slight reduction in Great Grey Shrikes saw 23 sites host the species. Two Richard's Pipits were still at Abbotsbury, Dorset, and a third was at Shell Ness, Kent, on 3rd. Last week's Little Bunting was still at Flamborough Head, E Yorks, on 29th.
Western Palearctic news
Late news concerned Egypt's first African White-backed Vulture at Bir Shalatein on 25th, Italy's third White-crowned Black Wheatear at Tuscania, Viterbo, on 26th and a Sooty Tern at Arrecife, Lanzarote, on 25th.
The long-staying Pied Crow continued to perform to those dedicated enough to make the pilgrimate south to M'Hamid, Morocco, while a Radde's Accentor at Lyah was just the third for Kuwait. Once again Red-footed Boobies are around Raso, Cape Verde, with at least one seen this week.
A Black-throated Accentor was at Gräsö, Uppland, Sweden, on 2nd, while the Siberian Accentor remained near Løten, Norway. A White-winged Scoter was seen in Nord-Trøndelag, Norway, on 2nd and an Oriental Turtle Dove in Skåne, Sweden, on 3rd.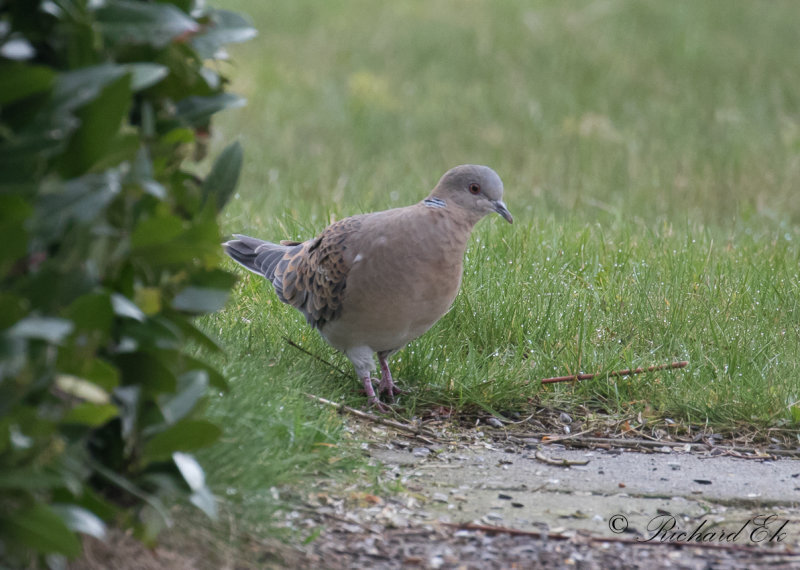 Oriental Turtle Dove, Sweden (Photo: Richard Ek)
An apparent Moustached Warbler south-east of Rotterdam on 3rd may represent just the third Dutch record (and the second this year). The Baikal Teal and Blyth's Pipit remained in the Netherlands, while a Black-winged Kite was noted in Noord-Holland on 31st. Meanwhile a Lammergeier was seen in Niedersachsen, Germany, on 30th. Other notable occurrences included Romania's third Little Bunting and Poland's fifth Green-winged Teal.