The week at a glance
March arrived in combination with a welcome return to milder conditions as temperatures rose in to the mid-teens in many areas on Monday on Tuesday. Though the rare bird line-up across Britain and Ireland remained more or less unchanged, the warmer weather and southerly-based winds encouraged the first summer migrants of 2013 to appear in southern areas.
These were represented by Sand Martins at Lackford Lakes (Suffolk) on 2nd and Walthamstow Reservoirs (London) on 4th, and several Wheatears arriving from 5th, including birds on Scilly and in Devon, East Sussex and Pembrokeshire as well as two as far north as Tanybwlch (Ceredigion). There was also a notable pulse of typical March fare such as Sandwich Terns, White Wagtails, Firecrests, Black Redstarts and Chiffchaffs. Unfortunately a return to colder weather (thanks to a biting easterly wind) from the latter half of the coming weekend looks set to halt any further arrivals, at least for now.

Wheatear, Tanybwlch, Ceredigion (Photo: Brendan Sheils)
Staying put throughout the week was North Uist's drake Harlequin at Traigh Iar, Balranald. With luck and patience, the bird could occasionally be seen close inshore when it came to feed around rocks on the beach at low tide, although more often it was distantly offshore. Also on North Uist, the two Snow Geese, Richardson's Canada Goose, Ring-necked Duck and Green-winged Teal all remained, affording visitors an impressive supporting cast.

Harlequin Duck, Balranald RSPB, N.Uist, Outer Hebrides (Photo: Josh Jones)

Harlequin Duck, Balranald RSPB, N.Uist, Outer Hebrides (Video: Kit Day)
Like a ghostly apparition, the male Snowy Owl continued to drift in and out of view as changeable conditions atop Ben Macdui (Moray/Nairn) restricted sightings of this stunning bird to Friday 1st and Monday 4th; nevertheless, some excellent photos (and video footage) were obtained by those fortunate (and fit!) enough to make the journey to the summit.

Snowy Owl, Ben Macdui, Moray & Nairn (Photo: Ashley Howe)
Somerset's Pied-billed Grebe continued to perform reasonably well at Ham Wall (Somerset) throughout the week and, like the Harlequin, could boast its own rich supporting cast: a drake Ring-necked Duck was found there on 1st in addition to the lingering drake Ferruginous Duck, Great White Egrets and, nearby, a trio of breeding-plumaged Spoonbills frequenting Catcott Lows from 5th. A second Ferruginous Duck was briefly at Wimbleball Lake on 3rd.

Ring-necked Duck, Leconfield, East Yorkshire (Photo: Tim Cowley)
Over in Ireland, the American Coot further prolonged its sojourn near Ballyconneely (Galway) throughout the week while the possible Grey-bellied Brant was still at Donaghmede (Dublin) on 3rd. Half a dozen Black Brants included two (an adult and first-winter) still at Felixstowe Ferry (Suffolk) in addition to birds in Lincolnshire, Essex, Hampshire and Dorset. The adult Red-breasted Goose was still at Thorney Island (W Sussex) on 3rd but had relocated back to Farlington Marshes (Hants) by 5th.

Black Brant, Ferrybridge, Dorset (Photo: Mike Trew)

Black Brant, Felixstowe Ferry, Suffolk (Photo: Barry Woodhouse)
Cumbria's Todd's Canada Goose was noted on Newton Marsh on 28th only, while the Richardson's Canada Goose was again at Mersehead (Dumf & Gall) on 2nd–3rd, as were three near Ballintemple (Sligo) on 3rd and at least two still on Islay (Argyll). A new Snow Goose was found with Pink-feet and Greylags on the Mull of Galloway on 4th, while the blue morph was still at Lower Lough MacNean (Fermanagh) and the white morph at Sheskinmore Lough (Donegal).
The Dee Estuary Lesser Scaup spent the day at Burton Mere Wetlands (Cheshire) on 3rd before relocating back to Shotton Pools (Clwyd) from 4th, while the Glamorgan drake was again at Cosmeston Lakes on 6th and further males remained in Cornwall and County Clare. In Bedfordshire, the drake Ferruginous Duck was last reported at Priory Country Park on 2nd. A dozen Ring-necked Ducks included three still on Scilly, two still at Slapton Ley (Devon), just two in Ireland and the mobile East Yorkshire drake again at Leconfield on 5th after spending 3rd at New Arram.

Lesser Scaup, Burton Mere Wetlands RSPB, Cheshire (Photo: Steve Morris)
Drake American Wigeon were still on the Exe Estuary (Devon) on 3rd and at Finstown (Orkney) on 3rd–4th, and County Cork's brace of drake Black Ducks were still floating around flooded fields near Crookhaven on 6th. The elusive drake Blue-winged Teal was again at Threave (Dumf & Gall) to 1st. Nine Green-winged Teal were in Dorset, Hampshire, Warwickshire, Norfolk, Cleveland, Wexford, Down and Donegal — the latter reported for the first time since November!

Green-winged Teal, Brandon Marsh NR, Warwickshire (Photo: Adey Rowley)
Llanddulas returned to form with up to four (three drake) Surf Scoters among the 20,000+ Common Scoter there (how long before this site claims a White-winged?); a new drake was reported off Starr Gate, Blackpool (Lancs) during the morning of 2nd and further individuals were still around in Pembrokeshire, Dumfries & Galloway and Fife. A first-winter drake King Eider found bobbing around among the expansive Eider flocks of Bluemull Sound (Shetland) on 1st was new, while three White-billed Divers included new banana bills off Huna (Highland) on 4th and Uisaed Point (Argyll) on 5th in addition to the remaining South Ronaldsay bird.
Content continues after advertisements

King Eider, Bluemull Sound, Shetland (Photo: Brydon Thomason)

White-billed Diver, Uisaed Point, Argyll (Photo: Eddie Maguire)
Two Cattle Egrets flying over Lough Gur (Limerick) on 3rd were perhaps representatives of the quintet seen nearby at Bruff in mid-February. Meanwhile, an impressive number of Great White Egrets remain in residence around the country and it seems a fair bet that 2013 will see further transition from their status as a scarce visitor to a resident species. 'Resident' is a very apt word to describe Pembrokeshire's Glossy Ibis, which still shows no sign of leaving Marloes Mere — the Hampshire bird was also still in Warblington throughout. A shuffle in the Spoonbill pack saw a handful of presumed migrants arrive in the south, with Somerset, Hampshire and Norfolk all welcoming new birds.

Great White Egret, Westhay Moor NNR, Somerset & Bristol (Photo: James Gibbs)

Spoonbill, Catcott Lows NR, Somerset & Bristol (Photo: Jeff Hazell)
There was a report of an early Black Kite over Bough Beech Reservoir (Kent) on 4th, while the juvenile White-tailed Eagle remained in the Great Bircham area of Norfolk until 5th; what was presumably the same bird was then seen over Burston, near Diss, on 6th. Rough-legged Buzzards were restricted to Norfolk, with two still at Haddiscoe Marshes, one still at Holkham and a fourth over North Walsham on 2nd.

White-tailed Eagle, Houghton Park, Norfolk (Photo: Howiec)
In County Wexford, the Northern Harrier remained at Tacumshin, where a Long-billed Dowitcher (no doubt the recent Lady's Island Lake bird) was discovered on 1st along with an American Golden Plover. The Pembrokeshire dowitcher remained on the Gann Estuary to 3rd at least, while the Lesser Yellowlegs continued to frequent Ernesettle Creek (Devon).

Lesser Yellowlegs, Ernesettle, Devon (Photo: anon)
The Galway Bay Forster's Tern was again off Nimmo's Pier on 3rd with the Emerald Isle also laying claim to a new adult Bonaparte's Gull at Skerries (Dublin) during the evening of 2nd — two further adults remained in Glamorgan. Sixteen Irish Ring-billed Gulls included three in the Dublin area and twos at Timoleague (Cork), Tralee (Kerry) and Nimmo's Pier, while five British records included two new birds: a first-winter on the saltmarsh at Neath (Glamorgan) on 2nd–5th and an adult at Hannafore Point (Cornwall) on 3rd. White-winged gull numbers dropped slightly, with Killybegs (Donegal) typically boasting the best tallies: two Kumlien's, eight Glaucs and nine Icelands there over the weekend.

Bonaparte's Gull, Ogmore Estuary, Glamorgan (Photo: Nigel Addecott)

Ring-billed Gull, Gosport, Hampshire (Photo: Bill Dykes)

Ring-billed Gull, Neath, Glamorgan (Photo: Mark Hipkin)
The elusive Dorset Hoopoe was again seen in Hamworthy on 4th, with the Black-bellied Dipper in Thetford (Norfolk) and the Desert Wheatear on the beach at Rattray Head (Aberdeenshire) adding a further week to their prolonged stays. A Yellow-browed Warbler was again at Gwennap sewage works (Cornwall) on 2nd and the Pallas's Warbler was still being reported reasonably regularly at Moor Green Lakes (Berks) to at least 5th.

Black-bellied Dipper, Thetford, Norfolk (Photo: Jon Evans)
The Stodmarsh Penduline Tit reappeared there from 1st and showed well throughout, while, also in Kent, the elusive Dungeness bird was again noted on ARC Pit on 5th. The wintering Common Rosefinch in Broadstone (Dorset) was reported with some regularity for the first time this week, while the Rose-coloured Starling was also still in Exminster (Devon). A Little Bunting was photographed on Longstone Hill (Somerset) on 5th but could not be relocated the following day. A slight improvement in Great Grey Shrikes saw at least 13 reported, including new birds at World's End (Clwyd) and near Aberdour (Fife) — presumably further new birds will appear in the coming weeks as they make their way back north. And, finally, for a bit of context we released 283 reports of Waxwings on Bird News Extra this week — although plenty are still around, these numbers seem almost inconsequential compared to the thousands of December!

Penduline Tit, Stodmarsh NNR, Kent (Photo: Joe Stockwell)

Great Grey Shrike, Therfield Heath, Hertfordshire (Photo: Mark Curley)
Photo of the Week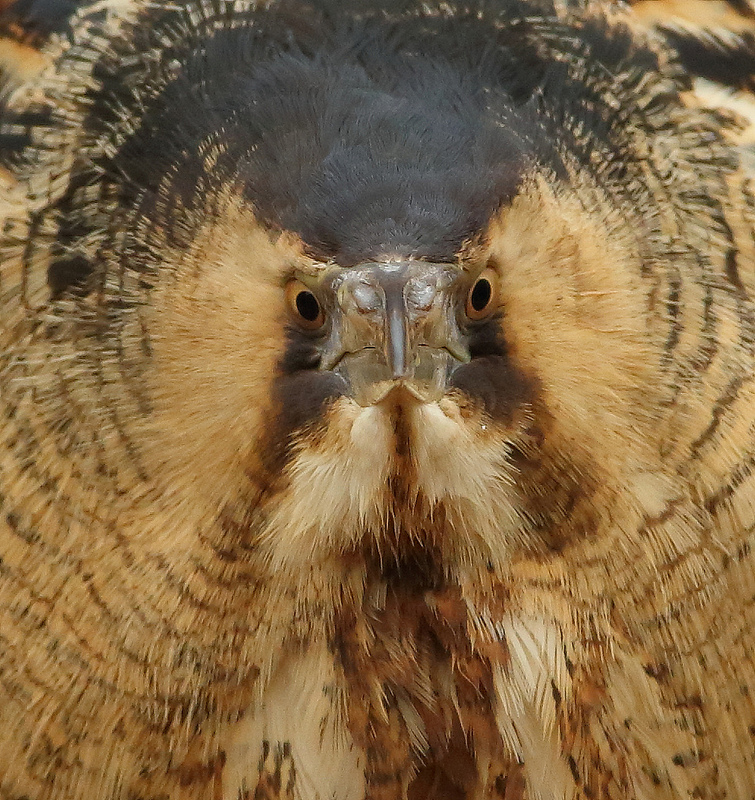 Bittern, Slimbridge WWT, Gloucestershire (Photo: Mike McKenzie)
Our choice of Photo of the Week was an easy one this week, as Mike McKenzie submitted this wonderful head-on shot of a puffed-up Bittern taken at Slimbridge WWT reserve in Gloucestershire. We've featured 'first PotWs' from some of our long-standing contributors recently, but this week's selection shows that PotW can equally well be won by new contributors: Mike only started posting his images to BirdGuides this week. Such precise head-on shots always look best when cropped symmetrically and, in this case, the tight, square crop further adds to the graphic effect. Add to this the perspective-compressing effect of a long telephoto lens and the result is almost unrecognisable as a bird. The Bittern's staring eyes leap out from the background of cryptic plumage to make the composition engaging.
Other notable images

Greenfinch, Tomintoul, Highland (Photo: Mark Ranner)

Barn Owl, undisclosed site, Leicestershire and Rutland (Photo: Paul Riddle)

Little Egret, Poole Harbour, Dorset (Photo: Simon Johnson)

Little Owl, undisclosed site, Worcestershire (Photo: John Fielding)

Siskin, Gigrin Farm, Powys (Photo: Bob Jones)

Lesser Spotted Woodpecker, undisclosed site, Cheshire (Photo: Steve Dolan)

Yellow Warbler, Ecuador (Photo: Austin Thomas)

Black Guillemot, Garron Point, Antrim (Photo: Ian Dickey)

Skylark, St. Margaret's at Cliffe, Kent (Photo: Steve Ashton)

Snow Bunting, Salthouse, Norfolk (Photo: Jon Evans)

Goosander, Pennington Flash CP, Greater Manchester (Photo: Jon Taverner)

Reed Bunting, Greylake RSPB, Somerset & Bristol (Photo: Carl Bovis)

Harlequin Duck, Iceland (Photo: Andrew Moon)