The week at a glance
After two or three anticipatory weeks which have felt like the 'phoney war', this was the week when the annual autumn invasion of Britain and Ireland began in earnest. In the early part of the review period most of the wave of vagrants arriving 'over here' were American in origin and appeared on west-facing coasts but, with the winds backing after the weekend, recent days have seen significant incursions on the eastern front.
The Outer Hebrides was the site of the early focus, starting with a Yellow-billed Cuckoo that turned up on 28th in a garden at South Dell at the northern end of Lewis. True to form for this species, the bird showed well for a couple of hours, but apparently departed or succumbed shortly afterwards and was not seen again. However, attention rapidly switched to the other end of the archipelago when an Eastern Kingbird, the first for Britain following a couple of Irish records in recent years, was identified at Eoligarry on the island of Barra the following evening. The bird stayed put for almost 24 hours but departed high to the north-east the next day. What was almost certainly the same bird was then found a couple of mornings later (2 October) in a garden near Bornish on South Uist; it lingered until mid-afternoon but was not seen thereafter.

Yellow-billed Cuckoo, South Dell, Lewis, Outer Hebrides (Photo: Nick Davies)
Content continues after advertisements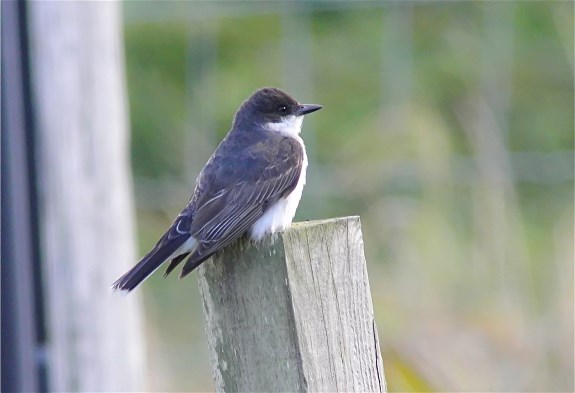 Eastern Kingbird, Eoligarry, Barra, Outer Hebrides (Photo: Steve Nuttall)
Meanwhile, on the west coast of Ireland, a Rose-breasted Grosbeak was discovered at Garinish Point on the morning of 29th. The bird was not seen for the rest of the day but was refound the following evening and remained (though it was sometimes elusive) for a further couple of days, being last seen on 3rd. A first-winter Brown Shrike was near Aith Voe on the Shetland mainland on 30th (with a lingering Greenish Warbler in the same vicinity) but neither bird was present on 1st.

Rose-breasted Grosbeak, Garinish Point, Cork (Photo: Gerard Murray)
On 2nd a juvenile Semipalmated Plover was found (on the same day as a Pectoral Sandpiper was present) on the golf course at Keel on Achill Island in County Mayo. It was still there the following day. The same evening a Sora was identified on the Great Pool on Tresco, Scilly. It showed fairly well to the assembled hordes in the Swarovski Hide and is still in the same location at the time of writing (5 October).

Sora, Tresco, Isles of Scilly (Photo: Jim Almond)
Shetland chipped in with four thrushes from various directions on 3rd and 4th. A Swainson's Thrush was around disused farm buildings at Aith on Fetlar (not to be confused with the Brown Shrike site of the same name on Mainland!) and was still present at the time of writing. Meanwhile a White's Thrush was reported around another farm at Hamnavoe on Mainland, but further observations were not forthcoming. The first Black-throated Thrushes since 2013 appeared on the Out Skerries on 3rd and at Sullom, Mainland, on 4th, with a possible also reported at Trimingham, Norfolk, on the latter date.

Swainson's Thrush, Aith, Fetlar, Shetland (Photo: John Nadin)
A Blyth's Pipit popped up at various points on the eastern half of St Mary's, Scilly, on 4th and 5th. Initially found between the Longstone Café and Holy Vale, it later appeared at Carn Friars.
Eastern Crowned Warbler, first observed in Britain in 2009, is becoming an almost annual visitor and something of a speciality for east-coast counties north of the Humber, so it was about time that East Yorkshire got in on the act. A putative Arctic Warbler reported from Bempton Cliffs in mid-afternoon on 4th was re-identified in the early evening as this species. It was still present and said to be showing well in the company of several Yellow-browed Warblers on the morning of 5th.

Eastern Crowned Warbler, Bempton Cliffs RSPB, East Yorkshire (Photo: Andy Hood)
Lingering rarities included the Western Swamphen at Alkborough Flats, Lincs, and the Dalmatian Pelican in the South-West. The latter took another trip, leaving the Padstow area of Cornwall and returning to Devon for the first time since July. This time it pitched up on the north coast, at various sites around the Taw Estuary downstream of Barnstaple, a journey of around 50 miles as the pelican lumbers. The Hudsonian Whimbrel in Cornwall was still being reported daily from Boat Cove, Perranuthnoe, to 4th. The Brünnich's Guillemot in Anstruther harbour was last seen alive under floodlights on the evening of 29th, but sadly its corpse was found the following morning.

Brünnich's Guillemot, Anstruther, Fife (Photo: Stephanie Leese)
Turning to more mundane fare, the drake American Black Duck at Strontian lingered for yet another week. An American Wigeon was on Crossens Outer Marsh, Lancs, on 30th, and the Ferruginous Duck was still on Brent Reservoir, Gtr London, until 2nd but not subsequently. Surf Scoters were noted off the coasts of Fife, Shetland, Lothian, Orkney and the Outer Hebrides during the week; the only bird outside Scottish waters was one off the Conwy coast from Llandulas on 3rd.
Seawatching produced a single Cory's Shearwater off Kilcummin Head, Mayo, on 29th and a handful of Great Shearwater sightings in Clare, Kerry, Devon and Cornwall. Leach's Storm-petrels were off the coasts of (reading clockwise) Lincolnshire, Norfolk, Suffolk, Cornwall, Galway, Cheshire, Dumfries & Galloway, Ayrshire and the Outer Hebrides, with one bird inland at Calvert Lakes, Bucks, on 28th. Twenty-four reports of Grey Phalarope and 21 reports of Sabine's Gull were received, mostly from eastern and south-western coasts. Long-tailed Skua reports were more exclusively eastern in distribution, from Dungeness to Fife Ness, with just a handful of reports from Cornish, Welsh, Irish and Hebridean coasts.

Grey Phalarope, Frampton Marsh RSPB, Lincolnshire (Photo: Nigel Deacon)
New Glossy Ibises were at Daventry Reservoir, Northants, and Horstead, Norfolk, both on 28th; other birds from previous weeks remained in Devon, Somerset, Kent, Essex, Norfolk, Nottinghamshire, Dublin and Louth. Similarly, new Cattle Egrets were on Scilly (two birds), with lingerers in Kent, Cheshire and Lancashire. The Purple Herons in Kent and Oxfordshire were still present to at least 29th and 2nd, respectively. We published 133 reports of Great White Egret, mostly south and south-west of a line from the Mersey to the Wash.

Glossy Ibis, Strumpshaw Fen RSPB, Norfolk (Photo: Tony Sutton)
Seven Honey Buzzard sightings were reported, from Lancashire, Lincolnshire, Nottinghamshire, Norfolk, Suffolk, Northamptonshire and Cornwall. Predictably, most were reported flying southwards. A possible Pallid Harrier was reported from Hazlewood Marshes in Suffolk and the identification of the bird on the Isle of Sheppey, Kent, last week was confirmed, though it was observed leaving the island on 2nd and has not been seen there since. An early Rough-legged Buzzard was reported from Brightlingsea in Essex.

Pallid Harrier, Harty Marshes, Sheppey, Kent (Photo: Malcolm Freeman)
Corncrake records came from Point of Ayr, Clwyd, on 29th (where a bird was flushed near the lighthouse) and Blackdog, Aberdeenshire, on 3rd. Spotted Crakes were at Chew Valley Lake, Somerset, and Neumann's Flash, Cheshire. Clustered records of Common Crane came in from Portland, Dorset (an adult and juvenile, also seen over the Fleet), the Oare Marshes/Sheppey area of Kent, along the Humber (up to four birds) and on the machairs of Benbecula and South Uist in the Outer Hebrides.

Common Cranes, Portland, Dorset (Photo: Joe Stockwell)
Turning to waders, more than a dozen sites were graced by American Golden Plovers this week, from County Kerry in the west to mainland Shetland in the north and St Mary's, Scilly, in the far south-west. A Great Snipe was seen several times in flight on Unst, Shetland, and there was an unconfirmed report of another on Fetlar; the bird on the Out Skerries was not seen after 27th. A Long-billed Dowitcher, the first in Lincolnshire since 2013, appeared at Frampton Marsh on 1st and is still present at the time of writing. The Lesser Yellowlegs in Scilly, Devon, Dorset and Essex were all reported during the week and there was a new bird at Beal, Northumberland, on 28th. We received a a late report of a Solitary Sandpiper in a publicly inaccessible area at Marston Sewage Works, Lincs, on 8 September.
Semipalmated Sandpipers were at Vaul Bay on Tiree, Argyll (two on 30th), Tacumshin, Wexford (to 2nd at least) and Northwick Warth, Glos (a possible on 3rd), and a cluster of records were received from sites in Kerry: Black Rock and Carrahane Strands, Reenroe and Kilshannig. Tacumshin also hosted a White-rumped Sandpiper, and another was at Ferriter's Cove, Kerry, until 30th. The two Baird's Sandpipers in Cornwall, one on the Gannel Estuary and the other at Davidstow Airport, remained in place to 29th and 4th respectively, and there were new birds at Bull Island, Dublin, from 28th and Boulmer in Northumberland from 30th; both new birds were last reported on 3rd. Over 40 records of Pectoral Sandpiper concerned at least 18 different individuals; a bird at Queen Mother Reservoir, Berkshire, from 29th was a well-photographed first for the site. Only two Buff-breasted Sandpipers were reported, one continuing to frequent the Airport on St Mary's, Scilly, and a new bird on the Range at West Gerinish on South Uist, Outer Hebrides.

Semipalmated Sandpiper, Tiree, Argyll (Photo: Jim Dickson)

Pectoral Sandpiper, Queen Mother Resr (Permit Only), Berkshire (Photo: Dave Rimes)

Buff-breasted Sandpiper, St Mary's, Isles of Scilly (Photo: Robin Mawer)
The Franklin's Gull at Whittle Dene Reservoirs, Northumberland, was last reported on 1st and not seen on 2nd, though it has gone unreported for longer periods before now. The three Ring-billed Gulls reported were all in Ireland, two long-stayers plus a new adult seen at Black Rock Strand, Co Kerry, on 28th and 1st. A probable adult Baltic Gull was seen in fields on Portland, Dorset, on 4th. A juvenile White-winged Tern was on the beach at Sandsend, N Yorks, on 30th and 1st but has not been since. The long-staying Forster's Tern put in another appearance at Soldier's Point, Louth, also on 1st — next week will mark the 10-year anniversary of its first sighting in October 2006.

White-winged Black Tern, Sandsend, North Yorkshire (Photo: Jonathan Pomroy)
Five Hoopoes comprised new birds at Hengistbury Head in Dorset, Sixmilebridge in Co Clare, and Sellafirth, Yell, Shetland, plus two remaining birds from last week on mainland Shetland and in Norfolk. Fifty-nine reports of Wryneck were predominantly from the southern coasts of England, Wales and Ireland, though there were several records from the English east coast, and birds inland at Old Basing in Hampshire, Abberton Reservoir in Essex and Linton in Cambridgeshire.
Four shrike species were represented this week. At least nine Red-backed Shrikes were seen, on the Outer Hebrides and in Shetland (2), Aberdeenshire, Norfolk, Kent, East Sussex, Cornwall and Scilly. The Lesser Grey Shrike in Plymouth was last seen on 30th, and Great Grey Shrikes were confined to East Anglian coasts, at Landguard and Covehithe in Suffolk, and Winterton, Holme and Hunstanton in Norfolk. Woodchat Shrikes were at Rathangan, Wexford, and Whitburn, Durham, on 3rd, and a bird near Aveton Gifford in Devon on 3rd–4th was probably the same as that last reported on 24 September.

Woodchat Shrike, Whitburn, Durham (Photo: Frank Golding)
Red-eyed Vireos put up a decent showing, with at least four or five birds present: the Scilly bird from last week was seen again on St Agnes until 2nd (with what is presumably a different bird on St Martin's on 1st and 5th) and others were at Three Castles Head, Cork, on 30th, on the Calf of Man on 1st and 2nd, and on Inishbofin, Galway, to 4th at least. The Western Bonelli's Warbler on St Mary's, Scilly, was reported again on 30th but not since.
The only Dusky Warbler of the week was on Unst, Shetland, on 28th, but there were three Radde's Warblers, on Fair Isle, Foula and Flamborough Head on 2nd, 3rd and 4th respectively. The two first Pallas's Warblers of the autumn showed a strikingly similar choice of locations, with birds on Flamborough Head and Fetlar, both on 4th. The Yellow-browed Warbler influx continued to grow; in the last three review periods we have reported 134, 273 and 464 reports respectively of this tiny sprite, and many of these concern multiple birds. Even inland reports reached well into double figures, though the bulk of sightings were along the east coast from Essex to Aberdeenshire, with a smaller but noticeable cluster in the west from North Wales to the Lake District.
Other than the Bempton bird that transmogrified into an Eastern Crowned Warbler, Arctic Warblers were on Fair Isle and mainland Shetland, with the sole English bird a possible at Brotton, Cleveland, on 3rd (coincidentally the site of the last British Eastern Crowned). Greenish Warblers were at Charmouth, Dorset, on 29th; Aith, Shetland, from 26th–30th (the bird that accompanied the Brown Shrike); Marston Sewage Works, Lincs, on 3rd (an elusive possible reported for its third day); and in Wells Woods, Norfolk, on 4th.
A Paddyfield Warbler at Norwick, Unst (Shetland), is probably a new bird and not the individual that was at Skaw to 27th. Blyth's Reed Warblers were reported from several sites in Shetland; away from their Northern Isles stronghold there were reports from Wexford, Gwynedd, Devon, East Yorkshire and Lothian. Barred Warblers showed a similar pattern, with only eight of 22 reports away from Shetland. A possible Sykes's Warbler was at Sandgarth, Shetland, on 29th–30th and a well-photographed Booted Warbler was showing well in gorse on the Great Orme, Conwy, from 3rd onwards.

Booted Warbler, Great Orme, Conwy (Photo: Dave Williams)
Hippolais warblers managed a 2–2 draw: there were Icterines on Unst (Shetland) and Inishmore (Galway), and Melodious Warblers on Bardsey Island (Gwynedd) and St Mary's (Scilly), the latter lingering to the time of writing. Pickings were even thinner among the rarer Locustellas, and all were restricted to Shetland: Lanceolated Warblers were at Boddam and Fair Isle on 2nd and a possible River Warbler or Savi's Warbler was at Quendale on 3rd. A subalpine warbler, not identified to form, was reported on St Martin's, Scilly, on 4th.
Last week's Short-toed Lark on Fair Isle stayed until 2nd. Ten sites held Rose-coloured Starlings, with new birds reported from St Just in Cornwall, Aberavon in Glamorgan, Holt in Norfolk and Brae on mainland Shetland, all identified as juveniles except the last, whose age was not specified.

Rose-coloured Starling, Aberavon, Glamorgan (Photo: Jeff Slocombe)
Bluethroats numbered 10, with seven on Shetland plus one on North Ronaldsay and two on Scilly. Red-flanked Bluetails were on Fair Isle and Out Skerries (both on 2nd) and a third was trapped and ringed at Bamburgh, Northumberland, on 4th. Possible rarities not positively identified included putative Black-eared Wheatear on St Mary's, Scilly, on 1st; Collared Flycatcher at Toab, Shetland, on 2nd; and Siberian Stonechat at Flamborough Head on 4th. Both Red-breasted Flycatcher and Richard's Pipit showed a familiar autumnal record distribution, with the main clusters in Shetland and Orkney and a scattering along the east coast between Northumberland and Norfolk; the exceptions for Red-breasted Flycatcher were birds on St Mary's, Scilly, and Lundy, Devon, and the only western Richard's Pipits were at Sennen, Cornwall, and on the Calf of Man. Olive-backed Pipits were on mainland Shetland on 3rd and Fair Isle on 4th. Fair Isle also hosted Pechora Pipit from 2nd–4th and Red-throated on 2nd; another possible Red-throated was at Huntspill, Somerset, on 4th.

Red-flanked Bluetail, Fair Isle, Shetland (Photo: Lee Gregory)
The only Serin of the week was at Porthgwarra in Cornwall on 28th, and similarly unique was a Hornemann's Arctic Redpoll on Unst, Shetland, on 30th. Away from a cluster on Shetland, Common Rosefinches were on the Farne Islands in Northumberland, on Scilly (St Mary's and Bryher), on Inishbofin in Co Galway, and on Barra in the Outer Hebrides. An Ortolan Bunting flew south over Morgan's Hill, Wiltshire, on 30th and another was briefly on North Ronaldsay the following day. Twenty-eight reports of Little Buntings followed the familiar pattern of the week: a cluster in Shetland, a scattering along the east coast from Northumberland to Norfolk, and singles on St Mary's, Scilly, and at Pendeen, Cornwall. A possible White-throated Sparrow was reported in a garden at Lochmaddy on North Uist on 1st, but nothing more came of it.

Common Rosefinch, Fair Isle, Shetland (Photo: Lee Gregory)

Little Bunting, Fair Isle, Shetland (Photo: Lee Gregory)
STOP PRESS: breaking news on 5 October included this Black-browed Albatross past several sites on the Yorkshire coast – more next week!

Black-browed Albatross, Bempton Cliffs RSPB, East Yorkshire (Photo: Kevin Groocock)
Western Palearctic News
On 28th news emerged of a Yellow-rumped Warbler near Reykjavík, Iceland, a couple of days earlier. Norway produced White's Thrushes at Sula, Sør-Trøndelag, and Askvoll, Sogn og Fjordane, on 28th. One or more Black-browed Albatrosses were seen from the Swedish and Norwegian coasts between 28th and 1st, and Iceland's first Black Scoter was seen again on 30th.
Further late news concerned a dark-morph South Polar Skua photographed in Galicia, Spain, on 8 September and Malta's first Levant Sparrowhawk, which hopefully escaped the gunners on 27th. The Czech Republic's second Rustic Bunting and fourth Little Bunting were recorded. Other notable national records included the Faroe Islands' first Lanceolated Warbler, Poland's seventh Radde's Warbler, and Estonia's fourth Pied Wheatear and fifth Hume's Leaf Warbler.

Levant Sparrowhawk, Malta (Photo: Ray Galea)
For transatlantic vagrants, Corvo on the Azores was the place to be: records included Red-eyed Vireo on 30th, Northern Waterthrush on 2nd, Upland Sandpiper on 3rd and Canada Warbler on 4th. A juvenile Green Heron was photographed on Flores on 3rd. Elsewhere, another Red-eyed Vireo was on Ouessant island, France.