The week at a glance
A large transatlantic weather system brought further wind and rain to Britain and Ireland, most areas suffering another unsettled and changeable week. For birders, that system brought a fresh wave of Nearctic birds that ensured that eyes were once again fixed westwards. As October arrived, on Monday, the anticipation of American passerines inevitably rose and, sure enough, a couple of high-quality finds came from far-flung islands in Scotland and Ireland.
Scotland's contribution came in the form of the autumn's second Swainson's Thrush, found at North Bay, Barra (Outer Hebrides) on 2nd and still present on 3rd. An extended stay is overdue for the species — despite being almost annual in Britain and Ireland since 2003, none have been easily gettable. This is yet another excellent find on the island, following Yellow Warbler, Rose-breasted Grosbeak, Ovenbird and Hermit Thrush over the past decade and demonstrating that hard work and persistence in likely west-coast locations can give huge rewards.

Swainson's Thrush, North Bay, Barra, Outer Hebrides (Photo: Andrew Stevenson)
It was a similar scenario for the Yellow-rumped Warbler on Dursey Island (Cork) on 3rd, found by a regular visitor to the area who has produced some of the finest birds of recent years (Scarlet Tanager in 2008 and Mourning Dove in 2009 among others). This, the eleventh for Cork, finally breaks Cape Clear's incredible monopoly of county records, the last of which came in 2010.
With these two stars came an influx of Buff-bellied Pipits. In addition to remaining birds at Smerclate, South Uist and on St. Mary's (Scilly), new Scottish birds arrived on Tiree (Argyll) on 27th, Fair Isle (Shetland) on 29th and at Rerwick Head (Shetland) on 30th–3rd. In Ireland, a bird at Smerwick Harbour (Kerry) from 28th was a first for The Kingdom, while the first for Northern Ireland was found by the castle at Carrickfergus (Antrim) from 30th. It is remarkable to think that this species has gone from mega-rarity to expected annual vagrant in a matter of a few years and, given that the vast majority of arrivals favour the abundant seaweed-strewn beaches of the north and west, it seems logical to assume many, many more are being missed...

Buff-bellied Pipit, Scousburgh, Mainland, Shetland (Photo: Hugh Harrop)
Although most of the quality seen on the Northern Isles was the legacy of last week's fall, a few new birds did manage to sneak in from the east. Of these, a Pallas's Grasshopper Warbler trapped and ringed on Fair Isle on 3rd was the pick of bunch. Fair Isle faired pretty well given the predominately westerly winds, with the island also claiming a Pechora Pipit on 1st–2nd, a Paddyfield Warbler on 1st, a Lanceolated Warbler on 2nd, Arctic Warblers on 27th and 2nd, two Blyth's Reed Warblers, two Olive-backed Pipits and up to three Little Buntings in addition to the aforementioned Buff-bellied Pipit and a scattering of scarcities.

Lanceolated Warbler, Fair Isle, Shetland (Photo: Rebecca Nason)

Paddyfield Warbler, Fair Isle, Shetland (Photo: Rebecca Nason)
Another Lanceolated Warbler was found at Sandness on 27th while the Sykes's Warbler remained on Foula to 29th alongside a Blyth's Reed Warbler, an Olive-backed Pipit and a possible Wilson's Snipe photographed there on 3rd. A further two Blyth's Reeds and four OBPs were seen around the archipelago in addition to Pechora Pipit at Norwick, Unst on 30th–2nd, while Booted Warblers were at Clibberswick, Unst on 27th and on Bressay on 29th.

Pechora Pipit, Norwick, Unst, Shetland (Photo: Mike Pennington)
Also on Shetland, a fine first-winter male Siberian Stonechat was at Hoswick all week with a second on Out Skerries on 2nd. A Red-flanked Bluetail was in the plantation on Skaw, Whalsay on 27th while an Isabelline Shrike was at Toab throughout the week. Additionally, the first Hornemann's Arctic Redpoll of 2012 popped up at the likely location of Norwick, Unst on 28th, remaining there until the week's end, and a juvenile Spotted Sandpiper was at Voe from 30th.

Siberian Stonechat, Hoswick, Mainland, Shetland (Photo: Martin Garner)

Hornemann's Arctic Redpoll, Norwick, Unst, Shetland (Photo: Dennis Morrison)
In comparison Orkney suffered a relatively quiet week, although did score a White's Thrush at St. Margaret's Hope, South Ronaldsay on 27th. Unfortunately this thrush failed to linger more than a matter of minutes, and was not seen again.
Away from the Northern Isles, a Blyth's Reed Warbler was seen at Bornish, South Uist (Outer Hebrides) on 27th–2nd, while another was trapped and ringed at Fleetwood (Lancs) on 28th and another was belatedly identified from photographs at Barns Ness (Lothian) that day. Also in Lothian, the week's only Marsh Warbler was noted at Thorntonloch on 3rd.

Blyth's Reed Warbler, Barns Ness, Lothian (Photo: Loyd Berry)
Last week's Arctic Warbler remained on Holy Island (Northumberland) to 29th, while another was seen on St. Mary's (Scilly) on 27th. Also on St. Mary's, the Aquatic Warbler remained at Porthloo to 29th while a Western Bonelli's Warbler was found on nearby St. Martin's from 1st and Melodious Warblers were seen on Gugh and Bryher on 29th and 30th respectively.

Arctic Warbler, Holy Island, Northumberland (Photo: Frank Golding)
A Greenish Warbler remained at Kilnsea (E Yorks) to 29th, with a second found at Kingsdown (Kent) that day which lingered until 1st. A scattering of Barred Warblers remained along the east coast while Yellow-browed Warblers, although much reduced in terms of quantity, were still very prominent.

Greenish Warbler, Kilnsea, East Yorkshire (Photo: Gary Thoburn)

Yellow-browed Warbler, Knockadoon Head, Cork (Photo: Graham Clarke)
Red-backed Shrikes were a little more widespread this week than last, although still not in any large numbers. Of those recorded, birds at Portland (Dorset) on 28th–2nd, Firkeel (Cork) on 1st–2nd, Housel Bay (Cornwall) on 2nd–3rd and on the Great Orme (Conwy) on 2nd were most notable. Just one Great Grey Shrike was seen on Holy Island (Northumberland) on 27th.
There were far fewer Red-breasted Flycatchers around this week, with around 15 recorded including long-staying birds at Kilnsea (E Yorks) on on Scilly. A Bluethroat was at Balcomie (Fife) on 27th while two Siberian Stonechats included an excellent find at Firkeel (Cork) on 1st, the other photographed at Dumpton (Kent) on 27th.

Red-breasted Flycatcher, Flamborough Head, East Yorkshire (Photo: Andy Hood)
Content continues after advertisements
An Olive-backed Pipit was a brief touchdown at Whitburn (Durham) during the morning of 28th before flying off high to the south, while Tawny Pipits flew over Dawlish Warren (Devon) and Gramborough Hill (Norfolk) on 29th and Red-throated Pipits were seen over the Calf of Man on 1st and at Davidstow Airfield (Cornwall) on 28th. A Short-toed Lark was seen at Tacumshin (Wexford) on 29th while Citrine Wagtails involved a brief bird at Titchwell (Norfolk) on 28th in addition to a showy individual on Tiree (Argyll) on 27th–29th.

Citrine Wagtail, Tiree, Argyll (Photo: Jim Dickson)
A sprinkling of Wrynecks included a showy bird on seaweed at Holy Island (Northumberland), although most records came from the south and southwest. Hoopoes were at Brighton Cross (Cornwall) on 28th and Tonbridge (Kent) on 1st although, as has been the norm for 2012, neither was reported again. Lingering juvenile Rose-coloured Starlings were on St. Mary's and St. Martin's (Scilly), while new birds were at Hayling Island (Hants) on 28th–29th, Burton Bradstock (Dorset) on 30th and on Arranmore Island (Donegal) on 3rd.

Wryneck, Holland Haven CP, Essex (Photo: Jonathan Theobald)
In Suffolk, the male Spanish Sparrow made a brief reappearance at Landguard on 27th; this critter seems set for an extended stay, but predicting his appearances seems to be the great problem for birders. A good showing of Common Rosefinches occurred primarily in the Northern Isles, but also included birds at Frampton-upon-Severn (Glos) on 27th and on Inishbofin (Galway) on 3rd.
A Little Bunting was trapped and ringed at Agden Reservoir (W Yorks) on 29th but wasn't seen again. Otherwise, most of the ten seen were on the Northern Isles, and included up to three on Fair Isle and two on North Ronaldsay. The only exception was one at Portland (Dorset) on 27th, with one Ortolan still there that day. Other Ortolans were seen on Scilly and in Cork, where birds were seen over Knockadoon Head on 29th and at Lissagriffin on 1st–3rd.

Little Bunting, Sumburgh, Mainland, Shetland (Photo: James Wood)

Ortolan Bunting, Lissagriffin, Cork (Photo: Sean Cronin)
Two Grey-bellied Brants were with Pale-bellied Brent Geese at Newtonards (Down) on 30th, with a Black Brant also seen on Strangford Lough that day at Greyabbey. Another Black Brant was at Ballykelly (L'derry) on 27th. On Islay, a Lesser Canada Goose was seen on 3rd. Rare wildfowl painted a familiar picture, with the Lesser Scaup at Chew Valley Lake (Somerset), the Ferruginous Duck and Far Ings (Lincs) and the Ring-necked Duck at Orgreave Lagoons (S Yorks) all still present and correct. A moulting drake King Eider off Burghead (Moray/Nairn) on 29th is no doubt the usual bird, while the drake Surf Scoter was still at Olna Firth (Shetland). Another bird, a juvenile, was photographed on Mull on 1st.

King Eider, Burghead Bay, Moray & Nairn (Photo: Eddie Seal)

Surf Scoter, Bunessan, Mull, Argyll (Photo: Bryan Rains)
In the Outer Hebrides, the Cattle Egret remained at Loch nam Magarlan, North Uist throughout the week with two new-in at Thurlestone Marsh (Devon) — it's been a while since the last real influx of a species that looked set to colonize a few years ago. Glossy Ibises remained at Marloes Mere (Pembrokeshire), Timoleague (Cork) and on the Ouse Washes (Cambs). Two Spotted Crakes remained at Marazion (Cornwall), while others were again at Greylake (Somerset) and Farlington Marshes (Hants).

Cattle Egret, Loch nam Magarlan, N.Uist, Outer Hebrides (Photo: John McInnes)
After the ridiculous autumn of 2011, it has been a quiet September for Pallid Harriers. Therefore, news of an adult female at Firsby Reservoir (S Yorks) on 2nd was particularly noteworthy; apparently it had been present for three weeks previous and appears to be roosting in setaside by the reservoir — early mornings and evenings will likely prove best for seeing this bird. Elsewhere, the first Rough-legged Buzzards of the autumn included a bird on Unst (Shetland) on 27th with others in South Yorkshire on 29th and Norfolk on 1st.

Pallid Harrier, Firsby Reservoir, South Yorkshire (Photo: Justin Carr)
A considerable reduction in American Golden Plover numbers this week saw under 15 reported. Two were at Annagh Strand (Mayo) on 30th with a third nearby at Trawmore Bay that day; the only others reported in Ireland were a juvenile at Loop Head (Clare) on 3rd and an adult at Tacumshin (Wexford). On Shetland, an adult was at Veensgarth from 29th while two remained on North Ronaldsay (Orkney). One was at Davidstow Airfield (Cornwall) on 27th while the rest were scattered around the Outer Hebrides.
A Lesser Yellowlegs was new in at Carrick Point, Bute (Clyde Is.) from 1st after initially being identified as a Wood Sandpiper; another was at Curry Moor (Somerset) on 29th–30th with the Cornish bird still in situ at Kingsmill Lake. Up in Aberdeenshire, the Greater Yellowlegs was last seen at Loch of Strathbeg on 29th — where will it turn up next?

Lesser Yellowlegs, Carrick Point, Bute, Clyde Islands (Photo: Doug Menzies)
The first-winter Short-billed Dowitcher continued its stay at Lodmoor (Dorset) throughout the week; could it be set to winter here? A Long-billed Dowitcher at Drumburgh (Cumbria) on 27th perhaps relates to the juvenile seen on Holy Island (Northumberland) on 28th and then at Cresswell Pond and Hauxley on 30th–1st. Meanwhile, an adult was also fresh in at Burton Mere Wetlands (Cheshire) on 1st, while the Gloucestershire adult commuted to Walmore Common on 1st and 3rd from its favoured Slimbridge.

Short-billed Dowitcher, Lodmoor RSPB, Dorset (Photo: Steven Lane)
The only Semipalmated Sandpiper of the week was at Tacumshin on 27th, where the adult White-rumped Sandpiper also remained. Other White-rumps were at The Gearagh (Cork) and at Breydon Water (Norfolk) on 28th, on the Rogerstown Estuary (Dublin) on 28th–30th and at Belmullet (Mayo) on 2nd. Twenty Buff-breasted Sandpipers included threes at the Bridges of Ross (Clare) on 3rd and on the Myroe Levels (L'derry) on 29th, with twos still at Loch of Strathbeg (Aberdeenshire) and John Muir Country Park (Lothian). A good Norfolk record came from Happisburgh on 28th with another at Curry Moor (Somerset) on 28th–30th. On Scilly, one was briefly on St. Agnes on 1st while the St. Mary's bird was generally seen in the company of a juvenile Dotterel. A reduction to only twenty or so Pectoral Sandpipers included three at Exminster Marshes (Devon) on 28th. Juvenile Red-necked Phalaropes were seen in Lincolnshire and Gloucestershire.

Dotterel and Buff-breasted Sandpiper, St. Mary's, Isles of Scilly (Photo: Martin Goodey)

Buff-breasted Sandpiper, Davidstow Airfield, Cornwall (Photo: Dave Perrett)
A first-winter Bonaparte's Gull was an early find at Burrafirth, Unst (Shetland) on 30th, while the usual adult remained at Larne (Antrim). A third-winter Kumlien's Gull at Tacumshin on 29th was an excellent September record, while the odd Glaucous and Iceland Gulls were seen in the north and northwest. Four Ring-billed Gulls included a returning adult back at Cuskinny Marsh (Cork) on 30th, with the Sabine's Gull back for its tenth year at nearby Cobh that day. Other Ringers were in Down, Antrim and Forth, while the Forster's Tern continued to blog about off Soldier's Point (Louth).

Sabine's Gull, Cobh, Cork (Photo: Ronan McLaughlin)

Forster's Tern, Dundalk, Louth (Photo: Gerry O Neill)
Photo of the Week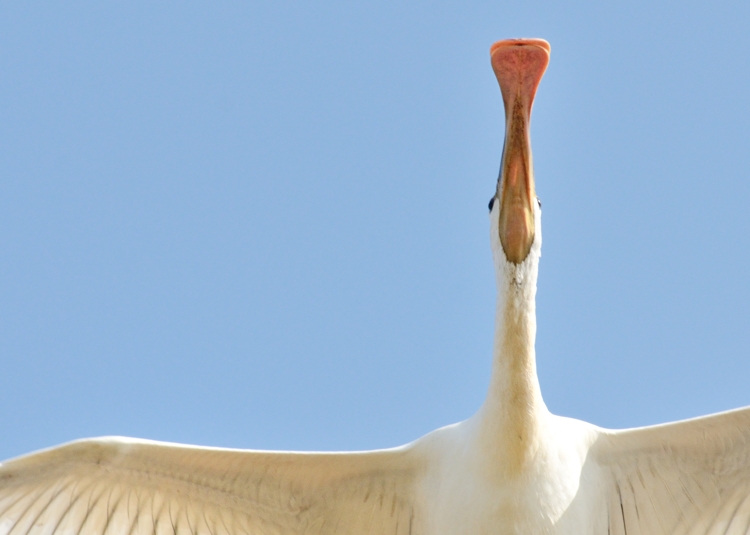 Spoonbill, Titchwell RSPB, Norfolk (Photo: Tom Hines)
Over the last three years, London-based bird photographer Tom Hines has uploaded almost 400 images to BirdGuides, two dozen of which have been selected as Notables. Alongside his more traditional shots of both common and rare birds, Tom likes to include some 'alternative takes' on his subjects, often featuring unusual crops of the birds to create powerful compositions, some of which have been among the most memorable uploads we've ever had. The reason these images have power is that they are simplified into a minimal number of elements and these elements are placed for maximum visual effect. Tom's latest example features a close crop of an overflying Spoonbill, with the line of the bird's outstretched neck and distinctive bill placed off-centre and parallel to the side of the frame, splitting the negative space of the blue sky along a third-line. Along the bottom of the frame, the perpendicular leading edges of the wings complete a rectilinear composition not often found in bird photography. This bold and graphic image finally earns Tom his first Photo of the Week.
Other notable photos

Red-breasted Flycatcher, Warham Greens, Norfolk (Photo: Rob Wilson)

Buff-breasted Sandpiper, Davidstow Airfield, Cornwall (Photo: Rob Cross)

Sparrowhawk, Laurieston, Dumfries & Galloway (Photo: Alan McFadyen)

Little Owl, undisclosed site, Leicestershire and Rutland (Photo: Paul Riddle)

Great Shearwater, Scilly pelagic, Isles of Scilly (Photo: Joe Pender)

Pectoral Sandpiper, Toft Newton Reservoir, Lincolnshire (Photo: Iain H. Leach)

Red-necked Phalarope, West Ashby, Lincolnshire (Photo: Russ Telfer)

Arctic Warbler, Holy Island, Northumberland (Photo: Frank Golding)

Twite, Quendale, Mainland, Shetland (Photo: Richard Smith)

Hobby, Bawdsey, Suffolk (Photo: John Richardson)

Buzzard, undisclosed site, Devon (Photo: Charlie Fleming)

Great Skua, North Wirral, Cheshire (Photo: Steve Round)

Merlin, Point of Ayre, Isle of Man (Photo: B Callow)

Wryneck, Holy Island, Northumberland (Photo: Craig Shaw)

Little Bunting, Sumburgh, Mainland, Shetland (Photo: James Wood)