The week at a glance
As seems to be the trend these days, the only two new top-drawer birds this week were both inaccessible. The highlight was yet another belatedly reported garden bird, this time a first-winter Oriental Turtle Dove in Chipping Norton (Oxfordshire). It was seen and photographed over 15th–18th December, and almost slipped through the birding net when it was originally dismissed as a Feral Pigeon. Luckily, the finder was a BTO Garden BirdWatch participant, and submitted the photo with their December counts. This was quickly picked up at the BTO and the identification was confirmed with the county recorder, who despite much effort was unable to refind the bird. This was a rather unexpected first for the county and only the ninth British record and the first in England since 1975. With the weather much improved, this bird may well have moved on, but we can always hope.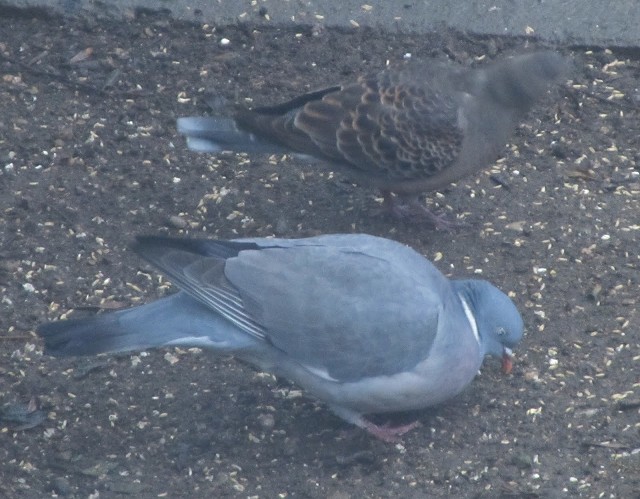 Oriental (Rufous) Turtle Dove, Chipping Norton, Oxfordshire (Photo: via BTO/BirdGuides)
The other new arrival was sadly only a short-stayer. A visiting birder found a Killdeer on the beach at Lossit Bay, Islay (Argyll) on 31st. It was also heard calling the next day but unfortunately couldn't be refound. This is actually the third record for Argyll, following a one-day bird on Oronsay in 2006 and one on Colonsay for two days in 1984.
Many of the other quality birds remained, though, including two of the three wintering Pacific Divers, at Marazion (Cornwall) all week and at Ladies Bay (Guernsey) on 27th. The Lesser White-fronted Goose was a bit more elusive, seen at Buckenham Marshes, Norfolk, on 30th only. The American Coot was reported from Termoncarragh Loch (Co Mayo) on 28th and the House Crow was still in Cobh (Co Cork).
There was a change round in Snow Geese this week, with no reports of the regular two, but three new birds appeared: one at Kintraw (Argyll) on 25th–28th, a bird with Greylag Geese at Portmore Lough (Co Antrim) on 29th–1st and another also with Greylags at Gremista (Shetland) on 30th–31st. Both the regular Ross's Geese remained, at Rockcliffe Marsh (Cumbria) all week and on Haddiscoe Marshes (Norfolk) to at least 30th. There was also another, at Burnham Norton (Norfolk) on 30th. There were fewer Ruddy Shelducks this week, with one at West Wittering (West Sussex) on 30th and one still at North Cove (Suffolk) on the same day.
Numbers of Black Brants also dropped, with two birds along the Suffolk coast, at Felixstowe Ferry, Trimley Marsh and Falkenham over 29th–1st. There were also two at Butterstreet Cove (Dorset) on 1st and two in Ireland, at Annagh Head (Co Mayo) on 27th–28th and at Wexford Wildfowl Reserve on 29th. The two popular Red-breasted Geese both remained, at Brownwich and Hook-with-Warsash (Hampshire) and around Pilling (Lancashire) all week. In Scotland, the Richardson's Canada Goose was reported from Loch Gruinart, Islay (Argyll) to 31st.

Red-breasted Goose, Brownwich and Chilling, Hampshire (Photo: Simon Johnson)
With none of Ireland's Ferruginous Ducks reported, the only remaining bird was at Needham Market (Suffolk) on 27th. Plenty of Ring-necked Ducks were reported, though, with one at Fleetwood (Lancashire) on 27th moving to nearby Thornton ICI Reservoir on 29th–31st. Others remained at Gwithian (Cornwall), Cowpen Bewley (Cleveland), Talley Lakes (Carmarthenshire), Lough Gash Turlough (Co Clare), Loch Evelix (Highland), Lough Cowey (Co Down) and Cork City.

Ring-necked Duck, Cowpen Bewley, Cleveland (Photo: Craig Shaw)

Ring-necked Duck, Gwithian, Cornwall (Photo: Samuel Williams)
There were surprisingly only three reports of Green-winged Teal, including drakes in Bell Harbour (Co Clare) and on Carrowmore Lake (Co Mayo) to 28th and a new bird at Ravenglass (Cumbria) on 29th. Four of last week's American Wigeon remained, at Cley Marshes (Norfolk), Culswick (Shetland), Martnaham Loch (Ayr) and Rutland Water, with just one new bird, at Ballymacoda (Co Cork) on 1st. Four Lesser Scaup remained, with one at Slimbridge (Gloucestershire) all week and the bird at Dozmary Pool (Cornwall) forced to move to nearby Colliford Lake on 30th after the lake froze over. The drake was at Cosmeston Lakes (Glamorgan) again on 30th and the female at Wester Sand (Orkney) was also reported again on 2nd, having not been seen for a month.

Lesser Scaup, Cosmeston Lakes CP, Glamorgan (Photo: Richard Crossen)
Most of the regular Surf Scoters stayed put, including the drake off Ruddon's Point (Fife) — with six Slavonian Grebes and 90 Velvet Scoters — the adult female off Dawlish Warren (Devon) and the Co Cork bird off Great Island on 29th and Aghada on 30th. The only new bird was one at Waterville (Co Kerry) on 1st. There were no reports of King Eider all week, but the Northern Eider remained off Embo (Highland) to at least 29th. There were still plenty of sites with Smew, including new birds at many sites. Numbers were still good, peaking at 23 at Needingworth Quarry Lakes (Cambridgeshire), 17 at Paxton Pits (Cambridgeshire) and 15 at Dungeness (Kent). The furthest north was a redhead in Lerwick (Shetland) on 28th–30th and the only Irish birds were two redheads at Loughrea (Co Galway) on 29th.

Smew, Minsmere RSPB, Suffolk (Photo: Matt Wilding)
After last week's rush of shearwater records, the only ones reported this week were a lone Manx Shearwater past Girdle Ness (Aberdeenshire) on 27th and a Sooty Shearwater past Flamborough Head (East Yorkshire) on 27th.
One interesting report was of two Night Herons seen in flight at Salthouse (Norfolk) on 29th, though with free-flying escapes in Norfolk in recent years (from the now closed Norfolk Wildlife Park at Lenwade), their origins are not clear. Also of unknown, but captive, origin was a Greater Flamingo seen over Needingworth Quarry Lakes (Cambridgeshire) on 1st and then at Welney (Norfolk) on 2nd, where its blue ring could be seen.
Seemingly in line with everything else, there were fewer Great White Egrets, with birds reported from just four or five of the regular winter sites. Up to six birds remained at Ham Wall (Somerset) and new birds were at Kirkby on Bain Gravel Pits (Lincolnshire) on 28th, Cransley Reservoir (Northamptonshire) on 30th and Slapton Ley (Devon) on 31st. The Cattle Egret continued to roam Guernsey, seen at Rue des Hougues on 29th and St Andrew's the next day. Small pockets of Spoonbills generally stayed put, with eight at Holes Bay (Dorset), five at Isley Marsh (Devon) and singles at Courtmacsherry (Co Cork), around Cley and Salthouse (Norfolk) and a new, one-day bird at Sudbourne Marshes (Suffolk) on 30th.

Great White Egret, Kirkby on Bain GPs, Lincolnshire (Photo: Trevor Gunby)
Rough-legged Buzzards were at 10 sites in the east, mostly from North Yorkshire to Kent. In Shetland, one was still at Toft and two were again at Valla Field, Unst. New birds included one over Hornsea Mere (East Yorkshire) on 27th and two in Lincolnshire, on Wingland Marsh on 29th and at Broughton on 2nd. The two English Northern Harriers remained this week, at Thornham (Norfolk) and the probable juvenile again at Bartinney Downs (Cornwall) on 30th. There were also two reports of possible Black Kites on 1st, at Ulverston (Cumbria) and over Slapton Ley (Devon).
Content continues after advertisements

Northern Harrier, Thornham, Norfolk (Photo: Baz Scampion)
The White-tailed Eagle remained surprisingly elusive at Hordle (Hampshire) all week, and has been enhancing its media profile, starring on the local BBC Inside Out programme. Another eagle in the news was the Golden Eagle at Pont-rhyd-y-groes (Ceredigion) from 29th. This bird has been in the general area for almost a year now and is thought to have escaped from a local bird of prey centre. It's still an impressive sight, though, and also featured on the local BBC news.
The wandering Long-billed Dowitcher in Dorset reappeared again, but not back at its usual haunt of Lodmoor, but at Poole Park, present from 31st.

Long-billed Dowitcher, Poole, Dorset (Photo: Simon Kidner)
It seemed this week that as many Glaucous Gulls were at inland locations in the Midlands as were anywhere else, which is rather surprising. Birds were reported from Shropshire, Staffordshire, Leicestershire, Derbyshire, Northamptonshire and Oxfordshire. All were singles, though birds at Sutton Courtenay/Appleford Gravel Pits (Oxfordshire) on 31st, Cannock (Staffordshire) on 1st and Clahane Strand (Co Clare) on 1st were all in the company of an Iceland Gull. Other Icelands were more widespread, including several in Ireland and one in Wales, at Little Haven (Pembrokeshire) on 29th. Again, most were singletons, but there were two in the roost at Chasewater (Staffordshire) on 29th, two in the roost at Fishmoor Reservoir (Lancashire) on 1st and two at Reenard Point (Co Kerry) on 1st.

Glaucous Gull, Ditchford GPs, Northamptonshire (Photo: David James)

Iceland Gull, Clahane Strand, Clare (Photo: Jeffcop)
Regular Ring-billed Gulls were reported in Hampshire, Essex, West Yorkshire and Argyll, and the adult was again on Par Beach (Cornwall) on 30th. In Ireland birds were reported from 12 sites, with two birds at Cuskinny Marsh (Co Cork) on 29th, Limerick on 1st and Nimmo's Pier (Co Galway) on 29th, where the Forster's Tern also remained. Also of interest to larophiles were up to 230 Mediterranean Gulls at Radipole Lake, (Dorset) on 29th. Two Sandwich Terns were seen off Climping and Church Norton (West Sussex) on 1st and several of the wintering birds remained along the coast of County Galway.

Ring-billed Gull, Sands Lane GP, West Yorkshire (Photo: Sean Johnston)

Forster's Tern, Nimmo's Pier, Galway (Photo: Jeffcop)
There were no reports of Shore Lark from Gibraltar Point (Lincolnshire), but several other groups remained through the week. Suffolk birds were now at Dunwich Pools, with up to 11 there, and in Norfolk, 10 were at Cley, seven at Titchwell and seven at Holkham. Elsewhere, five remained at John Muir Country Park (Lothian), three were at Reculver (Kent) and one remained elusive at Warton, near Carnforth (Lancashire) to at least 31st.

Shore Lark, Cley Marshes NWT, Norfolk (Photo: Andy Thompson)
Waxwings seem to be more and more clustered in central and southern England now, with none further north than Dingwall (Highland), where there were 12 on 31st. All Irish birds were on the east coast, including 22 in Belfast (Co Antrim) on 31st and 30 in Dublin (Co Dublin) and the only birds in Wales were three in Conwy and 42 at Caergwrle (Clwyd) on 31st. Peak supermarket counts included 285 at Marks and Spencer in Muswell Hill (London), 200 at Aldi in Pitsea (Essex) and 190 at Waitrose in Yateley (Hampshire).

Waxwing, Yateley, Hampshire (Photo: Gary Loader)
Great Grey Shrikes were back at 18 widespread locations, though still somewhat westerly in distribution. New birds in the east included ones at Barton (Cambridgeshire) on 28th–2nd and Wykeham Forest (North Yorkshire) on 29th–1st. There was an unusual-looking Rose-coloured Starling — a first-winter female perhaps? — in Penzance (Cornwall) on 28th–2nd.
Just one Coues' Arctic Redpoll was reported from Rainton Meadows (Durham), with none after 30th. There were also reports of birds in private gardens in Chicksands (Bedfordshire) on 27th and Lincoln (Lincolnshire) on 28th and one in a private area at Kirby Lakes (Leicestershire) on 30th. Others remained at The Lodge (Bedfordshire) and Cranshaws (Borders) and there were also possibles at Carr Vale (Derbyshire) on 31st and Fairburn Ings (West Yorkshire) on 2nd. Other notable passerines reported were up to 15 Hawfinches at Clumber Park (Nottinghamshire) on 29th. Lapland Buntings were reported from 14 coastal sites, with one inland bird again at Rainham Marshes (London) on 29th. The peak counts were 40 at Gunwalloe (Cornwall), 36 at Paviland (Glamorgan) and 28 at Mersea Island (Essex).

Coues' Arctic Redpoll, Rainton Meadows DWT, Durham (Photo: Tristan Reid)
The five Northern Long-tailed Tits were still on show at Dymchurch (Kent), and the county also saw two at Rodmersham Green on 2nd and another possible at Ramsgate on 28th. The Central Asian Lesser Whitethroat also stayed put at Drogheda (Co Louth) all week with another possible at Neath (Glamorgan) on 30th and a Lesser Whitethroat at Ramsgate (Kent) on 28th is probably worthy of further investigation. Various 'Nordic' Jackdaws continued to be reported, with one still at Beech (Staffordshire) on 27th and others at Snab Point (Northumberland) on the same day and in Londonderry (Co Londonderry) on 2nd.

Northern Long-tailed Tit, Dymchurch, Kent (Photo: Martin Casemore)

Northern Long-tailed Tit, Dymchurch, Kent (Photo: Gary Peckett)
Photo of the Week: 27th January–2nd February 2011

Pintail, Elmley Marshes RSPB, Kent (Photo: Ian Curran)
There is a long-standing debate about whether photography is an art form. It's undoubtedly true that some types of photography have no artistic credentials, but then that's also true of other creative techniques such as painting and sculpture — unless you're Michelangelo, there's usually very little art involved in painting a ceiling! Most definitions of art require both the use of skill in the creative process and the presence of aesthetic qualities in the finished results. On both these counts, there's little doubt that Ian Curran's photograph(y) of a pair of flying Pintail in golden winter sunlight meets these criteria. Elegant subjects, beautifully posed (and juxtaposed), with pleasing and evocative use of light surely stir the emotions just as much as if they'd been painted on to canvas. As for the skill needed, it typically takes as long to be able to create photos like this as it does to complete an art degree! :)
Other notable photos

Carrion Crow, Old Moor RSPB (Dearne Valley), South Yorkshire (Photo: Tom Hines)

Short-eared Owl, undisclosed site, Lincolnshire (Photo: David Newby)

Great White Egret, Netherlands (Photo: Rudi Debruyne)

Black-tailed Godwit, Belfast Lough RSPB, Antrim (Photo: Ian Dickey)

Crested Tit, undisclosed site, Highland (Photo: John Fielding)

Long-tailed Tit, Wayoh Reservoir, Lancashire (Photo: John Barlow)

Pheasant, Wigan, Greater Manchester (Photo: Roy)

Barn Owl, Gayton, Norfolk (Photo: Stephen Durrant)

Black-throated Diver, Clayhanger Marsh, West Midlands (Photo: Chris Cook)

Reed Bunting, Mere Sands Wood LWT, Lancashire (Photo: David Cookson)

Common Treecreeper, East Linton, Lothian (Photo: James Wood)

Common Kestrel, Marton Mere, Lancashire (Photo: Cliff)

Common Crossbill, undisclosed site, Clwyd (Photo: Steve Round)

Yellow-vented Bulbul, Saudi Arabia (Photo: Duha)

Lesser Redpoll, Troon, Ayrshire (Photo: Chas Moonie)

Bittern, Kenfig NNR, Glamorgan (Photo: martin Pulling)

Curlew, Cresswell Pond NWT, Northumberland (Photo: Terry Cavner)