The week at a glance
As a ridge of high pressure moved in from the east, temperatures continued to tumble this week, giving much of Britain and Ireland a taste of the anticyclonic conditions we've been all too familiar with over the past couple of winters. With it came one or two excellent new birds to south-coast counties, ensuring that the south and southeast continued to dominate rarity headlines.
Top of the bill were Hampshire's lingering ship- (and human-)assisted duo: the male Spanish Sparrow was looking relaxed and well settled coming to feeders among the House Sparrows in Calshot all week, while the male Dark-eyed Junco was also still visiting the seeded area near the car park at Hawkhill Inclosure. Both look set to be long stayers.

Spanish Sparrow, Calshot, Hampshire (Photo: P J Underwood)

Dark-eyed Junco, Hawkhill Inclosure, Hampshire (Photo: Philip John Parsons)
Neighbouring (West) Sussex continued an excellent run of birds in the county since last autumn with two superb — and entirely unexpected — arrivals this week. First up was news of a female Parrot Crossbill among up to 50 Common Crossbills at Black Down — news broke on 29th, although it appears the bird had probably been present at least a few days before this. Being the first twitchable English bird since the infamous 1990/1 invasion, she will inevitably prove a huge draw over the coming weeks.
The crossbill will likely receive even more attention if the county's other star arrival — an outrageously unseasonable Paddyfield Warbler at Pagham Harbour — also decides to linger. It was first found on 30th, but news did not reach the general public until the evening of 31st after the bird's true identity was realised. The bird was still present early on 1st, but generally proves very elusive and, with the weather set to get colder, it will be doing well if hangs on (survives) into next week.

Paddyfield Warbler, Pagham Harbour LNR, West Sussex (Photo: Trevor Guy)
It seems Scilly's Northern Waterthrush is incapable of lingering for more than a day or two before disappearing back into the boggy wilderness around Lower Moors, St. Mary's. It showed up again on 1st, and it will be interesting to see how (and if) it copes with the weather this week.
In Norfolk, the adult Lesser White-fronted Goose was still alternating between Buckenham and Cantley Marshes to 29th. Although this week's cold snap may delay them slightly, it surely cannot be long before its Taiga Bean escort decides enough is enough and melts back eastwards into the continent: last year, it was last seen on 24th. Snow Geese included the lingering blue morph on Tiree (Argyll) on 26th and the white morph again at Big Isle (Donegal) on 30th, while the Lancashire flock had reduced from five back to three. The adult Ross's Goose was again with the Solway Barnacles at Grune Point (Cumbria) on 29th before relocating to Skinburness on 30th–31st, and at least two were still touring Norfolk.
Vagrant white-cheeked geese were represented by a Taverner's-type near Caerlaverock (Dumf & Gall), while the large, dark bird (probably a Todd's) in Mayo was relocated at Termoncarragh Lough on 27th. Diminutive Richardson's were still at Torr Reservoir (Somerset) on 28th and Ballyconnell (Sligo) on 29th. Although the Solway bird was not seen this week, Red-breasted Geese remained in residence at Old Hall Marshes (Essex) to 29th and on the Exe Estuary (Devon) to 31st. A miserable showing of Black Brants involved up to two at Wells-next-the-Sea (Norfolk) throughout the week, a third in the same county at Cley on 1st, and the adult and its two hybrid young again at Carricklahan (Mayo) on 27th.
Five drake American Wigeon included one new arrival: a first-winter drake was at North Warren (Suffolk) on 1st. One was again at Rahasane Turlough (Galway) on 27th while others remained at Kirk Loch (Dumf & Gall) to 26th, Dawlish Warren (Devon) to 30th, and Angler's Country Park (W Yorks) to 1st. The juvenile drake Blue-winged Teal was still on St. Mary's (Scilly) throughout the week, while eight Green-winged Teal included new drakes at Baleshare, North Uist (Outer Hebrides) on 26th, Alkborough Flats (Lincs) on 27th, and Inch Island Lake (Donegal) on 31st. The drake again at Alton Water (Suffolk) on 28th–30th was later advertised as a possible hybrid, as some photos show an unnervingly bold pale grey horizontal stripe in addition to the usual vertical number.

American Wigeon, Anglers CP, West Yorkshire (Photo: M Rafter)
In Cornwall, the female/1st-winter Bufflehead was still loafing around on Helston Loe Pool to 1st, when it moved down the coast slightly to Croft Pascoe Pool. The young drake Lesser Scaup was also still in the county at Dozmary Pool to 1st. Other Lesser Scaup were still at Lough Gill (Kerry) on 29th and Slimbridge (Glos) to 1st, with the drake again reappearing at Cosmeston Lakes (Glamorgan) on 27th–31st. Eight Ring-necked Ducks included the two drakes still at Chard Junction (Dorset) to 30th, and a drake returning to Thornton ICI Reservoir (Lancs) from 1st. Others were still at Lough Shivnagh (Donegal), Cowpen Bewley (Cleveland), Par Beach (Cornwall), and last week's Ayrshire arrival still commuting between Trabboch Loch and Broadwood Flash to 1st. In addition, the female was again at Ranworth Broad (Norfolk) on 28th–29th where a Ferruginous Duck was again reported on the latter date. Other reports of Ferruginous Dusk concerned a young drake at Oxford Island (Armagh) on 28th, the Blashford Lakes (Hants) bird still on 27th, and a drake again at Woolhampton Gravel Pits (Berks) on 1st.

Bufflehead, Helston Loe Pool, Cornwall (Photo: Andy Johnson)

Ring-necked Duck, Chard Junction, Dorset (Photo: Jeff Hazell)
Two Surf Scoters were still in the traditional location of Brandon Bay (Kerry) on 30th, and three drakes were again reported off Llanddulas (Conwy) on 28th. Other birds included females still at Morfa Nefyn (Gwynedd) and Dawlish Warren (Devon) all week, and the young drake was still off Garretstown (Cork) on 1st.
Down's Cattle Egret was again roosting at Hillsborough Lake on 28th–30th, while others remained at Grouville Marsh (Jersey) to 30th, and Tophill Low (E Yorks) and Warblington (Hants) both to 1st. All but two of the eighteen Great White Egrets recorded were in England, including twos at Ham Wall (Somerset) and Dungeness (Kent); Welsh records came from Llangorse Lake (Powys) and the National Wetlands Centre (Carmarthenshire). The escaped adult Night Heron was still poking around in the canal at Atherstone (Warks) on 31st, while presumably of similar provenance was last week's wandering White Stork, which was pinned down at Fraisthorpe (E Yorks) on 25th–28th before it flew off south once more. Ireland continued to produce Crane records, with birds at Athlacca (Limerick) on 28th–31st and Cahore Marsh (Wexford) on 29th.

Great White Egret, Kirkby on Bain GPs, Lincolnshire (Photo: Russ Telfer)

White Stork, Fraisthorpe, East Yorkshire (Photo: Ken Foston)
The Glossy Ibises kept on coming as February arrived: an ultra-flock of no fewer than 23 was found late on 31st near Carew (Pembrokeshire) and the birds were still present early the following day. Other Welsh birds were mainly in Pembrokeshire: two in the Dowrog Common/St. David's area to 31st, and three still at Marloes the same day. To the east, Gwent held on to two at Newport Wetlands, making the country's total a whopping 30 birds. Flocks of five and four flying over Skibbereen and Ballycotton (both Cork) respectively on 31st was a reminder that Ireland's total was also bountiful — others in Cork, Mayo and Wexford contributed to a total of twelve across the Emerald Isle. Nine English birds included a new bird at St. Helen's (IOW) from 29th, while Scotland was not left out: the flock at Eigg (Highland) had increased to seven by 27th.

Glossy Ibis, Carew, Pembrokeshire (Photo: Richard Crossen)

Glossy Ibis, Sandbach Flashes, Cheshire (Video: Simon Wilson)
The monopoly of at least twelve Rough-legged Buzzard records stemming from east-coast counties was punctured only by an inland record from the Ewden Valley (S Yorks) on 1st, and the Kilcoole (Wicklow) bird still present all week. Norfolk claimed at least four birds this week, including at least two still in the Wells-next-the-Sea area. There was also belated news of the continued stay of the juvenile Pallid Harrier at Lough Corrib (Galway): it was still there on 25th.
Cley Marshes (Norfolk) held on to its Western Sandpiper all week, while the Pectoral Sandpiper in Ayrshire was relocated with Lapwings near Loans on 29th–1st. Other unseasonable Calidrids included the two lingering Temminck's Stints at Rushy Common (Oxon) to 27th, and one again on the Ouse Washes (Cambs) on 29th–30th.
A first-winter Spotted Sandpiper was new at Stanpit Marsh (Dorset) on 1st, while others were still in residence at Chew Valley Lake (Somerset) to 26th, at Lyme Regis (Dorset) to 29th, and on the Plym Estuary (Devon) to 1st. In contrast, just one Long-billed Dowitcher was reported this week, that being the Welsh bird still at Kidwelly (Carmarthenshire). The Lesser Yellowlegs also looked well settled on pools by the Brue Estuary at Burnham-on-Sea (Somerset), and was still present on 31st.

Spotted Sandpiper, Lyme Regis, Dorset (Photo: Roger Boswell)
True to form, the week's rare gull news was Irish-dominated. In County Down, the adult Ross's Gull continued to entertain visitors to Ardglass harbour throughout the week, although it seems the bird does go missing for periods — it was not seen on 28th, for example. A first-winter American Herring Gull was noted in Dublin harbour on 30th, although much rarer in an Irish context was a near-adult Caspian Gull in the port at Rosslare (Wexford) on 28th–29th — there have been just eleven accepted records. Not to be forgotten was the adult Bonaparte's Gull still commuting between Larne and Ballygalley (Antrim) to 31st. A Sabine's Gull bucked the Irish trend, twice flying past Sandwich Bay (Kent) on 31st.

Ross's Gull, Ardglass, Down (Photo: Craig Nash)
At least 20 Ring-billed Gulls were again split fairly evenly between Britain and Ireland. In Ireland, Sandymount (Dublin) and Nimmo's Pier (Galway) boasted the only multiple counts of the week, with two adults at each. A new adult was at Lough Aderra (Cork), and a first-winter was fresh in at Ferriter's Cove (Kerry) on 31st. In Scotland, a first-winter was new at Barvas, Lewis (Outer Hebrides) on 27th with the Barassie (Ayrshire) bird still present to 31st. English records generally concerned long-staying adults, the exception being the second-winter again at Radipole Lake (Dorset).

Ring-billed Gull, Nimmo's Pier, Galway (Photo: Tom Cuffe)
With more settled conditions taking hold this week, white-winged gull concentrations began to dissipate as birds became increasingly mobile. At least 550 Iceland Gulls included more birds filtering southwards — there were more significant counts from Highland during the week. Peak counts including at least 65 still in Stornoway Harbour, Lewis (Outer Hebrides), 48 at Lerwick (Shetland), 25 at Killybegs (Donegal) and 20 at Ardglass (Down). There were still plenty of Kumlien's Gulls among the hordes: six were at Lerwick harbour on 28th, with threes recorded at Stornoway Harbour, Killybegs and Sand Geo (Orkney).

Iceland Gull, Ardglass, Down (Photo: Mark Killops)

Kumlien's Gull, Hartlepool Headland, Cleveland (Photo: Mark Newsome)
Around 125 Glaucous Gulls included at least 13 on The Mullet (Mayo), 12 at Killybegs (Donegal), and several other decent single-figure counts from Scottish harbours. Three at Ditchford Gravel Pits (Northants) was a good record for the East Midlands.

Glaucous Gull, Killybegs, Donegal (Photo: Derek Charles)
Richard's Pipits were still at Wyke Regis (Dorset) to 29th and Killard Nature Reserve (Down) to 1st, with a further possible at Oldbury Power Station (Glos) on 29th–30th. Shore Larks were again in desperately short supply, the four at Holkham (Norfolk) and a singleton at Hayling Island (Hants) being the only records. The Cornish Swallow commuting between Helston boating lake and the sewage works was still present to 31st, although it must be starting to feel a tad chilly. Two more were reported in the county at Porthleven on 31st.

Shore Lark, Hayling Island, Hampshire (Photo: Richard Ford)
In East Yorkshire, the male Desert Wheatear continued to perform well along the cliff-top at Bempton throughout the week, although the increasingly sporadic nature of reports suggests that even the 2012 listers have now been and gone.

Desert Wheatear, Bempton Cliffs RSPB, East Yorkshire (Photo: Dean Eades)
For the first time since its arrival, there was no sign of the Hume's Leaf Warbler at Wyke Regis (Dorset) all week. However, several Yellow-browed Warblers battled on, at Chew Valley Lake (Somerset) to 28th, Ham Wall (Somerset) to 29th, and Swanpool (Cornwall), Exmouth and Plymouth (both Devon) to 1st, while one was again on St. Mary's (Scilly) on 28th. The Lesser Whitethroat was also still at Berry Hill Fields (Staffs).

Yellow-browed Warbler, Plympton, Devon (Photo: Phil Stidwill)
Thirty Great Grey Shrikes were as widespread as ever: two Scottish records came from Mitchellslacks (Dumf & Gall) and the Forest of Birse (Aberdeenshire), while five Welsh records included a report of two at Mynydd Illtyd (Powys) on 28th. The rest were spread across England, from Devon in the southwest to Cleveland in the northeast.

Great Grey Shrike, Ty-Rhyg, Pembrokeshire (Photo: Richard Stonier)
West Yorkshire's cuddly couple of Northern Long-tailed Tits were still at Luddenden Dean throughout, while an adult Rose-coloured Starling seen twice briefly in Muirhead (Ayrshire) on 28th was an excellent January find. Finally, the Coues's Arctic Redpoll continued at Titchwell (Norfolk) to 1st, although there were no reports from Kelling this time around.

Northern Long-tailed Tit, Luddenden Dean, West Yorkshire (Photo: Steve Culley)
Photo of the Week: 26th January–1st February

Great Spotted Woodpecker, undisclosed site, Norfolk (Photo: Clare Scott)
Looking at the diverse collection of high-quality images on Clare Scott's website, it's amazing to read that she bought her first DSLR camera only a year and a half ago. Despite her having mastered so many different types of photographic subjects, we're pleased to see that the majority of her published photos are of birds. It's interesting to see how, bringing such a natural 'photographic eye' to an avian subject, she has created a high-impact image from such a familiar species as the Great Spotted Woodpecker. Using an uncluttered composition with a mid-tone setting has allowed both the light and dark areas of this pied species to stand out from the background. Front lighting has helped to avoid harsh shadows and there is plenty of detail in both the light and dark areas of the bird's plumage. Against a muted set of hues, the brilliant red of the undertail coverts leaps off the screen. Most of all, though, the radical, gravity-defying pose demands attention and generates engagement. A great first Photo of the Week for Clare, a new contributor who we hope will share more images with us in the future.
Other notable photos

Tufted Duck, London Wetland Centre WWT, Greater London (Photo: Tom Hines)

Great Grey Shrike, Ty-Rhyg, Pembrokeshire (Photo: Richard Stonier)

Barn Owl, undisclosed site, Essex (Photo: Rob Cross)

Common Crossbill, Hollesley, Suffolk (Photo: John Richardson)

Short-eared Owl, undisclosed site, Lancashire (Photo: John Fielding)

Common Treecreeper, Wigan, Greater Manchester (Photo: Roy)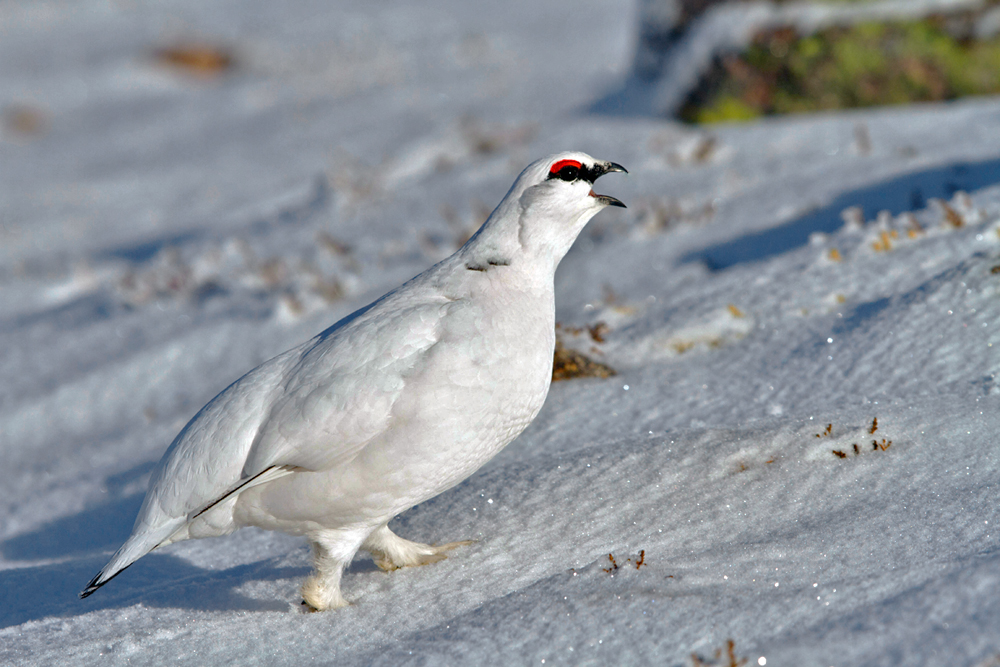 Ptarmigan, undisclosed site, Highland (Photo: Marcus Conway - ebirder)

Goldcrest, private site, Cheshire (Photo: Steve Dolan)

Pintail, Slimbridge WWT, Gloucestershire (Photo: Pete Blanchard)

Marsh Harrier, Cley Marshes NWT, Norfolk (Photo: Ian Curran)

Peregrine Falcon, Durlston CP, Dorset (Photo: Nigel Forrow)

Desert Wheatear, Bempton Cliffs RSPB, East Yorkshire (Photo: Dean Eades)

Snow Bunting, Kinmel Bay, Conwy (Photo: Steve Round)

Waxwing, Ipswich, Suffolk (Photo: Chris Mayne)

Sparrowhawk, Castle Douglas, Dumfries & Galloway (Photo: Chas Moonie)

Shag, Baltasound, Unst, Shetland (Photo: Robbie Brookes)

Nuthatch, Llandrindod Wells, Powys (Photo: Kev Joynes)

Tundra Bean Goose, Musselburgh, Lothian (Photo: Mike Thrower)

Galah, Australia (Photo: John Dickenson)