The week at a glance
It's fair to say that the second half of April has been a largely sluggish affair. March's glorious weather and early rush of migrants seems a long time ago now, with the blocking northerlies of recent days not only frustrating birders but making them feel quite chilly too.
But the persistent (and frankly irritating) airflow was always going to abate at some point — and by Sunday 30th it had done just that. All of a sudden, the wind was in the south-east and, while it remained a tad cold (and, intermittently, rainy), northbound migration recommenced in spectacular fashion, like a coiled spring unsprung.
While non-passerines of just about every variety appeared to be taking advantage of the first window of opportunity to reach their respective breeding grounds further north, the stand-out species has to be Black Tern. Sunday 30th ended up being our record-busy spring day, with 850 reports — almost 25 per cent of which concerned this popular marsh tern. Most reports typically involved ones, twos and small groups, but there were some sizeable tallies too, with 30s at Rutland Water, Whisby Nature Park, Lincs, and Draycote Water, Warks, among others.
Content continues after advertisements

Black Tern, North Cave Wetlands YWT, East Yorkshire (Photo: Sonia Johnson)
As with other April migratory events, Arctic Tern passage has been both subdued and delayed so far this year so it was good to see plenty on the move in the early part of the week, not least the 121 at Rutland Water on the evening on 27th, which is easily the best inland tally of the year so far. On the coast, 712 past Starr Gate, Blackpool, was a decent count on 1st, with 800+ past Spurn, East Yorks, the previous day.
Shorebirds were also moving with intensity, with species such as Bar-tailed Godwit, Grey Plover, Whimbrel and Turnstone among the most numerous — these of course all treats for the inland patcher, of which many connected with at least some of the above. The first Temminck's Stints of 2017 showed up (at eight sites with a peak of two at Newport Wetlands, Gwent, from 2nd) while there was even a female Kentish Plover at Pitstone Quarry, Bucks, for a few hours on 1st. Other Kentish Plovers, all males, were at more typical coastal locations: Tide Mills, East Sussex, on 26th, The Naze, Essex, on 29th and Praa Sands, Cornwall, on 27-28th. With the easterly airflow continuing into the new week, it seemed inevitable that the first Broad-billed Sandpiper of the year would show up — and so it did, although at the slightly surprising location of Beddmanarch Bay, Anglesey, on 1st. Another followed at the altogether more predictable outpost of Spurn, E Yorks, on 2nd.

Kentish Plover, Praa Sands, Cornwall (Photo: Brian Mellow)

Temminck's Stint, Cley Marshes NWT, Norfolk (Photo: Roger Ridley)
Two Black-winged Stilts remained on Tresco, Scilly, early in the week while up to five were at March Farmers, Cambs, on 29th, with presumably these birds accounting for up to four at Welney, Norfolk, subsequently. Up to three were at Boyton Marshes, Suffolk, on 30th.

Black-winged Stilt, Boyton Marshes RSPB, Suffolk (Photo: Chris Mayne)
Dotterel passage has been quite poor so far this spring so it was a relief that 14 sites noted birds this week, though no particularly high counts were made. Four at Therfield, Herts, were by far and away the week's most popular trip, being well watched from 26th onwards. Seven at Garreg Lwyd, Carmarthens, on 1st was the highest total, while there were a couple of notable Irish records: three graced Fanore, Co Clare, on 1st and one was at Kilkea, Co Kildare, the next day. Other shorebirds of real note were a Long-billed Dowitcher at Quoile Pondage, Co Down, from 26-30th, a Pectoral Sandpiper at Brading Marshes, IOW, from 26-28th and an American Golden Plover at Monreith, Dumfries & Galloway, on 30-1st.

Long-billed Dowitcher, Quoile Pondage, Down (Photo: Ian Dickey)
On the south coast, skua passage really picked up with Pomarine Skuas enjoying a particularly busy day on Sunday. With just a handful of birds seen in the preceding days, 30th exploded in to life in Kent with an impressive 129 past Dungeness by evening and 70 past St Margaret's at Cliffe by midday. Smaller numbers flew past the usual spots in East and West Sussex, Hampshire, Dorset and Devon, while there were one or two sightings from localities in southern Ireland, Wales, and north-west England.
And all of this without mentioning a certain first for Britain that appeared on North Ronaldsay on Saturday! The bird in question, a female Red-winged Blackbird, has shown intermittently ever since, although favours an iris bed which often renders it invisible for long periods. Given how common and widespread this species is across North America, it's always a bird that has been on the cards — albeit not near the top of the 'likely' pile — and represents a welcome first for the Western Palearctic. A truly superb find for assistant warden Simon Davies, you can read his account of the discovery here.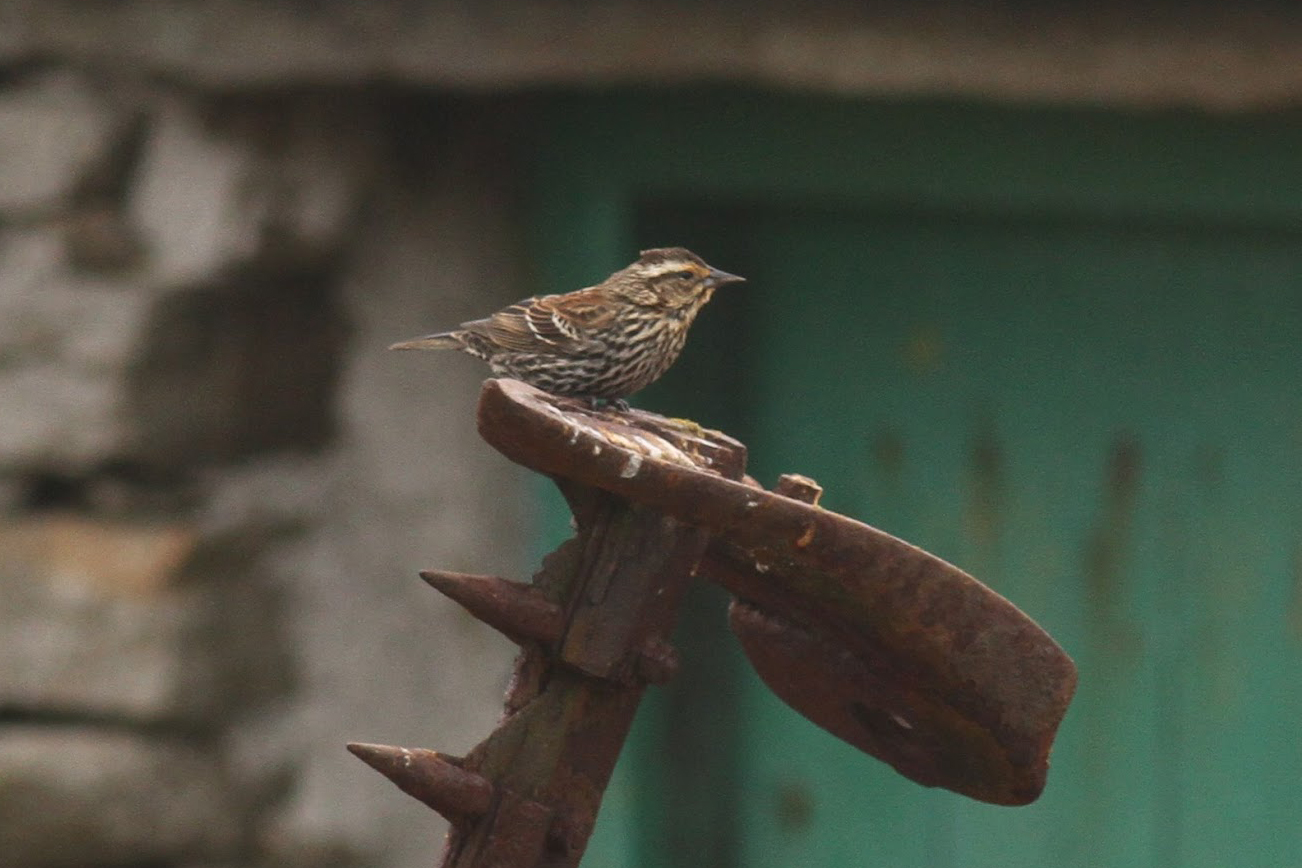 Red-winged Blackbird, North Ronaldsay, Orkney (Photo: Simon Davies)
The shockwaves caused by the blackbird might have been matched had the possible Ruby-crowned Kinglet glimpsed at Cape Clear, Co Cork, been firmed up — however, it disappeared and will likely go down as the one that got way … Cape Clear famously hosted the only previous Irish record in late October 2013. Another potential mega that went unconfirmed was a possible Black-browed Albatross past Pwllheli, Gwynedd, on 30th.
What may well prove one of the year's star birds for those who make the effort to see it, a displaying male Pallid Harrier on territory at Dunsop Bridge, in Lancashire's Forest of Bowland, has been drawing appreciative crowds since the RSPB first released news on 27th. This is the first time a 'skydancing' Pallid has been widely witnessed on British soil and is a continuation of this species' westward expansion — a fantastic record indeed, but perhaps not too shocking given its remarkable increase here over the past decade. Perhaps it was the bird seen passing Grimston, East Yorks, last week? Incidentally, Grimston managed its second Pallid of the spring as a second-calendar-year bird went north on the morning of 29th. Another immature was in Norfolk, passing Glandford on 1st and then Blakeney Freshmarsh the following day. It seems almost as if the species is as expected as Montagu's Harrier these days, which is of course bad news for the latter — the regular female was still at Blacktoft Sands, East Yorks, but just three others were noted.

Pallid Harrier, Whittendale Fell, Lancashire (Photo: Ivan Ellison)

Pallid Harrier and White-tailed Eagle, Dunsop Bridge, Lancashire (Photo: Paul Thomas)
What made the Dunsop Pallid Harrier even more extraordinary was that it shared its airspace (and briefly interacted with) an immature White-tailed Eagle on 27-28th. The same bird was later seen over a few sites in South and West Yorkshire, while what was presumably another was at Stutton, Suffolk, on 26th. The year's first Red-footed Falcons appeared on 1st, with Norfolk snaffling two: a female at Choseley Drying Barns and a mobile male between Kelling Heath and Gramborough Hill. A third (another female) was at High and Over, East Sussex, on 1st. No fewer than seven reports of Black Kite were received but the only one to linger (or at least be multi-observed) was the bird on St Mary's, Scilly, on 30th — it had also been noted on Tresco the previous day.

Red-footed Falcon, Choseley Drying Barns, Norfolk (Photo: Les Bunyan)
Wildfowl included the continuing American Black Duck at Strontian, Highland, and the King Eiders at Whiteness Head, Highland, and Ythan Estuary, Aberdeenshire. Drake Ring-necked Ducks hung on in Kent and Cos Down and Donegal, while the Lesser Scaup in Cornwall and the Ferruginous Duck in Durham did the same. The American Wigeon was still at Udale Bay, Highland, while no fewer than seven Green-winged Teal were logged. A Black Brant was also still at Frampton Marsh, Lincs. Two Surf Scoters were seen off the Fife coast with another off Conwy and an immature flying past Dungeness, Kent, on 2nd.

American Black Duck, Strontian, Highland (Photo: Paul Thomas)
Up to three White-billed Divers continued off Portsoy, Aberdeenshire, with others still off South Ronaldsay and Papa Westray, Orkney, a northbound bird off Unst on 28th, and singles off two sites in Moray/Nairn. It almost goes without saying that the Pied-billed Grebe was also still performing at Loch Feorlin, Argyll, this week.
Shrewsbury's popular Night Heron continued to perform deliciously in the town centre throughout the week, while up to two were at Castlebay, Barra, and others were at Adare, Co Limerick, and on St Mary's. The Squacco Heron was still at Ventry, Co Kerry, on 1st and a Purple Heron was at Marazion, Cornwall, briefly on 2nd. A handful of sites held Glossy Ibises, these including a new bird at Beith, Ayrshire, on 2nd, while 30 localities produced Cattle Egrets. White Stork reports came from several English counties although, as ever, it's difficult to ascertain if there were any genuine overshoots among the usual escapees.

Night Heron, Shrewsbury, Shropshire (Photo: David Chapman)

Squacco Heron, Ventry, Kerry (Photo: Gerard Murray)
A Gull-billed Tern proved popular with Irish birders at Clonakilty, Co Cork — having been found on 26th, it co-operatively lingered throughout the week. The first White-winged Black Tern of 2017 briefly visited the outfall at Heysham, Lancs, on 30th. The excellent spring for Bonaparte's Gulls continued, with five seen this week — immatures still in Hampshire, Essex, Oxfordshire and Co Kerry, and the adult again at Loch of Strathbeg, Aberdeenshire. Minsmere RSPB added to its already length reserve list this week when a second-calendar-year Ring-billed Gull visited the scrapes on 28th. Others remained in Cos Kerry and Antrim.

Gull-billed Tern, Clonakilty, Cork (Photo: Ciaran Cronin)

Bonaparte's Gull, Farmoor Reservoir, Oxfordshire (Photo: Paul Ward)

Ring-billed Gull, Minsmere RSPB, Suffolk (Photo: Jeff Higgott)
The long-staying Short-toed Lark remained on St Mary's, Scilly, and Tawny Pipit called in at Pagham Harbour, West Sussex, briefly on 26th. At least one Richard's Pipit graced the Isles of Scilly on 30th; others this week were at Rodley, Glos, and Lizard, Cornwall, on 2nd. Eurasian Hoopoes were reported from around a dozen sites while Eurasian Wrynecks were registered at 13. A mini-influx of Red-rumped Swallows took place on 27th, with six birds at five sites including two at Holme Pierrepont, Notts, and a confiding individual at Arlington Reservoir, East Sussex, as well as birds in Surrey, Essex and Dorset. A second Dorset record followed at Durlston Country Park on 29th.

Red-rumped Swallow (right), Arlington Reservoir, East Sussex (Photo: Ted Pressey)
South-easterly winds in late April and early May usually produce an Eastern Subalpine Warbler or two, and so it proved. A male drew crowds to Portland, Dorset, from 28-2nd with another male at Scatness, Shetland, on 2nd. Female 'subalpine warblers' were on Mainland Shetland and Unst. Savi's Warblers continued to sing on territory at Minsmere, Suffolk, and Hickling Broad, Norfolk, while a likely Iberian Chiffchaff was trapped on Lundy, Devon, on 2nd. However, the week was arguably more notable for northbound 'Sibes' rather than European overshoots, with two Dusky Warblers (at Portland and on Fair Isle) appearing on 2nd and a Pallas's Warbler on the Farne Islands, Northumberland, the same day.

Eastern Subalpine Warbler, Portland, Dorset (Photo: Mark Leitch)

Pallas's Warbler, Farne Islands, Northumberland (Photo: Thomas Hendry)
The sole Woodchat Shrike was seen on The Lizard, Cornwall, on 26th while Great Grey Shrikes hung on in Dorset and Devon. All but one of the seven European Serins seen were south-coast affairs, the exception being a female at Waxham, Norfolk, on 30th. A Red-breasted Flycatcher was brief at Flamborough Head, East Yorks, on 30th. Two Little Buntings remained at Goss Moor, Cornwall, early in the week while another arrived on Fair Isle on 2nd.
Western Palearctic news
While general migration was in full flow across central and northern Europe this week, the number of big rarities on offer around the WP region was fairly scant. The Black-browed Albatross was seen near-daily in Germany, either on Sylt or Heligoland, until 30th. Slender-billed Gull records from both the Netherlands and Belgium (perhaps the same bird?) gave British birders hope that we might soon expect one over here. An unprecedented flock of three Night Herons reached Stafnes, Iceland, on 26th, while what will be either the ninth or 10th Blue-cheeked Bee-eater for Spain was found inland at Don Benito, Extremadura, on 28th. A Desert Finch remained at Cape Greco, Cyprus, while three Vinous-throated Parrotbills in Switzerland's Ticino region represent the first national record of this introduced species, assuming that these are birds wandering from the gradually expanding population in northern Italy.

Blue-cheeked Bee-eater, Spain (Photo: Chris Teague)