The week at a glance
This was the first week for a while in which there were no new megas, a sign that winter is indeed creeping up on us. Many of last week's quality birds did remain, though, so there was still plenty to keep birders happy.
The female/immature Bufflehead became slightly more accessible at Helston Loe Pool (Cornwall) to 29th, while in Northumberland the juvenile Greater Yellowlegs was at Cresswell Pond to 26th before moving back to Hauxley to 29th and Druridge Bay on 30th. The other waders of note were Somerset's first Sharp-tailed Sandpiper, which remained at Chew Valley Lake all week in the illustrious company of two Long-billed Dowitchers and a Spotted Sandpiper, and the Wilson's Snipe that continued to show at Lower Moors, St Mary's (Scilly) to 24th.

Sharp-tailed Sandpiper, Chew Valley Lake, Somerset & Bristol (Photo: Josh Jones)
The only mega passerines lingering were the Buff-bellied Pipit at Clonea (Waterford) to 27th and the Veery on Muck (Highland). The latter remained, if elusively, to 24th, though access remained difficult. In Ireland, the House Crow was reported from Cobh (Cork) on 27th.
Islay continued to attract various races of Canada Goose, including a Richardson's and a Lesser at Bridgend on 29th. Further south the Richardson's also remained at Torr Reservoir (Somerset) to 27th. The two Northumberland Ross's Geese were at Dunstan on 24th and Holywell Pond on 27th while, in Norfolk, one also remained at Great Bircham and there was a report of two (or Snow Geese) over Breydon Water on 28th and then over Belton on 30th. A white-morph Snow Goose was at Evanton (Highland) on 29th–30th and three were with Greylags at Claughton in the Lune valley (Lancs) on 30th.
The first-winter Red-breasted Goose remained at Topsham (Devon) to 29th and another of unknown origin was at Harwood Dale (North Yorks) on 30th. In Dorset, there were two Black Brants at Wyke Regis on 26th and others were again at Ferrybridge and Butterstreet Cove through the week. Others also remained at Wet Mersea (Essex) to 24th and Morston (Norfolk) on 29th while in Ireland, birds were at Wexford Wildfowl Reserve to 27th and Dungarvan (Waterford) to 25th. The Welsh bird was at Whiteford NNR (Gower, Glamorgan) to 24th.
One of the big talking points of November has been the influx of 'grey' geese; Tundra Bean Geese were still widely spread across the country, with notable counts including 100 at Wainfleet St. Mary (Lincs) on 27th, up to 76 at Calvo (Cumbria) from 25th, and up to 90 in the Newtonhill (Aberdeenshire) area for much of the week. European White-fronted Geese were again well represented, particularly in northeast England — three-figure flocks continued to tour Northumberland while smaller numbers were well distributed along much of the east coast. A few Taiga Bean Geese were also caught up in the displacement, with significant records including one at Lebberston (North Yorks) and two with four Tundra Beans at Lackford (Suffolk).

Tundra Bean Geese, Calvo, Cumbria (Photo: Tristan Reid)

Taiga Bean Goose with European White-fronted Geese, Lebberston, North Yorkshire (Photo: Dave Mansell)
Various drake American Wigeon remained, including birds at Wintersett Reservoir (West Yorks) to 29th, Dawlish Warren (Devon) to 30th and Rutland Water on 27th, when it was killed by a Great Black-backed Gull. In Highland, the drake from Castle Loch was relocated on Kirk Loch on 27th–28th and the drake was back at Loch Bee (South Uist, Outer Hebrides) on 30th. Ireland saw two of the week's three Blue-winged Teal, at Bull Island (Dublin) to at least 26th and at Tacumshin (Wexford) to 27th. There was one new bird, a female/immature on Porth Hellick (St Mary's, Scilly) on 27th–28th.

American Wigeon, Wintersett Reservoir, West Yorkshire (Photo: Andy Hood)
Numbers of Green-winged Teal were well down, reports coming from just four sites: Cley Marshes (Norfolk) to 30th, Caerlaverock (Dumfries & Galloway) to 30th, East Chevington (Northumberland) to 28th and a new bird at Shapinsay (Orkney) on 26th. There were just three records of Ring-necked Duck this week, at Blagdon Lake (Somerset) to at least 27th, Gwithian (Cornwall) to 29th and again at Lough Cowey (Down) on 30th. There were also just two reports of Ferruginous Duck, drakes remaining at Dinton Pastures (Berks) to 29th and Lurgan (Armagh) to 28th. The first-winter Lesser Scaup also stayed put at Marden Quarry (Northumberland) to 28th.

Ring-necked Duck, Gwithian, Cornwall (Photo: Phil Stidwill)
A deep low-pressure that tracked across the Atlantic brought with it a scattering of seabirds, though conditions were far from ideal for seawatching. Small numbers of skuas and shearwaters were reported, including 28 Balearic Shearwaters past Pendeen (Cornwall) on 27th and Great Shearwaters past Clogher Head (Kerry) on 27th and Flamborough Head (East Yorks) on 28th, along with five juvenile Pomarine Skuas. A Leach's Storm-petrel taken into care at Rhos-on-Sea (Conwy) on 28th was later released off Great Orme, and others were off Black Head (Clare) on 27th and past Spurn (East Yorks) on 29th. The only Sabine's Gull was one in the harbour on Bardsey Island (Gwynedd) on 29–30th, when it was ringed: the second to be ringed on the island but possibly only the third ever in Britain. The Grey Phalarope remained at Chew Valley Lake (Somerset) most of the week and coastal birds were reported from at least 13 sites around the country.

Sabine's Gull, Bardsey Island, Gwynedd (Photo: Steve Stansfield)
Shetland's Great White Egret was on Whalsay to at least 28th and others were reported from 19 sites from Cumbria to Kent. The 28th seemed to be the day to see most birds, when there were two at Hamstreet (Kent), two at Dungeness (Kent), two again at Wernffrwd (Gower, Glamorgan) and three at the National Wetlands Centre (Carmarthenshire). Long-staying Cattle Egrets were at Stanpit Marsh (Dorset) to 26th, Lydney (Glos) to 25th, Thorney Island (West Sussex) to 27th and Blakeney Freshmarsh and Salthouse (Norfolk) to 29th, and there was a new bird at Hengistbury Head (Dorset) on 24–26th. One that roosted at Hillsborough (Down) on 26th–29th may well be the same as the first for Northern Ireland which was at Kinnegar Shore in late October.

Great White Egret, Dungeness RSPB, Kent (Photo: John Stanton)
In Limerick, a Night Heron flew over Abbeyfeale on 25th. In Nottinghamshire, the White Stork was at Gunthorpe Pits and Sookholme all week, but it was seen to be a ringed escape. Another escape was in Sheffield (South Yorks) on 22nd and a bird of unknown origin was at Glenrothes (Fife) on 29th. Many of the flocks of Glossy Ibis have dispersed now, with singletons reported from Stanpit Marsh (Dorset) to 27th, Minsmere (Suffolk) to 27th and Dungeness (Kent) to 26th.

White Stork, Sookholme, Nottinghamshire (Photo: Jon Lowes)
Content continues after advertisements
The amazing autumn of Pallid Harriers came to an end this week, when no birds were reported. There were also fewer Rough-legged Buzzards: they were reported from just nine sites away from North Norfolk, as far north as Bowesfield Marsh (Cleveland) and as far inland as Ouse Fen (Cambs). North Norfolk saw up to three in the Holkham/Burnham Overy/Wells-next-the-Sea area all week. Yet another white-morph Gyr Falcon was reported, this time at Bay of Navershaw (Orkney) on 30th, and there was a further possible over Ipswich (Suffolk) on 26th.

Rough-legged Buzzard, Ludham Bridge, Norfolk (Photo: Carl Chapman)
Small numbers of extralimital Common Cranes were still being reported, though most have now moved on. There were two still at Belderrig (Mayo) to 27th and two over Tacumshin (Wexford) on 26th. Two were also at Heswall (Cheshire) on 24th and singletons were at Nosterfield LNR (West Yorks) to 27th and Loch of Strathbeg (Aberdeenshire) on 24th.
The only American Golden Plover was on Myroe Levels (Londonderry) on 27th. All of last week's Lesser Yellowlegs have now departed, but various Spotted Sandpipers remained, on the Plym Estuary (Devon) all week, at Chew Valley Lake (Somerset) to 28th and at Lyme Regis (Dorset) to 26th. Interestingly, there was also a late run of new birds in Ireland: at Ballyduff (Waterford) on 27th–28th (the second county record, following one in 1982), on the Nanny estuary (Meath) on 28–30th (the first for the county) and in Cork City on 27th. As previously mentioned, the two Long-billed Dowitchers remained at Chew Valley Lake and Blagdon Lake (Somerset) to 29th, but then moved on to Catcott Lows on 30th.
The Semipalmated Sandpiper was at Saltholme (Cleveland) to 28th, before being flushed by a Peregrine and not seen since. Another was then briefly on Cley Marshes (Norfolk) on 28th before moving to Blakeney Point later in the day, returning to Cley on 29th–30th. It had originally been identified as a Little Stint, but its long bill and some plumage features then provoked discussion about the possibility of its being a Western Sandpiper, with some individuals even favouring that species by the evening of 30th — there looks set to be some detailed discussion before the identification of this bird is resolved. The juvenile Least Sandpiper also remained, at Black Rock Strand (Kerry) to 29th.

Semipalmated Sandpiper or Western Sandpiper, Cley, Norfolk (Video: KimandSue1)
Two juvenile Glaucous Gulls were in Peterhead harbour (Aberdeenshire) on 27th and others were reported from Point of Buckquoy (Orkney), Rubha Ardvule (South Uist. Outer Hebrides), Fraserburgh (Aberdeenshire) and the Farne Islands (Northumberland), and the ever-present bird was again at Dungeness (Kent). There were still only small numbers of Iceland Gulls, singletons at Norwick (Unst, Shetland), Stromness (Orkney), Fraserburgh (Aberdeenshire), Sutton Courtenay (Oxon), Beddington Sewage Farm (London) and past Black Head (Clare). There were five Ring-billed Gulls in Ireland: a first-winter at Bantry (Cork), second-winters at Larne Lough (Antrim) and Groomsport (Down) and adults at Sandymount (Dublin) and Kiltonga (Down). Other long-stayers were the second-winter in Stornoway (Lewis, Outer Hebrides) and the adult at Gosport (Hants), and one also returned to Sands Lane and Mirfield (West Yorks) on 29th–30th. A new adult was at Llys-y-Fran Reservoir (Pembrokeshire) on 26th. The only Bonaparte's Gull was a first-winter south past Blackdog (Aberdeenshire) on 27th. The probable adult Azorean Yellow-legged Gull roosted at Chasewater (Staffs) on 23rd, 26th and 27th and was also seen at Stubber's Green (West Mids) on 24th–25th and at Cannock (Staffs) again on 26th. Another juvenile American Herring Gull also turned up, this time at Baltimore (Cork) on 27th–30th. Also in Ireland, the wintering Forster's Tern was again at Kinvarra (Galway) through the week.
A late Hoopoe was at Almondstown (Louth) on 25th–26th. There were still surprisingly few Shore Larks, with just four reported. Singletons remained at Stanpit Marsh (Dorset) to 24th and Swalecliffe (Kent) to 29th, and two were on slag tips at Warton (Lancs) on 28th. Two Richard's Pipits were at Caernarfon (Gwynedd) on 27th and another was briefly at Shell Ness (Kent) on 23rd.
The distribution of Great Grey Shrikes is decidedly southwesterly now. Apart from birds at Leuchars (Fife) to 27th, Prestwick Carr (Northumberland) to 28th and two at Langdale Forest (North Yorks) on 27th, all other records were southwest of Derbyshire, at around 18 sites as far as Bellever Tor (Devon) and including one ringed at Birchwood (Somerset) on 28th.

Great Grey Shrike, Hafren Forest, Powys (Photo: Paul Leafe)
The only Bluethroat was one that remained at Clonea (Waterford) to 24th. A possible Pied Wheatear at Titterstone Clee Hill (Shropshirehirehire) on 25th was reidentified as a female Desert Wheatear. This long-overdue county first proved popular and was very well photographed to 30th. At Bempton Cliffs (East Yorks), a male photographed by an unknowing member of public on 20th was correctly identified on 24th and fortunately had stayed put, showing characteristically well to 30th. Interestingly, the last East-Yorkshire record, at Flamborough Head in April 1998, was also identified from photographs shown to wardens at Bempton Cliffs. Another late report was of a female at Brownstown Head (Waterford) on 22nd.

Desert Wheatear, Titterstone Clee Hill, Shropshire (Photo: Jim Almond)

Desert Wheatear, Bempton Cliffs RSPB, East Yorkshire (Photo: Martin Standley)

Desert Wheatear, Bempton Cliffs RSPB, East Yorkshire (Photo: Tristan Reid)
Small groups of Waxwings were still scattered along the east coast from Aberdeenshire to Kent, but the only inland birds were 31 over the vis-mig site at Caldene Fields, Low Moor (West Yorks) on 28th. The peak counts reported were 75 in Aberdeen, 70 at Eastbridge (Suffolk), 46 at Reydon (Suffolk) and 36 in Edinburgh (Lothian).

Waxwing, Reydon, Suffolk (Photo: Steve)
Last week's rush of Dusky Warblers didn't continue, the only remaining birds being two on St Mary's (Scilly) to 30th. There was also just one Pallas's Warbler, on Bardsey Island (Gwynedd) on 29th, and five Yellow-browed Warblers, at Conwy, Titchwell (Norfolk), Romsey (Hants) and two on St Mary's (Scilly). The only Shetland Hume's Leaf Warbler was at Symbister, Whalsay on 30th; elsewhere others remained at Wyke Regis (Dorset) to 30th and one was ringed at Holme NOA (Norfolk) on 28th. On Scilly, the Red-breasted Flycatcher remained on St Mary's to 24th, where there was also a very late Willow Warbler. In Kent, single Penduline Tits were at Grove Ferry to 25th and Dungeness to 30th.

Pallas's Warbler, Bardsey Island, Gwynedd (Photo: Richard Brown)
The Little Bunting ringed last week at Steyning (West Sussex) was retrapped on 26th and another was ringed at Grouville Marsh (Jersey) on 27th, where five Water Pipits also roosted. Reports of Lapland Buntings this week came from just 10 coastal sites between Kent and Shetland. Most were one and twos, but six were at Burnham Overy (Norfolk) on 24th. Juvenile Rose-coloured Starlings remained at Lodmoor (Dorset) to 29th, West Bergholt (Essex) to 27th and Holyhead (Anglesey) to 26th.

Rose-coloured Starling, Holyhead, Anglesey (Photo: Philip Coombs)
Photo of the Week: 24th–30th November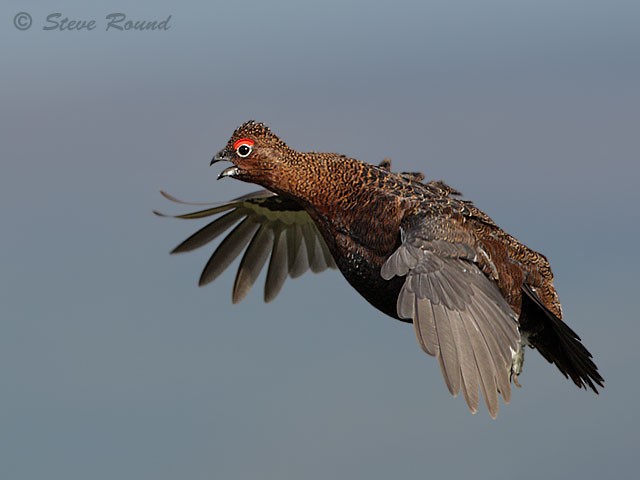 Red Grouse, undisclosed site, North Yorkshire (Photo: Steve Round)
Red Grouse are popular subjects for bird photographers because, as well as being generally handsome birds, they are also highly evocative of the wild moorlands which they inhabit. With the right technique, they can also be approached quite closely as they prefer to remain in position and trust their camouflage rather than take flight. The flip side of this behaviour, though, is that these birds are difficult to photograph in flight, especially if you're looking for more than an unattractive snap of the bird's back end. For this reason, only a tiny proportion of our Red Grouse uploads are flight shots, while an even smaller proportion show the bird flying towards the viewer rather than away. This is all in a day's work for leading bird photographer and long-standing BirdGuides contributor Steve Round. With over 7000 high-quality bird images on his website, Steve is one of the UK's most prolific bird photographers and he has the second highest tally of our Photo of the Week awards. In this his thirteenth PotW, Steve has frozen a male grouse in characteristic flight pose, with plumage details brought out by the sunlight and the bird's outline emphasised by the plain backround. A gaping bill and raised crown provide the icing on the cake.
Other notable photos

Golden Plover, Limbourne Creek, Essex (Photo: Thomas Harris (Aged 16))

Common Crossbill, Upper Hollesley Common, Suffolk (Photo: Mick Southcott)

Common Buzzard, Leuchars, Fife (Photo: John Anderson)

Red Kite, Gigrin Farm, Powys (Photo: Pauline Greenhalgh)

Short-eared Owl, undisclosed site, Conwy (Photo: Steve Dolan)

Great Northern Diver, Caldecotte Lake, Buckinghamshire (Photo: Ben Andrew)

Marsh Harrier and Peregrine, Middlebere, Dorset (Photo: Simon Kidner)

Great Black-backed and Herring Gulls, Amble, Northumberland (Photo: David Cookson)

Common Redshanks, Portballintrae, Antrim (Photo: Ian Dickey)

Sparrowhawk, Thorngumbald, East Yorkshire (Photo: Harry Bursell)

White Stork, Sookholme, Nottinghamshire (Photo: Darren Chapman)

Cirl Bunting, Berry Head, Devon (Photo: Rob Cross)

Desert Wheatear, Titterstone Clee Hill, Shropshire (Photo: Dave Hutton)

Cattle Egret, Lydney, Gloucestershire (Photo: Lewis Thomson)

Nuthatch, Knypersley Reservoir, Staffordshire (Photo: Carltongater)