Heading into the final full week of October, birders are aware that anything can happen at this time of year. Indeed, the last few days have seen a couple of bolts from the blue that have shown there's still plenty of life left in autumn 2019. Tuesday afternoon brought news of a first-winter Steller's Eider on Orkney, at Loch of Swartmill, Westray; only the second record this century (the last was on the Moray coast in November 2000, and that was only twitchable for a couple of days).
It will no doubt be popular as long as it can overcome the ignominy of everyone wanting it to be older and male, and indeed car loads of twitchers headed north as soon as images confirmed there was indeed one of these mega Arctic seaducks knocking about on an Orcadian loch. A widely accessible specimen hasn't been available since the 1980s ...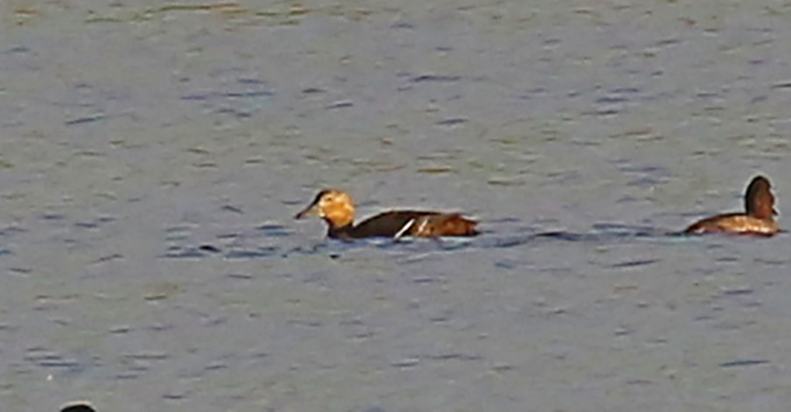 Steller's Eider, Westray, Orkney (Don Otter).
We've had some last-minute entries into the weekly report over the year, but the Tengmalm's Owl seen south of Forsinard, Highland, by a birder travelling north to the Steller's Eider, at five minutes to midnight on Tuesday, must be a candidate for the latest of late entries. Seen well but briefly in torchlight on roadside posts and pines, it begs the question how long this particular individual may have been lurking unseen before being stumbled upon (and indeed how under-recorded this species possibly is).
Ireland scored a first in the form of a Two-barred Warbler on Dursey Island, Cork on 26th. It's likely that this species would have appeared on many an Irish birder's list of predicted new species for the country, with seven accepted British records to date, two of those making it as far west as Scilly. News emerging late afternoon of a bird that didn't linger beyond the day it was found means that it might be on the list, but it will remain something of a blocker until a more co-operative individual arrives.
Last week's apparent Lesser Kestrel remained at Fraisthorpe, East Yorkshire, on 23rd. Though there was initially some doubt over pictures that emerged from the second day, further detailed analysis (as highlighted here) allowed those that made the trip to breathe a sigh of relief. There's little doubt that it has been one of the most instructive rarities of the autumn, and news broke late on 29th that it was still there that day.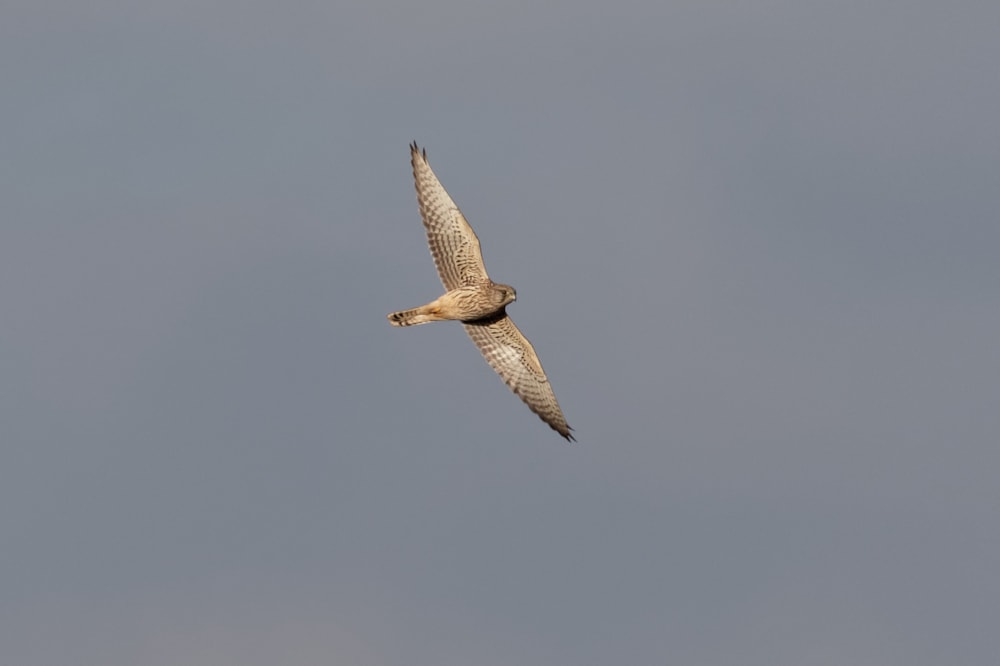 Lesser Kestrel, Fraisthorpe (village), East Yorkshire (Rob Little).
Naturally, the male Siberian Rubythroat rescued from a cat in Hertfordshire would have been incredibly popular, but images from the rescue centre showed a bird that had clearly had scissors taken to its wing feathers and could not have arrived at an inland English county under its own steam. It did serve to highlight that the illegal trade in captive birds is alive and well, clearly under-reported and lacking in effective controls.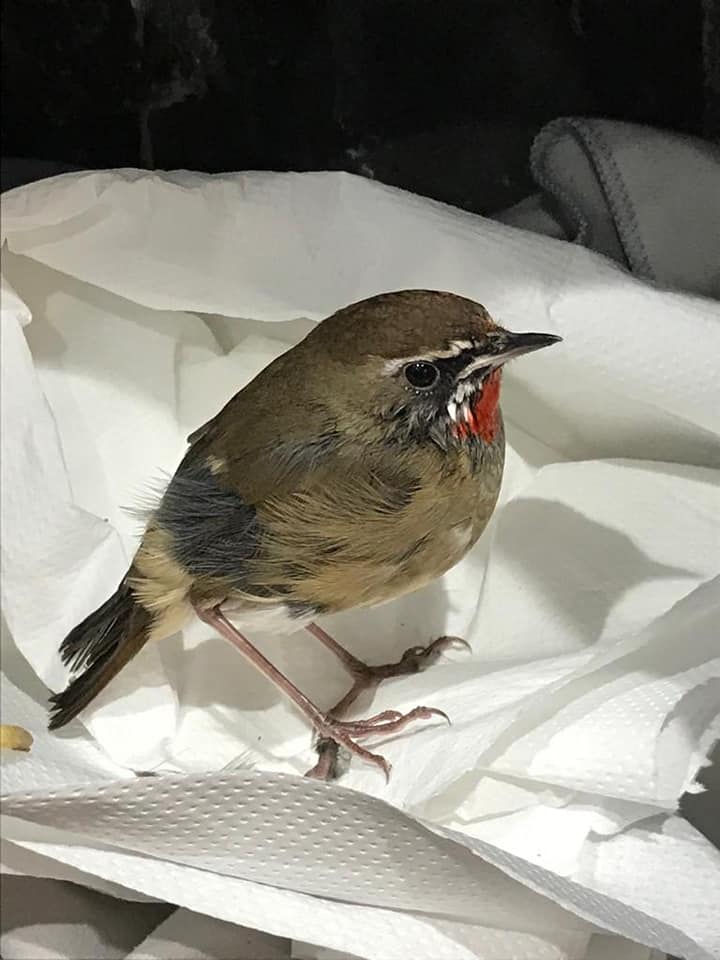 Siberian Rubythroat, St Albans, Hertfordshire (James Goodman).
In keeping with the theme of most of this week's rarest birds, a Swainson's Thrush in a garden at Sound, Shetland, was not seen again after the initial report. Further south in Budle Bay, Nothumberland, a calling wagtail flew over, never to be seen again. Later analysis of a sound recording made on the hoof identified it as a county-first Eastern Yellow Wagtail; possibly the first time a species has been added to the Northumberland list based on sound recordings.
In Lothian, the adult drake American White-winged Scoter, returning for a third winter, was the pick of rare wildfowl when it appeared off Musselburgh on 25th. Six Snow Geese were almost exclusively Scottish, with individuals in Aberdeenshire, Angus & Dundee, Ayrshire, Clyde and Outer Hebrides, along with a fly-by record from Dungeness, Kent, which was perhaps of Continental rather than American origin. Richardson's Cackling Geese were at Mersehead RSPB, Dumfries & Galloway, on 24th, at Machrie, Islay, Argyll, on 26th and Loch Gruinart RSPB on 29th.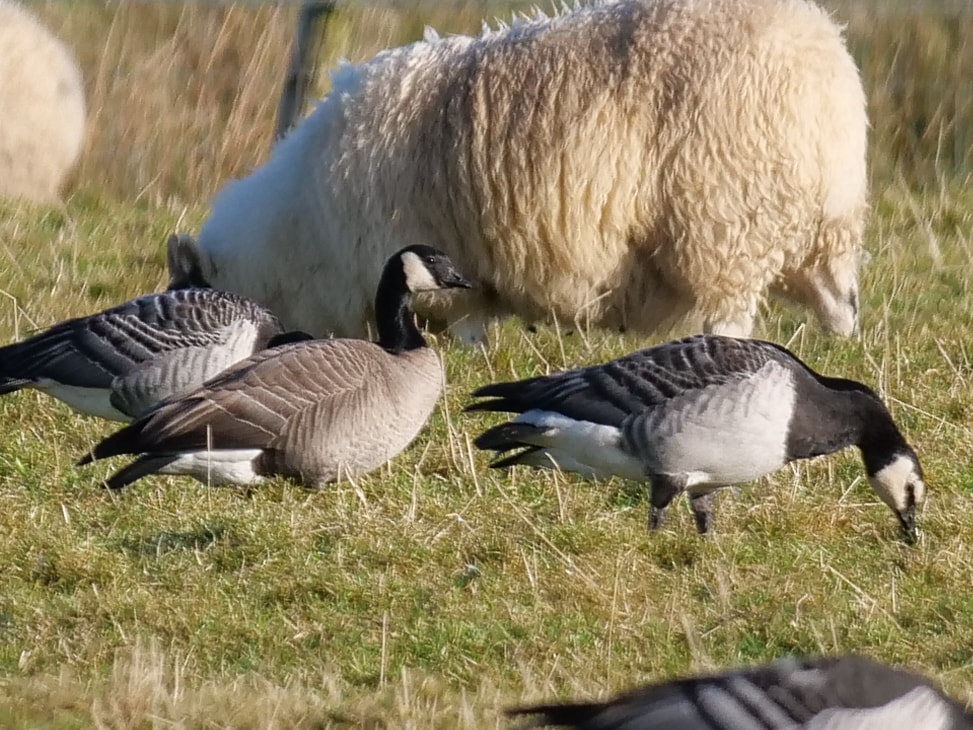 Richardson's Cackling Goose, Loch Gruinart RSPB, Islay, Argyll (Steve Percival).
The Strontian American Black Duck was noted on 23rd. Five American Wigeon included two in Highland and six Green-winged Teal included two drakes in East Yorkshire. The only Lesser Scaup this week was a drake at Chew Valley Lake on 26th. Meanwhile, six Ring-necked Duck were widely distributed from Scilly to the Outer Hebrides. North Northumberland's regular Black Scoter was again off the shore north of Holy Island this week and three drake Surf Scoter were in the favoured areas of Musselburgh, Lothian and Dunnet Bay, Highland.
White-billed Divers included counts of four and five past Mull Head, Orkney, and a single picked up by the ever-vigilant eyes at Whitburn, Durham. The adult Pacific Diver remained at Crookhaven, Co Cork. A single Cory's Shearwater moved past St Ives, Cornwall, and eight Balearic Shearwaters (all singles) were south-coast sightings.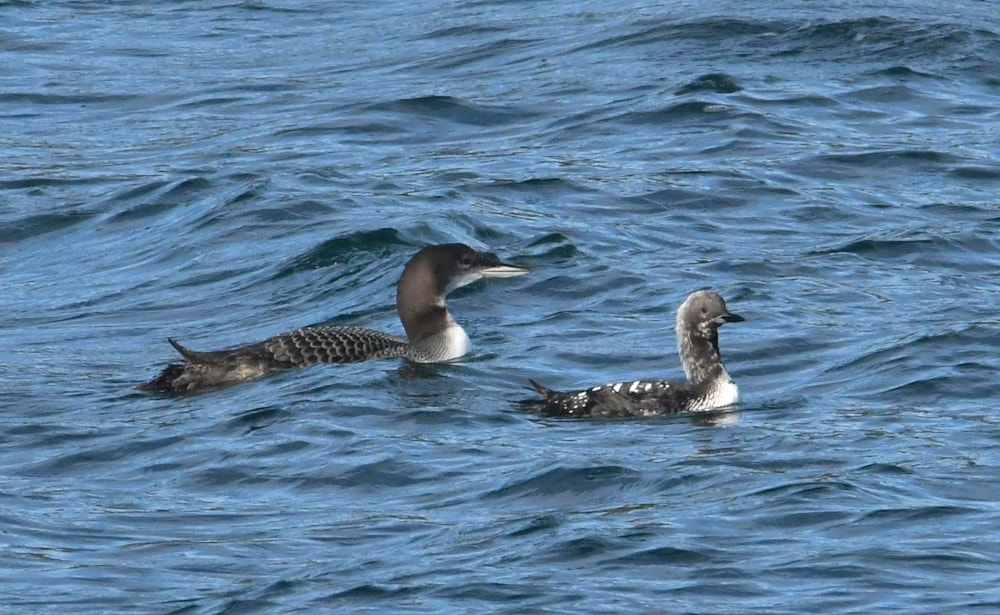 Pacific Diver, Crookhaven, Cork (Richard Mills).
Leach's Storm Petrel numbers just scraped into double figures with 10 noted in the week, including three North Sea reports off the coasts of Norfolk, East Yorkshire and Northumberland. A single Long-tailed Skua off Hampshire added to the generally quiet feel of the week's seawatching.
Single Rough-legged Buzzards on the Norfolk coast, at Wells and Blakeney, were the only notable raptors, though another individual at Eldernell, Cambs, first reported on 1st, continues to be noted sporadically, though is yet to be photographed conclusively. Two Spotted Crakes continued to enjoy late autumn on St Mary's, Scilly, these the only individuals recorded anywhere in Britain during the week.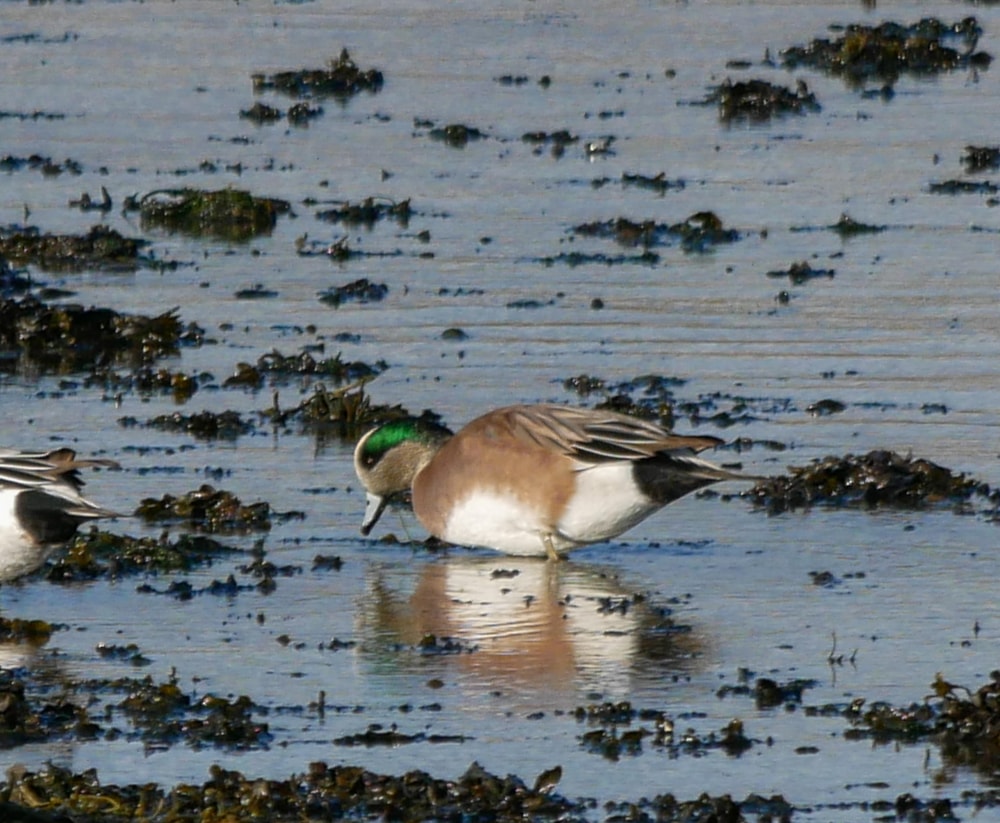 American Wigeon, South Kessock, Highland (Colin Leslie).
Cornwall's first Upland Sandpiper since 2005 would have been popular had it lingered longer, but the individual seen at Windmill Farm on 24th seems to have been in a hurry and has not been seen since. Dundalk's Short-billed Dowitcher stayed faithful to the area it's been frequenting for the last month or so. A Long-billed Dowitcher remained at Sandaig, Tiree, with a second individual to be found at Cresswell Pond, Northumberland, from 26th. On Scilly, the Spotted Sandpiper lingered on St Mary's until 24th.
Eight American Golden Plovers remained on offer, as did the glut of up to 22 White-rumped Sandpipers, including seven at both Myroe Levels, Co Derry, and Ardivachar Point, South Uist. The latter site was also one of two with Lesser Yellowlegs during the week, the other individual somewhat further south at Wrafton, Devon. Back up north, a juvenile Red-necked Phalarope continued to enjoy the Yorkshire air at St Aidan's RSPB.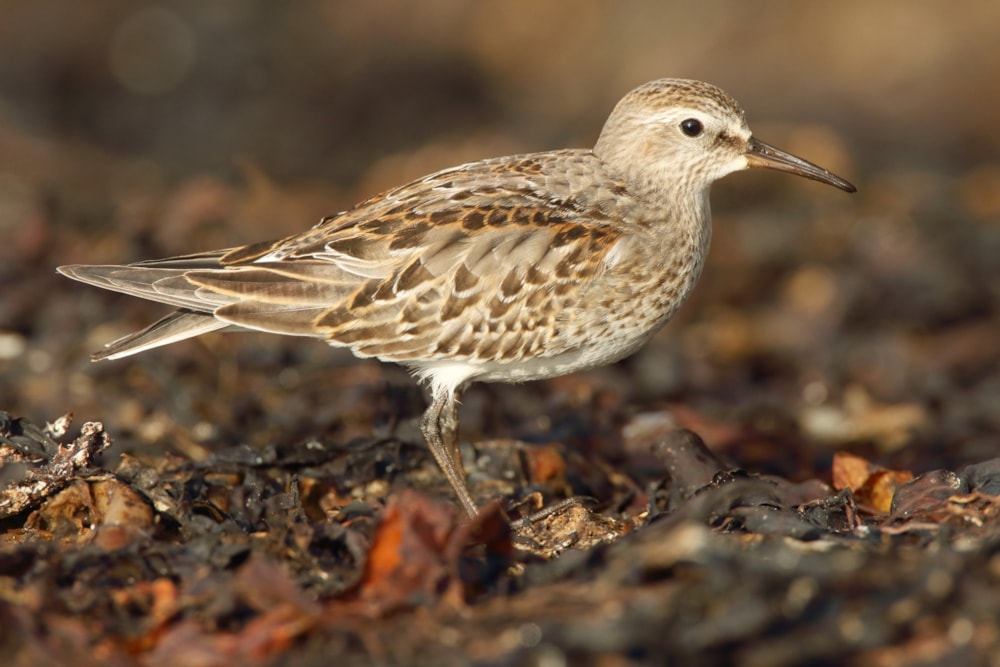 White-rumped Sandpiper, St Mary's, Isles of Scilly (Andrew Jordan).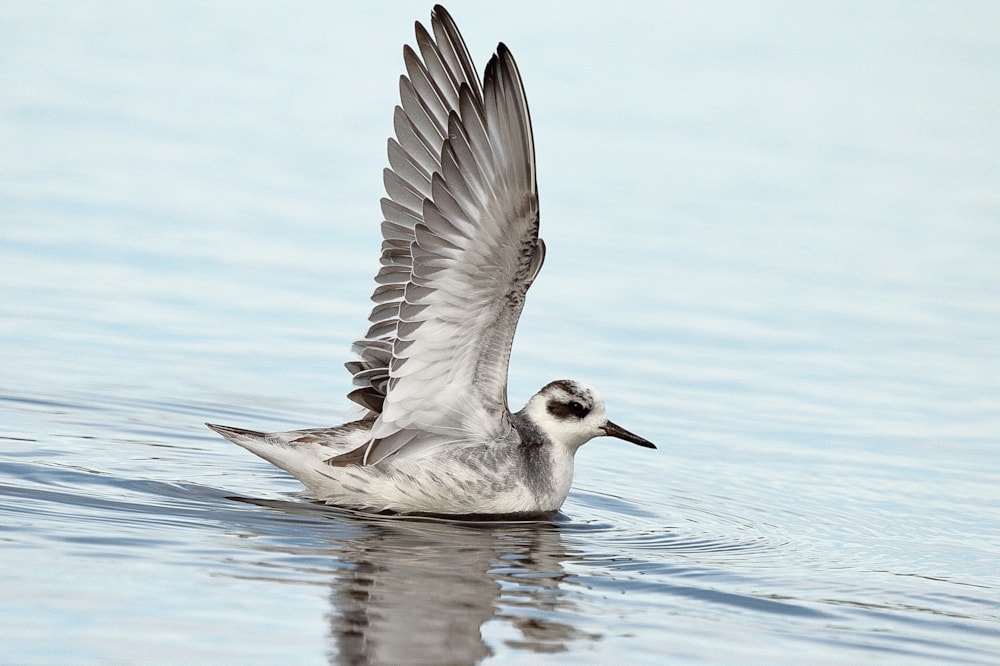 Grey Phalarope, Cuckmere Haven, East Sussex (Brian Cox).
Half of the eight Sabine's Gulls in the week were picked up from the Scillonian, with three on 25th and another on 26th. Six Glaucous Gulls were mostly brief fly-bys and six Iceland Gulls had a distinct northerly and westerly bias, as might be expected. Impressively, an adult Kumlien's Gull was picked up flying over Woolston Eyes, Cheshire, on 28th. Notable because of their scarcity, three Ring-billed Gulls were thinly spread around the coast of Ireland in Cos Cork, Mayo and Louth. The adult Forster's Tern put in its first appearance of the winter in Galway Bay. The American Black Tern at Longham Lakes, Dorset, remained until the morning of 27th but has not been seen subsequently, presumed to have now departed. Another juvenile was reported flying south at Seaburn, Durham, on 26th but sadly not picked up anywhere to the south.
The female Snowy Owl continues to play hide and seek at Hirta, St Kilda, and was noted again on 25th. A rather bizarre report of a European Bee-eater, apparently briefly landing on a garden washing line before vanishing, emerged from Hawkwell, Essex, on 23rd. Five Hoopoes were noted from Orkney, Cork, Lincolnshire, Nottinghamshire and Suffolk during the week. Of the four Wrynecks seen, one was at Gibraltar Point, Lincs, and the other three were at south-coast sites in Dorset, West Sussex and Isle of Wight.
Three Greater Short-toed Larks in the week were on Tory Island, Co Donegal, St Agnes, Scilly, and Cley Marshes NWT, Norfolk. Small numbers of Shore Lark were noted, with three at Spurn, East Yorkshire, all week and a further seven flying through there on Sunday; elsewhere singles were in Northumberland, Kent and Suffolk. A Red-rumped Swallow at Hunstanton on 27th was a more unseasonal report from Norfolk.
Content continues after advertisements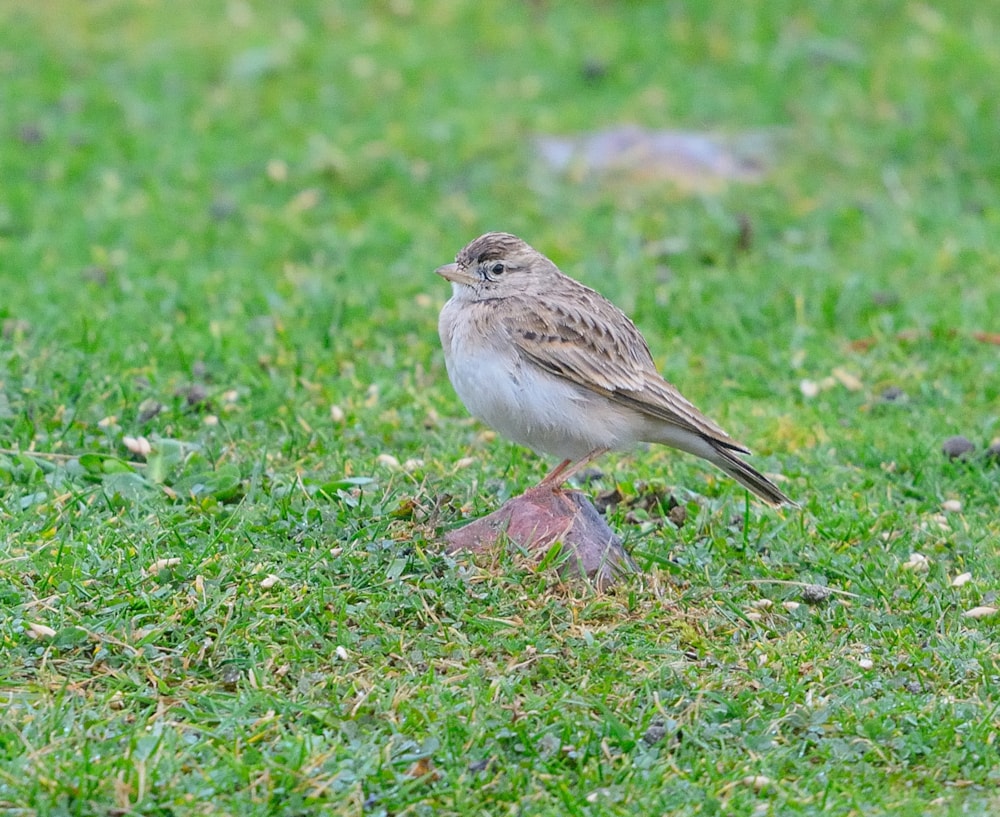 Greater Short-toed Lark, Tory Island, Donegal (Gerard Murray).
Up to 11 Richard's Pipits were mainly in the southern half of Britain, with one at Longtown, Cumbria, the northerly exception. A Red-throated Pipit was on St Mary's on 25th and another heard at The Naze, Essex, on 23rd. The young Citrine Wagtail on St Mary's, Scilly, lingered into the week and may have been present until 25th.
That scourge of bird news operatives, Waxwing, looks poised for a decent influx, with 50 widespread reports during the week including birds reaching Tresco and St Agnes on Scilly.
Talking of influxes, the arrival of Black Redstarts, which began last week, gathered pace. More than 400 reports were posted during the last seven days, with several southern sites reaching well into double figures. Some 25 at Portland and 20 around Dungeness NNR were the eye-catching totals, but many other southern coastal sites held multiple individuals.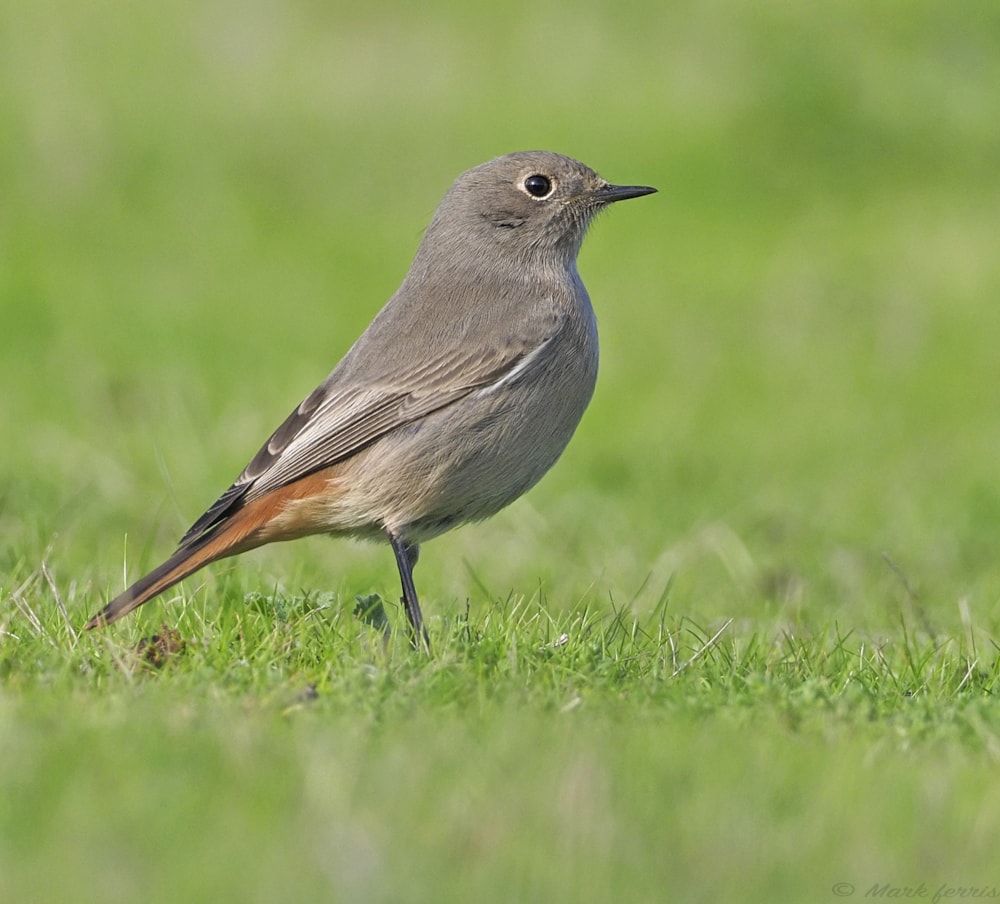 Black Redstart, Landguard NR, Suffolk (Mark Ferris).
Last week's Stejneger's Stonechat at Whitburn was still present until 24th, with other candidate Siberian or Stejneger's Stonechats on Shetland, Isle of Wight and in East Yorkshire. Scilly's young Blue Rock Thrush spent another week touring around the southern headlands of St Mary's and was still present at the time of writing. Not to be outdone, the Isabelline Wheatear on nearby Tresco was also still around as the week ended.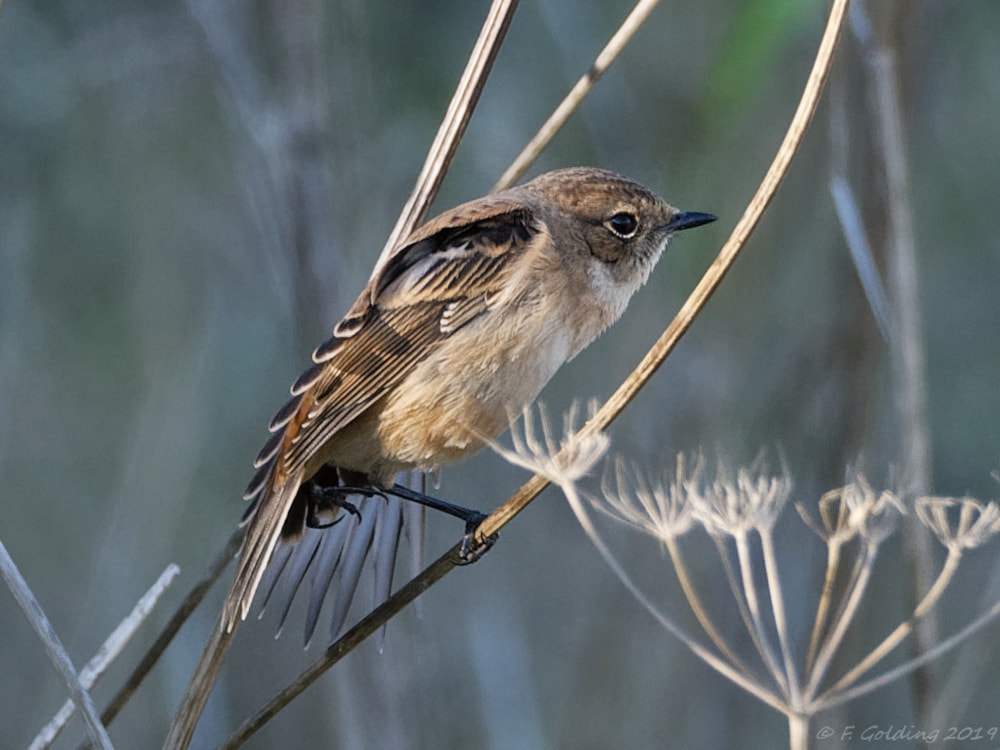 Stejneger's Stonechat, Whitburn Coastal Park, Durham (Frank Golding).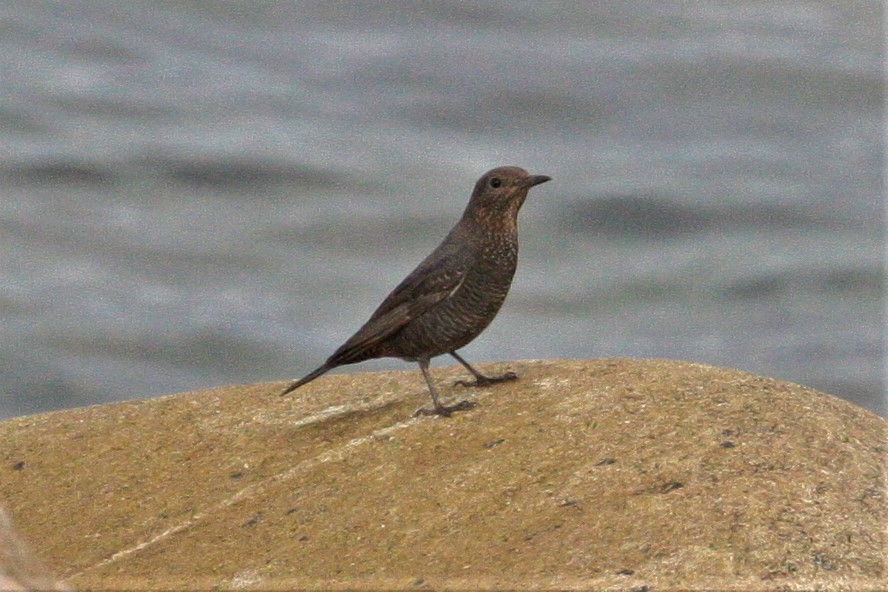 Blue Rock Thrush, St Mary's, Isles of Scilly (Paul Freestone).
Blyth's Reed Warblers were on St Mary's 23-24th and at Porth Eilian, Anglesey, on 27th. Belated news of a strong candidate for Booted Warbler, trapped at Salisbury Plain, Wiltshire, on 19th, emerged toward the end of the week. Biometrics were apparently indeterminate between Booted and Sykes's, but the bird looked more like the former in photos.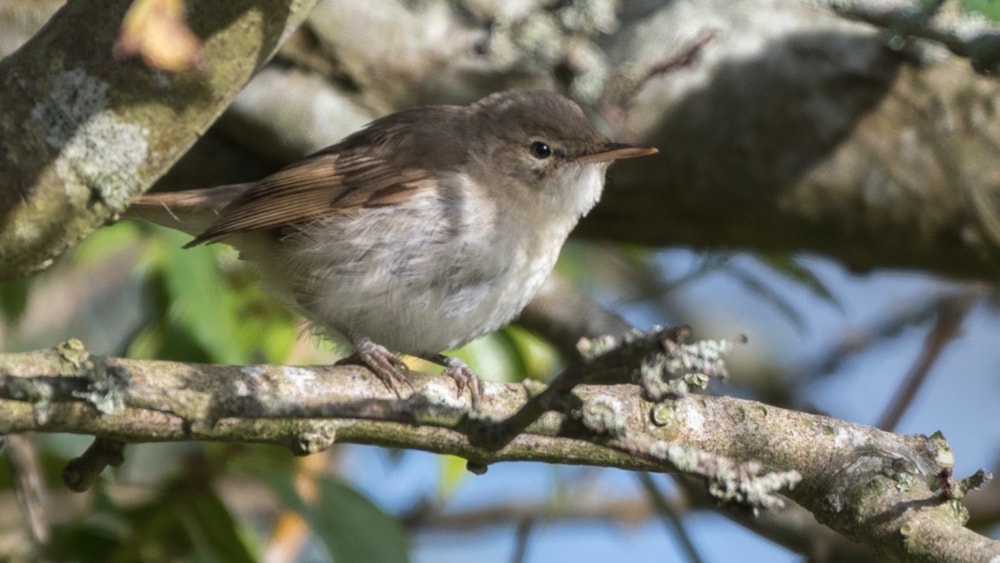 Blyth's Reed Warbler, Porth Eilian, Anglesey (J Martin Jones).
Of the week's three Radde's Warblers, two were extracted from mist nets, on the Isle of May and, more suprisingly, at Greenham Common, Berkshire. A third was at Southwold, Suffolk, on 29th. Incidentally, the contentious warbler on Fair Isle last week has been confirmed as a Radde's (rather than Yellow-streaked) after DNA analysis. It was a decent week for 'seven-striped sprites' with aptly, seven Pallas's Warblers about. These, unsurprisingly, were mostly on the east coast, with singles on St Agnes, Scilly, and a good find on the east coast of Northern Ireland at Kearney, Co Down.
Six Red-breasted Flycatchers included a new individual on North Ronaldsay. A Northern Long-tailed Tit was with a British tribe at Upton Broad, Norfolk, on 27th. Great Grey Shrikes reached double figures with 10 in the week. Three Red-backed Shrikes remained from last week. Last week's scruffy adult Rosy Starling continued to visit a garden in Bedlington, Northumberland, and new individuals were in Berkshire, Cornwall and Greater Manchester.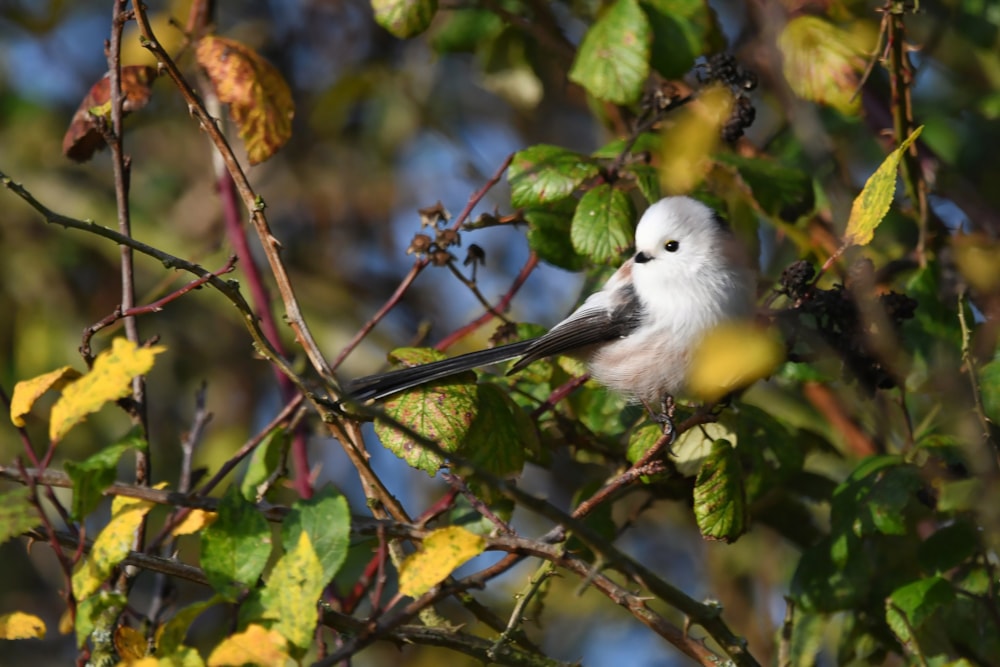 Northern Long-tailed Tit, Upton Broad & Marshes NWT, Norfolk (Jon Kelf).
Fair Isle held onto its Hornemann's Arctic Redpoll until 24th at least and it or another was in a Lerwick garden on 28th. The only Coues's Arctic Redpoll was also on Shetland at Valsgarth, Unst, on 28th. Four European Serins were all south-coast sightings.
Five Little Buntings were logged in the week: singles in Devon and Cornish mistnets and the long stayer at Spurn, with further singles in Cornwall and on St Agnes, Scilly. Rustic Buntings numbered three, all in the south-west, with one on Tresco, Scilly and two in Cornwall.
A single Red-eyed Vireo, still on Cape Clear on 24th, was the only other substantial North American passerine in the week, though an interesting report of up to four White-throated Sparrows aboard RMS Queen Mary 2 as it steamed across the Atlantic included at least two still present in British waters on 24th.
Western Palearctic
A White-throated Sparrow loitering at the entrance to the Port of Rotterdam in bushes at Maasvlakte, The Netherlands, from 27-29th might have been the most obvious ship-assisted rarity of the year in that country, but was nonetheless a popular fixture for Dutch birders. A fine Dusky Thrush on Vieland from 25-28th felt more authentic and was very much twitchable. Elsewhere, a Pied Wheatear was on Schiermonnikoog on 28th.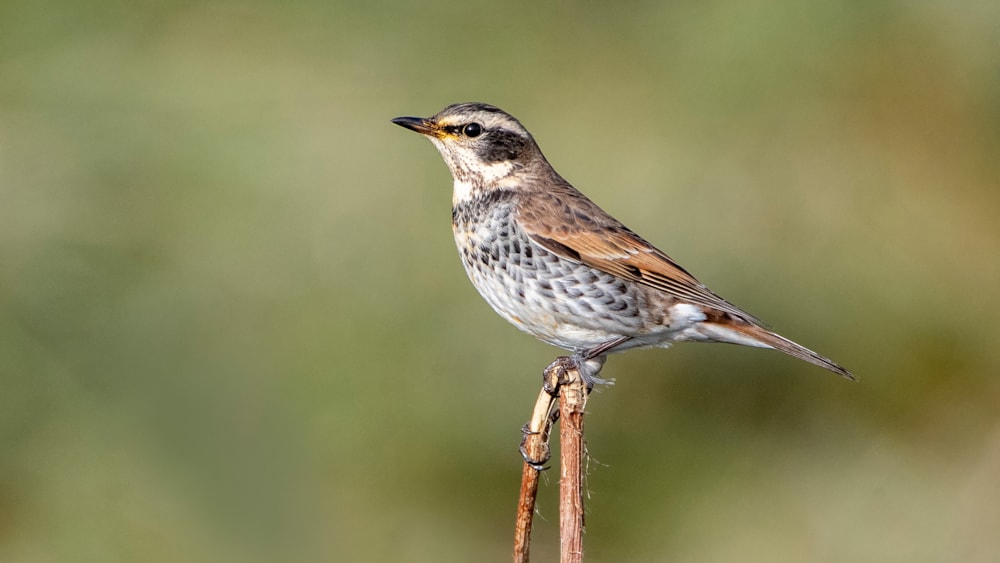 Dusky Thrush, Vlieland, Friesland (Marc Guyt / www.agami.nl).
In neighbouring Belgium, a gorgeous adult Brown Shrike, seemingly of the lucionensis subspecies, lingered from 25-29th.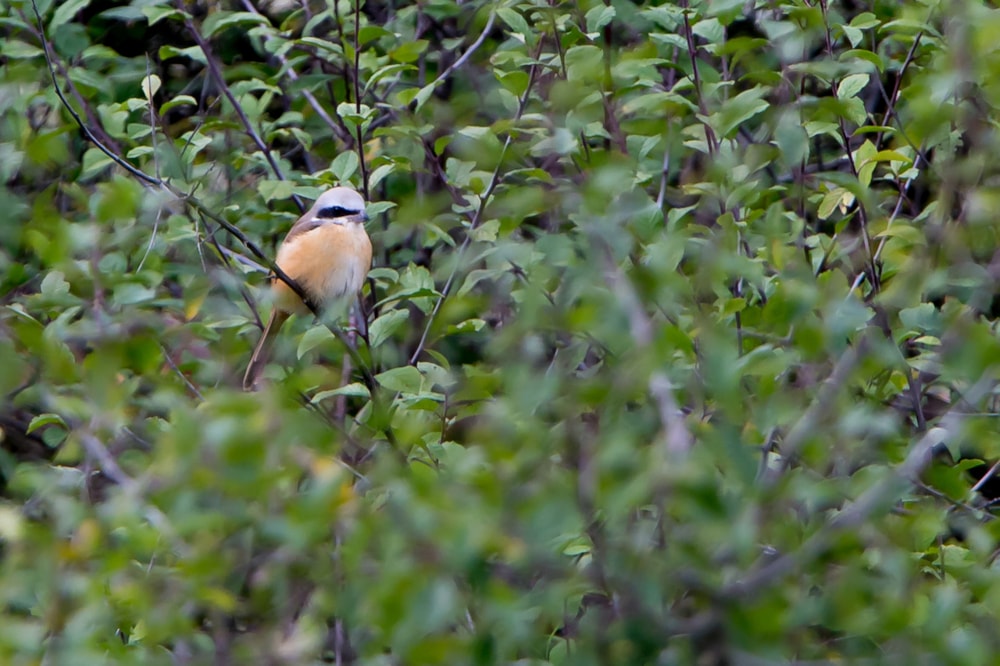 Brown Shrike, Knokke-Heist, West Flanders (Marc Fasol).
The long-staying Upland Sandpiper remained on Ouessant Island, France, to 26th. The Rose-breasted Grosbeak was still at Saint-Pierre-Quiberon on 25th and a Red-eyed Vireo was on Hoedic on 24th. In Portugal, the Franklin's Gull was still at Vila Nova de Milfrontes, having first been seen there in July. The Laughing Gull was still on Gran Canaria.
Sadly, the Common Nighthawk at Lajes on Pico, Azores, on 25th had been hit by a car. Corvo was quiet, but a Common Yellowthroat was in the village on 24th, an American Bittern visited on 26th and Palearctic finds included Western Marsh Harrier and Common Shelduck.
Two Blyth's Pipits were at Turkey's Kızılırmak Delta on 28th, while a female Moussier's Redstart was on the Maltese island of Comino on 23rd.