Tuesday 22 October 2019 dawned fine and bright in East Yorkshire – a real bonus after quite a long period of wet and windy weather. Our daughter was home for a few days of holiday, so, having booked a lunch appointment as an early birthday celebration for her, we decided to head for the beach at Fraisthorpe to give the dog a run. As usual, even a non-birding outing necessitated the carrying of binoculars and an assortment of cameras ...
We arrived at the beach side car park at about 9.15 am and walked towards Barmston. Several Red-throated Divers and a pair of Great Crested Grebes were on the sea and two Whooper Swans flew north.
After a good walk, refreshments were in order, in the form of tea, coffee and cakes from The Cow Shed Café situated just off the beach at Fraisthorpe. Replete, we returned to the car and began the slow drive along the single-track road back to the village.
After about 800 metres we noticed a close kestrel perched atop a bush on the right-hand side of the road. Opening the driver's door window, my wife Heather inched the car forward, bringing it to a stand, allowing me to capture several images of the bird. After a few seconds it flew to a nearby bush, but perched higher, meaning the angle was too acute to obtain any more images from inside the car.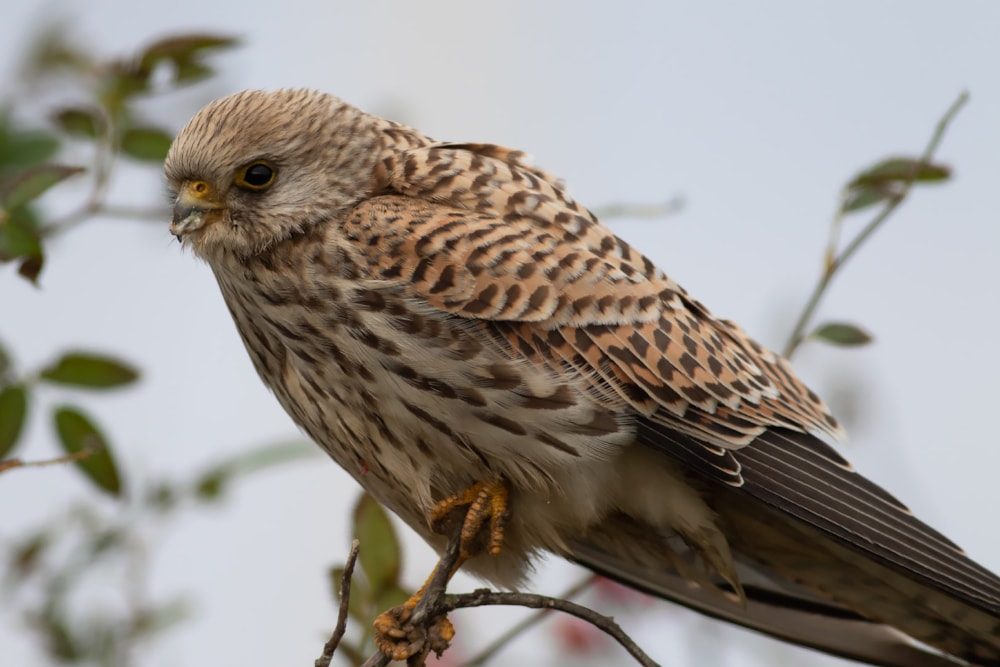 The 'kestrel' photographed by Kevin at Fraisthorpe Sands late morning on 22 October (Kevin Groocock).
I thought nothing more about the images until late in the afternoon when, as is usual, I looked at all the photos that I had taken – predominantly family images and a series of the dog running towards the camera. I then uploaded them to social media.
At some point in the evening, at around 7 pm, I added photos of the kestrel to my Twitter feed. I'd planned to watch a favourite programme on TV, but when Heather arrived home from a meeting at around 9.30 pm, our daughter's comment was "I don't think he's seen any TV, his phone hasn't stopped pinging and chirruping all evening".
Following John Judge's comment that the bird had pale claws, a feature of Lesser Kestrel, social media had immediately sprung to life, expressing many and varied comments about the bird's identity. My thanks must go to John, a birdwatching 'colleague' from our many years of living in Rugby.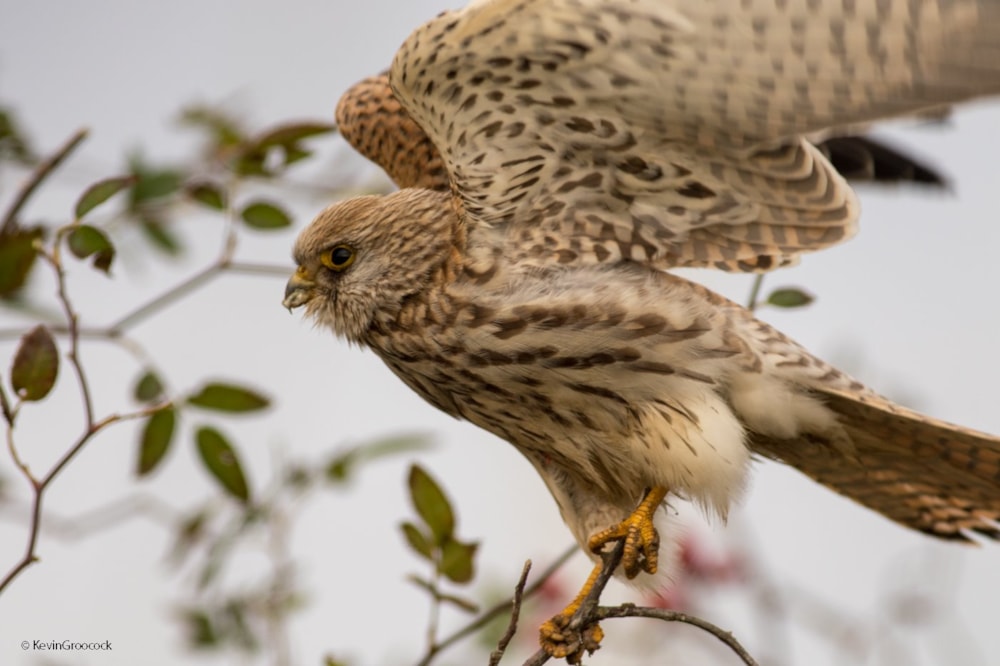 Another view of the bird, showing underwing pattern (Kevin Groocock).
In 30 years of front-line emergency health care, we were always reminded to 'expect the unexpected'. Perhaps this should now be my wildlife-watching mantra. My resolution now is to spend longer in the field, paying closer attention to what I'm observing. This was an interesting and informative experience and I'm grateful for all the input from other birders.
Kevin Groocock
24 October 2019
Identifying the Fraisthorpe Lesser Kestrel
While a fantastic series of close-up images, Kevin's photos from the first morning didn't show the entire bird, and in particular failed to illustrate the primary projection or wing formula that is considered a key part in kestrel identification. Nonetheless, the feeling was that the bird showed enough to be confident that it was a Lesser Kestrel Falco naumanni as opposed to Common Kestrel Falco tinnunculus, with the pale claws and almost parrot-like expression generated by a plain face and apparently small-looking bill. Head shape too was felt to be pro-Lesser. In fact, there was unanimous backing for the species among those asked for feedback. Some of this is listed below.
Àlex Ollé, a Spanish raptor expert, commented on Twitter: "It is an excellent juvenile (probably female) of Lesser Kestrel."
Jack Ashton-Booth replied with: "Couldn't agree more [with Àlex Ollé] – away from the definitive parts – the greater underwing covert pattern is more rounded with dark centres, more akin to teardrops or curved hearts than the acute diamonds or chevrons seen in tinninculus. Quite well marked primary bases suggestive of juvenile female – amazing!"
Passing brief comment from Chile on Kevin's images, Spanish birder Daniel López Velasco replied with: "1cy Lesser Kestrel. Always good to see the p10-8 wingtip but this bird looks a classic."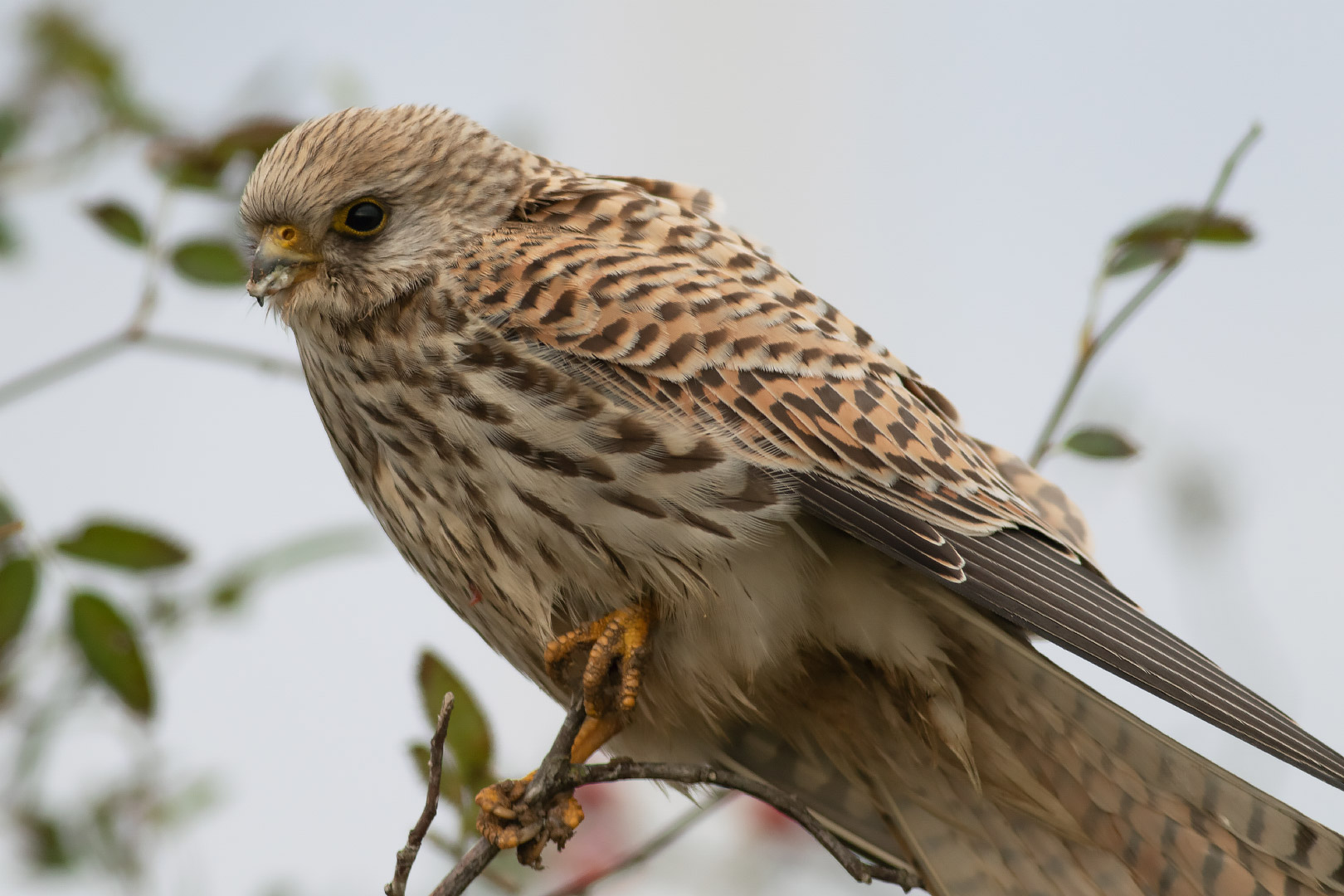 The pale claws are clearly visible on the bird's right foot, while the rather plain face gives it an unassuming and almost 'cute' impression (Kevin Groocock).
A fuller response from Jack Ashton-Booth during Wednesday afternoon said: "It is a juvenile, with a similar tail pattern to an adult female Common (in terms of the shape and density of barring visible in the photos), plus a greater covert pattern more akin to a juvenile male Common. Coupled with the pale claws, a pro-Lesser facial pattern and bill, sparsely marked dorsal marginal coverts around the carpal (again in a juvenile female bird) supports diagnosis as naumanni.
"The first feature that instantly hits you, in Kevin's photos, is how plain faced this bird is with a sandy-buff overall colouration, arising from the weak rear eye stripe and lack of dusky wash to the ear coverts. Also, the darker lateral crown stripe is more defined in juvenile Common, which gives that species a more agressive facial expression than what we see in the Fraisthorpe bird.
"The parrot-like expression is exacerbated by the above, but also the bill. If you look closely at the base colour of the upper mandible (and to some extent the base of the lower mandble) it is yellow, akin to an adult Red Kite. This excentuates the small-billed feeling as it makes the dark tip appear smaller in comparison to the darker/bluer and heavier culmen in Common Kestrel.
"The bird is a female as no grey tones are apparent in any feather tract, the primary bases are well marked and there is coarse and extensive vertical streaking (on to the trousers/belly) throughout the vent.
"Note that the residue on the bill is most likely mucus from earthworms, given farmers are ploughing large areas of Yorkshire at the moment."
Further responses to the initial images from the likes of Pierre-André Crochet, Killian Mullarney and Dick Forsman all concurred that the bird really ought to be a Lesser Kestrel, even if the wing formula wasn't visible. Dick commented that the somewhat irregular barring on the outer greater coverts, with distal and middle bars 'joining' along the outer edge, is not something he has ever seen in Common Kestrel, but he has seen in Lesser Kestrels, in the hand at Chukotka ringing station.
Subsequent sightings
The Lesser Kestrel was again reported in the Fraisthorpe area on the morning of 23 October, although the veracity of at least some of these reports was brought into question by images appearing online, the subject of which was suggested as a Common Kestrel. Reports from the twitch, at least early in the day, suggested the presence of more than one individual kestrel on site and, with images failing to show a bird as 'obvious' as the previous day's, and lacking the clear wingtip formula that birders might expect to see, many felt that there had been no definitive sighting of the same bird photographed by Kevin Groocock.
However, in-depth analysis by Jack Ashton-Booth, as published on his blog, appears to confirm that the Lesser Kestrel was at Fraisthorpe on 23 October after all. This investigation was based largely on previously unpublished images taken by Mark James Pearson, which confirm the presence of various features that were also present in Kevin's bird from 22nd and thus proving the bird had lingered into a second day. These include:
Primary underwing coverts: one of the inner greater primary underwing coverts seems to be missing or displaced;
Median underwing coverts: two tramlines of rounded dots in the median coverts that appear to match;
Axillaries;
Carpal coverts;
Face/head pattern.
For the full summary of Jack's thoughts on this educational raptor, visit raptor-id.blogspot.com.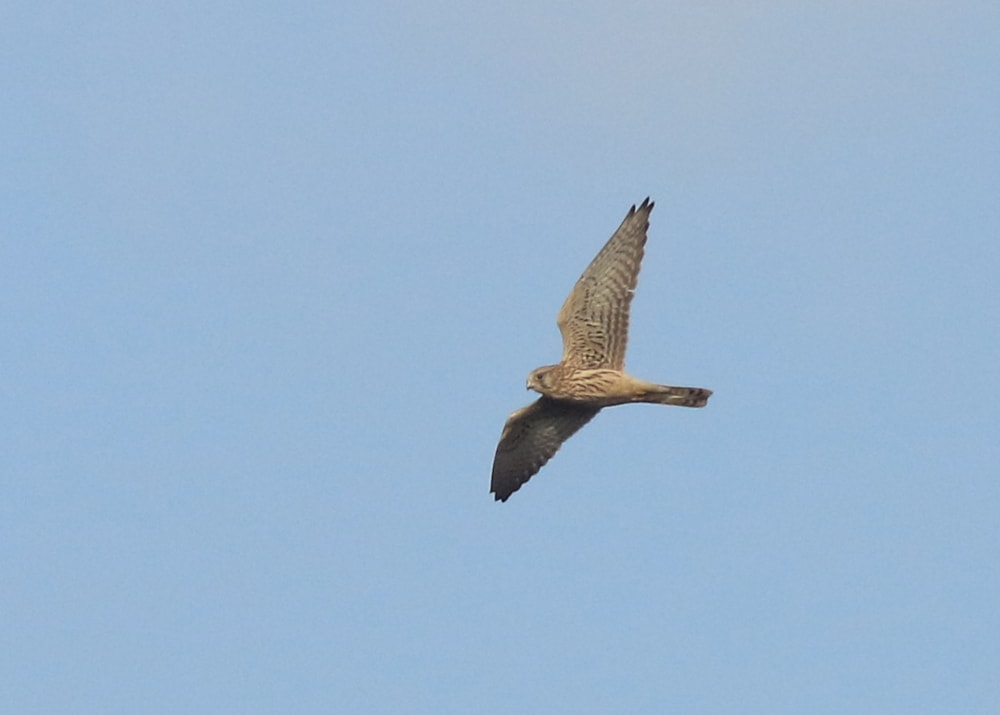 Lesser Kestrel, Fraisthorpe Sands, East Yorkshire, 23 October 2019 (Mark James Pearson).
Stats and facts
Assuming acceptance, this will represent the 21st record of Lesser Kestrel for Britain. Although breeding widely throughout the Mediterranean and eastwards into Central Asia, the species remains extremely rare here – presumably at least in part due to the difficulty of identifying non-adult males. Precious few individuals have been truly twitchable, with the lingering first-summer male on St Mary's, Scilly, from 13-21 May 2002 and the male at Minsmere RSPB, Suffolk, from 28-31 March 2010 among fewer than a handul ever to have been widely observed.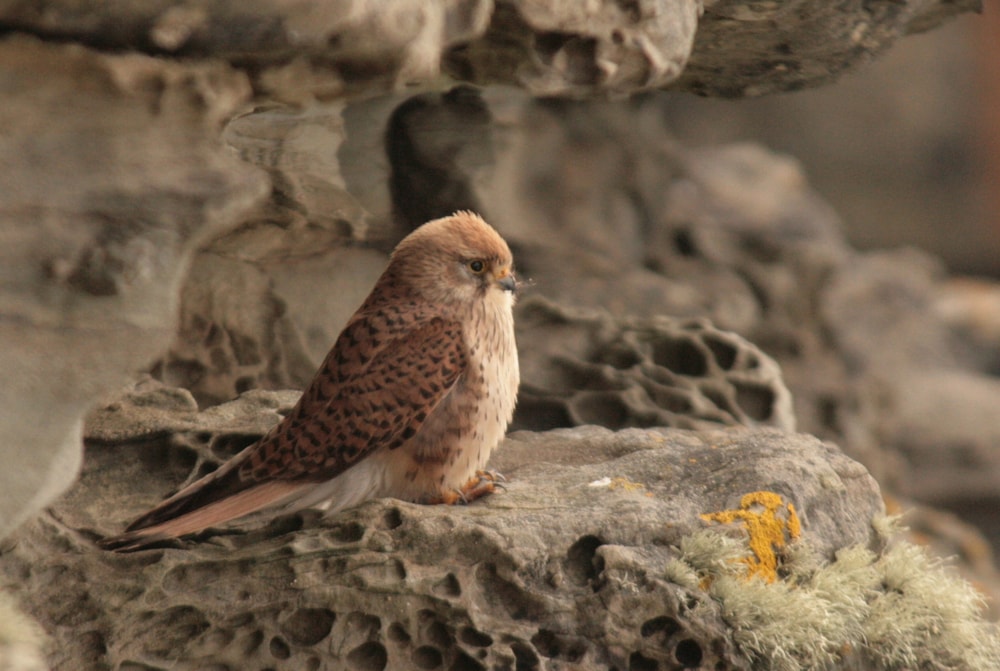 2cy+ female Lesser Kestrel, Isle of Noss, Shetland, 1 May 2017 (Craig Nisbet).

Adult male Lesser Kestrel, Minsmere RSPB, Suffolk, 28 March 2010 (Nick Appleton).

Lesser Kestrel, St Mary's, Isles of Scilly, 15 May 2002 (Robert Flood).