The week at a glance
In a week that failed to produce very little in the way of new rarities, the outstanding highlights were a flush of early summer migrants.
Sand Martins are traditionally one of the heralds of spring and the first of 2017 was logged at Catcott Lows, Somerset, on 25th. Proving it was far from a one-off, two more followed at Radipole Lake, Dorset, on 26th and a single bird had reached as far north as Rutland Water on 28th. These are the first February records since 2014, most years tending not to produce this seasonal harbinger until the first week of March.
Following last week's Northern Wheatear in Dorset, none were reported this week. A House Martin flying north at Benacre, Suffolk, on 24th was followed by two in the county at Pakefield later that day — these two have since hung around and were still there on 28th. We may expect Sand Martins and Wheatears at this time of year, but February records of House Martin are very scarce, and presumably such an early arrival is testament to the largely mild conditions and often strong south-westerly airflow experienced in recent days.
The major news this week concerned the Phylloscopus warbler found dead on St Agnes, Scilly, back in late October 2016 — DNA has confirmed this bird as Britain and the Western Palearctic's first Pale-legged Leaf Warbler. Take a look back at this occurrence here.

Pale-legged Leaf Warbler, St. Agnes, Isles of Scilly (Photo: Laurence Pitcher)
Continuing highlights included the Pine Bunting at Dunnington, North Yorks, which appears to have been showing better than at any other point in its month-long stay, and the Eastern Black Redstart at Skinningrove, Cleveland, which has now been present there for over 120 days. The Blue Rock Thrush also remains settled in Stow-on-the-Wold, Glos. There was a report of a Dusky Thrush near Banbury Reservoir, London, on 24th but it wasn't seen again.

Pine Bunting, Dunnington, North Yorkshire (Photo: Martin Standley)

Eastern Black Redstart, Skinningrove, Cleveland (Photo: Steve Race)
The Royal Tern, seemingly originating from North Carolina (per information gleaned from ring details), was seen again on Guernsey at Portinfer on 24th and Vazon Bay on 26th.

Royal Tern, Grande Havre Bay, Guernsey (Photo: Chris Bale)
Though there was no sign of last week's bird in Devon, two Pacific Divers remained on offer this week. The Northumberland bird was still at East Chevington throughout, while the Cornish adult was still off Penzance on 22nd, though a search on 26th drew a blank. The White-billed Diver remained off South Ronaldsay, and the Black Scoter was still in the Cheswick Sands/Goswick area of Northumberland to 28th.
An impressive five drake Surf Scoters were off Lower Largo, Fife, on 27th, with a further male just across the Firth of Forth at Musselburgh, Lothian, on 28th and another male off Murvagh, Co Donegal. The drake King Eider was seen again at Ballysadare Bay, Co Sligo, on 24th for the first time since December. Elsewhere the female remained in Sandy Bay, off Castlegregory, Co Kerry.
The drake Hooded Merganser was again at Lochwinnoch, Clyde, on 23rd. Nine Ring-necked Ducks remained at seven sites, with three still at Lough Morne, Co Monaghan. Females lingered in Co Kerry and Cambridgeshire, and males were in Kent, Perthshire, Dumfries & Galloway and Co Cork. Drake Lesser Scaup remained in Cornwall and Orkney, while a female Ferruginous Duck was found at Little Marlow Gravel Pits, Bucks, on 27th.
A female American Wigeon was a skillful find at Grimley, Worcs, on 27th; eight drakes were seen elsewhere around Britain. Eleven drake Green-winged Teal were familiar birds from previous weeks, and the American Black Duck lingered on at Strontian, Highland.

American Wigeon, Tain, Highland (Photo: Dave Tanner)
The Red-breasted Goose wasn't seen in Lancashire this week but the Lesser White-fronted Goose was noted again in Essex. It briefly visited Wallasea Island early on 26th but soon flew back to Foulness Island with Eurasian White-fronted Geese. Tundra Bean Geese remained fairly numerous, while Black Brants were seen in Hampshire, Kent, Essex and East Yorkshire. A Todd's Canada Goose was at Dunfanaghy New Lake, Co Donegal, on 25th.
Once again Cattle Egrets were seen at around 30 sites, with up to 16 still roosting at Helston Loe Pool, Cornwall, and 11 at Tamerton Foliot, Devon. A new group of eight was found at Freshwater, Isle of Wight, on 27th, and up to eight were still at Tomhaggard, Co Wexford. All of last week's Glossy Ibises remained in situ, but the Night Heron was not seen again in Co Cork this week.

Glossy Ibis, Ely, Cambridgeshire (Photo: Brian Anderson)
A new Pallid Harrier was seen at New Holkham, Norfolk, on 24th but was not identified conclusively until 27th, when it was seen again at nearby Holkham Freshmarsh. The East Yorkshire bird continued to be reported from Welwick Saltmarsh with regularity, while the Northern Harrier appears to have shown nicely on North Ronaldsay this week. Adult Rough-legged Buzzards remained on show in Cambridgeshire and Norfolk.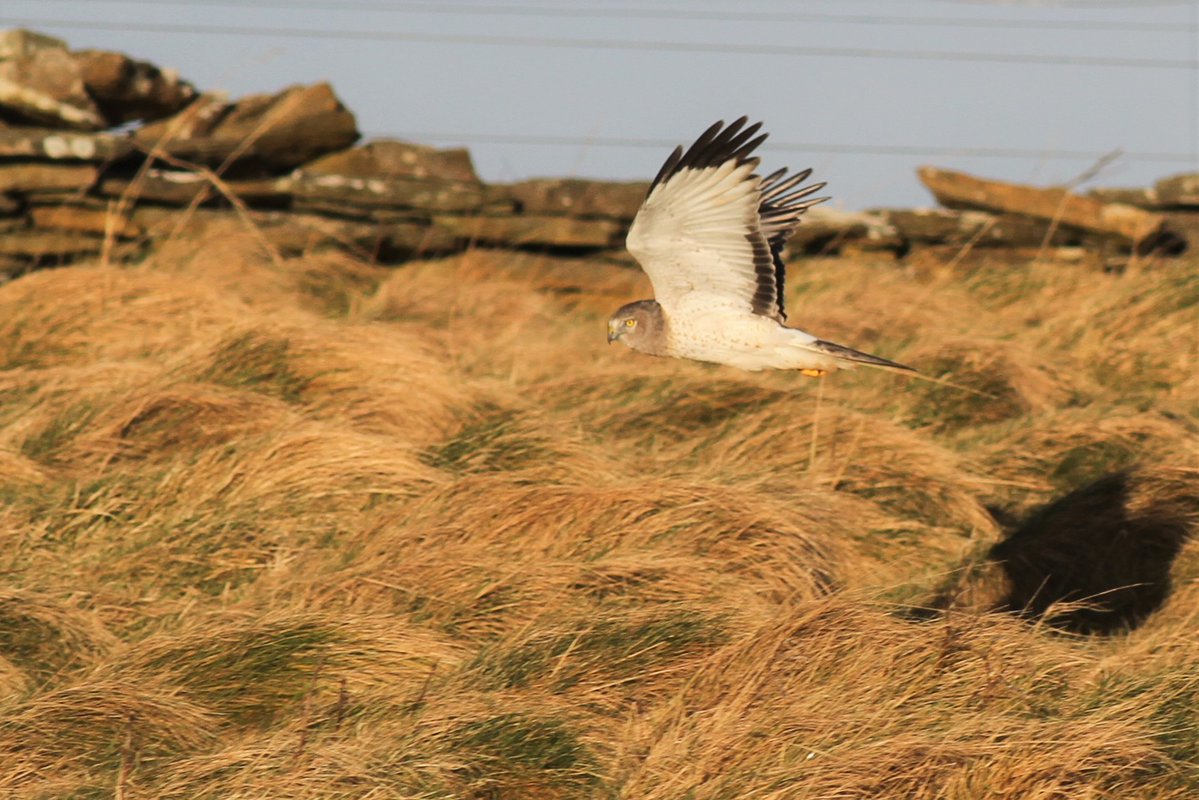 Northern Harrier, North Ronaldsay, Orkney (Photo: Simon Davies)
The week's major shorebird news once again concerned the lingering Killdeer on Mainland Shetland and the Hudsonian Whimbrel at Perranuthnoe, Cornwall. The Lesser Yellowlegs lingered another week at Lytchett Bay, Dorset, while the Temminck's Stint remained at Branston Gravel Pits, Staffs, to at least 24th.
Once again the only Bonaparte's Gull was the adult still at Cardwell Bay, Clyde. Ring-billed Gulls were reported from 10 sites nationwide, including two different adults discovered at Lytchett Bay (one on 26–27th and the second on 28th) and another at Aberystwyth, Ceredigion, on 23rd. Iceland Gulls were seen at around 100 sites, with peak site counts in the high single figures; Glaucous Gulls were at around 85 sites.
There were no reports of the Red-flanked Bluetail near Caerphilly this week but the Bluethroat remained on show at Willow Tree Fen, Lincs, throughout — though it could be elusive for long periods. Both the Desert Wheatear at Thurlestone, Devon, and the Hume's Leaf Warbler at Portland, Dorset, continued all week, while Yellow-browed Warblers were noted at eight sites.

Bluethroat, Willow Tree Fen LWT, Lincolnshire (Photo: Mark ferris)
A new Coues's Arctic Redpoll was unearthed just a stone's throw from the Pine Bunting at Dunnington, North Yorks, on 25th and was still on show the following day. The European Serin was still singing at Tide Mills, East Sussex, on 26th and the Little Bunting continued to visit seed at Great Barford, Beds. Rose-coloured Starlings hung on in West Sussex and Dorset.

Coues' Arctic Redpoll, Dunnington, North Yorkshire (Photo: Ellis Lucas)

Little Bunting, Great Barford GPs, Bedfordshire (Photo: Steven Lane)

Rose-coloured Starling, Crawley, West Sussex (Photo: Sandra Palme)
Western Palearctic news
What could well be the Western Palearctic's second White-throated Bee-eater was found at Dakhla, Western Sahara, on 28th, though it was in frankly appalling condition and apparently missing most of one of its wings. Other Moroccan records concerned the continuing Pied Crow at M'Hamid and up to three Cape Gulls at Akhfenir.

Back-of-camera shot of the Dakhla White-throated Bee-eater (Photo: via Joachim Bertrands)
An apparent drake Redhead was on the France–Germany border to the south of Strasbourg from 24–26th at least. The Baikal Teal remained on show at Noordwijk, Netherlands, while the Brown Shrike continued at Den Helder and the Blyth's Pipit was still at De Biesboch.

Baikal Teal, Netherlands (Photo: Bosse Carlsson)
Late news of two Long-billed Dowitchers at Kizil Agach on 31 January represented the first record of this species for Azerbaijan. Other interesting records included Cape Verde's third Jack Snipe at Pedra Badejo, Santiago, and the long-staying Brown Booby again at Sesimbra, Portugal, on 22nd.