The fortnight at a glance
A continuation of the unsettled weather conditions of the Christmas and New Year period saw further heavy rain and strong winds cause extensive flooding across areas of eastern Scotland, the Midlands, Wales and the southwest. Despite conditions that could at times be described as abhorrent, a reasonable selection of scarce and rarer species lingered on to ensure birders were afforded some festive reward for their efforts.
The highlight of the fortnight was the remarkable discovery that Berkshire's Buff-bellied Pipit had been joined by a second individual at Queen Mother Reservoir on Boxing Day, with photographs clearly illustrating both birds together! Disappointment quickly followed, though: both birds had disappeared by the following morning and had not been seen again by the New Year. Where have they gone? Presumably not far — perhaps somewhere local such as Staines Moor may yet reveal at least one of the birds.

Buff-bellied Pipit, Queen Mother Reservoir, Berkshire (Photo: Sam Viles (aged 15))
The other primary highlight of the period concerned the first-winter male Rose-breasted Grosbeak on St. Mary's (Scilly), which was still visiting various feeding stations in Hugh Town until 29th at least. Although it has not yet been seen in 2013, it is presumably still around the island somewhere — what a looker this will turn out to be if it lingers long enough to be seen in breeding attire!

Rose-breasted Grosbeak, St. Mary's, Isles of Scilly (Photo: Martin Goodey)
Other headline birds included the continuing American Coot still at Murlach, Ballyconneely (Galway) throughout, the second-winter Laughing Gull still visiting fields at Rosehearty (Aberdeenshire) to New Year's Eve only, the female Desert Wheatear again in the same county at Rattray Head on 27th–2nd and Wexford's juvenile female Northern Harrier also entering 2013 at Tacumshin. However, Suffolk's popular Hornemann's Arctic Redpoll had moved on.

Laughing Gull, Rosehearty, Aberdeenshire (Photo: D Abraham)

Desert Wheatear, Rattray Head, Aberdeenshire (Photo: D Abraham)
On North Uist (Outer Hebrides), the pair of white-morph Snow Geese were again noted at Balemore on 27th, while the Northern Irish blue morph was still around Lower Lough MacNean (Fermanagh) on New Year's Day. Seven Black Brants included one in the Cley (Norfolk) area, where both Ross's Goose and Richardson's Canada Goose were noted over the fortnight. Further hutchinsii involved one still at Kilchenzie (Argyll) to 29th and at least one still on Islay, while a possible was seen with Barnacle Geese at Skinburness (Cumbria) on 27th–28th. The Todd's Canada Goose was at Powillimount (Dumf & Gall) on 29th and then at Loaningfoot on 1st, with the Red-breasted Goose still there on 2nd. The Hampshire Red-breasted was still around Langstone Harbour throughout and the Islay (Argyll) bird was noted again on 30th, while escapes were in West Sussex and Suffolk.

Richardson's Canada Goose, Kelling, Norfolk (Photo: Carl Chapman)

Todd's Canada Goose, Powillimount, Dumfries & Galloway (Photo: Jon Worthington)

Red-breasted Goose, Loaningfoot, Dumfries & Galloway (Photo: Jon Worthington)
Reported for the first time since June 2011, the drake Black Duck was again seen on Loch Sunart at Strontian (Highland) on 23rd–28th. It was first found here as long ago as June 2007. New drake American Wigeon were discovered at Udale Bay (Highland) on 24th (lingering to 2nd) and at Ashton's Callow (Tipperary) on 29th, with long-stayers remaining in Aberdeenshire, West Yorkshire and Norfolk. The drake Blue-winged Teal was again seen at Threave (Dumf & Gall) on New Year's Day, while an improved showing of a dozen Green-winged Teal included new birds in Cork, Shropshire, North Yorkshire and Cleveland.

American Wigeon, Anglers CP, West Yorkshire (Photo: Richard Aldam)
Also on the up were Ring-necked Duck numbers, with sixteen reported. Four Irish records included a new drake in Westmeath in addition to remaining birds in Kerry and Mayo (2), while the three remained on Tresco (Scilly) in to 2013. A Welsh drake at Marloes Mere (Pembrokeshire) from 28th is presumably the recent Skomer bird, while the only Scottish bird was a continuing first-winter on North Uist (Outer Hebrides). A first-winter female Lesser Scaup was identified at St. Mary's (Orkney) on 27th and had been present around a week previous, with drakes still in residence at Dozmary Pool (Cornwall), Blagdon Lake (Somerset), Lough Gill (Kerry) and Lough Gash (Clare). The drake Ferruginous Duck was again at Girton Pits (Notts) on 27th–30th.
Content continues after advertisements

Ring-necked Duck, Kirkby on Bain GPs, Lincolnshire (Photo: Trevor Gunby)
A new drake King Eider was discovered off Symbister, Whalsay (Shetland) on 31st and was still present on 2nd, with another off Rosehearty (Aberdeenshire) on 29th and the usual bird again off Burghead (Moray/Nairn) on Christmas Day. New Surf Scoters were at Broad Haven (Pembrokeshire) on 22nd–23rd, Burnham Lagoon (Kerry) on 22nd–27th and Hermitage (Louth) on 24th in addition to remaining birds off Dungarvan (Waterford) and in Largo Bay (Fife).
The inclement weather conditions unsurprisingly resulted in decent seawatching in the southwest, with small numbers of Great Skuas and the odd Pomarine Skua noted in addition to an impressive 58 Balearic Shearwaters past St. Ives Island (Cornwall) on 30th. There was a report of a possible Brünnich's Guillemot off Cley (Norfolk) on 30th.
A Glossy Ibis was seen at Stanpit Marsh (Dorset) on New Year's Day, with the Cork individual again at Timoleague on 28th–2nd and long-stayers still at Marloes Mere (Pembrokeshire) and Ringwood (Hants) on 1st. In addition to the Donegal bird still at St. Johnston on 1st, a new Cattle Egret was at Mudgley and Westhay Moor (Somerset) on 27th–1st, with up to four Great White Egrets also there. As many as seven Great Whites have been seen at Dungeness (Kent) over the festive period, with perhaps twenty or more scattered elsewhere across England and Wales.

Great White Egret, Alton Water, Suffolk (Photo: Chris Upson)
The long-staying Rough-legged Buzzard was still on Haddiscoe Marshes (Norfolk) throughout, with a new bird at Gibraltar Point (Lincs) on 27th–1st and a third reported over Idle Valley (Notts) on 23rd. A putative Dark-breasted Barn Owl at Ouse Fen (Cambs) from 28th proved popular, although several features (such as the rather pale legs) are not typical of guttata and suggest that it may just be an extreme alba.

Putative Dark-breasted Barn Owl, Ouse Fen RSPB, Cambridgeshire (Photo: Walter Haddow)
An American Golden Plover near Rosslare Backstrand (Wexford) on 23rd was one of two new waders found over the festive period, the other being 2013's first new rarity: a Long-billed Dowitcher on the Gann Estuary (Pembrokeshire) on 1st–2nd. Another dowitcher remained at Alkborough Flats (Lincs), while the Lesser Yellowlegs continued its stay at Ernesettle (Devon).
The Galway Forster's Tern continued to show well at Nimmo's Pier until New Year's Day, and the adult Bonaparte's Gull was again seen in Larne (Antrim) on 26th–31st. An improved showing of Ring-billed Gulls saw at least twenty noted in Ireland, including three at Cuskinny Marsh (Cork) and twos at Castletown Bearhaven (Cork) and Tralee (Kerry). English adults remained in West Yorkshire and Hampshire, while both an adult and a first-winter were reported in the Weymouth (Dorset) area. An improved selection of Glaucous and Iceland Gulls saw several adults of the former scattered around the Midlands; away from the Northern and Western Isles, however, multiple counts were limited to twos of each in Cambridgeshire.

Forster's Tern, Nimmo's Pier, Galway (Photo: Tom Cuffe)

Ring-billed Gull, Groomsport, Down (Photo: Stephen Maxwell)
Passerines included a Richard's Pipit at the surprising location of Loch Ordais, Lewis (Outer Hebrides) on 25th–26th, the Subalpine Warbler that continued into 2013 at St. Just (Cornwall), and a newfound Yellow-browed Warbler in Worcester on 22nd. Serins were noted on St. Mary's (Scilly) on 27th and Dawlish Warren (Devon) on 1st, and the first-winter Rose-coloured Starling remained nearby at Exminster throughout. Double-figure totals of Great Grey Shrikes remained in residence at several English and Welsh locations, with two at Boreham Down (Wilts) on 2nd.

Rose-coloured Starling, Exminster, Devon (Photo: Tom Wallis)

Great Grey Shrike, Boreham Down, Wiltshire (Photo: Dave Perrett)
Waxwings were still very much in evidence, with 1,074 reports over the fortnight slightly lower than the weekly report tallies of early December yet still significant. Birds are now widespread across almost all of Britain and Ireland, although they are still fairly scarce in the far southwest. With large numbers seen in East Kent over the fortnight it appears an exodus is on the cards as the birds head south across the Channel, although plenty will no doubt be here until spring.

Waxwing, Llandrindod Wells, Powys (Photo: Kev Joynes)
Photo of the Week, 20th–26th December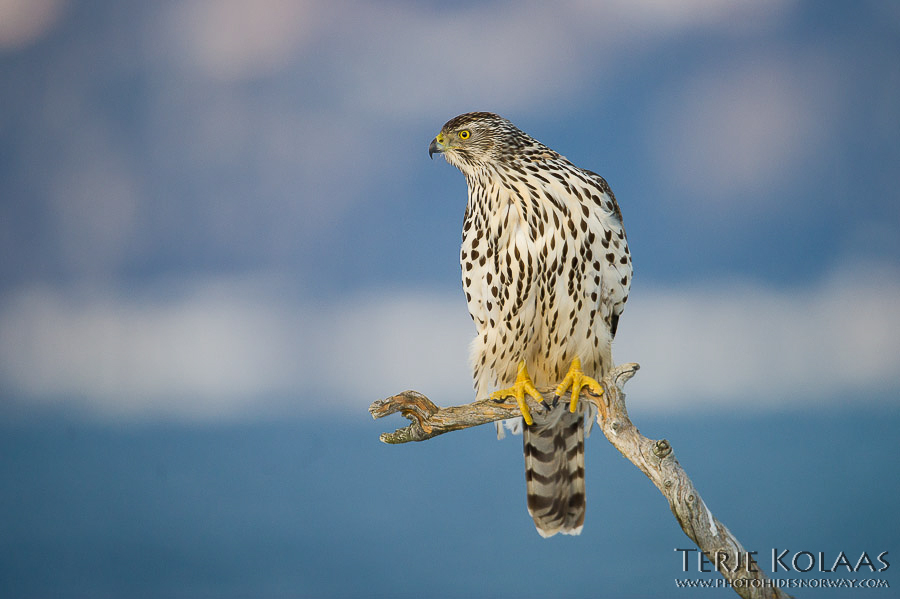 Goshawk, Norway (Photo: Terje Kolaas)
Since BirdGuides first introduced its Photo of the Week award back in 2004, the accolade has been bestowed upon more than 400 images. This week, we are delighted to have reached the milestone of having awarded PotW to 200 different photographers. The fact that, on average, a new photo contributor wins PotW every other week shows just how open the field of bird photography has become in the digital age, and how much new talent is constantly emerging. Our winner, then, is Terje Kolaas who, by regular feeding at his purpose-built hide in Norway, is able to attract some superb birds into close-range settings amid a photogenic snowy landscape. This week, a clean composition featuring a well-posed Goshawk evenly illuminated by snow-reflected light makes for a great portrait. The cool blue colour of the diffuse background contrasts with the yellow of the hawk's eye and talons, while the off-centre placement and simple perch give a pleasing effect. A great end to another year of excellent photo submissions. Thank you to all our contributors and we look forward to seeing more of your photos in 2013.
Other notable images, 20th–26th December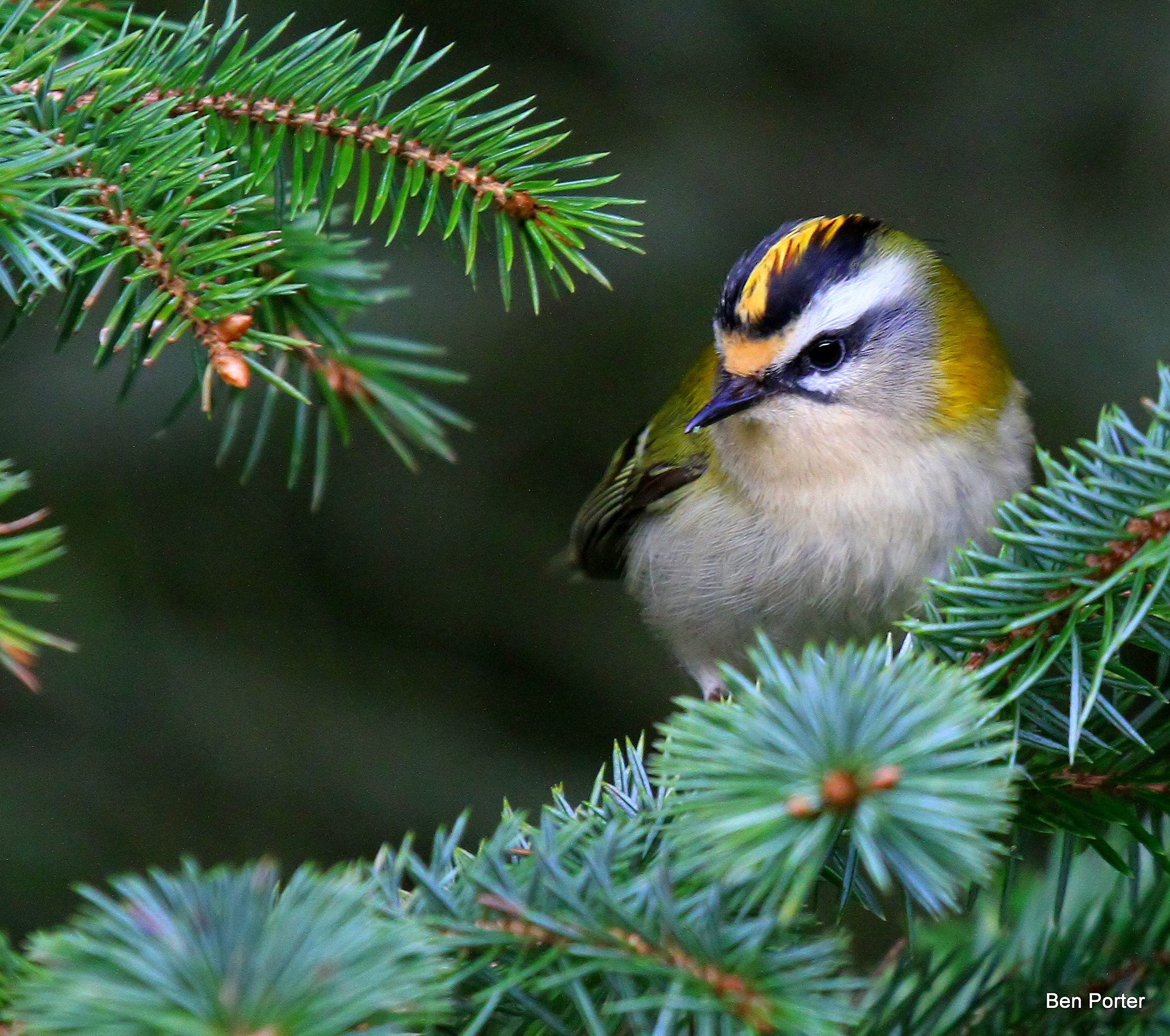 Firecrest, Bardsey Island, Gwynedd (Photo: Ben Porter)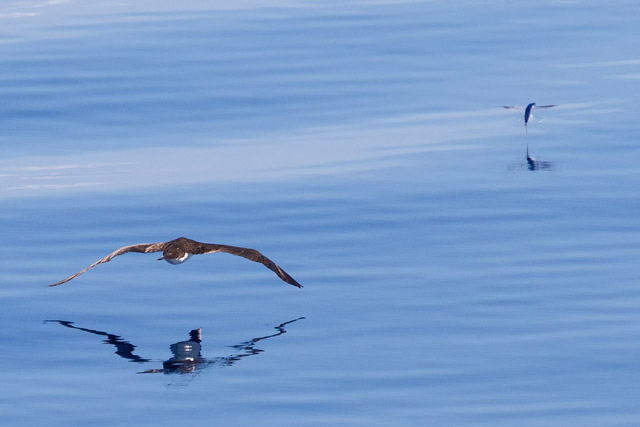 Brown Booby, St Lucia (Photo: Nick Clayton)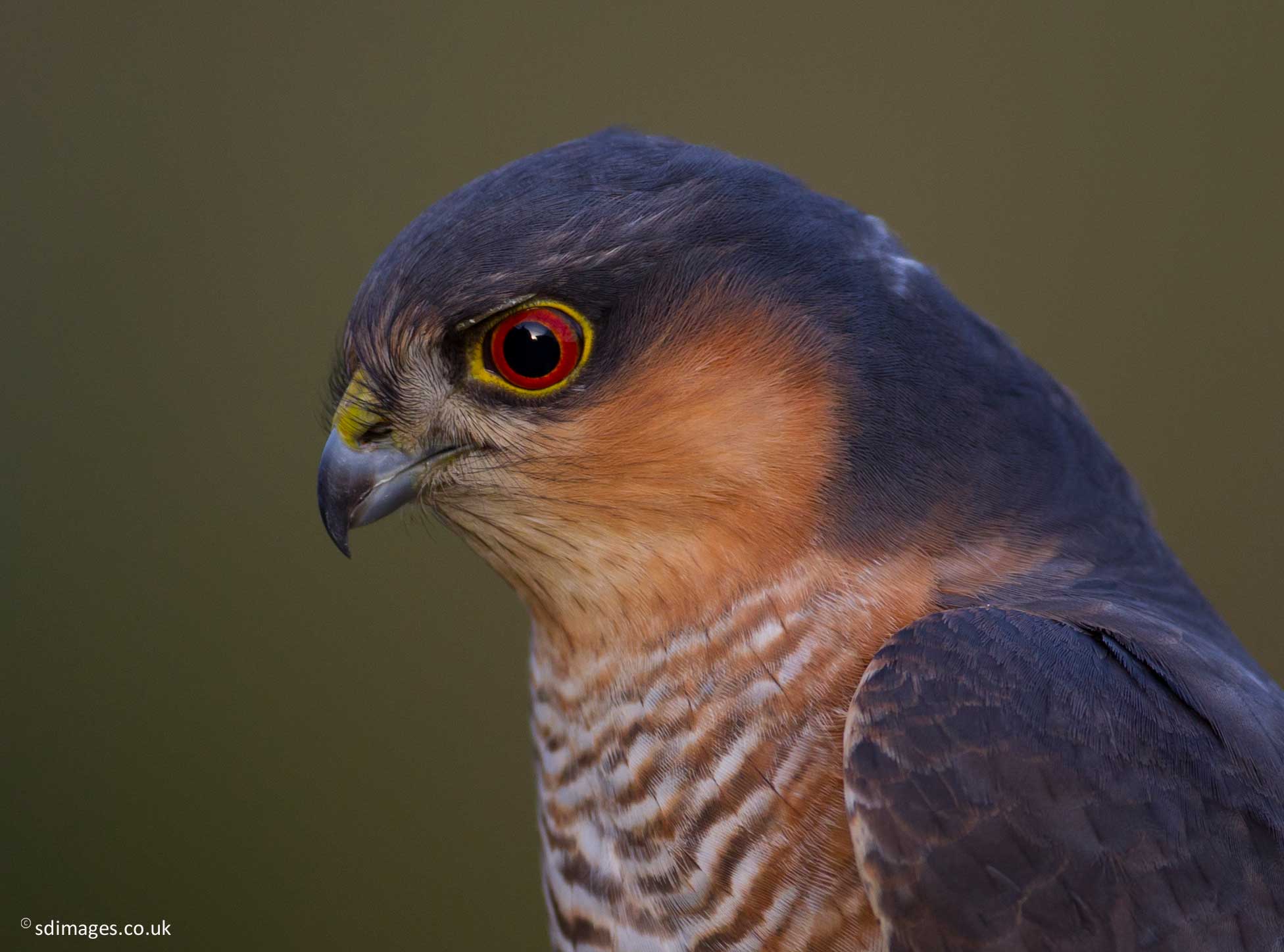 Sparrowhawk, private site, Cheshire (Photo: Steve Dolan)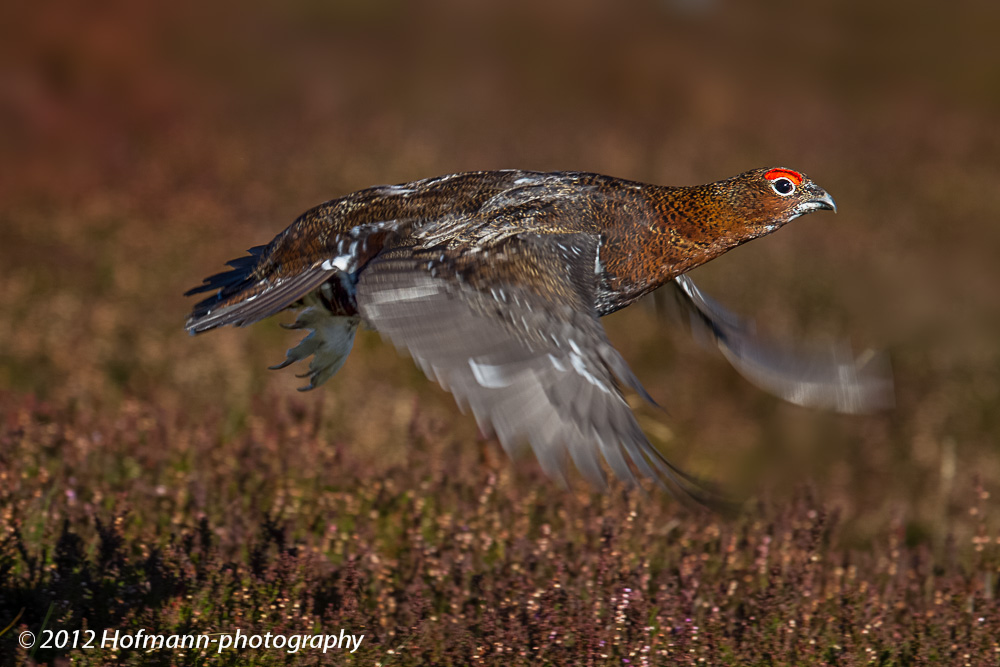 Red Grouse, undisclosed site, North Yorkshire (Photo: Gerhard)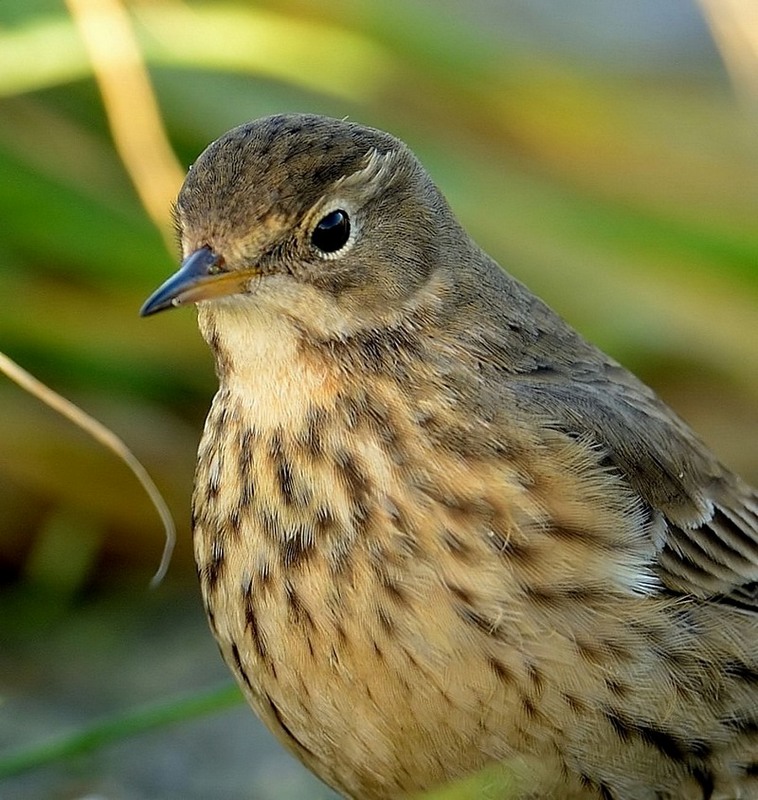 Buff-bellied Pipit, Queen Mother Resr (Permit Only), Berkshire (Photo: Dave Perrett)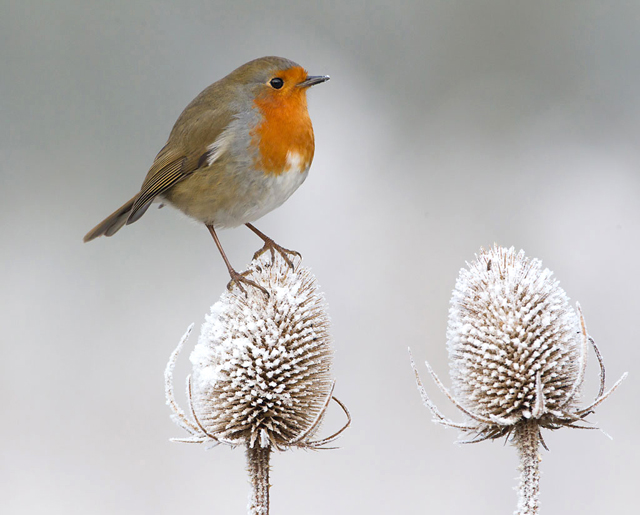 Robin, Wigan, Greater Manchester (Photo: Roy)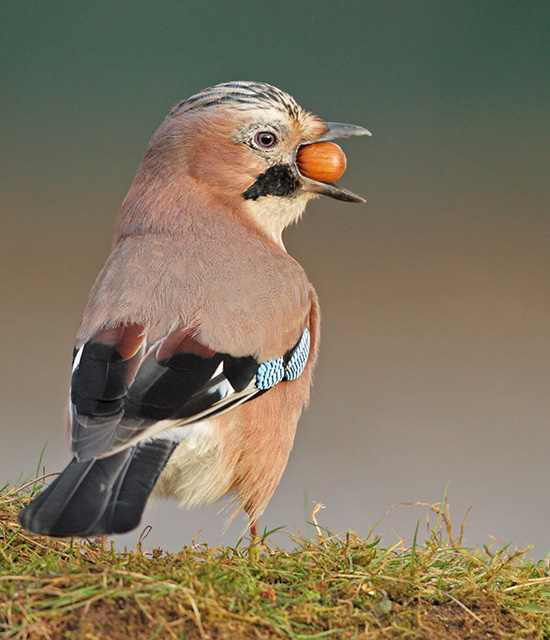 Jay, undisclosed site, Lancashire (Photo: Martin Jump)

Hoatzin, Peru (Photo: Mathias)
Photo of the Week, 27th December–2nd January

Bittern, undisclosed site, Norfolk (Photo: Stephen Durrant)
The skulking, unpredictable nature of Bitterns makes them difficult to photograph, but gives kudos to any photographer who does manage to get a good image of one. The unusual shape, markings and behaviour of this species also add to its desirability as a photographic subject, but these peculiarities are doubly difficult to capture and convey. The image submitted by Stephen Durrant this week therefore deserves to kick off our 2013 collection of Photos of the Week. First, Stephen captured the characteristic 'sky-pointing' pose; second, he got close enough to pick out minute facial details; third, he showed how this species can rotate its eyes to give full binocular vision downwards. Beyond these ornithologically interesting attributes, though, this is also a great all-round photographic image, being brilliantly framed, engaging and humorous. A new year of bird photography begins!
Other notable images, 27th December–2nd January

Robin, Rainford, Lancashire (Photo: Austin Thomas)

Sparrowhawk, Laurieston, Dumfries & Galloway (Photo: Rob Cross)

Peregrine, United States (Photo: Mr Temple)

Blue Rock Thrush, Malta (Photo: Natalino Fenech)

Starling, Strumble Head, Pembrokeshire (Photo: Richard Stonier)

Purple Sandpiper, Lowestoft, Suffolk (Photo: Carl Wright)

Little Green Bee-eater, Sri Lanka (Photo: Sarala Gamage)

Slavonian Grebe, Leazes Park, Newcastle, Northumberland (Photo: Morgan)

Great Northern Diver, Lowestoft, Suffolk (Photo: Jon Evans)

Rose-breasted Grosbeak, St. Mary's, Isles of Scilly (Photo: Joe Pender)