The week at a glance
We've said on more than one occasion that Tacumshin must be among the premier birding locations in Britain and Ireland, and this week's haul of rarities — for which it is difficult to find adequate superlatives — only reaffirms the popular belief that is in fact the very best of all sites across our isles.
Three years ago, almost to the week, Ireland was treated to its first sand plover of any species — a glorious male mongolus Lesser Sand Plover. It's almost surprising that the island hadn't previously hosted the commoner Greater Sand Plover which, though rare in Britain, has been recorded regularly enough to suggest that an Irish occurrence was overdue.
Killian Mullarney was in the right place at the right time on the morning of 20th to put the long wait to an end when he discovered a breeding-plumaged bird at Tacumshin's East End, but it proved a frustratingly brief affair — as he explains in his account of the discovery.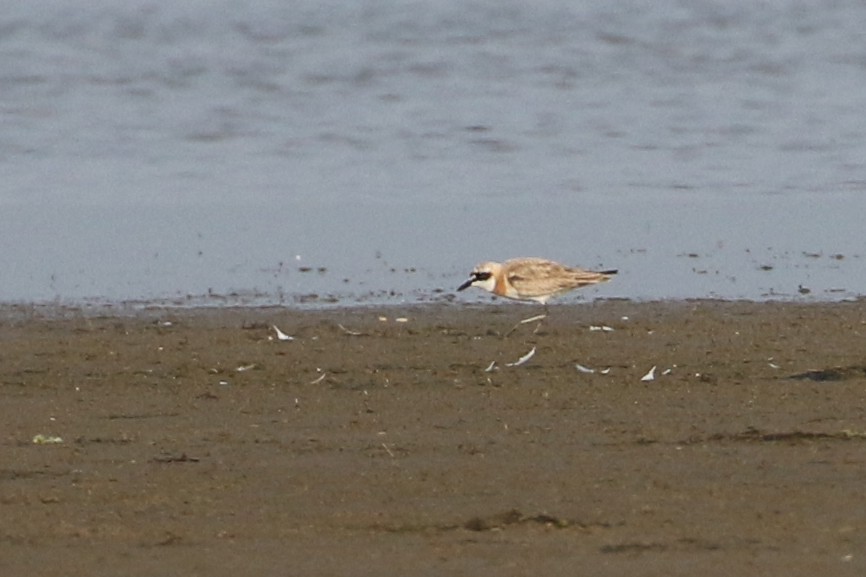 Greater Sand Plover, Tacumshin, Wexford (Photo: Killian Mullarney)
This national first was the latest feather in an already well-decorated cap, but it seemed Tacumshin was only just getting going. Much in the way that Fair Isle and Shetland tend to dominate this column in the peak weeks of autumn, the past seven days have well and truly belonged to this little corner of south-east Co Wexford. Birders searching for the departed Greater Sand consoled themselves with a summer-plumaged Pacific Golden Plover on the evening of 20th, this bird lingering to 22nd.

Pacific Golden Plover, Tacumshin, Wexford (Photo: Paul Kelly)
A Pectoral Sandpiper appeared on 22nd but was thoroughly upstaged when Paul Kelly picked out Ireland's fifth Western Sandpiper the following morning (read his finder's account here). A subtle first-summer bird, it lingered until at least 26th — the day the site produced a breeding-plumaged Semipalmated Plover! Just a fourth for Ireland and the second at Tacumshin this year, it completed an extraordinary week of mega-rarities with which it is hard to draw comparisons — any examples of similarly productive weeks for e.g. Fair Isle are most welcome at the foot of this page! Oh, and just for good measure, there was also the small matter of a White-rumped Sandpiper on 24th.

Western Sandpiper, Tacumshin, Wexford (Photo: Paul Kelly)

Semipalmated Plover, Tacumshin, Wexford (Photo: Killian Mullarney)
After a quiet first three weeks to the month, wader passage elsewhere also really seemed to pick up this week. A smart adult Broad-billed Sandpiper showed particularly well at Frampton Marsh, Lincs, from 24th — joining the Pectoral Sandpiper that was found there the previous day.

Broad-billed Sandpiper, Frampton Marsh RSPB, Lincolnshire (Photo: Ron Marshall)

Pectoral Sandpiper, Frampton Marsh RSPB, Lincolnshire (Photo: Paul Sullivan)
A White-rumped Sandpiper was also reported there on 21–22nd, with another regularly in the roost just across The Wash at Snettisham RSPB, Norfolk, from 21–25th and a third at Loch of Strathbeg, Aberdeenshire, from 22–25th. Last week's Pec Sand remained near West Ashby, Lincs, to at least 24th and another was found at Low Newton, Northumberland, on 26th. Always somewhat rarer in summer, the adult Baird's Sandpiper at Minsmere, Suffolk, on 24–25th was a good record. A female Red-necked Phalarope stopped in at Beacon Ponds, E Yorks, on 22–23rd, while the Hudsonian Whimbrel was seen regularly at Perranuthnoe, Cornwall.

White-rumped Sandpiper, Snettisham RSPB, Norfolk (Video: Marcus Nash/The Bird ID Company)

Baird's Sandpiper, Minsmere RSPB, Suffolk (Photo: Sean Nixon)
Aberdeenshire's American White-winged Scoter remained loyal to the stretch of coastline just off Murcar Golf Course all week, and a female Surf Scoter joined the male already present there on 23rd. An eclipse drake King Eider was a new discovery off Murvagh, Co Donegal, on 24th.
The Dalmatian Pelican appears to have decided that high summer isn't the time to be exerting itself too much and has settled down in the Restronguet Creek area of Cornwall once again — it was still there on 25th. A Purple Heron flying over Hickling Broad, Norfolk, on 25th was the only one of its kind seen this week; the Little Bittern was again at Old Moor, S Yorks, on 21st and at least two males continued at Ham Wall, Somerset. A Cattle Egret was at Marshside, Lancs, from 23rd, and others were at Fishlake Meadows, Hants, on 23rd and Cuckmere Haven, E Sussex, on 25th; the four together on Jersey on 20th could well be a hint that more are on the way.

Little Bittern, Ham Wall RSPB, Somerset & Bristol (Photo: Mark Hipkin)

Cattle Egret, Marshside RSPB, Lancashire (Photo: Elliot Montieth)
Glossy Ibises were reported at nine sites across Britain and Ireland and White Storks from eight; interestingly it seems that Beddington Farmlands, London, has held two birds this week, a ringed individual on 22nd and an unringed bird on 26th. A Black Stork is wandering around in Kent; first seen at Stodmarsh on 22nd, it was at Worth Marsh, Ashford and Brasted Chart on 23rd, flying over a wedding at the last site!

White Stork, Beddington Farmlands, Greater London (Photo: Peter Alfrey)
It looks to be a decent year for Wilson's Storm-petrels, with up to five from a pelagic out of Baltimore, Co Cork, on 24th and two from a Scilly pelagic on 25th; the RV Celtic Explorer continued to score small numbers as it patrolled the South-West Approaches during the week and also managed a Barolo Shearwater some 270 km south-west of Scilly on 26th, this seemingly just on the periphery of British waters.

Wilson's Storm-petrel, Cork pelagic, Cork (Photo: Gerard Murray)
Cory's Shearwaters produced one of their characteristic spontaneous movements on 21–22nd: with 40 past St Mary's, Scilly, and 38 past Lamorna Cove, Cornwall, on the evening of 21st, it was no great surprise when 100+ passed Porthgwarra the following morning. Respectable numbers were also seen from pelagic trips and offshore research vessels, with smaller numbers of Great Shearwaters thrown in for good measure.

Cory's Shearwater, Scilly pelagic, Isles of Scilly (Photo: Joe Pender)

Great Shearwater, Isles of Scilly, Isles of Scilly (Photo: Joe Pender)
Aside from a few wandering Honey Buzzards, the only raptor of note was a Black Kite south over Landguard, Suffolk, on 26th.
Both the adult Bonaparte's Gull on the Oare Marshes, Kent, and the first-summer on the Wansbeck Estuary, Northumberland, lengthened their respective stays, but it was a ringed adult Baltic Gull at Norton Disney, Lincs, on the evening of 22nd that was the most significant Larus record of the week, the bird having been ringed in north-west Norway in 2010. The confirmed fledging of two juvenile Little Gulls at Aberdeenshire's Loch of Strathbeg reserve was also news to be celebrated; this the first definitely successful breeding ever recorded in Britain.

Bonaparte's Gull, Oare Marshes NR, Kent (Photo: Frank Cackett)

Baltic Gull, Norton Disney, Lincolnshire (Photo: Dean Nicholson)
Derbyshire's Carr Vale reserve backed up its recent Sabine's Gull (still present to 21st) with a smashing adult Caspian Tern for much of the day on 22nd; it flew off late in the afternoon and briefly visited Orgreave Lagoons, S Yorks, about an hour later. Further records of this giant tern came from Snettisham, Norfolk, on the evening of 23rd, at Faxleet, E Yorks, intermittently throughout the afternoon of 24th and then at Hickling Broad, Norfolk, from 25th onwards — it's perfectly feasible that one bird might be involved here. A moulting adult White-winged Black Tern paid a visit to Cotehill Loch, Aberdeenshire, on 24th.

Caspian Tern, Carr Vale NR, Derbyshire (Photo: Peter Garrity)
A European Bee-eater was over Dungeness, Kent, on 23rd and an Alpine Swift zoomed past Heacham, Norfolk, that day. Unfortunately the white-rumped swift species at Tittleshall turned out to be an aberrant Common. Signs that autumn passerine migration is just beginning to click into gear included a Marsh Warbler trapped at Nanjizal, Cornwall, on 25th and a Melodious Warbler at Durlston Country Park, Dorset, the following day. The Common Rosefinch made a surprise reappearance at Walthamstow Marsh, London, on 20th only.
Western Palearctic news
The immature Tawny Eagle in the Tse'elim area of Israel continued to perform very well all week, while exciting (if belated) news from Gran Canaria concerned a Cape Verde Shearwater trapped during a Cory's Shearwater ringing session at Veneguera overnight on 18 July (photos here). This was quickly followed by news of another trapped on the islet of Montaña Clara, north of Lanzarote, on 22nd — these represent just the fourth and fifth records for Spain.

Tawny Eagle, Israel (Photo: Rami Mizrachi)
A Purple Swamphen at Guidel, Morbihan, on 20th is the most northerly French record to date and really not all that far from Britain. Two Pied-billed Grebes were also in southern France this week. A Black-winged Kite was at Gedser, on the Danish island of Falster, on 22nd, and a Western Reef Egret was near Cremona, Lombardy, Italy, on 20th.
In an extension of the small influx of rare shorebirds to Britain and Ireland, the Netherlands claimed both Semipalmated and Baird's Sandpipers this week (both are the 11th national records), while a Long-legged Buzzard at Skagen on 25th is the fourth to be seen in Denmark this year. Just the third Brown Booby for mainland Portugal was off Sesimbra on Saturday.