The week at a glance
Though we're now well into November, this generous autumn continues to treat us to great birds and, although the frenetic pace of October has reduced somewhat, the regularity of new finds this week suggests there may be some mileage in the autumn yet — despite the rapidly falling temperatures.
The week's arguable highlights broke within hours of each other, late afternoon on 4th. First up was an interesting hirundine over the visitor centre at Minsmere RSPB, Suffolk, which was soon identified as the county's first Cliff Swallow. Its presence in the dying light of the late afternoon suggested that it would still be there the following morning, and so it proved. In fact, despite the glorious weather (seemingly perfect for migrating!) it hung around the reserve all day in the company of up to eight Barn Swallows, entertaining upwards of several hundred admirers by dusk. Still present early on Sunday, it appeared to migrate not long after sunrise and didn't return.

Cliff Swallow, Minsmere RSPB, Suffolk (Photo: Jake Gearty)

Cliff Swallow, Minsmere RSPB, Suffolk (Photo: Chris Mayne)
A welcome grip-back on the Scilly bird of September, then, and an 11th British record. Unfortunately 'grip-back' wasn't a term that could be used for the Eyebrowed Thrush at Bolam Lake, Northumberland, on 4th. After it was identified from photographs posted on Facebook that evening, up to a few hundred birders searched the site the following day without success. Though there has been a recent upturn in records of this charismatic Far Eastern Turdus, none have yet proved accessible and this is probably the closest yet — the others have been relatively brief occurrences on the Northern Isles. The last truly twitchable bird was as long ago as spring 1995, in Angus.

Eyebrowed Thrush, Bolam Lake, Northumberland (Photo: Ross Moore)
It seems a week can't pass without another Siberian Accentor being unearthed. A bird at Avoch, Highland, from 6th was the first of the 13 now recorded in Britain to be trapped and ringed. One wonders how many others are lurking out there, waiting to be found — it's certainly a species that just about any local patcher should be thinking about as we head into the early winter period.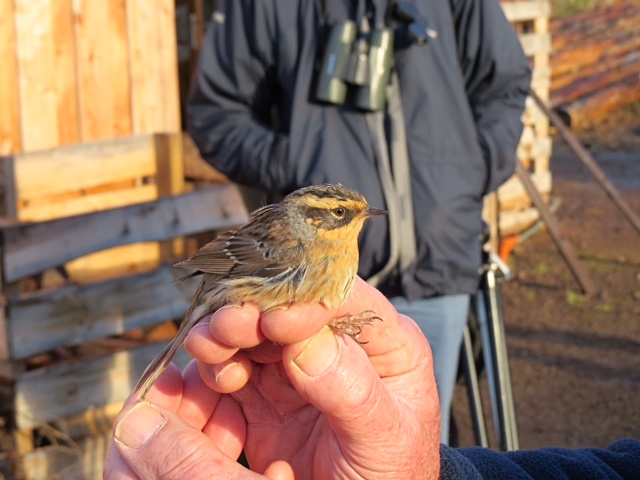 Siberian Accentor, Avoch, Highland (Photo: Dave Tanner)
A first-winter Oriental Turtle Dove, of the western form meena, was discovered in a garden at North Roe, Shetland, on 7th but was unfortunately taken into care later that day. This is the second record for Shetland in as many autumns.

Oriental Turtle Dove, North Roe, Mainland, Shetland (Video: Shetland Wildlife)
Eastern Black Redstarts continue to feature prominently on our news page, with two new males found this week, in addition to the Skinningrove bird that was still around throughout. The first new bird was found just up the coast at Hartlepool Headland on 3rd, and it lingered there to 8th. The third, another smart male, was at Cayton Bay, N Yorks, on 7th.

Eastern Black Redstart, Skinningrove, Cleveland (Photo: Jim Welford)

Eastern Black Redstart, Hartlepool Headland, Cleveland (Photo: Ron Hindhaugh)
Another Pine Bunting was also found, this time on Guernsey — a smart male was at Pleinmont on 6th. Given the wide front on which this species has arrived in Western Europe this autumn, there must surely be plenty out there waiting to be found in the British countryside. The Isabelline Wheatear was still at Burnham Overy Dunes, Norfolk, on 8th — its 18th day there, though it still has some way to go to beat the previous record stay for longevity (a 25-dayer in Aberdeenshire in 1979). The Western Swamphen hasn't been reported since 4th — and with the weather really cooling off since then, one worries for its survival unless it has decided to move off to find warmer climes.
A local mega, Northern Ireland's first Isabelline Shrike was at Murlough NNR, Co Down, on 4–5th, while a probable Turkestan Shrike was at Sennen, Cornwall, on 2nd. Last week's Red-eyed Vireo was still on St Agnes, Scilly, to 3rd, and the Black-bellied Dipper continued to draw admirers to Needham Market, Suffolk, throughout. A Siberian Stonechat was still at Quendale, Shetland, on 3rd. At least two Northern Long-tailed Tits were among their British cousins at Loch Beg on the Isle of Mull on 7th. A Desert Wheatear was a brief visitor to Thurlestone, Devon, on 8th.

Black-bellied Dipper, Needham Market, Suffolk (Photo: Mick Davis)
A reduction in Dusky Warbler numbers saw just four reported: two were on Shetland early in the week (Unst and Yell), while another remained at Land's End, Cornwall, to 7th and one was discovered at Broadsands, Devon, on 4th. Pallas's Warbler numbers also really dropped off, with just four seen: two in Wales on 3rd (one on the Gower peninsula, Glamorgan, and the other on Bardsey Island) and the others arriving in Lincolnshire and Essex on 8th. Barred Warblers were on Orkney and the Isles of Scilly as well as at Flamborough Head on 9th.

Barred Warbler, Flamborough Head, East Yorkshire (Photo: Andy Hood)
Richard's Pipits were reported from nine sites and included a bird returning to Shell Ness, Kent, for the third winter running. A handful of Red-breasted Flycatchers included notable records from Brownsea Island, Dorset, on 4th and Slyne Head, Co Galway, on 7th. Little Buntings were on Unst, Barra and Cape Clear. Great Grey Shrikes were reported from 32 sites, while juvenile Rose-coloured Starlings were in Ayrshire, Norfolk and Cornwall.
Given the reports in October, one anticipates that a few Coues's Arctic Redpolls will be unearthed as the winter progresses. Another arrival this week came at Dunstanburgh Castle, Northumberland, on 6th. Bucking the trend was a Hornemann's Arctic Redpoll at Sullom, Shetland, on 6th. A male European Serin was at Heybridge Basin, Essex, on 3rd, and another was trapped and ringed at Portland Bill the same day.

Serin, Portland, Dorset (Photo: Martin Cade)
The conspicuousness of Waxwings around the country continues to rise, and we carried over 350 reports of the species over the seven days. An impressive 223 moved over Hunstanton, Norfolk, by 09:00 on 3rd, with regular counts of up to 100 on subsequent mornings there, demonstrating just how many are on the move at the moment. Other significant counts included at least 150 in Gullane, Lothian, at the weekend and 100+ at Whickham, Durham.

Waxwing, Bedlington, Northumberland (Photo: Marsch)
Shore Larks also continue to figure prominently on our news page, with an astonishing 80+ reported at Holkham Gap, Norfolk, on 6th and 64+ still on 8th.
A juvenile Pallid Harrier at Buckton, E Yorks, on 3–4th later relocated to Welwick on 6–7th before finally flying down the Spurn peninsula on the latter date and out across the Humber towards Lincolnshire. Unsurprisingly it was located in that county, at Grainthorpe Marsh, on 8th.

Pallid Harrier, Buckton, East Yorkshire (Photo: Frank Moffatt)
In Co Galway the Forster's Tern returned to Nimmo's Pier once again on 4th. There was no sign of last week's Franklin's Gull in Cornwall but the adult Bonaparte's Gull was seen regularly at Dawlish Warren, Devon. While this week's northerly blast didn't produce the seawatching that many would have hoped for, it nevertheless delivered the first flush of Glaucous Gulls to North Sea coasts, with the majority of the 20 or so reported being seen between Norfolk and Northumberland. A handful of Iceland Gulls were also seen.

Glaucous Gull, Hartlepool Headland, Cleveland (Photo: Ron Hindhaugh)
The Hudsonian Whimbrel lingered another week near Perranuthnoe and will almost certainly be here now until next spring. A late Baird's Sandpiper was on the beach at Dornoch, Highland, on 2nd. The last news received on the Dorset Lesser Yellowlegs came on 4th; meanwhile the confiding bird at Cheddar Reservoir, Somerset, was last logged on 5th. Long-billed Dowitchers continued in Lincolnshire, Kent and Co Wexford but the Pectoral Sandpiper at College Reservoir, Cornwall, disappeared after 2nd. Also in the latter county, a new juvenile American Golden Plover arrived on the Hayle Estuary on 3rd and lingered to 8th. A small influx of Grey Phalaropes, just about reaching double figures, included inland birds in Hertfordshire, Glamorgan and East Yorkshire.

Lesser Yellowlegs, Cheddar Reservoir, Somerset & Bristol (Photo: Clive Daelman)
Three new Surf Scoters were discovered this week — in Co Louth, Shetland and off Angus — in addition to the long-stayer still off Musselburgh, Lothian. A drake King Eider was again off Burghead, Moray/Nairn, on 3rd, and another flew north past Whitburn, Durham, on 8th. Half-a-dozen American Wigeon, four Green-winged Teal, seven Ring-necked Ducks, the Glamorgan Lesser Scaup and the Hertfordshire Ferruginous Duck completed the duck roll-call.

Green-winged Teal, Caerlaverock WWT, Dumfries & Galloway (Photo: Roger Ridley)
One Richardson's Cackling Goose and two Todd's Canada Geese were at Lissadell, Co Sligo, on 2nd. The white-morph Snow Goose visited Caerlaverock, Dumfries & Galloway, on 2–3rd, while another was at Beauly Firth, Highland, to 6th. Black Brants were reported from six sites. The only White-billed Diver reported this week was a fly-by on North Ronaldsay on 6th.
The Squacco Heron was reportedly seen again in flight at Narberth, Pembrokeshire, on 5th, while Glossy Ibises were reported from six sites, including the two long-stayers still at Ham Wall, Somerset. Yet more Cattle Egrets continued to be found: birds were logged at an impressive 27 sites, with an impressive seven at Carrigaline, Co Cork, on 5th and six elsewhere in the county at Skibbereen. We haven't mentioned it much recently, but the Dalmatian Pelican continued to frequent Cornwall's Camel Estuary as the six-month anniversary of its arrival came to pass.

Cattle Egret, St. Andrew's, Guernsey (Photo: Andy Marquis)
East-coast birders were rubbing their hands at the weekend's forecast but the promise of quality seawatching largely failed to materialise. That said, most seawatchers were able to record small numbers of Little Auks, Pomarine Skuas and Sooty Shearwaters, while decent numbers of seaduck were on the move, particularly Long-tailed Ducks. The odd inland seabird and seaduck included a Little Auk and Grey Phalarope both at Amwell, Herts, on 7th.
Western Palearctic news
Finland's first Taiga Flycatcher was discovered at Seurasaari, near Helsinki, on 2nd and was still there, in the snow, a few days later. What would have been the country's second at Hamina on 6th was later re-identified as Red-breasted Flycatcher. A Pine Bunting, the eighth national record, was found dead at Ivalo on 4th and a flock of at least four (and possibly as many as seven) Siberian Accentors was seen near Turku.

Taiga Flycatcher, Finland (Photo: Mika Bruun)
A male Yellow-throated Bunting photographed at Lillehammer, Norway, on 5th potentially constitutes a Western Palearctic first, though there have been decent candidates previously. As ever with this species, a popular feature in captivity, the possibility of an escape must be considered, but given this exceptional 'eastern' autumn, one wonders if this is the real deal.
Heligoland, Germany, enjoyed a memorable week, with an American Buff-bellied Pipit noted on the island along with Eastern Black Redstart and Siberian Accentor. Dutch records included an Eastern Black Redstart on Vlieland, where there was also a brief Siberian Accentor reported on 6th. A first-winter Dusky Thrush was found in Beijum on 8th, the first Dutch record since 1955 and only the third overall.

Siberian Accentor and Eastern Black Redstart, Germany (Photo: Martin Gottschling)

Buff-bellied Pipit, Germany (Photo: Martin Gottschling)
Spain's second Blyth's Pipit was brief at Cabo Touriñán, Spain, on 4th. Iceland recorded its second Yellow-rumped Warbler of the autumn, a bird at Stöðvarfjörður on 5th. Latvia's first Siberian Rubythroat was controversially killed by a ringer near Salacgriva on 3rd (to retain the specimen for identification) and Slovakia's first Pallas's Gull was a nice find near Trnava, in the north-west of the country, on 7th.