The week at a glance
September 2009, Tufted Puffin aside, will be remembered for a couple of outstanding Nearctic rarities that decided to plonk themselves down on Scottish islands. One, the Blackburnian Warbler out on St. Kilda, proved to be a step too far for anyone, while the other, the Sandhill Crane on Orkney, ensured that those prepared to travel were able to enjoy a cracking bird in a lovely, remote corner of the country. With a rapid-fire Atlantic weather system coursing across the tip of Scotland as the new month approached, and a hefty waft of "over the top" conditions favouring birds from the east as well, odds were high that it would be the islands of the far north and west of Scotland that, once again, would grab the goodies.

Veery, Foula, Shetland (Photo: Rob Fray)
And, of course, such intuitive thoughts proved to be absolutely on the money. Even before the sun had set on the first day of the new month, the far-flung Shetland island of Foula topped up its end-of-September American Buff-bellied Pipit with a much more impressive Nearctic vagrant — the first Catharus thrush of the autumn, a Veery, found around the boats in the harbour before heading towards a nearby iris bed. Foula seemed to suit this super vagrant, as the bird stayed to 7th. Then, as if by magic, on 2nd another Veery was found on Shetland, this one making landfall at Symbister on Whalsay. This bird also showed well, this time to 5th. Before this double act, there were just seven records of Veery on the books since the discovery of Britain's first, at Porthgwarra in October 1970. Cornwall now has two, Devon also has two (both on Lundy, including the infamous bird of 1987), and it's one-all between the Outer Hebrides and Orkney, but Shetland has now taken the lead with three Veeries in all, including the most recent, prior to 2009, found on Unst in September 2005. And, in one of those weird and quirky birding happenings, the two islands hosting the Veeries this week also popped in a Pechora Pipit each! The bird on Foula (mentioned in last week's review) was still present to 4th, while the Whalsay bird was found at Skaw on 2nd and remained to 4th. The one bird that Whalsay didn't replicate, the American Buff-bellied Pipit, was last seen on 2nd.

Buff-bellied Pipit, Clahane Strand, Clare (Photo: Jeffcop)
Indeed, the invasion of an octet of Eastern dandies, a stack of humbug-striped Pechora Pipits dotted around the islands during the week, was almost as exciting as Shetland's cinnamon-toned US thrushes! As well as the birds on Foula and Whalsay, last week's other individual, on Fair Isle, was still present on 1st and then the Mainland scored three: one was near the Pool of Virkie on 2nd, another was at Sandgarth on 3rd and a third was found at Brae on 4th. Back to the 3rd, it was Unst that joined the Pechora party with a bird found at Uyeasound, and Out Skerries popped up with the eighth of the week on 5th. A truly amazing, even exceptional event — think about it: eight (!) Pechora Pipits within six days across one single island group (with five present on 4th alone). The closest you can get to such a record in the recent past were the three birds that arrived on Fair Isle within three days of each other in September 1985, the five birds that appeared across Shetland in the space of six September days in 1991, and another quintet that arrived between 15th and 18th September 1994 (three of those on Fair Isle, in two days, part of a total of eight Shetland birds that autumn).

Pechora Pipit, Skaw, Whalsay, Shetland (Photo: Jason Atkinson)
As well as feasting their eyes on a Veery or two and brushing aside the Pechora Pipits, visitors to Shetland could also still enjoy Britain's third Taiga Flycatcher, the first-winter bird still around the Manse garden on Fetlar until 5th.
Despite this outstanding Shetland action, Orkney didn't wait for too long to muster a response. And some response it was too — the first Eyebrowed Thrush for eight years made landfall around the Bird Observatory garden on North Ronaldsay on 5th (the most recent record was of one on St. Kilda on 1st–2nd October 2001). Happily for those of the travelling persuasion and (relatively!) new to the game, this Eyebrowed Thrush obliged on 6th as well: a good job too — it's been over 14 years since the last twitchable bird in Scotland in May 1995. This is undoubtedly a species that has declined markedly over the past decade here: there are six records for the 90s and seven in the 80s but just one so far in the 2000s. With acceptance a formality for this well-documented first-winter female, it will become the second record for Orkney, following one in September 1984 at Evie.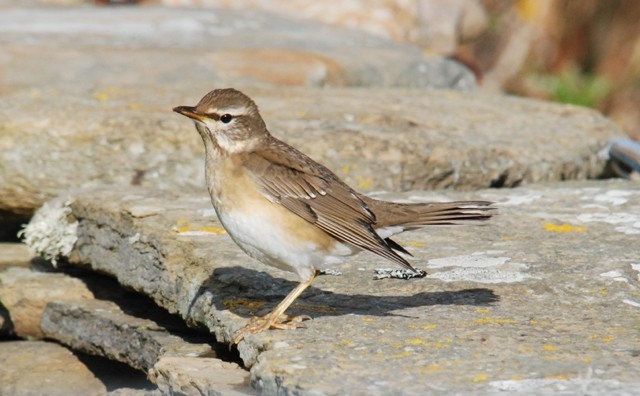 Eyebrowed Thrush, North Ronaldsay, Orkney (Photo: Kevin Woodbridge)
Also on 5th, a dark adult Eleonora's Falcon was watched for five minutes near Great Worley (Essex) before heading off east. Subsequent searches, until dusk, failed to relocate the bird — could it possibly be the bird reported in Kent last week (it surely won't be the "intermediate" bird reported in London recently).
As the week drew to a close, the English east coast finally (finally!) produced a bird worthy of "mega" status. And, in the grand tradition of expecting the unexpected, it wasn't a delicate eastern warbler waif that was the cause of so much excitement, it was a first-winter Baillon's Crake! Found along the canal at Kilnsea (East Yorkshire) late in the day on 7th, the bird was often elusive when found initially, but by close of play the bird had shown well from time to time and was still present at dusk. This Baillon's Crake represents the first in East Yorkshire for 117 years (and the first in Yorkshire as a whole since 1970) and is another first for this famous site. In the modern era, the most recent records were both in 2001: a singing male on the Oare Marshes in Kent from late June to early July, and a juvenile caught on mainland Shetland in October. Before that, it was the well-twitched bird at Grove Ferry, also in Kent, for six weeks in the summer of 1999.
The autumn's second Steppe Grey Shrike (the second in 10 days in fact) appeared at Lound GPs (Nottinghamshire) on 4th, with identification following on 5th. A county first, and in an inland county too, this was always going to draw a crowd despite the ultra-showy bird in Lincolnshire last year. Another bird this week that would have guaranteed a crowd, if it hadn't been picked up dead, was the Yellow-billed Cuckoo found at Almondbank (Perth & Kinross) on 4th. The bird was thought to have flown into a window.

Steppe Grey Shrike, Lound GPs, Nottinghamshire (Photo: Graham Catley)

Yellow-billed Cuckoo, Almondbank, Perth & Kinross (Photo: Chris Pendlebury)
With all the weather systems of any note depositing most of their star birds way to the north, it almost felt as though there was little else to shout about in terms of the genuinely big rarities this week. In County Clare, the second American Buff-bellied Pipit of the autumn arrived at Clahane Beach on 1st, and was still there to 7th. In Kent, the elusive Zitting Cisticola continued to play cat-and-mouse at Pegwell Bay until 2nd at least.
On Orkney, an adult White-billed Diver was in Hunda Sound, Burray on 5th — perhaps back for another winter? On 3rd, a Fea's Petrel was seen off the coast of County Cork passing firstly Mizen Head and then Galley Head. On 5th another Fea's was seen passing Spurn and Kilnsea just before noon, and was then seen, nearly six hours later, passing north off the Farne Islands (Northumberland). Single Great Shearwaters were seen off Strumble Head (Pembrokeshire) and Galley Head on 3rd, but were no match for the count of 100 birds seen in a short space of time during the afternoon of 3rd from Brandon Point (Co. Kerry). An impressive count of 78 Balearic Shearwaters came from Porthgwarra (Cornwall) on 4th, with 37 there the following day. Several sites in Ireland logged three-figure counts of Sooty Shearwater this week, with the stormy weather of 3rd producing counts of 208 from Bridges of Ross (Co. Clare), 240 from Bloody Foreland (Co. Donegal) and 556 from Kilcummin Head (Co. Mayo).
The same seawatch off Kilcummin accounted for a very decent count of Pomarine Skuas on 3rd: at least 306 were seen, along with a dozen Grey Phalaropes and three Sabine's Gulls. Another five Sabine's were noted from Bridges of Ross on the same date while, amongst others seen this week, the juvenile at Blenheim Park (Oxfordshire) was still present on 1st. Four were also seen from Turnberry Point (Ayrshire) on 4th. As well as a further 200 Pomarine Skuas across Britain and Ireland, numbers of Long-tailed Skuas picked up this week. At least five were seen off Cley (Norfolk) on 1st as the weekly tally approached some 35 birds, seen from County Clare to Lancashire, Durham and East Yorkshire (amongst others). Away from the coast, notable Grey Phalaropes were seen at Abberton Reservoir (Essex) and Grafham Water (Cambridgeshire). A handful of Little Auks were seen this week, reports coming from Suffolk, Norfolk, Fife and Aberdeenshire.
Glossy Ibises were still proving popular countrywide this week — numbers are still tailing off but the birds remain widespread (seemingly becoming more so as every week passes). The first day of the new month saw singles still present in Somerset and Northumberland, while the party of five remained at Dungeness (Kent). The same date also saw one appear at Diddington Pit (part of the Paxton complex) in Cambridgeshire, while in Wales one was on pools in Newborough Forest (Anglesey) — presumably the same bird was seen on 2nd at the Cob Pool, Malltraeth. Also on 2nd, a Glossy Ibis was reported at Britford Water Meadows in Wiltshire. It was then a case of "as you were" until 3rd, when one was again at Tacumshin (Co. Wexford), four birds appeared on Catcott Lows (Somerset) and a single was seen flying south past Spurn. The East Yorkshire bird may have been the bird then noted heading south off Hopton-on-Sea (Norfolk) on 4th, before appearing at Pakefield, Southwold and Walberswick (Suffolk) later in the day. On the other side of the country in Cumbria, a Glossy Ibis was seen at Rockcliffe Marsh on 4th. "New" birds on 5th were noted at Martin Mere (Lancashire) and Attenborough (Nottinghamshire). On 6th, one flew over Landguard (Suffolk) and on 7th one was seen over Holland Haven in Essex.

Glossy Ibis, Druridge Pools, Northumberland (Photo: Nigel Tinlin)
Four Cattle Egrets were around Slimbridge and Frampton-upon-Severn (Gloucestershire) during the week and at least three birds were around the Hampshire marshes of Normandy, Pennington and Keyhaven. In Somerset, a Cattle Egret was on Meare Heath from 1st–3rd (when it was still in the company of a Glossy Ibis and a Great White Egret). Two Great White Egrets remained at Leighton Moss (Lancashire) — off and on — to 7th, and singles were still being seen in Somerset (the second bird, at Chard), Gloucestershire (perhaps the Chard bird), Hampshire, Suffolk and Cumbria. New arrivals were found at Gwen Finch NR (Worcestershire) from 1st, near Eastbourne (East Sussex) on 2nd — and supposedly present since late September — and briefly at Farmoor Reservoir (Oxfordshire) on 4th. In Ireland, the presumed American (Great White) Egret remained at Rahasane Turlough (Co. Galway) to 4th, and in Cork one was seen flying in off the sea at Mizen Head on 7th. Nine Spoonbills were on Brownsea Island (Dorset) on 1st and three were on Isley Marsh (Devon) on 2nd. In Essex, a single Spoonbill remained at Abberton Reservoir for much of the week. A White Stork flew over the M25 near Swanley (Kent) on 2nd, while in Norfolk 37 Common Cranes went in to roost at Stubb Mill, Hickling on 5th. A lone Common Crane was at Lamesley (Co. Durham) on 7th.

Great White Egret, Leighton Moss RSPB, Lancashire (Photo: Richard Steel)

Common Crane, Lamesley, Durham (Photo: Andrew Kinghorn)
Three Spotted Crakes were seen during the week: singles remained at Ladywalk (Warwickshire) and the WWT Wetlands Centre (London), present to 5th and 7th respectively, and another was at Saltholme Pools (Cleveland) from 1st–4th (having initially been reported as a Little Crake).
Two white Snow Geese were still at the Loch of Strathbeg (Aberdeenshire) until 2nd at least, with a single bird around Aberlady Bay (Lothian) to 6th. On Islay, a Richardson's Canada Goose remained at Loch Gruinart to 2nd.

Snow Goose, Aberlady Bay, Lothian (Photo: Mike Thrower)
A Green-winged Teal was at Kinneil Lagoons (Forth) on 6th with another at Siddick Ponds (Cumbria) on 7th, the first returning birds of the autumn. The female Blue-winged Teal lingered at Bull Island (Co. Dublin) to 2nd and another Irish bird was flushed from the Forgotten Corner at Tacumshin (Co. Wexford) on 4th. In Cleveland, the drake Blue-winged Teal was seen again at Saltholme Pools on 5th. Back in Ireland, single drake American Wigeon were at The Gearagh (Co. Cork) on 4th and at Inch (Co. Kerry) on 5th. Two presumed hybrids (resembling American Wigeon) remained at Tophill Low (East Yorkshire) to 4th. In Warwickshire, a drake Lesser Scaup was at Draycote Water from 1st. Ring-necked Ducks included the long-staying drake in Staffordshire and remnant drakes from last week remaining at Stranraer (Dumfries & Galloway) and Carrowmore (Co. Mayo), both to 2nd. On 4th, a drake Ring-necked Duck was seen on The Gearagh and another was on Blagdon Lake (Somerset), moving to Cheddar Reservoir on 5th. Also in Somerset, the drake Ferruginous Duck remained on Chew Valley Lake to 4th at least.

Lesser Scaup, Draycote Water, Warwickshire (Photo: Max Silverman.)
On Shetland, a drake Surf Scoter was seen at Muckle Roe on 5th; another was in Lunan Bay (Angus) on 7th, and the regular drake was still in situ off Blackdog (Aberdeenshire) throughout the week. Also holding steady was the King Eider that remained in and around the Cut End area of the county from 1st–4th at least. The female Hooded Merganser in Cleveland was still in place at Saltholme Pools until 3rd at least.
The potential drake Baikal Teal in Northamptonshire became slightly more interesting this week after the announcement that the BOURC had accepted the species onto Category A of the British List. Opinion on the current bird has gone down the hybrid line, so anyone with a little empty box by for this species will have to wait a while longer. As to which Baikal Teal has been given the nod, we'll have to wait until January 2010 for the next report from the BOU. Many hope (and expect) the Minsmere bird of late 2001 to be at the forefront of acceptances, with drakes in Antrim and Oxfordshire not far behind — but it's odds on that it will be a bird from some time beforehand that will get the nod (the others sneaking in on its coat-tails presumably). And all this thanks to a shot bird in Denmark. With Baikal Teal finally making the grade, it's high time that Falcated Duck was reviewed and given a better run for its money than of late, while White-headed Duck and Marbled Duck surely have to be given a fair crack of the whip now. Indeed, some would argue that the latter two are far better options than most Buffleheads and Hooded Mergansers.
The female Snowy Owl kept her lonely vigil on the moors of Mayo, lingering around Termon Hill on the Mullet to 5th at least. The Donegal female was on Tory Island on 7th, and the same date saw the male Snowy Owl again at Mangurstadh, Lewis (Outer Hebrides). Aside from the odd Honey Buzzard and rogue re-introduced Scottish White-tailed Eagle, there was little of interest in the raptor stakes this week aside from the two owls.
Wader of the week this week has to be the Great Snipe that appeared on Fair Isle on 5th — the first of the year. From the west, a juvenile Spotted Sandpiper appeared on Orkney (where else) at Birsay on 5th while the juvenile American Golden Plover remained at Grindigar until 5th. Elsewhere, three American Goldies (all adults) were on Tiree (Argyll) on 1st (two at Sandaig and one at Loch a'Phuill). On the same date, a juvenile was seen again at Inchydoney Bay (Co. Cork) where it remained to 5th at least. An adult was found at Smerwick Harbour (Co. Kerry) on 2nd and on 4th another adult American Golden Plover was found on Berneray (Outer Hebrides).

American Golden Plover, Tiree, Argyll (Photo: Ross Ahmed)
Five Long-billed Dowitchers were seen on October 1st, all of them September leftovers. Singles remained on Tresco (Scilly), at Chew Valley Lake (Somerset) and at Rahasane Turlough in Galway, while the two juveniles were still at Inner Marsh Farm (Cheshire). The sixth of the week arrived at Howmore, South Uist (Outer Hebrides) on 2nd (with presumably the same bird seen on the island on 4th and 7th), bird seven was at The Gearagh in Cork on 3rd and bird eight was found at Kilcoole (Co. Wicklow) on 7th. On 5th, two juveniles were reported again from Marshside (Merseyside); the birds at Inner Marsh Farm were seen throughout most of 5th, so could it have been two more?
Back on the Hebrides, a juvenile Baird's Sandpiper was at Kilpheder, South Uist on the evening of 2nd. Also in Scotland, the White-rumped Sandpiper was seen again at Loch of Strathbeg on 1st, and again on 6th–7th. The adult at Abberton Reservoir (Essex) was still present all week, and a juvenile was present there on 3rd.
After two or three weeks of high scores for Buff-breasted Sandpiper, the first week of October yielded another nine or ten birds. Two birds from last week lingered into this week: one remained at Saltholme Pools (Cleveland) and the surrounding area until 5th and another was still around Tacumshin until 4th. On 1st, a Buff-breasted Sandpiper was found at South Anston (South Yorkshire) with another appearing on St. Kilda (Outer Hebrides) on the same day. Foula added a Buff-breasted Sandpiper to a rather impressive list of autumn species with one on 3rd, while on 4th one was found at Whitburn (Co. Durham). The 6th saw a Buff-breasted Sandpiper make landfall near the Butt of Lewis (Outer Hebrides). Glossy Ibis watchers in Cambridgeshire managed to unearth a Buff-breasted Sandpiper at Paxton Pits on 4th, the bird still present to 6th at least, while in Northumberland one appeared at Cresswell Ponds on 7th.

Buff-breasted Sandpiper, Whitburn, Durham (Photo: Mark Newsome)
There was a decent showing again for Pectoral Sandpipers: at least 25 were recorded across Britain and Ireland through the week, with three birds each for Belfast Lough (Co. Antrim) on 2nd and Eoropie, Lewis (Outer Hebrides) on 5th. Three sets of two birds were also noted this week, in Somerset, Staffordshire and Dumfries & Galloway. In Lothian, the Lesser Yellowlegs at Aberlady Bay was present throughout the week. The week's only Dotterel was seen on St. Mary's (Scilly) from 3rd and a Marsh Sandpiper was reported from the Stour Estuary (Suffolk) on 4th. A late Temminck's Stint was noted at Nosterfield Quarry (North Yorkshire) on 7th.

Pectoral Sandpiper, Filey Dams YWT, North Yorkshire (Photo: Dave Mansell)
There was no doubting the best Larid of the week: the stunning adult Azorean Atlantic Gull (or Azorean Gull or Azorean Yellow-legged Gull) seen around the Didcot (Oxfordshire) area on 5th–7th. After last autumn's popular youngster in Cornwall, many birders are now more familiar with this split-in-waiting. However, adults are a rather different kettle of fish to first-winters (as anyone who saw the adult at Carrahane in Kerry in 2006 will testify) and this one looked fantastic! An adult Ring-billed Gull was seen on rocks off Sennen Cove on 1st and 3rd, with further adults noted at Westcliff-on-Sea (Essex) and at three sites in Lancashire: Prescot Reservoirs on 1st, Skippool Creek on 5th and Crosby Marine Park on 7th. In Dublin, a second-winter Ring-billed Gull was again at Sandymount Strand on 2nd and another second-winter appeared at Kilbaha (Co. Clare) on 7th. Six Iceland Gulls were noted through the week (two in Shetland and singles for Dumfries & Galloway, Northumberland, East Yorkshire and Clare). Five Glaucous Gulls appeared (in Shetland, Orkney, Kerry — two, both at Milltown — and Lincolnshire). A first-winter Caspian Gull was at Queen Mother Reservoir (Berkshire) on 1st and an adult was seen roosting at Belvide Reservoir (Staffordshire) on 2nd. Four Caspian Gulls (an adult and three first-winters) were at Blackborough End tip (Norfolk) on 5th and the same date saw an adult at Beddington Sewage Farm (London). On 6th, an adult Caspian Gull roosted at Chasewater (Staffordshire) — perhaps the Belvide bird?
The first confirmed Olive-backed Pipit of 2009 was seen on Foula on 4th and the second, third, fourth and fifth followed quickly afterwards: on 6th one was at Quendale Mill on mainland Shetland, with two on Foula on the same date; on 7th it was Kergord Plantation that yielded another Shetland bird, while the English east coast produced another at Newbiggin-by-the-Sea (Northumberland). Five Richard's Pipits were reported during the week, at Blackhall Rocks (Co. Durham) on 4th, Fair Isle on 5th, Horsey (Norfolk) on 6th and Unst and Jersey on 7th. Along with the plethora of Pechoras on Shetland this week, two Red-throated Pipits were also discovered there — one was at Skaw on Unst on 2nd while another appeared at Gott, Mainland on 5th.
The only Citrine Wagtail of the week was reported on a busy Fair Isle on 5th while Shetland also bagged the week's only Short-toed Lark, around Grutness and Sumburgh from 2nd–5th.
Four of the week's six Wrynecks were seen in the southwest of England: one was at Durlston CP (Dorset) on 1st and was followed by Scilly singles on Tresco on 4th and St. Agnes on 6th, with another on the Lizard (Cornwall) on 5th. The fifth bird was seen at Horsey (Norfolk) on 4th, the sixth at Lathbury (Buckinghamshire) on 7th. Almost inevitably (given the dominance of the Northern Isles, and Shetland in particular) all six (or seven) Bluethroats were seen around the islands this week, with at least two on Fair Isle on 3rd–4th (and again on 7th), mainland singles at Pool of Virkie and Grutness later in the week and topped off with birds on Out Skerries on 6th and Unst on 7th. A ten-minute Hoopoe was at St. Margaret's at Cliffe (Kent) on 3rd and another arrived at Martin's Haven (Pembrokeshire) on 4th, remaining to 6th. One was also reported from the Outer Hebrides, at Bragar on Lewis, on 7th.

Bluethroat, Grutness, Mainland, Shetland (Photo: Graeme Stephen)

Hoopoe, St. Margaret's at Cliffe, Kent (Photo: Jan)
A first-winter Isabelline Shrike (perhaps a Turkestan Shrike) was a great find out on Achill Island (Co. Mayo) on 4th — the first of the year, the first for the county and only the fourth ever Irish record (following birds in Wexford in November and December 2000 and Cork in consecutive Octobers in 2006 and 2007). In Cornwall, the juvenile Woodchat Shrike at Nanquidno remained for another week. Just three Red-backed Shrikes were found: one was on Holy Island (Northumberland) from 1st, with another arriving at Dorman's Pool (Cleveland) on the same date. The third bird was on the Isle of Wight, at Newtown on 2nd–4th. Last week's Great Grey Shrike on Thorne Moors (South Yorkshire) was still present to 7th.

Woodchat Shrike, Nanquidno Valley, Cornwall (Photo: Dave Perrett)

Red-backed Shrike, Holy Island, Northumberland (Photo: Colin Pears)
Belated news emerged on 1st of 2009's first Lanceolated Warbler, seen on the Farne Islands (Northumberland) on 29th September. Another first of the year was the Pallas's Grasshopper Warbler found on St. Kilda (Outer Hebrides) on 4th, a first for the island group as a whole. Fair Isle is a more typical spot for the previous two Locustellas, but birders there were presumably more than happy with the double hit of Savi's Warbler on 4th and River Warbler on 5th (the latter still present on 7th). The same island also snuck in one of at least four Shetland Blyth's Reed Warblers, Fair Isle's appearing on 5th and followed by at least one at Voe, Mainland from 2nd, another on Fetlar on 4th and one at Sullom, Mainland on 7th. Rounding off Shetland's dominance (for the moment), we come full circle, back to Lanceolated Warbler, one found at Scatness, Mainland on 7th.

Blyth's Reed Warbler, Fetlar, Shetland (Photo: Brydon Thomason)
Away from all this Shetland excitement, the juvenile Aquatic Warbler at Marsh Farm Quarry (Warwickshire) was last seen on the morning of 2nd.
At least 19 Barred Warblers were found through the week with, once again, Shetland dominating. As many as 14 birds seen around the islands included two at Voe, Mainland on 2nd, and at least four that arrived on 7th. Elsewhere, there were two in East Yorkshire, one in Norfolk, one on Tiree (Argyll) and, amazingly, one in Cambridgeshire, at Fordham, on 1st–2nd.

Barred Warbler, Wester Quarff, Mainland, Shetland (Photo: Graeme Stephen)
Shetland remained the king of Arctic Warblers: a new bird was found at Wester Quarff on 4th and was joined by a second there the following day. Two more followed: on 6th one was found on Out Skerries and on 7th another was at Swining on Mainland. The islands' tally is edging closer and closer to double figures for the autumn (nine birds between 16th September and 7th October)! Some 50 Yellow-browed Warblers were seen to 6th and the total then shot up by a further 30 or more, thanks to a fall across Shetland that included ten birds on Unst, nine birds on Whalsay, six on Fetlar and five on Yell. Prior to that, four were on Fetlar on 4th (with three on Unst the same day). Two birds were seen on Coll (Argyll) on 6th and elsewhere there was a scattering of birds down the east coast and a handful made it along the south coast, into East Sussex and further west to Devon, Cornwall and Scilly.

Arctic Warbler, Quarff, Mainland, Shetland (Photo: Jason Atkinson)

Yellow-browed Warbler, Exnaboe, Mainland, Shetland (Photo: Rob Fray)
Birders on Scilly must have been tearing their collective hair out in a dismal week around the islands — Long-billed Dowitcher aside, the two Red-breasted Flycatchers (on St. Agnes and Bryher) could well have been the birds of the week there. The only other "RbFs" this week were found at Slyne Head (Co. Galway) on 4th and on 7th at Vidlin (Shetland) and on Cape Clear Island (Co. Cork) where two birds were found.
A singing Little Bunting would have given the Scilly Red-breasted Flycatchers a run for their money on St. Mary's on 1st–2nd. Six were on Shetland during the week: one was on Out Skerries on 2nd and four were found on 6th, at Grutness and Channerwick on Mainland and on Fair Isle and Foula. On 7th, Fair Isle rattled in another (two present on the island). Elsewhere, on 5th, Little Buntings were reported from Skaill, Mainland (Orkney) and Seaforth (Lancashire), the latter bird remaining to 6th.
The adult Rose-coloured Starling was again at Birsay (Orkney) in the middle of the week (not too far away from the juvenile Spotted Sandpiper) and juvenile Rosy Starlings were seen in Cork (at Three Castles) on 1st and on Scilly (on St. Agnes) on 6th. At least 11 Common Rosefinches were seen around Shetland during the week (are you bored with Shetland news yet?!): at least four birds were around Mainland, two or three were on Unst and there were singles for Out Skerries and Foula, while two were on Fair Isle on 1st and on 7th (perhaps two more?). Elsewhere there were singles in Scilly, Essex, East Yorkshire, Outer Hebrides and Cork, while up to three birds were seen on Tiree on 4th: one at Hynish was followed by two together at Mannal later the same day.

Common Rosefinch, Norwick, Unst, Shetland (Photo: Graeme Stephen)
Meanwhile, back on Shetland (!), at least four Hornemann's Arctic Redpolls were seen on Foula between the end of September and October 7th, with a further eight or nine seen elsewhere around the islands during the week: at least four were on Unst and there was one each for Mainland, Bressay, Out Skerries and Fetlar. Two were on North Ronaldsay (Orkney) on 3rd and one on Barra (Outer Hebrides) was present from 1st–7th (it was trapped and ringed and confirmed as a hornemanni on 4th).

Arctic Redpoll, Cunningsburgh, Mainland, Shetland (Photo: Graeme Stephen)
The final bird of a hectic week was the Red-eyed Vireo discovered at Langskaill Plantation on Orkney on 2nd. This was a first for the islands (beating Shetland to their first!) and another first for 2009 as well. This will be the seventh record for Scotland, with single records for Lothian and Argyll and four for the Outer Hebrides.
Photo of the Week

Golden Eagle, Norway (Photo: James Wood)
Not so long ago, it would have been inconceivable that people could make a living by providing opportunities for others to take photographs of birds. Now, though, bird photography has become so popular and the demand for spectacular images so high that businesses have sprung up all over the world that — for a price — enable photographers to take the kinds of images that would otherwise be unattainable. Much has been written about the ethics of this new industry but, at its best, it can be beneficial to both people and wildlife (not least because it engenders a situation in which wildlife is more financially valuable alive than dead!). An example is when roadkill animals are put out near hides as winter food for raptors, as they are for eagles in Norway. This week, James Wood submitted a superbly posed and lit shot of a Golden Eagle atop a fox, presumably taken at one such facility. Whatever your views on this type of photography, there's no doubt about its ability to deliver stunning images.
Other notable photos

Red Kite, Nant yr Arian, Ceredigion (Photo: Brian McGeough)

Sparrowhawk, East Linton, Lothian (Photo: James Wood)

Bar-tailed Godwit, North Wirral, Cheshire (Photo: Richard Steel)

Common Kestrel, Powburn, Northumberland (Photo: David Cookson)

Common Snipe, Holme NWT, Norfolk (Photo: Garth Peacock)

Barn Owl, undisclosed site, Norfolk (Photo: Keith Chapman)

Wood Pigeon, Summer Leys LNR, Northamptonshire (Photo: Richard Bedford)

Wren, Cley next the Sea, Norfolk (Photo: Amanda Hayes)

Lapland Bunting, Whitburn Coastal Park, Durham (Photo: Mark Newsome)

Collared Sunbird, South Africa (Photo: Nigel Forrow)

Black Skimmer, United States (Photo: Kevin Du Rose)

Great Crested Grebe, Pitsford Reservoir, Northamptonshire (Photo: John Betts)

Common Kingfisher, Big Waters NR, Northumberland (Photo: Keith Cochrane)

Mandarin Duck, Hampstead Heath, Greater London (Photo: Tom Hines)

Wryneck, St. Levan, Cornwall (Photo: Duncan Jeggo)

Pink-footed Goose, Fenham-le-Moor, Northumberland (Photo: Adam Williams)