The week at a glance
The first week of December was greeted by a nationwide drop in temperature, as well as the first widespread snowfall of the season across more northerly areas. Despite the meteorological suggestions that winter is now well and truly with us, an impressive cast of unseasonable rare and scarce birds continued to linger on throughout the week.
In Norfolk, last week's stint at Cley was the subject of continued scrutiny and debate; with better photos emerging and being circulated to experts on both sides of the Atlantic, opinion on the identification of the troublesome grey 'peep' swayed towards Western Sandpiper. Although it's a convincing candidate showing a wealth of features associated with the species, it may take an extended stay into next spring when moult commences to convince the remaining doubters. Although at times mobile, the bird remained faithful to the reserve throughout the week and proved easily gettable for those who made the journey to north Norfolk.

Western Sandpiper, Cley Marshes NWT, Norfolk (Photo: Carl Chapman)
Posing far less of a problem was the Sharp-tailed Sandpiper at Chew Valley Lake (Somerset), which continued to entertain birders all week. Northumberland's Greater Yellowlegs also lingered throughout, touring sites along the coast between Hauxley and Cresswell but never staying still for long. Time is pressing; it seems likely now that both will go on to winter.

Sharp-tailed Sandpiper, Chew Valley Lake, Somerset & Bristol (Photo: Robin Edwards)

Greater Yellowlegs, Druridge Bay CP, Northumberland (Photo: Stef McElwee)
At the opposite end of the country, the female/first-winter Bufflehead remained faithful to Helston Loe Pool (Cornwall) to 7th. Although there was no news on the Wilson's Snipe during the week, the Northern Waterthrush was again at Lower Moors, St. Mary's (Scilly) on 1st.
In Ireland, the Buff-bellied Pipit continued to show well at Clonea Strand (Waterford) to 7th, while in the Outer Hebrides, there was belated news of a probable second-calendar-year male Lesser Kestrel at Port Nis, Lewis on 23rd November.

Buff-bellied Pipit, Clonea, Waterford (Photo: Ronan McLaughlin)
The adult Ross's Goose was still with Pink-footed Geese in north Norfolk, being seen in fields near Stanhoe on 5th then south of Docking on 6th. In east Norfolk, the two white morphs (either Ross's or Snow Geese) were seen flying over Berney Marshes on 1st, but again managed to evade specific identification. A white-morph Snow Goose at Inch Island Lake (Donegal) on 3rd–4th was the 'real deal', while three white morphs in the Caton (Lancs) area to 6th were probably less so.
A Richardson's Canada Goose was again with Barnacle Geese at Termoncarragh Lough (Mayo), together with a 'large' Canada Goose. The Somerset Richardson's remained at Torr Reservoir (Somerset) on 3rd–4th. Lingering Red-breasted Geese were again at Old Hall Marshes (Essex) and Topsham (Devon) on 1st–4th, while the first-winter of more questionable origin was still at Harwood Dale (N Yorks) throughout the week. Black Brants were typically scattered; an adult was still at Ferrybridge (Dorset) to 2nd with perhaps the same bird at nearby Wyke Regis the next day. One was also at Old Hall Marshes (Essex) on 3rd and another at Levington Creek (Suffolk) on 4th. The sole Irish representative was at Dungarvan (Waterford) on 3rd.
Tundra Bean Goose numbers dropped slightly this week; peak counts included c.40 at Gibraltar Point (Lincs) and 33 at Low Newton-by-the-Sea (Northumberland) on 6th, with smaller flocks still well distributed along the east coast from Shetland to Kent. There were still plenty of large flocks of European White-fronted Geese in the northeast; three-figure counts were made in Aberdeenshire, Angus & Dundee (where an impressive 240+ were at Inverkeilor on 3rd), Northumberland and Yorkshire. Last week's Taiga Bean Goose remained at Lebberston (N Yorks) on 3rd–5th.

Tundra Bean Goose, Priorslee Flash, Shropshire (Photo: Jim Almond)
Another new Blue-winged Teal arrived at Longham Lakes (Dorset) on 3rd and remained for the rest of the week. Last week's bird on St. Mary's (Scilly) was still at Porth Hellick on 5th, while the female at Bull Island (Dublin) settled in for its sixth winter at this site, being seen on 4th. Drake Green-winged Teals were well represented with eight birds including new individuals at Hodbarrow from 1st (two there on 3rd–4th) and Fairburn Ings (W Yorks) from 3rd. A drake at Burton Mere Wetlands (Cheshire) on 4th–7th is presumably a returning bird, while other familiar faces were at Tacumshin (Wexford) and Belfast Lough (Antrim) on 4th, and Caerlaverock (Dumf & Gall) and Cley (Norfolk) all week. Four drake American Wigeon were all long-stayers from previous weeks — at Kirk Loch (Dumf & Gall) on 3rd relocating to Greenhill on 7th, Dawlish Warren (Devon) to 5th, Wintersett Reservoir (W Yorks) to 6th, and Loch Bee, South Uist (Outer Hebrides) again on 7th.

Green-winged Teal, Cley Marshes NWT, Norfolk (Photo: Mick Colquhoun)
A new Lesser Scaup was at Angler's Country Park (W Yorks) on 1st, reportedly having been present for most of November with identification only clinched as the bird's moult has progressed into something recognisable. It was reported again on 2nd, but not again since. The only other individual was the 1st-winter female still at Marden Quarry (Northumberland) to 7th. Ring-necked Ducks had a quiet week, with adult drakes at Lough Cowey (Down) again on 3rd, Lough Shivnagh (Donegal) again on 7th, and Gwithian (Cornwall) all week. A first-winter drake at Weston-super-Mare Sewage Works (Somerset) on 3rd–7th is perhaps the recent Blagdon/Chew bird relocating. A first-winter drake Ferruginous Duck was new in at Longham Lakes (Dorset) on 3rd–5th, while long-stayers continued at Dinton Pastures (Berks) to 4th and Lurgan (Armagh) again on 1st. A drake was also reported at Fishlake Meadows (Hants) on 4th. The only Surf Scoter reports of the week were Cornish flybys at Rumps Point on 3rd and St. Ives Bay (two) on 4th.

Ring-necked Duck, Lough Cowey, Down (Photo: Derek Charles)
There were reports of over 30 Great White Egrets across the country this week, all from Cumbria southwards. The vast majority of these were in England, where a peak count of five was made at Ham Wall (Somerset) on 3rd; at least three were also on the Isle of Sheppey (Kent) on 2nd. Reports from four Welsh sites included two at the National Wetlands Centre (Carmarthenshire) on 4th, while the sole Irish record was of one at Bagenalstown (Carlow) on 3rd. Surely it cannot be long before this species colonises somewhere in southern England? A Cattle Egret that flew south over Landguard NR (Suffolk) on 2nd was the only new bird of the week. The bird at Hillsborough Lake (Down) reappeared on 3rd, roosting overnight and departing early on 4th, while the usual individual was still with cattle at Lydney (Glos) to 6th.

Great White Egret, Kirkby on Bain GPs, Lincolnshire (Photo: Russell Hayes)
A White Stork was again reported near Glenrothes (Fife) on 4th, and the escaped individual was still at Sookholme (Notts) on 2nd. Glossy Ibis numbers continued to dwindle, with only three noted: the Fingringhoe Wick (Essex) individual reappeared on 2nd–6th, while the usual Stanpit Marsh (Dorset) bird was still in residence to 4th and a bird was reported at Fordwich (Kent) on 6th.

Glossy Ibis, Stanpit Marsh, Dorset (Photo: Ann Collier)
Content continues after advertisements
Just when it seemed like they'd all finally departed, the juvenile Pallid Harrier reappeared at Power Head (Cork) on 3rd — presumably it will spend the winter in the area. Additionally, there was an intriguing report of a possible juvenile again at Black Down (Somerset) — the bird earlier this autumn was last reported on October 15th. A white-morph Gyr Falcon was again reported on mainland Orkney, this time from between Scorra Dale and Gruf Hill on 2nd. Up to two Rough-legged Buzzards remained in the Holkham (Norfolk) area all week, ranging as far as Wells-next-the-Sea in the east and Burnham Deepdale to the west. Birds were reported from nine other east-coast sites from Shetland south to Kent, with twos reported from Foulness (Essex) on 4th and The Burgh (W Sussex) on 5th. Bucking the trend was an impressive Northern Irish record from Mount Stewart House (Down) on 2nd.
Just one Common Crane remained at Belderrig (Mayo) on 1st, although locals have reported seeing up to four birds recently. In addition, last week's bird from Tacumshin was seen over North Slob (Wexford) on 4th. Back on this side of the Irish Sea, singles were noted at Langsett (S Yorks) on 3rd and over Kingsbury (Warks) on 5th, while six at Coleshill (Oxon) on 1st included one sadly found dead.
It's been a few years since there was an easily twitchable Killdeer (i.e. one that didn't involve heading for Shetland), so a probable seen flying over the road with Ringed Plovers at Balinoe, Tiree (Argyll) might have proved popular with the newer generation of listers had it lingered. The Semipalmated Sandpiper was again briefly at Saltholme (Cleveland) on 5th, while a second individual (present at Chew Valley Lake on 10th–20th November) was belatedly reidentified from photographs on 2nd — presumably most were too busy looking at the Sharp-tailed Sand to realise the 'Little Stint' in the same flock looked odd! Kerry's third Least Sandpiper was still performing well at Black Rock Strand (Kerry) to 7th, following hot on the heels of the county's second at nearby Carrahane Strand earlier this autumn. The only record prior to this was in 1965(!); just like buses. Rainham Marshes (London) scored a very late Pectoral Sandpiper briefly on the morning of 7th, while a Temminck's Stint at Cotswold Water Park (Glos) on 3rd–7th is presumably the same bird seen in mid-November.
Chew Valley Lake's exceptional run continues to dominate proceedings in the wader department; in addition to the Sharp-tailed and Semipalmated Sandpipers mentioned previously, the two Long-billed Dowitchers remained to 6th (although twice made brief sorties to Blagdon Lake on 4th and 6th), and the Spotted Sandpiper also stayed faithful to Herriott's Bridge to 5th at least. Other Spotted Sands were still on the Nanny estuary (Meath) to 3rd and Plym estuary (Devon) to 7th, and a new juvenile was at Heybridge GPs (Essex) on 2nd–4th.
The juvenile American Herring Gull could still be found floating around Baltimore harbour (Cork) throughout the week, while a probable Azorean Yellow-legged Gull was at Alvecote Pools (Warks) on 3rd — presumably this is the wide-ranging individual that has been touring the Midlands since October which was again in the roost at Chasewater (Staffs) on 7th. Just three of the twelve Ring-billed Gulls reported were outside of Ireland; this included an excellent record of a second-winter in Hyde Park (London) on 4th–5th. Across in the Emerald Isle, the only multiple count was of two in Cork City.

Ring-billed Gull, Kiltonga, Down (Photo: Derek Charles)
Inclement weather conditions in the North Atlantic undoubtedly played a big part in the first decent arrival of white-winged gulls of the winter (and, for that matter, since winter 2008/09). Over 30 Iceland Gulls included six at the Butt of Lewis (Outer Hebrides) on 6th and two roosting at Island Barn Reservoir (Surrey) that evening. Kumlien's Gulls consisted of a juvenile at Beddington Sewage Farm (London) all week, an adult at Hamister, Whalsay (Shetland) on 5th, and the dark, Thayer's-like juvenile again at Dunbeg (Argyll) on 6th. Glaucous Gull numbers were typically lower than those of their daintier cousins, although over 20 birds were reported including a peak of three at the Butt of Lewis on 6th. Other notable individuals included an adult at Beddington (London) on 1st, a juvenile roosting at Hoveringham Gravel Pits on 3rd, and what is presumably a returning near-adult to Albert Village tip (Leics) all week. There were also upwards of 30 Caspian Gulls spread across the Midlands and southeast; several sites recorded multiples while the 2nd-winter was again at Sennen Cove (Cornwall) on 3rd. A possible juvenile Baltic Gull reported at Minsmere (Suffolk) on 1st will inevitably remain just that.

Glaucous Gull, Killybegs, Donegal (Photo: Derek Charles)
Sabine's Gulls were unsurprisingly reported from just six coastal sites, although last week's showy juvenile ringed on Bardsey Island (Gwynedd) remained until 4th. Seawatching generally remained quiet throughout the week, with very few skuas and shearwaters reported. Little Auks continued to trickle past likely east-coast sites, but the only Leach's Storm-petrel was one seen off Hilbre Island (Cheshire) on 5th. Grey Phalaropes were better represented, with 17 birds reported including lingering birds at Martin Mere (Lancs) on 2nd–7th, Hartlepool (Cleveland) on 3rd–7th, and Chesil Cove (Dorset) on 3rd–6th. A Red-necked Phalarope was off Stevenston Point (Ayrshire) with a Grey Phalarope on 7th.

Sabine's Gull, Bardsey Island, Gwynedd (Photo: Ben Porter)
A swift sp. noted over Wrexham (Clwyd) on 5th must have been a surprise for the observer, while well-scattered reports of Swallows included three still as far north as Caerlaverock (Dumf & Gall) on 5th. There were two English House Martin records on 3rd: one at Cossington Meadows (Leics), and another at Woodford Green (London). A single Richard's Pipit was reported from Wyke Regis (Dorset) on 2nd and 5th, while only one Shore Lark could be found nationally — the lingering bird at Swalecliffe (Kent) on 3rd.
Three showy Desert Wheatears were available this week: a first-winter male was new in on the beach at Newbiggin-by-the-Sea (Northumberland) from 4th, the male was at Bempton Cliffs (E Yorks) all week, and the female was also still at Titterstone Clee Hill (Shropshire) throughout.

Desert Wheatear, Newbiggin-by-the-Sea, Northumberland (Photo: Colin Bradshaw)

Desert Wheatear, Titterstone Clee Hill, Shropshire (Photo: Richard Stonier)
At Seaton Common (Cleveland), a surprise late in the afternoon on 3rd came in the form of a rather splendid first-winter male Siberian Stonechat. The bird was still present until mid-morning the next day, then vanished. The male Bluethroat was still performing well at Clonea Strand (Waterford) to 5th. Waxwings were still well distributed along the east coast, with peak counts of 100 in Eastbridge (Suffolk) on 3rd and 60 in Edinburgh (Lothian) on 1st. A few small flocks penetrated inland, with records from Bedfordshire, Worcestershire and West Sussex, and three individuals even managed to make it across the Irish Sea to County Louth.

Siberian Stonechat, Seaton Common, Cleveland (Photo: Andy Booth)

Bluethroat, Clonea, Waterford (Photo: Ronan McLaughlin)
Two Dusky Warblers remained at Lower Moors, St. Mary's (Scilly) to 1st, with one still to 7th. At least three Yellow-browed Warblers were also on St. Mary's to 4th at least, and a new bird was at Clennon Valley Lakes (Devon) on 6th–7th. Long-stayers were still at Titchwell (Norfolk) and Conwy RSPB (Conwy) all week. The Hume's Leaf Warbler remained at Wyke Regis (Dorset) until 7th, while another was mobile around Dungeness (Kent) on 4th–6th. Last week's Pallas's Warbler on Bardsey Island (Gwynedd) remained to 1st. At least ten Siberian Chiffchaffs included a remarkable report of five at Nanquidno (Cornwall) on 1st. Finally, a Garden Warbler was in a private Penzance (Cornwall) garden on 5th.

Siberian Chiffchaff, Newbiggin-by-the-Sea, Northumberland (Photo: Stef McElwee)
It was 'as you were' with Great Grey Shrikes; 19 well-spread birds were predominately in the southern half of England. Three records in South Wales included a new bird at Mynydd Margam (Glamorgan), while other new birds included one inland at Wintersett Reservoir (W Yorks) on 5th. The sole Scottish bird was one still in the Guardbridge (Fife) area to 7th.

Great Grey Shrike, Prestwick Carr, Northumberland (Photo: Ron Hindhaugh)
In Kent, the Penduline Tit briefly reappeared at Dungeness RSPB on 3rd before vanishing once more, only to turn up again on 7th. The ever-present House Crow was still along the seafront in Cobh (Cork) on 2nd; one wonders how many years this devilishly handsome corvid will be part of the furniture for. The Rose-coloured Starling remained at Lodmoor (Dorset) to 3rd, with another reported in Radcliffe-on-Trent (Notts) on the same day.
Photo of the Week: 1st–7th December

Cattle Egret, Qatar (Photo: John A Thompson)
Bird photographer John Thompson has uploaded over 400 images depicting the birdlife of Qatar and Oman, giving BirdGuides regulars a wonderful insight into this under-documented region. John's images regularly feature in our Notable Images and, this week, we are very pleased finally to be able to select one of his images as our Photo of the Week. Using a focal length of 1000mm, John has been able to get right in to the action as a Cattle Egret captures and devours a field mouse (the full sequence can be seen on his website, for those who don't mind the gory detail). With great lighting and background to bring out details in the bird and its prey, this nicely composed action shot perfectly sums up this particular instance of nature's harsh reality. The stark stare of the egret coupled with the helplessly twisted pose of the struggling mouse — sunlight picking out its eye and whiskers — illustrates the real meaning of a single link in the food chain.
Other notable photos

Desert Wheatear, Bempton Cliffs RSPB, East Yorkshire (Photo: Mick Southcott)

Short-eared Owl, Worlaby Carrs, Lincolnshire (Photo: Harry Bursell)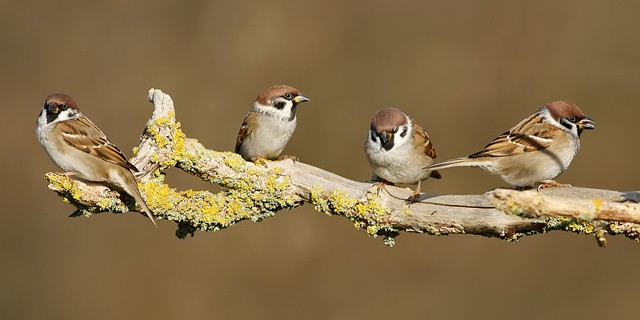 Tree Sparrow, Dungeness RSPB, Kent (Photo: Will Rawles)

Dartford Warbler, undisclosed site, Suffolk (Photo: Matty Fidler)

Lesser Redpoll, Gort, Galway (Photo: Rudi Debruyne)

Cirl Bunting, Berry Head, Devon (Photo: Rob Cross)

Bluethroat, Clonea, Waterford (Photo: Ronan McLaughlin)

Grey Plover, Poole Harbour, Dorset (Photo: Simon Johnson)

Common Kestrel, Big Waters NR, Northumberland (Photo: Jack Bucknall)

Goldcrest, Upper Hollesley Common, Suffolk (Photo: Carl Wright)