The week at a glance
If last week's haul of Swinhoe's Storm-petrel, four Fea's Petrels and a big bunch of Cory's Shearwaters hinted that 2013's seawatching season was shaping up to be a special one, then this week well and truly confirmed it. Though it was relatively quiet inland, another cascade of ultra-rare seabirds surely suggests that birders should be heading for British and Irish headlands as soon as conditions look promising this August.
Topping the bill was a Bulwer's Petrel, seen just 300 metres off Galley Head (Cork) as it passed at 12:05 on 1st — less than 24 hours after the site had scored a hat-trick of Fea's-types! A fuller account of the bird's flypast from one of the fortunate few there that day can be found on the Galley Head birding blog, though it is worth mentioning that this is only the second Irish record, following one past Cape Clear on 3rd August 1975. In a British context, this species has a near-mythical status plagued by a turbulent past — one only has to glance at the BirdGuides ORB archive to get an impression. It appears that the species is genuinely extremely rare so far north and difficult to see from land, making the Galley record all the more commendable. One can only imagine the panic and exhilaration such a find would cause.
Evidently not content with one, Fair Isle went on to bag a second Swinhoe's Storm-petrel: trapped in the early hours of 7th, not only did this one display phenotypical differences from the original bird but, crucially, it lacked a ring! Much to everyone's surprise, the same bird was then re-trapped again during the early hours of 8th — as warden David Parnaby put it, "It is quite unusual to re-catch any petrels in subsequent nights (none of the 17 or so Leach's Petrels ringed this year have been re-trapped, for example), so we weren't expecting to see the Swinhoe's again so soon, if at all." Hopes of another showing may tempt the most intrepid of twitchers, but even for the diehards a trip would be a risky business, as when the bird(s) might turn up next, if at all, is a lottery. More details on the events on Fair Isle over the past few weeks can be found on the warden's blog.

Swinhoe's Storm-petrel, Fair Isle, Shetland (Photo: Will Miles)

Swinhoe's Storm-petrel, Fair Isle, Shetland (Photo: Will Miles)
Down in Cornwall, Porthgwarra continued where it left off last week: another Fea's-type Petrel passed on 1st and then, with quite an audience present during promising conditions on the morning of Sunday 4th, another drifted west a little after 09:00. For those present, it proved a memorable seawatch, as 47 Great, 16 Cory's and 65 Balearic Shearwaters also passed throughout the day. A Yelkouan Shearwater was also reported off Porthgwarra on 1st, with other possible/probables past Galley Head on 1st and Start Point (Devon) on 4th. The latter site also boasted a Little Shearwater past later that day, in addition to 255 Balearics!

Great Shearwater, Porthgwarra, Cornwall (Photo: Brian Mellow)

Great Shearwater, Land's End, Cornwall (Photo: John Mahon)
Wilson's Storm-petrels were seen from pelagic trips off the Isles of Scilly and County Kerry on 1st and 7th respectively, with small numbers of both Great and Cory's Shearwaters seen in Devon, Cornwall and southwest Ireland. The east coast remained quiet, though an adult Sabine's Gull flew north past Long Nab (N Yorks) on 7th.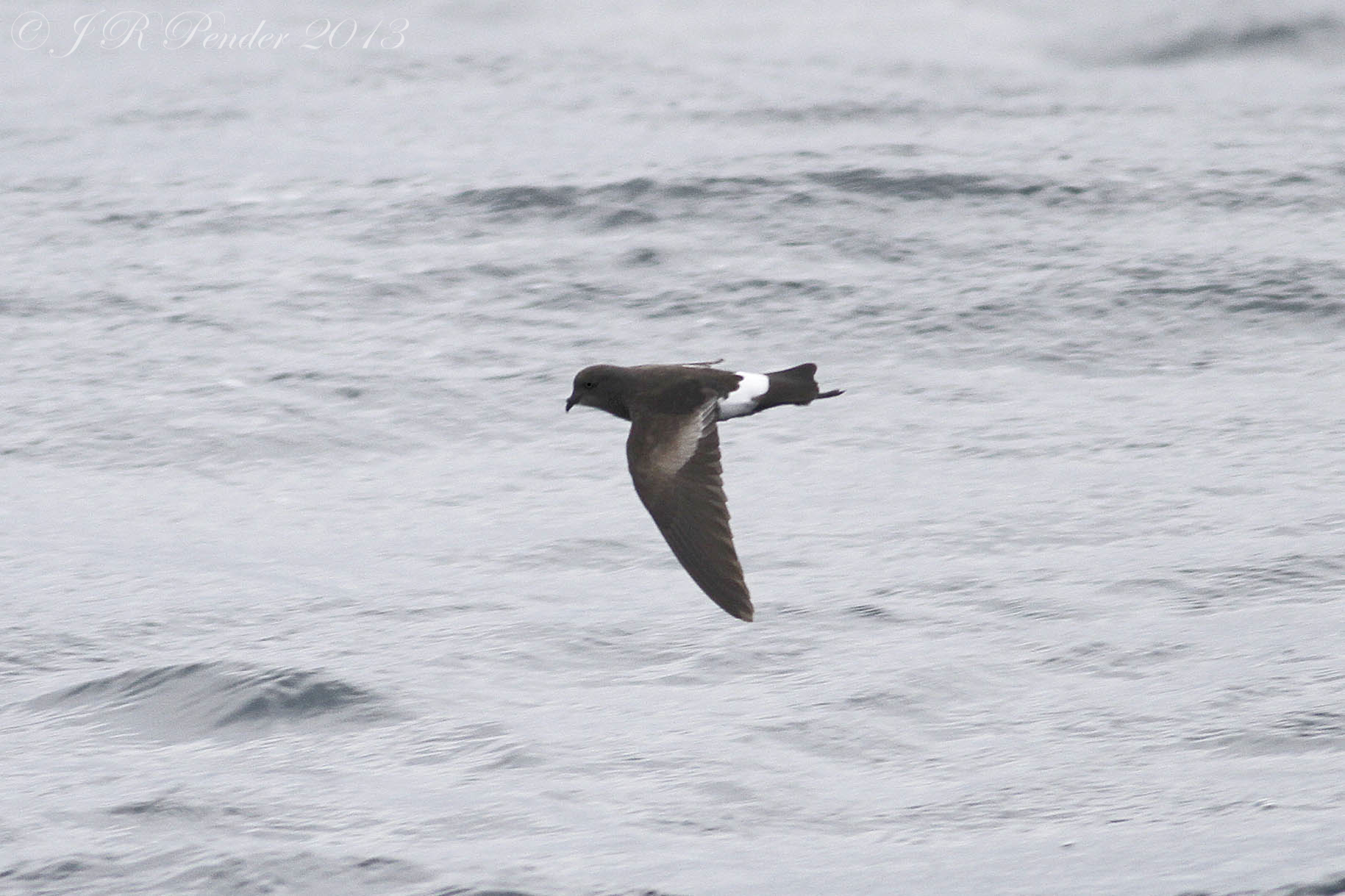 Wilson's Storm-petrel, Scilly pelagic, Isles of Scilly (Photo: Joe Pender)

Sabine's Gull, at sea, Kerry (Photo: Ed Carty)
Back on land, Norfolk claimed its second Roller of 2013. The bird showed well on fence-posts at Horsey from 5th, and may feasibly be the bird last seen near Holt in mid-June. Talking of Holt, there was another report of the still-unconfirmed Booted Eagle at nearby Edgefield on 1st.

Roller, Horsey, Norfolk (Photo: Dr George Kinsman)
Rare wildfowl included the female Black Duck still on the estuary at Ballylongford (Kerry) throughout the week, and an eclipse drake Blue-winged Teal discovered among the many Garganey on the Ouse Washes (Cambs) from 7th. Ring-necked Ducks remained at Brompton-on-Swale (N Yorks) to 4th and Lough Beg (Antrim) throughout, while a drake Surf Scoter was new off Lunan Bay (Angus & Dundee) on 7th in addition to the lingering first-summer off Murcar Golf Course (Aberdeenshire) on 3rd.

Black Duck, Ballylongford, Kerry (Photo: Davey Farrar)

Blue-winged Teal, Ouse Washes RSPB, Cambridgeshire (Photo: Trevor Williams)
Leicestershire's popular Night Heron remained just so at Thornton Reservoir all week, while the rather more elusive South Yorkshire individual was still at Old Moor on 7th. A Purple Heron was briefly at Pagham Harbour (W Sussex) on 4th, and at least four Little Bitterns remained on the Somerset Levels. The Glossy Ibis remained in Pembrokeshire, as did the Cattle Egret in North Kent. Twenty or so Great White Egrets included a flyover at Thornton Reservoir on 1st, a fly-by at Portland Bill (Dorset) on 7th and notable records from Powys and South Yorkshire.

Night Heron, Thornton Reservoir, Leicestershire and Rutland (Photo: Jim Almond)

Cattle Egret, Oare Marshes NR, Kent (Photo: Ian Curran)
Cornwall again produced a series of Black Kite records, with reports from Porthgwarra on 2nd, Nine Stones on 3rd and Carbis Bay on 4th suggesting that at least two individuals were roaming around. Another was reported near Portway (Herefordshire) on 3rd, while a male Red-footed Falcon flew WSW over Langdale End (N Yorks) on 4th. Also in Herefordshire, a Spotted Crake was found at Wellington Gravel Pits on 5th–6th; the East Chevington (Northumberland) individual was last noted on 3rd.
Another pulse of Nearctic waders included an American Golden Plover flying past Spurn (E Yorks) on 5th and a White-rumped Sandpiper at Seafield (Wexford) on 4th, presumably that later seen at Tacumshin on 6th–7th. Tacumshin also laid claim to a brace of adult Buff-breasted Sandpipers on 4th–5th and a Red-necked Phalarope on 2nd, with other Buff-breasts at Elmley (Kent) on 3rd–5th and on the Ythan Estuary (Aberdeenshire) on 7th. Ten Pectoral Sandpiper reports involved new birds in Cheshire, Lincolnshire, Aberdeenshire (2) and Co. Cork as well as lingering birds in Hampshire, Gwent, Devon and West Sussex. The Lesser Yellowlegs remained at the National Wetlands Centre (Carmarthenshire) throughout the week, but the Long-billed Dowitcher was last seen there on 1st. Another breeding-plumaged Long-billed Dowitcher popped up at Pennington Marshes (Hants) from 1st–6th.

Long-billed Dowitcher, Pennington Marshes, Hampshire (Photo: Gary Loader)
Bonaparte's Gulls remained on the Oare Marshes (Kent) and at Heysham (Lancs) to at least 6th. New adult Ring-billed Gulls were at Laugharne (Carmarthenshire) on 1st and Gyles' Quay (Louth) on 3rd; a first-summer was again at Blennerville (Kerry) on 4th and the adult was still at Nimmo's Pier (Galway), along with the Iceland Gull. One of the County Wexford Gull-billed Terns briefly visited Lady's Island Lake on 4th before returning to Tacumshin on 7th; a Caspian Tern passed St. Margaret's at Cliffe (Kent) on 5th and a probable first-summer Forster's Tern flew by Copeland Island (Down) on 1st.
A fly-by Alpine Swift at Gibraltar Point (Lincs) on 3rd could well have been the bird seen flying north at Spurn on 5th; two Bee-eaters flew south over Whitburn (Durham) on 6th. The male Western Subalpine Warbler lingered on Fair Isle throughout and a Marsh Warbler was trapped there on 4th; another of the latter was trapped and ringed at Thurlestone Marsh (Devon) on 7th.
And, finally, we leave with an update on the Two-barred Crossbill influx. Numbers dropped away slightly this week, although at least seven were still on Fair Isle during the early part of the week, and four juveniles were still at Loch of Voe (Shetland) on 1st. Other Shetland records included two females at Halligarth, Unst, on 1st with two at Hamar on 6th and a singleton still at Baltasound on 1st. Two remained in Stromness, Orkney to 2nd (with one on 3rd). Back on the mainland, Lancashire's first — a juvenile — showed stupendously as it visited feeders at Browsholme Hall on 2nd–4th. Another was reported flying over Fowlmere (Cambs) on 7th, and a juvenile was near Burghead (Moray/Nairn) on 6th.

Two-barred Crossbill, Browsholme Hall, Lancashire (Photo: Gary Woodburn)

Two-barred Crossbill, Stromness, Mainland, Orkney (Photo: Ian Cunningham)
Photo of the Week

Kestrel, York, North Yorkshire (Photo: Bob Jones)
With a couple of hundred uploads and six Notable Images, bird photographer Bob Jones is a well-established BirdGuides contributor. Bob's images are always popular and he has an average of 20 thumbs ups per image. This is at least partly due to Bob's ability to create images with simplicity and harmony, featuring well-posed birds against uncluttered backgrounds in his unusual 'almost square' format. This week, after a project to photograph Kestrels in Yorkshire, Bob posted a great example of this image type. In contrast to the high-octane action shot we chose as our Photo of the Week last week, Bob's image is a gentle portrait of a female Kestrel perched elegantly in soft lighting. Two bird of prey shots could hardly be more different, yet both bagged their creators their first Photo of the Week awards.
Other Notable Photos

Arctic Tern, Farne Islands, Northumberland (Photo: Austin Thomas)

Osprey, undisclosed site, Highland (Photo: John Fielding)

Hen Harrier, undisclosed site, Isle of Man (Photo: B Callow)

Two-barred Crossbill, Loch of Voe, Mainland, Shetland (Photo: James Wood)

Black-tailed Godwit, Oare Marshes NR, Kent (Photo: Ian Curran)

Night Heron, Thornton Reservoir, Leicestershire and Rutland (Photo: Jim Almond)

Sanderling, Minsmere RSPB, Suffolk (Photo: John Richardson)

Peregrine, undisclosed site, North Yorkshire (Photo: Matt Crosby)

Spotted Flycatcher, Llandrindod Wells, Powys (Photo: Kev Joynes)