The week at a glance
The glorious early spring weather — blue skies, light winds, warm (for the time of year) temperatures — ensured a raft of common, scarce and rarer arrivals throughout the early part of the week. Then, almost inevitably, that flurry of interest had the door shut firmly upon it — cold west to northwest winds and even some wintry showers drifted in across much of the country and it felt just as the calendar suggested: March was back.
Making the most of the better weather at the start of the review period was the third Great Spotted Cuckoo of the spring, found near St. Just (Cornwall) on 22nd. Discovered at Chapel Carn Brea, the bird swiftly headed towards St. Just Aerodrome, at the top of Nanquidno valley, where it remained, albeit elusive, until the evening. The following day, it was reported in Cot Valley but was not seen subsequently. This represents Cornwall's first record of the species since 2001 (and is only the third record since 1982). The trio of Great Spotted Cuckoos noted so far in 2009 make it the highest-scoring year for the species since 1990, when four birds were noted. Over on Guernsey, two Zitting Cisticolas were discovered at Port Soif on the morning of 20th and they remained to 22nd at least. These are the first records for the island since two birds were seen at Claire Mare NR in August 2004.

Zitting Cisticola, Port Soif, Guernsey (Photo: Paul Hillion)
Although not a huge rarity, there is something about the Hoopoe that will always ensure a crowd. This week up to 11 birds arrived, with two in Wales, four in Ireland, up to four on Scilly and one reported in Norfolk. The Principality's birds were at Martin's Haven (Pembrokeshire) and Llanbedr (Gwynedd), while the Republic saw three birds arrive in Cork between 20th and 23rd (on Sherkin Island, at the Old Head of Kinsale and in Ballydehob). The fourth Irish bird appeared at Whiting Bay (Co. Waterford) on 19th and remained to 23rd at least. On Scilly, four islands were Hoopoe hosts, Gugh and St. Mary's scoring on 21st, Bryher on 22nd and St. Agnes on 23rd–24th.

Hoopoe, Whiting Bay, Waterford (Photo: Ronan mclaughlin)
Seabirds were in very short supply this week. A White-billed Diver was seen near Camusnagaul (Highland) on 19th–23rd and a single Pomarine Skua flew past Aird an Runair, North Uist (Outer Hebrides) on 22nd.
It was very much as-you-were for many records of Cattle Egrets this week. The single bird remained on St. Mary's (Scilly) and in Cornwall nine birds remained around the Hayle Estuary to 25th and four birds were still near Land's End (around Brew Pool and Sennen) to 22nd. The only report from Devon this week was of a single bird still at Yelland, while Dorset saw one remain at Swineham GPs to 25th. In Wiltshire, a Cattle Egret was still at Seend Cleeve this week, and in Gloucestershire one was at Slimbridge from 21st. Further to the north, one remained at Bradley (Cheshire) to 24th. In East Anglia, the bird at Bures (Suffolk) was still present for much of the week. The sole representative for Wales remained in Pembrokeshire, on the Nevern Estuary, while on the Isle of Man a Cattle Egret was still near Port St. Mary. Seven Cattle Egrets were still at Inchydoney Island (Co. Cork) on 19th (with seven then at White's Marsh on 24th) and the same county saw four birds by Lough Beg on 24th and three birds still at Timoleague on 22nd. In Waterford, four birds were at Ballycrompane to 21st.

Cattle Egret, Bradley, Cheshire (Photo: Paul Hill)
In Scotland, the Great White Egret remained around Gilmourton (Clyde) to 24th at least, while a few hundred miles to the south one was still around the Somerset Levels to the end of the week. In Norfolk, following a belated record from Stalham on 18th, further birds were reported flying west over Roydon Common and east over Stiffkey, both on 20th. Seven Spoonbills were seen at Middlebere (Dorset) this week, with two more at Lodmoor on 22nd. In Devon, one was around the Exe Estuary throughout the week and three were seen on Isley Marsh. Elsewhere, singles were noted in Kent at Stodmarsh on 20th, Pegwell Bay on 24th and Elmley Marshes on 25th. Further single Spoonbills were seen at Old Hall Marshes (Essex) on 22nd, Farlington Marshes (Hampshire) and Titchwell (Norfolk), the last two both arriving on 24th. A Common Crane was seen at Holkham Marsh and then over Incleborough Hill near Cromer (Norfolk) on 21st. In County Durham, an unringed White Stork was seen at Shotton Colliery on 21st (last week a ringed bird, a known escape, was at large in the same county).

Spoonbill, Lodmoor RSPB, Dorset (Photo: Steve Carey)
With spring heading towards us quicker than the Irish front row, it was no surprise that the rarer geese that have been such a feature of the past few months drifted off to pastures new. A blue Snow Goose was reported with Pink-footed Geese at Snettisham (Norfolk) on 23rd with a white morph at Tullibody (Forth) on the same date. There were just a handful of Black Brants to report this week: one was at Stiffkey (Norfolk), while one or two were seen at Hill Head and Farlington Marshes (Hampshire) between 21st and 23rd.
The regular Lesser Scaup at Holme Pierrepont (Nottinghamshire) and Cardiff Bay (Glamorgan) were still in situ for another week, while the bird seen previously in County Westmeath, at Lough Ennell, moved to Lough Derravaragh on 22nd. New Ring-necked Ducks this week were found at March Farmers (Cambridgeshire) — a drake there on 22nd — and at Swineham GPs (Dorset) — a duck present from 20th–24th. Elsewhere, the young drake remained at Frithend Sand Pits (Hampshire) with Scottish adult males still at Loch an Eilein, Tiree (Argyll), Asta Loch near Scalloway (Shetland) and Loch Calder (Highland). In Ireland, drakes were seen at Cornabrass Lough (Co. Fermanagh) on 21st and at Lydacan (Co. Galway) on 22nd. Long-staying females were still on Martnaham Loch (Ayrshire), North Ronaldsay (Orkney) and Vartry Reservoirs (Co. Wicklow). In Suffolk, the drake Ferruginous Duck moved to Trimley Marshes this week (taking the hybrid Ferruginous Duck × Pochard with him), while in Somerset a drake Ferruginous Duck was at Chew Valley Lake from 21st. Back in Suffolk, an impressive-looking hybrid drake Canvasback × Pochard was seen at Lackford Lakes from 22nd — a white spot behind the bill, no gular bulge and a rather too grey mantle all indicating why hybrid was the right call. Observers of this bird seem to think that it was perhaps the bird seen last autumn at Nosterfield in North Yorkshire, where the hybrid debate was a pretty strong one.
Drake Green-winged Teal lingered in Leicestershire, Cleveland, Ayrshire and Forth this week; the latter bird, at Kinneil Lagoons, was busily displaying to a female Eurasian Teal on 20th. New birds were seen at Letham Pools (Fife) on 21st–25th, on Inish Mor in Galway on 20th–21st (although it may be that two birds were involved) and at Slimbridge (Gloucestershire) on 25th. Another drake remained at Kilcoole (Co. Wicklow) to 20th, while in Cumbria a drake reappeared at Campfield Marsh on 25th. There were just two American Wigeon this week: the first-winter drake that was still at Slimbridge (Gloucestershire) to 25th and a drake at Buail Uachdraich, South Uist (Outer Hebrides), also on 24th.

Green-winged Teal, Letham Pools, Fife (Photo: Willie McBay)
Surf Scoters this week were represented by the female off Dawlish Warren (Devon) and the drake off Ruddon's Point (Fife) to the end of the review period, while the sole King Eider on the books was the drake off Kincraig Point (Fife) to 25th. In Dorset, the drake Hooded Merganser was still posing for anyone interested at Radipole Lake throughout the week.

Hooded Merganser, Radipole Lake RSPB, Dorset (Photo: Dave Hutton)
Another white Gyrfalcon was seen this week, this one out on Islay (Argyll). First seen around 11th March, this week the bird was seen at Loch Gorm and Loch Gruinart on 21st and at Kilmoluaig on 24th–25th. An escaped Gyr, with jesses, was seen again in Gloucestershire this week. At least a couple of Rough-legged Buzzards were seen in Norfolk this week, at Little Walsingham and Blakeney on 19th–20th, with another at Ridlington on 23rd. The adult remained at Farforth (Lincolnshire), while others were reported from Clwyd, Lancashire and Leicestershire. The third Black Kite of the spring was seen over Sandwich Bay (Kent) on 21st.

Gyr Falcon, Loch Gorm, Islay, Argyll (Photo: Ian Brooke)
The first exciting shorebird arrival of the spring made landfall in County Cork this week: a first-summer Black-winged Stilt on Cape Clear Island (the island's first) arrived on 22nd and remained to 25th.
A first-winter Ross's Gull was watched for 20 minutes late in the day of 22nd at Lytham St. Anne's (Lancashire) before flying off along the shoreline and being lost to view. It is almost a year ago that the popular (but ill-fated) adult Ross's Gull was seen in the same area; this year's bird was a rather shorter stayer. The adult Bonaparte's Gull lingered around the Taff Estuary, Cardiff (Glamorgan) from 19th–23rd, while the first-winter American Herring Gull on the Otter Estuary NR (Devon) was seen again on 20th, but not since.

Bonaparte's Gull, Cardiff, Glamorgan (Photo: Jim Almond)
Numbers of Caspian Gulls this week fell away to around ten birds. On 19th, two birds (a first-year and third-year) were seen at Rainham Marshes (London), while a first-winter was at Minsmere (Suffolk) and an adult was at Shawell (Leicestershire). In Essex, a third-winter Caspian Gull was at Pitsea tip on 21st when an adult and first-winter were at Blackborough End (Norfolk) and a first-summer bird was at the London Wetland Centre on 23rd. On 24th, back at Shawell, a fourth-winter was reported, and a second-winter was at Minsmere on 25th.
The total of Iceland Gulls seen in Britain, like Caspian Gull, fell away this week, with around 60 birds recorded. Ten birds were still at the Shetland Catch factory near Lerwick on 21st, while five birds were at Richmond Bank (Cheshire) on 19th and four were at Throckmorton (Worcestershire) on 20th. In Ireland numbers held firm, even up a touch, with just under 60 birds recorded there. Eleven birds were at Rossaveal (Co. Galway) on 21st (with at least 14 birds recorded there during the week) and up to 18 birds were seen in County Cork, seven of them at Castletown Bearhaven on 23rd. Up to eight Kumlien's Gulls were reported; the second-winter remained around Leicestershire and Warwickshire until 24th while a juvenile was still at the Shetland Catch factory to 22nd. At Swillington Ings (West Yorkshire) a second- or third-winter was seen on 24th, while a confirmed third-winter (a first for Norfolk) was seen at Blackborough End on 20th. In Ireland, single juveniles were on Inish Mor (Co. Galway) on 20th–21st and at Rossaveal on 22nd, while a third-winter was again at Newtownards (Co. Down).

Iceland Gull, Newlyn, Cornwall (Photo: Colin Selway)

Kumlien's Gull, Rossaveal, Galway (Photo: Tom Cuffe)
Following on from around 85 birds last week, fewer than 40 Glaucous Gulls were registered over the past week. On 24th, at least six were seen on South Uist (Outer Hebrides) and three were on North Ronaldsay (Orkney). At least three different birds were in Cleveland and Highland during the week, while two birds were seen in Suffolk, Northumberland, Glamorgan and Argyll.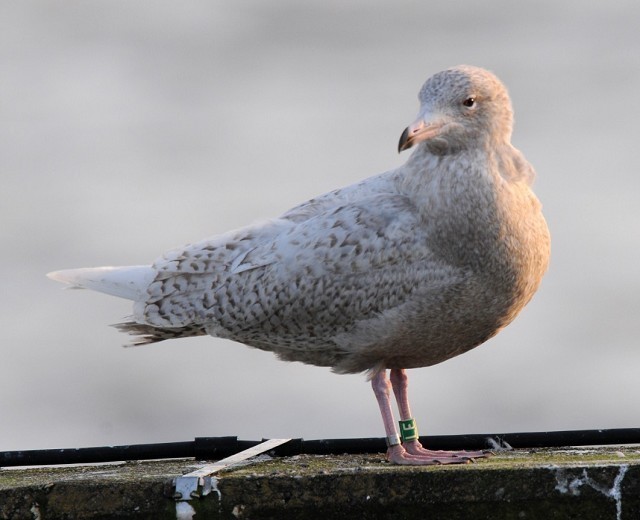 Glaucous Gull, Southwold, Suffolk (Photo: Jon Evans)
Ring-billed Gull also saw a fall in numbers over the past seven days: three birds in Britain and eleven in Ireland. An adult was at Dingwall (Highland) on 19th–21st while the adult at Strathclyde Loch (Clyde) was present to 23rd at least. An adult was seen at Sturt Pond (Hampshire) on 21st while in Cornwall the first-winter was again at Helston on 25th. Irish birds were an adult and first-winter still at Six Mile Water (Co. Antrim) to 19th while four adults were at Nimmo's Pier (Co. Galway) and five more were seen at Sandymount (Co. Dublin) on 25th. Nimmo's Pier also saw the adult Forster's Tern appear again on 22nd.

Ring-billed Gull, Strathclyde Loch, Clyde (Photo: Jim Duncan)
The first-winter male Snowy Owl was again around Zennor (Cornwall) on 21st–24th while an unconfirmed report from Norfolk on 19th momentarily set pulses racing. At least 20 Great Grey Shrikes this week included two each for Hampshire, Gloucestershire, Norfolk and Cumbria, while new notable singles were at Manquhill Hill (Dumfries & Galloway) on 19th and Sissinghurst (Kent) on 22nd. A Richard's Pipit was at Hornsea Mere (East Yorkshire) on 20th (and a possible was reported in Dumfries & Galloway on 23rd). The Shore Lark was still on Unst (Shetland) on 19th.

Great Grey Shrike, Bircher Common, Herefordshire (Photo: George Ewart)
For the first time in around five months there were no three-figure flocks of Waxwings to report. Flocks of 30, 40 or 50 were still reasonably widespread, but with April marching ever closer it is no real surprise that the birds are finally departing our shores. A flock of around 80 in Nottingham represented the largest number reported in the past seven days.
The Yellow-browed Warbler in Bridport (Dorset) was present from 19th–24th while Siberian Chiffchaffs included singing males still at Endon (Staffordshire), Radipole Lake and Portland (Dorset), with two males at Sandown (Isle of Wight).
Three very handsome male Penduline Tits arrived at Dingle Marshes (Suffolk) on 20th and remained to the morning of 21st, with two birds there for the rest of that day and on to 24th. In Devon, the male Penduline Tit remained around Paignton to 25th.

Penduline Tit, Clennon Valley Lakes, Devon (Photo: Jim Almond)
Photo of the Week

Black-tailed Godwit, Cley Marshes NWT, Norfolk (Photo: Richard Bedford)
This week, bird photographer Richard Bedford has submitted a superb series of his trademark flight shots, covering subjects as diverse as wildfowl, waders, egrets and owls. Our pick of the bunch is this shot showing an interaction between a pair of Black-tailed Godwits: one wading and one frozen in the air millimetres above. As well as superb pose and lighting, this action shot beautifully captures the detail in the outstretched wings. In addition, though, it is rich in a photographic/aesthetic element not normally found in bird images, namely 'line'. Prominent lines in an image provide natural paths for the eye to follow as it takes in the scene. In this case, the matrix of horizontal and vertical lines lead the eye to every part of the composition and tie all of the elements together intricately.

Common Kingfisher, undisclosed site, W Sussex (Photo: Howard Kearley)

Siskin, Westleton Heath, Suffolk (Photo: Jon Evans)

Starling, Halvergate Marshes, Norfolk (Photo: K Roberts)

Little Egret, Cley Marshes NWT, Norfolk (Photo: Richard Bedford)

Barn Owl, undisclosed site, Norfolk (Photo: Nigel Pye)

African Pygmy-Kingfisher, Gambia (Photo: Kit Day)

Black Grouse, Inverness, Highland (Photo: Mark Hancox)

Short-eared Owl, Newport Wetlands, Gwent (Photo: Nathan Casburn)

Sparrowhawk, Forest of Dean, Glos (Photo: Lewis Thomson)

Montagu's Harrier, Spain (Photo: Steve Fletcher)

Red-necked Grebe, Foremark Reservoir, Derbys (Photo: Kev Joynes)

Skylark, North Wirral, Cheshire (Photo: Richard Steel)

Crested Tit, Inverness, Highland (Photo: Mark Hancox)

Fulmar, Bempton Cliffs RSPB, E Yorks (Photo: Steve Race)

Dartford Warbler, undisclosed site, Pembrokes (Photo: Richard Crossen)

Bullfinch, Lathkill Dale NNR, Derbys (Photo: Robert Askew)

Pheasant, Lathkill Dale NNR, Derbys (Photo: Robert Askew)

Greylag Goose, Cley Marshes NWT, Norfolk (Photo: Amanda Hayes)