The week at a glance
Compared to recent weeks, the final full week of February passed by in rather uneventful fashion, with mild, largely cloudy conditions dominating across much of the country. Plenty of good birds were on offer, but all in all this week was, like the weather, rather uneventful.
In Pembrokeshire, the ultra-elusive Gyrfalcon was seen again on 21st, this time flying over near Dale. Earlier in the week, a "Gyr" was noted near Symonds Yat (Gloucestershire) but was soon re-identified as some sort of pale (falconer's) hybrid: a timely reminder of the need for exercising caution, particularly at this time of year when the real McCoy is most likely to be encountered. In Cornwall, a possible Pacific Diver was seen again in Mount's Bay on 20th, before being flushed by a yacht. Over on Scilly, last week's first island record of Pacific Diver appears to have sailed into some rather stormy waters. The bird was present from 19th–20th at least, still out towards the Eastern Isles, but a couple of days after a successful boat trip to see the bird word began to filter out that the bird may be a hybrid, an aberrant Great Northern Diver or maybe even just a regular Great Northern. Shades of the February 1998 Spotless Starling all over again?
A Great Shearwater must have been something of surprise for those on board a pelagic off the Dorset coast (around Lyme Bay) on 19th, and they also scored the only Balearic Shearwater of the week for good measure. Indeed, these were the only records of any noteworthy seabirds this week.
On St. Mary's (Scilly) the wintering Cattle Egret was still in place to 25th. Up to 10 Cattle Egrets were still dotted around Cornwall until the final day of the review period, including four near Land's End and two near Landrake on 20th (the former quartet still present to 24th), two at Drift Reservoir on 21st–25th and two still on the Gannel Estuary to 22nd. Then, on 25th, nine birds were seen together on the Hayle Estuary. In Devon, three birds remained at Powderham throughout the week, with three more still over in the east of the county, near Otterton on 22nd. In north Devon, a single bird was still at Yelland to 20th at least. The Isle of Wight grabbed a lone Cattle Egret, at Puckpool Point on 22nd–25th (this is still a really rare bird on the island) while the bird on the Isle of Man was at Point St. Mary to 24th, with it or another at Ballagawne on 25th. In Pembrokeshire, a Cattle Egret was on the Nevern Estuary, Newport on 22nd–25th, with one at West Angle Bay on the latter date. In Norfolk, the bird near Matlaske was still present to 22nd with one at Strumpshaw on 24th–25th. In County Cork, there were two sets of six Cattle Egrets to report this week: the first group was still at Inchydoney island, on Beamish's Pool, on 19th and on 22nd, and another half-dozen were at Rossleague. In County Waterford, two were seen at Ballyroan and four were at Ballycrompane, all on 21st, and one was again at Fethard-on-Sea (Co. Wexford) at the week's end.

Cattle Egret, Strumpshaw Fen RSPB, Norfolk (Photo: Mike Parker)
Two Great White Egrets were seen again near Pymoor (Cambridgeshire) on 22nd (with one there again on 25th), at the RSPB's Ouse Washes reserve on 23rd, and roosting at Ely (early and late) on 24th–25th. A third long-staying bird remained at Shapwick Heath (Somerset) until 23rd at least. On 20th, a Great White Egret was seen at Otmoor (Oxfordshire), remaining to the next day. Also on 21st, one was present at the Long Drag (Cleveland) and the bird at Thurlby Fen (Lincolnshire) was seen again on 25th. At least six Spoonbills remained in north Devon during the week, often at Isley Marsh but, once again, four birds were seen at nearby Wrafton — could they be different individuals? A further Devon bird remained around the Exe Estuary, at Powderham, to 24th. In Cornwall, four birds were seen near the county border on 24th on a Tamar River Cruise. Two adults were noted at Lodmoor (Dorset) from 20th and, also in Dorset, four were seen in Poole Harbour on 22nd. Singles were seen on Scilly, in Essex and Norfolk during the week too. Also in Norfolk, up to 19 Common Cranes were seen in the Broads this week, while four were still at Lakenheath (Suffolk) to 19th at least and two more were at Woodwalton Fen (Cambridgeshire) on 21st–24th. On 19th, a single Crane was seen flying over Spurn (East Yorkshire) and another was at Tadham Moor (Somerset) at the end of the week. The first White Stork of 2009 was reported near Wymondham (Norfolk) on 21st — but, as ever, the air of "unknown origin" hangs heavy.

Spoonbill, Lodmoor RSPB, Dorset (Photo: Steve Carey)
The adult Red-breasted Goose remained around the marshes of West Wittering (West Sussex) for much of the week, until 25th. The Cackling Canada Goose lingered for another week at Caerlaverock (Dumfries & Galloway) while one or two Richardson's Canada Geese were seen around Islay (Argyll) on 19th–20th. In Ireland the two vagrant Canada Geese at the North Slob (Co. Wexford) were seen to 21st at least, and were thought to be Greater Canada Geese (of the canadensis/parvipes/interior group). In Gwynedd, a possible Grey-bellied Brant was seen at Morfa Bychan on 19th, with a Pale-bellied Brent Goose. The Ross's Goose continued to bounce around Norfolk like a snow-white avian pinball this week, moving back east to Horsey on 21st–23rd before flying northwest over Happisburgh on 24th. What may have been a Ross's Goose (indeed smart money would say it was the Norfolk bird) then flew (distantly) offshore from Eyemouth (Borders) on 25th with Pink-footed Geese. Snow Geese this week included the adult still in Ayrshire, at Drongan, to 23rd and in Ireland singles were seen at Termoncarragh Loch (Co. Mayo) and the North Slob, on 20th and 21st respectively. Single Black Brants remained on the Exe Estuary (Devon), Farlington Marshes and Hurst Castle (Hampshire), Old Hall Marshes (Essex), Titchwell (Norfolk), The Cunnigar (Co. Waterford) and the North Slob this week, while singles at Gibraltar Point (Lincolnshire) on 23rd–24th and Falkenham (Suffolk) and Studland (Dorset) on 24th were new. Two sites registered two Brants this week: Butterstreet Cove (Dorset) on 21st and near Hindringham (Norfolk) on 22nd. A probable Lesser White-fronted Goose (a first-winter) has been seen briefly, "recently", at Tankerness (Orkney) — whatever happened to this once-annual charming little vagrant goose?

Richardson's Canada Goose, Loch Gruinart RSPB, Islay, Argyll (Photo: Steve Percival)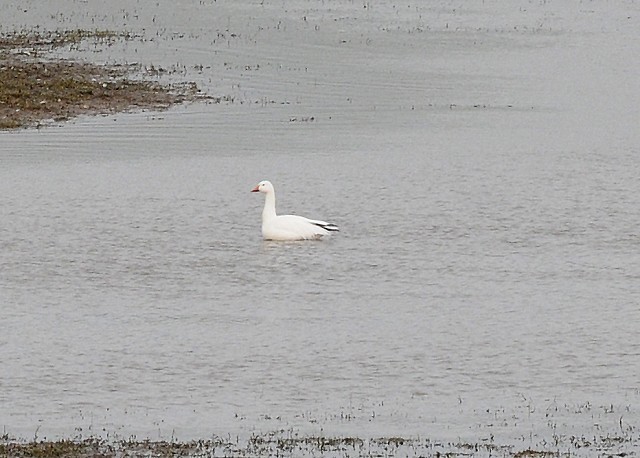 Snow Goose, Drongan, Ayr (Photo: Jim Woods)
In County Mayo, a drake Black Duck was on Achill Island on 23rd, seen on Sruhill Lough — the first Black Duck on the island since 2005. Adult drake Lesser Scaup remained at Holme Pierrepont (Nottinghamshire) and Loch Leven (Perth & Kinross) this week, while the first-winter drake was seen again in Cardiff Bay (Glamorgan) on 21st–25th (having last been seen there 14th January). Another first-winter drake was reported on Loch Dun Mhurchaidh, Benbecula (Outer Hebrides) on 22nd, while the female Lesser Scaup remained on Clea Lakes (Co. Down), also to 22nd. Three drake Ring-necked Ducks were seen during the week, at Foxcote Reservoir (Buckinghamshire), Loch an Eilein, Tiree (Argyll) and Ballyallia Lake (Co. Clare), while six females were seen: two remained at Vartry Reservoir (Co. Wicklow) to 21st and again on 23rd–24th, while singles were on Hoveton Little Broad (Norfolk), North Ronaldsay (Orkney), Martnaham Loch (Ayrshire) and, on 23rd, a new arrival was found on the Little Sea at Studland Heath (Dorset). A female Ferruginous Duck was still on Old Hall Marshes (Essex) to 23rd (and a colour-ringed escape drake was still on pits near Lynford Arboretum in Norfolk).
Numbers of Green-winged Teal fell away a little this week; just 11 birds were reported, with six for England, three for Scotland and two for Ireland. In Cambridgeshire, one was at Maxey GPs on 19th–20th before (presumably) the same bird was found at Eldernell on 21st. In East Yorkshire, a Green-winged Teal reappeared at North Cave Wetlands on 20th (last seen there on 4th February) and one was seen at Keyhaven Marshes (Hampshire) on 22nd–23rd. Singles lingered at Eyebrook Reservoir (Leicestershire), Seaforth (Lancashire), Bothal (Northumberland), Capringstone (Ayrshire), Kinneil Lagoons (Forth), Carrowmore (Co. Clare) and Kilbrittain (Co. Cork), while on South Uist, a Green-winged Teal shared a small loch with a drake American Wigeon. Another drake American Wigeon was found at Slimbridge (Gloucestershire) on 23rd in what has been a winter of slimmish pickings for the species. Aside from the regular duo of Surf Scoters this week, the usual drake off Ruddon's Point (Fife) and the usual female off Dawlish Warren (Devon), it was nice to see Embo Pier in Highland making its way into the news on 22nd, with a drake Surf Scoter present at the head of Loch Fleet. For decades this beautiful spot was the place to search for both Surf Scoter and King Eider but, for what seems like an age, little has been reported from the site. Talking of King Eiders, the first-winter drake and adult female remained in Drumcliffe Bay, Lissadell (Co. Sligo) to 24th at least and the second-winter drake was still offshore from Kincraig Point (Fife) to 25th. East Yorkshire's second King Eider in the space of just 10 months was present off Flamborough Head, late on 25th. The drake Hooded Merganser remained at Radipole Lake (Dorset) to 22nd.

Green-winged Teal, North Cave Wetlands, E Yorks (Photo: Martin Standley)

American Wigeon, Slimbridge WWT, Glos (Photo: Mike Smith)
The seldom-reported first-winter Long-billed Dowitcher was seen again at Loch Bee, South Uist (Outer Hebrides) on 22nd. The adult Long-billed Dowitcher was still to be found at Dundalk (Co. Louth) on 24th and these two records were the week's only shorebirds worthy of a Weekly Review mention.
The reintroduced tagged juvenile White-tailed Eagle remained around Dumfries & Galloway this week, while two Rough-legged Buzzards lingered around the Harty Marshes area (Kent) until 22nd at least (with one at Elmley Marshes on 21st). An adult Rough-legged Buzzard was still at Farforth (Lincolnshire) all week and, across the Wash, one lingered around Sandringham and Snettisham (Norfolk) to 22nd; two birds were seen at nearby North Wootton on 25th. The second-winter male at Faccombe (Hampshire) was seen until 25th, hopping across the Berkshire border occasionally, as at Combe Hill on 19th, while in East Yorkshire, a Rough-legged Buzzard was seen near Shiptonthorpe on 24th.

Rough-legged Buzzard, Farforth, Lincs (Photo: Russell Hayes)

Rough-legged Buzzard, Isle of Sheppey, Kent (Photo: Marc Heath)
An adult Bonaparte's Gull was again at Cobh (Co. Cork) on 20th (having last been seen here on 1st February). Last week's first-winter American Herring Gull at Budleigh Salterton (Devon) was seen again on 20th, while the adult at Nimmo's Pier (Co. Galway) was noted again on 21st. With no news from Pitsea tip this week, numbers of Caspian Gulls took a bit of a nose-dive, with only 17 birds recorded. Three (two adults and a third-winter) were seen at Albert Village lake (Leicestershire) on 20th and two (single second- and fourth-summer birds) were at Minsmere (Suffolk) on 23rd, with three birds the following day (including a third-winter and adult). Two singles were in Northamptonshire and Staffordshire, with one each for Berkshire, London, Oxfordshire, Kent, Derbyshire, Cheshire, West Yorkshire, along with another single in Suffolk. Iceland Gulls pretty much held their own this week — again, some 90 birds were recorded around Britain this week, while at least 55 were seen in Ireland. Six birds were counted at Moore NR (Cheshire) on 21st, while three juveniles were seen at Seaton (Devon) on 22nd. At least four individuals were at Albert Village lake in the early part of the week and at least five birds were seen at Mallaig (Highland) on 25th. In Ireland, up to nine birds were seen in County Down, seven birds were at Nimmo's Pier on 20th and 10 were at Killybegs (Co. Donegal) on 22nd. Second-winter Kumlien's Gulls were recorded at four sites around the Midlands this week: at Priorslee Lake (Shropshire) and Belvide Reservoir (Staffordshire) on 20th, at Bartley Reservoir (West Midlands) on 22nd–25th and Wildmoor Sand Quarry (Worcestershire) on 23rd–24th. The juvenile remained on St. Mary's (Scilly) throughout the week. Two birds, an adult and a third-winter, remained at Nimmo's Pier during much of the week and, also in County Galway, third-winter birds were seen at Clifden and Rossaveal, with a juvenile at the latter site on 24th. An adult Kumlien's Gull was still at Killybegs on 21st. With numbers of Iceland Gulls much as they were, Glaucous Gulls in Britain saw numbers fall to almost half of last week's total, from 80 to around 50. At least 16 were still around the Gualan spit, South Uist (Outer Hebrides) to 22nd, while Irish numbers remained on a more even keel, with at least 41 seen, including nine at Annagh Head, the Mullet (Co. Mayo) on 20th (with three more at nearby Cross Strand) and eight at Killybegs. Ring-billed Gulls mustered up to 20 birds this week, with half of them in Ireland, including four (an adult and three second-winters) at Cobh on 20th, a couple of adults still at Nimmo's Pier to 21st and an adult was also seen at Killybegs (funnily enough this is one of the scarcer gull species for the site). Two new birds were noted in Cornwall (a first-winter at Dinham Flats on 20th and a second-winter at the Hayle Estuary on 23rd). A second-winter was at Ferryside (Carmarthenshire) on 21st–22nd — this site was, of course, where Britain's first Glaucous-winged Gull was relocated — and notable adults were at Wareham (Dorset) on 20th, in Cheshire, at Sandbach Flashes on 21st–22nd and, on the cusp of Merseyside and Lancashire, at Seaforth on 23rd.

American Herring Gull, Nimmo's Pier, Galway (Photo: Derek Charles)

Iceland Gull, Scarborough, N Yorks (Photo: Mark Coates)

Caspian Gull, Sandbach Flashes, Cheshire (Photo: R. L. Brown)

Glaucous Gull, Swanage, Dorset (Photo: Keith Simpson)

Kumlien's Gull, Nimmo's Pier, Galway (Photo: Derek Charles)

Ring-billed Gull, Nimmo's Pier, Galway (Photo: Derek Charles)
Content continues after advertisements
A female Snowy Owl was found on Shapinsay (Orkney) on 19th and was still present on 21st. It would seem likely that is the bird first seen on Westray in early January this year. In west Cornwall, the first-winter male Snowy Owl lingered near Zennor from 19th–25th. A Dark-breasted Barn Owl was seen alongside the Blyth Estuary (Suffolk) on 20th while, next door in Norfolk, the Dark-breasted Barn Owl was seen again at Welney on 25th. Also in Norfolk, the first-winter Black-bellied Dipper was still playing a somewhat elusive game along the River Glaven, appearing at Letheringsett on 21st and 23rd, then at Hunworth on 25th. At least 17 Great Grey Shrikes were seen through the week, with duos in North Yorkshire, Norfolk and Hampshire and singles from Highland to East Sussex. One at Mynydd Illtyd (Powys) on 19th was of note, as were further lone birds at Dalton Crags (Cumbria) — one was here in early November 2008 — and Exford (Somerset) both on 19th and in Herefordshire, at Bircher Common, from 21st–25th.

Great Grey Shrike, Lakenheath (Hockwold) Fen, Suffolk (Photo: Chris Mayne)
Waxwings remained reasonably well spread out across the country and many hundreds were still being recorded, but the big flocks were becoming fewer and fewer. A group of 100 was seen at Birstall (West Yorkshire) on 19th, with further groups of 100 or so near Bloxwich (West Midlands) on 21st and at Watnall (Nottinghamshire) on 24th being the only other three-figure flocks logged.

Waxwing, Westhill, Aberdeenshire (Photo: Alan Sinclair)
Dorset seemed to be Siberian Chiffchaff central this week, with one on Portland on 19th–21st and three at Holes Bay to 22nd. Two probable "tristis" were at Lodmoor on 24th. A Lesser Whitethroat was seen and heard at Hove (East Sussex) on 20th and a Willow Warbler was reported singing at Sandy (Bedfordshire) on 19th (the odd Swallow and Sand Martin has already made it to the UK too).
News emerged late in the week of a Coues's Arctic Redpoll seen near Scunthorpe (Lincolnshire) on 22nd, which had been present for at least two weeks before that. A Rose-coloured Starling was found at Northam Burrows CP (Devon) on 23rd (is the Newquay bird still around?) and male Penduline Tits lingered at Strumpshaw Fen (Norfolk) until 22nd and Clennon Valley Lakes and Paignton (Devon) to 25th.

Penduline Tit, Strumpshaw Fen RSPB, Norfolk (Photo: Jon Evans)
Photo of the Week

Lesser Spotted Woodpecker, undisclosed site, Cambs (Photo: Garth Peacock)
There are many different qualities that can make an image special and we try to reflect these through our Photo of the Week selections. One type of photo that's easy to overlook, though, is the traditional portrait shot of a species in its natural environment. In the quest for photos that capture unique moments, freeze actions, record rarities or express artistic virtues, there are many not-so-rare and not-so-spectacular species that remain relatively undocumented. The Lesser Spotted Woodpecker is one such species: although not particularly rare, their normally shy nature and diminutive size make them challenging photographic subjects. Nevertheless, in the year to this week, we have received only nine photos of this species. It was therefore a delight to receive Garth Peacock's highly detailed portrait shot of a handsome male bird in characteristic pose, well lit and unobscured: easily the best image of this species we've received to date. Garth gives us a timely reminder that bird photographers still have a lot of ground to cover.

Barn Owl, East Walton, Norfolk (Photo: Stephen Durrant)

Chaffinch, Minsmere RSPB, Suffolk (Photo: Chris Upson)

Lesser Kestrel, Spain (Photo: Steve Fletcher)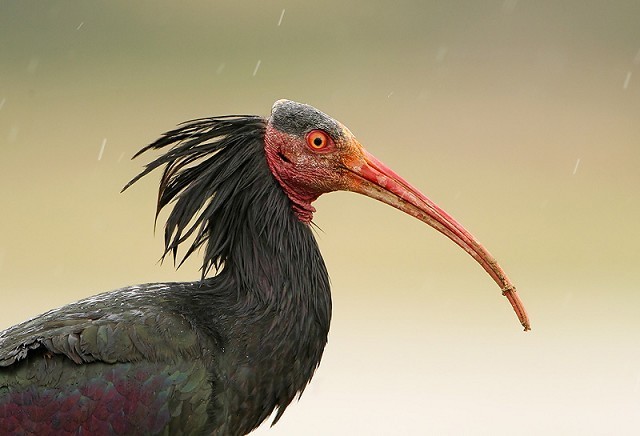 Bald Ibis, Morocco (Photo: Rudi Debruyne)

Salvin's Albatross, New Zealand (Photo: Craig Nash)

Brown Booby, Panama (Photo: Jim Woods)

Magpie, North Wirral, Cheshire (Photo: Richard Steel)

Black Redstart, Coleshill, Warks (Photo: Richard Dawkins)

Common Snipe, Radipole Lake RSPB, Dorset (Photo: Chris Bale)

Goosander, Llyn Padarn, Gwynedd (Photo: Matt Latham)

Waxwing, Llandrindod Wells, Powys (Photo: Kev Joynes)

Common Crossbill, Westleton Heath, Suffolk (Photo: Chris Upson)

Common Kingfisher, Yarrow Valley CP, Lancs (Photo: Brian Rafferty)

Cattle Egret, Matlaske, Norfolk (Photo: Jon Evans)