The week at a glance
On paper it was another strong week, although there was the slightest hint of lost momentum after a frenetic start to 2014. Nevertheless, one or two new rarities were unearthed and there was still plenty to go at around the British Isles — most notably in Scotland and Ireland, the former proving the popular destination for birders over the weekend. The primary reason for this was the American Herring Gull settling into a (reasonably) regular pattern around the Campbeltown area on the Mull of Kintyre (Argyll); it was seen daily from 20th onwards and was backed up by a supporting cast that included the two lingering Snow Geese near Tayinloan, a few Tundra Bean Geese, and a Todd's Canada Goose on 21st.

American Herring Gull, Campbeltown, Argyll (Photo: Eddie Maguire)

American Herring Gull, Campbeltown, Argyll (Photo: Eddie Maguire)
Elsewhere in Scotland, the American Coot added another week to its stay at Loch Flemington (Highland), as did the Pied-billed Grebe on North Uist, while further braces of Snow Geese continued near Rattray Head (Aberdeenshire) and on South Uist. At least three Richardson's Canada Geese were on Islay during the week, the drake Black Duck was still on Loch Sunart at Strontian (Highland) to 23rd, a couple of White-billed Divers were seen in Gruinard Bay on 24th, the female King Eider was still off Ruddon's Point (Fife) on 24th, the returning adult Bonaparte's Gull was again in Thurso on 25th and Canna's Franklin's Gull was still there on 20th.

American Coot, Loch Flemington, Highland (Photo: Tim Cowley)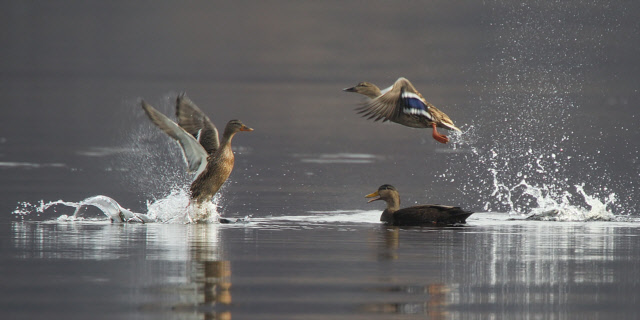 Black Duck, Strontian, Highland (Photo: Ian Fulton)

King Eider, Ruddon's Point, Fife (Photo: John Nadin)
Ireland's week was also bountiful: the biggest surprise was the reappearance of the Pacific Diver at Lough Fea (Tyrone) on 22nd–23rd after it was last seen on 2nd (negative news came out on 7th and 8th). The first-winter American Herring Gull was seen again in the Barnatra and Carrowmore Lake area of County Mayo from 20th, often favouring the same set of seemingly uninspiring fields in which the Thayer's Gull of 2005 was initially found! Also making a reappearance was the particularly salmon-pink Ross's Gull at Kinsale (Cork) from 19th; another was at Lady's Island Lake (Wexford) for the day on 20th (coincidentally found by the same birder who found the Ivory Gull earlier in the year), and Dublin's bird was again around Poolbeg from 21st. The Grey-bellied Brant reappeared near Bull Island from 23rd. Back in Cork, the Laughing Gull notched up another week at Ballycotton harbour and the female King Eider was still floating around in the bay at Cahermore, West Beara. Up in Mayo, the fine trio of rarities on The Mullet — Black Duck, Forster's Tern and King Eider — were also all still around.

American Herring Gull, Barnatra, Mayo (Photo: Josh Jones)

Ross's Gull, Kinsale Harbour, Cork (Photo: Michael John O' Mahony)

Laughing Gull, Ballycotton, Cork (Photo: Mark Carmody)

Grey-bellied Brant, Bull Island, Dublin (Photo: Matthew Silk)
Scarce ducks included four American Wigeon: drakes at Hodbarrow (Cumbria) on 22nd and still at Udale Bay (Highland), Lough Neagh (Armagh) and Tullaghan (Leitrim), this last bird also being seen in County Sligo later in the week. A reasonable 13 Green-winged Teal included a second drake joining the long-stayer at Caerlaverock (Dumfries & Galloway) on 24th, with other new birds at Ravenstown (Cumbria) on 20th and at Loch of Flugarth (Shetland) on 22nd. A second drake Lesser Scaup appeared in Highland — at St John's Loch from 24th — with the long-stayer also still bobbing around on Loch Watten. Further drakes remained in Cornwall and Staffordshire. Ring-necked Ducks, seemingly scarce this winter, included continuing drakes at Lough Arrow (Sligo) and Wimbleball Lake (Somerset), with females still at Loch Scaraidh, North Uist, and Lough Baun (Mayo); the latter has been present since at least April 2009.

American Wigeon, Tullaghan, Leitrim (Photo: Josh Jones)

Green-winged Teal, Caerlaverock WWT, Dumfries & Galloway (Photo: Ed O'Hara)
After last week's momentous count, up to eight Surf Scoters — including seven drakes — continued to be seen off Pensarn (Conwy), while two (one drake) were off Newcastle (Down) on 23rd. The Dorset bird was still in Ower Bay for much of the week, a young drake lingered in Mount's Bay (Cornwall) and the adult drake was still off the north Lothian coastline. At least three Black Brants were seen around Norfolk during the week, with further birds still at Roa Island (Cumbria), Collimer Point (Suffolk) and Dawlish Warren (Devon).
In Kent, the apparent Chinese Pond Heron was again seen sporadically around the Turnpike Hill/Redbrooks Way area of Saltwood, but never gave itself up for very long. Buckinghamshire's Cattle Egret was still in the Steeple Claydon area until 24th at least, while 45 reports of Glossy Ibis in the week involved birds in Kent, Norfolk, Suffolk (two at Oulton Marshes), Staffordshire, Durham, Northumberland, Orkney (North Ronaldsay) and County Armagh. The peak Great White Egret count was of four at Dungeness (Kent) on 25th.

Chinese Pond Heron, Saltwood, Kent (Photo: Paul Boult)

Great White Egret, Coate Water CP, Wiltshire (Photo: Graham Cox)
Content continues after advertisements

Glossy Ibis, Tynemouth, Northumberland (Photo: E Barnes)
The only shorebird of national significance was the Lesser Yellowlegs still at Lepe (Hants), while a mobile Grey Phalarope was at Freshwater West (Pembrokeshire) on 25th. Avocets seemed to be on the move by the week's end, with birds arriving back on breeding grounds coupled with passage records from several inland sites.
In Cornwall, the Laughing Gull was again briefly off Marazion on 19th but not subsequently; contrastingly, the Bonaparte's Gull lazed around at Dawlish Warren (Devon) all week. Half a dozen British Ring-billed Gulls included an adult on the Teifi Estuary (Pembrokeshire) on 19th; an altogether healthier return of at least 15 records came from across the Irish Sea, including at least four scattered around Cork City. The strong showing of Kumlien's Gulls remained, with nine at Killybegs (Donegal) on 22nd and up to three at Newgale (Pembrokeshire), while the popular (and well-marked) juvenile remained at Littlehampton (W Sussex) throughout the week. The improved weather conditions meant that Glaucous Gull numbers were down on recent weeks, although 139 reports were nevertheless disseminated on Bird News Extra and double figures were still scattered around The Mullet (Mayo).

Ring-billed Gull, Keel, Achill Island, Mayo (Photo: Richard Bonser)

Kumlien's Gull, Killybegs, Donegal (Photo: Gavin Thomas)

Kumlien's Gull, Littlehampton, West Sussex (Photo: Richard Ford)

Kumlien's Gull, Newlyn, Cornwall (Photo: Brian Mellow)
A Hoopoe in Carlow Town (Carlow) on 23rd had apparently been present at least a week and is just as likely a wintering bird as an early migrant. Nevertheless, migrants did appear, with the first Osprey of 2014 at Kielder Water (Northumberland) on 25th, three Sand Martins upriver in Waterford City (Waterford) on 22nd and three more in off the sea at Weymouth (Dorset) on 25th, a Swallow in Somerset on 21st and a pair of Garganey at College Lake (Bucks) on 21st. Add to that a Great Spotted Cuckoo on Ouessant Island (north-west France) this week, and a more widespread arrival of migrants is clearly imminent — especially if the mild conditions last.
But winter 2013/14 has been famed for its wintering passerines: this week's tally included the Swallow still at Newick sewage works (E Sussex) on 25th and several Lesser Whitethroats still around. Birds were at St Budeaux (Devon), Eggington (Derbys) and Wyke Regis (Dorset) on 24th, while DNA of the long-staying bird in Tynemouth was found to match several Kazakhstani birds thought to be of the form blythi. Another, in Sheffield (S Yorks), was discovered to have a similar ancestry.

Siberian Lesser Whitethroat, Tynemouth, Northumberland (Photo: Jonathan Farooqi (Age 13))
A Dusky Warbler was new in a private garden in Great Barr (W Mids) on 25th. All three Hume's Leaf Warblers remained in situ, at Hams Hall (Warks) and Ramsgate and Dungeness (Kent). Kent also continued to host the Pallas's Warbler in Folkestone. The Worcestershire Yellow-browed Warbler was still in Uffmoor Wood on 24th, with further birds still at Carminowe (Cornwall) and Topsham (Devon).
Two Penduline Tits were still at Dungeness RSPB (Kent) to 24th, and another was heard again at Shapwick Heath (Somerset) on 22nd. The Serin remained on St Mary's (Scilly), as did the Richard's Pipit at Gramborough Hill (Norfolk); another Richard's was seen again at Rhoscrowther (Pembrokeshire) on 24th–25th after initially being noted there in January. The young male Red-flanked Bluetail lingered another week near Marshfield (Glos), and continued to show very well.

Red-flanked Bluetail, Marshfield, Gloucestershire (Photo: Iain H. Leach)

Red-flanked Bluetail, Marshfield, Gloucestershire (Photo: Mike McKenzie)
At least 18 Parrot Crossbills were in Waveney Forest (Norfolk) on 22nd, with smaller numbers on dates either side. Also in the county, up to 16 remained in Edgefield Woods, while another was seen in Thetford Forest at King's Forest (Suffolk) on 21st. Six in Clowes Wood (Kent) swelled to eight the following day. The Two-barred Crossbill was reported again in Hemsted Forest on 19th for the first time since 14th December; seven remained at Broomhead Reservoir (S Yorks), 14 were on Serridge Ridge (Glos) and the male was still near Broughton (Lincs) on 25th.

Parrot Crossbill, Waveney Forest, Norfolk (Photo: Andrew Easton)

Parrot Crossbill, undisclosed site, Norfolk (Photo: Kevin Du Rose)
Photo of the Week

Red-flanked Bluetail, Marshfield, Gloucestershire (Photo: Mike McKenzie)
The long-staying Red-flanked Bluetail at Marshfield in South Gloucestershire has provided a unique winter opportunity for many birders/photographers to catch up with this rare visitor to the UK. With over 100 photo uploads in the three weeks since it was first reported, there has been no shortage of high-quality portrait shots of this bird. In such situations, experienced bird photographers are well aware that there is only limited value in reproducing the images others have already obtained, so they challenge themselves to produce an image that stands out from the crowd. Mike McKenzie did just that when, having bagged the clean 'bird on a stick' and other static portraits, he nailed the first real action shot of this individual. With wings fully raised, the well-lit 'red' flanks and blue tail stand out against the natural brown and green setting, conveying the essence of this species in an interesting and memorable way.
Other notable images

Crested Tit, Loch Garten RSPB, Highland (Photo: Peter Walkden)

Ptarmigan, Cairn Gorm, Highland (Photo: John Dickenson)

Green Heron, Brazil (Photo: Dave Williams)

Dartford Warbler, undisclosed site, Suffolk (Photo: Jon Evans)

Slavonian Grebe, Warkworth, Northumberland (Photo: Jonathan Farooqi (Age 13))

Grey-headed Woodpecker, Sweden (Photo: Ron Mccombe)

Broad-billed Roller, Gambia (Photo: Steve Ray)

Nuthatch, Strumpshaw Fen RSPB, Norfolk (Photo: Harry Read)

Red-throated Diver, Scarborough, North Yorkshire (Photo: Steve Race)

Snowy Owl, Exnaboe, Mainland, Shetland (Photo: John Moncrieff)

Black-headed Gull, Potteric Carr YWT, South Yorkshire (Photo: Vernon Barker)