The week at a glance
As the midsummer 'doldrums' enveloped British birding, there was a predictable lull in proceedings this week that, the odd rarity aside, will probably last until early August. However, this week offered a nice selection of quality birds that punctuated the overall sleepiness, the biggest story the apparent relocation of the Bridled Tern, still present on Fair Isle on 19th, to the Farne Islands (Northumberland) the following afternoon. If it's the same bird (and the similarity in behaviour and arrival date coupled with choice of location must surely mean it is 2013's bird returning), it has covered an impressive 420km in less than 24 hours to reach its spiritual home, and it will be interesting to see how long it stays in the vicinity of the Farnes as we progress towards July. It's also worth remembering that a Bridled Tern was photographed in Northumberland on 21st June 2010, a scarily similar arrival date to this year: could it be that this bird has been returning to the North Sea for more than just a couple of summers?

Bridled Tern, Farne Islands, Northumberland (Photo: Frank Golding)

Bridled Tern, Farne Islands, Northumberland (Photo: Heiko Peters)
Content continues after advertisements
Thursday 19th saw the out-of-the-blue arrival of two White-throated Sparrows at opposite ends of the country, with a fairly drab bird — Suffolk's fourth — trapped and ringed at Landguard during the morning and then an altogether brighter singing male at Otter Ferry (Argyll) breaking a few hours later. The Landguard bird quickly moved off (last seen early afternoon), but the Scottish individual, a first for Argyll, lingered until the following day. Though we're used to seeing this species occur in late spring and early summer, the arrival of two on the same day in mid-June is impressive nonetheless — they represent the 27th and 28th British and Irish records of White-throated Sparrow since the turn of the century.

White-throated Sparrow, Otter Ferry, Argyll (Photo: Jim Dickson)

White-throated Sparrow, Otter Ferry, Argyll (Photo: Jim Dickson)
Two of the star birds of recent weeks also hung on to varying extents. After a seventeen-day stay (a record for the species in Britain), Norfolk's Spectacled Warbler finally left Burnham Overy Dunes having last been seen on 18th — apparently a particularly high tide had flooded its favoured patch of Suaeda, presumably causing it to move on. The Short-toed Eagle lingered a little longer, regularly returning to the Gills Lap car park area in Ashdown Forest (E Sussex) until the morning of 22nd when it flew off, only to reappear in the same place again mid-afternoon on 24th. Shetland's fourteenth Scops Owl was found in the garden at Windhouse Böd, west of Camb (Yell) on 24th and may well be the recent North Ronaldsay bird. There were also reports of a possible immature Pallas's Gull heading out from the Humber and over Spurn (E Yorks) on 21st, and a brief Roller at Warboys (Cambs) that morning; neither bird has since been relocated.

Spectacled Warbler, Burnham Overy, Norfolk (Photo: Gary Thoburn)

Short-toed Eagle, Ashdown Forest, West Sussex (Photo: Steve Ashton)

Short-toed Eagle, Wych Cross, East Sussex (Photo: Vern Wright)
The drake Black Scoter remained off Redcar (Cleveland) until 18th; chances are that this bird might yet pop up in Northumberland or Aberdeenshire this summer — Blackdog in a week or two, perhaps? A Surf Scoter remained off the Aberdeenshire coastline throughout the week, as did the drake King Eider on the Ythan Estuary. A light scattering of misplaced wildfowl included a new drake American Wigeon at Vane Farm (Perth/Kinross) on 21st–22nd in addition to the drake still on North Uist, the drake Ring-necked Duck still at Murton Gravel Pits (Angus & Dundee) on 20th, drake Blue-winged Teal still at Loch of Strathbeg (Aberdeenshire) on 23rd, and the drake Lesser Scaup at Frodsham Marsh (Cheshire) on 19th.

American Wigeon, Vane Farm RSPB, Perth & Kinross (Photo: John Nadin)
An immature Purple Heron was at Ham Wall (Somerset) on 18th, where a Night Heron was also seen again on 20th and 22nd — over in Glamorgan, the Night Heron was last seen at Cosmeston Lakes on 19th. A Cattle Egret was in fields near Cullahill (Laois) on 22nd, but a barking male Little Bittern at Gosforth Park (Northumberland) from 22nd stole the show among the scarce herons, and continues Northumberland's run of good birds. Frighteningly elusive, it tended to show a handful of times per day in flight and, as might be expected, was most active both early and late in the day. Glossy Ibis were in Dorset, Suffolk, Lincolnshire, Leicestershire, Derbyshire, South Yorkshire, Cumbria and County Wexford, with a flock of four west over Weybourne (Norfolk) on 23rd. Records of White Stork from Ilchester and Yeovil (Wilts) on 18th and 19th and Westhay Moor, Mudgley and Westonzoyland (all Somerset) on 20th, 21st and 22nd may all relate to the same wandering bird; four were reported over Bath (Somerset) on 22nd, and there was late news of a bird in a field near Enborne (Berks) on 15th. Another was near Hedge End (Hants) on 24th and there was a record from Stourton Caundle (Dorset) on 22nd. A Black Stork flew over Reddish Vale (Greater Manchester) on 22nd.

Little Bittern, Gosforth Park NR (permit only), Northumberland (Photo: Andy Mould)

Glossy Ibis, Adwick Washlands RSPB (Dearne Valley), South Yorkshire (Photo: Pete Mella)

Great White Egret, Kyle of Tongue, Highland (Photo: Peter Stronach)
A respectable tally of Black Kite occurrences saw a dozen records throughout the week, with birds reported in Wiltshire, Essex and Surrey on 19th, Heigham Sound (Norfolk) on 20th, Corley (Warks) and Titchfield (Hants) on 21st, Flamborough Head (E Yorks) on 22nd and Clapton (London) on 23rd; Suffolk records from Dunwich on 21st, Reydon and Benacre on 22nd and Wrentham on 23rd may all relate to the same individual.
Though it appears the Kent birds have now moved on, the pair of Black-winged Stilts remained on the RSPB reserve at Medmerry all week; three young remained on 18th and one was apparently seen there again on 23rd. A Temminck's Stint was at Saltholme (Cleveland) on 21st–23rd, but shorebirds were otherwise in short supply — last week's Grey Phalarope was still on North Ronaldsay (Orkney) on 19th.

Black-winged Stilt, Bracklesham Bay RSPB, West Sussex (Photo: Mick Davis)
A Laughing Gull popped up on Fair Isle (Shetland) on 19th, apparently reflecting a minor influx off the Atlantic coast of northern Canada where several individuals were noted during the week. One of the first-summer Bonaparte's Gulls continued at Bowling Green Marsh (Devon) to 21st and the Ross's Gull was still there to 24th; another immature Bonaparte's was seen off Tresco (Scilly) on 19th. The White-winged Black Tern was again at Cemlyn Lagoon (Anglesey) early on 18th before relocating to Seaforth (Lancs) later in the day; another was at a private site in Surrey on 19th–20th.

Laughing Gull, Fair Isle, Shetland (Photo: David Parnaby)

White-winged Black Tern, undisclosed site, Surrey (Photo: Dave Harris)
A Hoopoe was at a private site in Hull (E Yorks) on 18th, while two Bee-eaters flew south (then one back north) over Minsmere (Suffolk) on 19th. A male Citrine Wagtail was at Balnakeil (Highland) on 18th–19th, while yet another Blyth's Reed Warbler appeared on Shetland — at Eastshore, Virkie on 22nd. The Western Subalpine Warbler remained on North Ronaldsay on 18th, as did the Greenish Warbler at Tyningham Bay (Lothian) to 22nd.

Blyth's Reed Warbler, Pool of Virkie, Mainland, Shetland (Photo: Roger Riddington)

Citrine Wagtail, Balnakeil, Highland (Photo: Peter Stronach)
Rose-coloured Starlings remained on Inishbofin (Galway) to 20th and in Lowestoft (Suffolk) throughout the week, with new birds found at Port Ellen, Islay (Argyll) on 23rd and Achiltibuie (Highland) on 20th–23rd. The male Lesser Grey Shrike remained at Baltasound, Unst (Shetland) to 22nd, and four Woodchats were seen: at Kilnsea and Beacon Ponds (E Yorks) on 21st, Walkhampton Common (Devon) on 21st–22nd, Quholm (Orkney) on 23rd–24th, and Guernsey on 24th. A couple of Common Rosefinches were seen: at Frakkefield (Shetland) on 18th and a brown male singing at Crianlarich (Forth) on 23rd, while a male Red-breasted Flycatcher was on Tiree (Argyll).

Rose-coloured Starling, Lowestoft, Suffolk (Photo: Chris Mayne)

Woodchat Shrike, Beacon Ponds, East Yorkshire (Photo: David Aitken)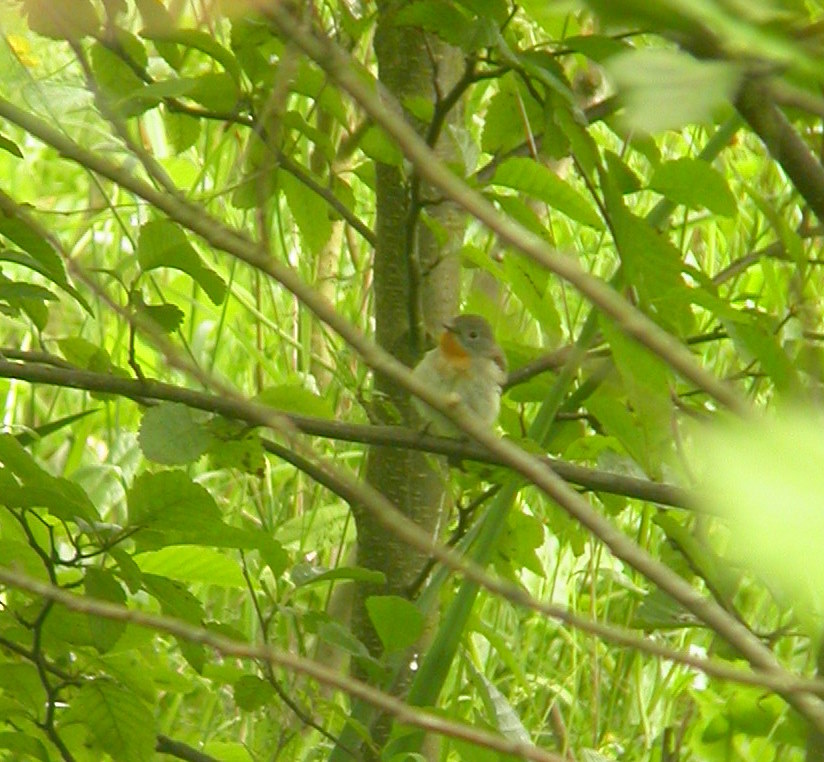 Red-breasted Flycatcher, Tiree, Argyll (Photo: John Bowler)
Further afield, it was a fairly quiet week around the Western Palearctic, although what was presumably the Heligoland Black-browed Albatross was seen past Cuxhaven, Niedersachsen (Germany) on 20th. Iceland's fifth Least Sandpiper was at Grímsey, and a Snowy Owl was a surprise midsummer discovery on Flores (Azores). A Yellow-billed Stork was in the Beit She'an Valley (Israel) but the Abyssinian Roller had departed Fuerteventura by the weekend.
Photo of the Week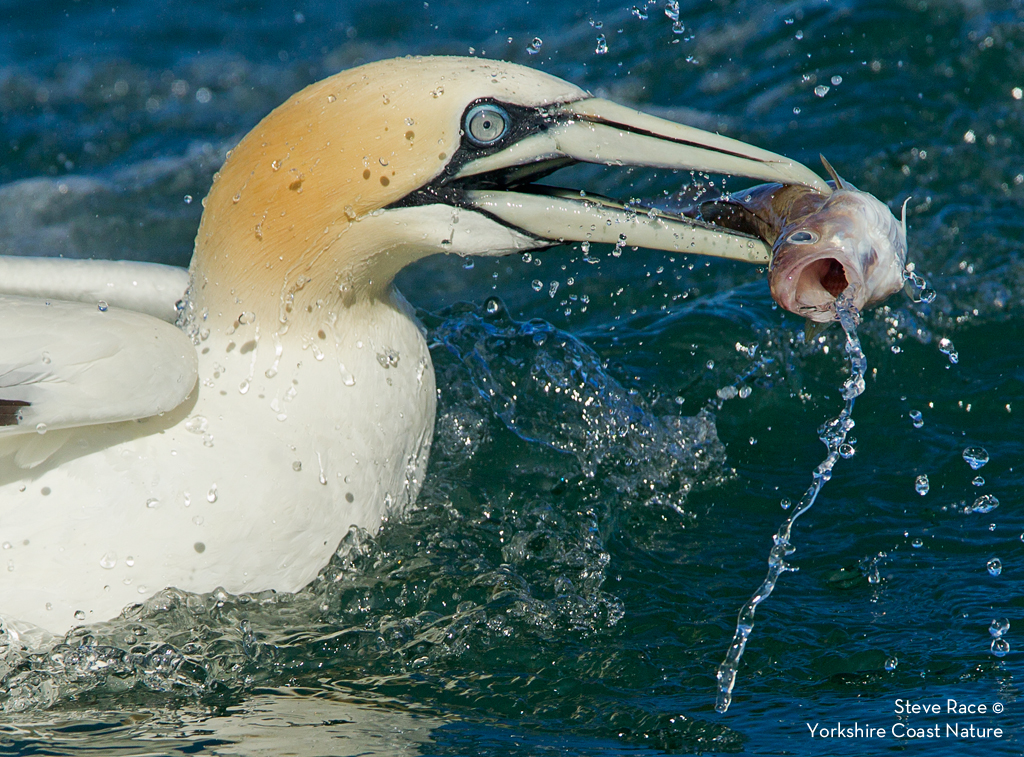 Gannet, Bempton Cliffs RSPB, East Yorkshire (Photo: Steve Race)
"This is what I'm really enjoying about judging BirdGuides' POTW competition: each week a totally different type of image catches my eye!" writes Steve Young.
"The antithesis of last week's winner, a small frame Fulmar amongst a stunning waterfall, is this week's superb winning shot of a close-up Gannet catching a fish among splashing water droplets by Steve Race; the "expression" on the fish's face just about says it all!"
"Taken from one of Yorkshire Coast Nature's Seabird Photography Boat Trips this is a pin-sharp image, beautifully exposed with detail everywhere; yes, there is a little bit of luck involved with the water spewing out of the fish's mouth to just give the pic that little bit extra, but Steve has made his own luck by being ready for the action and getting everything else spot on."
Other notable images

Common Tern, Richmond Park, Greater London (Photo: anon)

Red-necked Grebe, Frodsham, Cheshire (Photo: Steve Dolan)

Swift, Belper, Derbyshire (Photo: Simon Richardson)

Cuckoo, undisclosed site, Northumberland (Photo: Paul Mcmullen)

Grey Heron, Leighton Moss RSPB, Lancashire (Photo: Jon Worthington)

Puffin, Skomer, Pembrokeshire (Photo: Craig Richardson)

Starling, Shefford, Bedfordshire (Photo: Jim P)

Common Tern, Farne Islands, Northumberland (Photo: Paul Mcmullen)

Great Knot, Russia (Asian) (Photo: Jacques Cloutier)

Redstart, Llandrindod Wells, Powys (Photo: Kev Joynes)