The week at a glance
There was a bit of a north–south divide to the weather this week, with the southeast in particular experiencing further summery conditions as warm and settled weather dominated, while areas further north and west proved considerably more changeable with wind, rain and somewhat cooler temperatures. Though it may not have felt quite as pleasant further north and west, there was no doubt that the mercurial conditions were to thank for a whole host of new arrivals this week — particularly when compared to the sunnier southeast which, save one or two bits and bobs, remained rather barren for rare and scarce birds.
One of the great talking points of the week was a remarkable build-up of White-billed Divers in the Moray Firth. Birders aboard the MV Gemini Explorer recorded a minimum of seven birds 2–2.5 miles offshore at Portsoy (Aberdeenshire) during the morning of 21st, with a later search from the nearby coastline revealing at least eleven more individuals (identified on state of moult) between Portsoy and Garron Point at Sandend. The occurrence of at least 18 individuals along this stretch of coastline is unprecedented and, although this could be a remarkable one-off, it does appear that the status of the species in northeast Scotland has been altered for good. Elsewhere, a single bird was seen in Loch na Keal, Mull (Argyll) on 20th, with one still off Port Skigersta (Outer Hebrides) and the long-staying South Ronaldsay (Orkney) bird still there on 22nd.

White-billed Diver, Portsoy, Aberdeenshire (Photo: Andy Webb)

White-billed Diver, Portsoy, Aberdeenshire (Photo: Andy Webb)
It was a particularly good week for classic April overshoots, particularly Western Subalpine Warblers: males were at Uwchmynydd (Gwynedd) on 19th–23rd (trapped and ringed), Gibraltar Point (Lincs) on 20th–23rd and St. David's Head (Pembrokeshire) on 23rd–24th, two further males not assigned to subspecies (but presumably Western given prevailing conditions) were in Dorset, at Holes Bay on 19th and Portland on 21st.

Western Subalpine Warbler, St. David's Head, Pembrokeshire (Photo: Mark Hipkin)

Western Subalpine Warbler, Gibraltar Point NNR, Lincolnshire (Photo: Russell Hayes)
The Pembrokeshire bird also shared its chosen site with one of the week's eight Woodchat Shrikes — present there on 21st–24th. A female a stone's throw from Chew Valley Lake at North Widcombe (Somerset) from 21st proved a popular fixture in what was an excellent week for the county; further individuals were at Aveton Gifford and Wembury (both Devon) on 18th and 20th respectively, Aberdaron (Gwynedd) and Cot Valley (Cornwall) on 20th–23rd, and two different birds were on St. Mary's (Scilly).

Woodchat Shrike, North Widcombe, Somerset & Bristol (Photo: Nick Holland)

Woodchat Shrike, Aberdaron, Gwynedd (Photo: Scott Reid)
Further arrivals included eight Hoopoes as far north as Cheshire, Wrynecks at Rousdon (Devon) and on both St. Mary's and St. Agnes (Scilly) and ten Serins including brief twos in Kent and East Sussex and a singing male at Walney Island (Cumbria) during the morning of 19th. A stunning male Golden Oriole proved confiding at Cemlyn (Anglesey) on 18th–23rd, with five further individuals including a male on Inishbofin (Galway) from 22nd.

Golden Oriole, Cemlyn Bay, Anglesey (Photo: Peter Wood)
Three Short-toed Larks included two on Scilly (Bryher and St. Mary's) and another on Guernsey. Last week's Pallid Swift remained on St. Mary's throughout the week, although it could be elusive at times; the mobile Yorkshire Alpine Swift was still at Flamborough on 18th, while what was presumably last week's Dungeness bird spent the day at Lade Gravel Pits (Kent) that day.

Short-toed Lark, Rue des Bergers NR, Guernsey (Photo: Adrian Gidney)
Five Red-rumped Swallows included a showy bird at Kessingland (Suffolk) during the afternoon of 18th; it was still present early the next morning but quickly moved on. Another was at Waltham Brooks (W Sussex) during the evening of 18th, and brief birds were at Dungeness (Kent) and Portland (Dorset), while Cornish sightings from the Porthgwarra, Kenidjack and Cot valleys may or may not relate to the same wandering individual. The first Citrine Wagtail of 2013 — a female — was seen briefly at Swillington Ings (W Yorks) on 19th, while Northam Burrows Country Park (Devon) boasted a stunning male Ashy-headed Wagtail for three days from 21st. Plenty of Blue-headed and Channel Wagtails were seen nationwide.

Red-rumped Swallow, Waltham Brooks SWT, West Sussex (Photo: Luke)

Ashy-headed Wagtail, Northam Burrows CP, Devon (Photo: Steve Hatch)
The week also saw no fewer than three singing Iberian Chiffchaffs arrive. The first involved a one-day bird on The Lizard at Soap Rock (Cornwall) on 20th, followed by males on St. Mary's (Scilly) and at Boldon Flats (Durham) 24th. After last year's series of false alarms (mixed-singing Common Chiffchaffs), it was a relief to see that all three not only sounded but looked the part too. Further rare Phylloscopus action was provided by a largely silent Western Bonelli's Warbler at Church Norton (W Sussex) on 22nd–23rd; the specific identification was only established on the bird's second morning when it was finally heard to call. A possible Savi's Warbler was heard at Coombe Hill Meadows (Glos) during the morning of 19th.

Iberian Chiffchaff, Soap Rock, Cornwall (Photo: Anthony Blunden)

Iberian Chiffchaff, St. Mary's, Isles of Scilly (Photo: Martin Goodey)

Western Bonelli's Warbler, Church Norton, West Sussex (Photo: Mickd)
Content continues after advertisements
Alongside a possible Red-footed Falcon, a Whiskered Tern was at Garretstown Marsh (Cork) early on 19th, while a series of English records may have referred to the same two wandering individuals: two were at Shapwick Heath (Somerset) throughout 21st and again early on 22nd before disappearing, only for singletons to appear separately at Durleigh Reservoir (Somerset) and Witcombe Reservoirs (Glos) that evening. Only the latter lingered until the following morning but soon moved on, with one then appearing at Chew Valley Lake for the day. Again this had moved on by 24th, although a bird was at Carsington Water (Derbys) until 07:10 with what was presumably the same bird then at Blithfield Reservoir (Staffs) from 08:50 onwards...phew! The first Black Tern of 2013 was at Draycote Water (Warks) on 18th, while a strong passage of Arctic Terns over 18th and 19th saw an impressive 134 noted at Chew Valley Lake, with many hundreds noted migrating up the Severn Estuary.

Whiskered Tern, Blithfield Reservoir, Staffordshire (Photo: Dave Kelsall)

Arctic Tern, Apex Leisure Park, Somerset & Bristol (Photo: Bobby B)
Two Black Storks reported over Dorchester (Dorset) on 20th were also a 2013 first, with another seen landing in fields at Llanfairfechan (Conwy) in the early afternoon on 24th. Two White Storks — apparently not free-flying birds from nearby Thrigby Hall — spent the week touring the Acle Straight/Breydon Water area of East Norfolk, while a Purple Heron was briefly at Stonelees, Pegwell Bay (Kent) on 22nd. Also in the county, a Cattle Egret photographed at Margate Cemetery on 18th was presumably the bird that later turned up at Grove Ferry on 22nd. Adult and immature Night Herons were reported in Dartington (Devon) on 24th, Glossy Ibis remained in situ in West Sussex and Pembrokeshire and a handful of Cranes toured the North Sea coast.

Cattle Egret, Grove Ferry NNR, Kent (Photo: Marc Heath)

Crane, Filey, North Yorkshire (Photo: Mark Pearson)
Lingering highlights included the male Harlequin still floating nonchalantly off the North Uist coastline at Balranald and the Pied-billed Grebe still singing its heart out at Ham Wall (Somerset), both present and correct until the end of the week. After a tantalising performance in Suffolk last week, the Great Bustard was seen some 30 miles to the southwest in fields near North End (Essex) during the morning of 23rd, though it was only belatedly reported and searches early on 25th drew a blank. Though probably a Wiltshire bird, the bird is clearly untagged and no colour rings are apparent — many birders would simply be grateful for it to linger long enough at a location to be confirmed either way!
Despite the warmer weather and late date, there was plenty of wildfowl still on offer around Britain and Ireland. Not reported since 15th March, the Red-breasted Goose was again noted on Islay (Argyll) on 19th while two 'new' Richardson's Canada Geese were found among the Barnacles at Loch Hosta, North Uist (Outer Hebrides) in addition to the long-staying bird that was still at Solas on 21st. Two blue-morph Snow Geese were among Pink-feet at Burghead (Moray/Nairn) on 24th, and the Black Brant was still in the Spurn area throughout the week.
A smart drake Blue-winged Teal was a good find at Burton Mere Wetlands (Cheshire) on 19th–20th, while a new drake American Wigeon was located at Twechar Marsh (Clyde) from 21st and the Orkney bird was again at Loch of Stenness on 19th–21st. Seven Green-winged Teal included new birds discovered at Warren Lane Gravel Pits (Leics) on 19th, at Priory Country Park (Beds) and on Westray (Orkney) on 21st, in addition to the Gloucestershire bird again at Slimbridge on 20th and lingering birds in Cleveland, Lincolnshire and London.

American Wigeon, Twechar, Clyde (Photo: D Abraham)

Green-winged Teal, Cross Ness, Greater London (Photo: Josh Jones)
Lesser Scaup enjoyed another strong week, with a new drake at Netherfield (Notts) on 21st that relocated to Holme Pierrepont the following day. Other drakes remained in Cardiff Bay (Glamorgan), Bryn Bach Country Park (Gwent), Siblyback Reservoir (Cornwall), Wellington Gravel Pits (Herefordshire) and Saltholme (Cleveland), with the female still on Borwick Waters (Lancs) throughout. A female Ferruginous Duck was found at Barrow Gurney Reservoirs (Somerset) on 19th and the Suffolk female was still at Minsmere on 24th. Of the half-dozen Ring-necked Ducks, a drake at Chew Valley Lake on 20th–21st was the only new individual, although another at Lough Gara (Sligo) was reported for the first time since January! King Eiders remained on Shetland and in Aberdeenshire, while an immature drake Surf Scoter was off Rossbeigh (Kerry) on 24th. A drake Wood Duck was at Shapwick Heath (Somerset) on 24th.

Lesser Scaup, Borwick, Lancashire (Photo: John Nadin)

Ring-necked Duck, Loch Kinardochy, Perth & Kinross (Photo: Fraser Todd)
A late Gyr Falcon spent the day at Orphir Bay (Orkney) on 20th, while the pleasant conditions in the south teased out a few Black Kite records: Bromley (London) on 20th, Westleton (Suffolk) and Bovey Tracey (Devon) on 21st, and Sompting (W Sussex) on 24th. A resplendent male Pallid Harrier powered northwards over Forfar Loch (Angus & Dundee) on 19th, while a second calendar-year bird was on Skomer (Pembrokeshire) on 20th–21st and 24th — a long-awaited first for Wales of this increasingly regular visitor. At least one Northern Harrier also remained in southeast Wexford on 20th.
Northumberland claimed a couple of early Pectoral Sandpiper records: birds were at Bradford Kaims on 19th–22nd and Holywell/Backworth Ponds from 20th onwards. Long-stayers were the Lesser Yellowlegs in Ernesettle Creek (Devon) and the Long-billed Dowitcher at Alkborough Flats (Lincs), while the year's first Wood Sandpipers were seen in Hampshire, London and Orkney. A handful of Dotterel records included one on Bryher (Scilly) on 18th–19th and an impressive trip of five on the Iveragh Peninsula at Inny Strand (Kerry) on 23rd–24th — only the ninth county record and the first spring occurrence for 65 years!

Dotterel, Reenroe, Kerry (Photo: Ed Carty)
Ring-billed Gulls included a first-summer roosting on Rutland Water (Leics) from 18th onwards; it was also seen during the day at Melton Country Park on 21st and 23rd. Another 2cy was reported at Stanwick Gravel Pits (Northants) briefly on 22nd, with further birds still on Shetland and in Antrim. Gusty winds saw two Cornish Sabine's Gull records come from Falmouth and Pendeen on 18th.

Ring-billed Gull, Melton CP, Leicestershire and Rutland (Photo: John Hague)
Further bits and pieces included a new first-summer Rose-coloured Starling at Orford (Suffolk) from 23rd that sported looks only its mother could love. The Devon bird also remained in Exminster throughout, while the Penduline Tit was seen again at Dungeness on 20th and a Common Rosefinch was briefly at Pagham Harbour (W Sussex) on 22nd. Durham's incredible showy Little Bunting continued to delight admirers near New Lambton to at least 23rd, while a Hornemann's Arctic Redpoll was at Loch Gruinart, Islay (Argyll) on 19th.

Rose-coloured Starling, Orford, Suffolk (Photo: John Richardson)

Little Bunting, Houghton-le-Spring, Durham (Photo: Ashley Howe)
Photo of the Week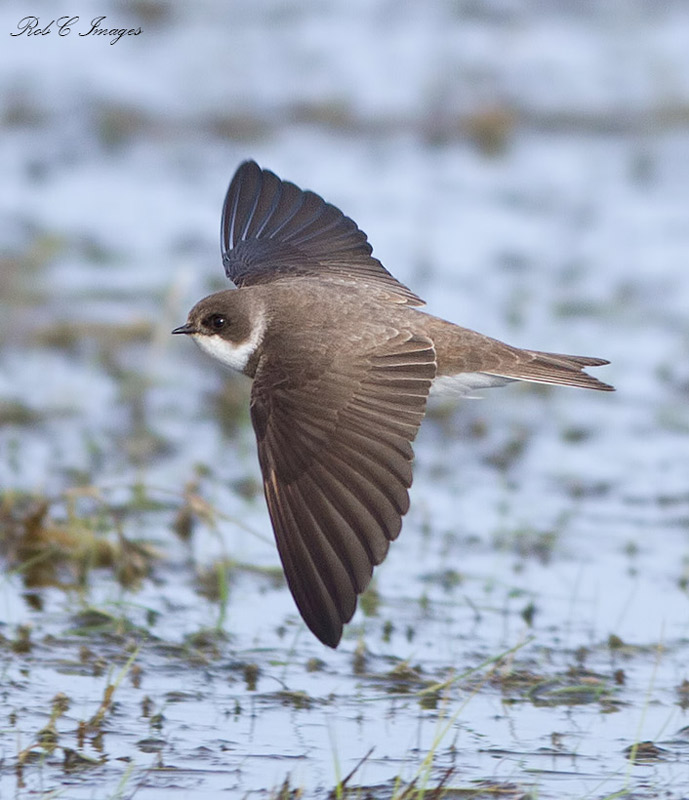 Sand Martin, Skern, Northam Burrows CP, Devon (Photo: Rob Cross)
After one of the most 'delayed' springs on record, Britain is finally enjoying a burst of seasonable activity including the mass arrival of its usual avian summer visitors. Hirundines are among the most anticipated arrivals and, this week, Devon-based bird photographer Rob Cross has been making the most of the opportunity by filling his memory cards with some excellent Swallow and Sand Martin images. Although Swallows get more attention from both bird photographers and the general public alike, our pick of his uploads features the relatively unsung Sand Martin. By freezing a well-lit martin as it banked only centimetres above a marshy pool, Rob has provided an uncommon sense of place for flight shots of this species. Anyone who has ever tried to photograph hirundines in flight will know that they are the among the most difficult of subjects and the mixed background of this shot makes focusing even harder. Rob's perseverance bagged him some great results from what must have been a hugely challenging photo session.
Other Notable Photos

Tawny Owl, undisclosed site, Leicestershire and Rutland (Photo: Paul Riddle)

Yellow Wagtail, Toft Newton Reservoir, Lincolnshire (Photo: Nick Clayton)

Grey Heron, Bushy Park, Greater London (Photo: Bill Dykes)

Redshank, Slimbridge WWT, Gloucestershire (Photo: Norman West)

Red-rumped Swallow, Kessingland, Suffolk (Photo: Jon Evans)

Wood Sandpiper, Poland (Photo: Artur Stankiewicz)

Slavonian Grebe, Boddam, Mainland, Shetland (Photo: Hugh Harrop)

Woodchat Shrike, North Widcombe, Somerset & Bristol (Photo: Dave Perrett)

Garganey, Cannop Ponds, Gloucestershire (Photo: Steve Round)

Wheatear, Pennington Flash CP, Greater Manchester (Photo: John Tymon)

Grey Plover, Burnham Overy, Norfolk (Photo: Kev Joynes)

Long-eared Owl, Pagham Harbour LNR, West Sussex (Photo: John Stanton)

Nightingale, Lincoln, Lincolnshire (Photo: Iain H. Leach)