The week at a glance
The Eurasian Crag Martin was last reported from Chesterfield Town's Proact Stadium in mid-afternoon on Thursday before it was seen to fly off strongly; it didn't roost that evening and hasn't been seen subsequently. With its disappearance went what is surely now the last 'big' bird of the autumn period — December is imminent and, although the occasional late waif is found at this time of year, the week otherwise felt very wintry.
A strong northerly blast at this time of year is always going to produce Little Auks, and this weekend's sudden gale-force northerlies and associated chilliness proved no exception. Peak counts were by no means exceptional, but healthy nonetheless: 602 passed the Farne Islands on 21st and 302 the following day; nearby Craster produced 584 on Saturday and, further south, Whitburn Coastal Park logged 312.

Little Auk, St. Mary's Island, Northumberland (Photo: Alan Jack)
Usually associated with such movements are tales of these intrepid little alcids doing extraordinary things: flying into church spires, associating with Starlings or simply loitering in fields. It was disappointing (or rather good news for the birds' sakes), therefore, that such amusement was thin on the ground this week — the bird sitting on a roundabout in Clyst St Mary, Devon, on 19th being about as detached as things got.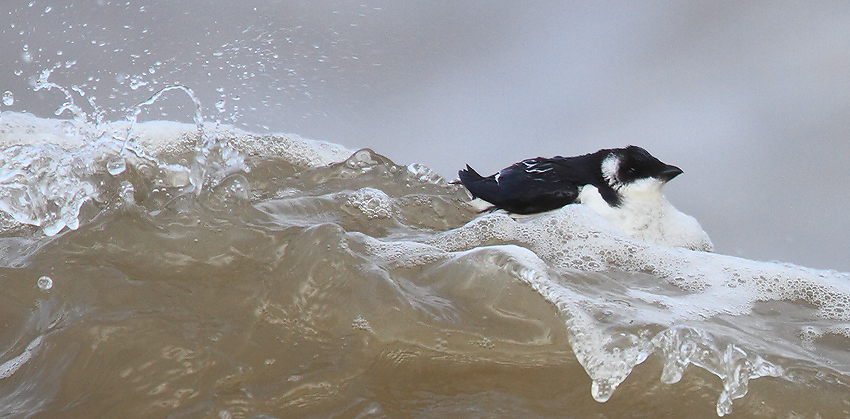 Little Auk, Salthouse, Norfolk (Photo: Rob Holmes)
Also caught up in the gales were large numbers of typical late-autumn seabirds — grebes, divers and seaduck all put in a good showing, while Great Skua tallies included 182 past Holme, Norfolk, and 168 past Swalecliffe, Kent, on 21st. An impressive 73 Pomarine Skuas past Spurn on Saturday was far and away the highest count of this species, though several other coastal sites did manage double figures. Also in the mix was the odd Grey Phalarope, Leach's Storm-petrel and Sooty Shearwater, the first-named species including a few inland individuals.

Pomarine Skua, Gullane Point, Lothian (Photo: Norman Milligan)
Two female Ring-necked Ducks were found at Rooksbury Mill, Hants, on 23rd and were still there the following day; elsewhere a first-winter drake arrived at Caerlaverock, Dumfries & Galloway, on 20th. More familiar adult males remained at Lough Shivnagh, Co Donegal, and Pilochry, Perthshire, while another returned to Lough Leane, Co Kerry, on 23rd and the Orkney bird was again at Loch of Skaill on 24th.

Ring-necked Duck, Rooksbury Mill LNR, Hampshire (Photo: Lee Fuller)

Ring-necked Duck, Caerlaverock WWT, Dumfries & Galloway (Photo: Sam Northwood)
An immature drake Lesser Scaup joined the usual adult at Lough Gill, Co Kerry, on 23rd, and others remained at Chew Valley Lake, Somerset, and Loch of Benston, Shetland. The drake Ferruginous Duck was again at Blashford Lakes, Hants, on 22nd, and a probable female showed at Dagenham Chase, London, on 22–23rd.
The drake American Wigeon continued at Kilmichael, Argyll, to at least 22nd, another was again at Tacumshin, Co Wexford, on 21st and a third was still on North Uist on 24th. A total of five drake Green-winged Teal included a new bird at Walmsley Sanctuary, Cornwall, on 23rd.

Green-winged Teal, Caerlaverock WWT, Dumfries & Galloway (Photo: Sam Northwood)
The juvenile Surf Scoter continued off Blue Anchor, Somerset, throughout the week; another juvenile was found off Birchington, Kent, on 21st and a third ploughed north past the Farne Islands that day. New drakes were discovered at Inganess Bay, Orkney, on 21st and Largo Bay, Fife, on 22nd, with another still on the Lothian coast.

Surf Scoter, Joppa, Lothian (Photo: Willie McBay)
Six white-morph Snow Geese must have formed a bizarre sight at Kenfig, Glamorgan, on 18th (where have they come from?), while the white morph also remained with Barnacle Geese at Anthorn, Cumbria, on 20–21st. A blue morph was with Pink-feet at Loch of Skene, Aberdeenshire, on 19th, when there was also a Richardson's Cackling Goose present. The Todd's Canada Goose continued in Co Sligo, and Black Brants were seen in East Yorkshire, Norfolk and Devon.

Richardson's Cackling Goose, Loch of Skene, Aberdeenshire (Photo: Hugh Addlesee)
A Glossy Ibis arrived at South Huish Marsh, Devon, on 18th and lingered thereafter. Three were near Portadown, Co Armagh, on 19th and another was discovered at Ashbourne, Co Meath, on 24th. The immature was last seen at Felbrigg, Norfolk, on 19th, while long-stayers remained at Seaton Marshes, Devon, and on the Somerset Levels.
Up to three Cattle Egrets continued to frequent the Teigngrace area of Devon; two at Newport Wetlands, Gwent, on 22nd are presumably the pair last seen there in late September. One was found at Martin Mere, Lancs, on 21st while further birds lingered in Somerset and Co Wexford. The rise of the Great White Egret continues, with 36 sites logging birds this week, including one on Barra, Outer Hebrides.
A desperately sad outcome befell a white-morph Gyr Falcon in Caithness this week: the bird was picked up dead, presumed emaciated, near Forss on 19th. Another was reported (alive) at The Shunan, Orkney, that day. News also broke this week that one of the stars of the summer, the Red-footed Falcon seen in Staffordshire, Lincolnshire and Northumberland, had been found shot dead near Whittlesey, Cambridgeshire, in mid-September — a tragic end for such a beautiful bird.

Gyrfalcon, Forss, Highland (Photo: Julian Smith)
The juvenile Pallid Harrier continued to frequent the Snettisham area of Norfolk throughout the week, while what looks a very good candidate for a juvenile Northern Harrier was discovered near Newcastle, Co Wicklow, on 19th and was seen between Broad Lough and Kilcoole daily thereafter, though was very mobile. Elsewhere, the male lingered on North Ronaldsay to at least 22nd.

Northern Harrier, Newcastle, Wicklow (Photo: Alan Lauder)
The Long-billed Dowitcher remained at Cresswell Pond, Northumberland, all week, and the Hampshire bird was seen again at Pennington Marshes on 23rd — the first report for three weeks. The Lesser Yellowlegs was reported again at Breydon Water, Norfolk, on 23rd but there was negative news the following day. The Isle of Wight Greater Yellowlegs was also reported again at Whippingham on 23rd — again, the first sighting for three weeks. A juvenile Spotted Sandpiper was found at Pilmore, Co Cork, on 22nd and still present there two days later, while the Semipalmated Sandpiper reappeared at Slimbridge, Glos, again on 19th.

Spotted Sandpiper, Pilmore, Cork (Photo: Ronan McLaughlin)
After a 10-day absence the Gull-billed Tern reappeared at Tralee, Co Kerry, on 19th and was still there on 20th; the same observer also struck lucky with a juvenile American Herring Gull in the same vicinity on 19th. The Forster's Tern was also still in Galway Bay on 21st. Reappearing on exactly the same day as in 2014, the adult Bonaparte's Gull was seen on the Farne Islands, Northumberland, on 23rd, though it quickly relocated to the mainland near Seahouses before disappearing once more. Meanwhile the adult Bonaparte's remained at Dawlish Warren, Devon, and, also in the South-West, a second-winter Laughing Gull was seen on St Martin's, Scilly, on 18th.

Gull-billed Tern, Tralee, Kerry (Photo: Ed Carty)

Bonaparte's Gull, Monks House, Northumberland (Photo: Gary Woodburn)
The Arctic blast delivered a few more Glaucous Gulls to our coasts, with around 20 reported; at least 30 Iceland Gulls included four at Killybegs, Co Donegal, on 22nd and three at Oban, Argyll, on 19th. Kumlien's Gulls were noted at Killybegs and in the Outer Hebrides. New Ring-billed Gulls included an adult at New Brighton, Cheshire, on 20th, a first-winter at Smerwick Harbour, Co Kerry, on 22nd and two in Co Cork; long-stayers included second-winters in Preston, Lancs, and on the Hayle Estuary in Cornwall.

Ring-billed Gull, Carrickfergus, Antrim (Photo: Ed O'Hara)
Last week's Hoopoe remained at Crostwick, Norfolk, to 21st, and there were reports of others at Llanilar, Ceredigion, on 20th and Gosport, Hants, on 23rd. Just one Richard's Pipit was reported, a bird flying over Weybourne, Norfolk, on 23rd. The Shore Lark flock commuting between Holme and Titchwell, Norfolk, had reached six by 24th; the only other individual reported this week was that at Long Nab, N Yorks, on 18th.

Hoopoe, Crostwick, Norfolk (Photo: James Lowen)
Last week's male Desert Wheatear was still at Eskmeals, Cumbria, on the morning of 19th, but it had disappeared by the afternoon and was not seen again. The highest Waxwing count was of nine at Jarrow, Durham, on 24th; single birds were reported from four sites in Norfolk and one location in each of Lincolnshire, Cumbria and the Outer Hebrides. Three were at Filey, N Yorks, on 23rd and at least three were at Voe, Shetland, on 18th.

Desert Wheatear, Eskmeals CWT, Cumbria (Photo: Jaz)
A Dusky Warbler was still at Dungeness RSPB, Kent, on 20th. Yellow-browed Warblers were reported from 10 sites including two on St Mary's, Scilly, and notable records from Chandler's Ford, Hants, on 22nd and Witney, Oxon, on 23rd.
Two Penduline Tits briefly at Lytchett Bay, Dorset, on 22nd were presumably those relocated at Longham Lakes later that day (and still present early on 24th). The European Serin was again at Beddington Farmlands on 20th and the first-winter Rose-coloured Starling remained at Howth, Co Dublin, to at least 23rd. An Arctic Redpoll was reported from a garden in Lanesborough, Co Roscommon, on 19th and Great Grey Shrikes were logged at 27 locations nationwide. A Little Bunting flew over Nanjizal, Cornwall, on 23rd.

Rose-coloured Starling, Howth, Dublin (Photo: Victor Caschera)
Western Palearctic news
News from Israel concerned the return of the Red-billed Teal to Hazeva on 18th; the bird was last seen there on 31 January. Highlight of the week, though, was the Western Palearctic's first Black Drongo in Kuwait, on a private farm at Salmi owned by the country's royal family, for several days to 21st. Also in Kuwait, a Taiga Flycatcher was at Al-Abraq.

Black Drongo, Kuwait (Photo: Kari Haataja)
The Asian Desert Warbler was last seen on Terschelling, Netherlands, on 19th but had departed by the next morning following a clear night. Its protracted stay saw it well twitched, and it'll no doubt go down as one of the most outrageously showy vagrants ever to entertain Dutch birders.

Asian Desert Warbler, Terschelling, Netherlands (Video: Julian Bosch)
Forster's Tern has become extremely rare in Britain — it's over a decade since the last — so the presence of one just across the Channel at Saint-Pair-sur-Mer, Normandy, on 20th was slightly galling. The return of a meena Oriental Turtle Dove to Poland's Holy Cross Province for its fourth winter in a row was significant, while the Azure Tit discovered on the outskirts of Helsinki, Finland, on 22nd may well prove a popular mid-winter twitch for British birders, should it decide to linger.

Azure Tit, Finland (Photo: Mika Bruun)