The week at a glance
It's been said that birding is more of a drug than a hobby. The endorphin rush of discovering a great bird, of twitching and seeing a huge rarity can often bring a buzz of energy and a searing high. With those soaring highs come the chronic lows, and although this week didn't produce moments to make anyone feel as blue as blue can be (far from it), there was nothing to quite match the madness of the week that went before it, although a far flung mega did its best to attract the attention as the week drew to a close.
With no outrageous auks to muse on, no wondrous warblers to think of, it was all rather run of the mill at the start of the week. A settled spell of weather across much of the country saw any number of interesting drift migrants appear (read on for more of them later) but there was nothing that really made folk rush out the door in full headless-chicken mode. An "over the top" Paddyfield Warbler in Wales and a Blyth's Reed Warbler in Norfolk were the rarest of any of the more expected (rarer) drifters, but there were plenty of other things to keep interest high and, on the afternoon of 20th, pulses raced once more as the southeast notched up another potential cracker. Admittedly not quite in the Tufted Puffin league, a dark-phase Eleonora's Falcon reported over Rainham Marshes (London) was most definitely not to be sniffed at. After some initial confusion, news settled down and it appears that it was most likely a second-year dark-morph bird which, sadly, sailed serenely to the east, mid-afternoon, and wasn't seen again. There are five accepted records on BBRC's books at the moment, with a photographed bird in Essex last September surely about to make it six (it's not listed on the Committee's "Work In Progress" file). So far none have been twitchable (although Britain's first was a two-day bird, in August 1977) but one day, surely, that will change.
Over on the Isles of Scilly, a Yellow-breasted Bunting spent eight late-afternoon minutes on 20th in a weedy field on Peninnis Head, St. Mary's. The first of the year (after the false start on the Farnes earlier this autumn), this could be the eighth record for the islands if accepted, and the first since one spent a couple of days on Bryher on 21st–22nd September 2003.
After the Bunting, the Scilly excitement really started to mount. On the evening of 21st, one of the regular pelagics from St. Mary's, acting on a tip-off from fisherman, managed to connect with a sub-adult Black-browed Albatross a couple of miles offshore from Peninnis Head, drifting to within around 100 yards of the bird. Island-based birders had distant views of the bird, which remained on the sea until dusk, and it is almost certainly the same immature albatross that has been seen, very occasionally, from 23rd July (seen off Salcombe in Devon). Amazingly, on 22nd, another Black-browed Albatross was seen from Annagh Head (Co. Mayo) — a site that hosted a rather tidy wader the same day. As if buntings, albatrosses and falcons weren't enough, the penultimate day of the review period unleashed one of the birds of the year so far and, thankfully, unlike most of the stunning birds of late, it was, for those with the time and money, actually twitchable.
South Ronaldsay, in Orkney, was the island that stole the show this week with the discovery of a Sandhill Crane near Liddel Loch on 22nd. The bird pottered around the stubble fields and sheep fields in the area for the rest of the day and, fortunately for the 100 or so birders who headed north, was still present the following day. It appears that the bird may have been in the general area for at least a week or more (therefore arriving around the same time as the Hebrides Hudsonian Whimbrel and the St. Kilda Blackburnian Warbler). Sandhill Crane records are, of course, desperately thin on the ground — Ireland flew the Tricolour for decades due to the record from County Cork in 1905, and it wasn't until April 1981 that the species loomed large again, with a two-day bird that arrived, in snow showers, on Fair Isle. Then, in 1991, came Britain's first twitchable bird — at the southern tip of mainland Shetland for just over week in mid-September (this bird eventually relocated to the Netherlands). Now we have a third and, if it stays, it could prove even more popular than the well-watched bird of 18 years ago.

Sandhill Crane, Liddel Loch, S.Ronaldsay, Orkney (Photo: Steve Minton)

Sandhill Crane (Photo: Paul Higson)
In Kent, the Zitting Cisticola was seen again near Pegwell Bay on 21st but it was another bird in Kent that prompted, comfortably, the most interesting debate of the week. A raptor flying over Dungeness on the morning of 22nd was initially thought to be a dark-phase Booted Eagle (still, controversially, not on the British or Irish list) and that remained the case as the bird was seen at one or two sites close to the reserve. It eventually pitched down in a field and concerns began to be raised as to the bird's identity. Flight shots were obtained and sent to raptor guru Dick Forsmann, who had no hesitation in identifying the moulting bird as a Black Kite.
The Glossy Ibises that have appeared in recent weeks continued to move further afield this week. On 17th, a flock of 10–15 birds were reported from a moving car in Shropshire and were followed by a group of 12, seen briefly, on the Alaw Estuary (Anglesey). Another was seen near Newmarket (Suffolk), while the lone bird from last week in the same county was still at Boyton Marshes until 21st at least. Six more remained at Sutton Gault (Cambridgeshire). The 18th saw a flock of 10 birds spend a few late-morning minutes drifting over Bardsey Island (Gwynedd) and presumably the same birds later appeared at St. Dogmaels (Pembrokeshire) and perhaps also at Newport (nine seen there). Singles on the same day were on the Teifi Estuary (Ceredigion), at Tacumshin (Co. Wexford) and in Norfolk, at Caistor St. Edmund and Buckenham Marshes — another new county on the list for the invading forces. Also on 18th, the six birds in Cambridgeshire relocated to Mepal, where they stayed until 20th at least. Devon made the "Glossy Ibis on tour" list on 19th, six birds appearing around Axmouth for a morning before heading off to Dorset, where they were seen at Wyke Regis and Radipole. Then, they moved on to Hampshire (still on the 19th) where they were seen over Pennington Marshes in the late afternoon. Also on 19th, single Glossy Ibis were seen again at Stodmarsh (Kent), and at Holland Haven CP (Essex) and over Bawdsey (Suffolk), while in Norfolk, one became three at Caistor St. Edmund, with at least two still there to 23rd, In Suffolk, another new bird (colour-ringed) was seen at Hollesley Marshes on 20th–21st. Also on 21st, a Glossy Ibis was seen flying over Tyttenhanger GPs (Hertfordshire); this bird followed a probable at Potton in Bedfordshire the previous day. Further singles were seen in Swansea (Glamorgan), at Kessingland (Suffolk) and in Pagham Harbour (West Sussex), while a flock of five arrived at Dungeness (Kent). By 22nd, two birds had appeared at Scotney GPs on the Kent/East Sussex border and a second bird was at Boyton. On 23rd, as well as assorted lingerers, a single bird was seen near Covenham Reservoir (Lincolnshire). News also emerged this week of a Glossy Ibis on Mull on 16th–17th — interestingly appearing around the same time as the aforementioned trio of US megas. This perhaps raises the question, once more, of the odds of a vagrant White-faced Ibis making it to the UK or Ireland...and just how you would identify it too.

Glossy Ibis, Stoke Holy Cross, Norfolk (Photo: R J Saxton)

Glossy Ibis, Bardsey Island, Gwynedd (Photo: Steve Stansfield)
Despite some continuing brisk northeasterly winds along the east coast at the start of the review period, there weren't too many seabirds to trouble the scorers this week. A probable Cory's Shearwater was seen off Thorpeness (Suffolk) on 17th and four were off Porthgwarra (Cornwall) on 21st (with one there on 22nd). The only Great Shearwaters of the week were seen off North Ronaldsay (Orkney) — two on 17th and one on 18th — and off Lewis, with 13 seen from Gallan Head on 22nd. Eleven Balearic Shearwaters were seen from Porthgwarra on 18th; 21 were seen from the same spot on 22nd with 49 birds counted on 23rd. Sabine's Gulls just about reached double figures: three were reported from Titchwell (Norfolk) on 17th, two birds were off the Suffolk coast the same day, with others noted in Essex, Mayo, the Outer Hebrides, Highland, and Fife. The juvenile at Blenheim Park (Oxfordshire) was still present to 23rd. Suffolk claimed the only records of Long-tailed Skua this week, singles passing Ness Point on 17th and Kessingland on 18th. A Grey Phalarope was off Filey Brigg (North Yorkshire) on 20th and a further half-dozen were seen off South Uist on 22nd.

Sabine's Gull, Blenheim Park, Oxfordshire (Photo: Jon Turner)

Grey Phalarope, Peninerine, S.Uist, Outer Hebrides (Photo: Steve)
A lonely Cattle Egret remained in Hampshire this week, and in Gloucestershire three birds were seen at Frampton-on-Severn and Slimbridge from 20th–22nd. Eight or nine Great White Egrets included two birds still in Somerset, roaming singletons for both Cambridgeshire and Suffolk, a popular inland bird on Otmoor (Oxfordshire), a wandering individual in Lancashire (with another in Cumbria, at Humphrey Head on 20th), one along the Dorset coast (at Stanpit and Brownsea Island) on 18th and further singles in Devon, Northamptonshire and Clyde (a returning bird?) as the week progressed. A flock of six Spoonbills flew over Lower Halstow (Kent) on 19th, while three birds were still on the estuaries of north Devon throughout the week. One also lingered at Abberton Reservoir (Essex). Two Common Cranes flying over Bowthorpe (Norfolk) on 20th were the only records of that species this week while a White Stork was at Frakham (Northumberland) on 22nd and Hexham on 23rd.

Great White Egret, Naseby Reservoir, Northamptonshire (Photo: Douglas McFarlane)
Spotted Crakes this week remained in the Dearne Valley (South Yorkshire) and at the Welsh Wildlife Centre (Pembrokeshire), Greylake RSPB (Somerset), Bradiford Water (Devon) and the WWT Wetlands Centre (London), while a new bird was at Ladywalk NR (Warwickshire) from 18th–20th. A Corncrake was at Slimbridge (Glos) on 22nd.

Spotted Crake, Edderthorpe Flash (Dearne Valley), South Yorkshire (Photo: Rob)
A blue Snow Goose was fresh in with Pink-footed Geese at the Montrose Basin (Angus) on 22nd while two single white birds were seen on 23rd — one was at Loch of Strathbeg (Aberdeenshire) and the other was on Orkney, near Kirkwall (a nice padder for Crane twitchers).
The female Blue-winged Teal was still at Bull Island (Co. Dublin) on 18th–20th (with another reported at Haverton Hole in Cleveland on 23rd). A reported Black Duck at Musselburgh (Lothian) on 18th turned into a hybrid (with the inevitable Mallard). The eclipse drake American Wigeon at Sonning Eye (Oxfordshire) remained until 17th, with two birds reported from Tophill Low (East Yorkshire) on 20th. The presumed drake Ring-necked Duck resided for another week on Westport Lake (Staffordshire) and another was at Vane Farm (Perth & Kinross) on 19th, with a second there from 20th. On 22nd, a drake Ring-necked Duck was found on Loch a'Phuill, Tiree. The same site also hosted one of the week's three Ferruginous Ducks; the others were at Belvide Reservoir (Staffordshire) on 20th and Chew Valley Lake (Somerset) from 21st.

Ring-necked Duck, Loch Leven, Perth & Kinross (Photo: John Nadin)
A drake Surf Scoters was in Inganess Bay (Orkney) from 18th, with two there on 20th, and another drake was off Blackdog (Aberdeenshire) on 21st. The drake King Eider was still at Cut End, in the mouth of the River Witham (Lincolnshire), until 20th and the female Hooded Merganser was still at Saltholme Pools (Cleveland) throughout the week and was still, very much, of unknown origin. The same caveat applies to the drake at Radipole Lake (Dorset).

Surf Scoter, Inganess Bay, Mainland, Orkney (Photo: anon)
Two Snowy Owls remained in Ireland this week: at Termon Hill, Blacksod Bay (Co. Mayo) and on Tory Island (Co. Donegal). In Cornwall, the Black Kite was seen again the west of the county on 17th, appearing over Drift Reservoir. A Rough-legged Buzzard was reported from Holme (Norfolk) on 18th, flying in off the sea in the morning, then flying towards Thornham in the late afternoon. Between the two, a bird reported at Thornham (as being a Rough-legged Buzzard) turned into a Common Buzzard. Another was reported near Newmarket (Suffolk/Cambridgeshire border) on 22nd.

Snowy Owl, Tory Island, Donegal (Photo: Derek Charles)
Leading the way, comfortably, in terms of shorebirds this week was the Solitary Sandpiper found on Annagh Head on 22nd (along with an American Golden Plover and a Buff-breasted Sandpiper — with a different American Golden Plover there on 23rd). The juvenile Long-billed Dowitcher remained at Ballo Reservoir (Fife) from 17th–19th and new juveniles were found at Jameson Road Landfill Site (Lancashire) on 19th (flying, in the early evening, out on to the Wyre Estuary), on Tresco (Scilly) on 22nd, and at Chew Valley Lake (Somerset) on 23rd. Two juvenile Baird's Sandpipers were still in Cornwall at the start of the review period (at Marazion and Davidstow), and the juvenile on the Alaw Estuary (Anglesey) was still present on 17th. The young bird at Black Rock Strand (Co. Kerry) was present to 19th. In Argyll, on Tiree, a Baird's Sandpiper was seen flying in off the sea at Balephetrish on 19th. Another new arrival was the juvenile Spotted Sandpiper at Black Rock Strand on 17th and still present (along with the Baird's) to 21st at least.

American Golden Plover, Deerness, Mainland, Orkney (Photo: Alan Leitch)

Baird's Sandpiper, Marazion, Cornwall (Photo: Jim Almond)
The White-rumped Sandpiper lingered at Abberton Reservoir until 23rd and a new bird was found at Tacumshin, in Wexford, on 19th. The same site continued to host six Buff-breasted Sandpipers and also six Pectoral Sandpipers, all present on the same day as the White-rumped — it's almost like the Azores! A further new White-rumped Sandpiper was found at another Irish site enjoying another good run of Nearctic shorebirds: Black Rock Strand. Further Irish Buff-breasted Sandpipers included two still at Kilcoole (Co. Wicklow), with two more at Rahashane Turlough (Co. Galway) on 19th and three at Myroe Levels in Derry on 20th. On Tiree two birds were at Loch a'Phuill on 18th, and on the Outer Hebrides single birds were at Rubha Ardvule (South Uist) and Butt of Lewis, both on 19th. On 21st, English Buff-breasts were seen in Cornwall, at Nanjizal and Scotney GPs (East Sussex) — the latter the first in the county for nearly three years. Along with the half-dozen at Tacumshin, a further 25 or so Pectoral Sandpipers were noted across Britain and Ireland this week, including two still at Inner Marsh Farm (Cheshire) on 17th, two at Lough Beg (Co. Derry) on 20th, two at Kinsale Marsh (Co. Cork) on 22nd and two each for Meare Heath (Somerset) and Carrahane Strand (Co. Kerry) on 23rd. Inland birds were noted in Warwickshire and South Yorkshire.
Content continues after advertisements

Pectoral Sandpiper, Tory Island, Donegal (Photo: Derek Charles)
Five American Golden Plovers were in Ireland this week: as well as the two birds in Mayo, one remained at Myroe Levels, with new birds (both on 19th) appearing at Ballinclamper (Co. Waterford) and on the Rogerstown Estuary (Co. Dublin). On 20th, an adult was on St. Agnes (Scilly) and further adults were found on the same day at Loch a'Phuill, Tiree (Argyll), Esha Ness (Shetland) and Eoropie, Lewis (Outer Hebrides) — although the last individual may be a roaming "Hebs" bird — and another Scottish island bird appeared on 21st, at Grindigar on Orkney (and stayed long enough for the fans of all things Grus).
Scotland hosted the only Lesser Yellowlegs of the week: the long-staying bird remained at Aberlady Bay (Lothian) to 23rd while last week's arrival at Loch of Strathbeg (Aberdeenshire) was last seen on 18th. A handful of lone Dotterels included singles in West Sussex, Devon and Cornwall, while three Red-necked Phalaropes were found. One was at Martin Mere (Lancashire) on 17th–18th, one was at Bawdsey (Suffolk) briefly on 19th and on 20th, one was at Leasowe (Cheshire). Finally, in Limerick, at Foynes, a Terek Sandpiper was at Robertstown Creek on 17th (the third Irish county to record the species this autumn).
Two second-winter Ring-billed Gulls were on the beach at Annagh Head (Co. Mayo) on 18th and further Irish birds were single adults at Portrush (Co. Antrim) and Nimmo's Pier (Co. Galway) both on 19th. An adult Ring-billed Gull was again at Millbrook (Cornwall) on 17th, while "Rossi" the Ring-bill was still showing in Essex. A second-summer was again at Loe Pool (Cornwall) on 20th and a similarly aged bird was again at Sandymount Strand (Co. Dublin) on 22nd, along with a third-winter Iceland Gull. An adult Iceland Gull was seen near the Sandhill Crane site on 23rd. Glaucous Gulls were at Strathclyde Loch (Clyde) on 16th and Port Nis, Lewis (Outer Hebrides) and Loch Benston, Mainland (Shetland) on 18th. An adult Caspian Gull was on the River Trent at Beckingham (Nottinghamshire) on 20th, two birds (an adult and second-winter) were at Saddlebow near King's Lynn (Norfolk) on 22nd, and a first-winter was at Boddington Reservoir (Northamptonshire) on the same day.
Autumn Bee-eaters are pretty scarce these days, so one over Tolleshunt D'Arcy (Essex) on 18th was certainly of note. A Citrine Wagtail was at Haroldswick, Unst (Shetland) on 19th–21st with another at Quendale, Mainland on the latter date. Five or six (or more) Tawny Pipits were seen over the course of the week. One (accompanied by two other large pipits) was at Sennen Cove (Cornwall) on 17th (and may well have been the bird seen elsewhere around the area to 20th at least). Two birds were then seen at Land's End on 21st (with one also at Nanzijal the same day). Another on 17th was seen at Sandwich Bay (Kent) while Dorset popped up with singles at Portland on 19th and Durlston Head on 23rd. Up to three Richard's Pipit were seen around west Cornwall on 17th–18th, while two birds were at Noirmont Point (Jersey) on 18th when another was on Fair Isle. On Scilly, a Richard's Pipit was on St. Agnes on 17th while singles were seen in Dorset, Suffolk, Norfolk, East Yorkshire and Shetland over the weekend of 19th–20th. A Red-throated Pipit was on the golf course at Northam Burrows (Devon) on 19th, the same day that a probable was heard flying over Beeston Bump (Norfolk). A Short-toed Lark spent an hour or two at Spurn on the morning of 19th before flying out towards the Lincolnshire coast around midday. Another was seen briefly on Jersey on 23rd.

Citrine Wagtail, Haroldswick, Unst, Shetland (Photo: Robbie Brookes)

Short-toed Lark, Spurn, East Yorkshire (Photo: Graham Catley)
One bird known to have made it to Lincolnshire was the Thrush Nightingale that was trapped, ringed and released at Gibraltar Point on 19th. There were at least 30 Wrynecks this week, including two on Peninnis Head, St. Mary's (Scilly) and at Skeffling (East Yorkshire) on 19th, two or three birds in Suffolk and two on the Channel Islands (one each for Jersey and Guernsey). Single Shetland Bluethroats were seen on Fair Isle on 17th, Mainland and Out Skerries on 18th (with two there on 20th) and Fetlar on 19th–20th, with a Golden Oriole appearing around Yell in the middle of the week. Another Golden Oriole was seen at Grenitote, North Uist (Outer Hebrides) on 22nd. A Hoopoe was at Ugthorpe (North Yorkshire) from 17th–19th with another in Northampton on 21st.
The first Great Grey Shrike of the autumn was found at Ramsgate (Kent) on 18th, remaining to 19th, and the second appeared in at Lound GPs (Nottinghamshire) on 20th. The juvenile Woodchat Shrike remained at Nanquidno (Cornwall) to 21st and another youngster, at Sammy's Point, Spurn, was present from 17th–20th at least. On Shetland, a juvenile Woodchat was found at Skaw, Unst on 18th, but there was no sign the following day. At least 15 Red-backed Shrikes were found during the week, including four birds in Kent, two of them at Sandwich Bay on 18th–19th. Another of the 15 was on Skomer (Pembrokeshire) on 20th.

Woodchat Shrike, Sammy's Point, East Yorkshire (Photo: Steve Seal)

Red-backed Shrike, Spurn, East Yorkshire (Photo: Graham Catley)

Red-backed Shrike, Dorman's Pool, Cleveland (Photo: Mick Brennan)
Wales' third Paddyfield Warbler was seen and photographed on Bardsey Island on 17th, the second on the island within the last twelve months (one was found in October last year). An ultra-elusive Blyth's Reed Warbler was found in the Suaeda bushes at the Halfway House on Blakeney Point (Norfolk) on 17th, and was seen again on 19th–20th. A Marsh Warbler was at St. Margaret's at Cliffe (Kent) on 20th.

Paddyfield Warbler, Bardsey Island, Gwynedd (Photo: Steve Stansfield)
Two Icterine Warblers were caught and ringed at Spurn on 19th, and further singles were at Rimac (Lincolnshire) on 18th, Bardsey Island and Minsmere (Suffolk) on 19th (and again on 22nd), and Seaford (East Sussex) on 21st. A Melodious Warbler was in Pig's Nose Valley, Prawle (Devon) on 17th.
Last week's Arctic Warbler was still on Fair Isle from 17th–19th and three more appeared on Shetland during the week, on Whalsay on 18th, Unst on 20th and at Scalloway, Mainland on 22nd. The Greenish Warbler seen last week at Scarborough (North Yorkshire) was re-identified as a Chiffchaff. Greenish Warblers new this week (all appearing on 17th) were another at Scalby Lodge Ponds (also in North Yorkshire and very close to Scarborough...), one trapped and ringed at Landguard, Suffolk (a neat September double — following on from the Arctic Warbler earlier this month) and another at Barry's Head (Co. Cork). One was seen again at Gibraltar Point. Around 40 Yellow-browed Warblers appeared this week, almost all along the east coast (as you'd expect) although singles made it to Lancashire and to Bardsey (birders there enjoying a rather productive week). Up to four birds were in County Durham (including two at Marsden Quarry on 20th) and two were also seen at Flamborough Head (East Yorkshire) on 19th. Also of note was a single bird at the WWT Wetlands Centre in London on 20th.

Arctic Warbler, Uyeasound, Unst, Shetland (Photo: Robbie Brookes)

Greenish Warbler, Scalby Lodge Pond, North Yorkshire (Photo: Dave Mansell)

Yellow-browed Warbler, Marsden Quarry, Durham (Photo: Mark Newsome)
At least 25 Barred Warblers were seen during the week, including at least eight or nine on Shetland (with two each for Fair Isle, Unst and Out Skerries) and three or four in East Yorkshire. Not wanting to be left out, Bardsey (the island hotspot of the week) popped up with one on 18th.
Once again, Norfolk led the way with Red-breasted Flycatchers this week. Two or three were seen around Wells Woods on 18th, with another at Stiffkey the same day. On 19th, one made it to the county's east coast, appearing at Winterton Dunes. In Suffolk, last week's bird at Thorpeness continued to show until 18th when another was seen at Minsmere. Further east-coast "RBFs" were at Freiston Shore (Lincolnshire) on 17th, Flamborough Head and Kilnsea (the latter a male) on 18th, while on 19th one was found in Church Cove, Lizard (Cornwall).

Red-breasted Flycatcher, Wells Woods, Norfolk (Photo: Mick Green)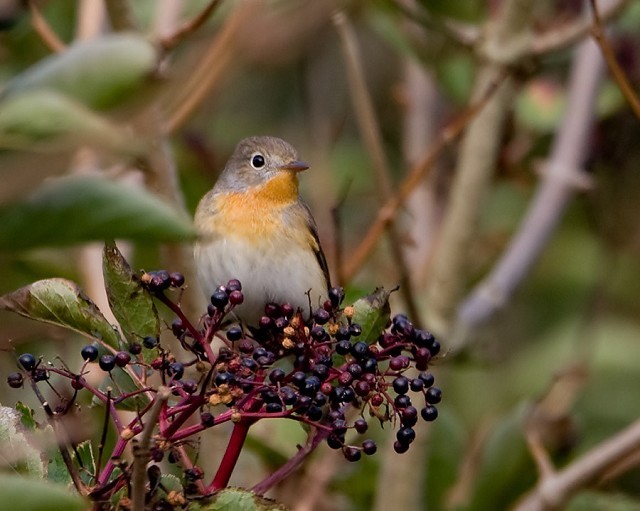 Red-breasted Flycatcher, Kilnsea, East Yorkshire (Photo: Graham Catley)
A Rustic Bunting was trapped at Spurn on 18th and showed for most of the day after release. A Little Bunting was seen on Fair Isle on 19th with two there on 21st. Around a dozen Ortolan Buntings included up to five birds in Cornwall: after a report of one at Marazion, two were on the Lizard on 19th, and on 20th single birds were at Treen and Rame Head. Singles were noted on Jersey, on Scilly (two birds here), in Dorset (two birds here as well) and in Suffolk during the rest of the week.

Rustic Bunting, Spurn, East Yorkshire (Photo: Gary Shilton)

Ortolan Bunting, Corton, Suffolk (Photo: Jon Evans)
The juvenile Rose-coloured Starling at Tittensor (Staffordshire) was last seen on 17th, when another youngster arrived on St. Agnes (Scilly). Another juvenile lingered in Torpoint (Cornwall) until 18th and the same date saw one appear briefly in Bury (Greater Manchester). Last week's bird at Wembury (Devon) was seen again on 19th–21st (with an adult there on 22nd) while another adult Rose-coloured Starling was found on Birsay (Orkney) on 20th. Back in Cornwall, a juvenile Rose-coloured Starling was seen at Treen on 21st. The week's tally of Common Rosefinches was at least 11: two birds were at Norwick, Unst (Shetland) on 18th–20th with further records coming from Fair Isle, Unst, Out Skerries and Mainland Shetland (two birds) during the week. One was on North Ronaldsay (Orkney) on 18th and English records came from the Longstone, Farne Islands (Northumberland) on 17th–19th, Lundy Island (Devon) on 18th and at Spurn on 20th. Finally this week, there was news of a Serin, reported briefly at Holkham (Norfolk) on 21st.

Rose-coloured Starling, Birsay, Mainland, Orkney (Photo: anon)
Photo of the Week

Ruff, Toft Newton Reservoir, Lincolnshire (Photo: Matt Latham)
Bird photographer Matt Latham has been in the premier league of BirdGuides' photo contributors for over three years now and his submissions have featured in dozens of our weekly Notable Images selections. Close-up shots are a particular speciality of Matt's and, this week, he has submitted a perfect example: a gorgeous head-and-shoulders shot of a Ruff delicately picking off a cranefly. In his blog, Matt explains that his aim is "to try to capture an image which comprises the subject in detail but in context of its environment or its behaviour". This image certainly achieves this and shows the benefits of focusing on a specific style of bird photography. But how do you go about getting such a close shot, especially with only a moderate focal-length lens? It all comes down to field skills and patience: in this case Matt lay on his belly at the water's edge with the sun behind him and waited for his actively feeding subject to come to him. Anyone who has tried the opposite technique of sneaking up on waders will know how futile this can be. It's a pleasure to be able finally to award Matt a long-overdue Photo of the Week.

Glossy Ibis, Boyton Marshes, Suffolk (Photo: Chris Upson)

Cuckoo, Shingle Street, Suffolk (Photo: Chris Upson)

Little Stint, Covenham Reservoir, Lincolnshire (Photo: Dean Eades)

Sparrowhawk, East Linton, Lothian (Photo: James Wood)

Gannet, Dunbar, Lothian (Photo: Mike Thrower)

Ortolan Bunting, Corton, Suffolk (Photo: Jon Evans)

Pied Wagtail, Lauragh, Kerry (Photo: Lewis Thomson)

Gadwall, Summer Leys LNR, Northamptonshire (Photo: John Peacock)

Lapwing, Cley Marshes NWT, Norfolk (Photo: Richard Bedford)

Yellow-browed Warbler, Rossall Point, Lancashire (Photo: David Moreton)

Green Woodpecker, undisclosed site, Lancashire (Photo: David Moreton)

Peregrine Falcon, undisclosed site, Powys (Photo: Mike Warburton)

Water Rail, Brandon Marsh NR, Warwickshire (Photo: John Betts)

Little Owl, Ingleby, Derbyshire (Photo: Steve Osborne)